Pages 265-276
A History of the County of Lancaster: Volume 3. Originally published by Victoria County History, London, 1907.
This free content was digitised by double rekeying. All rights reserved.
SCARISBRICK
Skaresbrek, Scharesbrech, 1238; Scharisbrec, 1307; Scaresbrecke, 1575; Scarisbrick, 1604. There was a tendency to omit the initial S; e.g. Charisbrec, c. 1240. Locally pronounced Scazebrick.
This township forms the north-western corner of the parish. It is situated in open country, flat as to surface, and like most of the wind-swept districts of the northern part of the hundred but poorly supplied with trees. Scarisbrick Hall, standing about the centre of the township, is surrounded by ample grounds fairly thickly wooded, and by comparison the rest of the country looks bare and unclothed with foliage, with the exception of scattered plantations in the fenny land. The north-eastern part of the township occupies part of the site of Martin Mere, and is consequently of a marshy character liable to flooding; therefore the land is systematically drained and pumping operations are constantly carried on. The geological formation consists of the keuper red marl of the upper red sandstone, except to the south-east of Scarisbrick Hall, where the upper mottled sandstone of the bunter series is thrown up by a fault—running north-east to near Tarlscough. In the north-western half of the township the strata are obscured by peat 10 to 30 feet in thickness. The northern half of its surface is less than 25 feet above the Ordnance datum.
The hamlet of Snape lies in the west; Bescar, a corruption of Birch carr, in the centre; and Drummers dale, anciently Drumbles dale, in the east. To the south-west of the park is Gorsuch, formerly Gooseford-syke. The southern half of the township is properly called Hurleton, now written Harleton. On the eastern edge is Barrison Green, and on the southern is Aspinwall, sometimes called Asmoll. The township measures five miles from north-west to south-east; the total area is 8,397½ acres. (fn. 1) The rich soil reclaimed from waste marsh is very fertile, fine crops of potatoes, oats, beans, turnips, &c., are successfully cultivated. The soil is loam, in some places sandy and peaty. The population in 1901 was 2,140.
The principal road is that from Ormskirk to South-port, passing along the west side of the park and through Snape. The Leeds and Liverpool Canal winds through the southern part of the township, mainly from west to east. At the point where the Southport road crosses it by the bridge, passengers for that seaside resort used formerly to alight to take the coach for the rest of the journey. (fn. 2) The Lancashire and Yorkshire Company's line crosses Scarisbrick to the north of the park, having a station at Bescar lane.
Bricks and drain pipes are made.
The township has a parish council.
'Divers scores' of Roman coins were found here in 1655. (fn. 3)
A considerable number of crosses are known to have existed in Scarisbrick. One is still standing within the park wall near the south-west corner; formerly it was a wayside cross, but the park has now encroached upon the road. (fn. 4) There is a well close by.
MANORS
The name SCARISBRICK does not occur in Domesday Book, the township being involved in 'Harleton and half of Martin,' which in 1066 was held by Uctred for half a hide, or three plough-lands, and was worth 10s. 8d. beyond the usual rent, being part of the privileged three hides. (fn. 5)
There is no express mention of these places from 1086 until the time of Richard I. It is probable that then, as for long past, they were held of the lord of Lathom in thegnage. (fn. 6) In the reign of Richard I Simon de Grubhead, who has been named in the account of Lathom, gave these places to his brother Gilbert, (fn. 7) who, as Gilbert de Scarisbrick, afterwards made a grant of land in his manor to Cockersand Abbey. (fn. 8) Some forty years later Richard son of Robert de Lathom gave, or confirmed, to Walter de Scarisbrick, who was son of Gilbert, 'Harleton and Scarisbrick, which Simon de Grubhead formerly gave to Gilbert his brother by charter, rendering the ancient farm, viz. 8 shillings of silver at Martinmas.' (fn. 9) Simon de Grubhead appears to have had some claims to the estates of the Lathom family, which, in 1224, were limited (by fine made with Richard son of Richard de Lathom) to the manors of Childwall, Roby, and Anglezark, and were extinguished in 1238 by Robert de Lathom by a payment of 80 marks. (fn. 10) Harleton and Scarisbrick were included among the lands which Roger de Marsey sold in 1230 to Ranulf, earl of Chester; (fn. 11) but the nature of Marsey's interest is not clear. It is possible that he was mesne between the lord of Lathom and the earl of Chester, to whom Henry III, in 1229, had granted the land between Ribble and Mersey, including the wapentakes of West Derby, Salford, and Leyland. (fn. 12) If so this mesne tenure was removed by the sale of 1230. (fn. 13)
Gilbert de Scarisbrick (fn. 14) was succeeded, probably before 1238, by his son Walter, who, like his father, was a benefactor to Cockersand, granting an acre of his demesne; (fn. 15) he also added to the endowments of Burscough by grants in Harleton, Gorsuch, and Scarisbrick. (fn. 16) According to the register of Burscough Priory Walter was twice married, (fn. 17) and by a certain Edusa he had a son Richard, sometimes called 'son of Edusa,' and sometimes 'son of Walter.' (fn. 18)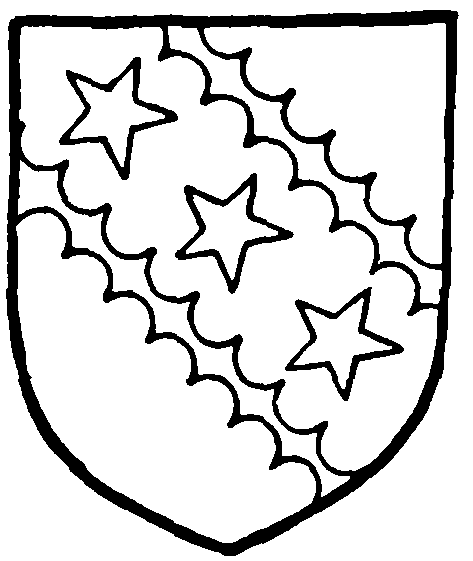 Henry de Scarisbrick succeeded his father Walter about 1260, and held the manor some ten years. He and Roger de Hurleton made an agreement with the prior of Burscough as to the bounds between their lands. (fn. 19) He also was a benefactor to Cockersand Abbey. (fn. 20)
Gilbert, son and heir of Henry, probably a child, succeeded. He made a grant to the prior of Burscough, and came to a further agreement with him as to bounds. (fn. 21) He also acquired lands called Quassum (or Whassum) in Scarisbrick. (fn. 22) In 1312 Gilbert was returned by the sheriff as holding forty librates of land of others than the king, and not being a knight. (fn. 23) He was still living in 1336, when Robert son of Richard del Cross of Scarisbrick quitclaimed all right to a plot in Harleton and Scarisbrick 'on the east side of his field near Quassum'; on it Gilbert had erected a windmill. (fn. 24)
He was succeeded about 1330 by his son Gilbert, who before 1320–1 had married Joan daughter of Sir John de Kirkby. (fn. 25) Gilbert the father and Gilbert the son agreed not to alienate the manor of Scarisbrick or any part of the inheritance of Henry son of the younger Gilbert. (fn. 26) Gilbert Scarisbrick died in September 1359, (fn. 27) and was succeeded by his son Henry, who married Eleanor a daughter and coheir of William de Cowdray. (fn. 28) In 1361 he entailed his estates on his heirs male, with remainder to his brother Gilbert; the entail included his manors of Scarisbrick and Harleton, with the homage and services of the free and other tenants, with all the natives, their chattels and sequel. (fn. 29) In 1386 he went to Ireland in the king's service, under Sir John de Stanley. (fn. 30) About ten years later he made agreements as to bounds with the prior of Burscough, new disputes having arisen. (fn. 31) His last recorded act was the leasing of lands called Withinsnape to William the Stringer. (fn. 32)
His son, Sir Henry de Scarisbrick, succeeded before 1405, (fn. 33) when with his mother Joan he was a party to the agreement for the marriage of his daughter Ellen to Robert de Halsall. (fn. 34) By his wife Isabel he had Henry and other sons, and a second daughter Isabel, who in 1418 married Richard de Bradshagh of Aughton. (fn. 35) He took part in the French wars of Henry V, fighting at Agincourt, and being mentioned in the commissions of array in July, 1419, and May, 1420. (fn. 36) The writ of Diem clausit extremum concerning him was issued about July, 1420, so that he probably died in France. (fn. 37) His widow Isabel was living in 1442. (fn. 38)
He was succeeded by his son Henry, who had no surviving children by his first wife Katherine (who died before 1440), but by his second, Margery, had daughters Margaret and Agnes and a son James, born late in his life. He made several feoffments of his estates. (fn. 39)
He seems to have died in or before 1464, (fn. 40) in which year his son James was a juror on the inquest taken after the death of Hugh de Aughton, being described as 'esquire.' In 1471 a dispute between him and the lord of Halsall as to the bounds of Renacres in Halsall and Shurlacres (fn. 41) in Scarisbrick was settled by arbitration. (fn. 42)
In 1472–3 an arrangement was made between James Scarisbrick and Sir Thomas Talbot of Bashall as to the marriage of the former's son and heir, Gilbert, with the latter's daughter Elizabeth, and in 1488 the 420 marks due to James Scarisbrick were fully paid. (fn. 43) Of his own marriages it is recorded that his first wife was Margery, daughter of Sir Robert Booth of Dunham; (fn. 44) his second wife, who survived him, was named Elizabeth. He died between September, 1494 (fn. 45) and May, 1496. (fn. 46)
Gilbert, who succeeded, did not long survive his father, dying on 24 April, 1502. (fn. 47) His will recited a feoffment of his manors of Scarisbrick and Eggergarth, and desired his trustees to marry his son and heir, James, 'to a woman of worshipful blood,' and to apply the sums received for this marriage towards providing portions for his daughters Margery and Alice. His other son, Thomas, was to have £4 a year, and Margaret his wife certain lands in Snape and elsewhere; to his bastard daughter, Alice, he left 10 marks. (fn. 48)
James Scarisbrick was aged about ten years at his father's death. Some years later the king claimed his wardship, on the ground that certain of his lands were held directly of the crown; on inquiry this was found to be a mistake. Scarisbrick and Harleton were held of the earl of Derby as successor to the Lathom family, (fn. 49) Eggergarth of Butler of Warrington (the king then having the wardship of the heir), Snape of Sir Henry Halsall, and other lands of the prior of Burscough and the lords of Aughton, Griffith, and Starkie. (fn. 50) Before this was settled James died, (fn. 51) leaving his younger brother Thomas, then six years of age, to succeed. His wardship was granted by the king to William Smith, escheator of the county, (fn. 52) who sold it to the earl of Derby. The latter availed himself of the opportunity to marry his natural daughter Elizabeth to his ward. (fn. 53)
In 1529 a disputed boundary in the moss land between Scarisbrick and Halsall was decided by setting 'meres, limits and stakes' by twelve men (six from each side) in the presence of numerous witnesses. (fn. 54) In the same year new feoffees of the estates were appointed on the arrangement of a marriage between Frances (or Dorothy) Booth and James the son and heir of Thomas Scarisbrick. James was then about six years of age, and he chose Dorothy, aged four. (fn. 55) Thomas Scarisbrick did not long survive, his will being dated 4 October, 1530. (fn. 56)
The son James Scarisbrick's lands were in 1543 valued at £20. (fn. 57) Soon afterwards a complaint was made against him by Ralph Olgreve of Manchester, that he had carried off the latter's wife Isabel from her father's house and was living with her at his own mansion. (fn. 58) A little later (1547) Thomas Gorsuch and Margaret his wife complained that he had trespassed on their lands and made illegal claims. (fn. 59) In 1551 he purchased from William Bradshagh the manor of Uplitherland and the third part of the manor of Aughton, but sold it soon afterwards. He sold the manor of Eggergarth and various lands to Lawrence Ireland of Lydiate. (fn. 60)
His son and heir Edward succeeded early in the reign of Elizabeth. He married Margaret, daughter of Alexander Barlow of Barlow, and had several children. He was a justice of the peace, and in religion 'conformable,' though his wife was a recusant, his children were trained up in Popery and his daughters never came to church. (fn. 61) He died on 27 April, 1599, (fn. 62) and was buried in the Scarisbrick chapel ('his own chancel') in Ormskirk church. By his will, as he had no surviving son, he made Henry son of Thomas Scarisbrick of Barwick his heir, bequeathing to him his sealing ring and other heirlooms. (fn. 63) He had previously made a settlement of his estates, described as the manor of Scarisbrick, two windmills, a hundred messuages, 3,000 acres of land, &c.; these were to go to the above named Henry Scarisbrick, who was to marry Anne daughter of Anthony Parker of Radham in Yorkshire, with remainder to Henry's younger brothers, Anthony, Francis, and Thomas; and then to Edward, son of James Scarisbrick of Downholland. (fn. 64)
The new lord of Scarisbrick was only fifteen years of age on succeeding. (fn. 65) The wife chosen for him was a daughter of Anne, sister of Edward Scarisbrick, so that the two lines were re-united by the marriage. (fn. 66) He did not long enjoy possession, dying on 17 October, 1608; he was buried in 'his own chapel' at Ormskirk. His son and heir Edward, the only child of the marriage, was not born until the following March. (fn. 67)
Edward Scarisbrick, shortly after coming of age, married Frances daughter of Roger Bradshagh of the Haigh, by whom he had nine children. He had been brought up in the Roman Catholic religion, but appears to have avoided conviction as a recusant; his wife's name is in the list of 1641. He was at 'the great gathering of Catholics at Holywell' in 1629, (fn. 68) and, adhering to the royal side in the Civil War, shared the misfortunes of the defeated. In 1645 and 1649 his name occurs among those 'delinquents and Papists in arms' who had to supply Liverpool with timber and £10,000 as compensation for its losses during the sieges; and his estates were sequestrated. (fn. 69) He died in 1652, and was buried in St. Andrew's, Holborn. (fn. 70)
James Scarisbrick, the heir, was seventeen years of age at his father's death, and it was not till the Restoration that he obtained possession. (fn. 71) He married Frances, daughter of Robert Blundell of Ince Blundell, and had numerous children, one being born after his death in April, 1673. (fn. 72)
His son and heir Edward was ten years of age at his father's death; and at eighteen entered the Jesuit novitiate at Watten in Holland, resigning his estates to his brother Robert. Apparently there was a further settlement when he came of age in 1685. (fn. 73) Robert Scarisbrick came of age about 1690 and five years afterwards married Anne daughter of John Messenger of Fountains Abbey. Nine sons and four daughters were born to them. He was a Jacobite in politics; as early as 1701 he seems to have been suspected by the authorities, (fn. 74) and was perhaps in some way implicated in the rising of 1715. For this he was attainted, and on his surrender in 1717 was committed to Newgate. Next year he was admitted to bail at Lancaster, and on trial, acquitted, his estates being restored to him. (fn. 75) He died in March, 1737–8, and was buried in the Scarisbrick chapel at Ormskirk. (fn. 76) His widow died in 1744. Of his children James, the eldest, died before his father; (fn. 77) Edward, the second, became a Jesuit priest and renounced his right to the estates, as did Francis and Henry, younger sons. (fn. 78)
Robert Scarisbrick, the third son of Robert, succeeded, but died unmarried in 1738, leaving his brother William the heir. He married Elizabeth Ogle of Huyton, and had an only child Elizabeth, who married John Lawson of Brough (afterwards a baronet). It is not certain whether or not he took any part in the rising of 1745, but a local tradition has it that 'one of the Stuart adherents was concealed in a farmhouse on Martin mere.' He died in July, 1767; his wife lived till 1797. Joseph, another brother, succeeded, and held the estates for some years, dying between 1772 and 1778. The Jesuit order having been suppressed in 1772 Edward and Francis Scarisbrick seem to have occupied the hall; the latter, just before his death in 1789, settled the estate on his nephew Thomas Eccleston.
The remaining son of Robert Scarisbrick was named Basil Thomas; in the early part of his life he is said to have lived at Cadiz, probably as a merchant; he occurs as 'of Liverpool' in 1742 and 1743. In 1749 he married Elizabeth, daughter of Edward Dicconson of Wrightington, and had by her a son Thomas, and two daughters. He succeeded to Eccleston in 1742, and soon afterwards took the surname of Eccleston. (fn. 79) It was his son Thomas Eccleston who, after holding Scarisbrick under his uncle Francis for some years, succeeded him in 1789 as lord of the manor, having already succeeded his father at Eccleston. (fn. 80) During this time he had attempted improvements in the agriculture of the neighbourhood and begun the drainage of Martin mere. (fn. 81) He added to the family estates the manors of Halsall and Downholland, but tried to sell Eccleston in 1795; in 1807 he succeeded to the Wrightington estate on the death of his uncle Edward Dicconson. He resumed the family name of Scarisbrick instead of Eccleston. In 1784 he married Eleanora, daughter of Thomas Clifton, by whom he had several children.
He died at Ormskirk in November, 1809, having been taken ill during the celebration of the jubilee of George III. The Scarisbrick and Eccleston estates then went to his eldest son Thomas, who sold Eccleston in 1812, and Wrightington to the younger son Charles. Thomas's only child was a daughter, who died young, so that on his death in 1833 Charles succeeded to the whole. He had taken the name of Dicconson in 1810, but now adopted the family name of Scarisbrick. He purchased the Bold moiety of the manor of North Meols in 1843. His great work was the re-building of the hall, the two Pugins being in succession the architects; he was also a collector of pictures. The Hall is in the same state at this time. The tower is particularly graceful and forms a landmark. At his death in 1860 he was supposed to be the wealthiest commoner in Lancashire.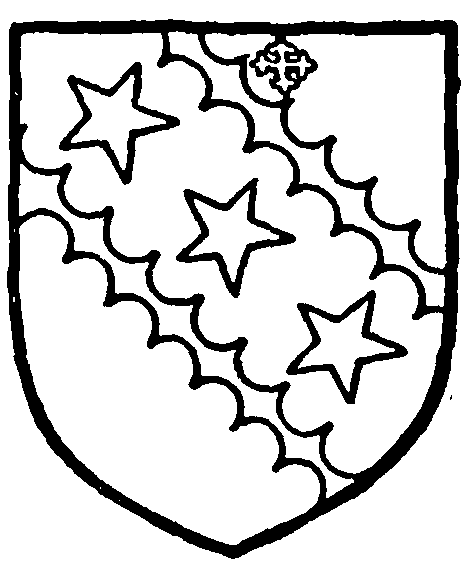 He never married, (fn. 82) and his youngest sister Elizabeth, wife of Edward Clifton, succeeded to Wrightington; while the eldest sister, Ann Lady Hunloke, had Scarisbrick and Halsall, and assumed the name of Scarisbrick. She died in March, 1872, and was succeeded by her daughter, Eliza Margaret, who had in 1835 married Remy Léon de Biaudos, Marquis de Castéja. She took the name of Scarisbrick in 1873. There was no surviving issue, (fn. 83) and on the marchioness's death (13 November, 1878), her husband (d. 1899) and then his adopted son, Marie Emmanuel Alva de Biaudos Scarisbrick, Count de Castéja, under a deed of settlement succeeded to Scarisbrick. The latter was born in 1849 and married in 1874 Adolphine Gabrielle Marie de Faret, daughter of the Marquis de Fournès; a son, Marie André Léon Alvar, was born in 1875. (fn. 84)
HARLETON
HARLETON (fn. 85) was held of the lords of Scarisbrick by a family whose surname was derived from it; the tenure was homage and fealty and the yearly service of 4s. (fn. 86) The first mention of the place after Domesday book is a charter of about the year 1190 by which Robert, son of Ulf de Hurleton, gave to the abbey of Cockersand 2 acres of his land in Harleton. (fn. 87) He afterwards granted to Burscough Priory land near Ayscough in Harleton, in pure alms, for the souls of King John, his own father and mother, and others. (fn. 88)
Before 1233 Robert had been succeeded by his son Roger. (fn. 89) Roger was a benefactor to Burscough, granting land in the townfield of Harleton, (fn. 90) also the lands on the east of Nather dale, 'from Simon's barn to the Graynet hake,' and elsewhere in Harleton. (fn. 91) Several of his charters are preserved at Scarisbrick, including one to his brother Richard. (fn. 92) In 1246 he was summoned to warrant to the abbot of Cockersand 48 acres, which the latter held of him by the charter of Robert his father; Walter de Scarisbrick was claiming certain land in Naithalargh as inherited from his father Gilbert. (fn. 93) Roger was himself a benefactor to Cockersand. (fn. 94) He took part in 1261 in the agreement as to boundaries made with the prior of Burscough, and in 1303 Robert, his son and successor, joined in a further agreement. (fn. 95)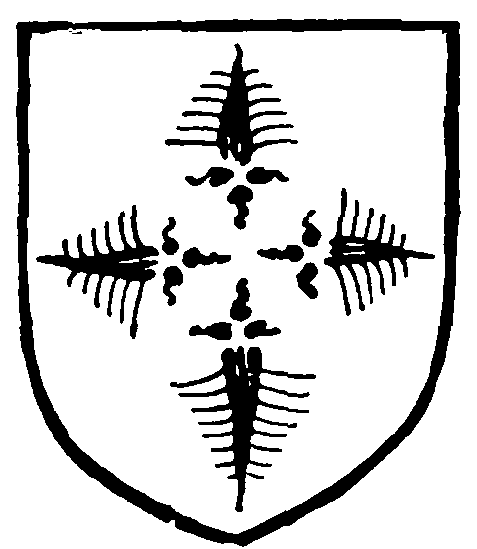 For several generations the lords of Harleton bore the name of Robert, so that it is impossible to distinguish them clearly. (fn. 96) In 1365 there occurred a dispute as to the wardship of Robert, son and heir of Robert de Hurleton, ten years of age; Henry de Scarisbrick claimed as the immediate lord of Harleton, while Sir William de Atherton claimed as representing the Lathoms; the former established his right. (fn. 97) In 1369 Robert de Hurleton and Margaret his wife were claiming lands in Harleton from Roger de Shaw and Margery his wife and their son John. (fn. 98)
William de Hurleton, possibly a younger brother of the last-mentioned Robert, was holding the manor in 1381 and granted it to Gilbert de Gorsuch in marriage with Maud, apparently a daughter and coheiress of Gilbert. (fn. 99) From 1418 there are for some time no certain evidences by which the descent of the manor can be traced. (fn. 100) Nicholas de Hurleton occurs as early as 1433, (fn. 101) and as he seems to have inherited the Gorsuch estate in Longton, he must have been a descendant. (fn. 102)
Humphrey Hurleton, son and heir of Robert son of Nicholas, succeeded his father before 1524. He was soon afterwards engaged in a dispute as to the Little Branderth, near Harleton Brook, this being claimed by Thomas Scarisbrick; the matter was settled by the arbitration of the prior of Burscough and others in 1529. (fn. 103) In 1537 he was one of the farmers of the parsonage of Ormskirk. (fn. 104) He had a son Thomas who married Elizabeth, daughter of Adam Birkenhead, and seems to have settled in Cheshire. His eldest son was Richard, (fn. 105) who was succeeded in 1589 by his son John, described as 'of Picton,' near Chester. A dispute occurred between John Hurleton, as lord of the manor, and John Shaw of 'the hall of Shaw,' the latter asserting that he and his ancestors had from time immemorial had a right of way through the pasture called Long Furlong, from their house to Ormskirk. (fn. 106) From this time onward the story of the Hurletons belongs to Cheshire rather than to Lancashire. (fn. 107) It is not known when they sold Harleton to the Scarisbricks. (fn. 108)
Harleton Hall stands on rising ground near a small stream, and a quarter of a mile north of the road to Ormskirk. It is a house of the H type, originally of the fifteenth century, much altered about the beginning of the seventeenth, the central hall and parts of the east wing being of the first date, and the west wing, with the bay window and chimney of the hall, and the south end of the east wing, of the second. A considerable part of the east wing has been re-built in brick in modern times, though probably on the old plan.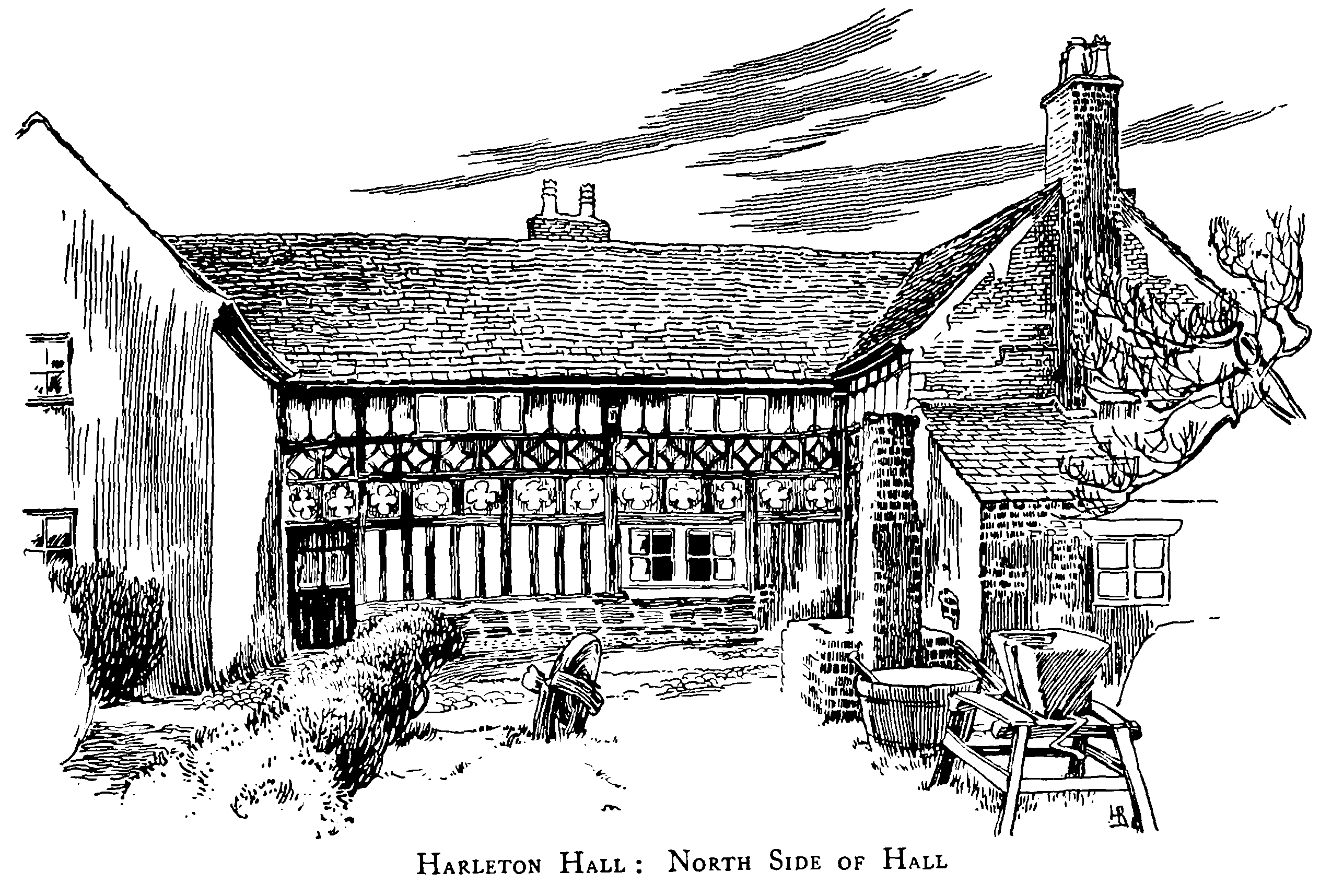 The hall is entered by a door at the north-east corner, opening into a passage which once formed the screens, and probably still contains some of the original wooden construction concealed in the partition which forms part of the east end of the hall. The passage, once open at both ends, now has a north doorway only, its south end leading to a staircase which fills up the space between the hall chimney and the east wing. Externally the north wall of the hall is much in its original condition, and is a picturesque piece of timber construction of upright posts set in a massive wooden sill, which rests on a dwarf wall of wrought stone twelve inches thick. At somewhat over half height the uprights are mortised into a moulded headpiece which has had a row of carved paterae or some such ornament along it, of which only the traces of attachment remain. Above are a shorter row of uprights, reaching to the wall-plate. The spaces between the timbers are filled in with a yellowish plaster, and have been decorated in modern times with quatrefoils painted in black to imitate timber-work, with the usual poor and flimsy effect. There are no original windows; a modern four-light window has been inserted in the lower part of the wall, and smaller ones above to light the bedrooms in the roof. The condition of the external woodwork is bad in places, it having been much strained by the weight of the floor inserted at half height in the seventeenth century. Of the south wall of the hall only a small piece remains by the staircase, concealed by plaster and otherwise mutilated. The interior has suffered by being cut up into two stories; the ground floor, which is paved with stone, shows three moulded beams of the seventeenth century in the ceiling, but has no other features of interest, the seventeenth-century fireplace being hidden by the insertion of a modern grate, and the bay-window cut off by a partition. On going into the bedrooms above it will be seen that the fifteenth-century roof remains, though but little of it appears through the plaster and whitewash. It is a good specimen of its kind, having king-post trusses with cambered ties and curved braces below, and quatrefoiled wind-braces between the purlins. Its easternmost truss has larger braces than the others, forming a four-centred arch below the beam designed to frame the gallery over the screens. The bay-window of the hall is in two stories, as originally designed, built of brick with stone mullions and dressings, with a five-light window on the south and single openings on each side, all being square-headed with weathered labels of the usual section above.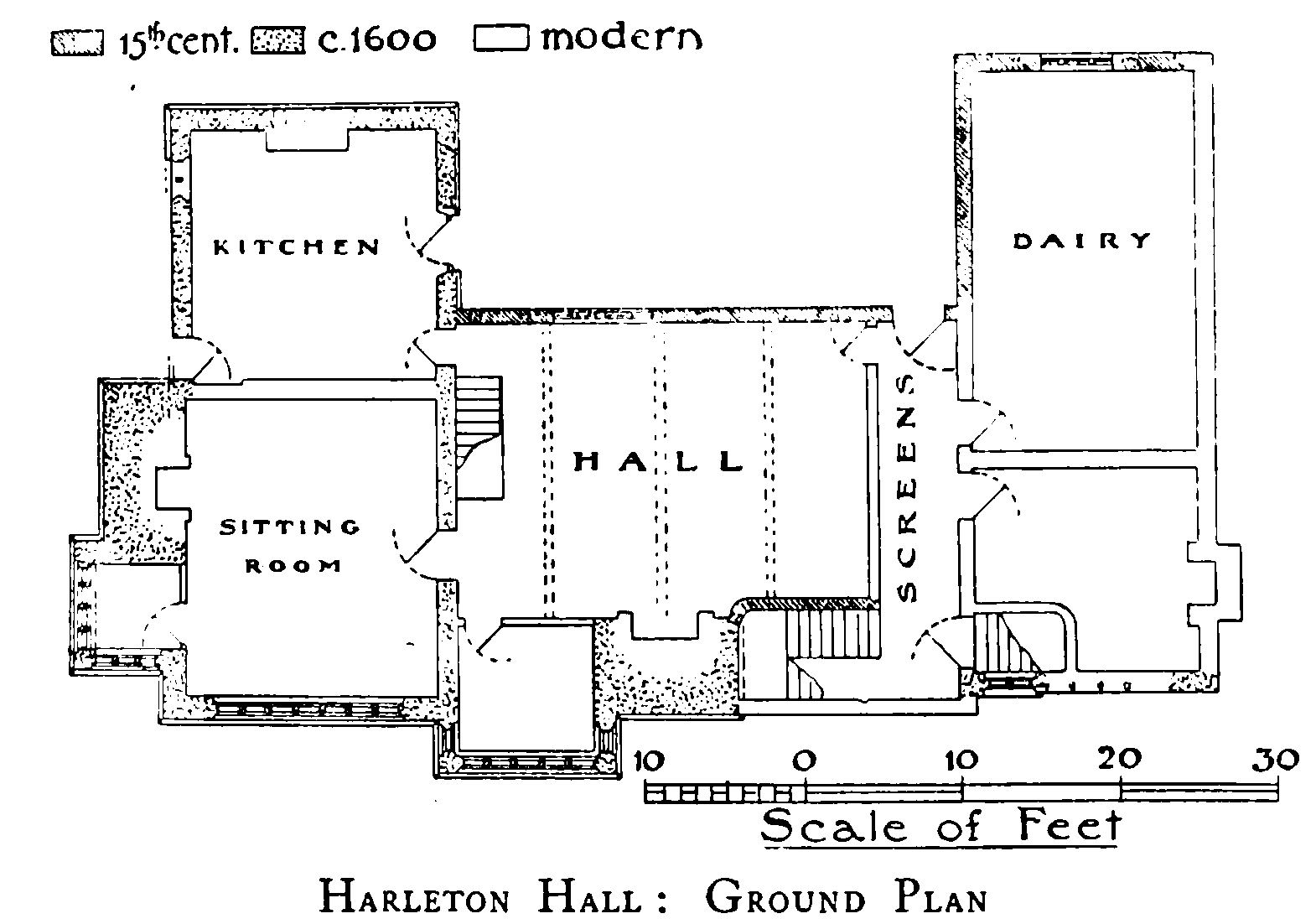 The west wing, of two stories, with brick walls only 14 in. thick, is all of the early seventeenth century, and contains on the ground floor two rooms, now used as sitting room and kitchen, with modern out-houses built on to the north. The sitting-room has a good window of seven lights on the south, and a small projecting two-story bay on the west, one side of which is formed by a large chimney stack. The interior is completely modernized, the fireplace being blocked with a modern grate, the bay partitioned off to form a cupboard and its windows filled in, and the long seven-light south window in great part built up. Externally the original arrangement is clearly to be seen, and on the accompanying plan the windows are shown without the modern blocking. They are exactly similar in character to those of the hall bay above described. The room now used as a kitchen has been much altered, and has no ancient features of interest, but retains in part the chamfered stone plinth which runs all round the seventeenth-century work. The upper rooms in this wing contain nothing worthy of mention.
The east wing, of two stories, has been largely rebuilt in red brick, but its plan is probably on the ancient lines, and the west and south walls, though now refaced, are of timber and plaster construction of the same date as the hall; the original roof also remains, though hidden by plaster. Under the south end of this wing is a cellar, entered from the passage at the end of the hall, with seventeenth-century mullioned windows in its south wall.
The family of Shaw were an early off-shoot of the Scarisbricks. Simon del Shaw was a son of Walter de Scarisbrick by Edusa de Hurleton, and had a son Gilbert and a daughter Quenilda. (fn. 109) His brother Robert had a son William. (fn. 110)
In 1449 Henry Scarisbrick complained that Isabel, widow of James del Shaw, had taken away Hugh son and heir of James, whose marriage belonged to him. (fn. 111) Hugh Shaw of Scarisbrick, Maud his wife, and James his son and heir, occur in 1477. (fn. 112) James Shagh was assessed to the subsidy in 1525 upon lands worth £5; (fn. 113) and occurs in 1539 with his son William. (fn. 114) In 1563 Thomas Shawe was assessed to a subsidy in respect of lands here, and John Shaw in 1599. (fn. 115) John Shaw of Scarisbrick, gent., and Thomas, his son and heir-apparent, occur in 1618. (fn. 116) John Shaw, gent., contributed to the hearth tax in 1666; (fn. 117) his will was proved in 1692. (fn. 118)
GORSUCH
GORSUCH was given by Walter de Scarisbrick to his younger son Adam, who took the local surname; subsequently the land was given to Burscough Priory to be held of Adam in free alms. (fn. 119) The prior regranted it to Adam at a rent of 12d. with other lands in Scarisbrick, a yearly pound of cummin to be paid. (fn. 120) Adam was succeeded by Walter de Gorsuch, probably his son, as is indicated by a grant to Nicholas son of Simon de Renacres. (fn. 121)
In May, 1292, an agreement was sealed for the marriage of Robert son of Walter de Gorsuch with Agnes granddaughter of William Brid of Donnington; Robert, though a minor, had been enfeoffed of lands by the prior of Burscough, his father binding the feoffees to find food and raiment for Robert and Agnes, any surplus to be kept for them and delivered with the lands on their coming of age. (fn. 122) Robert seems to have died without issue, (fn. 123) and his brother John succeeded, marrying in 1299 Cecily daughter of Richard de Culcheth. (fn. 124) John de Gorsuch granted (about 1320) to Gilbert his son lands in the townfields of Scarisbrick on the north of land near the cross, held of William son of Richard de Scarisbrick. (fn. 125)
The family acquired lands in North Meols, Lathom, and Huyton, about this time. Gilbert de Gorsuch succeeded about 1347; (fn. 126) he is described as 'son of Adam son of Walter.' Gilbert had no son, and settled estates in Longton upon his younger daughter Maud, wife of William de Hurleton; the latter also had no son, and Gorsuch and other lands went to Richard de Sutton, who had married the elder daughter Joan. (fn. 127) In 1390 Gilbert de Gorsuch had made a settlement or testament providing for the succession to a portion of his lands; (fn. 128) and other deeds preserved by Kuerden show that the main portion was settled on Richard de Sutton and Joan his wife, with the remainder to William de Hurleton and Maud his wife. (fn. 129)
For more than a century the Suttons (fn. 130) remained in possession, and then the estate returned to the Gorsuch family, for in 1515 a marriage was arranged between Margaret daughter of Roger Sutton (son of John, the son of Gilbert) and Thomas son and heir of William Gorsuch. (fn. 131) Gilbert Sutton died on 20 April, 1518, and the inquisition taken after his death shows a considerable estate, the heir being his infant great-granddaughter, already espoused to Thomas Gorsuch. (fn. 132) Thomas Gorsuch was succeeded about 1560 (fn. 133) by his son James, who in 1577 secured from Edward Scarisbrick a right of way from Gorsuch to Carr Cross in Snape, to Snape Green, thence to Wood moss, near Long Wyke, to Baldmony Hooks in North Meols, with right to carry hay, &c., in carts or on horseback. (fn. 134)
The family, which then ranked among 'gentry of the better sort,' (fn. 135) adhered to the Roman Catholic faith, and in 1590 John, son and heir of James Gorsuch, was 'a recusant and indicted thereof.' (fn. 136) Probably John died before his father, for it was another son, Edward, who succeeded to the estates. (fn. 137) The latter, as a convicted recusant, paid double to the subsidy of 1628, (fn. 138) and dying in 1641 (fn. 139) was succeeded by his son James, who was then thirty-one years of age. (fn. 140) Under the third Confiscation Act, 1652, the land and estates of James Gorsuch 'a Papist delinquent,' was declared forfeit and ordered to be sold. (fn. 141) In October, 1653, he petitioned for restitution; but in November two-thirds of his lands were sold to George Pigott and William Smith. (fn. 142)
A pedigree of the Gorsuch family was entered in the visitation of Lancashire by Sir William Dugdale in 1665, and is headed by a trick of an interesting canting coat shewing three sprigs of gorse between two chevronels. A contemporary note states that these arms are on an old seal of Queen Elizabeth's time in the possession of the family; and James Gorsuch, no doubt, put the seal forward as evidence for the traditional coat-armour of his house. It is noteworthy, however, that no tinctures are shewn in the tricked shield; and the heralds do not appear to have allowed these arms to the family.
James Gorsuch appears, however, to have regained part, if not the whole, of his estates. He married Anne Harrington of Huyton, and was succeeded by his grandson James, the son of his second son Edward by Mary Eccleston. (fn. 143) The younger James, born in 1656, was buried at Ormskirk on 21 December, 1752. (fn. 144) His surviving son John obtained the Eccleston estate in virtue of a settlement made by Father Thomas Eccleston, S.J., as being a descendant of Mary Eccleston, and took the name of Eccleston; he died without issue in 1742, when this estate went to Basil Thomas Scarisbrick, whose son succeeded to Scarisbrick also.
At a very early period land called Aspinwall was given by an ancestor of the lords of Scarisbrick to the church of Ormskirk. The gift was confirmed early in the thirteenth century by Richard, son of Gilbert de Scarisbrick, who describes it as lying within Harleton. (fn. 145) The place gave a surname to the tenant. (fn. 146)
The inquisition after the death of George Aspinwall, 4 December, 1559, shows that he held a messuage and small parcels of land in Harleton and Scarisbrick of Richard Hurleton, Edward Scarisbrick, and others; his daughter and heir was Jane Aspinwall, then one year of age. (fn. 147) Later (1562 to 1579) occurs William Aspinwall, who in the last-mentioned year made a grant or transfer of lands to James Gorsuch. (fn. 148) Directly afterwards William Moorcroft released certain lands to William Aspinwall, and others to Humphrey Aspinwall; the latter were in 1581 conveyed by Humphrey and his wife Ellen to Roger Sankey. (fn. 149)
A charter by Thomas, son of William de Cowdray, made at Aspinwall in 1354, shows that he held lands there and elsewhere in Scarisbrick. (fn. 150)
Snape has some notice under Halsall. It was held by the Scarisbricks of the Halsalls, as the inquisitions show, (fn. 151) and parochially its position was uncertain. It is now, however, reckoned as a hamlet of Scarisbrick and within the parish of Ormskirk. It gave its name to a local family of whom there are some traces. (fn. 152)
Two plots of land in Harleton given by Walter de Scarisbrick to Burscough Priory became known as Moorcroft, and gave a name to the family which held it of the canons. (fn. 153)
John de Moorcroft's lands, or part of them, were the subject of a dispute in 1292; he died seised of them, and his son Robert held them for ten years or more, when they were claimed from Robert's son Hugh by his sisters Beatrice (wife of William Fraward) and Margery (wife of Richard le Ditcher), and by Agnes, daughter of the Roger just named. The claim, however, failed. (fn. 154) The Hugh de Moorcroft successful in 1292 may be the Hudde father of Richard who married Margery and had by her a son Richard, enfeoffed of lands in 1327. (fn. 155) William Moorcroft, yeoman, who died in 1608, held a messuage and land in Harleton and Scarisbrick of the earl of Derby, as of his manor of Burscough, by 4d. rent; also lands in Aughton. His son Humphrey, who had married Agnes Holland, was his heir, and living at Harleton. (fn. 156) William Moorcroft, as a 'Papist,' in 1717 registered a small estate here. (fn. 157) The family appears to have spread to the adjoining townships. (fn. 158)
Shurlacres was adopted as surname by a local family. (fn. 159)
In 1717 a number of 'Papists' registered estates here, including John Barton, Thomas Blundell, John Bullen, Edward Cooke, William Culcheth, Robert Draper, John and James Worthington, and Peter Wright. (fn. 160)
The land-tax return of 1794 shows that Thomas Eccleston paid about a third of the levy here; the remainder was in small sums.
A school-chapel at Scarisbrick was founded in 1648, when Henry Harrison alias Hill and Thomas Hill his son and heir-apparent gave the Great Hey at Barclay Hey to the inhabitants for a chapel or school. A building was erected and was used as a chapel in 1650, when Mr. Gawin Barkley, 'an able, orthodox, and godly preaching minister,' was there, with a salary of £50 paid from Royalists' sequestrated estates. (fn. 161)
The Anglican church of St. Mark was built in 1848 and consecrated in 1853; the vicar of Ormskirk is patron. A district chapelry was formed for it in 1869. (fn. 162)
About 1840 Richard Sephton, a member of Ormskirk Congregational Church, gathered a Sunday school, for which in 1843 a small school-chapel was provided at Drummersdale. (fn. 163)
Roman Catholic worship was suppressed for but a short time at Scarisbrick, as the presence of Jesuit missionaries can be traced from the early years of the seventeenth century. Several of them were members of the Scarisbrick family, and a room in the hall was used as a chapel until 1812. An old tithe barn was then utilized (St. Mary's), and was enlarged in 1840; it was, however, a great contrast to the squire's splendid mansion, and a new chapel, St. Elizabeth's, was built on the old site by the marquis de Castéja and opened in 1889; the marchioness's remains were brought from Wingerworth to a new vault here in 1890. (fn. 164)