Pages 276-282
A History of the County of Lancaster: Volume 3. Originally published by Victoria County History, London, 1907.
This free content was digitised by double rekeying. All rights reserved.
BICKERSTAFFE
Bikerstat, Bikersteth, Bikerstath, xiii cent.; Bykyrstath, 1529; Bickerstaffe, xvi cent.
Bickerstaffe may be described as an unpicturesque open country bare of woodland, with the exception of a few plantations mostly composed of birch trees, characteristic of moss land. Fields, divided by low hawthorn hedges, are mostly cultivated. The country is waterless, with the exception of two small streams on the south. The farms and houses are considerably scattered and nowhere can be said to form a settlement of any size. The western half of the township consists geologically of the upper mottled sandstone of the bunter series of the new red sandstone. By a fault running due north and south the middle coal measures are thrust up in the eastern half.
The township lies almost entirely south of the ridge of high land stretching from east to west across the parish, the centre line of this ridge being the northern boundary, except for a small portion in the north-west. The southern portion was anciently occupied by great mosses, now mostly reclaimed, and beyond were the woods of Cunscough and Simonswood. The population in 1901 was 2,096. Near the centre, on the 200 feet level, stands the hall; close by is the modern church. Nearly a mile to the north is Stanley Gate, and about as far to the south is Barrow Nook. The area is 6,444½ acres. (fn. 1)
The principal road is that from St. Helens to Ormskirk, which in one part divides to unite again; at right angles is the road from Melling to Skelmersdale. The Liverpool and Bury line of the Lancashire and Yorkshire Company passes through the southeastern corner of the township.
The surface consists of clay and sand, with some patches of moss, overlying gravel, clay, and moss. The crops are barley, wheat, oats, and potatoes. Besides agriculture the principal industry is coal mining. The following curious entry occurs in the Ormskirk Burial Register, 10 December, 1600: 'A stranger slain by one of the glassmen being a Frenchman then working at Bickerstaffe.'
The township is governed by a parish council.
MANOR
In 1066 BICKERSTAFFE, under the name of Achetun, was one of the manors of Uctred, lord of Roby. Although in the parish of Ormskirk, the old name seems to show that it was originally a portion of Aughton, which adjoins it on the west. The separation must have taken place before the Conquest, as the two manors, though both held by an Uctred—possibly the same person—are quite distinct in the record. (fn. 2)
After the Conquest it seems to have been early granted in thegnage; the assessment was half a ploughland, and the service an annual rent of 5s. The earliest known of the lords was Ralph son of Bernulf, who held it in the middle of the twelfth century. He granted Stotfoldshaw to the Hospitallers, (fn. 3) and Holmes also; these lands were called cultures. (fn. 4) Ralph was succeeded by his son Adam, a benefactor of Cockersand Abbey. (fn. 5) Several early grants were also made to lay holders, probably younger sons or other near relatives, and in 1212 Henry son of Elias (or Eilsi) (fn. 6) held an oxgang, i.e. a quarter of the manor, and Adam son of Waltheof held a third of the manor. (fn. 7) Thus about a third was left in the hands of the lord.
Adam de Bickerstath was in turn succeeded by his son Ralph, who was holding the manor in 1212 by the service already stated. Ralph also was a benefactor of Cockersand. (fn. 8) The succession for a time is uncertain. In the rental of the county for 1226 Alan son of Bernulf was said to be holding Bickerstaffe, paying the customary 5s., (fn. 9) and in 1246 Alan de Bickerstath claimed a third of the manor (fn. 10) against Adam de Bickerstath, Simon his brother, Gilbert de Rohel, and Roger and Walter de Bickerstath. (fn. 11) On this occasion Alan 'withdrew his claim.' Adam de Bickerstath's name frequently appears in charters and other public acts of the time. (fn. 12) One of his own grants has been preserved; it conferred on Alan son of Robert de Holmes a defined parcel of land in Bickerstaffe for a rent of 20d. (fn. 13) In 1292 he recovered some land which had been unlawfully 'improved' from the wood and heath. (fn. 14)
Adam was succeeded by his son Ralph, (fn. 15) a prominent man in the county, being sheriff in 1308, 1310, 1312, 1314, and 1315, and knight of the shire in 1313. (fn. 16) He took part in the rising of Thomas, earl of Lancaster, against Piers Gaveston, for which he was pardoned in October 1313. (fn. 17) He was killed at Preston 4 November, 1315. (fn. 18) As 'Ralph son of Adam de Bickerstath' he made a grant to Burscough Priory. (fn. 19)
Adam de Bickerstath, son and heir of Ralph, succeeded, holding the manor till 1346 or later. (fn. 20) In 1331 he settled upon his wife Joan and his son Ralph six messuages and six oxgangs in Little Eccleston in Amounderness, then in the possession of Henry de Bickerstath (fn. 21); and arranged the succession of two-thirds of the manor of Bickerstaffe, after his decease and the decease of his wife Joan, to Ralph and his issue. (fn. 22)
Ralph de Bickerstath's name appears frequently from 1347 to 1372. (fn. 23) His son and successor was another Adam, the last of the principal line. His first appearance is in 1361, when he complained that certain persons, apparently his trustees, had been guilty of waste. (fn. 24) He settled his estates in 1377 on his only daughter and heir Joan, who married Nicholas de Atherton. (fn. 25)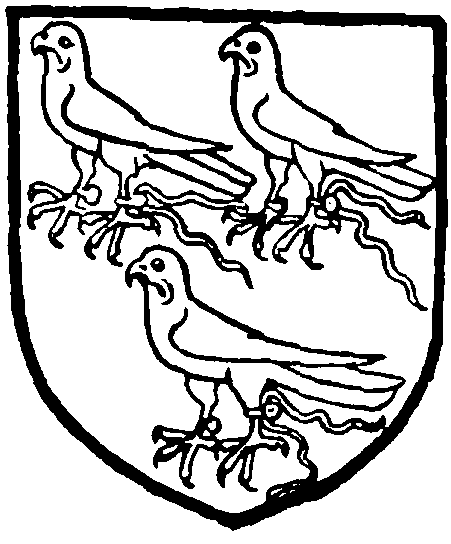 Nicholas was a younger son of Sir William de Atherton of Atherton. He was a knight in 1401, when he represented the county in Parliament. (fn. 26) He died in 1420, and by his will desired to be buried at Ormskirk. (fn. 27) His son Nicholas succeeded, but his tenure was brief, as he died at the beginning of 1424. Just before his death he gave his manor of Bickerstaffe to trustees. His son and heir Henry was then aged nine years or more. (fn. 28) Little is recorded of Henry Atherton (fn. 29); he had four sons—Hamlet or Hamnet, his successor, William, Henry, and Charles. Hamlet had a son Thomas, (fn. 30) whose heir was his daughter Margaret, born about 1486. (fn. 31)
The heiress married James Scarisbrick, a younger son of James Scarisbrick (who died about 1495), lord of Scarisbrick. She died on 18 January, 1517–18, leaving an infant daughter Elizabeth as heir to the Bickerstath properties. (fn. 32) Elizabeth Scarisbrick, born about the beginning of 1516, married Peter, a younger son of Sir William Stanley of Hooton, and died about 1560, leaving an only daughter Margaret as heir. Peter Stanley married again, but retained Bickerstaffe during his life 'by the courtesy of England.' (fn. 33)
Margaret Stanley married in 1563 Henry Stanley of Little Hall in Aughton and Cross Hall in Lathom. He was a younger son of Sir James Stanley, marshal of Ireland in the time of Henry VIII, who was third son of George, Lord Strange of Knockyn, and brother of the second earl of Derby. (fn. 34) Henry Stanley, dying in 1598, (fn. 35) was succeeded by his eldest son Edward, created a baronet by Charles I in 1627. (fn. 36) He was buried at Ormskirk 4 May, 1640, (fn. 37) being succeeded by his son Sir Thomas Stanley, born in 1616.
Sir Thomas took a prominent part in the Civil War, upon the Parliamentary side. It is said, indeed, that in the attack on Lord Strange at Manchester in July, 1642, it was this distant cousin who fired at him thrice. He had in the previous March been made a deputy-lieutenant of the county by the Commons, and in October was made a magistrate; in April next year he was placed on the newly-formed committee 'for sequestering notorious delinquents' estates.' (fn. 38) He married, in or before 1643, Mary, daughter of Peter Egerton of Shaw, another Parliamentarian, by whom he had two sons and two daughters. He died in May, 1653, and was succeeded by his son Sir Edward Stanley. (fn. 39) Sir Edward's son Thomas, just a year old, succeeded in 1671. Before he came of age he married Elizabeth, daughter and heir of Thomas Patten, through whom he acquired a great estate in and near Preston. (fn. 40) In 1695 he was returned as one of the Whig members for Preston. (fn. 41) He died in May, 1714, and his son, Sir Edward Stanley, succeeded him in February, 1735–6, becoming earl of Derby, in succession to James, the tenth earl, since which time the manor of Bickerstaffe has descended with Knowsley. (fn. 42) In 1831 Edward Smith Stanley, afterwards thirteenth earl, was summoned to the House of Lords as Baron Stanley of Bickerstaffe. The hall is a shooting box of the earl of Derby. Court rolls from 1735 are preserved at Knowsley.
There were several other branches of the local family; some of them settled in Aughton, but others continued to reside in Bickerstaffe. Simon de Bickerstath contributed to the stipend of a priest at Ormskirk in 1366. (fn. 43)
The Renacres family (fn. 44) have been mentioned; they appear to have been closely related to the lords of the manor, and on one occasion 'put in their claim' at a settlement of the family estates. A number of deeds concerning them have been preserved by Kuerden, but it is not possible to give a complete account. From cases cited above it appears that Stephen de Renacres (fn. 45) was a prominent personage in Bickerstaffe about 1290, and that he was succeeded by his son Simon, who occurs in the reign of Edward II. (fn. 46) In 1348 Richard, son of Simon de Renacres, granted to his father a rent of 2s. 4d. issuing from lands in Bickerstaffe, (fn. 47) and in 1391–2 Ellen (Walsh), the widow of Richard de Renacres of Bickerstaffe, granted to Hugh le Spencer of Ormskirk certain lands which had come to her after the death of her husband. (fn. 48) Their son was Thomas, who in 1424–5 arranged for the succession to these lands. (fn. 49) Perhaps it was the same Thomas who, as 'Thomas, son of Richard de Renacres,' granted some land in Bickerstaffe to 'Thomas de Renacres son of Maud de Hopcroue,' in 1402–3. (fn. 50) The following year a settlement was made, by which there were remainders to other of Maud's children—Richard, Henry, Cecily, and Isabel. (fn. 51) These lands seem shortly afterwards to have been acquired by John Atherton of Bickerstaffe. (fn. 52)
Another family of long standing in the township was that of Mossock, who acquired lands also in Aughton and elsewhere in the district. Sometime about 1280 Richard de Bickerstath, son of Alan de Renacres, gave to William son of Simon de Bickerstath a portion of his land, which from its boundaries appears to be that on which Mossock Hall now stands. The rent was to be 2d. (fn. 53) Another portion, lying on Crawshaw Moor, was given about the same time for a rent of 4d. (fn. 54) Some years later (1300 to 1310) William son of William son of Simon de Bickerstath gave to Ralph son of Henry de Mossock in free marriage with Anilla his daughter all his messuages and lands in Bickerstaffe and Aughton. (fn. 55)
Richard de Mossock quickly follows; probably he was the son of Ralph. In 1327 he leased certain lands in Bickerstaffe, (fn. 56) and in 1332 he was plaintiff in a suit of novel disseisin against Henry son of Simon de Bickerstath, but did not prosecute it. (fn. 57) His son Thomas is mentioned last in the remainders to the lands of John son of Simon de Bickerstath, in a deed made about 1380. (fn. 58) It is possible that he did not long survive his father, for in the first quarter of the fifteenth century his son Henry comes into prominence. Henry married, about 1410, Joan daughter and coheir of John le Norreys of Much Woolton, who brought him lands in Allerton, Woolton, Huyton, and Garston, and from this time the family seem to have had a house in Allerton. Henry had also a house in Liverpool, and took part in the affairs of the town, being mayor in 1426. (fn. 59) He had a dispute with Henry Atherton, lord of Bickerstaffe; it was referred to the arbitration of Sir Thomas Stanley, who decided that Henry Mossock must pay a rent of 9d. and find a man in harvest time. (fn. 60)
He was succeeded by Thomas Mossock, who in the time of Henry VII was followed by his son Henry. (fn. 61) In 1493–4 he married Anne, daughter of Robert Shakerley. (fn. 62) He was followed by his son Thomas, living in 1550. (fn. 63) Thomas's son was another Henry, who married Ellen daughter and coheir of Philip Wettenhall. (fn. 64) One or two deeds concerning him have been preserved. (fn. 65) He was buried at Ormskirk on 22 November, 1593. (fn. 66) His son and heir, Thomas, succeeded, being twenty-three years of age. He married Margaret daughter of Laurence Ireland of Cunscough in Melling, where the family seat was when the visitation of 1664 was made. (fn. 67) He survived his father only three years, leaving a son and heir Henry, then nine years of age. (fn. 68) This Henry was still living in 1664, having weathered many storms. He married Jane, a daughter and coheir of John Moore, son of Edward Moore, of Bankhall. (fn. 69) In 1628, as a convicted recusant, he paid double to the subsidy; (fn. 70) and in 1641 his two children, Thomas and Elizabeth, appear in the recusant roll. (fn. 71) As a matter of course his estates were sequestrated by the Parliament 'for his recusancy and delinquency,' and in 1652 he made complaint that Sir Thomas Stanley, 'taking advantage of his condition,' had enclosed a moss adjoining his estate, on which he had right of depasturing. The next year his estates were sold to Anthony Shelley under the third confiscation Act, 1652. (fn. 72)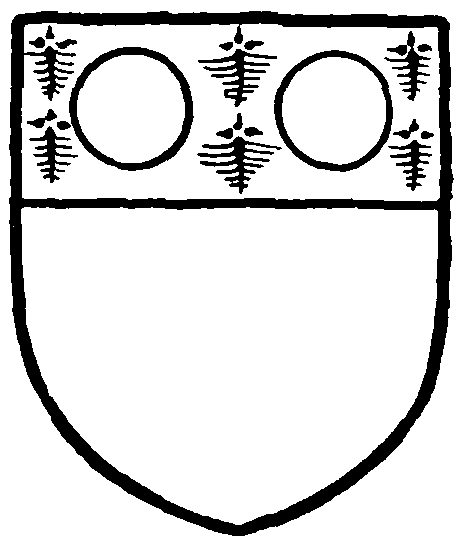 The son, Thomas Mossock, was a lieutenant in the Royal Forces, and was taken prisoner at the battle of Ormskirk, in 1644. (fn. 73) He married Anne, daughter of Thomas Berington, by whom he had a daughter who died in infancy; and secondly Anne, a daughter and coheir of Richard Urmston, of Westleigh, but appears to have had no issue by her. (fn. 74) The family seem to have recovered part at least of their estates. To Thomas his brother Richard succeeded, (fn. 75) and was in possession in 1685, (fn. 76) but Mossock Hall and other lands went to the heirs of his sister Elizabeth, who married Thomas Walmesley, of Showley. (fn. 77)
The site of Mossock Hall, just on the Aughton boundary, is low, and has at one time been moated. The hall, which is now and has been for many years a farmhouse, belongs to a type consisting of a main building with two rooms, one on each side of a large central chimney stack, which are entered from a common lobby and projecting porch and give access to wings at either end, projecting either to front or back, or in both directions. In this example a porch of two stories opens into the lobby, with a door to the kitchen on the left. The right-hand partition and door of the lobby have been removed, and a passage as wide as the lobby is cut off from the sitting-room on the right of the central stack, to give access to the right wing of the house, which contains on the ground floor a dairy, staircase, and second sittingroom.
The oldest parts of the building are of the first half of the seventeenth century, two stories in height, of red brick with stone dressings, the masonry being of good quality, and include the porch, which has outer and inner doorways with four-centred heads, the lobby and central chimney stack, the front walls of kitchen and sitting-room to right and left of the porch, and probably part of the back walls of both. The front window of the kitchen is of five lights, square-headed, and that of the sitting-room, now cut off from it by a partition, of six lights; both have plain chamfered stone mullions and dressings. Heavy beams run across the fireplace recesses in both rooms, and carry the timbers of the upper floor, so that none of the constructional woodwork rests on the masonry of the central chimney—a wise precaution, the neglect of which has caused the loss of many an old house of this date and earlier. The beam in the sitting-room is the roughly squared trunk of an oak tree, fourteen inches square at its smaller end, and eighteen or more at the butt.
The back wall of the house has been refaced or rebuilt in the eighteenth century in very poor red brick with wooden casements, a great contrast to the excellent work of the front.
The sitting-room in the right wing and bedroom above are of better construction, stone-faced, with a massive stone chimney stack, and doubtless date from the prosperous farming days of the beginning of the nineteenth century.
The side wall of the kitchen is a very rough affair, and there has evidently been at this end of the building a wing in some measure corresponding to that still standing.
On the back elevation some nine feet of rough stone footings are to be seen projecting from below the eighteenth-century brickwork, at a slightly different angle to the present wall. They stop on the line of junction of the right wing with the main building, and it may be that this wing formerly projected beyond the back wall. (fn. 78)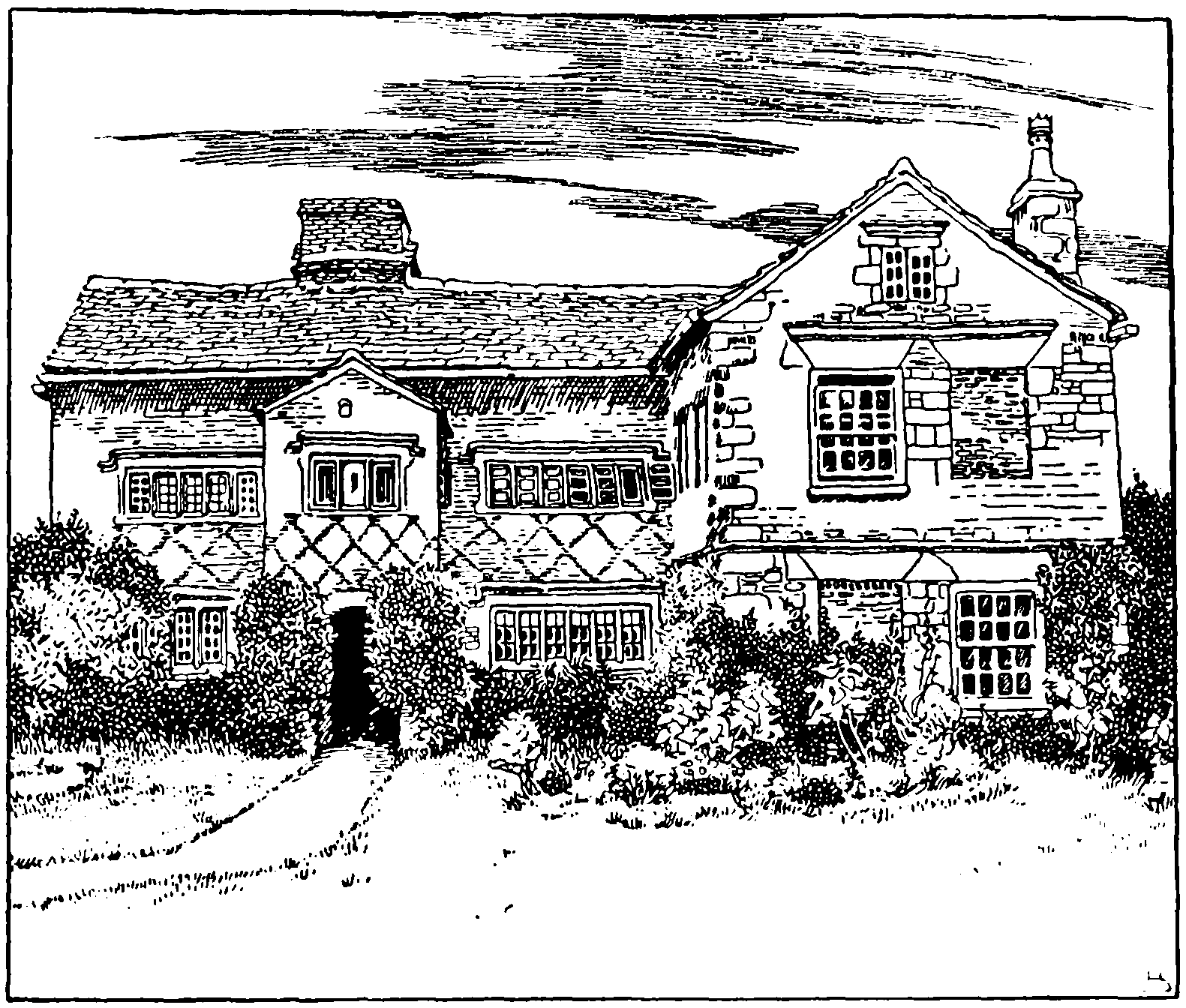 There was a resident priest at Mossock Hall at the beginning of the eighteenth century. (fn. 79)
STOTFOLDSHAW
STOTFOLDSHAW, (fn. 80) as stated, was granted to the Hospitallers by Ralph de Bickerstath. A little later (about 1180) it was granted by Ralph de Diva, their prior, to Norton Priory in Cheshire. (fn. 81) It was held of them by the Bickerstaths and Inces of Aughton, whose rights passed to the Stanleys of Moor Hall. (fn. 82) It gave a name to the tenants; Richard de Stotfoldshaw occurs in the time of Edward II. One of his grants—to his son Henry—has been preserved; (fn. 83) and in 1370 Henry son of Simon de Stotfoldshaw released to Gilbert de Ince of Aughton all his lands in Bickerstaffe. (fn. 84) Another family connected with the place was that of Withard, Whitehoud, or Whitehead, sometimes called Stotfoldshaw. (fn. 85)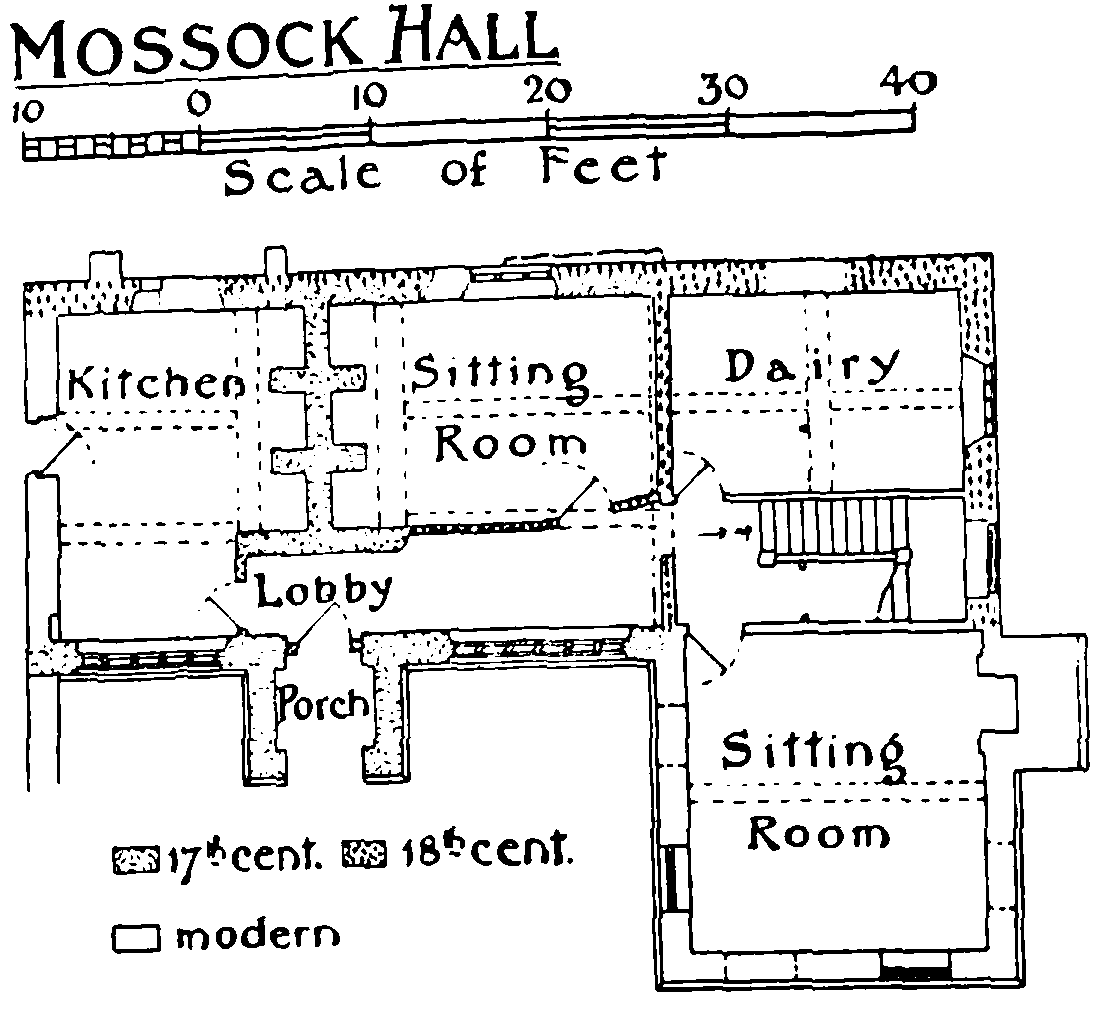 A long list of the inhabitants in 1366 is given in the roll of contributors to the stipend of a priest at Ormskirk. (fn. 86)
Stanley of Bickerstaffe was the only freeholder in 1600, (fn. 87) but in 1628 three were named—Sir Edward Stanley, Henry Mossock, and Thomas Cobham. (fn. 88) John Bullen of Bickerstaffe, as a 'Papist,' registered an estate in 1717. (fn. 89)
In 1650 the surveyors for the Commonwealth recommended that a church should be built in this township. (fn. 90)
The church of Holy Trinity was built in 1843 by the earl of Derby, and enlarged in 1860. There is a burial ground attached. The incumbents are presented by the earls of Derby.
The Society of Friends early had a meeting at Stanley Gate. (fn. 91) A house was licensed for meetings in 1689, (fn. 92) which were discontinued in 1786, and the house made into cottages. (fn. 93) They had also a burial ground in Bickerstaffe, close to Moor Hall in Aughton. (fn. 94)