Pages 354-362
A History of the County of Lancaster: Volume 3. Originally published by Victoria County History, London, 1907.
This free content was digitised by double rekeying. All rights reserved.
SUTTON
No variation in spelling.
This township, now included within the borough of St. Helens, has an area of 3,752½ acres. It partakes of the unpicturesque character of other Lancashire townships where the country is flat and open, containing manufacturing towns and coal mines. The smoke and fumes arising from factories have well-nigh destroyed the best trees, and even hedges have a blackened stunted appearance, and cinderpaths are frequent. There are, however, crops grown in the more favoured parts of the district, consisting chiefly of oats, wheat, hay, and clover. The soil is of clay.
The greater part of the township lies upon the coal measures. A belt of the lower mottled sand stone of the bunter series (new red sandstone) extends across the south-eastern portion with small areas of the permian beds intervening at Leech Hall, Peckers Hill Lane, and Sutton Moss. From St. Anne's Well to Thatto Heath the pebble beds of the bunter series occur.
Sutton Hall is near the centre; Burtonhead is on the western side, with Ravenhead to the north, Eltonhead to the south-west, and Micklehead in the southern corner. Sherdley, on the borders of Burtonhead, has Lea Green to the west and Marshall's Cross to the south; Peasley Cross is in the northeast. The various 'heads' denote the edges of the higher land on the west and south of the township. Sutton Brook crosses the township from the southern corner to join Sankey Brook to the east of St. Helens.
Numerous roads radiate from St. Helens to the south and south-west, and there are cross roads from Prescot to Burtonwood and Parr. The London and North-Western Company's lines from Liverpool to St. Helens, and from St. Helens to Widnes, pass through the township; on the latter are stations at Peasley Cross, Sutton Oak, and Clock Face. The same company's Liverpool and Manchester line crosses the southern part of the township, with stations at Lea Green and St. Helens Junction.
The Local Government Act of 1858 was adopted in 1864, the board being dissolved in 1869 on the creation of the borough of St. Helens.
The rich coal fields of Sutton have long been known, a 'mine of coals' being mentioned in 1556; (fn. 1) and they have attracted the other manufactures for which the district is famous. The plate-glass works at Ravenhead were established in 1773, and on failure in 1794 were again set going. (fn. 2)
Earthenware, especially in drainage pipes, is an important trade, a peculiar clay being found here. Watch movements were also made.
St. Anne's Well lay on the border of Rainhill; the water had a reputation for healing diseases of the eyes. (fn. 3)
MANORS
SUTTON, Eccleston, and Rainhill were probably members of the Widnes fee in 1086, (fn. 4) and continued to be held as one of the four knight's fees which constituted the service due for this lordship. In 1212 William son of Matthew de Daresbury held these manors. (fn. 5) About 1250 William de Daresbury (fn. 6) granted to Robert son of Roger de Ireland, in free marriage with his daughter Beatrice, the homage of William called Samson in the whole of Eccleston and Rainhill, of Robert son of John de Sutton for three plough-lands in Sutton, and of Matthew de Daresbury, perhaps a brother of the grantor, for another half plough-land there. (fn. 7) Sutton by itself being assessed at four plough-lands, the remaining half plough-land was probably held in demesne.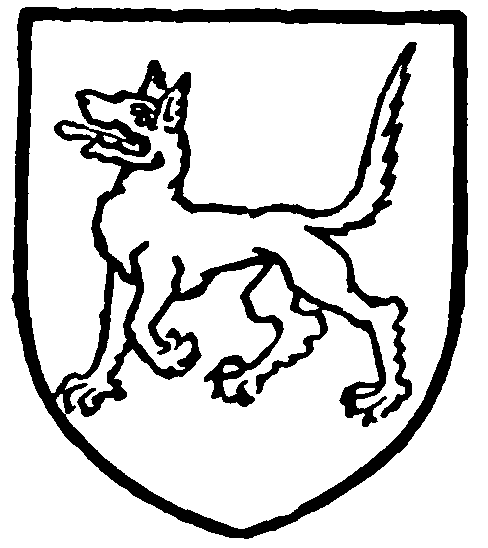 Beatrice was her father's heir, and her two daughters, Margery and Maud, carried the inheritance to their husbands, Henry and Gilbert, sons of Alan le Norreys of Formby. (fn. 8) There seems to have been a division, Henry and Margery as the seniors taking Daresbury, (fn. 9) whilst Gilbert and Maud took Sutton. Very soon, however, the latter resigned their rights in Eccleston and Rainhill to the others. (fn. 10) Sutton they retained for themselves. Maud seems to have died early, leaving an only daughter Margery as heir. (fn. 11) Gilbert married again, holding this manor until his death; his sons Robert and Richard are named. (fn. 12) Margery married one John de Meols, and left a son and heir Gilbert, who successfully asserted his right to his grandmother's inheritance. (fn. 13) He died about 1348, leaving an only son and heir Robert, who died soon after his father without issue, by his wife Agnes. (fn. 14) Thereupon Sutton was claimed and recovered in 1349 by Clemency, as daughter and heir of Alan le Norreys, son of Alan, the son and heir of Henry and Margery. (fn. 15)
At this time Clemency was a minor, in the guardianship of John Danyers or Daniell, who married her to his son William. (fn. 16) The manor continued in the line of Daniell of Daresbury until 1517, (fn. 17) when John Daniell sold his manors of Sutton, Eccleston, and Rainhill, to John Bold, most probably the half brother of Sir Richard Bold. (fn. 18) From him they passed to his brother Tucher or Tuger, (fn. 19) who gave them in 1545 to his nephew Richard Bold. (fn. 20) With the rest of the Bold estates they came into the possession of Sir Henry Bold Hoghton. Sutton being sold, was in 1869 purchased by William Pilkington, from whom the lordship of the manor has descended to Mr. William Lee Pilkington, his son. (fn. 21)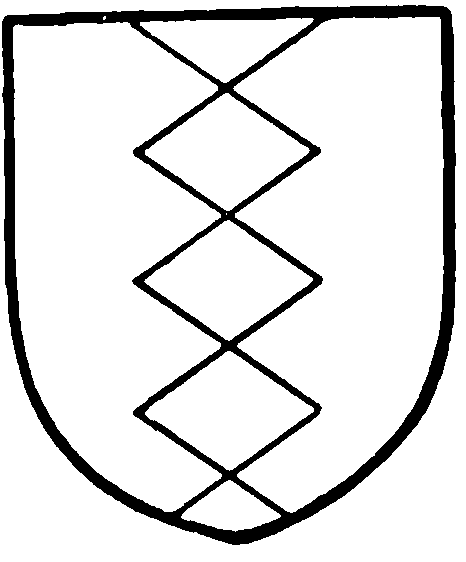 The Hospitallers had land in Sutton called Crossgate, from which they drew a quit-rent of 12d. (fn. 22)
The charter of William de Daresbury shows that three of the four plough-lands of SUTTON were in the possession of the family taking the local name. They appear at the end of the twelfth century, when William son of Ivo, at the prayer and with the consent of Siegrith his wife and his heirs, gave to Hugh le Norreys a plough-land in Eltonhead. (fn. 23) Siegrith afterwards gave Burtonhead, as half a plough-land, to Gilbert de Haydock, (fn. 24) and made benefactions to Warburton. (fn. 25) She was succeeded by her son John, who confirmed his mother's gifts to Cockersand; (fn. 26) and his son Robert, as above stated, was in possession about 1250. (fn. 27) Sons of his named John, Richard, and Robert are known, (fn. 28) but though the family seems to have retained some holding in Sutton, (fn. 29) the manor is very soon afterwards found in the possession of Richard de Holland. (fn. 30)
The Hollands retained the manor down to the eighteenth century, but very little is known of them. (fn. 31) The religious changes of the sixteenth century brought Roger Holland to the stake for his persistence in the doctrines of the reformed church, (fn. 32) but the family remained generally constant in the profession of the Roman Catholic faith, and had much to endure in consequence. (fn. 33) The Ven. Thomas Holland, a Jesuit, who suffered as a priest at Tyburn, 12 December, 1642, is supposed to have been of this family. (fn. 34) Pedigrees were recorded in 1567 (fn. 35) and 1664. (fn. 36)
William Holland was the head of the family in 1567. His eldest son was Alexander, (fn. 37) who died 1 April, 1588, holding the hall of Sutton of the queen as duke of Lancaster, and land in Ditton; his son and heir was Richard, aged thirteen. (fn. 38) Richard Holland made a settlement of his lands in 1611 in favour of his son William; the latter succeeded his father, and at his death on 24 February, 1623–4, the inheritance passed to his son Richard, aged nearly nine years. (fn. 39)
The family appears to have been deeply involved in debt; and after the outbreak of the Civil War Richard Holland's estate was sequestered by the Parliament for his recusancy and delinquency. He died in 1649, and his wife about the same time, leaving three young children—Edward, born in 1640, Richard, and Anne. A creditor seized the estates, and a fifth of the annual value, estimated at only £27, was all that was allowed for the maintenance of the children. (fn. 40) Edward and his wife Esther were returned as recusants in 1679, (fn. 41) and their son Thomas registered his estate as a 'Papist' in 1717. (fn. 42) In 1700, however, the manor had been sold to Richard Bold, and became merged in the superior lordship already held by him. (fn. 43)
The grant of BURTONHEAD by Siegrith de Sutton to Gilbert son of Henry de Haydock has been mentioned. (fn. 44) Towards the end of the thirteenth century Robert, son of Gilbert de Haydock, gave to William, son of Adam de Burtonhead, a portion of his land in Fernylea in Burtonhead, (fn. 45) but soon the Haydocks gave place to Norrises. The grant just named shows that there was a local family besides. (fn. 46)
Alan le Norreys, whose sons Henry and Gilbert afterwards acquired by marriage the superior lordship, was in possession as early as 1246, when he appears as one of the lords of Sutton, complaining of a disseisin. (fn. 47) He was succeeded by his son Robert about 1276, and then the name of Robert le Norreys— there being apparently two persons successively bearing the name, father and son—occurs for over fifty years, (fn. 48) being succeeded by Nicholas son of Robert, who is found as plaintiff as early as 1319; (fn. 49) he died about 1349, his widow Emma appearing in a suit in 1351. (fn. 50) By virtue of a certain entailing deed he was succeeded by Robert son of Nicholas le Norreys, then a minor. This Nicholas, called 'of Burtonhead,' lived until 1367, and then followed Robert, born about 1335. (fn. 51) Robert had sons Thomas and John, (fn. 52) and the former leaving a daughter and heir Margaret, Burtonhead passed to her issue by her husband, Hugh son of Richard de Pemberton. (fn. 53) William their son succeeded, (fn. 54) and was followed by John Pemberton, who died about 1501; (fn. 55) the latter's son James was followed by George Pemberton, (fn. 56) and he by his son James. (fn. 57) His heir was another James, his son, who with his son James appears to have mortgaged and then sold the manor, (fn. 58) which shortly afterwards was held by Henry Eccleston of Eccleston. (fn. 59) In this family and its successors it descended (fn. 60) like Eccleston until 1803, when it was sold to Michael Hughes of Sherdley, ancestor of Captain Hughes, the present owner. (fn. 61) Large portions of the lands pertaining to it have been sold to manufacturing companies and others.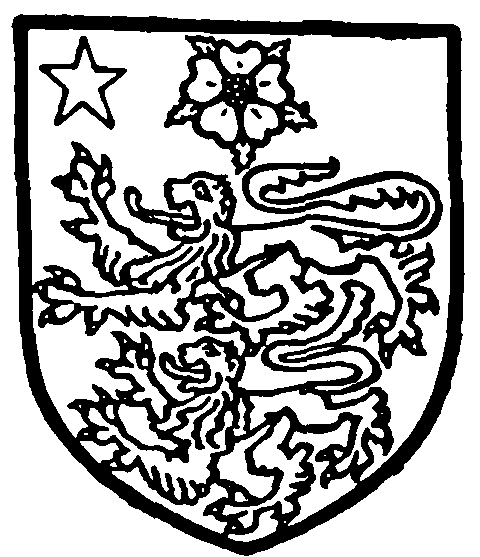 The Norrises of Speke also had land here. (fn. 62) It was at Sutton that John le Norreys of Speke imprisoned Margery de Bulling until she resigned her land. (fn. 63)
The grant of ELTONHEAD, as one plough-land, to Hugh le Norreys (fn. 64) has been mentioned above. The lordship of Eltonhead is next found after nearly two centuries, in the possession of the Lathoms of Lathom. In 1370 it was held by Thomas, son of Robert de Lathom, of William Daniell, by knight's service. (fn. 65) It descended to the earls of Derby with the other Lathom manors, but is not mentioned in the Derby inquisitions. (fn. 66) The same or a later Hugh le Norreys in the thirteenth century granted four oxgangs of land, or half the vill of Eltonhead, to William le Norreys, (fn. 67) who appears to have settled there, becoming ancestor of the family who took their name from the place and held this mesne manor down to the end of the seventeenth century. The sons of William were probably the 'Alan and Robert, sons of William le Norreys' who attested the charter of William Samson concerning Eccleston and Rainhill about 1270. (fn. 68) William le Norreys was still living in 1246. (fn. 69)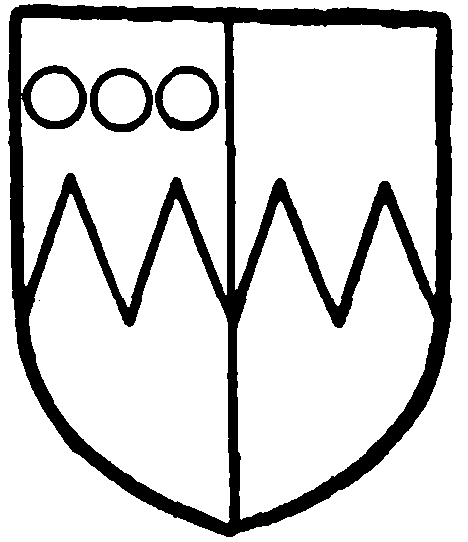 For a time Eltonhead seems to have been held in division between the descendants or representatives of his sons. Of the two brothers, Robert lived the longer, dying about 1310; (fn. 70) Alan was represented by Henry, probably his son, as early as 1302. Robert was succeeded by his son Alan, (fn. 71) and the latter's son Richard, dying in his father's life time, (fn. 72) was succeeded by his son Henry before 1353. (fn. 73)
Henry de Eltonhead in 1332 contributed to the subsidy. (fn. 74) In 1337 Alan, son of Henry, put in a claim to the manors of Haigh and Blackrod. (fn. 75) The next of this, the senior branch, to appear is John de Eltonhead, grandson of Henry, who was in possession for about fifty years. One of his earliest acts was the recovery of the share of the manor held by Henry, son of Alan de Eltonhead, by which he became sole lord of the manor. (fn. 76) From this time for more than a quarter of a century there are only fragmentary notices of the family. (fn. 77) From 1500 onwards, however, a fairly complete account can be compiled from the inquisitions post mortem (fn. 78) and the pedigrees recorded at the visitations. (fn. 79)
The family would appear to have conformed, after a brief resistance, (fn. 80) to the religious changes of Queen Elizabeth, but Richard Eltonhead the elder took arms for the king in the Civil War, and had to compound for his estates. (fn. 81) In 1676 Richard Eltonhead and Richard his son conveyed to Thomas Roughley the hall of Eltonhead and the lands belonging to it; (fn. 82) and the sale was completed in 1684. (fn. 83) From Thomas it passed to his sons Henry and Percival, and then to their creditors, being purchased in 1712 by Isaac Greene, (fn. 84) from whom it has descended, through the Gascoynes, to the Marquess of Salisbury, the present possessor. (fn. 85)
Early in the thirteenth century, WOODFALL in Burtonhead was granted to the canons of Cockersand by Siegrith de Sutton and Richard de Burtonhead; Emma wife of Simon son of Roger de Rainhill, with the assent of her husband, resigned all her right in it. (fn. 86)
The family called after this estate, of which there are few particulars, began with an Adam son of William Blundell, (fn. 87) whose two sons William and Richard had some disputes concerning their inheritance. (fn. 88) The Woodfalls continued here until the sixteenth century, (fn. 89) when they appear to have sold their estates, being succeeded by Livesey of Ravenhead and Watmough of Micklehead. (fn. 90)
John de Northale in Sutton was plaintiff in 1276 with the lords of Rainhill in a suit respecting the boundaries; (fn. 91) the family are mentioned from time to time in various pleas; thus Gilbert son of Henry de Northale occurs in 1292, (fn. 92) Alice, widow of Henry son of Simon de Northale, in 1317, (fn. 93) and Hugh de Northale in 1305 and 1332. (fn. 94) By this time, however, the main branch appears to have settled at SHERDLEY and assumed a new surname from it, for in 1319 John de Sherdley, in a claim to lands in Sutton, traced his descent thus: he was son and heir of Robert, who was son and heir of Henry de Northale. (fn. 95) In 1303 John de Sherdley was reckoned among the lords or freeholders of Sutton. (fn. 96) The family appear to have held their lands down to the sixteenth century, when they also gave place to others. (fn. 97)
Captain Michael Hughes, the present owner of Sherdley Hall, is a great-grandson of Michael Hughes, whose first wife was Mary, daughter and heir of the Rev. William Johnson, a former owner. (fn. 98)
Some ancient deeds as to Blackley are preserved at Warrington. (fn. 99)
Among the families who held lands in Sutton were those of Gerard, Parr, Atherton, Sale, and Standish. (fn. 100)
The leasehold estate of Robert Cowley was sequestered by the Commonwealth authorities. (fn. 101) Besides the Hollands the following 'Papists' registered estates in Sutton in 1717:—Henry Foster; Catherine Hawarden, widow, daughter of Bryan Lea; Ralph Howard, tanner; John Longworth, whose wife Margery was a daughter of William Holland; and Thurstan Scott. (fn. 102)
The largest contributors to the land tax of 1787 were Mrs. Bold and Bamber Gascoyne, together paying a fourth of the whole, Philip Afflack, and the Ravenhead Copper Co.
A dispute concerning a plot called Bold's Acre and Windyates in Sutton, between Richard Bold and Peter Stanley of Bickerstaffe, has some points of interest. Stanley claimed in right of his wife, heir to the Athertons of Bickerstaffe. The plot was owned half by one party and half by the other, 'a great byland or sparth' being the mere between the two portions. William Watmough, aged seventy, deposed that the lane called Chester Lane, leading from Sutton to Chester, was at the east end of Bold's Acre, and that Ritherope brook was at the west end of it. There had formerly been a marl pit on the Bold share. Richard Dyke had dwelt with John Bold, the former occupier of Gifforth House, to which Windyates was appurtenant, and when he was sent to plough 'he was warned not to hurt the balk, as it was a mere between two lords' lands.' (fn. 103)
In connexion with the Established Church, the following places of worship have been erected in recent times:—St. Nicholas's Church was built by King's College, Cambridge, and a parish formed in 1848, the patronage being vested in the college. (fn. 104) A chapel of ease, All Saints', was erected in 1893. St. John the Evangelist's, Ravenhead, was built in 1870 (fn. 105); the patron is the vicar of St. Helens.
The Wesleyan Methodists have a church in Sutton, and the United Methodists one at Marshall's Cross.
The Congregational church at Peasley Cross was begun in 1864–5; in 1869 it was associated with the St. Helens congregation, and the two have since been worked together. (fn. 106)
The Salvation Army has barracks.
It is possible that in the severest periods of the persecution of the Roman Catholic Church (fn. 107) mass was said at times in the houses of the Hollands and others; but the earliest distinct notice is that of a chapel at Ravenhead Hall, in 1716. (fn. 108) A mission was begun at Peasley Cross in 1862, St. Joseph's Church being built in 1878. The Passionists have a house at Sutton called St. Anne's Retreat. In 1849, John Smith, a native of the place who became a successful railway contractor, built a church here, and added land for a monastery, which he gave to Fr. Dominic, who introduced this order into England. The church was opened in 1853, one of the sermons being preached by Fr. Ignatius Spencer. (fn. 109)