Pages 180-182
A History of the County of Lancaster: Volume 5. Originally published by Victoria County History, London, 1911.
This free content was digitised by double rekeying. All rights reserved.
AINSWORTH
Euenesworth, 1243; Aynesworth, 1332.
Ainsworth lies about 6 miles west-north-west of Middleton Church; it is quite separated from Great Lever by the townships of Little Lever and Darcy Lever in Bolton, and from the rest of the parish by Radcliffe, and portions of Bury. It measures about 2 miles from north to south, and over a mile across. The area is 1,308½ acres. (fn. 1) It is an upland slope; the highest ground, over 500 ft., is in the northern half of the township, near the centre of which are situate the village and church. The eastern side is known as Cockey Moor, part of the moor being in Radcliffe. Blackshaw Brook forms the boundary on the west. The population in 1901 numbered 1,718.
The principal road is that from Bolton to Bury, passing through the southern end of the township. A more northerly road between the same places passes through the village, and runs across Cockey. The Lancashire and Yorkshire Company's Bolton and Bury line crosses the southern corner of the township, where it has a station called Bradley Fold.
A bronze celt and Roman coins have been found on Cockey Moor.
This moor was a mustering place for the Royalist troops in 1642. (fn. 2)
The soil is light, overlying gravel; wheat, oats, and potatoes are grown, and some land also is devoted to pasture. Cotton weaving is pursued, also bleaching and dyeing. 'Mr. John Wilson of Ainsworth, originally a fustian manufacturer, produced several ingenious inventions by which he brought cotton velvets to the utmost perfection; he also procured from the Greek dyers of Smyrna the secret of dyeing Turkey red. (fn. 3) Stone quarries are worked.
In 1666 there were fifty-one hearths liable to the tax, but no house had as many as six hearths. (fn. 4)
The township was in 1894. extended to include the rural part of Elton. (fn. 5) It is governed by a parish council. A small recreation ground and gymnasium was presented to the township in 1902.
Manors
AINSWORTH was a member of Middleton Manor, and the earliest notice of it is in the grant of land there to Cockersand Abbey, made by Roger de Middleton about 1200. (fn. 6) It is usually mentioned with other portions of the manor in settlements and inquisitions, (fn. 7) and has descended to the Earl of Wilton. (fn. 8)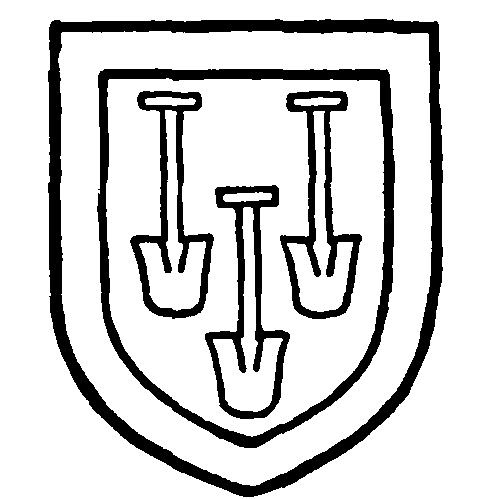 Ainsworth gave a surname to a local family, one of whom, by marriage with Maud de Middleton, held the principal manor for many years. (fn. 9) The Ainsworth family, settled at Pleasington, continued to hold land in Ainsworth till the beginning of the 17th century. (fn. 10) An estate in Ainsworth, Breightmet, and Harwood was in 1588 sold or mortgaged by Thomas Ainsworth to Ralph Booth, (fn. 11) whose estate descended to his nephew Geoffrey Lomax in 1622. (fn. 12)
Other resident families were named Aspinall, (fn. 13) Harper, (fn. 14) and Openshaw. (fn. 15) Robert Horrox of Ainsworth having declined knighthood compounded in 1631. (fn. 16)
About 1514 there was a dispute between the lords of Middleton and Radcliffe as to the right of turbary on Cockey Moor. (fn. 17)
The land tax returns show that Sir Thomas Egerton owned most of the land in 1783. Mrs. Ann Baron was the other owner. (fn. 18)
An inclosure award for Radcliffe and Ainsworth was made in 1812. (fn. 19)
Church
A chapel existed at Cockey Moor in 1515, (fn. 20) and probably continued in use after the Reformation. (fn. 21) In 1620 it had a special curate or lecturer. (fn. 22) Just before 1650 it was endowed with a small piece of land improved from the common, and had a regular minister, supported by the offerings of the people. (fn. 23) Though the minister is stated to have been 'turned out' in 1662, (fn. 24) the building appears to have remained in possession of Nonconformists for nearly fifty years after this. (fn. 25) In 1718 Bishop Gastrell found that the rector of Middleton preached there once a month; other Sundays it was vacant. (fn. 26) Some endowments were secured. (fn. 27) The registers begin in 1727. The chapel, now called Christ Church, was rebuilt in 1832, and had a separate ecclesiastical parish assigned to it in 1867; (fn. 28) the rector of Middleton is patron. The following have been curates and vicars:—
1725.
James Wylde, B.A. (Magdalen Hall, Oxford) (fn. 29)
1759
John Barlow, B.A.
1768
Robert Deane, B.A.
1799
James Archer (fn. 30)
1828
John Haughton, B.A.
1836
Richard Heslop (fn. 31)
1851
G. R. Carr
1857
Robert Macdonnell Evanson, M.A. (T.C.D.)
1888
John Alexander Lauria, M.A. (Emmanuel Coll., Camb.)
1905
Alfred Wood
There is a chapel of the Methodist New Connexion, built in 1847.
The people of the district in the 17th century appear to have been resolute Puritans. As stated above the chapel at Cockey was retained by the Nonconformists until the beginning of the following century; in 1715 they built a meeting house so near the old chapel' that the congregations might hear one another sing psalms.' The doctrine for nearly a century has been Unitarian. (fn. 32)