Pages 176-180
A History of the County of Lancaster: Volume 5. Originally published by Victoria County History, London, 1911.
This free content was digitised by double rekeying. All rights reserved.
ASHWORTH
Assewrthe, 1236; Hesseworthe, c. 1260; Asschewrth, c. 1270.
Ashworth is a narrow stretch of land lying between Cheesden Brook on the south, Naden Brook on the east, and its tributary, the Oldhouse Brook, on the north. The area is 1,021½ acres. The surface is hilly, rising to 1,000 ft. at one point near the western end. There is an extensive view from the hill on which the church stands. The population in 1901 was included with that of Birtle.
The principal road is that from Heywood to Edenfield, passing diagonally through the township.
The soil is of loam and clay, with subsoil of clay; the land is mostly in pasture. Stone quarries are worked.
There were only thirty-two hearths—Richard Holt's dwelling having twelve of them—liable to the hearth tax in 1666. (fn. 1)
The whole of Ashworth was in 1894 added to Birtle-cum-Bamford. (fn. 2)
Manor
Like the other hamlets or vills of the parish, ASHWORTH was held of the lord of Middleton, (fn. 3) but part of it was the free alms ofMiddleton Church. (fn. 4) The earliest deed concerning it is a grant made about 1180–90 by Roger son of Alexander de Middleton to Geoffrey son of Robert the Dean of Whalley of the whole of Ashworth, for the service of 40d. yearly for sake fee. Jordan de Ashworth, a witness, was probably the immediate tenant. (fn. 5) In 1236 Robert de Middleton gave the homage of Henry de Whalley for Ashworth to Geoffrey de Chetham. (fn. 6) About the same time Orm son of William de Wardle released to Robert son of Bernard de Ashworth his claim to 4 oxgangs in Ashworth, which he had demanded in the king's court. (fn. 7) Richard son of Adam de Birtle, who held an acre in Birkrod of Stephen de Ashworth, granted it to Robert son of Robert de Ashworth; a rent of 1d. was payable to the chief lord, Henry son of Randle de Ashworth. (fn. 8) From these and other deeds it is clear that the land was much divided, and that the local surname was used by any or all of the tenants.
Stephen de Ashworth, just mentioned, gave an acre of his church land to John Spode. (fn. 9) He was succeeded by daughters—Maud, Margery, and Edusa. Two of them are named in a grant of all his lands by Ralph de Ashworth to Robert de Ashworth son of Alexander de Bamford. (fn. 10) A Robert son of Robert de Ashworth married Tiffany daughter of Margery, and to him her sisters appear to have made over all their rights about the year 1290. (fn. 11)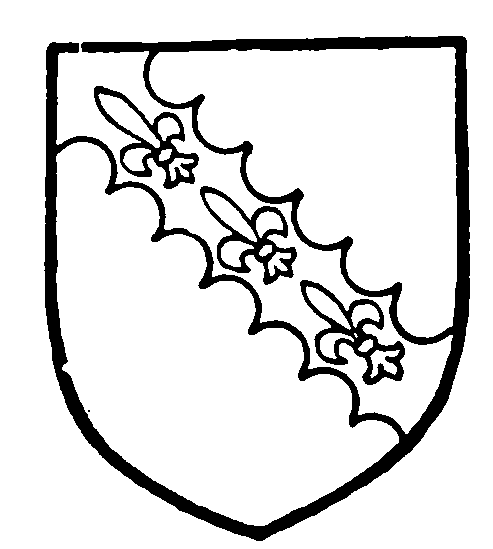 It does not seem possible to make a clear account of the descent of the manor out of these materials. In 1294, however, Richard de Ashworth, whose father's name is not given, is called the chief lord. (fn. 12) Richard had a son Robert, whose daughter and heir Maud in or about 1349 married Hugh son of John del Holt, member of a Rochdale family. (fn. 13) The Holts retained the manor for 350 years. (fn. 14) Robert Holt, who died in 1560, held the capital messuage with eighteen others, a water-mill, four fulling-mills, 300 acres arable land, &c., in Ashworth, of Richard Assheton of Middleton, by a rent of 3s. 4d. His eldest son and heir, Robert, was sixteen years of age. (fn. 15) His second son, William, is the most famous member of the family. He was born about 1545, and sent up to Oxford, where he graduated, afterwards becoming Master of Arts of Cambridge also. (fn. 16) Dissatisfied with the Church of England he went to Douay in 1574, where he studied theology, and was ordained. (fn. 17) Being sent to Rome he entered the Society of Jesus in 1578, and three years later was sent on the English mission. He was then employed by the imprisoned Queen of Scots on an embassy to her son, King James. He was arrested at Leith in 1583 and put to the torture, Queen Elizabeth urging this in the hope of obtaining knowledge of suspected plots in England; nothing, however, was obtained from him. He was liberated in the following year and sent abroad. He died at Barcelona in 1599. (fn. 18)
Robert Holt lived on until 1624. (fn. 19) He procured the ancient rent of 3s. 4d. to be commuted to a pair of gloves. He had a son Robert, who died before his father, leaving a son and heir Richard, (fn. 20) who came of age in 1618, when a settlement of part of the Ashworth estate was made by Robert and Richard Holt; the latter had married Mary, a sister of Theophilus Ashton, and afterwards the wife of John Greenhalgh, and died in 1620, leaving an infant son Richard, born in 1619, who became the heir of his great-grandfather in 1624. William Holt, a surviving son of Robert, entered into possession of the estates, probably as guardian of the heir. (fn. 21)
Richard Holt came of age just before the outbreak of the Civil War, and, perhaps under the influence of the Greenhalghs, attached himself to the king's side. He returned home dangerously ill in December 1645, having taken part in the second defence of Lathom. His estates were sequestered, and having taken the National Covenant and Negative Oath, he compounded for a fine of £551, and took no further part in the struggle. (fn. 22) He recorded a pedigree at the visitation in 1665, (fn. 23) but died in 1668, leaving Ashworth by his will to his eldest son Robert. (fn. 24) Robert appears to have died without issue, for in 1700 his younger brother Richard, then in possession of Ashworth, joined with the other brothers, William and Thomas, in the sale of the estate to Samuel Hallows of Gray's Inn, for £3,960 and an annuity of £25. (fn. 25) The new owner, who appears to have been a Nonconformist, had no children, and left his estates in Ashworth, Newbold in Castleton, and elsewhere, to John Hatfield, son of his nephew John Hatfield of Hatfield, and to another nephew Samuel Hallows Hamer, son of Samuel Hamer of Newbold, expressing the wish that as Ashworth had always been an undivided property it might so continue on a division. (fn. 26) Accordingly it was taken by John Hatfield, who in 1751 sold it to Thomas Ferrand of Rochdale. (fn. 27) By him it was in 1767 sold to Samuel Egerton of Tatton, (fn. 28) and has descended to Earl Egerton of Tatton, the present owner. (fn. 29)
Richard Kenyon, a leaseholder in Ashworth, adhered to the royal side in the Civil War, and had his property sequestrated. (fn. 30)
Church
The chapel of St. James is of ancient origin. (fn. 31) It had probably been erected by a lord of Ashworth for his family and tenants, and was but poorly furnished. (fn. 32) It was a donative, and without endowment. The services were probably maintained but irregularly. (fn. 33) In 1650 the Commonwealth commissioners recommended that it should be made into a parish church, but this was not carried out. (fn. 34) Bishop Gastrell in 1724 found that the Holts of Ashworth had always allowed £4 to the ministers, but Samuel Hallows, who had recently purchased it, alleged it to be a domestic chapel. (fn. 35) It seems to have been at that time used by the Nonconformists. (fn. 36) The owner afterwards gave £200 to meet an equal grant by Queen Anne's Bounty in 1737,and the chapel ceased to be a donative. (fn. 37) The patronage remains in the owner of Ashworth, now Lord Egerton of Tatton. The registers begin in 1741. In 1751 the income was stated to be £50, viz., £30 from land and £20 from pew rents. (fn. 38) The following have been the curates:— (fn. 39)
1695
George Jackson, B.A.
1735
Jonathan Heaton, B.A. (Trinity Coll., Camb.)
1737
Peter Blakey, M.A.
1771
John Sutcliffe (Queen's Coll., Oxf.)
1806
William Horton, M.A.
1817
Thomas Hodgson
1821
Joseph Selkirk
1832
David Rathbone
1871
John Fish, M.A. (T.C.D.)
1883
Francis Edwin Waldie
1904
Thomas Earl Floyd
The church was nearly rebuilt in 1789, and was enlarged in 1837. It had a separate district assigned to it in 1867. (fn. 40)