Pages 285-286
A History of the County of Lancaster: Volume 5. Originally published by Victoria County History, London, 1911.
This free content was digitised by double rekeying. All rights reserved.
LONGWORTH
Longeworthe, 1254; Lunggewrthe, 1278; Longeworth, 1290.
Longworth occupies the south-western slope of Turton Moor and the tongue of lower land to the south-east, between the Longworth and Delph Brooks. In the latter part of the township the hall is situated, but there is no village nor any considerable hamlet within the boundary. The area is 1,654 acres. The population was in 1901 numbered with that of Western Turton.
A road from Egerton in Turton passes along near the south-western border. The ancient road from Blackburn to Bolton through Tockholes crossed the township.
The land is chiefly pasture. There is a quarry on the hill, but a cotton mill near the southern corner has lately been demolished by the Bolton Corporation in connexion with their water supply.
For local government the township was in 1898 joined to Turton, ceasing to have a separate existence. (fn. 1)
No house in the township had more than two hearths in 1666, except Thomas Lacy's, which had seven. The total was 21. (fn. 2)
Manor
LONGWORTH was held of the lords of Manchester as 2 oxgangs (fn. 3) of land by a family or families which assumed the local surname, and continued there down to the middle of the 17th century. Apart from grants made by Matthew son of Siward de Longworth to the abbey of Cockersand about the beginning of the 13th century (fn. 4) there is little to be recorded of the family, (fn. 5) though pedigrees were entered at the heralds' visitations in 1567 (fn. 6) and 1613. (fn. 7) Christopher Longworth died in 1608, holding various messuages and lands in Longworth, including a water-mill, of Rowland Mosley as of his manor of Withington by knight's service and 9½d. rent. He also held lands in Bolton. Thomas his son and heir was twenty-three years of age. (fn. 8) Thomas Longworth and Dorothy his wife made a settlement of the manor of Longworth and lands there and in Bolton in 1632. (fn. 9) Soon afterwards, however, the manor appears to have been sold— probably to Lacy, who recorded a pedigree in 1664 (fn. 10) —and in 1738 it is named in a settlement of the estates of William Hulton of Over Hulton. (fn. 11) It afterwards descended regularly in this family, (fn. 12) but in 1907 was purchased by the Corporation of Bolton in connexion with the town's water supply. The Delph reservoir is now being formed in Longworth.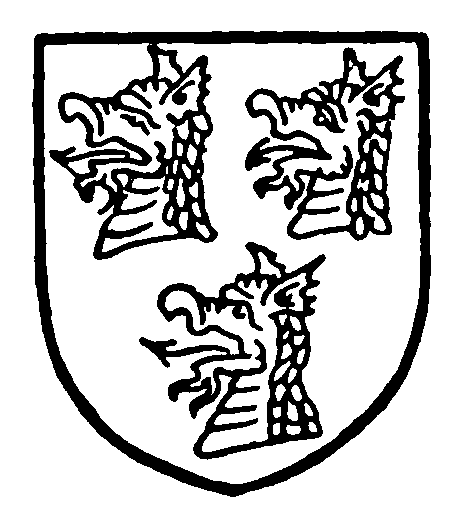 The Radcliffes of Radcliffe in 1309 drew a rent from Longworth. (fn. 13) The freeholders in 1600 were Christopher Longworth and James Worthington. (fn. 14)