Pages 108-113
A History of the County of Lancaster: Volume 7. Originally published by Victoria County History, London, 1912.
This free content was digitised by double rekeying. All rights reserved.
GRIMSARGH and BROCKHOLES
Grimesarge, Dom. Bk.; Grimisharg, 1242; Grimsarche, Grimsharg, 1244; Grimesherg, 1253; Gremesargh, Gremeshargh, Grymesharth, Grymesharuth, 1292; Grymesargh, 1293; Greymesargh, 1301; Grymsar, xv cent. This last shows the pronunciation (i short).
Brochole, 1212; Brocholes, Brochols, 1290. Locally pronounced Brockus.
This township consists of two distinct parts connected by a narrow strip of ground beside the Ribble. A small part was included in the borough of Preston in 1880 and in the township of Preston in 1894. (fn. 1) Grimsargh, the northern half, has an area of 1,184 acres, stretching from the Ribble to Savock Brook. It is divided from Elston on the east by a wooded clough. In the southern corner the land rises steeply from the river, and here is Red Scar, a mansion commanding fine views over the valley. The surface of Grimsargh is comparatively level, but mostly above 200 ft. over sea level.
The principal road is that from Preston to Longridge, going north and then east. The railway between those towns crosses this part of the township in a north-easterly direction, and has a station named Grimsargh, from which a branch line runs north-west to the asylum at Whittingham.
There are reservoirs of the Preston Waterworks in the north of the township. Near Red Scar there was formerly a well reputed to be medicinal; 'it went by the name of Boilton Spa, and it is said that its water cured consumption. This well was in the form of a double trough, 2 yds. long and 2 ft. broad, and was approached by about half a dozen descending steps. The water came out of the breast of Boilton Wood, and in front of the drain or pipe by which it entered the well there was a piece of carved work in the shape of a human head, through the mouth of which the water ran into the receiving trough. . . The well was done away with and the water drained off about thirty years ago [i.e. about 1850], by the late Colonel Cross. (fn. 2)
Brockholes lies in a bend of the Ribble, its boundary on the east and south, being closed in by Ribbleton on the other sides. The greater part of it is low-lying level ground, but on the border of Ribbleton the surface rapidly rises for nearly 100 ft. Lower Brockholes and Higher Brockholes are in the south-west and north-east respectively. Near the former house the Preston and Blackburn road crosses the Ribble by a bridge, first erected in 1824, and then in stone in 1861. It was known as the Halfpenny Bridge, from the toll formerly charged. There are very few houses in this part of the township, which has an area of 753½ acres.
The area of the original township is 1,937½ acres, (fn. 3) and in 1901 there was a population of 453 for the present reduced township. (fn. 4)
The soil is clay and alluvial, with subsoil various. The land is chiefly in pasture.
The township is governed by a parish council.
A wayside cross, known as Three Mile Cross, formerly stood in Grimsargh. (fn. 5) The line of a Roman road, called Watling Street, has been traced in Grimsargh and Elston.
Manors
In 1066 GRIMSARGH, then assessed as two plough-lands, was a member of Earl Tostig's Preston lordship. (fn. 6) Some time after the Conquest the manor was divided; Grimsargh, as half a plough-land, was held in thegnage; Brockholes, also half a plough-land, was given to the baron of Manchester; and Elston, the remaining plough-land, to the baron of Penwortham.
Roger son of Augustin de Heaton of Heaton in Lonsdale had a confirmation of his half plough-land in Grimsargh in 1189 from John Count of Mortain; Roger had obtained the manor from Roger son of Orm (son of Magnus) (fn. 7) who held Hutton near Penwortham and Medlar near Kirkham. (fn. 8) Roger de Heaton demised it to Gilbert de Grimsargh. (fn. 9) His son Roger de Heaton held it in 1262, the tenant then being William de Grimsargh, who paid the 3s. thegnage rent due from Roger to the king. (fn. 10) William the son and heir of Roger afterwards confirmed the title of William de Grimsargh, the rent being unchanged. (fn. 11) The Earl of Lancaster received 3s. from Grimsargh in 1297. (fn. 12)
About this time the Hoghtons of Hoghton appear to have acquired lands in the township, (fn. 13) and eventually purchased the lordship from the Grimsargh family. (fn. 14) In 1324 the mesne lord, William de Heaton, was said to hold it by the old rent of 3s., (fn. 15) but in 1346 the immediate tenant only was recognized, viz. Adam de Hoghton. (fn. 16) The manor descended in this family without noteworthy incident (fn. 17) until 1772, when it was sold by Sir Henry Hoghton and Frances his wife to William Shawe the younger, (fn. 18) from whom it seems to have passed to the Cross family, seated at Red Scar in this township. (fn. 19) Mr. William Cross is the present lord of the manor, (fn. 20) but lives in Surrey, Red Scar being let.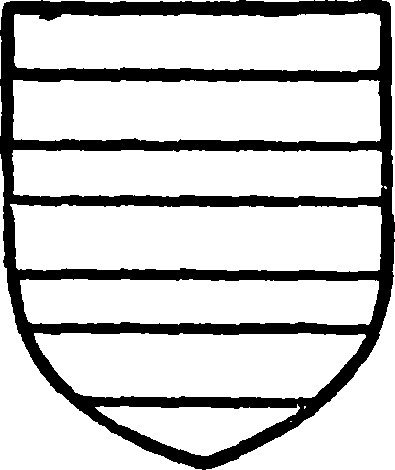 RED SCAR (fn. 21) stands in a commanding situation facing south-east above a bend of the River Ribble on its north bank about three miles north-east of Preston, and is a picturesque two story gabled building of timber and plaster, partly dating probably from Elizabethan times, but so much restored and added to that few of its original architectural features remain. It was enlarged and altered in 1798 and again in 1840 when the library was added. The exterior timber and plaster work is almost wholly imitative and modern, but a thatched one-story wing at the north-east end, now used as a dining-room, preserves to some extent an interesting ancient feature. The interior contains some oak furniture and carvings formerly in the old church at Grimsargh.
BROCKHOLES, as already stated, was a member of the fee of Manchester. It was granted to the Lathom family, (fn. 22) and of them held by a tenant assuming the local surname. The first of them known by name was one Award de Brockholes, (fn. 23) whose son Roger appears in pleadings of 1246 and otherwise. (fn. 24) Roger's son Adam de Brockholes (fn. 25) died in 1290 holding the manor of Brockholes of Sir Robert de Lathom by the eighth part of a knight's fee; also land in Byrewath in Garstang and in Paythorne in Gisburn. (fn. 26) His son Roger succeeded, but was still under age in 1292. (fn. 27) He married Nichola daughter and heir of Isolda de Rigmaiden, (fn. 28) and was succeeded in or before 1311 by their son John. (fn. 29) He was followed at Brockholes about ten years later by his brother Adam (fn. 30); by what title is not quite clear, but probably by a family partition, John's descendants having the manor of Claughton in Garstang.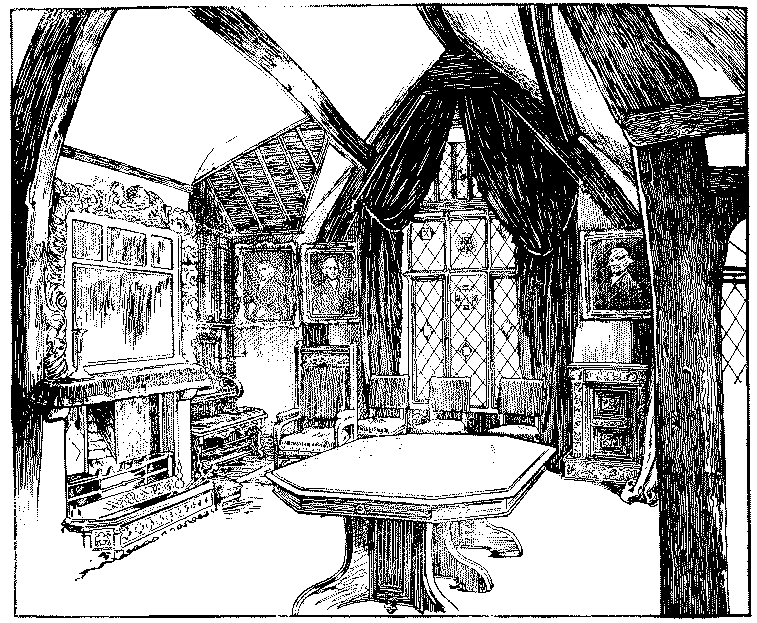 Adam de Brockholes, who was living in 1341, had several children, including Nicholas his heir (fn. 31) and Roger. (fn. 32) Nicholas had at least two sons, (fn. 33) but the manor appears to have descended to two daughters or granddaughters: Margaret, who married Roger Elston, and another who married — Singleton. (fn. 34) A partition was afterwards agreed upon, by which the former had Old or Higher Brockholes and the latter New or Lower Brockholes. (fn. 35)
The Elston moiety descended regularly (fn. 36) to Robert Elston, who died in 1662. (fn. 37) After some changes it was purchased in 1694 by Thomas Winckley of Preston, (fn. 38) and descended to Frances Lady Shelley, (fn. 39) after whose death in 1873 it was sold to Edward Petre in 1875; from him it has come to his son, the present owner, Mr. Oswald Henry Philip TurvillePetre, of Husbands Bosworth. (fn. 40)
HIGHER BROCKHOLES, now a farm-house, stands on low ground near the Ribble below Red Scar, the river here flowing in a south-easterly direction on the east side of the house, the front of which faces south. It is a long, low, two-storied stuccoed building very much modernized, but retaining for the most part its grey slated roof and some portions of its original timber framing. (fn. 41) The house, however, is architecturally uninteresting except for a portion at the east end now disused, which is a good example of 17th-century black and white work on a low stone base, with overhanging upper floor and gable. The work is simple in detail, consisting mostly of the structural framework filled in with straight and diagonal pieces and quatrefoils. A carved oak panel bears the date 1643 and the initials R E A, probably those of Robert Elston and Ann his wife. The interior has been almost entirely modernized, but contains old oak stairs and thick oak doors. (fn. 42)
The Singleton moiety (fn. 43) descended to William Singleton, who died in 1556 without legitimate issue. (fn. 44) A pedigree was recorded in 1613. (fn. 45) The estate was in 1564 sold to Sir John Southworth of Samlesbury, (fn. 46) and afterwards changed hands, being at last in 1696 acquired by the above-named Thomas Winckley. (fn. 47) The two moieties thus reunited have so continued to the present time.
LOWER BROCKHOLES, now a farm-house, stands in a low situation close to the bend of the Ribble near Brockholes Bridge, facing east towards Samlesbury. (fn. 48) It is a small two-story building of no particular interest architecturally, having been very much modernized and the exterior covered with roughcast. The windows are all modern, but the roof retains its grey stone slates, and the north wing, which has a separate gabled roof at right angles to that of the rest of the house, preserves its old half-timber construction above the ground floor, though much of the timber has been renewed. There is a wide open gabled porch of two stories projecting 9 ft. 6 in. and measuring 8 ft. square inside, over the archway of which is a stone dated 1634 with the initials and arms of Francis Bindloss, the arms with helm, crest and mantling, and a crescent for difference. The interior is structurally uninteresting, but a small oak staircase of good design with turned Jacobean balusters still remains, and in one of the bedrooms is some oak panelling forming a dado, on which is the inscription, 'Quamlibet expectes horam tibi ducere mortem, disce mori mundo Christoque resurgere spera, 1630.'
Apart from the lords of the manor there are few records of estates in the combined township, (fn. 49) and in most cases the owners of them did not reside there. A branch of the Hoghton family, however, was in the 17th century resident in Grimsargh, and in 1653 William Hoghton, a 'delinquent,' whose estate had been ordered for sale by the Parliament, desired to compound, but was too late. (fn. 50) William Elston and William Hoghton in 1631 paid £10 each, having refused knighthood. (fn. 51) Several estates of Grimsargh 'Papists' were registered in 1717. (fn. 52)
In connexion with the Church of England a chapel was erected at Grimsargh about 1716 by the efforts of Samuel Peploe, vicar of Preston. (fn. 53) It was dedicated to St. Michael. It was entirely rebuilt in 1868–9 by the Rev. John Cross, brother of the lord of the manor. (fn. 54) It had a separate parish assigned to it in 1875. (fn. 55) The vicars are presented by the vicar of Preston.
A Congregational mission was begun in 1903.
St. John's College, Grimsargh, is a private adventure school for boys. (fn. 56)