Pages 129-137
A History of the County of Lancaster: Volume 7. Originally published by Victoria County History, London, 1912.
This free content was digitised by double rekeying. All rights reserved.
LEA, ASHTON, INGOL AND COTTAM
Lea, Dom. Bk.; Le, 1212; Lee, 1297; Engleshel[e], 1200; Englisle, 1292; Inglisle, 1301; Frenkyssele, 1277; Franckesleye, 1292; Frensshele, 1352.
Estun, Dom. Bk.; Eston, 1168; Estone, 1201; Assheton, 1292.
Ingole, Ingool, c. 1200.
Cotun, 1227; Cottun, 1258; Cotum, 1261; Coton, 1280; Cotom, xv cent.
This composite township lies to the west of Preston. It is divided into two nearly equal parts by the Savock or Savick Brook, flowing west to the border, and then turning south to become itself the boundary at that point. The Ribble's old course is the boundary on the south. The river is tidal here, and the land by it is level, but the surface rises to about 60 or 70 ft. above the ordnance datum, and then falls again to the Savock. North of this stream the ground again rises and over 100 ft. is attained on the border of Woodplumpton.
Lea forms the western part of the township. It was formerly divided by the Savock into French Lea on the south and English Lea, now Lea Town, on the north, but the old names have long been forgotten. On the northern border is Cottam or Cotham, while Ingol lies in the north-east corner, on the border of Broughton. Sidgreaves is or was on the boundary of English Lea and Cottam. South of the Savock the eastern part of the township is called Ashton, or Ashton-upon-Ribble, having Tulketh to the northeast on the border of Preston, and Ashton Bank on the south-west by the Ribble. Greaves lies between Ashton and (French) Lea. A large part of Ashton has now become urban; the dock of the Preston Corporation's Ribble navigation scheme is situated there in what was formerly the bed of the Ribble, (fn. 1) the course of which stream has been straightened. The township boundaries also have been altered so as to include about half of Ashton within the township of Preston. (fn. 2)
The areas of the several parts are as follows: Lea, 1,776 acres; Ashton, 828½; Ingol, 365; Cottam, 518½; in all 3,488 acres. (fn. 3) The population in 1901 was 6,586. (fn. 4)
The principal roads are those from Preston, west through Ashton, Greaves and Lea towards Lytham, and north through Ingol to Woodplumpton. From Greaves on the former road another important one goes north to Inskip and the Wyre district; crossroads connect it with Cottam, Lea Town and Clifton. The Preston and Wyre Railway, owned by the Lancashire and Yorkshire and London and NorthWestern companies, runs north-west and west through the township, with a station called Lea Road. The Lancaster Canal crosses the Savock from Preston and then goes west through the township. The Preston tramway system extends into Ashton, and there are branch railways to serve the dock.
There are brick and tile works at Ashton and Cottam. In the other parts of the township agriculture remains the only industry.
The present reduced township is governed by a parish council.
There was formerly a holy well (fn. 5) in Ingol, 'a walled-in structure reached by a flight of steps.' In French Lea was St. Catherine's Well.
'Danes Pad' goes west through Ingol and Cottam; it is supposed to mark the line of a Roman road.
Manors
In 1066 LEA, assessed as one ploughland, and ASHTON as two, were members of the fee of Preston or Amounderness held by Earl Tostig. (fn. 6) After the Conquest they appear to have been included in the royal demesne, and were held in thegnage by a number of tenants, the hamlets being French Lea, English Lea, Ashton, Tulketh, Ingol, Cottam, Sidgreaves, and perhaps others. French Lea, as above stated, lay between the Savock Brook and the Ribble; in this part the hall was built; while English Lea was to the north of the Savock. (fn. 7)
Henry II granted FRENCH LEA among other manors to Warine de Lancaster to hold by the service of falconer, (fn. 8) and this was confirmed between 1190 and 1194 by John Count of Mortain to Warine's son Henry de Lea. (fn. 9) A further confirmation or renewal was granted in 1199 after John had become king. (fn. 10) In 1207 the king obtained Henry's manors of Liverpool and Uplitherland in exchange for ENGLISH LEA, (fn. 11) and the service thenceforward to be rendered was a payment of 20s. yearly instead of falconry. (fn. 12) The two Leas were thus united under one lordship and have so remained. In 1212 accordingly Henry de Lea was recorded as holding in all six plough-lands by the king's charter and rendering 20s. (fn. 13) The two Leas seem then to have been considered as one plough-land, as in 1066, and 3s. 4d. was the portion of the rent charged on them (fn. 14); but in the 14th century they are called two ploughlands. (fn. 15)
Henry de Lea (fn. 16) was succeeded by his son Sir John de Lea, of whom little is known. (fn. 17) He died in 1265, (fn. 18) leaving two sons Sir Henry and Baldwin, the former being his successor. Sir Henry was a prominent man in the county (fn. 19) and was at one time sheriff. (fn. 20) He died in 1288, leaving as heir his son William de Lea, (fn. 21) who acquired the manor of Mollington Banastre near Chester by his marriage with Clemency Banastre. (fn. 22) Their son Henry, (fn. 23) taking part with Adam Banastre in his rebellion in OctoberNovember 1315, was executed (fn. 24); but his sister Sibyl was able to secure the inheritance, which she carried by marriage to Sir Richard de Hoghton of Hoghton. (fn. 25) From that time Lea has descended in the same way as Hoghton. (fn. 26)
The family seem to have found Lea a desirable residence, and were often known as Hoghton of Lea. (fn. 27) The most prominent incident of their tenure was the tragedy of 1589, when a feud between the Langton and Hoghton families resulted in a night attack on Lea Hall and the death of Thomas Hoghton, the lord. The story is thus told (fn. 28) :—
Thomasine widow of John Singleton of Staining in right of herself and her daughters claimed certain oxen feeding in an inclosed pasture adjoining Thomas Hoghton's manor-house called the Lea on 2.1 November 1589; these cattle had been removed from Staining by George Singleton the brother of John. William Anderton of Anderton Ford, a kinsman of the widow's, she being a daughter of Roger Anderton, asked Thomas Langton of Walton-le-Dale to take the cattle away from the Lea, arguing that it might lawfully be done. Langton accordingly on 20 November warned a number of his tenants to be ready to accompany him with their weapons, and asked the help of Thomas Singleton of Broughton. About eleven o'clock at night Langton, Anderton, the Singletons and their aiders, about eighty in all, armed with pikes, guns, long staves, Welsh hooks on staves, swords, daggers, bows, arrows, and bills, assembled on Preston Marsh for the purpose of seizing the cattle, their watchword being 'The crow is white !' They reached the Lea about an hour after midnight, dividing themselves into two companies, of which one passed through the outer court of the manor-house to reach the cattle inclosure. Thomas Hoghton had had several hours' warning and had made preparations to resist. He and a company of friends and tenants, including William Hulton and his two sons, to the number of thirty, armed themselves with staves, a pike, a gun charged with hail shot, two pistols, a bow and arrows, swords and daggers, and placed themselves near the inclosure to guard the cattle. Their cry was 'Black, black !' The two companies met and 'a great affray began between them within 60 yards of the said mansion house.' The first attack having been repulsed a fresh one was made in which Thomas Hoghton was killed and one man on the other side. After this the assailants appear to have withdrawn.
Complaint was made and an inquiry immediately ordered, which was held at the beginning of January, the Earl of Derby and Sir Richard Shireburne stating that they had taken steps to quell the disturbance and arrest the offenders as soon as they heard of the matter. Thomas Langton, sore wounded, was arrested as he lay in bed at Broughton Tower; Thomasine Singleton and others were sent to Lancaster Castle.
Anne the widow of the Thomas Hoghton thus slain had Lea Hall for her life; she afterwards married Richard Shireburne of Stonyhurst. (fn. 29)
A record of the arms displayed at Lea Hall, 1591 to 1636, has been preserved. (fn. 30)
No courts have been held for the manor for many years, but rolls extending from 1622 to 1774 are preserved at Walton-le-Dale. (fn. 31)
Several minor families occur taking a surname from the Leas. (fn. 32) SIDGREAVES was at one time held by Baldwin de Lea, above-named, (fn. 33) and it also occurs as a surname. (fn. 34) GREAVES in French Lea occurs in 1277. (fn. 35) The Knights Hospitallers (fn. 36) and Cockersand Abbey (fn. 37) had land in Lea. Robert son of Robert son of Auger of French Lea gave land there, with his body, to St. Cuthbert of Durham in connexion with Lytham Priory. (fn. 38)
One plough-land in ASHTON was granted by John when Count of Mortain to Arthur de Ashton, to be held in free thegnage by the service of 10s. yearly, and this was confirmed when he became king in 1199. (fn. 39) It had formed part of the honour of Peverel forfeited about 1153. (fn. 40) Arthur de Ashton died in 1201, when his son Richard succeeded, (fn. 41) but in 1212 it was recorded merely that ' the heir of Arthur de Ashton' held the plough-land by the service named. (fn. 42) The inheritance became divided, (fn. 43) and one moiety or share was obtained by Lea and the other by Haydock. (fn. 44) The Lea portion descended like that manor to the Hoghtons, (fn. 45) and ceased to have any distinct history. Of the Haydock portion a part was given to a younger son, ancestor of the Haydocks of Cottam, and the remainder came to Alice and Aline, daughters and co-heirs of John de Haydock, and thus was divided between the families of Travers of Nateby and Lawrence of Ribbleton. (fn. 46) The Travers manor was in 1625 sold to Hugh Rigby. (fn. 47) The history of the Lawrence share is unknown. (fn. 48) The Waltons of Preston also seem to have had part of the manor. (fn. 49) TULKETH in Ashton, where the monks of Savigny resided before they settled in Furness, (fn. 50) became a seat of the Travers family till the 17th century. (fn. 51) Afterwards it passed through many hands, and the hall is now part of a boys' industrial school, managed by the Brothers of Charity. (fn. 52) Cockersand Abbey had land in Tulketh. (fn. 53) The Hospitallers had some in Ashton. (fn. 54)
Of INGOL there is little to be said. (fn. 55) Land was given to the endowment of St. Mary Magdalene's Hospital by Walter son of Gamel de Ingol about 1200. (fn. 56) Richard de Lea gave to Edmund Earl of Lancaster lands in Ingol in Christ's Croft, Whitefield, &c., (fn. 57) and William son of William de Ingol gave the earl land in Oldfield. (fn. 58) In 1567 it was alleged that the queen was seised of the manor, to which appertained a pasture or moss ground in which all her inhabitants, tenants and farmers in Ingol, had common of pasture and turbary. (fn. 59) Fulshaw Moor was in Ashton and Ingol. (fn. 60)
COTTAM, assessed as 2 oxgangs of land, may be identified with a grant of the land by Fulesyke (fn. 61) made by Arthur de Ashton to Richard son of Uctred; for this Richard afterwards gave it to Roger his son under the name Cottam, (fn. 62) while Roger son of Richard son of Uctred de Singleton granted an oxgang of land in Cottam to Richard son of Robert son of Uctred. (fn. 63) This last grant seems to have been made in 1204. (fn. 64) Towards the end of the same century Henry de Haydock was in possession, (fn. 65) and gave it to a younger son Henry, (fn. 66) whose descendants continued to hold it till the early part of the 18th century. The early history of the family is obscure. (fn. 67) Cottam in the earlier surveys is stated to be held of the Earl of Lancaster by the service of 2s. 6d. yearly, but at the death of Eleanor Haydock in 1525 the estate in Ingol, Ashton and Cottam was said to be held by a rent of 2s. (fn. 68) A pedigree was recorded in 1613, (fn. 69) and William Haydock died on 4 August 1624 seised of the manor of Cottam, a watermill, three messuages, lands, &c., in Cottam, Ingol, Ashton, French Lea and Freckleton, held of the king as of his duchy, and in Woodplumpton, held of Sir Robert Banastre. (fn. 70)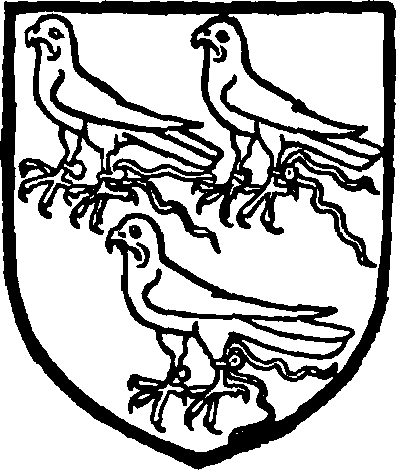 The interest of the family is mainly religious. William Haydock, said to be a brother of the Gilbert of 1529–42, was a monk of Whalley, and executed there on 12 March 1536–7 for complicity in the Pilgrimage of Grace. (fn. 71) Ewan Haydock, left a widower in 1557, was strengthened in his constancy to Roman Catholicism by the company of William (afterwards Cardinal) Allen, a relative by marriage, and in 1573 went over to Douay with one or two of his sons, and in 1575 was ordained priest and sent on the English mission, dying at Mowbreck in 1581. (fn. 72) His son George, educated at Douay and the English College, Rome, was ordained priest, and in 1582 returned to England. He was almost immediately betrayed to the government, and after two years' imprisonment was executed as a traitor at Tyburn, 12 February 1583–4. (fn. 73) Richard Haydock, an elder brother of George, was ordained priest at Douay in 1577. In 1582 it was reported that he was with his brother at Cottam Hall or else at Mowbreck. After ten years of missionary labour, during which he is said to have been imprisoned, he returned to Rome, and had the titular dignity of Dean of Dublin. He died at Rome in 1605. (fn. 74) William Haydock, the eldest brother, was punished for hi9 recusancy in various ways. (fn. 75) The family appear to have escaped molestation during the Commonwealth period, (fn. 76) but William Haydock of Cottam is traditionally said to have taken part in the Jacobite rising of 1715; he died soon afterwards. (fn. 77) The manor of Cottam, however, passed to a relative, and eventually became the property of the Crosses of Red Scar in Grimsargh. (fn. 78)
A branch of the Haydocks (fn. 79) settled on a small estate known as The Tagg in Cottam, the old dower house of the family, and there were born Thomas Haydock, a publisher, (fn. 80) and George Leo Haydock, a priest noteworthy for his edition of the Bible; he died in 1849. (fn. 81) This family is now represented by Mr. Joseph Gillow, whose works have been quoted frequently in these pages.
A family surnamed Cottam is found in this and neighbouring townships. (fn. 82)
Cockersand Abbey (fn. 83) and the Knights Hospitallers (fn. 84) had land in this part of the township.
The inquisitions show that in general the land was held by the Hoghton family. (fn. 85) Under the Commonwealth some holdings were sequestered for religious 'delinquency,' (fn. 86) and some 'Papists' registered estates in 1717. (fn. 87) Disputes as to the fishery in 1691–2 are of interest as showing the customs of the fishermen. (fn. 88)
A pedigree case of much interest concerned the estates of Richard Harrison of Warrington, who died in 1863, a descendant of John Harrison of Lea who died in 1667. (fn. 89)
In connexion with the Church of England St. Andrew's, Ashton, was built in 1836, and a parish was formed for it in the following year. A chapel of ease, St. Michael and All Angels', was built in 1884. The patronage is vested in trustees.
A school was founded in Lea in 1784. by Samuel Neeld. (fn. 90)
The Wesleyans had a chapel in Ashton in 1883; the present church was built in 1893. There is a Baptist church in Ashton, founded about 1880.
From the accounts of the manors it will have been gathered that Roman Catholic worship was maintained with more or less constancy during the long period of proscription. (fn. 91) When owing to sale Cottam Hall was not available, the mission appears to have been removed to the adjoining township. (fn. 92) In 1800 the old mission at Salwick Hall was transferred to Lea, St. Mary's Church being built there. In Ashton the Church of the Sacred Heart was built in 1903–4.