Pages 127-128
A History of the County of Lancaster: Volume 7. Originally published by Victoria County History, London, 1912.
This free content was digitised by double rekeying. All rights reserved.
BARTON
Bartun, Dom. Bk.; Barton, 1212 and usually; Berton, 1226.
The surface is for the most part level or slightly undulating, but rises a little more sharply in the north-east corner, a height of about 230 ft. being attained. Barton Brook, formed by Westfield Brook and Sparling Brook from east and north-east respectively, runs diagonally across the area from northeast to south-west, the Old Hall being to the north of it and a water corn-mill upon it; Barton Lodge and Tunsteads lie to the south of it. The township contains 2,707½ acres and had a population of 315 in 1901. (fn. 1) The hamlet of Newsham in Goosnargh was included in the township of Barton in 1894. (fn. 2)
The principal road is that from Preston to Lancaster, running along the western boundary; upon it, near the centre, is the church. The London and North-Westem Company's main line to the north crosses the north-west corner.
The land is chiefly meadow and pasture; the soil is clayey.
A parish council administers the affairs of the township.
There are remains of ancient crosses near the eastern border. (fn. 3)
Manor
In 1066 the manor of BARTON, assessed as four plough-lands, was a member of the lordship of Preston held by Earl Tostig. (fn. 4) It was no doubt larger than the present township, which in 1212 is found assessed as only two plough-lands, being then part of ten held of the king in thegnage by Walter son of Osbert, ancestor of the Cliftons of Westby, by the service of £2 annually. (fn. 5)
The Cliftons and their heirs retained the mesne lordship of Barton, (fn. 6) which in 1212. was held immediately by the heirs of Gilbert dt Baiton. (fn. 7) Of this family very little is known (fn. 8); their rent was 8s., being the proportion due for two plough-lands. A mortgage or settlement of the manor of Barton, with lands in Goosnargh, was made by John de Barton in 1323, (fn. 9) and another settlement by a later John de Barton and Denise his wife in 1381. (fn. 10)
Gilbert Barton was in 1496 an outlaw for trespass, (fn. 11) and was succeeded by another Gilbert, who died in 1516, leaving a son and heir Thomas, only four years old. (fn. 12) The manor was held of Sir William Molyneux and Elizabeth his wife, in her right, by a rent of 8s. She was the daughter and heir of Cuthbert Clifton.
Thomas Barton died in 1554 holding the manor by a like tenure, the mesne lord being Henry Halsall in right of Anne his wife. (fn. 13) Richard Barton, the son and heir, then twenty-two years of age, recorded a pedigree in 1567, (fn. 14) and died in 1572, leaving as heir a son Thomas, aged sixteen. (fn. 15) This son lived till 1603, and his son Richard having died in 1600, Thomas's heir was Richard's daughter Fleetwood, born in 1595. The manor was held of Sir Cuthbert Halsall in socage by a rent of 8s. (fn. 16)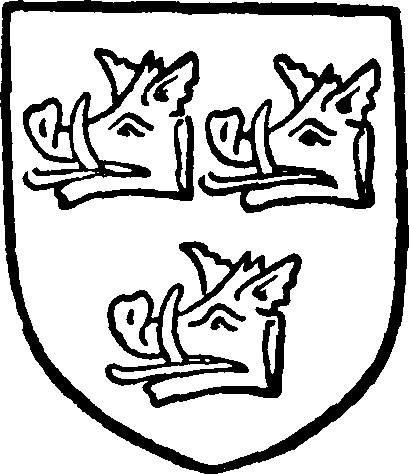 When four years old Fleetwood Barton was married to Richard son and heir of Sir Richard Molyneux (fn. 17); but this union was afterwards annulled, and she then married Richard Shuttleworth of Gawthorpe in Habergham Eaves near Burnley. (fn. 18) Barton descended like Gawthorpe till the death of Robert Shuttleworth in 1816, when—he having divided his estates—Barton was inherited by the elder son James, the younger, Robert, having Gawthorpe. James Shuttleworth in 1833 sold the manor to George Jacson of Preston, a member of the firm of Horrocks, Jacson &c., Co., whose son Charles Roger Jacson succeeded to it. (fn. 19) Having no issue he directed the manor and lands to be sold at his death, which took place on 3 October 1893, for the benefit of his nephews and nieces. Portions have been sold, but the lordship of the manor is said to be vested in his trustees. Barton Lodge is the manor-house. (fn. 20)
The Charnley family held an estate in Barton in 1415. (fn. 21) A few other families holding land are known through the inquisitions. (fn. 22)
Richard Shuttleworth of Barton being a zealous Parliamentarian and Presbyterian, the township seems to have escaped the attention of the Commonwealth authorities; but William Cardwell, tanner, and some others registered estates as 'Papists' in 1717. (fn. 23)
Church
There was probably a chapel at the hall from an early time, but there are no records of it. (fn. 24) In 1650 St. Lawrence's chapel had neither minister nor maintenance. (fn. 25) In 1723 Richard Shuttleworth, retaining the right of presentation, made it a semi-public chapel and gave some endowment, a grant from Queen Anne's Bounty being apparently obtained. (fn. 26) It was made parochial in 1850, and was pulled down and rebuilt in 1896. (fn. 27) The patronage is vested in the Bishop of Manchester and the representatives of the late Col. Marton alternately. (fn. 28) The following have been incumbents:—