Pages 228-231
A History of the County of Lancaster: Volume 7. Originally published by Victoria County History, London, 1912.
This free content was digitised by double rekeying. All rights reserved.
CARLETON
Carlentun, Dom. Bk.; Karleton, 1241; Karlton, 1258; Carleton, 1294.
This township has an area of 2,031½ acres, (fn. 1) and in 1901 there were 684 inhabitants. It had three ancient divisions: Great Carleton in the centre Little Carleton to the south and Norcross in the north; as in the case of Poulton the hamlet in each case stands on ground rising a little above the general low level. The hamlet of Great Carleton has more recently been taken to include Norcross, and its area is 1,224 acres; while Little Carleton, which has three detached portions, one of them within Bispham, has 807½ acres.
The principal road is that going north from Blackpool to Fleetwood. It passes through each of the three hamlets; from Great Carleton a branch goes east to Poulton, and to the north a road from Bispham to Poulton crosses it at Four Lane Ends. The Poulton to Blackpool branch of the Wyre railway crosses the southern part of Carleton, going south-west; there is a station named Bispham.
There was formerly a cuck-stool in Great Carleton. (fn. 2)
The soil is a strong loam, and dairy farming is the chief industry.
The township has a parish council.
Manors
In 1066 CARLETON was assessed as four plough-lands and formed part of the Preston fee of Earl Tostig. (fn. 3) About a century afterwards it is found to be a member of the Wyresdale lordship of the Lancaster family, (fn. 4) of whom it was held by the heirs of Richard son of Roger, the lord of Woodplumpton. (fn. 5) In 1242 it was held in two moieties, called Little and Great Carleton, by Roger Gernet and Robert de Stockport respectively, (fn. 6) but, as will be seen below, the subsequent history cannot be traced clearly. (fn. 7)
A considerable portion was granted in alms to different religious houses. Four oxgangs of land were granted to Lytham Priory by its founder. (fn. 8) The same amount was given to Cockersand Abbey, (fn. 9) and augmented by 1 or 2 oxgangs. (fn. 10) To the Hospital of St. John Baptist outside the North Gate, Chester, an oxgang and a half of land was given (fn. 11); a meadow and a small piece of land were granted to Stanlaw Abbey. (fn. 12)
GREAT CARLETON was held by William son of Swain about 1200. (fn. 13) He was succeeded by his brother Walter, (fn. 14) whose son William became a knight. (fn. 15) In 1246 this William de Carleton called upon Robert de Stockport as mesne tenant to acquit him of the services demanded by William de Lancaster, including suit to the three weeks court at Garstang. (fn. 16) He had to renew his plea ten years later, when Agnes de Lancaster revived the claim, and then Robert agreed to acquit him accordingly. (fn. 17) Sir William was succeeded by a son Walter, (fn. 18) living in 1281, (fn. 19) but from that time little seems to be known of the family. (fn. 20) Their estate appears to be the 'manor of Carleton,' afterwards held by the Lawrences of Ashton near Lancaster, (fn. 21) and after the partition among their heirs lands in Carleton are found in the possession of Rigmaiden, (fn. 22) Butler, (fn. 23) Skillicome, (fn. 24) and Molyneux. (fn. 25) There seems to have been a partition, (fn. 26) Richard Skillicorne receiving Carleton, no doubt the 'manor of Great Carleton' which was in 1608 in the hands of Lawrence Livesey and Elizabeth his wife. (fn. 27) The Livesey estate was in that year purchased by Richard Shireburne of Stonyhurst. (fn. 28) A second fourth part was acquired by Evan Haughton, so that he had a moiety, which in 1614. was held by Richard Haughton and Margaret his wife. (fn. 29) Later it likewise was called the 'manor of Great Carleton,' (fn. 30) and was sold to Edward Moore of Bank Hall, (fn. 31) and probably sold by his heir to the Shireburnes, for their 'manor' was the only one known in later times. (fn. 32) In 1572 Sir Richard Shireburne had purchased the fourth part of an estate—no 'manor' is named—in Great Carleton, &c., from Lancelot Bold and Grace his wife. (fn. 33) The whole descended to Edward Joseph Weld of Lulworth, who about 1866 sold his interest to a number of small proprietors. (fn. 34)
NORCROSS in Great Carleton was at an early time held by a Norcross family, (fn. 35) but by 1281 had come into the hands of John de Shireburne and Eva his wife, being probably her inheritance. (fn. 36) It descended with the other Shireburne estates, (fn. 37) but no doubt became merged in the manor of Great Carleton. The manor courts were held at Norcross. (fn. 38)
LITTLE CARLETON was held by Henry de Whittington, who was a son of William son of Swain about 1230. (fn. 39) He was succeeded by a son Henry surnamed de Carleton. (fn. 40) The descent cannot be traced clearly. In 1347 among the tenants of William de Coucy's lordship of Wyresdale was Henry de Carleton holding a plough-land and a half in that town by knight's service. (fn. 41) Thomas Carleton, (fn. 42) who died in 1499, held similarly of the king, Margaret Countess of Richmond and John Rigmaiden as of their manor of Wyresdale. (fn. 43) His son George Carleton then twenty-two years of age, died in 1513 holding of the king and Thomas Rigmaiden, and leaving as heir a son William, aged eleven. (fn. 44) William's son Lawrence, who died in 1558, was the last of the male line. He held a capital messuage in Little Carleton called the Hall of Carleton, and various messuages, &c., in both parts of the township, of the duchy by knight's service. His heir was a sister Margery, thirty years of age, then wife of Thomas Almond. (fn. 45) She sold in 1561 to James Massey, (fn. 46) who recorded a pedigree as 'of Carleton' in 1567 (fn. 47); but the manor was claimed by the Singletons of Staining, (fn. 48) in which family it descended for some time, (fn. 49) and is then lost to sight. The hall went to decay. (fn. 50)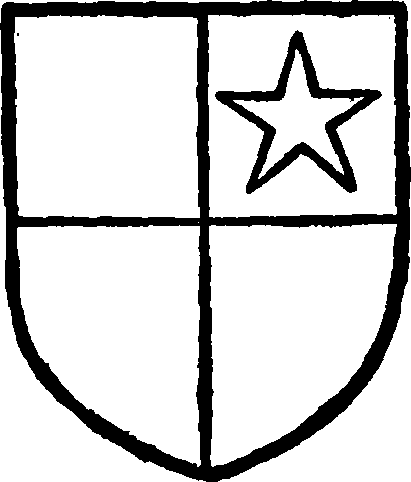 Of the minor owners but few occur in the records. (fn. 51) The chief family seems to have been that of Bamber of the Moor. (fn. 52) The tenure of James Bamber's land in Poulton in 1617 was a curious one—viz. of the heirs and assigns of William Oudlawe by ½d. rent. (fn. 53) William, his son and heir, was eight years old. Richard Bamber, perhaps brother of James, paid £10 in 1631, having declined knighthood. (fn. 54) The family adhered to Roman Catholicism, and one of the sons, John, was captain of a company in the king's service in the Civil War. (fn. 55) Another son, Edward, educated abroad and ordained priest, was sent on the English mission; after being imprisoned more than once he was captured in Lancashire, and after three years' imprisonment executed as a traitor at Lancaster 7 August 1646. (fn. 56) The family removed to Aughton, near Ormskirk, but retained their estate in Carleton till 1737. (fn. 57)
An oratory was allowed to Henry de Whittington in Little Carleton about 1240, (fn. 58) but it does not seem to have continued. (fn. 59)