Pages 231-237
A History of the County of Lancaster: Volume 7. Originally published by Victoria County History, London, 1912.
This free content was digitised by double rekeying. All rights reserved.
THORNTON
Torentun, Dom. Bk.; Torrenton, 1226; Thorinton, 1258; Thornton, 1297.
Steinol, 1176; Stanhol, 1200; Stainhol, 1226 (fn. 1); Staynolf, 1346.
Brune, Dom. Bk.; Brunne, 1204; Brone, 1262.
Rushale, Dom. Bk.; Rossall, 1212; Roshale, 1228.
This township forms a peninsula between the Irish Sea and the Wyre estuary. At the northern end is the modern town of Fleetwood, built on an ancient rabbit warren and now formed into a separate township, which includes Rossall on the western side with its famous public school, founded in 1844. The history of this school has been narrated elsewhere in the present work. (fn. 2) In the remaining part of Thornton the original village occupies the southeast portion on slightly elevated ground overlooking the Wyre. On the north-west slope of the same ground is Stanah. Trunnah, the Ho'mes and Pool Foot are in the centre of the township and have Burn Hall to the north and to the west a little seaside resort called Cleveleys. This last name has in common usage superseded the ancient Ritherham or Ritherholme. Burnt Naze or Bourne Naze lies on the Wyre on the border of Fleetwood. The surface is low-lying and flat, the ancient hamlets named occupying the more elevated portions.
In more recent times there have been three divisions: Thornton, in the centre, with 2,112 acres; Stanah, in which is Thornton Hall, 1,427 acres, and Fleetwood, 2,848½ acres; in all 6,387½ acres, including tidal water. (fn. 3) The population in 1901 was 3,108 in Thornton proper and 12,082 in Fleetwood, or 15,190 in all.
The principal road is that from Blackpool to Fleetwood, going north through the eastern side of the township. It is joined by another road between the same places going along the sea coast. From it other roads branch out; one goes west to Cleveleys, another east to Thornton Church and then south to Poulton. The Preston and Wyre railway goes north to Fleetwood, at which is the terminus; there is a small station called Cleveleys—a misleading designation— to the south of Trunnah. On the western road between Blackpool and Fleetwood an electric tramway runs.
A 'submerged forest' has tokens near Rossall and along the coast to Blackpool.
A special commission was in 1637 directed to inquire into the possibility of gaining land from the sea at Thornton Holmes or Poulton. (fn. 4)
Thornton Marsh was inclosed in 1800. (fn. 5) One result of the making of the railway to Fleetwood has been that about 400 acres of marsh land at the mouth of the Wyre west of the line have been reclaimed. (fn. 6)
From various allusions to saltcotes it seems that salt-making is an ancient industry of the place. A 'salt-weller' of Thornton was buried at Poulton in 1676. There are modern salt and alkali works at Burnt Naze.
The soil is various, with clay subsoil; oats and potatoes are grown.
A school board was formed in 1877. (fn. 7)
Fleetwood became an independent township in 1894. (fn. 8) The remaining portion, the existing township of Thornton, is governed by an urban district council of twelve members elected by four wards.
Two newspapers are issued at Fleetwood, the Chronicle and the Express; each appears twice a week.
Manors
In 1066 there were three manors in this township, all members of Earl Tostig's Preston lordship, viz. Thornton, assessed as six plough-lands, Burn and Rossall, as two each— ten in all. (fn. 9) They retained their individuality later, but Thornton became still further subdivided.
In 1212 it was found that THORNTON proper, as five plough-lands, was held in thegnage by William son of Robert de Winwick, who rendered 20s. a year. (fn. 10) The other plough-land, lying in STANAH, was held in drengage by Adam son of Eilsi and Alan son of Hagemund, who rendered 5s. yearly. (fn. 11) Robert de Winwick had granted one of his plough-lands to Uctred son of Huck, (fn. 12) the ancestor of the Singleton family, who by marriage acquired a further share of Thornton and probably a moiety of the drengage plough-land in Stanah. Thus in 1324 Adam son of William Banastre held a moiety of Thornton, paying 8s., and a moiety of Stanah, paying 4s. 6d.; while the other moieties were held by Lawrence son of Robert de Thornton and John son of John de Staynolf respectively, paying corresponding rents, viz. 8s. and 4s. 6d. (fn. 13) The assessment of the whole appears to have been reduced by one-half, and thus in 1346 Thomas Banastre held one plough-land and John son of Lawrence de Thornton another in Thornton and Stanah, formerly Robert de Winwick's, while the third plough-land in Stanah was held as to one moiety by John de Staynolf and as to the other by a number of tenants. (fn. 14) In 1378 Thomas Banastre and John de Thornton held the manor (fn. 15) and in 1445–6 Richard Balderston and the heir of John son of Lawrence Thornton held a plough-land each as before, but Stanah is omitted in the record. (fn. 16)
Of the two moieties of Thornton proper one, as indicated, descended with the Singleton estates to Banastre (fn. 17) and Balderston, (fn. 18) and on the partition in 1564 was allotted to Gilbert Gerard, (fn. 19) who died possessed of it in 1593, the tenure not being recorded. (fn. 20) It appears to have been purchased by the Fleetwoods of Rossall, whose 'manor' of Thornton was the only one recognized in later times. (fn. 21)
The other moiety was held by a family using the local surname, descendants, like the Singletons, of Robert de Winwick, the earliest immediate lord of the undivided manor of whom there is record. His son William, the tenant in 1212, gave 10 marks and two palfreys in 1201 for 30 acres of land in Thornton, of which Theobald Walter had disseised him, and for relief of his land. (fn. 22) He died before 1215, when Alan de Singleton gave the king 20 marks that he might have Alice his daughter and co-heir. (fn. 23) The other daughter Margaret or Margery married Michael de Carleton, who had to pay 10 marks for pardon in marrying without licence one who was in the king's gift. (fn. 24) Margery de Winwick died in or before 1258 holding two plough-lands in Thornton of the king in chief by the yearly service of 2s., owing suit to county and wapentake. Her son and heir Richard de Thornton was of full age. (fn. 25) The other two plough-lands had become part of the Singletons' estate. (fn. 26)
Of the Thornton family there is little to record. (fn. 27) The Lawrence above-named left two sons, John, who died in 1396, and William. (fn. 28) Another William seems to have succeeded; he died in 1429, (fn. 29) when the heir of John was found to be Thomas Travers son of Roger Travers by Alice daughter of John Thornton. The daughters of William Thornton shared the estate in spite of that finding. (fn. 30) The story is obscureIn 1601 James Worthington purchased a sixth part of the manor from Hugh Adlington and Sibyl his wife. (fn. 31) A minor family of the name appears in later times holding land in the Holmes. (fn. 32)
This family probably descended from one of the numerous tenants recorded in Stanah in 1346. (fn. 33) The principal of them, John de Staynolf, who took his name from the place, has no further record, (fn. 34) but his estate may have been that held later by Banastre of Bank. (fn. 35) The estate of Lawrence of Ribbleton, (fn. 36) Travers of Nateby (fn. 37) and Norcross (fn. 38) can be traced for some time, and the later landowners occurring in the inquisitions may have inherited or purchased other of the shares. These include Finch of Worthington, (fn. 39) Albin, (fn. 40) Brickell (fn. 41) and Hodgson. (fn. 42) Some others are recorded. (fn. 43)
BURN was among the possessions of Roger de Heaton's heir in 1212. (fn. 44) Roger had had it taken from him by Theobald Walter, but recovered it in 1199–1200, after John became king. (fn. 45) It descended in the Heaton family (fn. 46) till the 15th century, when it passed on partition to Westby of Mowbreck. (fn. 47) This family retained it for over 300 years, (fn. 48) frequently residing there, (fn. 49) and then it passed by marriage to the Rev. J. Benison, who married Anne daughter and co-heir of John Westby. (fn. 50) Afterwards it was sold to Fleetwood and later to Horrocks of Preston. (fn. 51)
ROSSALL after the Conquest does not seem to have been accounted a manor. It became a pasture ground from which the lords of the honour derived a profit of about £5 a year. (fn. 52) In 1216 King John at the request of the Earl of Chester bestowed it on the abbey of Dieulacres in Staffordshire, (fn. 53) and twelve years later Henry III confirmed the gift. (fn. 54) The monks obtained surrenders of rights from most or all of the previous landowners there, (fn. 55) and received also a number of gifts in other parts of Thornton and in Bispham. (fn. 56) In 1291 the goods of the abbot in Rossall were taxed at £61 10s. a year, but after the Scottish invasion of 1322 at £16 13s. 4d. only. (fn. 57) In 1498 the abbot was summoned to prove his right to wreck of the sea at Rossall. (fn. 58) After the Dissolution the Rossall estate remained in the Crown for some years, (fn. 59) but was in 1553 sold to Thomas Fleetwood, who was to hold it by the twentieth part of a knight's fee. (fn. 60) A year later he obtained a further grant of monastic lands in Marton, Bispham and Layton, together with the advowson of Poulton vicarage. (fn. 61) He died in 1576 holding Rossall Grange, with wide lands in the parishes of Poulton and Bispham and elsewhere; his heir was his son Edmund, aged twenty-eight. (fn. 62)
Edmund Fleetwood, who recorded a pedigree in 1613, (fn. 63) died in 1622 holding Rossall Grange, with Ritherham and other lands in Thornton, and the manors of Norbreck and Little Bispham of the king by the twentieth part of a knight's fee, and various other estates. (fn. 64) His son Paul, afterwards knight, (fn. 65) was forty-six years old. Sir Paul died about 1657, involved in debt. (fn. 66) His eldest son Edward had died about 1644 without male issue, and a younger son Richard succeeded; he recorded a pedigree in 1664, being then forty-five years of age. (fn. 67) He had three sons, but Rossall went to a nephew Richard, (fn. 68) son of his brother Francis. This younger Richard had a son Edward Fleetwood, whose daughter Margaret in 1733 married Roger Hesketh of North Meols, and carried the estates into that family. (fn. 69) Their greatgrandson Sir Peter Hesketh Fleetwood, bart. (fn. 70) (1801– 66), was the founder of the town of Fleetwood. He sold Rossall Hall to the founders of the public school there.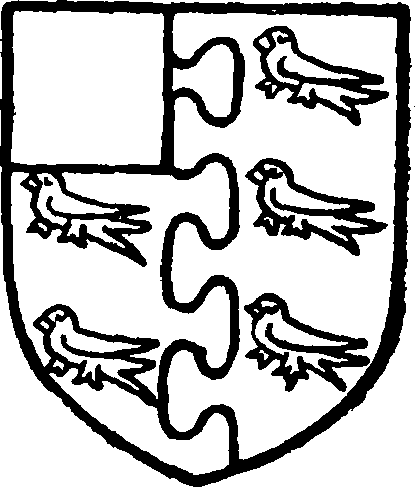 Also connected with Rossall, as lessees from Dieulacres Abbey, was the family of Allen, which had a considerable scattered estate in the district. In 1534 the Abbot of Dieulacres granted the grange of Rossall to John Allen and George his son for their lives (fn. 71); the abbot afterwards in 1538–9 gave a seventy years' lease of the rest of the abbey lands, including Ritherham, a windmill in Norbreck, &c., and this seems to have been confirmed about the same time for fifty years by Nicholas Whitney of Walden, a rent of £13 6s. 8d. being payable to the king and £10 to Whitney. (fn. 72) John Allen's will, dated 1569 and proved 1570, was formerly among the Worthington of Blainscough deeds. His son George had the queen's licence in 1574 to go with his wife to the Spa in Germany. He died in August 1579 holding messuages and lands in Poulton, Thornton, Norbreck, Great Bispham, Marton and many other places; part at least of his Thornton lands was held of the Earl of Derby in socage. (fn. 73) John, his son and heir, was fourteen years of age, and Elizabeth, the widow, sister of John Westby of Mowbreck, took charge of the estates. She was a zealous Roman Catholic, and in 1582 was indicted for not going to church. This was the beginning of more serious trouble, for at the end of the following year (1583), Sir Edmund Trafford becoming sheriff, it was determined to arrest her, partly perhaps out of hostility to her brother-in-law, Dr. William Allen, partly, too, it is supposed, at the instigation of Edmund Fleetwood, who had had disputes with her. On trial the widow was outlawed and her property confiscated, she then retiring to Rheims, where she could enjoy freedom of conscience. (fn. 74) John Allen died in 1593 without issue, holding messuages and lands in Thornton and other places as before; his heir was his sister Mary who in 1612 was the wife of Thomas Worthington of Blainscough in the parish of Standish. (fn. 75)
The glory of a family otherwise obscure, and one of the greatest men the county has produced, is the above-named William Allen, brother of George. (fn. 76) He was born about 1532, and educated at Oxford, where he became Fellow of Oriel and principal of St. Mary's Hall; he was a canon of York in 1558. A zealous and resolute adherent of Roman Catholicism, (fn. 77) he lost his preferments soon after the accession of Elizabeth, but stayed on in Oxford as long as it was safe to do so, flying to Louvain in 1561. His health suffering he returned to his family near Poulton, and though sought for by the government he lived in England from 1562 to 1565. He returned abroad, was ordained priest, and at Rome in 1567 broached his plan for the foundation of an English college both for general education and the training of learned priests; the sending of missionary priests to England was an afterthought. The following year the seminary at Douay was established, (fn. 78) several Oxford exiles assisting Allen, who was created D.D. in 1571. The plan succeeded and there were 120 students in 1576. (fn. 79) The college, however, owing to popular excitement against the English, had to be removed to Rheims in 1578, staying there till 1593. In 1584 Allen published what is considered one of the most valuable of his books—the True, Sincere and Modest Defence of English Catholics, in reply to Lord Burghley's apology for the executions of missionary priests, Seminarists and Jesuits. He went to Rome in 1585, and lived there till his death. About 1576 he began to take part in the politics of the time, which were inextricably mixed up with the religious struggle, and became an advocate of the plans of Philip II, which resulted in the Armada of 1588. (fn. 80) In 1587, in anticipation of this expedition, he was made cardinal by the title of St. Silvester and St. Martin in Montibus. He spent the rest of his life in the ordinary duties of a cardinal, (fn. 81) and dying 16 October 1594 was buried in Trinity Church in the English College at Rome, (fn. 82) which he had assisted to found in 1576–8. (fn. 83) While his political schemes failed, the college at Douay to some extent fulfilled the objects of its founder, defeating Elizabeth's anticipation that Roman Catholicism in England would die out quietly—of starvation—by supplying a long succession of missionary priests to labour in England at the peril of their lives. After more peaceful times came round at home the French Revolution drove the college from its old seat, but it is still represented by St. Cuthbert's, Ushaw, and St. Edmund's, Ware.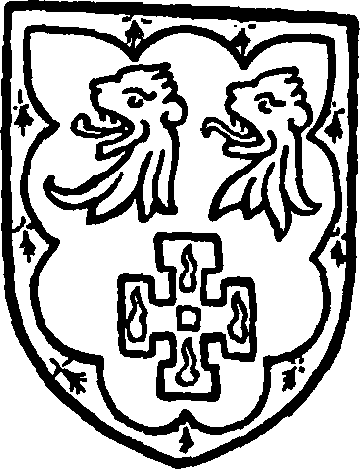 There are several places of worship in Thornton proper. In connexion with the Church of England Christ Church was opened in 1835, and a separate parish was assigned to it in 1862. The patronage is vested in trustees. (fn. 84) There is a mission church at Burnt Naze and another at Cleveleys.
The Wesleyans built a chapel as early as 1812. (fn. 85) There is also a Primitive Methodist chapel, and at Thornton Marsh a meeting-place of the Society of Friends. There is a Congregational mission room at Cleveleys.
The Roman Catholic Church of the Sacred Heart, near Burn, was opened in 1899.
As already stated, the modern town of FLEETWOOD owes its origin as also its name to the enterprise of Sir Peter Hesketh Fleetwood, who judged that the mouth of the Wyre would form an excellent site for a port. He procured the construction of a railway line from Preston in 1835–40, (fn. 86) the building of the town proceeding at the same time. (fn. 87) He obtained an Act of Parliament in 1842 vesting the government of the place in a board of commissioners. (fn. 88) The town was very popular for many years as a seaside holiday resort, and when it declined somewhat in this respect the place improved as a seaport. Queen Victoria and the royal family, travelling from Scotland to London, landed at Fleetwood 20 September 1847. There is a considerable fishing industry, it being the port for a large fleet of steam trawlers which operate from the Portuguese coast to Archangel. A dock was opened by the Lancashire and Yorkshire Railway Company in 1877. In 1875 the manorial rights, with lands, buildings, &c., were purchased by a limited liability company for £120,000. The railway company built a grain elevator in 1882, and made provision for the fish trade by an ice factory and cold storage; it also maintains steamboat services to Belfast and (in the summer) to the Isle of Man. The government has a barracks and rifle range. There is a ferry from Fleetwood to Knott End across the Wyre. (fn. 89) A coat of arms is used.
The town is now governed by an urban district council of eighteen members, (fn. 90) which meets in the town hall close to the railway station. (fn. 91) The council possesses the market rights, and a market was built in 1892. Friday is the market day. The other public buildings include library, seamen's institute and cottage hospital. Water is supplied by the Fylde Water Board and gas by a private company.
There are a number of places of worship. In connexion with the Church of England St. Peter's was built in 1841, and a separate parish was assigned to it. The patronage is vested in the devisees of the late Mrs. Meynell-Ingram. There is a mission church of St. Margaret, built in 1893. The cemetery is outside the town.
A Wesleyan church was opened in 1847, (fn. 92) and the present one was built on the old site in 1899. The Primitive Methodists also have a church. The Congregationalist church was built in 1848. (fn. 93) The Plymouth Brethren, the Society of Friends and the Salvationists also conduct services.
Mass has been said since 1841 (fn. 94); the present church of St. Mary was opened in 1867.