Pages 300-305
A History of the County of Lancaster: Volume 7. Originally published by Victoria County History, London, 1912.
This free content was digitised by double rekeying. All rights reserved.
NETHER WYRESDALE
Wyresdale, 1246.
The township retains the name of the large district of which it forms part. The River Wyre in general bounds it on the west, and Grizedale Brook on which at one point a reservoir of the Fylde waterworks has been formed, forms about three-fourths of the southern boundary. The surface, level along the Wyre, rises to the south and the east, 1,000 ft. being attained on the side of Grizedale Fell. The small village of Scorton lies in the south-west corner Dolphinholme in the extreme north. The area measures 4,215 acres, (fn. 1) and in 1901 there was a population of 454.
The principal road, from Garstang into Over Wyresdale, passing through Scorton goes thence north-west through the township, being crossed about the centre by another road, south-east from Ellel. From Scorton a road goes west to Cockerham, crossing the Wyre by a bridge; there are various minor roads, and several other bridges over the Wyre, including one at Dolphinholme. The London and North-Western Company's main line to Scotland crosses the southwest end, and has a station called Scorton near that village.
The pipe-line of the Thirlmere-Manchester water supply passes through the township.
The soil is loamy and clayey; practically all the land is in pasture. There is a fish hatchery, in the hands of a limited liability company, on the River Wyre. Formerly there was a cotton factory at Scorton.
The township has a parish council.
At Cross Hill, Scorton, is the base of an ancient cross. (fn. 2)
Manor
In 1066 this township was part of the large manor of GARSTANG, rated as six plough-lands, which was a member of Earl Tostig's Amounderness lordship, (fn. 3) and in later times NETHER WYRESDALE and Garstang were used indifferently to denote the fee of the barons of Kendal in this part of Lancashire, including the whole or large parts of the parishes of Cockerham, Garstang and St. Michael's, and some part of Lancaster also. Members of the fee were granted out to free tenants or to religious houses, (fn. 4) but Nether Wyresdale, Holleth and Cabus in Garstang seem to have been retained in demesne.
The story of the Lancaster family has already been told. (fn. 5) William de Lancaster I held a knight's fee in Warton and Garstang in the times of Stephen and Henry II. He gave Cockerham to monks of Leicester, and at his death in or about 1170 left as successor a son William, the founder of Cockersand Abbey. The second William, by his wife Helewise de Stuteville, left a daughter and heir Helewise to succeed him in 1184. She married Gilbert son of Roger son of Reinfred, (fn. 6) who died in 1220 and had a son known as William de Lancaster III. He married Agnes dc Brus, but died without issue in 1246 (fn. 7); his widow had Garstatig and other manors in dower. (fn. 8) His heirs were the representatives of his three sisters, Helewise, Alice and Sarot, married respectively to Peter de Brus, William de Lindsay and Alan de Multon; but the last-mentioned sister having no children the Lancaster inheritance was divided between Brus and Lindsay.
The Brus moiety of Nether Wyresdale or Garstang descended to Peter son of Peter and Helewise, and on his death without issue in or before 1274 his four sisters were found to be co-heirs, namely Margaret married to Robert de Ros, Lucy to Marmaduke de Thweng, Agnes to Walter de Fauconberg, and Ladarena to John de Bellew. (fn. 9) Of these Margaret de Ros had Kendal and appears to have had little or nothing to do with Wyresdale (fn. 10); and the others, concerned chiefly in Yorkshire, granted their rights to John de Rigmaiden, who appears about 1290, (fn. 11) and founded the family of Rigmaiden of Wedacre or Woodacre, seated for over three centuries in the adjacent township of Barnacre.
The Thweng family, however, remained for about a century the nominal lords of part of Wyresdale. (fn. 12) Marmaduke de Thweng died in or before 1322 holding part of the Lancaster inheritance, but Wyresdale is not expressly named. (fn. 13) He left a son and heir William, thirty years of age, who soon afterwards began a long series of lawsuits concerning the lordship and various lands against John son of John de Rigmaiden and others. (fn. 14) It was in 1333 alleged for the defence that Marmaduke de Thweng had alienated the tenement in dispute to John de Rigmaiden and Isolda his wife before 1285. (fn. 15) William de Thweng died in 1340 or 1341 holding the fourth part of a knight's fee in Garstang, Ellel, Scotforth and Ashton of the Earl of Lancaster, but took no profit to his own use beyond the rent payable to the earl. His heir was his brother Robert, aged fortysix. (fn. 16)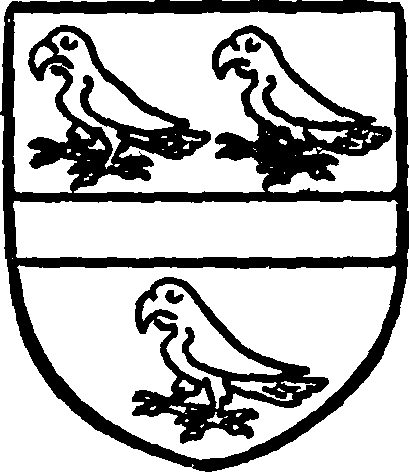 Robert de Thweng died within three years, leaving another brother, Thomas, to succeed him. (fn. 17) In 1346 Thomas son of Sir Marmaduke de Thweng is found prosecuting the claim to the fourth part of the manor of Garstang, &c, already referred to. (fn. 18) He died in 1374 holding four messuages, &c, in Garstang, and leaving four nephews and nieces as heirs. (fn. 19) Of their descendants Sir John Lumley occurs in 1420 as holding the tenement in Garstang. (fn. 20)
The Fauconberg and Bellew families scarcely appear in this lordship. Walter and William sons of Walter de Fauconberg in the father's lifetime were concerned in various local suits from 1276 to 1292. (fn. 21) John son of Walter de Fauconberg in 1333–43 claimed a rent of £10 from Garstang, alleging that it had been granted by John de Rigmaiden in 1305 to his father Walter, lord of Whitton in Lincolnshire. (fn. 22) John's son, Sir Walter de Fauconberg, renewed the claim in 1351–2. (fn. 23)
The heir to the Lindsay moiety of Wyresdale in 1246 was Walter son of William de Lindsay. (fn. 24) Walter died in or before 1272, his son William being then of full age and married to Ada daughter of John de Balliol. (fn. 25) William de Lindsay died in 1282, and soon afterwards his daughter and heir Christiana was by the King of Scotland married to Ingram or Ingelram de Gynes, she being then in Scotland. (fn. 26) This part of the manor was in the escheator's hands for six months in 1282–3, and the receipts amounted to £72 3s. 4d. (fn. 27) In 1292 Ingelram and Christiana were called upon to prove their right to the assize of bread and ale, gallows and infangenthef, and market at Warton and Garstang, but it was alleged that at the latter place only assize of ale was exercised, and that all the rights had been held by William de Lancaster. (fn. 28) In 1297 half a knight's fee in Amounderness was held of the Earl of Lancaster by Ingram de Gynes, Walter de Fauconberg and Marmaduke de Thweng, who rendered 5s. a year for castle ward (fn. 29); and in 1302 Ingram de Gynes and John de Rigmaiden were tenants of the half-fee in Garstang. (fn. 30)
Ingram and Christiana were involved in many local suits, as was a Gilbert de Lindsay, and in 1313–14 the defendants to a claim for common of pasture in Garstang were Marmaduke de Thweng, Walter de Fauconberg, Ingram de Gynes, Christiana his wife, Gilbert de Lindsay, a number of Rigmaidens and others. (fn. 31) Baldwin de Gynes was enfeoffed of the Lindsay moiety of Wyresdale before 1318, (fn. 32) and in one version of the feodary of 1324 he appears as tenant by knight's service, rendering 2s. 6d. a year for castle ward. (fn. 33) Ingram de Gynes died in 1324, but Wyresdale is not named in the inquisition. His son and heir was William, aged thirty-six. (fn. 34) Christiana obtained the lordship of Wyresdale from Baldwin de Gynes, without the king's licence, and received a pardon in 1325. (fn. 35) She was still living in 1333. (fn. 36)
William de Gynes, also known as de Coucy from his French lordship, in 1335, after his mother's death, granted the barony of Lindsay and various manors and lands in Scotland (fn. 37) and England, including Wyresdale, to his son William. (fn. 38) Robert de Gynes, however, another son of Ingram, seems to have been made lord of Wyresdale; on the outbreak of war with France he took the French side, and all his English lands were declared forfeit. William de Coucy, his nephew, was placed in possession, (fn. 39) but died in 1342, when his brother Ingram was found to be the heir. (fn. 40) Several inquisitions were taken, (fn. 41) for Ingram died or forfeited his rights, (fn. 42) so that the Crown entered into possession and made various grants. (fn. 43)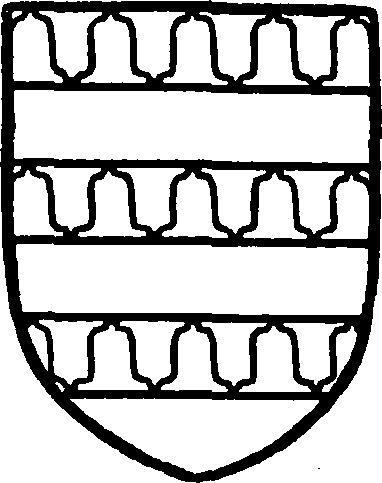 In 1346 the land of Wyresdale seems to have been assessed as three plough-lands, half being described as lately held by William de Coucy and the other half as held by John son of Thomas de Rigmaiden; each moiety rendered 2s. 6d. for castle ward. (fn. 44) John de Coupland, a distinguished soldier of the time, who captured David King of Scots at Nevill's Cross in 1346, had a grant of £500 a year partly at one time charged on the Coucy manors. (fn. 45) Joan wife of John de Coupland also had a grant of Wyresdale, (fn. 46) but after her death it was in 1365 restored to Ingram son of the above-named Ingram de Coucy, who won the favour of Edward III, (fn. 47) receiving the king's daughter Isabella in marriage and being created Earl of Bedford in 1366. (fn. 48) Ingram's daughter and coheir, Philippa wife of Robert de Vere Earl of Oxford and Duke of Ireland, had his English estates and died in 1411–12. Wyresdale was granted to John Duke of Bedford, son of Henry IV, famous in the French campaigns of the 15 th century, (fn. 49) and later still to Edmund Earl of Richmond in 1453 and in 1487 to Margaret Countess of Richmond, mother of Henry VII. (fn. 50) On her death in 1509 it descended to the king, and was granted out on lease to Sir Thomas Parr and others. (fn. 51)
A compotus of 1495 preserved at Sizergh Castle shows that the rents of the Crown moiety of Nether Wyresdale amounted to £51 2s. 7d., including 2s. from Sir Thomas Radcliffe for Winmarleigh, according to a rental renewed in 1461. The mill at Sandholme paid 20s. 8d. a year. Lord Derby paid 4s. for 'Grenoll,' Thomas Rigmaiden 3½d. for the 'Boundes.' The free tenants of the Bonds in all paid 5s. 5d.
The Crown moiety of Wyresdale was purchased in 1574 (fn. 52) by Sir Gilbert Gerard, Master of the Rolls; and as his son Sir Thomas Lord Gerard of Gerard's Bromley (fn. 53) acquired the other moiety in 1602 from the heirs of Rigmaiden, (fn. 54) the whole lordship was reunited in his family. Lord Gerard died in 1617 (fn. 55) and his son Gilbert in 1623, (fn. 56) leaving a son and heir Dutton, who died in 1640. (fn. 57) Gilbert had married Eleanor Dutton, heiress of the great Cheshire family; she afterwards married Robert Needham Viscount Kilmorey, and occurs in connexion with Wyresdale. (fn. 58) Dutton's son Charles was in 1667 succeeded by his son Digby, who married a distant cousin, Elizabeth daughter of Charles Gerard, Earl of Macclesfield, lord of the manor of Halsall in Lancashire. Digby's heir was his daughter Elizabeth, who in 1698 married James fourth Duke of Hamilton, killed in the celebrated duel with Lord Mohun in 1712. (fn. 59) The lordship of Wyresdale descended with the dukedom until 1853, (fn. 60) when it was sold to Peter Ormrod of Bolton, (fn. 61) who settled at Wyresdale Park. He died about 1875, after which his widow held it for life. On her death in 1890 it went to James Cross Ormrod, nephew of Peter, who was in 1895 succeeded by his son Captain Peter Ormrod, stated to be now lord of the manor (fn. 62) Wyresdale Park, a modern house, had a herd of deer; a pack of staghounds is maintained.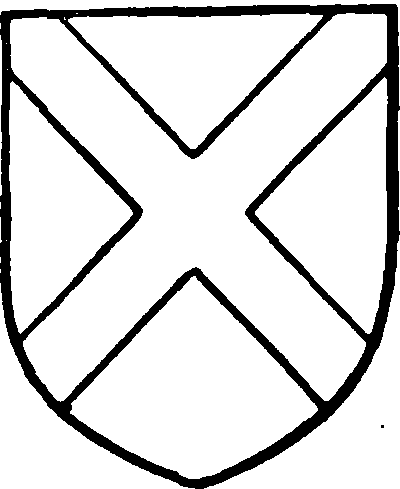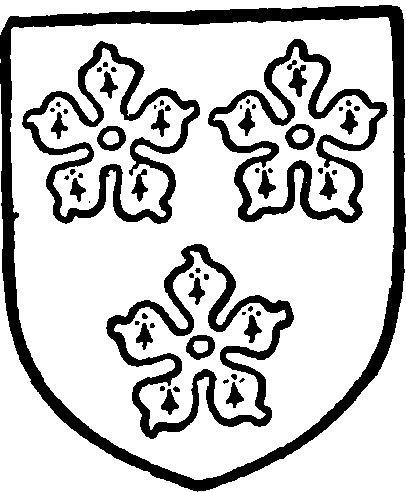 Courts are held. (fn. 63) In 1642 it was ordered by the jury that the court should be elected out of the several townships in rotation, the first year out of Barnacre, Bonds and Tarnacre, the second year out of Cabus, Cleveley and Holleth, and the third year out of Wyresdale, Longmoor or Pilling Moss and the remainder. (fn. 64) The meeting-place was at Goberthwaite or Gubisthwaite in Cabus. (fn. 65) Gubberford and Gubberford Lanc are marked on the ordnance map in Cabus and adjoining Woodacre, and the bridge over the Wyre is named Gubberford Bridge. The courts are still held in Cabus.
The lords of the manor having been almost sole landowners, no other families occur to be noticed specially in the township. (fn. 66) There were some sequestrations under the Commonwealth. (fn. 67)
Dolphinholme in Nether Wyresdale Forest was the subject of dispute in 1591. (fn. 68) Wyreside, in this part of the township, is the seat of Captain Charles Henry Garnett. (fn. 69) Scorton Old Hall belonged to the Blackburnes in the 17th century. (fn. 70)
In connexion with the Church of England St. Peter's, Scorton, was built in 1878–9; Captain Peter Ormrod is patron. (fn. 71)
The Wesleyan Methodists have a chapel at Scorton, built in 1843, (fn. 72) and another at Dolphinholme. The Congregationalists have one at the latter hamlet. (fn. 73)
The Roman Catholic church of St. Mary and St. James, built in 1861–2, replaced an earlier one, and represents missionary work at different homesteads in the township and district, which can be traced back to the early part of the 18th century. (fn. 74)
A school existed at Cross Hill as early as 1717, and another was built at Scorton in 1793, each with a small endowment. (fn. 75)