Pages 308-311
A History of the County of Lancaster: Volume 7. Originally published by Victoria County History, London, 1912.
This free content was digitised by double rekeying. All rights reserved.
NATEBY
Natebi, Nateby, 1204.
Nateby is a level and low-lying township, the highest land, on the eastern side, not rising much above 70 ft. over sea level. The small hamlet of Nateby lies near the centre of the township, but the hall is near the northern border. The area measures 2,087 acres, (fn. 1) and in 1901 the population was 297.
Along the eastern border goes the road from Garstang to Cockerham, while through the centre goes that from Garstang to Pilling. The single-line railway between these places also runs through the township, and has a station called Nateby. The Preston and Lancaster Canal crosses the north-east portion.
The old divisions into Great and Little Nateby are now forgotten. The former was in the north and the latter in the south.
Wheat and oats are grown, but more than half the land is in pasture. The soil is light with clay subsoil. Tiles are made.
The township is governed by a parish council.
Sir Roger Strickland, admiral and Jacobite, was a son of Walter Strickland of Nateby. He was born in 1640, and died at St. Germains in 1717. (fn. 2)
Manor
As a part of Wyresdale NATEBY was held by the Lancaster family and their successors. William de Lancaster II, who died in 1184, granted an oxgang of land there to Hugh the Northman. A rent of 4s. was to be paid, but all easements and common rights of the vill of Garstang, 'both within the Wyre and without,' were allowed. (fn. 3) William de Lancaster III gave the lordship of Nateby, or part of it, to his clerk Gilbert de Garstang, as pertaining to land in Scotforth. (fn. 4)
The oxgang named appears to have been in Great Nateby. The owners adopted the local surname, and in 1292 William son of Ralph de Nateby sold his estate to Lawrence son of Lawrence Travers. (fn. 5) This was afterwards transferred by Lawrence to his brother Thomas. (fn. 6) It descended in this family, who also held part of the manors or lands in Ribbleton, Tulketh, Esprick and Trunna in Thornton down to the time of Charles I. In 1347, however, the tenants of William de Coucy for this part of Wyresdale were stated to be John de Pleasington for I oxgang of land in Great Nateby, Robert de Pleasington and Robert de Bour (Bower) for an oxgang in Little Nateby, all holding by knight's service. (fn. 7) Little Nateby, which was later held by Travers, was probably the messuage and 40 acres in Nateby claimed by William de Lay ton from Ingram de Gynes and Christiana his wife in 1292. Their defence was a technical one—that Nateby was not a vill. (fn. 8)
Thomas Travers in 1308 transferred an oxgang of land in Garstang to his son John, (fn. 9) while two years later John Travers surrendered 2 oxgangs of land there to Thomas Travers and Alice his wife, with remainders to Lawrence and Alexander sons of Thomas. (fn. 10) Thomas son of Lawrence Travers was in 1331 contracted to marry Eleanor daughter of John dc Kirkby, (fn. 11) but Lawrence was still living in 1339. (fn. 12) Thomas son of Lawrence Travers in 1349 granted to John his son and heir and to Alice daughter of Robert de Pleasington a windmill and lands in Stanah in Thornton, Ribbleton, Ashton, Elswick and Ingol, and in default of issue to his other sons Lawrence, Edmund, Thomas, Roger, William and Richard. (fn. 13) John Travers died in 1361 holding lands, &, in Tulketh, Ribbleton, Thornton and Winmarleigh in the vill of Garstang, this last being held of the moiety of the manor of Wyresdale formerly William de Coucy's, by a rent of 4s. (fn. 14) His son and heir Roger was eight years old. Roger occurs from 1389 to 1420. (fn. 15) His son Thomas was forty years old in 1429, (fn. 16) and appears to have been still in possession in 1448. (fn. 17) Robert son of Lawrence Travers was in 1452–3 contracted to marry Katherine daughter of Richard Radcliffe of Clitheroe. (fn. 18) At this point there is a defect in the evidence. (fn. 19)
William Travers died on 28 July 1524 holding messuages, &, in Nateby and other places, having in the May previous bequeathed 'the whole manor of Nateby' to his wife Margaret for her life, two tenements only being excepted. The Nateby lands were said to be held of the king in socage by the rent of 4s. yearly. The heir was a son Lawrence, aged thirteen. (fn. 20) William Travers, said to have been a younger brother of Lawrence, succeeded, dying in July 1558 in possession of the capital messuage called Nateby and lands, &c., there held of the queen as of her manor of Nether Wyresdale in socage by a rent of 4s. (fn. 21) His son and heir Richard, then fifteen years of age, died in April 1576 holding in addition a messuage in Little Nateby in Garstang of the queen as of her castle of Lancaster in socage by a rent of 2s. 1d. and a pair of gauntlets worth 6¾d. The heir was again a minor, being his son William, aged thirteen. (fn. 22)
A pedigree recorded in 1613 (fn. 23) enables the descent to be carried a little further. William Travers and Richard his son in 1626 sold the manor to George Preston of Holker, (fn. 24) and he gave it to a younger son George Preston, who had a command in the royal army in the Civil War and was killed at Bradford. (fn. 25) His son George in 1654 (fn. 26) transferred it to Walter Strickland of Sizergh; his son Robert gave it to George Leyburne of Cunswick, who had married a daughter of George Preston. The new owner resided at Nateby, and was in 1704 succeeded by his son John Leyburne. Being a Jacobite, he joined the Highland force in 1715, and his estates were confiscated. (fn. 27) Nateby was re-purchased, and through a sister descended to Michael Anne of Frickley, and was by him sold in 1806. (fn. 28) After passing through the hands of several owners (fn. 29) it was in 1868 purchased by John Wilson-Patten, afterwards Lord Winmarleigh.
Nateby Hall, now occupied as a farm-house, stands in a sheltered position surrounded by a belt of trees, but is a building of no architectural interest, the greater part having been destroyed by fire about 1870 and the remainder modernized. The exterior is stuccoed and all the windows are modern sashes. (fn. 30) In the garden is a fine mulberry tree.
In Little Nateby is Bowers House, built about 1627 by Richard Green. (fn. 31) He or his son Richard, as 'a Papist delinquent,' had his estate sequestered under the Commonwealth, (fn. 32) and at last sold by the Act of 1653. (fn. 33) It seems to have been part of the endowment of the Savoy Hospital.
The house, though to some extent modernized, preserves a good deal of its original appearance. The building is of three stories with a middle and projecting end wings, but the old mullioned windows have given place in the front to modern insertions and others have been blocked up. The walls are whitewashed and the gables quite plain, being without barge-boards or ornament of any kind. The house doubtless possessed originally some architectural features, but, though these have been lost, it retains some degree of picturesqueness, added to by the dwarf fence wall and tall stone gate piers in front, the latter with large ball finials. The chapel is said to have been in the top room in one of the gables. On the lintel of an outbuilding now used as a wash-house are the date 1627 and the initials R. G., G. G., referring to members of the Green family.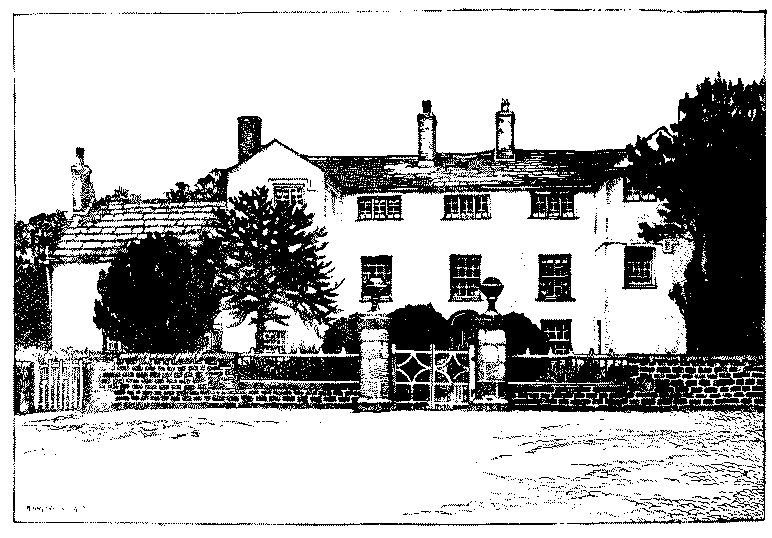 A large part of the soil remained in the hands of the lords of Nether Wyresdale, and in 1853 the Duke of Hamilton held 1,802 acres in Nateby and the neighbourhood. This estate was purchased by William Bashall of Farington Lodge for £47,500. (fn. 34)
Among the recusants who in 1654 sought to compound for their sequestrated two-thirds was John Miller alias Atkinson of Nateby. (fn. 35) There were a number of convicted recusants in this township and Winmarleigh after the Restoration. (fn. 36) Three brothers of John Leyburne of Nateby registered estates as 'Papists' in 1717, viz. James (Croxteth), Nicholas (Prestwood) and George (Nateby); the last was a secular priest. Their estates consisted of annuities out of the manor. (fn. 37)
Owing to a division in the Congregational church at Garstang a Particular Baptist church was established at Nateby, the chapel being opened in 1839. (fn. 38)
From early in the 17th century there were missionary priests' stations at Bowers House (fn. 39) and Nateby Hall. (fn. 40)