Pages 320-324
A History of the County of Lancaster: Volume 7. Originally published by Victoria County History, London, 1912.
This free content was digitised by double rekeying. All rights reserved.
CATTERALL
Catrehala, Dom. Bk.; Catrehal, 1272; Katerhalle, 1277; Caterhale, Caterale, 1292.
Catterall lies along the southern bank of the Calder and the Wyre, with Rohall at the extreme west; it has a detached portion, (fn. 1) in which is Landskill, some distance to the north-east. This detached part lies upon the slope of Bleasdale Fell, and a height of 745 ft. above sea level is reached on the east; but the main portion of the township is low-lying and comparatively level, though the surface rises a little from west to east. The area is 1,741½ acres, (fn. 2) and in 1901 the population was 317.
The principal road, on which the village is situated, is that from Preston to Garstang and the north. The London and North-Weatern main line crosses the eastern end, as does the canal from Preston to Lancaster.
The detached portion above named was in 1887 added to Barnacre with Bonds. (fn. 3) In it is the hamlet known as Calder Vale, founded in 1835 by Richard and Jonathan Jackson, who built a cotton-mill by the river and added houses for the workpeople. (fn. 4)
In the main part of the township a little wheat and oats are grown, but the land is mostly in pasture. The soil is heavy, with clay subsoil. A century ago there were large cotton-printing works at Calder Bridge, but they were given up in 1830. (fn. 5)
A parish council governs the township.
Manors
Earl Tostig held CATTERALL in 1066 as part of the lordship of Preston; it was assessed as two plough-lands. (fn. 6) Afterwards it was included in the Garstang or Nether Wyresdale fee held by the Lancaster family and their successors. (fn. 7) William de Lancaster II gave two plough-lands in Halecath and Catterall to Bernard son of Eilsi, and in 1212 Richard son of Swain (de Catterall), Beatrice daughter of Robert and Michael de Athelaxton or Ellaston held the same by knight's service. (fn. 8) Bernard was lord of Goosnargh, and the descent of that manor shows that of Catterall, the three daughters of his son Robert sharing the inheritance. Of the two portions of Catterall named, each seems to have been considered one plough-land; Halecath probably included Howath, Stirzacre and Landskill, Catterall in its wider meaning thus extending over the southern half of Barnacre with Bonds. (fn. 9)
Richard son of Swain, who married Isolda or Iseult, one of the daughters of Robert de Goosnargh, appears to have had Catterall proper assigned to him in right of his wife, and he and his descendants assumed the local surname. Richard died about 1220, and between 1222 and 1226 it was found that his son Richard was of the king's gift and in ward to Henry de Whittington. (fn. 10) He died about 1243 holding.land in Catterall of William de Lancaster, and leaving a son Ralph, twelve years of age. (fn. 11) Ralph de Catterall occurs in various ways down to 1305 (fn. 12); his eldest son John (fn. 13) had a son John who was living in 1346 but appears to have died without issue. (fn. 14) In virtue of a settlement made in 1287 Ralph was succeeded by another son Alan, (fn. 15) who obtained the manor of Little Mitton with Loretta his wife, daughter of Richard de Pontchardon, and died in 1322 holding a capital messuage in Catterall, with lands in demesne and service, of John son of John de Rigmaiden by the eighteenth part of a knight's fee and paying 3d. yearly for castle ward. Richard his eldest son was thirteen years of age. (fn. 16)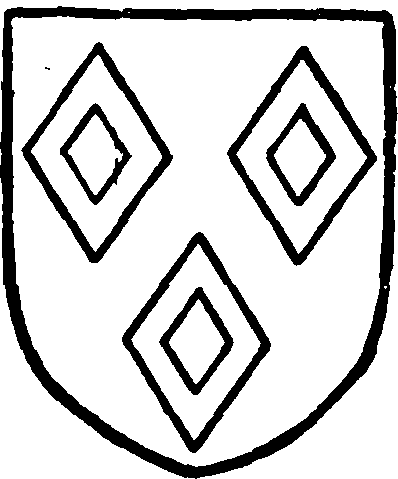 Richard Catterall's son Adam (fn. 17) died in 1397 holding a third part of the manor of Catterall of Thomas de Rigmaiden by knight's service and paying 3d. for castle ward. (fn. 18) His son and heir Richard, then fifteen years of age, (fn. 19) proved his age in 1404. (fn. 20) The descent appears to be clear and uneventful from this time (fn. 21) until the death of Thomas Catterall in 1579, when his seven daughters became co-heirs. (fn. 22) A pedigree was recorded in 1567. (fn. 23)
With Dorothy, one of the daughters, the manor had been given to Robert Shireburne, who died in 1572 holding a capital messuage called the Crow's Orchard, &c., in Catterall of the queen as of her duchy by the fortieth part of a knight's fee, lands called Conigree in Claughton, and others in Mitton. The heir was his son Thomas, aged six. (fn. 24) Thomas Shireburne died in 1636 holding the manors of Catterall and Little Mitton by knight's service, and leaving a son Robert, aged forty-four. (fn. 25) Under the Commonwealth Robert's estate was sequestered for recusancy and delinquency, (fn. 26) and finally confiscated and sold in 1652. (fn. 27)
The Shireburnes, being apparently much in debt already, were not able to clear their estates, and about 1665 these were finally sold to Alexander Holt citizen and goldsmith of London. (fn. 28) His descendants in 1704 sold Catterall to Thomas Winckley of Preston; from him it descended to Lady Shelley, whose trustees in 1876 sold to Joseph Smith of Lancaster (d. 1889). (fn. 29) His executors sold the Catterall Hall estate about 1906 to Mr. Yates. (fn. 30)
It does not appear that any manor is now claimed, and it is difficult to trace the third parts held by the Mitton and Longford families. The former third seems to have been granted to a junior Mitton family, who assumed the name of Catterall, (fn. 31) and to have passed later to Croft, (fn. 32) Winkley, (fn. 33) Rishton (fn. 34) and Shireburne in succession. By Sir Richard Shireburne the estate was given to his brother Robert, who, as shown above, had the Catterall third with his wife. (fn. 35)
The remaining third, including ROWALL, seems to have been acquired by the Hoghtons (fn. 36) and the Botelers of Rawcliffe. (fn. 37) It came in 1572 into the hands of Sir Gilbert Gerard, (fn. 38) and was later sold to George Preston of Holker. (fn. 39)
STIRZACRE, partly in this township and partly in Barnacre, was at one time owned by the Botelers of Rawcliffe, becoming an appurtenance of Rowall. (fn. 40) It gave a surname to a family frequently occurring in the district. (fn. 41) John Leigh in 1631 held a messuage, &c., in Stirzacre in Catterall of the heirs of Richard son of Geoffrey de Stirzacre as of the manor of Catterall. (fn. 42) In the same year Thomas Richardson of Stirzacre compounded for his refusal of knighthood (fn. 43); he was probably the Thomas Richardson who in 1654 desired to compound for the two-thirds of his estate sequestered for recusancy. (fn. 44) Thomas Goose of Stirzacre House registered his estate as a 'Papist' in 1717; his son Thomas had taken part in the Jacobite rising of 1715, and was executed at Garstang. (fn. 45)
LANDSKILL was part of the estate of Brockholes of Claughton. (fn. 46) Other landowners occur from time to time in the pleadings and inquisitions, but little of interest is known about them. The names of Catterall, Rowall, (fn. 47) Wedacre, (fn. 48) Brereworth (fn. 49) and Myerscough (fn. 50) occur in the 13 th and 14th centuries, Brand, (fn. 51) Pickering (fn. 52) and others later. (fn. 53)
Cockersand Abbey had some land in Catterall and Rowall. (fn. 54)
A few recusants and Royalists had their estates sequestered under the Commonwealth, (fn. 55) and two 'Papists' registered estates in 1717. (fn. 56)
In Calder Vale St. John the Evangelist's was built in 1863 for the Church of England. (fn. 57) The vicars are collated by the Bishop of Manchester. The Wesleyan Methodists have a small chapel in the township proper, dating from 1825, (fn. 58) and another, built in 1900, at Calder Vale.