Pages 324-330
A History of the County of Lancaster: Volume 7. Originally published by Victoria County History, London, 1912.
This free content was digitised by double rekeying. All rights reserved.
CLAUGHTON
Clactune, Dom. Bk.; Clacton, 1184; Clagton Clahton, 1253; Claghton, 1284.
Local pronunciation, Clyton.
Lying between the Calder on the north and the Brock on the south, this township, sometimes called Claughton-on-Brock, has an area of 3,785½ acres. (fn. 1) The population numbered 561 in 1901. At the western end the surface is somewhat undulating; the hall with its park lies near the centre; further east the ground steadily rises, till about 740 ft. above sea level is attained at the border of Bleasdale. There is no village or considerable hamlet, Matshead on the Brock having a few dwellings. The north road from Preston passes through the western end; from it another road goes east until near the Brock; then turning north-east and north, according to the boundary, passes into Bleasdale at the northernmost point. The London and North-Western Railway and the Lancaster Canal cross the west end of the township.
The soil is clay, and the land is nearly all in pasture. There was formerly some linen manufacture, (fn. 2) now there are file-cutting works.
The place was thus described about forty years ago: 'For sweetness of position, richness of isolation, and wealth of umbrageous beauty, for sunny hillsides and shady dells and peaceful glades, for smiling farmsteads and magnificent woodland scenery and rippling brooks, and all that makes country life a joy and a talisman, commend us to Claughton. . . . To anyone anxious for a day's serene pleasure, for a sweet and pure and unalloyed rural treat, for scenery deliciously pastoral and air delightfully fresh, we could not recommend any place in this part of the country half so excellent.' (fn. 3) Many Preston people spend their holidays there. Around the hall there is a park of about 600 acres in extent.
The pedestal of an ancient cross remains at Charnock House (fn. 4); three other cross sites are known. (fn. 5)
Manor
Before the Conquest CLAUGHTON was held by Earl Tostig as part of his Preston fee, and was assessed as two ploughlands. (fn. 6) Afterwards it formed part of the barony of Penwortham, (fn. 7) and for a time seems to have descended with Warton in Kirkham; thus Roger le Boteler was concerned in it in 1184–5 (fn. 8) and Richard le Boteler in 1208. (fn. 9) The immediate tenants appear to have been numerous, four—each holding a fourth part— being named in 1208, (fn. 10) and very quickly the mesne lordship of the Botelers (fn. 11) and their successors was forgotten, and the lords of Claughton were said to hold of the Lacys or of the Earls and Dukes of Lancaster. (fn. 12)
The subdivision of the manor makes it difficult to trace the descent. One moiety was held by the Singletons and their successors—Banastre, Balderston, &c. (fn. 13) The other moiety was acquired by the Brockholes family in the time of Edward II and later; ultimately they acquired the whole manor, though the steps are not clearly made out.
It has already been stated (fn. 14) that Adam de Brockholes inherited Byrewath in Bonds, holding it till his death in 1290. His son Roger, under age, married Nichola daughter and heir of Isolda wife of John de Rigmaiden. (fn. 15) Roger was dead in 1311, but he left two sons, John and Adam, and a division of the inheritance seems to have been made, John receiving lands in Garstang, while Adam had the manor of Brockholes, near Preston, from which their surname was derived. (fn. 16) John de Brockholes held land in Claughton, (fn. 17) but it was his son Roger who in 1338 received from William de Tatham, rector of Halton, the 'manor' of Claughton purchased from Adam son of Richard de Claughton, also a number of other tenements including Langscale, now Landskill, in Catterall. This grant was charged with the maintenance of a chaplain in Claughton or at Garstang Church, a stipend of 66s. 8d. being payable. (fn. 18)
Roger de Brockholes appears to have been killed in December 1341. (fn. 19) His widow Ellen died in December 1357 holding a messuage and land in Byrewath of the king by knight's service and by rendering ¾d. yearly for castle ward; also a messuage, 80 acres of land and 10 acres of meadow in Claughton, Bilsborrow and Catterall of the heir of William de Tatham in socage, and other land in Tatham of the said heir. Her heir was Roger son of Roger de Brockholes, aged fifteen. (fn. 20) The younger Roger, whose age might appear understated (fn. 21) —for in July 1342 he was contracted to marry Ellen daughter of Sir Adam de Clitheroe (fn. 22) —occurs in various ways down to 1390. (fn. 23) In 1377–8 he released to Nicholas de Brockholes all claim in the manor of Brockholes. (fn. 24)
The descent of the manor or moiety is clearly attested (fn. 25) down to Roger Brockholes, who died in 1496 holding the manor of Heaton, near Lancaster, with lands in Tatham, Claughton, Bilsborrow and Catterall, those in Claughton being held of the king of his honour of Lincoln. (fn. 26) John Brockholes, the son and heir, was fourteen years of age. His eldest son Cuthbert died before him, (fn. 27) and he was succeeded by another son Thomas, who died in 1567 holding the manors of Claughton and Heaton, various lands, &c., the estate in Claughton and Bilsborrow being said to be held of the queen as of her duchy by the hundred and twenty-eighth part of a knight's fee. Thomas Brockholes, the son and heir, was six years old. (fn. 28) He made a settlement of the manor of Claughton in 1597, (fn. 29) and recorded a pedigree in 1613, when his son John was twenty-seven years old. (fn. 30) Thomas died in 1618 (fn. 31) and his son John in 1643, (fn. 32) when John's son Thomas, thirty years of age, succeeded. He married Mary daughter and heir of John Holden of Chaigley.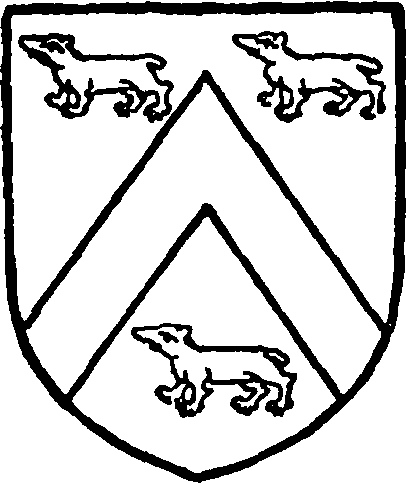 The family remained Roman Catholic at the Reformation, appearing on the recusant rolls from the time of Elizabeth. (fn. 33) They took the king's side in the Civil War, and the estates were sequestered (fn. 34) and then declared forfeit by the Parliament. (fn. 35) As in other cases, the estate was recovered for the owner, and in 1665 Thomas Brockholes registered a pedigree as 'of Claughton.' (fn. 36) He was succeeded in 1668 by his son John, who in 1717 registered his estate as a 'Papist.' (fn. 37) Two of his sons joined the Jacobite rising in 1715, but appear to have escaped prosecution; the elder of them, John, died before his father, so that the younger, William, succeeded. (fn. 38) He died without issue, and, his three brothers having been priests, (fn. 39) the manors and lands went to his nephew Thomas Hesketh of Mains in Singleton, (fn. 40) who took the name of Brockholes. On his death in 1766 they passed to his brother Joseph, (fn. 41) and then to a third brother James; but as all died without issue they went in 1783, by Joseph's disposition, to William Fitzherbert of Swinnerton, (fn. 42) who also assumed the name of Brockholes, and dying in 1817 was succeeded by his son Thomas Fitzherbert-Brockholes. He died unmarried in 1873 and was succeeded by his nephew James, who in 1875 was followed by a second cousin William Joseph, son of Francis Fitzherbert of Swinnerton, who took the surname Brockholes, and is the present lord of the manor, (fn. 43) residing at the hall. No courts are held, nor are there any records of them.
CLAUGHTON HALL (fn. 44) stands on rising ground facing west and commanding an extensive view over the Fylde. It is a plain modern stone mansion, three stories in height, erected in 1816–17 but incorporating part of an older house probably of 17th-century date. The entrance is on the north side, by a pillared porch, and on the west front the distinctive features are two large bow windows, one at each end, going up the full height of the building.
Among the ancient families who appear to have held fractions of the manor were those of Claughton, (fn. 45) Myerscough, (fn. 46) Fegherby or Fetherby, (fn. 47) represented by Haldleghs and Kuerden in 1355, Stamford or Stanford (fn. 48) and Whittingham. (fn. 49) The last-mentioned had Royalist representatives in the Civil War time. (fn. 50) The Hollands of Denton (fn. 51) had an estate at Matshead which was in 1564 sold to Barton, (fn. 52) who were succeeded by Whitehead. (fn. 53) Butler of Rawcliffe, (fn. 54) Singleton of Chingle Hall (fn. 55) and others of the neighbouring landowners had possessions in Claughton. (fn. 56) Among the smaller local holders appear Parkinson, (fn. 57) Wilkinson (fn. 58) and others. (fn. 59)
HECHAM (fn. 60) or Heigham, called a manor, and Dowanshargh (fn. 61) were estates that gave surnames to the owners.
The Knights Hospitallers (fn. 62) and the canons of Cockersand (fn. 63) held lands in Claughton.
Several of the inhabitants, in addition to Brockholes, had their estates sequestered for political or religious reasons under the Commonwealth. (fn. 64) A list of proprietors in 1689 has been printed. (fn. 65) A number of 'Papists' registered estates in 1717. (fn. 66)
The commons were inclosed in 1730. (fn. 67)
The chapel implied in the grant of William de Tatham in 1338 stood on Chapel Croft, and was still existing in the time of Elizabeth. (fn. 68) It may have been closed when the chantry in Garstang Church was founded. The principal family and many of the people remaining attached to Roman Catholicism at the Reformation, it is probable that mass was said in the township even in the time of Elizabeth and onwards. There was a large number of convicted recusants in Claughton in the time of Charles II. (fn. 69) From about the Restoration the succession of priests is on record; the list begins with Thomas Walmesley and includes Roger Brockholes, 1707–43; John Barrow, 1766–1811 (fn. 70); Robert Gradwell (afterwards bishop), 1811–17 (fn. 71); and the late Mgr. Robert Gradwell, 1860–1906. (fn. 72) A priest's house, its upper room being used as a chapel, was built about 1682, (fn. 73) and the present church of St. Thomas the Apostle was built in 1794; it has since been enlarged and richly adorned internally. (fn. 74) A mediaeval chalice brought from Mains Hall is preserved and in use here. The vestment chest and a small oak tabernacle that belonged to the Ven. Thomas Whitaker, who had ministered in the district and was executed at Lancaster in 1646, are also preserved.