Pages 238-240
A History of the County of Lancaster: Volume 8. Originally published by Victoria County History, London, 1914.
This free content was digitised by double rekeying. All rights reserved.
BURROW WITH BURROW
Borch, Dom. Bk.; Burg, 1212; Burgh, 1251.
This township has an area of 2,426 acres, (fn. 1) a large part of it lying in the level country bordering on the Lune, which forms the western boundary. To the east the country soon becomes hilly, and in the north-east corner attains 900 ft. above sea level on the side of Barbon Fell. Leek Beck runs down near the south-east border till the more level ground is reached, passing under Collen or Cowan Bridge, by which is Overtown, and then it goes south-west to join the Lune, thus dividing Over Burrow on the north from Nether Burrow on the south. The population in 1901 was 188.
The principal roads are those from Lancaster and Settle to Kirkby Lonsdale coming from the south and south-east respectively and joining in Westmorland just beyond the northern boundary. A minor road branches off to the north-west from Nether Burrow to Overton and Leck. The Ingleton branch of the London and North-Western Railway crosses the township, and has a station called Kirkby Lonsdale a mile and a half from that town.
Among the names occurring in 17th-century deeds are Burrow Breck, Leck Breck, Hartgrave, Gibholme, Seggs, Skawbottom, Stangs, Park and Yannam (Avenam).
Manors
In 1066 BURROW was held in moieties, one part belonging to Earl Tostig as a member of his fee of Whittington and the other to Orm as part of Thornton in Lonsdale. The former portion was assessed as three plough-lands, and probably the latter was so too. (fn. 2) Later they were granted to the Gernets as part of the forester's fee, (fn. 3) and were subdivided among younger branches of the family, one or more taking the local surname. (fn. 4) Richard de Burgh and Matthew de Burgh seem to have held Nether Burrow and Over Burrow respectively in 1252, and their descendants occur from time to time (fn. 5) down to 1370, when William de Tunstall acquired both manors, (fn. 6) which have since remained part of the fee or lordship of Thurland and Tunstall. (fn. 7) The Botelers of Warrington had some lordship in Burrow, but its origin and extent are unknown. (fn. 8)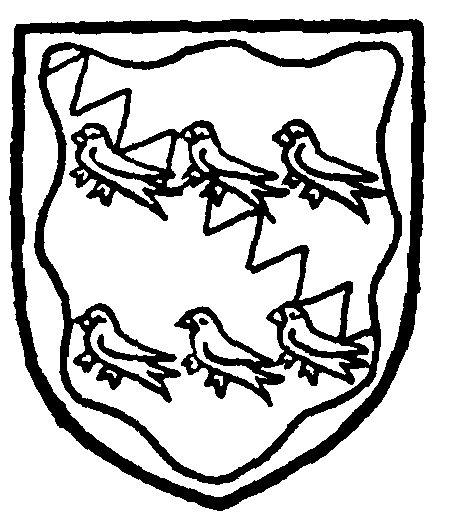 Richard Richmond obtained a grant of free warren in his demesne lands of Burrow and Tunstall in 1373, and also in the lands in Burrow which he held jointly with Elizabeth his wife. (fn. 9) Burrow was included in the grant of free warren to William de Tunstall in 1376.
Various minor estates occur from time to time, (fn. 10) but the principal one has for long been that of Burrow Hall. It is said to have been sold by the Girlingtons about 1650 to a Tatham, (fn. 11) whose heiresses Jane and Alice carried it in marriage to John Fenwick of Nunriding in Northumberland (1687) and Thomas Robson of Bishop Auckland (1686), the former eventually succeeding to the whole. (fn. 12) By the marriage (1841) of Sarah Fenwick Bowen, (fn. 13) granddaughter and heiress of Thomas Fenwick (formerly Lambert) of Burrow, with Edward Matthew Reid, who afterwards took the surname of Fenwick, (fn. 14) the estates, which included also the manor of Claughton in Lonsdale, have descended to their grandson Mr. Robert Edward Fenwick. (fn. 15) No manor is claimed. The Batty family was of long continuance, and one of them had his estate sequestered as a Royalist during the Civil War. (fn. 16)
The tolls of Collen (fn. 17) or Cowan Bridge, on the boundary of Burrow and Leck, were in and before 1511 held by the burgesses of Lancaster. (fn. 18) In 1562 William Redmayne of Ireby held them by grant of Francis Tunstall of Aldcliffe. (fn. 19)