Pages 101-105
A History of the County of Middlesex: Volume 7, Acton, Chiswick, Ealing and Brentford, West Twyford, Willesden. Originally published by Victoria County History, London, 1982.
This free content was digitised by double rekeying. All rights reserved.
COMMUNICATIONS.
Two roads from London ran across the parish. The more, northerly was Uxbridge Road, which probably dated from the early Middle Ages. (fn. 1) From Acton it headed north-west over Ealing common to Haven Green, at the north end of Ealing village, and thence west-south-west to Hanwell. (fn. 2) In the south part of the parish the Roman road to Silchester ran close to the Thames, forming Brentford High Street. (fn. 3) Its modern alignment existed by the late 14th century, although modified when the bridge over the Brent was rebuilt in 1446 and 1824, (fn. 4) and money was collected for repairs to the road from 1360 to 1393. (fn. 5) Narrow and crowded, the high street was notorious for its bad state (fn. 6) before and after the establishment of Brentford turnpike trust in 1717. The Old Brentford stretch was relinquished to Ealing's highway trustees in 1769 and the New Brentford stretch to the metropolitan turnpike roads commissioners in 1826. (fn. 7) Between those two east-west routes a third, Pope's Lane, was so called by 1423 (fn. 8) and briefly called Folly Lane c. 1746; it branched west from Gunnersbury Lane, which led from Acton, running south of Ealing village and continuing west as Little Ealing Lane. (fn. 9)
A north-south track may have led from Perivale through Ealing to Brentford, probably the lowest permanent ford over the Thames, in preRoman times. (fn. 10) Later a road led north from Old Brentford along the line of South Ealing Road, called Drum Lane in 1746, (fn. 11) through the centre of the parish and past Ealing green, where it formed the main street of Ealing village, to join Uxbridge Road near the Haven or Haven Green. Beyond Haven Green a road zigzagged northwestward past Castlebar Hill, where it was called Perryfield Lane in 1746, to cross the Brent into Perivale, while another, Dog Kennel Lane in 1746, branched eastward from it to Hanger Hill. In the east part of the parish Gunnersbury Lane led north from Chiswick High Road to meet Pope's Lane west of Gunnersbury House. There it turned east to meet Bollo Bridge Lane at the Acton boundary, while by 1746 an unnamed track continued northward along the line of Gunnersbury Avenue to Ealing common and Uxbridge Road. In the west part of the parish the Half Acre led north between Old and New Brentford before dividing into Boston Lane, leading to Hanwell and so called by 1408, (fn. 12) and Windmill Lane, leading to Little Ealing. The lanes were later called Boston Road and Windmill Road, the southern stretch of Boston Road being renamed Boston Manor Road in the 20th century. (fn. 13) From Little Ealing Northfield Lane, later Northfield Avenue, led to Uxbridge Road at Ealing Dean, whence another lane, called Green Lane in 1777, (fn. 14) continued north through Drayton Green to Perivale.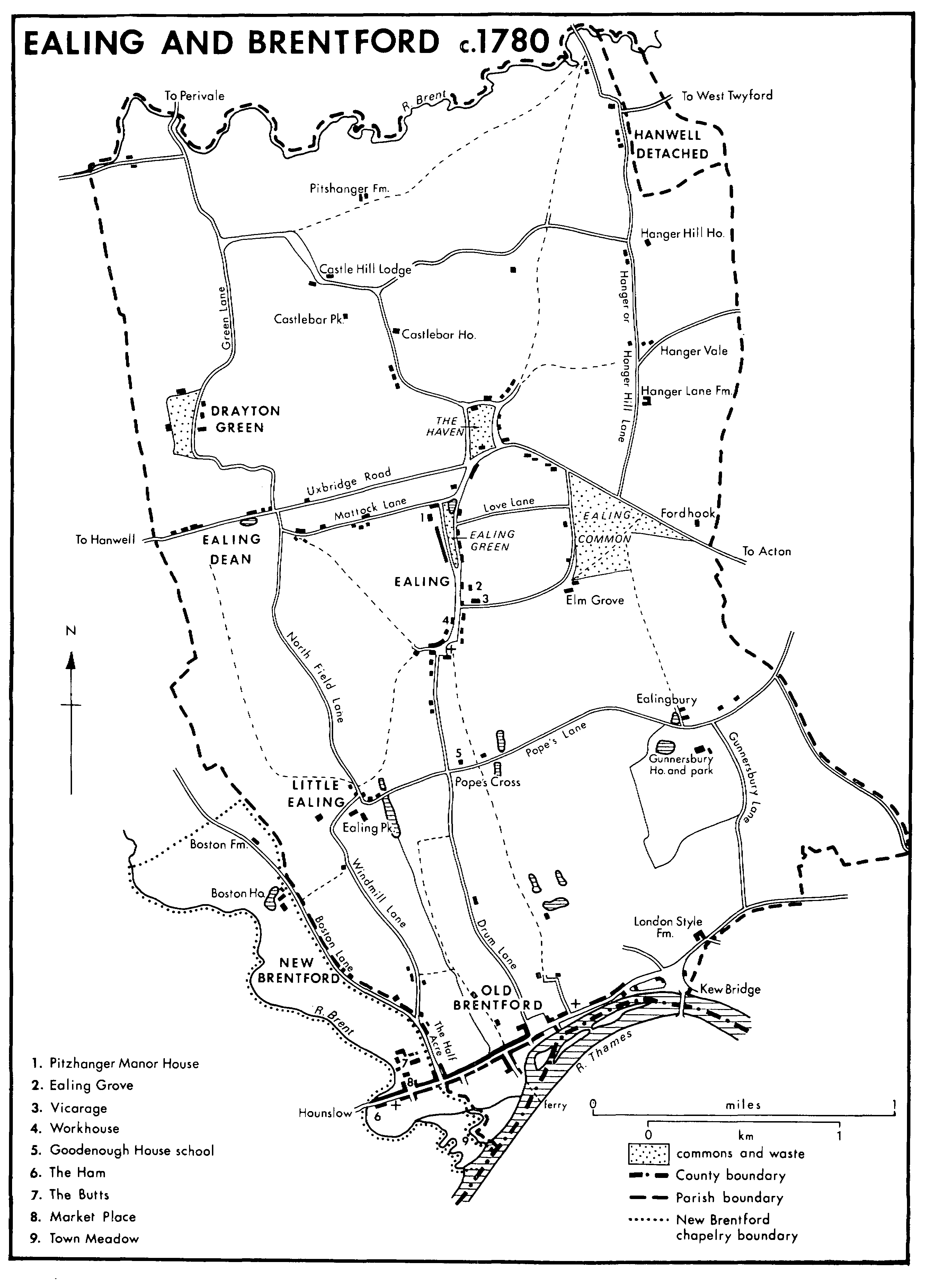 Major changes in the 20th century included the widening of Brentford High Street for electric trams in 1901 and its bypassing to the north by the Great West Road, opposed by the town's manufacturers but opened in 1925. (fn. 15) The southern stretch of Gunnersbury Lane and its continuation across Ealing common, renamed Gunnersbury Avenue, from the 1920s formed part of the North Circular Road, which continued northward along Hanger Lane. The main road called Western Avenue crossed the north end of Hanger Lane from 1930. (fn. 16) An elevated section of the M4 motorway, along the line of the Great West Road north of Brentford, was begun in 1962 and linked to Chiswick flyover in 1964. (fn. 17)
Perivale was approached by a ford in 1777; (fn. 18) a footbridge existed in 1819, (fn. 19) and a road bridge by 1865. (fn. 20) Farther east Hanger Lane crossed the Brent by Alperton bridge, also known c. 1680 as Vicar's or Vicarage bridge. (fn. 21) It was a wooden structure, repeatedly mended in the 1790s and whose repair was disputed in 1818 between the lords of Ealing and Harrow, who finally agreed to share the cost. (fn. 22)
At New Brentford there was a bridge across the Brent by 1224, when pontage was granted for its upkeep, (fn. 23) as in 1280, (fn. 24) 1293-4, (fn. 25) 1331, and 1369. (fn. 26) The wooden bridge was replaced in 1446 by a stone one, farther north and separated from it on the Hounslow side by the chapel of St. Michael and All Angels. (fn. 27) The maintenance of the new bridge was in 1450 charged partly on the abbot of Westminster, who had a fishery in the river there. (fn. 28) The bridge, of three arches in 1542 and 1635, (fn. 29) was dangerous in 1617-18, particularly because of its low parapet, (fn. 30) and in 1623 the lords of Isleworth and Boston were indicted for not repairing it; (fn. 31) by 1635 rates were levied for that purpose (fn. 32) and from 1691 the county contributed regularly to its upkeep. (fn. 33) A footbridge for which money was left in 1678 (fn. 34) may not have been built. Heavy traffic in summer was blamed for the road bridge's disrepair in 1707, when posts were erected to reserve it for pedestrians, (fn. 35) and in 1712 vehicles used it only when the river was too high to ford. Rebuilt in 1742 by Charles Labelye, (fn. 36) it remained difficult to approach and too narrow, (fn. 37) despite improvements on the west side in 1807 and to the bridge itself in 1811. (fn. 38) A new bridge was built for the county by Robert Sibley in 1824; (fn. 39) the eastern approach was widened in 1826 (fn. 40) and there had been a further widening by 1909. (fn. 41) A footbridge over the Brent from the Ham to Old England in 1635 (fn. 42) may have been the bridge of Sir John Thynne mentioned in 1584 (fn. 43) and the precursor of one surviving in 1979.
High Street also crossed two streams in Old Brentford. A stone bridge near the boundary with New Brentford in 1578 (fn. 44) was ruinous in 1630, when the lord of Ealing was responsible, (fn. 45) but was apparently rebuilt and called the new bridge in 1663. (fn. 46) It was widened for pedestrians c. 1672. (fn. 47) Cotman bridge, mentioned in 1436 (fn. 48) and probably near Ealing Road, (fn. 49) was also the responsibility of the lord of Ealing. (fn. 50)
The lowest permanent ford over the Thames until Roman times was probably at Old England, later covered by Brentford dock. (fn. 51) Residents of Old Brentford claimed free passage on a ferry to Kew from time immemorial until John Hale's appointment as keeper in 1536. Hale charged ½d. for horsemen and ¼d. for pedestrians, prevented the use of other boats, and suppressed a rival ferry. He claimed that earlier kings had appointed ferrymen, (fn. 52) and his own ferry survived as the only one to carry horses and vehicles until 1659, when it was called Kew or King's ferry. By 1659, after fares had been raised, a cheaper service was offered by Robert Tunstall, who previously had taken some pedestrians. (fn. 53) The newer ferry was farther east, probably at the Hollows, (fn. 54) and presumably closed after the opening of the first Kew bridge. The older one may always have been at Ferry Lane, where it remained until 1939. (fn. 55)
The first Kew bridge was built by Robert Tunstall, owner of the ferry, under an Act of 1757. (fn. 56) Of timber and with 11 arches, it was opened at the east end of Old Brentford in 1759 and replaced by a stone bridge, built by another Robert Tunstall, in 1789. A new bridge built for Middlesex and Surrey councils was opened in 1903. (fn. 57)
The river Brent, with its weirs and mills, was probably unnavigable until work started on the Grand Junction canal, from Brentford to Braunston (Northants.), in 1793. Apart from its wider bends, the river was canalized along the south-western boundary of New Brentford. Construction had reached Uxbridge by 1794 and was completed in 1805. (fn. 58) The canal formed part of the Grand Union canal from 1929. (fn. 59)
There was a daily postal service from Westminster to Ealing village and Little Ealing in 1692 and 1732. (fn. 60) By 1825 two short-stage coaches between them made three return journeys a day, (fn. 61) and in 1832 there were four daily departures from the New inn. Many more coaches passed through the parish along Uxbridge Road, presumably accounting for Ealing's half-hourly service recorded in 1826. (fn. 62) Brentford had twice daily postal deliveries from Westminster in 1692. (fn. 63) Coaching was probably already important in 1750, (fn. 64) and 11 short-stage coaches made 14 return journeys to London in 1825, when two return journeys were also made from Kew bridge. (fn. 65) Longer-distance coaches called every half hour in 1791, 1826, and, at the Castle inn, in 1832. (fn. 66) Thomas and John Ives were licensed to run three omnibuses from Ealing to London in 1838 (fn. 67) and, with six departures a day, had replaced the short-stage coaches by 1845. Coaches and omnibuses then ran from Brentford every 20 minutes to London and every half hour to Hounslow. (fn. 68)
Despite its name, the Southall, Ealing & Shepherd's Bush Tram-Railway Co. operated no farther west than Acton from 1874. Its successor the West Metropolitan Tramways Co. from 1883 ran horse trams along Chiswick High Road to Kew bridge, where London United Tramways introduced London's earliest regular electric working in 1901. The first trams to penetrate the parish were electric trams of the L.U.T., on the extensions in 1901 of the lines from Acton along Uxbridge Road, Ealing, to Hanwell and Southall and from Kew bridge along Brentford High Street to Hounslow. (fn. 69) Although Ealing vestry had approved of a suggested tramway between Ealing and Brentford in 1871, (fn. 70) many residents later opposed electrifiction. (fn. 71) It was only in 1906 that the two routes were linked by a line from Hanwell to Brentford. Under the London Passenger Transport Board, trolleybuses replaced trams along Brentford High Street in 1935 and on the routes through Ealing to Hanwell and from Hanwell to Brentford in 1936. (fn. 72) They continued to run daily through Ealing until c. 1960 and Brentford until 1962. (fn. 73)
A motor bus route of the London General Omnibus Co. terminated at Ealing and at East Ham (Essex) in 1911 and motor buses reached Hounslow in 1914. (fn. 74) Later, as part of London Transport's network, they served most of Ealing M.B. and Brentford. (fn. 75)
The G.W.R.'s main line to Slough and the west country opened in 1838, with its first station out of Paddington near the south-east corner of Haven Green common. The station, later called Ealing Broadway (fn. 76) and at the line's nearest point to Uxbridge Road, thereafter served much of the northern part of the parish. Farther west on the same line Castle Hill station was opened in 1871 to serve Ealing Dean and was renamed West Ealing in 1899. (fn. 77) A link with the G.W.R.'s new main line to Birmingham was opened in 1904, with a loop from West Ealing running north, close to the Hanwell boundary, through stations at Drayton Green, from 1905, and Castlebar Park. (fn. 78) The Birmingham line itself crossed the north-eastern corner of the parish, where Brentham halt received suburban services from 1911 until its supersession by Hanger Lane station. (fn. 79)
Brentford, in 1950 renamed Brentford Central, (fn. 80) and Kew Bridge stations opened in 1849 on the L. & S.W.R.'s loop line through Chiswick to Hounslow, so connecting Brentford with Waterloo. The line was joined near Kew Bridge in 1853 by the North & South-Western Junction Railway Co.'s line from Acton, itself connected to Kew Bridge station in 1862. (fn. 81) Beyond the town the line to Hounslow was crossed by the Great Western & Brentford Railway Co.'s single track branch from Southall past Brentford goods yard, in Isleworth parish, to Brentford dock. Opened for freight in 1859 and for passengers to Brentford End in 1860, the branch was acquired by the G.W.R., which had leased it, in 1872 and was converted to a double track in 1876. (fn. 82) It closed in 1964, passenger services having ceased in 1942, whereupon the tracks south of the goods yard were lifted and the railway bridge beyond the western end of Brentford High Street was demolished. (fn. 83) The L. & S.W.R.'s Brentford Road, later Gunnersbury, station lay in Chiswick parish. (fn. 84)
Services to both Paddington and Waterloo were poor in the 1850s. Although those from Ealing became much more popular from 1863, when they connected with the new Metropolitan Railway's line from Paddington to the City, there was a strong local demand for improvements c. 1872. The G.W.R. did not introduce third class return tickets until 1875 or an early train to Paddington until 1876, and it provided only a few workmen's trains in the 1890s. The general service was more frequent from 1878, however, after the main line had been widened. (fn. 85)
Ealing was better served in 1879, when the Metropolitan District Railway opened a branch from Turnham Green through Mill Hill Park, later Acton Town, and Ealing Common, called Ealing Common and West Acton 1886-1910. Its terminus, at Ealing Broadway, stood slightly north of the G.W.R.'s station. (fn. 86) Although no railway linked Ealing village with Brentford, from 1883 the District's trains worked another east-west line, across the centre of the parish from Mill Hill Park to Hounslow. There were stations at South Ealing and at Boston Road, which was renamed Boston Manor in 1911. The intermediate Northfield halt was opened in 1908 and renamed Northfields and Little Ealing from 1911 and Northfields from 1932. (fn. 87) Workmen's trains were provided by the District from 1890, although too sparsely to satisfy the local authority. (fn. 88)
The north-eastern side of the parish received the District's first electrified service in 1903, when the South Harrow branch was opened. From a junction with the existing District line to Ealing Broadway at Hanger Lane, the Ealing & South Harrow railway ran northward, with stations at North Ealing and Park Royal. District services to Hounslow and between Ealing and Whitechapel were electrified in 1905. (fn. 89) Yet another service to London from Ealing Broadway, authorized in 1905 for the Ealing & Shepherd's Bush Railway, a G.W.R. promotion, was opened in 1920 by Central London trains. (fn. 90) It later formed part of London Transport's Central line, while the District's service from Ealing Broadway formed part of the District line and that to South Harrow part of the Piccadilly line from 1932; services to Hounslow received both District and Piccadilly trains from 1932 to 1964 and thereafter only those of the Piccadilly. With the opening of the Piccadilly line most stations were rebuilt, notably Ealing Common, by Charles Holden c. 1930, and Northfields, by Holden and S. A. Heaps in 1933. (fn. 91) South Ealing's 'temporary' booking hall of 1931 was still used in 1980, as was North Ealing's original District station. Park Royal station was moved in 1931 to Western Avenue, where the existing building with its shops and flats dates from 1936. At Ealing Broadway rebuilding started in 1962 after the merging of the old G.W.R. and District stations, the second of which had already been rebuilt c. 1910 and whose booking hall, converted into shops, survived in 1980. (fn. 92)
A westward extension of the Central line from North Acton was opened in 1947 beside the main line to Birmingham. Brentham halt was replaced by Hanger Lane station, completed in 1949, at the junction of Hanger Lane and Western Avenue. (fn. 93)
The Thames was used by travellers from Brentford to London, including Samuel Pepys in 1665. (fn. 94) Boats provided a convenient service in 1691 (fn. 95) and a daily water conveyance, presumably for passengers, was still offered in 1845. (fn. 96) Under the Thames Navigation Act, 1777, tolls were collected by the navigation committee of the City of London, which in 1857 handed over government of the river to the Thames Conservancy Board, itself superseded in 1908 by the Port of London Authority. (fn. 97)