Pages 177-182
A History of the County of Middlesex: Volume 7, Acton, Chiswick, Ealing and Brentford, West Twyford, Willesden. Originally published by Victoria County History, London, 1982.
This free content was digitised by double rekeying. All rights reserved.
COMMUNICATIONS. (fn. 1)
The most important road in Willesden was Watling Street or Edgware Road, which is known, in stretches from south to north, as Kilburn High Road, Shoot-up Hill, and Cricklewood Broadway. In 1599 it was simply the London way. Local people were involved in attempts to improve the condition of the road, being named in a grant of pavage in 1389 (fn. 2) and making gifts and bequests in the 16th and 17th centuries. (fn. 3) The largest were made by outsiders, John Lyon (1587) and Edward Harvist (1610), who founded charities for repairing the road from London to Edgware. (fn. 4) The charities were inadequate to cope with the constant traffic which made the road 'ruinous and dangerous' for six months of the year and in 1710 a turnpike trust was set up to repair the road between Kilburn bridge and Bushey (Herts.). (fn. 5) A turnpike gate was erected just north of Kilburn bridge on the Willesden boundary. (fn. 6) It was moved in 1864 to the end of Willesden Lane and later to Shoot-up Hill where it stood when the road was disturnpiked in 1872. (fn. 7) Heavy waggons, shortage of gravel, dung-heaps alongside the road, encroachments, and highwaymen continued to make Edgware Road unpleasant for travellers and inhabitants alike throughout the 18th century. The commissioners of the metropolitan turnpike roads took responsibility for Edgware Road and the income of the Lyon and Harvist charities under the Metropolitan Roads Act of 1826. The commissioners made improvements, widening the road and lowering Shoot-up Hill. In 1872 they were replaced, under the Metropolis (Kilburn and Harrow) Roads Act by Edgware highway board and other local highway authorities. (fn. 8) In 1876 authority passed to Willesden local board which received its proportion of the Lyon and Harvist funds. (fn. 9)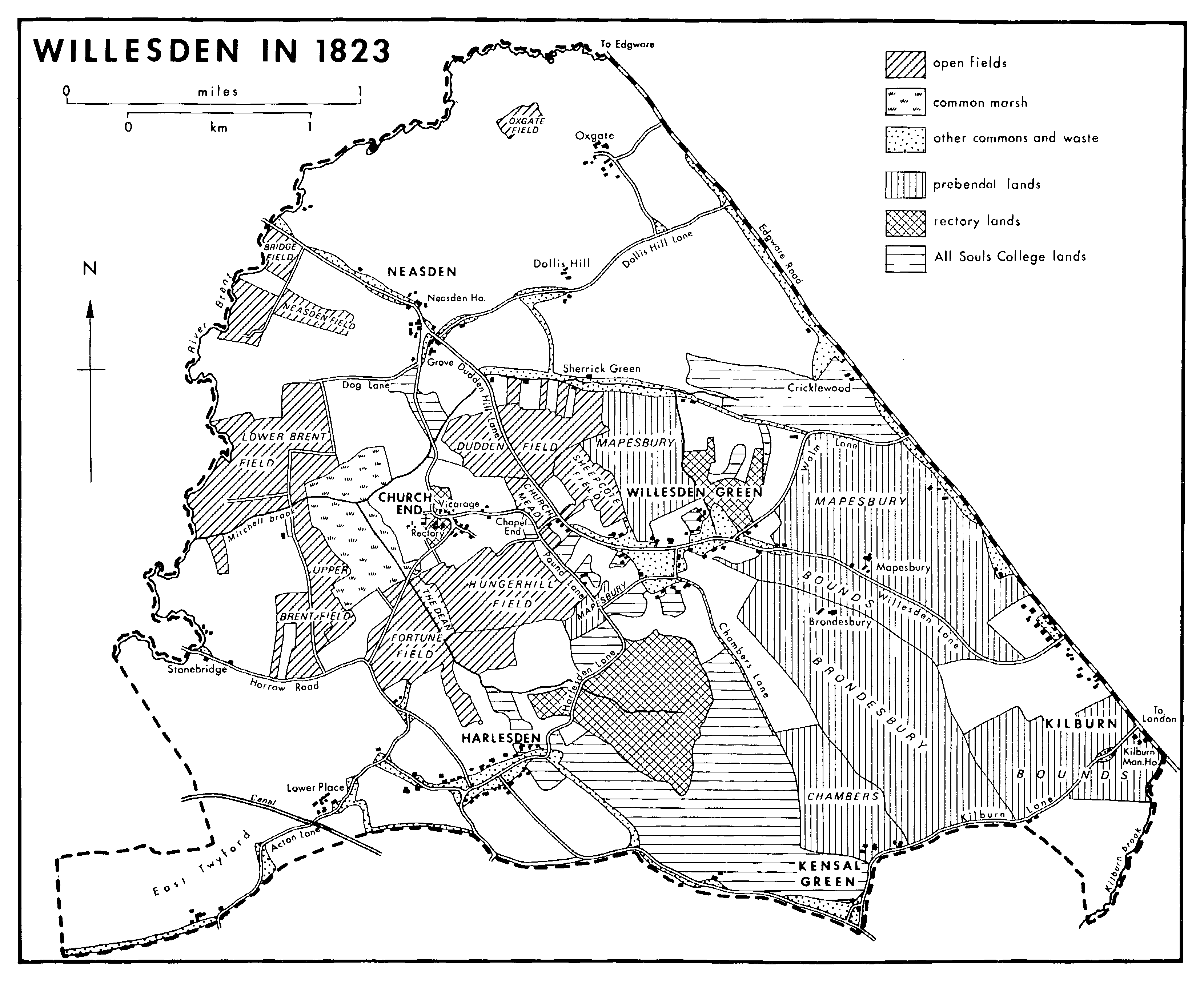 Harrow Road, which left Edgware Road at Paddington, entered Willesden at Kensal Green, and formed the southern boundary until it turned northward to Harlesden green; thence it twisted through the open fields (fn. 10) and marsh to leave by Stonebridge for Wembley and Harrow. (fn. 11) John Lyon set up a charity for Harrow Road in 1582. (fn. 12) The road was turnpiked in 1801 after the Willesden vestry's request in 1800. (fn. 13) From 1826, when it was included in the Metropolitan Roads Act, its administration followed that of Edgware Road. The right-angle bend between Harlesden and Stonebridge was cut across in 1855, (fn. 14) to form the triangle of roads called Craven Park. (fn. 15) That name came to be used of Harrow Road as far as Harlesden, where the road is called High Street; west of Craven Park the road is called Hillside. (fn. 16)
Several roads ran west from Edgware Road to the hamlets in Willesden. The most northerly was the road to Neasden, Dollis Hill Lane, which was linked to the farms of Oxgate by Oxgate Lane. Walm Lane, recorded as Warne Lane in 1595, (fn. 17) ran west from Cricklewood, turning south to Willesden Green before it reached Sherrick green. (fn. 18) From Walm Lane a track westward across Sherrick green to Neasden was called Shirwykstrete in 1425, (fn. 19) and in 1746 it and the northern part of Walm Lane were called Sherrick Green Lane. Sherrick Green Lane had shrunk to a green lane by 1823 and a footpath by the 1860s. (fn. 20) Willesden Lane, which by c. 1394 (fn. 21) and until the 1860s (fn. 22) was called Mapes Lane, ran from Kilburn to Mapesbury manor house and Willesden Green, whence Churchend Lane in 1593, (fn. 23) or Churchend Road in 1823, later High Road, ran west. Kilburn Lane, so called in 1527 (fn. 24) but Flowerhills Lane in 1649, (fn. 25) ran southwestward from just north of Kilburn bridge to Kensal Green. The inhabitants of Willesden were indicted for not repairing it in 1722. (fn. 26)
Apart from Harrow Road two roads ran westward out of the parish. A footway north from the parish church to Neasden in 1615 (fn. 27) was called Neasden Lane in 1746; it then continued northwest as Brent Lane, and perhaps earlier under another name, across the Brent to Kingsbury. Later the north-west portion was called Neasden or Kingsbury Lane. It was widened as an access road to the Empire Exhibition at Wembley in 1924. (fn. 28) A second lane to Kingsbury in 1746 had disappeared by 1765. (fn. 29) Acton Lane followed a tortuous course from Harlesden green northwestward to Greenhill and then south-westward to Lower Place before turning southward to Acton. A road probably once ran the length of the southern boundary west from Kensal Green. Most of it remained in 1746. The most westerly section (Norwood Lane in 1823) had dwindled by 1823 to a green lane but it survived as a footpath until the development of Park Royal in the 20th century. (fn. 30) Another section, a green lane called Old Lane in 1823, ran from Harrow Road to Lower Place. Kirns Lane Road (1823), called Old Oak Lane in 1599 and Old Oak Common Lane by 1894, ran south from Harlesden green across the boundary green lane to Old Oak common. With the development of Willesden Junction it became Station Road. A lane running south-east from the east end of Harlesden green to join Harrow Road was recorded as Prentice Lane in 1432 (fn. 31) and Stub Lane in 1593; (fn. 32) it survived as a green lane in 1823 and was a tree-lined, rural grass track in 1873, (fn. 33) just before the estate was developed and it became Wrottesley Road. Sawyers Lane, in 1749 linking Harrow Road at Fortune Gate with Acton Lane at Greenhill, became Greenhill Park when the area was built up in the 1870s and 1880s.
Many lanes linked the hamlets of Willesden parish. Church Road, called le Chercheway in 1364 (fn. 34) and Fortune Field Road in 1823, ran north from Harrow Road at Fortune Gate to Church End. It was straightened at inclosure, the new course leaving Harrow Road farther north. (fn. 35) Harlesden Lane or Road followed a circuitous route from Harlesden green to Willesden Green. The northern section was called Golders Lane in 1424 and 1599 (fn. 36) and Allsopps Lane in 1749. The section in the centre next to the rectory estate was called Yppelestrate c. 1280 (fn. 37) and Nipley Lane in 1599, and that nearest Harlesden may be identifiable with Botis Lane of 1432. (fn. 38) Pound Lane, so called after 1851 and linking Harlesden Lane with Chapel End, was called Perrycroft or Petticoat Lane in 1593 and 1649 (fn. 39) and Clarke's Lane in 1749. (fn. 40)
From Willesden Green south-eastward Chambers Lane, so called in 1593 (fn. 41) and later called Chamberlayne Road, dwindled to a footpath before its junction with Kilburn Lane. Roughly parallel to the east Brand's Lane, recorded in 1649, and called Causeway in 1765, curved round Brondesbury manor house and reached almost to Kilburn Lane, but had been closed at either end by 1765. (fn. 42)
A short lane, later Glebe Road, ran west from Pound Lane to Hungerhill field in 1599. Dudden Hill Lane was recorded in 1593 as a warple way, i.e. a bridle way or green lane, called Dudding Lane between Willesden Green and Neasden. A track running west from Church End to the river probably existed in 1593 (fn. 43) but had shrunk by 1749 to a short lane alongside the church. More lasting was Dog Lane, which as Stony Lane in 1420, Brent Field Lane in 1599, and Stones Lane in 1787, ran westward from Neasden Lane almost to the river. (fn. 44) By 1599 another lane ran southward from Dog Lane and by 1765 crossed the open fields to Harrow Road. (fn. 45) In 1823 it was a private road; by the 1860s the westward section of Dog Lane had disappeared, and the whole road from Neasden to Harrow Road was called Dog Lane. (fn. 46) It was greatly altered by the building of the North Circular Road, which left only the northern tip, as Dog Lane, and the southern half, renamed Brentfield Road.
Unlocated roads include Loverdes Lane and Crokes Lane in 1304. (fn. 47) The second was possibly the Crucestrate of 1322, which may be identifiable either with Neasden Lane because it was near Bury field, on which Dog Lane abutted, or with Willesden High Road, beside which lay Cross close. (fn. 48) Old Street of 1383 was probably part of Edgware Road; no other record has been found of Marsh field and West field past which it ran. Lites Lane (1383) and Wolberd Lane (c. 1397) are unlocated. (fn. 49) Pulkyn or Halys Lane (1424) may have been at Neasden. (fn. 50)
Compared with the 17 miles of roads in the parish in 1749 and 18 miles in the care of the local authority in 1875 there were 90 miles for which the urban district was responsible in 1931. Roads which had been neglected during the First World War were asphalted in 1922, and during the 1920s and 1930s all the main roads were resurfaced and some were widened. The milage in 1931 did not include the North Circular Road, outside the local authority's control, which was begun in 1921 and completed in 1934, entering the parish at Stonebridge and running alongside the river Brent to Edgware Road. (fn. 51)
Kilburn bridge, (fn. 52) which was recorded in 1398 and thought to have been built in the mid 13th century by the prior of Kilburn, (fn. 53) carried Edgware Road across the Kilburn brook. In 1826 the original stone bridge with a Gothic arch survived, flanked by brick portions added at two different periods. By that date repair was shared between the trustees of Marylebone turnpike and of the Kilburn road. Edgware Road crossed the river Brent at Brent bridge, which was mentioned in 1383. (fn. 54) In 1774 Willesden vestry was doubtful of its obligation to repair the bridge. (fn. 55) Harrow Road crossed the Brent at Stonebridge which took its name from a bridge recorded in 1746 and replacing an earlier, wooden bridge or ford. (fn. 56) Neasden or Kingsbury Lane bridged the Brent at Kingsbury bridge, recorded in 1531 and the joint responsibility of the lords of Chalkhill (Kingsbury) and Neasden manors. (fn. 57) Sherrick bridge in 1425 bridged the Sherrick brook probably at the point where it was crossed by Dudden Hill Lane. (fn. 58) As Barley bridge it apparently still existed in 1805 but by 1826 the Sherrick brook, together with all the other tributaries of the Brent, had been culverted under roads. (fn. 59)
In 1768 a daily stage coach travelled from London along Edgware Road to Edgware and a coach went to Harrow twice a week over Harrow Road. (fn. 60) Two coaches making five return journeys a day operated between the City and Kilburn in 1825 and by 1834 a coach left the Six Bells, Willesden Green, for London every morning. (fn. 61)
Willesden 'contains an inordinate and bewildering jungle of railway lines'. (fn. 62) In spite of the opposition of the Grand Junction Canal Co. and landowners, (fn. 63) the London and Birmingham Railway, renamed in 1846 the London and North Western Railway (L. & N.W.R.), opened in 1837. It crossed the southern part of the parish, where a station at Acton Lane, called Willesden, was open for a short time after 1841 and again from 1844 to 1866, although it was not intended to provide a suburban service. Two stations just outside the parish had great influence on Willesden's development, Kilburn High Road from 1852 and Willesden Junction from 1866. Queen's Park station opened in 1879. In 1903 a branch line was opened to serve the Park Royal Exhibition site.
In 1860 the Hampstead Junction Railway (H.J.R.) was opened to form a link between the North London at Camden Town and the North and South West Junction (N. & S.W.J.) which had opened from Kew to Willesden Junction in 1853. Stations were opened in 1860 at Edgware Road (from 1873 called Brondesbury) and in 1861 at Kensal Green and Harlesden. Harlesden station, at the crossing with Green Lane (later Wrottesley Road), closed in 1873 and was replaced by one of the same name (from 1890 called Kensal Rise) at Chamberlayne Road. Brondesbury Park station opened in 1908. Although competition from trams and buses caused a sharp decline in the number of passengers using the line, the H.J.R. (then part of the North London Railway) was absorbed by the L. & N.W.R. and included in its electrification scheme of 1965. (fn. 64)
The Midland Railway's main line from Bedford to London, which ran east of and parallel to Edgware Road, opened in 1868 with a station in 1870 at Child's Hill (later Cricklewood). In 1868 a loop line, called the Midland and South West Junction (M. & S.W.J.) or Cricklewood and Acton branch, opened for freight between the main line at Cricklewood and the M. & S.W.J. line at Acton Wells. A passenger service operated on the line from 1875 to 1888 and 1893 to 1902 with stations at Dudding Hill and Harrow Road (called Stonebridge Park 1884 and Harlesden 1901).
The Metropolitan opened a line from Hampstead to Willesden Green in 1879, extending it to Harrow in 1880 and Aylesbury in 1892. (fn. 65) Stations were opened at Kilburn and Willesden Green in 1879, at Neasden (called Kingsbury and Neasden until 1932) in 1880, and at Dollis Hill in 1909. A connecting link was constructed for freight between the Great Central line and the M. & S.W.J. line at Neasden in 1899, and in 1906 the Great Central Railway (G.C.R.), which leased tracks on the line, built a link from Neasden to a line at Northolt. (fn. 66) The Metropolitan built a power station besides its sidings and workshops at Neasden in 1903 and electric trains, first used in 1905, gradually superseded steam. (fn. 67) New fast lines were introduced over the line from 1913, and in 1939 Bakerloo line trains were extended over it and new station buildings erected at Kilburn and Dollis Hill. In 1979 this section became part of the Jubilee line.
The L. & N.W.R., intending to open an electric service to Watford, built the New Line, tracks alongside the main line. In 1912 the New Line was opened for steam trains from Kensal Green tunnel to Harrow and stations were opened at Harlesden (near the earlier Willesden station) and just outside Willesden U.D. at Stonebridge Park. The electrified New Line was opened to Watford in 1917 and to Euston in 1922.
In 1915 the London Electric Railway (L.E.R.) brought its line to Kilburn Park, where it opened a new station, and thence to Queen's Park, where it joined the L. & N.W.R. line and the two companies ran jointly-owned trains over the New Line to Watford Junction. The last station in Willesden, Kensal Green, was opened on the line in 1916. Stonebridge power station was built in 1913 to supply electricity for trains on the Euston to Watford (L. & N.W.R.) and Broad Street to South Acton (H.J.R.) lines. (fn. 68) The original L. & N.W.R. main line was electrified in 1965.
In 1839 an omnibus ran between the Bank and Kilburn, and the Harrow to London coach stopped at Harlesden green each morning and evening. (fn. 69) By 1855 London omnibuses operated from Harlesden five times daily and from Kensal Green fourteen times daily. (fn. 70) In 1856 there were 22 omnibuses operating from Kilburn to London Bridge and Whitechapel, one from Harlesden green and two from Kensal Green to London Bridge. (fn. 71)
In 1876 a regular omnibus service was introduced between Edgware Road station and Kilburn, and a service operated between Neasden and Harlesden from 1880 to 1885. (fn. 72) By 1890 omnibuses ran to Charing Cross from Stonebridge Park every hour and from Harlesden every 12 minutes, and a service operated between Church End and Kilburn. The L. & N.W.R. ran a bus to meet trains at Willesden Junction from Stonebridge Park and Church End. (fn. 73)
Most bus routes radiated out from London, with a large number on Edgware Road. By 1896 there were 45 omnibuses an hour along the road to South Kilburn, 33 an hour to mid Kilburn, and 5 an hour to Cricklewood. Harrow Road carried 11 buses an hour to Kensal Green with 3 going on to Harlesden. Another route carried 16 buses an hour from Edgware Road to Queen's Park, while one route crossed north-east to south-west from Edgware Road at Kilburn to Harrow Road. (fn. 74)
The London General Omnibus Co. (L.G.O.C.) opened stables at Cricklewood in 1899 and from 1901 to 1904 operated a horse-bus service from Cricklewood to Edgware. (fn. 75) In 1900 it bought land for stables at Willesden Green, to which seven buses an hour were running by 1903. (fn. 76) In 1902 the London Motor Omnibus Syndicate Ltd. opened a service along the Edgware Road to Cricklewood and in 1905 its successor, the London Power Omnibus Co., introduced a regular service from Brondesbury to the Law Courts. At the end of 1905 the L.G.O.C. decided to challenge its rivals directly, introducing motor buses on the route from Cricklewood to the Law Courts and converting its stables at Cricklewood into a garage which by 1951 held 181 buses. (fn. 77) The motor buses were not, initially, a complete success: local traders at Kilburn complained of the noise and smoke, mainly due to inexperienced drivers and frequent breakdowns. (fn. 78) In 1908 the L.G.O.C. absorbed its rivals and by 1911, following the introduction of more reliable buses, horse-bus services were withdrawn. (fn. 79) The system continued to expand. Buses along the Edgware Road to South Kilburn numbered 71 an hour by 1903 and 87 by 1914, while 15 an hour went to Cricklewood. Seven buses an hour went along Willesden Lane to Willesden Green by 1903 with a connecting service between the latter and Harlesden, which by 1914 was carrying 13 buses an hour. By then there were also services through Brondesbury and Cricklewood. Services had been extended to the north-western part of the area by 1925 when 44 buses an hour plied between Church End, Neasden, and Wembley, and 18 between Neasden and northern Cricklewood. (fn. 80) There were 17 bus routes by 1933. (fn. 81)
In 1888 the Harrow Road and Paddington Tramways Co. opened a horse-tram service with a tram every five minutes along Harrow Road from Paddington to Harlesden, with a branch line from Harrow Road to Malvern Road and Carlton Vale in Kilburn. (fn. 82) In 1902 the Middlesex County Council tramways schemes (electric) came into effect, transferring the Harrow Road trams to the Metropolitan Electric Tramways Co. (M.E.T.), which introduced electric cars and extended the service to Stonebridge in 1906 and on to Wembley in 1908. Under the same scheme electric trams were introduced in 1904 between Edgware and Cricklewood, extended in 1906 to Willesden Green and in 1907 to Harlesden. (fn. 83) In 1909 the M.E.T. opened services from Harlesden to Acton on London United Tramways' Uxbridge line. (fn. 84) In 1919 Willesden U.D. successfully opposed an L.C.C. scheme for a tramway along Edgware Road to Cricklewood; (fn. 85) in 1920 all tram and bus fares in Willesden were doubled and the 1d. fare was abolished, perhaps in an attempt to halt the expansion of the working-class population. (fn. 86)
There were four tramway routes in the borough in 1933, (fn. 87) just before the whole network was taken over by London Transport for trolleybuses in 1936. By 1948 most journeys to work were made by bus, mostly on the London Transport central bus system which operated 15 routes through Willesden, extending to Watford and Croydon. There were also six trolleybus routes. (fn. 88)