Pages 182-204
A History of the County of Middlesex: Volume 7, Acton, Chiswick, Ealing and Brentford, West Twyford, Willesden. Originally published by Victoria County History, London, 1982.
This free content was digitised by double rekeying. All rights reserved.
SETTLEMENT AND GROWTH.
Apart from Roman Watling Street, evidence of man's activities in the Willesden area before the Saxon period is dubious. According to local tradition there were numerous Neolithic finds at Park Royal, Bronze Age vessels on the site of Brent reservoir, and Roman bricks at Neasden. There have also been suggestions of Iron Age tracks and hill-top forts. (fn. 1) From the late Anglo-Saxon period scattered, nucleated hamlets were established in clearings in woodland usually on elevated, well drained sites watered by streams and wells, at Willesden Green, Harlesden, and Neasden. Kilburn grew up where Watling Street crossed the Kilburn brook and Twyford at a bridging point of the Brent. Church End as a settlement probably followed the building of the church there, and Kensal Green evolved in the early modern period at the junction of Harrow Road and Kilburn Lane. The whole parish was in the hands of St. Paul's cathedral by 1000 and prebendal estates were carved out of it in the 11th and 12th centuries. There was a group of farms in the centre of Oxgate prebend by the 15th century and there may have been cottages on some of the other prebends. In general the settlement pattern remained unchanged from the early Middle Ages until well into the 19th century: in the centre and west hamlets lay around village greens, separated from each other by open fields, whereas the prebendal estates to the east comprised enclosed demesne lands with isolated farms. (fn. 2) Common meadow and pasture covered the badly drained lands bordering the Brent, and extensive woodland throughout the parish was steadily reduced until its final disappearance in the 19th century.
There were c. 240 communicants in the parish in 1547 (fn. 3) and 158 males took the protestation oath in 1642. (fn. 4) There were 102 houses in 1664, of which half were one-hearth cottages. The largest houses were Neasden House and East Twyford manor house, the rest being modest farmhouses. (fn. 5) Most inhabitants were farmers and Willesden was not an area attracting the nobility or London merchants in any number. Bridget, countess of Bedford, lived there in 1595, (fn. 6) and Willesden was sufficiently within the ambience of London to be affected by the plague of 1665. In the early 18th century the inhabitants included Tobias Eco, 'a black'. (fn. 7) By 1720 there were 77 ratepayers, divided between Harlesden (23), Kilburn (14), Church End (13), Willesden Green (10), Neasden (8), Sherrick green (4), Oxgate (3), and Dollis Hill (2). (fn. 8) Farmhouses had been built on the cleared woodland at Cricklewood and at Kensal Green by the mid 18th century, (fn. 9) and some 31 parcels of waste had been enclosed by 1792, some of them, for example at Dollis Hill, for new cottages. (fn. 10) By 1795 there were said to be c. 130 houses in the parish. (fn. 11) The census figure of 98 houses in 1801 is too low, and the number of houses grew steadily from 178 in 1811 to 254 in 1821 and 358 in 1831. (fn. 12) In 1834 it was said that a great many cottages, usually owned by tradesmen and occupied by the poor, had been built since inclosure in 1823. (fn. 13) Most building was on the former village greens, at Willesden, Harlesden, and especially Kensal Green. Until the mid 19th century, however, Willesden was celebrated as a place of rural tranquillity by artists like George Morland (d. 1804), Paul Sandby (d. 1809), and Julius Caesar Ibbetson (d. 1817) and by writers like John Dugdale in 1819. (fn. 14)
The outward expansion of the metropolis reached Willesden in the mid 19th century, when there were 578 houses in Willesden, engulfing south Kilburn in the 1850s and 1860s and north Kilburn in the 1870s and 1880s. Proceeding along Harrow Road, it affected Kensal Green and Harlesden, whose growth was also stimulated by the building of Willesden Junction station just outside the borders. The first entirely new developments, at Brondesbury and Stonebridge from the 1860s and 1870s respectively, took place in estates bordering main roads and served by railway.
The number of houses grew from 812 in 1861 to 2,233 in 1871, 8,162 in 1891, and 20,128 in 1905. (fn. 15) The earliest development, at Kilburn, Willesden Green, Brondesbury, and Stonebridge Park, was for upper-class housing for merchants and professional men working in the City. Although builders in the other areas would have liked to serve a similar market, the existence of railway workings at Willesden Junction, the proximity of working-class suburbs, and simple demand meant that most of the building in the 1880s and 1890s was for the lower middle and working classes. Willesden was just outside the metropolis with its strict building regulations, and land companies and small builders competed to buy up estates and to cram them with cheap houses. The United Land Co. began buying estates at Kilburn and Church End in 1869 and by 1881 had 17 estates in Willesden Green, Church End, and Harlesden. (fn. 16) In 1887 it owned 178 a. in Willesden, and four other building societies and land companies owned 62 a., mostly in Stonebridge. (fn. 17) The land companies usually leased to builders who often sub-leased to other, usually small, local builders with little or no capital working on a speculative basis. (fn. 18) There was considerable pressure from the lower classes for housing, many having been displaced from the metropolis by the railway works there. They included many Irish who came from areas like Paddington and moved from street to street, attracted by the new houses. They did not stay long enough to discover the defects in the houses or to agitate for better surroundings. There were many jerry-built houses and buildings stood isolated among mud and unmade roads. (fn. 19) The piecemeal development of different estates produced an often bizarre road-pattern. (fn. 20) At Stonebridge the parallel streets running north from Harrow Road reflected the narrow fields with their short frontages on the main road. That sort of layout was avoided on the prebendal estates to the east, where the whole area was owned by the Ecclesiastical Commissioners and there was no difficulty in building long access roads like Brondesbury Park and Salisbury Road. The commissioners did not, however, keep a tight control of the development, and it was on their property that some of the worst mistakes, such as building in unmade roads, were made at Kilburn. Some 5,700 houses had been built on the commissioners' estates by 1944, mostly before 1908. (fn. 21) The other large landowner, All Souls College, Oxford, began with a policy of selling land when it reached £800 an acre and sold land at Kensal Green to the United Land Company in 1882. After 1888, however, a more adventurous estates bursar (Henry O. Wakemen, 1888-99) followed the advice of the college agents and began to exploit the estates directly: the college built roads and assumed responsibility for the overall planning while individual plots were leased to builders. (fn. 22) The college also sought agreement with neighbouring landowners so that a more logical road pattern could be planned. (fn. 23)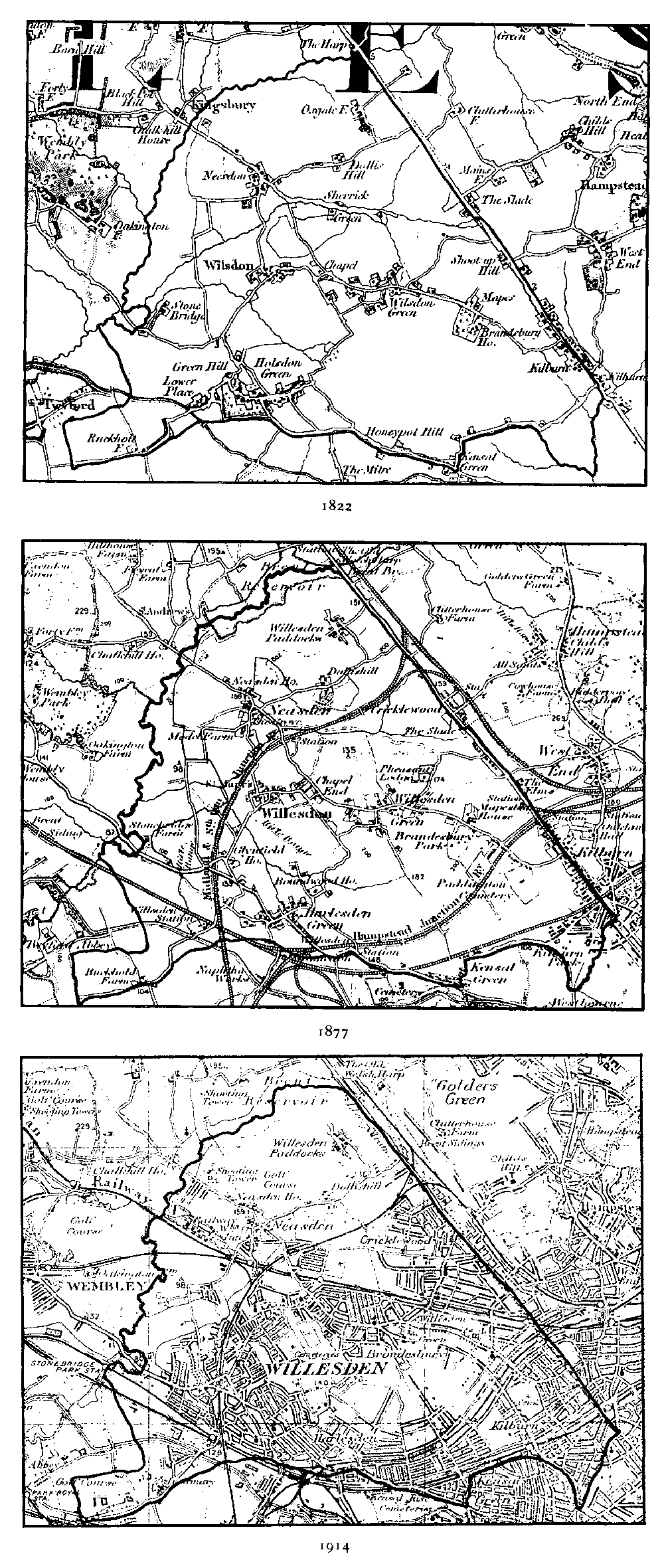 Although the Willesden local board enforced building regulations after 1887, the tendency towards low-cost working-class housing continued. The pattern of growth was much influenced by the railway companies, which, beginning with the Metropolitan Railway in the late 1870s, bought land for railway sidings, workshops, and housing estates for their workers. Those developments attracted other industry, and it was usually the provision of transport, by rail as by buses and trams, that decided the success or failure of building schemes.
In the early years of the 20th century Willesden had an excellent transport system, flourishing shopping centres, and the beginnings of industry. It was primarily residential but it had already lost much of the middle-class character that predominated up to the 1880s. In 1901 the two largest categories of employed men worked in transport and building, with smaller numbers in the food, drink, and tobacco trades and working as clerks or in commerce. A third of the women worked, the largest group as domestic servants and many as dressmakers and laundresses. (fn. 24) There had long been areas of poverty, notably in Kilburn, and from c. 1906 to 1914 there was a slump. Some 45,000 meals were provided for underfed children by the Willesden Children's Aid Association during the winter of 1905-6, and the Willesden Distress Committee, financed partly by the Local Government Board, found work for some of the unemployed in Willesden's parks in 1909. (fn. 25) Unemployment resulted partly from the decline in the building industry, which locally had outstripped demand. It was difficult to sell land in 1906 (fn. 26) and by 1909 there were 1,113 houses and 1,129 tenements without occupants in Willesden. The First World War prevented the implementation of a scheme to provide council housing. (fn. 27)
The war also completed the transformation of Willesden from a largely middle-class residential suburb to a predominantly working-class part of the industrial belt of London. It stimulated the growth of industry, both in established centres like Church End and Kilburn and in newer areas like Cricklewood and Park Royal.
After the First World War industry continued to expand in the areas opened up by the munitions factories and linked by the North Circular Road. The council, anxious to avoid the unemployment and housing problems of the years before the war, encouraged building. The number of houses and flats increased to 24,919 in 1921, 31,000 in 1931, and 42,418 in 1939; (fn. 28) 7,368 dwellings, 226 factories and workshops, and 403 shops and offices were built between 1922 and 1934. (fn. 29) While the number of houses increased, the population initially increased even faster. There was a 4 per cent growth in the number of houses between 1911 and 1921 and a 7.4 per cent growth in population. In the late 1920s and the 1930s the rate of building was faster than the increase in population: the number of houses rose 28 per cent 1921-31 and 36 per cent 1931-9 compared with population growth at 19 per cent and 13 per cent respectively. (fn. 30) Overcrowding persisted, as workers attracted by the new industry crowded into the houses built for City clerks. By 1934 a fifth of working-class families lived more than two persons to a room and 6 per cent of the population was classified as living in poverty. The newer houses tended to be occupied by the middle class and there was an increase in those employed in clerical and commercial occupations. In 1921 transport was still the largest employer of male workers while large numbers were employed in commerce and finance and as clerks, in metal work, in textiles and clothes, and in wood and furniture work. Domestic service was still the largest single category of women's work. There were smaller numbers of builders and bricklayers, electricians, and paper workers. Over half of Willesden's employed inhabitants worked outside its borders, while some 14,000 people travelled into Willesden to work. (fn. 31)
Willesden became a municipal borough in 1933 and Labour took control, drawing up a town planning scheme in the same year. The scheme designated three areas not yet covered by building: north Cricklewood, Neasden, and Dollis Hill; the western part of Stonebridge; and the area lying between Harlesden, Kensal Green, and Willesden Green. Industry was to be allowed in zones within each area, especially the first, and the rest was to be divided into housing zones of low density. (fn. 32) In its anxiety to avoid the housing densities of the old centres like Kilburn and Harlesden, the council neglected to leave sufficient open space for parks and recreation, and most of the land along the Brent was taken in the 1930s for factories and housing estates. The council concentrated its attention on the poorer, overcrowded areas in the south and east and produced its first slum clearance plan in 1937. By 1933 some 1,000 council houses had been built, mostly in the Brentwater estate, and in 1934 the council began building by direct labour. A large new council estate, Curzon Crescent, was built in the area between Harlesden and Church End in 1936. (fn. 33)
Some 1,300 homes were destroyed and 6,500 severely damaged during the Second World War. There was a considerable movement of population and by 1948 there were 11,750 families on the waiting list for council housing. The problem was alleviated by building prefabricated bungalows (some of which were still in use in 1965) and requisitioning empty houses, but a government survey in 1947 revealed the overcrowding, over-industrialization, and lack of planning which lay at the root of the problem. There was little sense of identity or community. Historically Willesden was a parish of separate hamlets and the building of canal, railways, and roads like the North Circular had served not to link but to divide them. The old parish church of St. Mary's had long ceased to be the focus of the area and no civic centre grew up to take its place. The population was unstable: people moved into Willesden from areas like Paddington and Marylebone and having achieved a certain level of prosperity moved farther out. In 1947, for example, more than half the inhabitants were said to have arrived since 1925. In 1971 the same proportion of Wembley's inhabitants had come from Willesden. (fn. 34)
Although most immigrants into Willesden came from other areas of London (42 per cent of the population in 1901 was born in London), from the 19th century there had been some immigrants from outside England. There had been Irish in Kilburn in 1841 and 1871 and in 1901 nearly 3 per cent of Willesden's population had been born in the British Empire (mostly in Ireland). By then Jewish immigration, particularly into Brondesbury and later into Cricklewood, had begun: 1.1 per cent of the population had been born in Europe, mostly in Germany. (fn. 35) American restrictions on immigrants in the 1920s and 1930s increased the flow of Irish to areas like Kilburn, which increased rapidly after the Second World War. The Irish had long been prominent in the building trade and they formed a high proportion of those crowding into the lodging houses. (fn. 36) In 1966 almost a fifth of Willesden's population had been born in Ireland. (fn. 37) Jewish residents came mostly as a result of the persecutions of the 1930s, as is reflected in the figures for 1951 when 3.5 per cent of the population was born in Germany, Poland, Russia, or Austria. From the 1950s most immigrants into Willesden were West Indians and, more recently, Asians. The few West Indians in 1951 were mainly students. By 1961 those born in the colonies and protectorates made up 5.5 per cent of the population, and most came from the Caribbean. By 1971 the proportion had risen to 13 per cent, nearly a third coming from Jamaica alone. (fn. 38)
The immigrants formed an increasing proportion of the population because as they moved in the older inhabitants, often skilled workers, moved out at a still faster rate. That was largely the result of the council's policy of encouraging Willesden's industry and workers to move to the new towns. In 1966 only a third of Willesden's male inhabitants were employed in middle-class occupations, compared with two fifths for Greater London, while of Willesden's West Indians nine tenths were manual workers.
Although extensive rebuilding in areas like Kilburn was undertaken by the council, the housing shortage, aggravated by the influx of working-class immigrants, remained. Willesden experienced all the problems of Rachmanism and squatting in the 1960s. The proportion of private rented accommodation in 1961 (45 per cent) was considerably larger than for Middlesex as a whole (27 per cent); twice as many dwellings lacked a bath, and three times as many people lived at a density of more than 1½ persons per room. The council gradually increased its share of housing, from 4,274 dwellings in 1961 to 12,094 in 1970 and 18,729 in 1977. It also encouraged housing associations, financing six in 1964, to convert older property in areas like Kensal Green. (fn. 39)
The population of Willesden doubled from 751 in 1801 to 1,413 in 1821 and 2,957 (including 599 people in barns) in 1841. The development of Kilburn is reflected in the rise from 3,879 in 1861 to 15,869 in 1871. It was 61,265 by 1891 and 154,214 by 1911. It was 185,025 in 1931 but declined after the Second World War, to 179,697 in 1951 and 153,380 in 1971. (fn. 40)
Willesden Green was the largest of the hamlets, a group of houses around the spacious green in the centre of the parish and its extension, East Green. The name Willesden, recorded in 939 as Wellesdune, has been interpreted as 'hill of the spring', (fn. 41) and the names 'Dune' and Willesden Dune were recorded c. 1280. (fn. 42) The hill referred to may have been Brondesbury ridge, which lay south and east of the settlement. One of the tributaries of the Sherrick brook rose in East Green. (fn. 43) There were several long-established farmhouses at Willesden Green, including one which probably dated back to the 14th century. At least three farmhouses with their barns and cottages were marked on the southern edge of the green in 1599 as was another in Pound Lane. (fn. 44) Eleven people were assessed for rates at Willesden Green in 1687. (fn. 45) By 1738 farmhouses and cottages were clustered all round the green. (fn. 46) There were at least 13 houses, mostly set in orchards and including the Spotted Dog inn, by the mid 18th century. (fn. 47)
In 1817 Willesden Green was a 'retired pleasant village, which appears as remote from London as at a distance of an hundred miles'. (fn. 48) At inclosure in 1823 it consisted of some 40 houses and cottages scattered around the large green. (fn. 49) They included the Spotted Dog, four farmhouses, (fn. 50) several houses of moderate size, and one 'of a rather superior description' built for Lord le Despenser and later part of William Weeden's estate. On a knoll commanding extensive views, the house can probably be identified with the Grange at the entrance to Chambers Lane. (fn. 51) Willesden House, the property of the Waite family, stood in 6 a. of pleasure grounds on the north side of the green, near the Spotted Dog. (fn. 52)
There was some building of cottages in Willesden Green after inclosure. In 1828-9 there were a smith, a wheelwright, a coachmaster, and a brewer. (fn. 53) A grocer and a dame's school had been added by 1851 but the coachmaster and the brewer had gone. Most of the cottages were occupied by agricultural labourers and laundresses and there were some professional people, including George Waite, a surgeon dentist, at Willesden House, a surgeon, and several solicitors, including Richard Wright at Pheasant Lodge, built since inclosure. (fn. 54) Rose Villa, 'of Anglo-Italian style', set in pleasure grounds and 'park-like scenery', had been built by 1850 on the site of an earlier house at the junction of Walm and Willesden lanes. (fn. 55) Other middle-class villas built by 1855 included Willesden Lodge and the Villa. (fn. 56) Pound Lane contained a few cottages housing agricultural labourers and laundresses. (fn. 57)
Freehold building land fronting High Road, Willesden Green, was offered for sale in 1826 (fn. 58) and there was an abortive attempt in 1856 to build on 13 a. at the eastern end of Sherrick green, where Melrose Avenue was laid out but still unbuilt on in 1894. (fn. 59) In 1876 the 'picturesque collection of old houses about the village green' had been replaced by rows of 'mean brick cottages', (fn. 60) probably cottages like those demolished in Grange Road in the 1930s and in Chapman Park in 1958 (fn. 61) or the group clustered opposite the Spotted Dog. (fn. 62) The Grange estate was put up for sale in 1873 as suitable for 'a firstclass building scheme'. (fn. 63) Although the estate was not built over for some time, it fell into the hands of the Furness family which opened its brickworks there. (fn. 64) In 1877 some 24 a. north-east of the green were put up for sale as potential building land, with views from high ground and the prospective construction of the Metropolitan line. (fn. 65)
The Metropolitan line with a station at Willesden Green opened in 1879 had a more immediate and masked effect upon development than earlier lines had done. Mrs. Catherine Nicol in 1877 sold Bramley's (Willesden) farm to the United Land Co. Within two years the company laid out streets south of the railway on each side of High Road, (fn. 66) selling plots to small builders who built crowded terraced houses which 'absolutely ruined all the centre of Willesden as a residential district'. (fn. 67)
The United Land Co. bought an estate at Pound Lane and the Willesden House estate by 1881. (fn. 68) By 1882 Willesden House had been demolished, semi-detached houses built along the north side of Willesden Lane, and roads and building plots laid out to the north. (fn. 69) Mount Pleasant and 9 a. belonging to it at Chambers Lane were offered in 1882 as building land. (fn. 70) Another of the small estates on the south-east side of the green was in the hands of builders by 1884. (fn. 71) The Pheasant Lodge estate to the northeast was sold to the Imperial Property Investments Co. and was being laid out for 'a superior class of house' in 1887; most building took place in the 1890s. (fn. 72) In 1891 the company bought Willesden Park estate, 17 a. surrounding the Willesden House estate, which by 1893 it had laid out in roads with names of royal association. (fn. 73) Chapter Road, parallel to the railway, was being built up between 1893 and 1900. (fn. 74) On adjoining land belonging to All Souls College, Oxford, building began in 1895, (fn. 75) and on the college's land south of High Road in 1899 on Willesden Green farm, of which the farmhouse had gone by 1904. In that year 125 houses were being built on the college estate at Willesden Green in addition to 55 already built. (fn. 76)
By 1896 building on both sides of the high street was well advanced, especially on each side of Willesden Green station. To the south-east building along Willesden Lane merged with the new district of Brondesbury, while houses reached on the west to Chapel End and on the south to Harlesden Lane and Chambers Lane. (fn. 77) North of the railway roads had been laid out, including Melrose Avenue, on the Buckingham estate, which had been sold in 1877, and by 1901 much building had been done. (fn. 78) By then the area between the high street and the railway was completely covered and north of the railway building was advancing westward from Walm Lane and eastward from Dudden Hill Lane. In the north-east Willesden Green merged with Cricklewood. (fn. 79)
A new parish, St. Andrew's, was formed in 1880 to serve the rapidly expanding district of Willesden Green. The numbers of houses in the parish increased from 145 in 1881 to 855 in 1891 and 1,764 in 1901. In 1898 a new parish, St. Gabriel's, was formed to serve the district on each side of Walm Lane north of the Metropolitan railway line and in 1901 it had 975 houses. The population of St. Andrew's parish rose from 857 in 1881 to 5,570 in 1891 and 11,296 in 1901. St. Gabriel's then had 5,341 people and Willesden Green ward 18,948. (fn. 80) At the end of the 19th century Willesden Green's continually shifting inhabitants were described by the vicar of St. Andrew's as poor, 'utterly careless and irreligious', mostly unbaptized, rough, and accustomed to spending Sundays in bed. (fn. 81) As the older inhabitants moved out and the larger houses were pulled down, Willesden Green became wholly lower- and lower-middle class in character. In 1890 there were a few professional people, two farms, a jobmaster, and a nurseryman on the fringes of the district. There were three dairymen but they may have been retailers rather than agricultural workers. High Road had become a shopping centre with some 50 retail shops besides 19 craftsmen and 17 wholesalers. There were some 20 retail shops in other streets. Small-scale industry included 15 laundries, mostly in Villiers Road, printers, engravers, coachbuilders, 11 builders, and Furness's brickworks, which was probably the largest employer in the district. (fn. 82) Many travelled from Willesden Green station to work outside Willesden. The churches met some social needs: St. Andrew's, operating from temporary premises until a permanent church opened in 1886, provided a men's club, parish library, soup kitchen, and glee club besides schools and missions. Its services offered colour and drama, with incense, processions, and elaborate vestments in use during the 1880s and 1890s. (fn. 83) Baptist and Swedenborgian chapels were opened during the 1880s. There was less rivalry from public houses than in some parts of Willesden: only the Case is Altered in High Road and Rising Sun in Harlesden Lane had been added to the Spotted Dog by 1890. (fn. 84) High Road contained a concert hall and a working men's club by 1890 and a public library after 1894.
By 1911 the population of St. Andrew's parish was 16,718 and of St. Gabriel's 6,857. Willesden Green ward, reduced in area since 1901, had 15,187 inhabitants in 1911 and 16,565 in 1921. Growth after 1901 was most marked north of the Metropolitan line, in the new district of Dudden Hill, built by the Dudding Park Estate Co. and Ben Andrews, who in 1909 pressed the Metropolitan company to open Dollis Hill station as a stimulus to building. (fn. 85) There was some building in the central area, All Souls College for example completing some 36 houses between 1905 and 1914 and another 46, mostly in High Road, by 1924. (fn. 86) At Robson Avenue on the All Souls estate 30 houses were being built in 1934; (fn. 87) on the Furness estate south of the green the brickworks disappeared and the area was laid out in streets of large detached houses between 1925 and 1939; on the area next to it, south-east of the green, large semi-detached houses were built between 1920 and 1935; and north of the Metropolitan line, east of Dudden Hill, medium-sized semi-detached houses were built between 1927 and 1935. Most of the houses of the twenties and thirties, unlike earlier ones, were built for owner-occupiers. (fn. 88) The number of houses in Willesden Green ward rose from 2,762 in 1921 to 3,048 in 1931 while the population fell to 16,298.
In 1949 Willesden Green was defined as an area of 381 a., 4,260 houses, 1,196 flats, and 27,418 people. The average density of 72 persons to an acre covered a variation from 30 on the 1930s' Furness estate to 141 on the Imperial Land Co. estate of the 1890s. Except for the part next to Willesden Green station, the whole of the central district on either side of High Road was recommended for redevelopment, either because the houses were dilapidated or overcrowded or because industry was so mixed with housing. (fn. 89)
There was some small-scale demolition of early cottages in the 1950s (fn. 90) but plans for rebuilding in the early 1960s proved abortive (fn. 91) and the area continued to decline. In 1971 Willesden Green ward had a high proportion of inadequate houses. (fn. 92) The closure of a large co-operative store was taken in 1971 as symptomatic of the dying of Willesden Green as a shopping centre. (fn. 93) London Transport built houses for employees north of the Metropolitan railway line in 1977. (fn. 94) Like other areas in Willesden, Willesden Green received a considerable number of immigrants from the 1950s: 14 per cent of the people in Willesden Green ward in 1966 were Irish-born and 11 per cent were born in the West Indies. (fn. 95)
Church End grew around the church, the site of which, at the edge of the marshes away from the main centres of settlement, may have been that of an earlier shrine associated with a well or grove (fn. 96) or may have been chosen because it was accessible from the three main settlements. The rectory and vicarage were built nearby. A few cottages joined them and by 1599 there were other houses grouped to the east, but there was never a village green. (fn. 97) By the mid 18th century Church End was a small village surrounded by open fields, the roads from Harlesden, Neasden, and Willesden Green twisting round the church, vicarage, and rectory which formed its focus. It had two inns, the Five (later Six) Bells and the White Hart, and there was a group of wooden poorhouse cottages in the churchyard. (fn. 98) There were some 20 houses at inclosure, of which most were small cottages. A schoolroom and a roundhouse or lock-up had been added to the buildings of c. 1750. (fn. 99) The grouping around the church with its frame of elm trees, its extensive views and 'picturesque effect', attracted several painters in the late 18th and early 19th centuries, the work of George Cooke and John Varley being especially notable. (fn. 100)
William Harrison Ainsworth, who set his novel about the early 18th-century highwayman, Jack Sheppard, in Willesden, described it as he knew it in the 1830s as 'the most charming and secluded village in the neighbourhood of the metropolis', commenting on the 'grove of rookhaunted trees' and the old buildings of the church and rectory. (fn. 101) In 1828-9 the 'very retired little village' housed a bricklayer, a butcher, and a general dealer and by 1834 a coach left every morning for London from the Six Bells, which also served as a post office. (fn. 102)
At the eastern end of the village, midway between Church End and Willesden Green, a small settlement grew up called Chapel End, after the brick chapel built in 1820, or Queen's Town, to commemorate the visit of Queen Victoria in 1837. (fn. 103) Chapel Row had been built there by 1846 (fn. 104) and in 1851 Queen's Town was a community of agricultural labourers, a bootmaker, and a carpenter. By that time a large farm, Dudden Hill Farm, had been built on the west side of the road leading from Chapel End to Neasden, and Mead House and another house, occupied by a wine merchant and the vicar respectively, had appeared on the north side of High Road. The rectory housed a tobacco manufacturer and most of the other houses, including the vicarage, were occupied by agricultural labourers; there were also a horsedealer, a schoolmaster, a builder, a bricklayer, and a fishmonger. (fn. 105) A large new vicarage was built in 1851, the White Horse in Church Road c. 1860, and the Elms opposite Mead House by the late 1860s. (fn. 106)
In 1868 the M. & S.W.J.'s (Acton branch) railway line was constructed west and north of Church End, and anticipation of the opening of a station (not achieved until 1875) stimulated the sale of land in Church End for building. (fn. 107) The church lost much of its picturesque appeal in the restorations of 1851 and 1872, and in 1866 the churchyard was extended by 4 a. and the old cottages there were pulled down. (fn. 108) The United Land Co. bought the Read estate at Chapel End in 1869, (fn. 109) which it had laid out by the late 1870s as the Meyrick Road estate. (fn. 110) In 1873 some 9 a. in the centre of Church End, then occupied by a house and Church End Paddocks, were put up for sale. (fn. 111) In 1875 Church Farm estate of 4 a. next to the White Horse, then containing the Timbers, an 'old-fashioned cottage residence', and a small cottage and stables, was offered for residential or building property. (fn. 112) By 1875 there were 73 houses in Church End and Chapel End. (fn. 113)
Part of the Wright estate between Church Road and the railway was offered in 1879 as a good site for small villas. (fn. 114) The United Land Co. had acquired several estates upon which by 1880 it had laid out roads and building plots: at Chapel End (Beaconsfield Rd.), near the Church Farm estate (Cobbold Rd.), and on the east side of Neasden Lane, near the station opened in 1880 on the new Metropolitan line (Denzil Road). (fn. 115) In 1879 the vicar exchanged land with the rector, obtaining some 7½ a. as protection around the Vicarage, and surrendering, inter alia, 4 a. between the railway and Church Road which were sold to the United Land Co. in 1881. (fn. 116) The company bought the field next to it and by 1882 roads had been laid out and building started. (fn. 117) On the west side of Neasden Lane, between the railway and the churchyard, was the last United Land Co. estate at Church End, bought by 1881. (fn. 118) In the late 1880s there were still a few old houses but 'one or two rows of mean houses' blocked the view from the church. (fn. 119) By the mid 1890s building was almost complete on all the land company's estates and by 1901 it had spread into the surrounding estates, on the rectory lands south of the church (Eric Road and Preston Gardens), on the Church Farm estate (Ilex Road), and on the north side of the High Road (Brenthurst Road). The opening of the Jewish cemetery at Pound Lane in 1873 and of Willesden cemetery next to it on the west in 1893 limited southward expansion from Chapel End. (fn. 120)
By 1890 Church End had a flourishing retail trade, especially in Church Road, but there was as yet no industry apart from the many laundries. There were seven retail shops in Queen's Town, where a new chapel had been built in 1878. Makers of blinds, picture frames, and cabinets had appeared in Church End by 1908, (fn. 121) and in 1907 the population of St. Mary's, then one of the poorest parishes in the diocese of London, was said to be almost entirely wage-earning. (fn. 122)
After the First World War the main development in Church End was in the growth of industry. By 1920 the cricket field north of the church had been replaced by several factories, (fn. 123) which by 1936 had spread eastward over Dudden Hill farm (fn. 124) and southward over Church End Paddocks. Willesden technical college was built north of Denzil Road in 1935 next to council housing built in 1933. (fn. 125)
In 1949 three areas of houses within Church End had population densities varying between 85 and 140 persons per acre and a total population of 2,535 in 464 houses. The area around Church Road housed 8,068 people in 1,116 houses and 314 flats at a density of 114 and 140 persons per acre. Almost all the housing was in closelypacked terraces and was thought fit for redevelopment. (fn. 126) The council started to purchase property in the 50 a. between Church Road, Craven Park, the railway, and Neasden Lane in 1963 and began rebuilding, starting from the southern end, in 1971. By 1980 the third stage was nearing completion. (fn. 127) Elsewhere Church End remained a mixture: the church, a few 19thcentury cottages, the White Hart rebuilt in the late 19th century, the factory buildings of the 1920s and 1930s, and a school of the 1970s.
Of the 7,730 people in Church End ward in 1966, 6.9 per cent were born in the West Indies, 6.2 per cent in Ireland, 0.7 per cent in India and Pakistan, and a further 5.7 per cent elsewhere than in Great Britain. (fn. 128)
Harlesden, the name signifying Herewulf's farmstead, (fn. 129) was recorded in Domesday book and was one of the earliest and largest of the medieval settlements in the parish, with houses grouped together by 1319. (fn. 130) In the 16th century it was a linear village with houses along the edge of the green which bordered Harrow Road, separated from the other settlements to the north by the open fields. Its lands formed a prebendal manor and a manorial organization that survived relatively long, which probably helped to foster the sense of identity and separateness from the rest of Willesden which long characterized Harlesden. There were at least seven houses by 1599, including one of the main farmhouses of the All Souls estate. (fn. 131) Apart from farming there was some early industry in the form of tilemaking. (fn. 132) There was an inn, the Crown, by the late 17th century and another, the Green Man, by the mid 18th. At that time Harlesden contained a number of farmhouses set in orchards around the village green with scattered farms at Greenhill and Fortune Gate to the north-west. A network of roads led from Harrow Road to Acton, Old Oak common, Church End, and Willesden Green. (fn. 133) In 1816 Harlesden was described as a small village with several desirable houses. (fn. 134) There were some 30 houses by inclosure in 1823. (fn. 135)
The village grew slowly after inclosure. In 1828-9 there were two carpenters, a baker, and a wheelwright. (fn. 136) By 1839 the carpenters were replaced by a grocer, a shoemaker, a grocer and shoemaker, a tailor, a nurseryman, and a blacksmith, and another public house, the Royal Oak, had been opened. The coach from London to Harrow passed through Harlesden every day. (fn. 137) The London & Birmingham Railway (after 1846 the L. & N.W.R.) was built south of the village in 1837. A station called Willesden station was opened at Acton Lane in 1844 and six trains a day in each direction stopped there in 1849. It closed in 1866 when it was replaced by Willesden Junction station. (fn. 138) By 1851 the whole of the south-west corner of Willesden, including Harlesden, Twyford, and Stonebridge, had a population of 562 and 114 inhabited houses. Roundwood House, built 1834-8, (fn. 139) then occupied by Lord Ernest Brudenell Bruce, M.P., and Bramshill House, occupied by a stockbroker, had both been built since inclosure. There were four farms, including that at Lower Place, and most of the cottages were inhabited by labourers; there were also a few railway employees. (fn. 140) A Wesleyan chapel opened in High Street c. 1847. By 1855 Glynfield (Glenfield) House had been built on former open-field land. The tradesmen were much as they had been in 1839, with the addition of a beer-retailer and a butcher. The London coach still ran and an omnibus travelled daily to London from the Royal Oak. (fn. 141) In 1851 William Green, a builder from Paddington, erected Chapel Terrace next to the Wesleyan chapel on the north side of the High Street but went bankrupt in the process. (fn. 142) The Rectory estate was advertised for sale in 1858 as being 'admirably adapted to the erection of villas', mainly because of the ease of communications, being close to Willesden station on the L. & N.W.R. line and Harlesden Green station on the line from Kew to Fenchurch Street. (fn. 143) By the late 1860s terraces and villas had been built on the east side of Harrow Road south of Harlesden green, a branch of Harlesden Lane had been extended northward (the later Longstone Avenue) to Knowles House and Roundwood Farm, and there was some building around Craven Park. (fn. 144) Anthony Trollope's description in 1869 of the setting of River's cottage as entirely rural, on a lane branching from Harrow Road at a 'country inn for hay-waggoners', presumably the Crown, was already out of date. (fn. 145) Houses were being built at the southern end of Church Road in 1870. (fn. 146) By 1875 there were 206 houses in the area between Harlesden green, Lower Place, and Stonebridge Park. (fn. 147) Although in 1876 Harlesden was said to have been 'a quiet rustic hamlet' that had been 'utterly spoiled' by the builder, (fn. 148) the building was still largely confined to High Street and existing roads. (fn. 149)
It was not until the later 1870s and the 1880s that farmland was sold and new streets laid out for building. Part of the Rectory estate, then called Willesden Manor, was sold in 1872 and a year later Uffington and Donnington roads had been laid out and the area divided into building plots for superior houses intended for commuters to London. (fn. 150) Michael Brown, a 'china man', began to issue 99-year building leases on the Greenhill estate to various builders in 1875 and sold the rest of the estate to the United Land Co. in 1880. By 1881 roads had been laid out and the area divided into plots, some of which were bought by Charles Penny, the Harlesden builder. (fn. 151)
Following the sale of the Taylors' estate in 1878 and 1879, (fn. 152) terraced houses were built, mainly by the United Land Co., at Station Road, Rucklidge Avenue, and Manor Park Road. (fn. 153) Nicoll Road had been built on the southern part of the Carr Glyn estate by 1879. (fn. 154) The United Land Co. bought the northern part, called Glynfield House estate, which it laid out in streets and building lots in 1881 and 1892. (fn. 155) An estate south of Acton Lane, near Willesden Junction, was developed by Col. R. J. Nightingale Tubbs as an area of terraced housing largely for railway employees. Charles Penny acquired building leases from Tubbs in 1884 and had laid out roads and plots for 100 houses by 1888. (fn. 156) Not all the building was by Penny, who often subleased to other builders. (fn. 157) The L. & N.W.R. built terraced housing for its employees in Harley Road. (fn. 158) In 1893 Penny was building houses in Burns Road on land bought in 1891. (fn. 159) North of Harlesden green 20 a. of Roundwood Park, offered for sale as building land in 1886, (fn. 160) were sold in 1888 to the burial board for a cemetery and 26 a. in 1895 to the council for a park. (fn. 161) The area adjoining the cemetery to the west was being built up during the late 1890s. (fn. 162)
The number of houses in All Souls parish, Harlesden, increased from 399 (housing 2,390 people) in 1881 to 1,666 (housing 9,929 people) in 1891. (fn. 163) By 1894 almost the whole area between Burns Road and the railways had been built on. Building extended northward along Church Road to merge with Church End and west of the railway as Stonebridge Park. (fn. 164)
The rapid building brought problems, especially after the decision not to link Harlesden with the Metropolitan sewerage system. (fn. 165) On the Tubbs estate drainage was diverted to the Brent at Stonebridge but less scrupulous builders put in cesspools and in 1885 W. Tilbury, who was building in Church Road, was described as the 'worst builder in Willesden', putting up houses with 'every sanitary defect.' (fn. 166)
Harlesden was at the height of its prosperity at the turn of the century. Largely middle-class, it had a strong sense of identity compounded largely of civic pride and religious nonconformity. Nine churches and chapels were built between 1876 and 1902 as were a court house, a library, a constitutional clubhouse, and a jubilee clock, the focus of High Street. (fn. 167) Willesden Hippodrome, a large music hall, opened in 1907. Much of High Street, a major shopping centre, was rebuilt in the Edwardian period. (fn. 168) To the east there were still several farms, Elmwood, Haycroft, Upper Roundwood, and Sellon's until the later 90s. In 1890 there were numerous jobmasters and dairy men, besides mansions occupied by men of business like George Furness, who had altered Roundwood House to create a stone-built Elizabethan-style mansion with barley-sugar chimneys, a tower, and pinnacles. (fn. 169) William Simpson (d. 1899), the artist and war correspondent, lived in Church Road from 1881. (fn. 170)
In 1900 All Souls College's agent, referring to the recent extraordinary growth in the neighbourhood and the splendid train service from Willesden Junction, advised the college to begin developing its Harlesden estate. (fn. 171) The estate lay south-east of the built-up area and the college began by building Wrottesley Road on the line of the old green lane to connect Harrow Road with Harlesden Lane and form the western boundary of the estate. Agreements were made with the neighbouring landowners for the joint development of the area. By 1904 Wrottesley Road had been laid out and c. 19 a. leased to various builders, of whom Langler and Pinkham were the most important, and some 77 middle-class houses were being built. In 1905 shops were under construction in Harlesden Lane, and Ridley Road was laid out and leased for building. By 1907, however, the builders asked to be released from their agreements as the effects of the building slump began to be felt. By 1910 building had virtually ceased and Furness pressed the college to allow cheaper houses to be built. Meanwhile on his own estate west of Wrottesley Road he was building small terraced houses in roads named after his father's foreign contracts. (fn. 172) By 1914 there were 392 houses on the All Souls estate east of All Souls Avenue and agreements had been made for another 128. By 1920 building was continuous between Harlesden and Kensal Green and was reaching towards Willesden Green in the north. (fn. 173)
Industry, already present in Harlesden before the First World War, was greatly stimulated by the war and in 1920 residential Harlesden north of the L. & N.W.R. line was flanked to the south and south-west by factories, power stations, and railway sheds. (fn. 174) The industry attracted workers who crowded into houses abandoned by the middle classes for whom they were built. Harlesden thus became a wholly working-class district. (fn. 175)
Building continued after the First World War on the unfinished portions of the All Souls and Furness estates. (fn. 176) The fringes of Roundwood formed part of an area planned by the council in 1933 to have a density of less than 15 houses to an acre. (fn. 177) It included land belonging to the college which the council purchased for its largest housing estate, Curzon Crescent, built in 1936-7 for over 500 families. (fn. 178) By 1939 the last of the big old houses, Knowles Tower and Roundwood House, had been demolished and building had advanced eastward to Longstone Avenue. East of Harlesden Road (formerly Lane), the King Edward VII recreation ground was surrounded by residential streets as far as Willesden Green and Kensal Rise. (fn. 179)
In 1949 Harlesden could be identified as an area of 330 a. with a population of 28,789, living in 3,782 houses and 1,121 flats. In character it varied from Craven Park, with its large houses and gardens and a density of 43 persons per acre, to Rucklidge Avenue, very small terraced houses in multiple occupation with a density of 160 persons per acre. (fn. 180) In 1952 Harlesden was 'crowded and unsightly' with 'no attractions to offer the visitor and few, perhaps, for the inhabitants'. (fn. 181)
Post-war demand for housing of any kind persuaded the council to abandon most of its plans to redevelop much of Harlesden. A temporary estate of prefabricated houses remained at Harlesden Road into the late 1960s. (fn. 182) By 1978 new flats had been built there and at Roundwood and there had been extensive rebuilding on the Church Road estate. Some landmarks, like the Willesden Hippodrome, which was replaced by an office block in 1961, (fn. 183) disappeared but generally High Street, with its parades of shops and congested traffic, remained much as it was in 1949, as did areas like Rucklidge Avenue.
The most striking change in Harlesden during the post-war period has been immigration, especially by West Indians. While the population in the three Harlesden wards fell from 39,527 in 1951 to 39,251 in 1961 and 26,970 in 1971, the proportion of immigrants increased. In 1966 the percentage of those born in the West Indies was 12 for Roundwood, 12 for Harlesden, and 11 for Manor ward. The percentages of those born in Ireland were, respectively, 10, 16, and 9. There were some problems associated with immigration, especially on the Curzon Crescent estate which during the 1960s was considered 'a dumping ground for the unfortunate and difficult' (fn. 184) and was in 1967 plagued by vandalism. In 1968 some 60 per cent of families housed on the estate were West Indians, increasing to 72 per cent in 1969- 70, causing some resentment among the English population. (fn. 185) The West Indian influx has aggravated overcrowding (fn. 186) and unemployment but it has also brought a new vitality to Harlesden, reinforcing its sense of identity, bringing brightness to the drab 19th-century terraces and new life to its shops, social institutions, and chapels.
Before the Conquest Neasden may have been more important than Willesden. In a spurious charter dated 939 land was given at Neasden with Willesden, and in a list of c. 1000 Neasden, but not Willesden, was mentioned. The name indicates a hill and perhaps that it projected like a nose, (fn. 187) and the village had an elevated site. It lay around a green, surrounded by open fields and linked by lanes to Church End, Willesden Green, and Kingsbury. In the Middle Ages there were several tenements with narrow frontages on an L-shaped lane called Bower Lane, which continued east and then south to Sherrick green. (fn. 188) Seven of the tenements, named after their medieval owners, (fn. 189) can be located. All of them passed into the hands of the Roberts family. Thomas Roberts (d. 1543) rebuilt or much enlarged one of them, Catewood's, bought by his ancestor in 1403. About 1656 Sir William Roberts pulled down the neighbouring medieval cottages and converted their sites and Bower Lane into gardens and orchards around his house, thereafter called Neasden House. A new route was created, on the line of the northern part of modern Dudden Hill Lane. One tenement, Bucklands, on the west side of Neasden Lane, north of Bower Lane, survived to become Neasden smithy. (fn. 190) By 1454 there was a house east of Neasden Lane, at its junction with Dog Lane, on Westminster abbey's estate. (fn. 191) Another house had been built on that estate west of Neasden Lane by 1566 and there were some cottages at the Neasden end of Sherrick green by 1599. (fn. 192) Turners and Wilsons or Brewers farmhouses were built north and south of Neasden House, probably for the tenants displaced c. 1656, and Neasden farm was built west of Neasden Lane probably about the same time. Thomas Wingfield (d. 1715), who bought the portion of the Roberts estate lying in the angle between Neasden Lane and Dudden Hill Lane, built the Grove, a twostoreyed brick and tiled building with attics and a central doorway fronting Neasden Lane, with a stable range facing the green. George, Lord Carpenter, added north and south wings after 1725 and there were formal gardens by 1746. By that date there was a building opposite, on the west side of Neasden Lane, north of its junction with Dog Lane, which by 1770 was licensed as the Spotted Dog. The Grove, which housed a boys' boarding school in the late 18th century, was sold in 1806 to a London solicitor, James Hall, who built new stables, converting the old ones into Rose Cottage, afterwards the Grange, which acquired its Gothic windows at that date. (fn. 193)
Neasden at inclosure in 1823 was a 'small village' or 'retired hamlet' of some six cottages, four larger houses or farms, a public house, and a smithy, grouped around the green. (fn. 194) There was a single cottage near the Kingsbury border. Most of the land surrounding Neasden had already been inclosed and was held mainly in consolidated blocks. (fn. 195)
In 1851 Neasden was still a rural community of farmers, farm labourers, grooms, gardeners, servants, a blacksmith, and publican. There was a solicitor at the Grove and a stockbroker at the Grange. (fn. 196) By the late 1860s Model Farm had been built on land belonging to All Souls College south of the junction of Dog Lane and Neasden Lane. (fn. 197) The M. & S.W.J. railway was built across the land to the south-east in 1868 and a station at Dudden Hill was opened in 1875; Londoners visited the Spotted Dog, which in 1876 was described as 'a sort of suburban tea-garden', and although Neasden was still the most rural part of Willesden it already had some 46 houses. (fn. 198)
In 1880 the Metropolitan line was extended from Willesden Green through Neasden to Harrow and a station was opened on Neasden Lane, south of the village. The railway company bought a considerable acreage between the Brent, the railway, and Neasden Lane. There it built an estate for its employees, naming streets (Quainton, Aylesbury, Chesham) after stations on the line. (fn. 199) In 1880 part of Model Farm was sold for building. (fn. 200) Some 112 houses had been built in Neasden by 1883 and the population increased rapidly. (fn. 201) In 1894 Model farmhouse remained but the triangle of Dog Lane, Neasden Lane, and Lansdowne Grove had been completely built up. (fn. 202) The railway estate faced Neasden Lane with a 'rather painful row of empty shops' in place of the 'pretty country lane' it had previously been. Although the old village remained, with its atmosphere of 'sleepy quietude', there were changes there too. (fn. 203) In 1891 the minister of St. Saviour's complained that in place of the gentlemen who contributed £20 a year each to the school horse dealers occupied two of the three large houses and that the population was almost entirely railway workers, horse dealers, and grooms. (fn. 204) The Grange was occupied by William Matthieu Williams (d. 1892), the scientific writer, and the Grove had since c. 1872 housed the Royal Canine Hospital. (fn. 205) In 1893 Neasden House, which the squire had long since left, was occupied by a golf club. (fn. 206)
Except for the building of Prout Grove and of an iron church, St. Catherine's, there was virtually no change in Neasden village between 1894 and 1901, but there was building to the south-east. (fn. 207) In 1823 the western part of the green lane called Sherrick green had some five scattered cottages. (fn. 208) The road fell out of use at inclosure, the M. & S.W.J. railway line was built through it, and by the late 1860s there were only two houses. (fn. 209) By 1901 a network of streets was laid out south of the railway near Dudden Hill station and within ten years had spread north of the line to form a continuous built-up area from Neasden village to Chapel End and Willesden Green. (fn. 210)
The second, and biggest, wave of building in Neasden followed the building of the North Circular Road (1921-34) and the widening of Neasden Lane in connexion with the Wembley Exhibition of 1924. Semi-detached houses of pre-cast concrete were added to the 19th-century cottages on the Metropolitan railway estate in 1925. (fn. 211) By 1930 semi-detached and terraced owner-occupied houses covered the district south-west of Neasden Lane and west of the North Circular; other houses, some built for the council, extended north-east of Neasden Lane on either side of the North Circular. In 1929 building was in progress on the golf course, which by 1937 was covered by semi-detached owneroccupied houses. (fn. 212) Neasden House survived a few years 'ignominiously behind a row of shops' but was replaced by flats, Neasden Court in Cairnfield Avenue, in 1933. (fn. 213) To the north 20 a. of Gravel Pit farm bordering the Brent were sold as building land in 1929 and in accordance with a scheme of 1933 the Coombe Road industrial area had been laid out there by 1938, bordered by Braemar Avenue, a high-density estate of flats in compact two-storeyed blocks built in 1937. (fn. 214) Industry had begun to spread northward from Church End on the eve of the First World War, reaching Neasden in the 1920s. The remaining open area south-west of the village was covered by a mixture of flats and houses during the 1930s. (fn. 215)
The centre of Neasden was transformed into that of a typical London suburb. A shopping parade and cinema (1932) were built along Neasden Lane and the Spotted Dog was rebuilt in Tudor style in 1932. (fn. 216) Model Farm, still a farmhouse in 1935, had gone by 1938 and the Grove was demolished in 1937. Even where old buildings remained, they were separated from their land and became dilapidated. Stud Farm (later Elmstead) had been leased to a cartage contractor by 1917 and became a depot. (fn. 217)
By 1949 Neasden had 2,325 houses, 1,508 flats, and 13,803 people. Density varied between 36 persons per acre in the area east of the village built in the 1930s and 84 per acre in the flats of Braemar Avenue. Though mainly residential, Neasden included railway works along the lines to the south-west and industry in the southern part of Neasden Lane and in the north at Coombe Road. Neasden's main problem was traffic, especially at the intersection of Neasden Lane and the North Circular road, which formed the core of the shopping centre. (fn. 218) The Ministry of Transport drew up a scheme to bypass Neasden in 1963 but postponed it because of local opposition. In 1973, however, the North Circular was enlarged, slicing through Neasden Lane and the shopping quarter. Houses were demolished, Neasden Lane was diverted to an underpass, the shopping quarter declined, and north and south Neasden were divorced from each other. Stud Farm was demolished when a large roundabout was constructed on the site of Neasden green and the one remaining old house, the Grange, was saved only after a campaign led by Reg Freeson, M.P., and Councillor Ivor Davies. The house, purchased by the council in 1962, survived as the Grange Museum, a combined local museum, history library, and record repository. (fn. 219)
There was some building, mainly of flats, after the Second World War on small sites not already built on. (fn. 220) Office blocks included the 13-storeyed Radiation House built beside the North Circular Road in 1961, and factories were rebuilt in Neasden Lane in 1979. (fn. 221) Neasden High school was built on the site of London Transport's power station at Quainton Street in 1968 and from 1967 there was controversy, still unresolved in 1980, over the redevelopment of railway land mostly sited along the lines. (fn. 222) Neasden remained a distinct area, its name achieving widespread currency in the 1960s and 1970s when it was used by the satirical magazine Private Eye as 'the paradigm of faceless suburban nonentity and dreariness'. (fn. 223)
Kilburn, the settlement which grew up where Watling Street (later Edgware Road) crossed the Kilburn brook, straddled the boundaries of Willesden, Hampstead, and Paddington parishes. Within Willesden its hinterland was formed by the demesne lands of Bounds and Brondesbury manors and by the area later called Kilburn Park, which may have formed part of the lands of Kilburn abbey in the Middle Ages. A home farm for Bounds was built on Edgware Road in the late 16th century and there may have been an inn on the Willesden side before the Cock was built there in the 1760s. There were several houses along Edgware Road by c. 1677, (fn. 224) including by 1749 a terrace called Elm Row. (fn. 225)
In 1820 Kilburn had been 'rapidly increasing in extent and population for some years past', (fn. 226) but development had been mainly in the Hampstead and Paddington parts of the district. In 1829 building in the Willesden part of Kilburn was entirely confined to the strip along Edgware Road and even there large stretches of farmland remained. The densest concentration was around St. Paul's chapel (built 1825) and the Cock inn, behind which was a terrace of cottages. (fn. 227) In 1834 William Harrison Ainsworth was living at the Elms, the home of his father-in-law, the publisher John Ebers, which is probably identifiable with Elm Lodge on Edgware Road. (fn. 228) In 1851 there were only 254 houses and a population of 1,488 in the combined districts of Kilburn, Kensal Green, and Cricklewood. Manor farm, with its farmhouse on the Edgware Road, dominated the south-east and many of the inhabitants were still employed in agriculture. In Kilburn High Road there were some shopkeepers, but there were also larger houses, set in spacious grounds and occupied by men of the commercial and professional middle classes, including a leather merchant, wholesale perfumer, and a civil engineer at Elm Lodge. (fn. 229) Kilburn House was owned from 1840 to 1858 by the father of W. H. Smith, the bookseller and later M.P., and both father and son commuted to their Strand office from Kilburn. (fn. 230) Thomas Hardy lived in Clarence Place, Kilburn, in 1862-3 while he was studying architecture. (fn. 231)
Kilburn brewery and Kilburn mill represented early industry in the area. Kilburn was crossed by two railway lines, the London and Birmingham (later the L. & N.W.R.) in 1837 with a station at Kilburn (1852) and the Hampstead Junction railway with a station at Edgware Road (Brondesbury) in 1860. (fn. 232) The railways, however, played little part in the growth of Kilburn, serving less to connect the area with others than to divide it into sections.
Kilburn grew mainly with the outward spread of London along Edgware Road. Following the building in the 1830s and 1840s of villas and terraces in Maida Vale and the sale of Belsize manor to developers in 1841, (fn. 233) the Church Commissioners' agent in 1846 drew attention to the illegal building of a row of 'inferior' cottages on Edgware Road just within the Willesden boundary. He was fully aware of the potential as building land of the commissioners' Willesden manor estate with its long frontage on Edgware Road and Willesden Lane. (fn. 234)
Of the two other principal landowners (fn. 235) Lady Salusbury sold her interests to the commissioners in 1856 (fn. 236) and the Revd. Edward Stuart in 1850 sold 47 a. of the southernmost part of Kilburn (Kilburn Park) to a consortium of five builders; in 1854 he also sold 25 a. south of Willesden Lane to Paddington burial board as a cemetery. (fn. 237) The builders laid out roads and sewers, divided the Kilburn Park estate among themselves, and sublet to small builders who put up a few houses on their individual plots, leaving them isolated among unmade and increasingly muddy roads as the money ran out. They began building in the ambitious style of St. John's Wood but potential customers were deterred by the surrounding desolation and even in 1887 most of the planned houses remained unbuilt. (fn. 238)
From 1857 the Church Commissioners made a series of agreements with James Bailey, a builder from Maida Vale who later moved to Brondesbury Terrace and then to Brondesbury Lodge. Bailey's first houses were on the Elm Lodge estate, between Edgware Road and Willesden Lane, where in 1859 he built Brondesbury Terrace. (fn. 239) In the same year he began building south of Kilburn Lane (Canterbury Road). (fn. 240) Building agreements for the surrounding blocks of land followed and were exchanged for 99-year leases when the houses were in carcase, capital being raised by mortgaging the almost completed buildings or selling the ground rents. Bailey used architectural pattern books and he had erected nearly 550 houses by 1867, when financial difficulties forced him to assign his leases to others. (fn. 241) In the course of the 1870s most of the leases were acquired by Real Property Trust Ltd. (fn. 242)
Other local builders began to build Brondesbury Road and Villas north of the L. & N.W.R. line in the 1860s. (fn. 243) Kilburn Square, part of which existed by 1851, lay immediately to the north; 14 a. stretching westward from it, occupied by the Victoria Rifle Volunteers from 1849, were sold for building in 1866. Semi-detached and terraced houses were built on the site, on roads named Victoria Road and Villas, during the 1870s and 1880s. (fn. 244) By 1871 there were 1,414 houses in the 400-a. parish of Holy Trinity, Kilburn. (fn. 245) They were overwhelmingly in the southern part of Kilburn, there being 1,310 houses in south Kilburn ward in 1875 compared with 330 houses in north Kilburn ward. (fn. 246) A few years earlier Charles Dickens had referred to Kilburn as 'a newly built district at the far end of the Edgware Road'. (fn. 247)
There was no building until the late 1880s on the area immediately south of the Hampstead Junction railway line although it had been leased by the Church Commissioners in 1858 to the Kilburn brewery, with permission to build houses. (fn. 248) The United Land Co. bought part of the Kilburn House estate in 1869 and the rest in 1882-3, (fn. 249) after it had been vacated by John Farmer, the largest employer in Kilburn, who had lived there from 1866 to 1882. (fn. 250) By 1884 three streets had been laid out and a dozen houses built and by 1890 they stretched westward to Paddington cemetery. (fn. 251) Between 1884 and 1893 the population of north Kilburn ward increased threefold, from 3,126 to 10,334. (fn. 252) The number of houses rose from 400 in 1881 to 512 in 1885 and 1,523 in 1891. In comparison those in south Kilburn increased from 1,605 in 1881 to 1,825 in 1885 and 2,095 in 1891. (fn. 253)
By 1887 (fn. 254) Salusbury Road, running parallel to the Edgware Road, joined Kilburn to Brondesbury and Willesden Green. The whole of the Church Commissioners' estate east of Salusbury Road and south of the L. & N.W.R. had been built on and there were patches of building and a complete street layout on the Kilburn Park estate to the south. North of the L. & N.W.R. line the street plan was laid out as far as Victoria Road and building was complete on the former Tanners Mead (north of Kilburn Lane and west of Edgware Road) (fn. 255) and Elm Lodge estate. There was some building on both sides of the Hampstead Junction line. The rest of the area between the Hampstead Junction line and Willesden Lane was built up during the late 1880s. (fn. 256) South of Willesden Lane building stretched westward to Paddington cemetery and along Brondesbury Road as far as Salusbury Road by 1896. Most of the Kilburn Park estate was built up, and south of the L. & N.W.R. building stretched westward to merge with Kensal Green. (fn. 257)
A small part of Stafford Road, the only area south of the L. & N.W.R. line still empty in 1896, had been filled in by 1901. Queen's Park, opened in 1887 on land formerly used for the Royal Agricultural show, separated Kilburn from the new district of Kensal Rise to the west. The whole area of Kilburn between the two railway lines was by 1901 covered by streets of houses and some factories, save for Paddington cemetery, Queen's Park, and a small area north-east of the park, which was built on by 1920, probably following the opening of Brondesbury Park station in 1908. (fn. 258)
Kilburn reached its apogee during the Edwardian period. The town hall and a group of municipal buildings were built there during the 1890s. The part of Edgware Road known as Kilburn High Road was an important shopping centre with more than 300 'handsome and imposing shops', including 40 drapers and 15 each of tailors, hosiers, jewellers, and bootmakers. (fn. 259) There were numerous public houses, several music halls (fn. 260) and (later) cinemas, and Edgware Road was crowded with competing buses and trams.
The population increased steadily. In 1871 Kilburn was socially mixed, not as high-class as the builders had hoped but still including a few large houses like Kilburn House and streets like Alexandra (later Princess) Road where more than half the houses employed servants. Commercial travellers, salesmen, and shopkeepers were among the inhabitants. (fn. 261) There was still a strong middle-class, mainly professional and commercial, element in the population, especially of north Kilburn, in the early 20th century. Among its inhabitants were the retired boxer Jem Smith in Torbay Road (1890-1914) and Salusbury Road (1914-31), the Zionist author Israel Zangwill in Oxford Road (1891-1900), and the popular illustrator of anthropomorphic cats, Louis Wain, in Brondesbury Road (c. 1900 to 1910). (fn. 262) From early on, however, the working classes predominated and contemporaries noted the horrifying conditions in which many of Kilburn's inhabitants lived. The overall density of 8 persons to a house in 1875 concealed streets like the newly built Pembroke (later Granville) Road in Kilburn Park where each house contained from four to six households. (fn. 263) It lay in the parish of St. John where 7,000 of the 9,000 residents in 1880 were said to be working-class, there were no wealthy people to give money for churches or schools, and in one group of streets 525 families lived in 81 houses. (fn. 264) Sickness was rife, and in 1875 Kilburn was castigated for its chronic pauperism, negligence, ignorance, and lack of cleanliness. (fn. 265) The people usually came from similar conditions in Paddington and Marylebone and included, already in 1871 but increasingly during the 20th century, recent Irish immigrants. (fn. 266) They included a shifting population of the temporarily employed, often bachelors working in the building industry and living in overcrowded lodging houses. (fn. 267) Social life centred around the public houses, said in 1949 to average one for every 424 people in south Kilburn compared with one to every 2,618 for the rest of Willesden. (fn. 268) In the 19th century churches and chapels of all denominations offered an alternative social focus, especially at the colourful and theatrical Anglo-Catholic St. Augustine's where, a critic stated, 'free and easy' entertainments featuring coarse songs were allowed. (fn. 269)
The density of population in the whole of Kilburn remained at nearly 8 persons per house until well after the Second World War and in southern Kilburn was consistently over 10 people to a house. In 1881 in St. Luke's parish it was over 12 people to a house. In south Kilburn in 1921 there were 208 people to an acre. (fn. 270) In 1934 Pembroke Road was still notable for its poverty and overcrowding, and the poorest district in Willesden was the group of streets near Kilburn (Park) station. (fn. 271) A beginning was made of slum clearance in 1938 when houses were destroyed in Alpha Place, off Canterbury Road, but the Second World War intervened. (fn. 272) Surveys of the Church Commissioners' estates in 1944 and of the whole borough in 1948 (fn. 273) showed that south Kilburn was grossly overcrowded and dilapidated. (fn. 274) Its large houses, often four-storeyed semi-detached or terraced, were divided into tenements, each occupied by several families described as very poor. The area between the two railway lines was more varied, in part subject to subletting and overcrowding but also having between Queen's Park and Paddington cemetery some late 19th-century houses which were occupied by 'a better standard of tenant,' characterized as employees of the London Passenger Transport Board, the borough council, or the post office. Light industry was scattered throughout the area, often in former commercial premises. Many houses were divided into single rooms for boarders, among whom in the 1950s was the writer V. S. Naipaul in St. Julians Road.
As part of a comprehensive plan for the redevelopment of south Kilburn the borough council bought 61 a. and began building in 1949 on bombed sites; in the 1950s and 1960s a further 59 a. were acquired. (fn. 275) The first stage of the projected redevelopment of Kilburn Square was complete by 1964, replacing the church and Victorian houses by a shopping precinct and 17storeyed tower blocks. (fn. 276) As Kilburn was rebuilt and the total population fell the density declined from 133 persons per acre in 1949 to 87 in 1951, 78 in 1961, and 61 in 1971. (fn. 277)
Redevelopment relieved overcrowding but brought new difficulties, associated particularly with high-rise flats described in 1972 as 'socially difficult'. (fn. 278) Immigration, still primarily of Irish, brought additional problems. In 1966 the percentages of those born in Ireland and in the U.K. were respectively 24.5 and 58 in Kilburn ward, 17.7 and 67.9 in Carlton ward, 9.8 and 66.8 in Queen's Park ward. (fn. 279) Objections to high-rise flats, the increasing costs of building, and a new appreciation for Victorian architecture led in the late 1970s to the preservation of the remaining mid-Victorian houses of south Kilburn and the return of middle-class residents. (fn. 280)
The first part of the name Kensal Green was recorded as 'Kingisholt', the king's wood, in 1253, and the whole name in 1550. (fn. 281) The place was depicted in 1599 as a broad green at the junction of Harrow Road with Kilburn Lane, on the borders of the parishes of Willesden, Kensington, and the detached part of Chelsea. (fn. 282) The land north of the green lay in broad strips owned, from west to east, by All Souls College and the prebends of Chambers and Brondesbury. By the 1740s farmhouses of the prebendal estates had been built facing Kilburn Lane and the Plough inn at the road junction. South of Harrow Road a large house stood opposite the Plough and the Red House farther west. (fn. 283) A cottage had been built on the All Souls estate by 1800 and another next to the Plough by 1823. (fn. 284)
At inclosure in 1823 the green was divided into small plots which were sold as valuable sites at a junction on Harrow Road near the Paddington canal. Buildings, including a terrace of houses (Kensal Place), had gone up on all the plots by 1829 when Kensal Green was a village with a baker, a grocer, a milliner, a carpenter, a bookmaker, and two general dealers. There was also building south of Harrow Road, (fn. 285) where All Souls cemetery, opened in 1832, effectively blocked further building in Kensington parish. The London and Birmingham railway was driven through the Willesden portion of Kensal Green in 1837, cutting off the farmhouses in Kilburn Lane from much of their land. (fn. 286) Kensal New Town was built in the Chelsea portion south of Harrow Road with a church (St. John, 1844) and a school (1850) north of it, east of Kilburn Lane. (fn. 287) Between 1845 and 1855 building on the Willesden side of Kensal Green extended northward along Kilburn Lane and along the back of the existing houses in Harrow Road as All Souls College leased land to those who had already built on the former waste. (fn. 288) By 1851 Kensal Green was a mixed community, including tradesmen, agricultural labourers, and farmers, two schoolteachers, the curate of St. John's, the author William Harrison Ainsworth at Kensal Manor House (built on the site of Red House, and demolished in 1939), (fn. 289) and people employed at the cemetery. (fn. 290)
The Hampstead Junction railway was built north of Kensal Green in 1860 with a station, Kensal Green and Harlesden (1861-73), at the junction of Harrow Road with Green Lane (later Wrottesley Road). The station was moved to Kensal Green (called Kensal Rise from 1890) in Chamberlayne Road in 1873. (fn. 291) The population of the Willesden part of the parish of St. John, Kensal Green, rose from 675, housed in 125 houses, in 1861 to 2,138, housed in 264 houses, in 1871. (fn. 292) By 1876 Kensal Green was 'most thickly covered' (fn. 293) and many of the houses were small, consisting of only two or four rooms, drained into open ditches and taking their water supply from butts. Many people kept pigs. (fn. 294)
The United Land Co. bought a 6-a. triangle of land between Harrow Road and the Hampstead Junction railway in 1879, (fn. 295) and an adjoining 21 a. from All Souls College in 1882. (fn. 296) The whole area was laid out as high-density terraced housing and shops as far east as College Road. (fn. 297) The college leased 13 a. south of the L. & N.W.R. line to Edward Vigers, who by 1888 had laid out roads and started building 134 small terraced houses. Rainham Road in the same area was let on building leases in 1895 and 30 houses had been built there by 1898. After 1888 the college began to exploit its lands more directly, laying out roads for the development of the whole estate. In 1893 it bought 5½ a. from the Ecclesiastical Commissioners to enable it to construct Chamberlayne Road, the eastern boundary of the estate and until then a country lane, as a link between Kensal Green and Willesden Green. Building north of the L. & N.W.R. line became possible after the surrender of a farming lease in 1888 and the college granted building leases, mainly to Charles Langler and Charles Pinkham who were building on what had become known as Kensal Rise, during the early 1890s. After a sewer had been constructed in 1895 the remaining 65 a. in the northern part of the estate were let on building leases. By 1898 400 houses had been built and another 243 were being built at Kensal Rise. (fn. 298) Among houses built at the time were those in Clifford Gardens whose gables depicted in stone scenes fashioned by an old Hampstead man employed by Langler and Pinkham. (fn. 299) By 1904 when building had spread north to Leighton Gardens and west to All Souls Avenue, there were 940 houses and another 181 houses being built. Building south of the L. & N.W.R. line at Kensal Green was complete, 311 houses having been built on the 13 a. leased in the 1880s. (fn. 300)
Building leases were being granted by the Ecclesiastical Commissioners at Kensal Green in 1884. (fn. 301) In 1894 the two prebendal farmhouses at Kilburn Lane remained but Allington Road had been built east of them, linking with building spreading west from Kilburn. North of the L. & N.W.R. line two roads, Harvist (in 1894 called Mortimer) and Chevening roads, had been laid out to link Chamberlayne Road with Kilburn. (fn. 302) Building leases on the commissioners' estate north of the L. & N.W.R. line were granted during the late 1890s and the 1900s. (fn. 303) By 1901 building was complete on both sides of Chamberlayne Lane south of the Hampstead Junction line, Queen's Park alone serving as a break between Kensal Rise and Kilburn. Roads had been laid out and some houses built north of the Hampstead line (fn. 304) and also on the Mount Pleasant estate, where houses were being built in 1904. (fn. 305)
Kensal Rise was affected by the building slump of the decade before the First World War. In 1910 Langler and Pinkham, who operated from Mortimer Works in Kensal Rise, said that they had not built a house for four years, being unable to let plots. In 1906 a building agreement for College Road was cancelled and land was let to sporting clubs and to the council for allotments. Between 1904 and 1914 only 19 new houses were built on the All Souls estate at Kensal Rise. (fn. 306) By 1920 building was continuous on the All Souls estate between Kensal Green and Harlesden. The extent of building had moved little farther north on the All Souls estate although it had advanced on the commissioners' and Mount Pleasant estates east of Chamberlayne Road. A church had opened at Kensal Rise in 1901 and there were several nonconformist chapels. Some light industry and shops had been established in Chamberlayne Road, but there was little sense of identity, either as a locality in its own right or as part of Willesden. Kensal Green and Rise were by 1920 part of the urban sprawl. (fn. 307)
Building resumed on the All Souls estate after the First World War, 156 houses being built by 1924 in Kensal Rise. By 1934 houses extended north of Leighton Gardens and agreements were current for some 130 houses on the 12 a. in the triangle formed by Chamberlayne Road, All Souls Avenue, and Hardinge Road. (fn. 308) Building there, mainly of semi-detached houses and flats on rising ground next to the socially superior district of Brondesbury, was of a higher standard than earlier development to the south and described in 1949 as probably the most serious attempt at good housing layout in the borough. By 1939 building was continuous between Kensal Rise and Willesden Green and Brondesbury. (fn. 309)
The population of Kensal Rise ward declined steadily after the First World War, while the number of houses increased. (fn. 310) Kensal Rise and Green were defined in 1949 as an area of 329 a. containing 4,495 houses, 397 flats, and a population of 26,238. Densities varied from 20 persons per acre in the houses of the 1920s and 1930s on the north-east fringe to 176 persons per acre in those built between the L. & N.W.R. and Harrow Road in the 1880s. The second area, one of the most overcrowded in the borough, was in urgent need of redevelopment. (fn. 311)
The council bought up some property in Harvist Road for slum clearance in the 1950s (fn. 312) but very little was done and in 1973 a Kensal Green residents' association was formed to oppose the council's proposed redevelopment. (fn. 313) By 1978 many roads had been closed to traffic but the buildings remained and the whole area had a run-down and dilapidated appearance. In 1971 fewer than three quarters of dwellings in Kensal Rise ward had all amenities. Like most workingclass districts in Willesden, Kensal Green attracted many immigrants in the post-war period, particularly during the 1960s and 1970s. The ward had the highest percentage (21.1) of West Indians in Willesden. (fn. 314)
The district of Stonebridge, which may have included one of the three farmhouses recorded in the 16th century as at East Twyford, (fn. 315) took its name from the bridge, first recorded in 1746, carrying Harrow Road across the Brent. In 1746 there were apparently four buildings, all farms and cottages, clustered near the bridge. (fn. 316) An inn, the Coach and Horses, had been opened in the building south of Harrow Road by 1770, which was depicted by Julius Caesar Ibbetson in 1792 as the Angler's alehouse, and resorted to by another painter, George Morland. (fn. 317) Described as a very pretty spot in 1817, Stonebridge was in 1823 wholly rural, an area of low-lying meadow fringed on the north and east by open fields and crossed by a meandering feeder of the canal. It was linked to Harlesden by Harrow Road and to Neasden by Dog Lane. (fn. 318)
The London and Birmingham railway, built in 1837, and the Midland and S.W. Junction railway, in 1868, separated Sonebridge on the south and east respectively from the rest of Willesden. In 1851 Stonebridge Farm was occupied by a solicitor and being built on Harrow Road were a police station and 8 houses, probably St. Mary's Terrace and the cottages opposite. (fn. 319) There was a shopkeeper and beer retailer at Stonebridge by 1855, and by the late 60s Westend Farm stood on the site of a cottage on Harrow Road. (fn. 320)
Residential building in the area was stimulated by the presence of Harrow Road and the opening of Stonebridge Park station on the Midland line in 1875. A 35-acre site, running north from Harrow Road beside Dog Lane and originally called Harlesden Park, had by 1873 been laid out as Stonebridge Park and in 1876 contained 60 or 80 'smart new villas for City men', all detached or semi-detached. (fn. 321) A large hotel called Stonebridge Park was built on Harrow Road next to the new estate. (fn. 322) Subsequent development was not of such high quality. In 1879 land east of Stonebridge Park was laid out in streets (Bruce and Casselden roads) and building plots, (fn. 323) and the 55 a. west and north of Stonebridge Park was offered for sale. (fn. 324) In 1880 the United Land Co. had land south of Harrow Road laid out in 51 building plots in Shrewsbury, Stracey, and Knatchbull roads for 'small capitalists', (fn. 325) and building had started there a year later, when Melville Road north of Harrow Road was divided into building plots. (fn. 326) Houses were built there during the 1880s and 1890s, mostly small and in terraces, for the retail and other tradesmen such as launderers serving the middle-class district of Stonebridge Park. (fn. 327)
By 1901 building covered the area south of Harrow Road in the angle between the two railway lines as far west as Wesley Road, and north of Harrow Road reached Alric Avenue. Farther north, where Dog Lane turned east to Neasden, Willesden isolation hospital was built in 1894 and the Great Central Railway Co. built terraced houses between 1898 and 1900 in Woodheyes and Gresham roads for its workers. (fn. 328) A church, St. Michael's, was opened in 1892. Between 1901 and 1911 an increase in population without a corresponding amount of new building indicates that some of the larger houses were being divided. (fn. 329) Stonebridge Park retained its superior status into the 1930s, being the home of Willesden's historian, Frederick Augustus Wood, and of many other members of the local board and council. (fn. 330) Like neighbouring Harlesden, however, Stonebridge was rapidly losing its middle-class character as industry moved into the area. By 1920 there were industrial premises, especially factory laundries, along the eastern and southern edges of the area by the railway lines and in Barry Road. (fn. 331) The population in 1921 was little more than in 1911. (fn. 332)
An attempt to develop the Brentfield estate in 1899 had failed, (fn. 333) and a broad stretch of land next to the river was leased to the council for sewage works and, after new sewage arrangements were made in 1911, for allotments. (fn. 334) The council's plan, under the Housing and Town Planning Act of 1919, to build 1,000 houses on the 63-a. Brentfield estate west of Dog Lane, the Stonebridge portion of which was renamed Brentfield Road, proved costly because of drainage difficulties, and in 1920, after some 260 houses had been built, the scheme was halted. In 1921 the North Circular Road was driven through the middle of the estate but in 1925 the council resumed the scheme, building another 420 houses. (fn. 335) In 1933 Brentfield was one of the areas included in Willesden's Town Planning Scheme. (fn. 336) Land adjoining the estate, conveniently close to the North Circular, was allocated to industry. Some council flats were built at Bridge Road near the railway estate in 1929. (fn. 337)
By 1949 there were several depots at Stonebridge, the trolleybus depot employing 886 and the railway goods depot 439. (fn. 338) Much land along the river remained unbuilt on and in use as allotments and recreation ground. In the Stonebridge area 17,641 people lived in 2,556 houses and 423 flats. Density ranged from 55 persons per acre in Stonebridge Park to 143 per acre south of Harrow Road (then called Hillside). An inadequate road system gave rise to traffic problems, there was residential overcrowding, and many buildings, including some of the large houses of Stonebridge Park where several had been converted to institutions or flats, were derelict. (fn. 339) In 1957 the council announced its plan to redevelop 100 a. bounded by the railways and the Brentfield estate, moving industry out of the area, redesigning the street plan, (fn. 340) and building 2,169 dwellings. The first blocks of flats were opened in 1967. (fn. 341) Building was well advanced by 1978 with blocks of flats and a shopping precinct replacing the late 19th-century terraces. Some buildings, including St. Michael's church, Stonebridge Park hotel, and some of the large houses of Stonebridge Park remained.
North-west of the Brentfield estate the British Transport Commission sold a 17-a. depot site to the council in 1959 and 307 dwellings were built there in 1976. (fn. 342) During the 1960s and 1970s multi-storeyed office blocks were built along the North Circular Road. Among the most striking were the group at the crossing of the North Circular and Harrow Road, the 21-storeyed Station House on one side and two curved blocks on the other, opened in 1965 and 1975 respectively. (fn. 343)
In 1966 the population of Stonebridge included a proportion of immigrants higher than in neighbouring Church End but lower than in Harlesden, with 10 per cent born in Ireland and 7.3 per cent West Indian. (fn. 344)
Brondesbury.
The land on either side of Willesden (formerly Mapes) Lane was, save for the section nearest its junction with Edgware Road, entirely prebendal, that to the north belonging to Mapesbury, that to the south to Bounds and Brondesbury. (fn. 345) In 1847 it was noted, with an eye to suburban development, that the Bounds and Brondesbury lands were inextricably mixed and that buildings on them included Brondesbury manor house which was leased with 27 a. to Charles Hambro. North of Willesden Lane, opposite Brondesbury manor house, stood Mapesbury House leased with 29 a. to William Anderson, a jobmaster. On Edgware Road there were two dilapidated cottages at the southern end and at Shoot-up Hill to the north a mill and a group of cottages and villas, some recently erected. The Mapesbury estate's long frontage on Edgware Road from just north of Willesden Lane to Walm Lane, the good access to all three estates from Willesden Lane, and at Brondesbury the elevated site were thought to make the land suitable for the better kind of villa. (fn. 346)
Building, begun in Willesden Lane by 1847, increased in pace after the Hampstead Junction line was driven through the middle of the area, with a station opened on Edgware Road in 1860. By the late 1860s there were a few houses at the western end of the prebendal estates at Willesden Green, two large villas, one called Brondesbury House, next to Brondesbury Park, and houses on both sides of the railway line south of Willesden Lane. The first new road, then called Cavendish Road, had been laid out south-west from Willesden Lane (along a stretch later called the Avenue) and some detached villas had been built. (fn. 347) Christ Church was built in 1866 to serve the new district, named Brondesbury a year later. (fn. 348) In 1870 the Ecclesiastical Commissioners made an agreement with William White for building 16 detached or semi-detached houses of not less than £70 a year value on the north-east continuation of Cavendish Road. (fn. 349) Similar agreements were made during the 1870s. (fn. 350) By 1875 there were 106 houses in Cavendish Road and Willesden Lane, (fn. 351) described as a new district of genteel villas. (fn. 352)
Houses were being built in Christchurch Avenue in 1875 (fn. 353) and in Winchester Road (later Avenue) in 1879. (fn. 354) In 1879 also 26 building plots along Willesden Lane, west of Christ Church, were offered for sale for 'first class residences' on 99-year leases. (fn. 355) Some had already been built, since William H. G. Kingston (d. 1880), the author of boys' adventure stories, lived in Stormont Lodge from c. 1877. (fn. 356) The Metropolitan railway built its line across the northern part of the district in 1879, with stations at Willesden Green and Edgware Road (called Kilburn and Brondesbury station). Building along Edgware Road, where the Ecclesiastical Commissioners had made building agreements for high-quality houses on some 17 a. in 1867 and 1868, (fn. 357) was continuous by 1887 to Walm Lane and beyond, and new roads and houses were advancing westward from Edgware Road on either side of the railway lines. On the south side of Willesden Lane detached houses were almost continuous from Willesden Green to the Hampstead Junction line, on the other side of which were the smaller terraced houses of Winchester Avenue and Kimberley Road. Salusbury Road, linking the area with Kilburn Lane, continued north as Brondesbury Park, which cut Brondesbury manor house off from its entrance on Willesden Lane. (fn. 358)
When Mapesbury farm was leased in 1893 it had been reduced to 120 a., large portions on the east and south having been lost to building. (fn. 359) By 1894 Mapesbury Road had been built and housing had almost engulfed Mapesbury House itself. There were houses along the northern side of Brondesbury Park and two, St. Monica's and Lady Adelaide homes, within the parklands of Brondesbury manor house, which had itself become a school. (fn. 360) By 1901 Brondesbury Park had been extended to Willesden Green and roads had been laid out on the northern and western boundaries with building from Kensal Rise advancing eastward across the Brondesbury demesne lands. On the Mapesbury estate the road pattern north of the Metropolitan line was complete by 1901 as was that south of the line as far west as Mapesbury Road, and housing in both areas was advancing westward. (fn. 361)
Brondesbury retained its intended character as a high-class residential district. In 1890 it housed four doctors, three artists, a solicitor, a professor of music, and three private schools. There was no industry and the nearest shops were at Willesden Green and Edgware Road. (fn. 362) In an area housing a high proportion of commuters there were three stations, and four from 1908 with the opening of Brondesbury Park on the Hampstead line, and in 1887 Metropolitan trains ran to Broad Street from Brondesbury every quarter hour. (fn. 363) In 1905 an omnibus ran from Brondesbury station to the Law Courts. (fn. 364)
A small area surrounding Mapesbury House was almost the only part of the estate which had not been built up by 1920. West of Brondesbury manor house Aylestone Avenue and Milverton Road had been laid out and some houses had been built. (fn. 365) Nearby 300 new dwellings were added by 1931. (fn. 366) In 1926 Brondesbury was still an area of City businessmen and professional men. There were six private schools, three nursing homes, bowling and tennis clubs, and a domestic servants' bureau. The only industry was a motor engineering works at Winchester Avenue. (fn. 367) In 1934 Brondesbury manor house and its remaining grounds were sold for building, the house was demolished and Manor House Drive built on the site. (fn. 368)
In 1949 Brondesbury was defined as an area of 318 a. containing 1,300 houses, 261 flats, and a population of 8,837, with a density on average of 27 persons per acre and at the most, in the Avenue, of 35. Although many of the large houses had been converted into flats, Brondesbury was still the most expensive residential area within the borough. Only at Shoot-up Hill was there dilapidated property, (fn. 369) which was cleared away in the 1950s and replaced by blocks of flats. The last remaining undeveloped land, Clement Road and Way, was built up in the 1960s. (fn. 370) Some 136 council houses were built in the area of Christchurch Avenue and Chatsworth Road and another 95 in Willesden Lane in 1975. (fn. 371)
Since the late 19th century Brondesbury had included a high proportion of Jewish residents, partly perhaps because it was an area of professional and City businessmen and partly because it contained flats. There was some immigration in the post-war period, though less than in other areas. Only a little over half of the population in 1966 was British-born: Jewish immigrants from Europe presumably formed a high proportion, perhaps as large as the 17.5 per cent born in Ireland. Brondesbury had the highest percentage of Indians and Pakistanis in Willesden. (fn. 372)
Cricklewood, Oxgate, and Dollis Hill.
The whole of the north-eastern corner of Willesden, north of Sherrick green and its continuation Walm Lane, belonged to the prebend of Oxgate. There was a settlement at Oxgate by the 13th century, (fn. 373) consisting of a group of farmhouses and cottages in the centre of the area, reached by lanes from Edgware Road and Dollis Hill Lane. There was also a group of buildings by the late 16th century at Dollis Hill. (fn. 374) Cricklewood, the remnants of the forest bordering Watling Street (later Edgware Road), was in 1599 an area of woodland extending westward on the north side of Walm Lane. (fn. 375) Clearings in it were extended until the whole area became farmland, centred certainly by the mid 18th and probably by the late 17th century on a farmhouse, called Cricklewood or the Slade, on Edgware Road. Another farmhouse (later Clock Farm) was built, probably about the same time, on Edgware Road farther north, but the hamlet of Cricklewood in the mid 18th century lay almost entirely on the Hendon side of Edgware Road. (fn. 376)
There had been little change before inclosure in 1823. The area, entirely made up of old inclosures, was divided into fairly compact estates centred on farmhouses. In 1815, to defray the expenses of inclosure, waste alongside Edgware Road was put up for sale as 'suitable for building', (fn. 377) and several houses had been built there by 1851, including Cricklewood Lodge and Oakland House. Besides farmers and labourers Cricklewood residents included a large-scale tailor, a frame manufacturer, the keeper of a boarding school, and several 'rustic chairmakers'. (fn. 378) The M. & S.W.J. railway was built across the centre of the area in 1868 by which time there were groups of houses along Edgware Road, especially on either side of the junction with Walm Lane and between the Slade and Clock Farm; the houses were more numerous on the Hendon side, near Child's Hill station, opened in 1870 on the Midland railway. (fn. 379) There were 36 houses in the Willesden portion of Cricklewood by 1875, (fn. 380) but Cricklewood was still a hamlet lying in a 'pretty rural tract' in 1876. (fn. 381) Dollis Hill Lane, described in the 1830s as 'more resembling the drive through a park than a public thoroughfare', (fn. 382) remained little changed for nearly a century, and Dollis Hill in 1876 was said to be elevated, well wooded, and picturesque. (fn. 383)
The transformation of Cricklewood began in the decade after 1876. (fn. 384) The Metropolitan railway line was built in 1879, and by 1887 George Furness was in possession of Clock farm, which was described as building land. (fn. 385) Another building firm, Corsellis Son & Mossop, purchased a 12-a. site, probably the southern portion of the Clock farm estate, which it was proposing to develop in 1888. (fn. 386) In that year it applied to develop the Cricklewood estate of All Souls College, by that time the most southerly unoccupied space on the Willesden side of Edgware Road. The college agents, noting that trains ran every 10 minutes from Willesden Green station, that the local board was constructing main sewers, and that a railway depot and workshops had been built nearby, considered the whole area ripe for building. (fn. 387)
Building proceeded on the three estates during the 1890s and 1900s. On the Corsellis estate houses had been built in Rockhall Road by 1892 (fn. 388) and streets and houses were well advanced by 1894. (fn. 389) Clock farmhouse was demolished c. 1892, and between 1893 and 1900 Furness laid out the estate which he called Cricklewood Park in roads named after trees and built terraced houses and the first factory, the Imperial Dry Plate works, in the area. (fn. 390) About half of Furness's 60-a. estate was built up by 1900 when the New River Co., which bought adjoining land for water works, (fn. 391) prevented Furness from building a road to link his estate to Parkside, then called Dudden Hill Park. (fn. 392) All Souls College built a group of roads named after fellows and leased building plots to, among others, Alexander McBain, Mackley Bros., Charles Cheshir, and Francis Buck. (fn. 393) By 1898 some 60 houses had been built on 8 a. of college land at Cricklewood and an agreement was current for another 60 on 13 a. (fn. 394)
In 1900 the college purchased 3 a. at the western end of the Cricklewood estate and began building west of Chichele Road, extending Anson Road to the end of the estate. (fn. 395) Further expansion westward was blocked by the Dollis Hill estate, which became a public park, Gladstone Park, in 1901. By 1904 there were 210 houses on 21 a. and 65 were being built on 12 a. at Cricklewood. (fn. 396) Slade farmhouse was demolished in 1906. (fn. 397) By that time, however, there was a recession in building. Applications were made to reduce the rent of leases at Cricklewood, it being 'almost impossible to sell houses'. (fn. 398) By 1914 there were 360 houses on 30 a. and leases were current for 33 more on 3½ a. (fn. 399) Residents in Chichele Road on the All Souls estate included John E. Gunby Hadath, who wrote adventure stories from before the First World War into the 1950s. (fn. 400)
In 1897 Earl Temple planned to build on his land at Lower Oxgate north of Furness's estate, (fn. 401) and Temple Road had been built there by 1906; the farmhouse was not demolished until 1919. (fn. 402)
The identity of Cricklewood as a recognizable district was established in the two decades around 1900. A congregational church opened there in 1893, St. Gabriel's in 1898, a Baptist chapel in Anson Road in 1908, and St. Michael's in 1910. A shopping parade, in 'metropolitan electric' style was built in Edgware Road between 1900 and 1914, (fn. 403) and the stretch of road was named Cricklewood Broadway. A Cricklewood improvements association was formed in 1904, a horticultural association and a local newspaper in 1911. (fn. 404) The L.G.O.C. built stables in Cricklewood in 1897-8 and numerous motor bus and tram services were introduced during the same period. (fn. 405)
The First World War stimulated the growth of industry, especially near the junction of the M. & S.W.J. and Midland railway lines. By 1920 London Transport had opened a garage, and motor works had been built on the site of Lower Oxgate farm; terraced housing spread north of the M. & S.W.J. line in the area which became known as Dollis Hill. (fn. 406) St. Andrew's hospital was built in Dollis Hill Lane in 1913.
The north-east corner of the parish was, with Neasden, the main area involved in the expansion of the 1920s and 1930s. Building resumed on the All Souls estate, another 60 houses having been built between 1914 and 1924. (fn. 407) New building leases were sought in 1923 (fn. 408) and building spread along avenues leading north and south from Anson Road, merging with Dudden Hill and Willesden Green. Only one road, Dicey Avenue, remained to be built after 1934. (fn. 409) Though Gladstone Park formed a barrier to westward expansion the tide of building spread northward from Dollis Hill Lane, engulfing the Oxgate farmlands. The farm cottages in Oxgate Lane were demolished c. 1937. Only Upper Oxgate farm was saved, being bought by an employee of the developers, Costain's, who preserved the 16thcentury farmhouse in the midst of the new buildings. (fn. 410) The northern corner of Cricklewood was reserved in 1933 for industry, and factories (fn. 411) on each side of the North Circular Road as far south as Oxgate soon covered the area. Terraced housing for workers was built west of the industrial area in 1927-8, and intermingled semidetached and terraced houses and blocks of flats were built in Oxgate and Dollis Hill between 1928 and 1935. In 1933 the Post Office research station was built on Dollis Hill farmland, which by 1939 was reduced to 3 a. around the farmhouse. The farmhouse was demolished shortly afterwards to make way for research buildings. (fn. 412)
Cricklewood was described in 1949 as an area with no clearly defined boundaries, possessing a good shopping centre which served a wide area outside Willesden borough; industry was intermixed with the residential parts and north Cricklewood was entirely industrial; 19,586 people lived in 3,600 houses and 842 flats, at densities varying from 28 persons per acre in Dollis Hill to 92 on the Furness estate. (fn. 413) There was some building, usually on small sites, after 1945 (fn. 414) and plans were made for housing in Gladstone Park Gardens in 1969. (fn. 415) In 1966 Cricklewood had relatively high proportions of Irish and Jewish residents, who had arrived respectively from Kilburn and Brondesbury. Jewish enclaves were said to be a feature of Cricklewood and Dollis Hill in 1937. (fn. 416)
East Twyford and Park Royal.
The southwest corner of the parish formed part of the district of Twyford which was already divided by 1086 into two estates. On the part which later came to be East Twyford in Willesden parish and the endowment of the prebend of East Twyford there were then three villeins. (fn. 417) There were three messuages in the 16th century although then or earlier one of them became the manor house. By the mid 18th century Lower Place (presumably the manor house site) consisted of two houses and barns. Farther south-west Ruckhold Farm, with cottages nearby, faced the green lane to Hanwell. The Coach and Horses at Stonebridge may represent the third of the 16th-century messuages. (fn. 418) A cottage had been built east of Lower Place green by 1800 (fn. 419) and the Grand Junction canal was driven across the area, dividing Lower Place and Ruckhold farms, in 1801. (fn. 420) In 1837 the London and Birmingham railway was built north of the canal, effectively destroying the Lower Place cottages and running very close to the farm buildings. The Grand Junction Arms had been built where Acton Lane crossed the canal by the 1860s. (fn. 421)
Development in Twyford began at the end of the 19th century mainly as a result of the growth of Willesden Junction. In 1879 the United Land Co. bought land by the canal and within a year was offering 31 plots in Disraeli and Steele roads. Small terraced houses had been built there by 1885. (fn. 422) Some 4½ a. east of Acton Lane between the railway and the canal had been leased, presumably on building leases. By 1887 two roads of terraced houses, one called Wharf Road, had been built there. (fn. 423) They had gone by 1894, however, and by 1901 had been replaced by a power station. In 1897 the Willesden board of guardians bought 60 a. for a workhouse and infirmary next to Ruckhold Farm, which was demolished soon afterwards. By the end of the 19th century a farm in Acton opposite Ruckhold Farm was being called Lower Place and the original farm of that name was renamed Grange Farm. A large house called the Grange was built nearby. Waxlow Road led west from Acton Lane by 1901 and a biscuit factory and brick works had been built there by c. 1910. (fn. 424)
In 1901 the Royal Agricultural Society leased 117 a. west of the infirmary as a site for its annual agricultural shows. Although the Great Western Railway opened a station, called Park Royal after the site itself, in 1903, the shows were poorly attended and the site was abandoned after 1905. It was later used by Queen's Park Rangers football club and for other sporting events. (fn. 425) During the First World War the site housed an army horse compound and armaments factories, which were adapted after the war to civilian industrial use. By 1920, in addition to the factories west of the workhouse, industrial premises had been built at Lower Place, as had a school and children's homes. (fn. 426)
Following the building of the North Circular Road Park Royal became the major industrial area in Willesden, (fn. 427) spreading into Alperton, Acton, and West Twyford. Industry filled the remaining space at Lower Place, covering the area between the railway and the canal and reaching down Acton Lane to the infirmary. Grange farm was replaced by a sports ground in 1935, although the Grange survived in 1966. (fn. 428) In 1949 there were several sports grounds and allotments. At that date the 19th-century housing at Lower Place consisted of 136 dilapidated and overcrowded dwellings where 1,047 people lived. (fn. 429) In 1960 the council planned to remove the housing and make the area wholly industrial. (fn. 430)