Pages 171-180
A History of the County of Oxford: Volume 13, Bampton Hundred (Part One). Originally published by Victoria County History, London, 1996.
This free content was digitised by double rekeying. All rights reserved.
STANDLAKE
STANDLAKE, a rural parish between the rivers Thames and Windrush, lies c. 4¼ miles (7 km.) south-east of Witney and 7½ miles (12 km.) south-west of Oxford. (fn. 1) The ancient parish, whose western and northern boundaries remained ill defined until inclosure in 1853, included part of Brighthampton, the rest of which belonged to Bampton parish, and in the north Boys and Home woods and the western part of Cokethorpe Park, all formerly part of a large block of ancient woodland which extended southwards to the area around Breach Farm. (fn. 2) The history of the whole of Brighthampton and of the early woodland is treated below, but the later history of Cokethorpe Park under Ducklington. In 1844 the parish was reckoned at 2,487 a., (fn. 3) and in 1877, after inclosure, it contained 2,346 a., of which 30 a. lay in four newly created detached areas near Brighthampton and near Hardwick in Ducklington parish. (fn. 4) Transfers from Hardwick and Bampton in 1886 under the Divided Parishes Act, notably the incorporation of a large detached part of Hardwick in the north-west, increased the civil parish to 2,624 a., from which 3 a. were transferred to Yelford before 1901. (fn. 5) The part of Brighthampton in Bampton parish was ill defined until artificially delineated at inclosure; thereafter it formed a separate township and later civil parish of 665 a., reduced in 1886 to 626 a. through transfers to and from Hardwick and Standlake. In 1932 it was merged with Standlake, which lost c. 640 a. (including the land in Cokethorpe Park) to Hardwick-with-Yelford, creating a civil parish of 2,606 a. (1,055 ha.) which was unaltered in 1981. (fn. 6)
In the Anglo-Saxon period Standlake formed part of a large parochia centred on Bampton minster, (fn. 7) and its independent boundaries only gradually emerged during the Middle Ages. The eastern boundary ran in the earlier 19th century down Standlake and Medley brooks, tributaries of the river Windrush running between the river's two main streams, before turning along small watercourses east of the main stream to include the site of Gaunt House and its adjacent closes. It then followed the main stream southwards to the river Thames. (fn. 8) The southern part of that boundary corresponded with the bounds of an estate in neighbouring Northmoor described in 1059, (fn. 9) and the site of Gaunt House was included in Standlake probably in the 15th century and certainly by the 16th, when perambulations included a gospel-reading at Bovis's (or Brice's) close north-east of the house on the modern boundary. (fn. 10) In 1318 local deponents nevertheless claimed that the boundary of Bampton's residual parochia, including Standlake, lay further east, running down the Windrush to Beard Mill in Stanton Harcourt parish, then following a path running probably south-eastwards, and a stream called Wirlak' or Wytherlak' which flowed southwards to the Thames through the later Northmoor parish. (fn. 11) In the 15th and 16th centuries the boundary near Newbridge mill, which later followed the Windrush's westernmost channel, may have followed the eastern channel on which the mill stands, and where there was a merestone; disputes over boundaries near there erupted c. 1564 after part of the river's main channel was diverted during work on the Newbridge causeway. (fn. 12) Most of Achim or Eacham mead, north-west of Newbridge mill on the Windrush's west bank, was in Northmoor, though Standlake commoners had rights there. (fn. 13) At inclosure c. 1853 Medley brook was straightened, but remained part of the eastern boundary. (fn. 14) The Thames formed the southern boundary in 1318 and later. (fn. 15)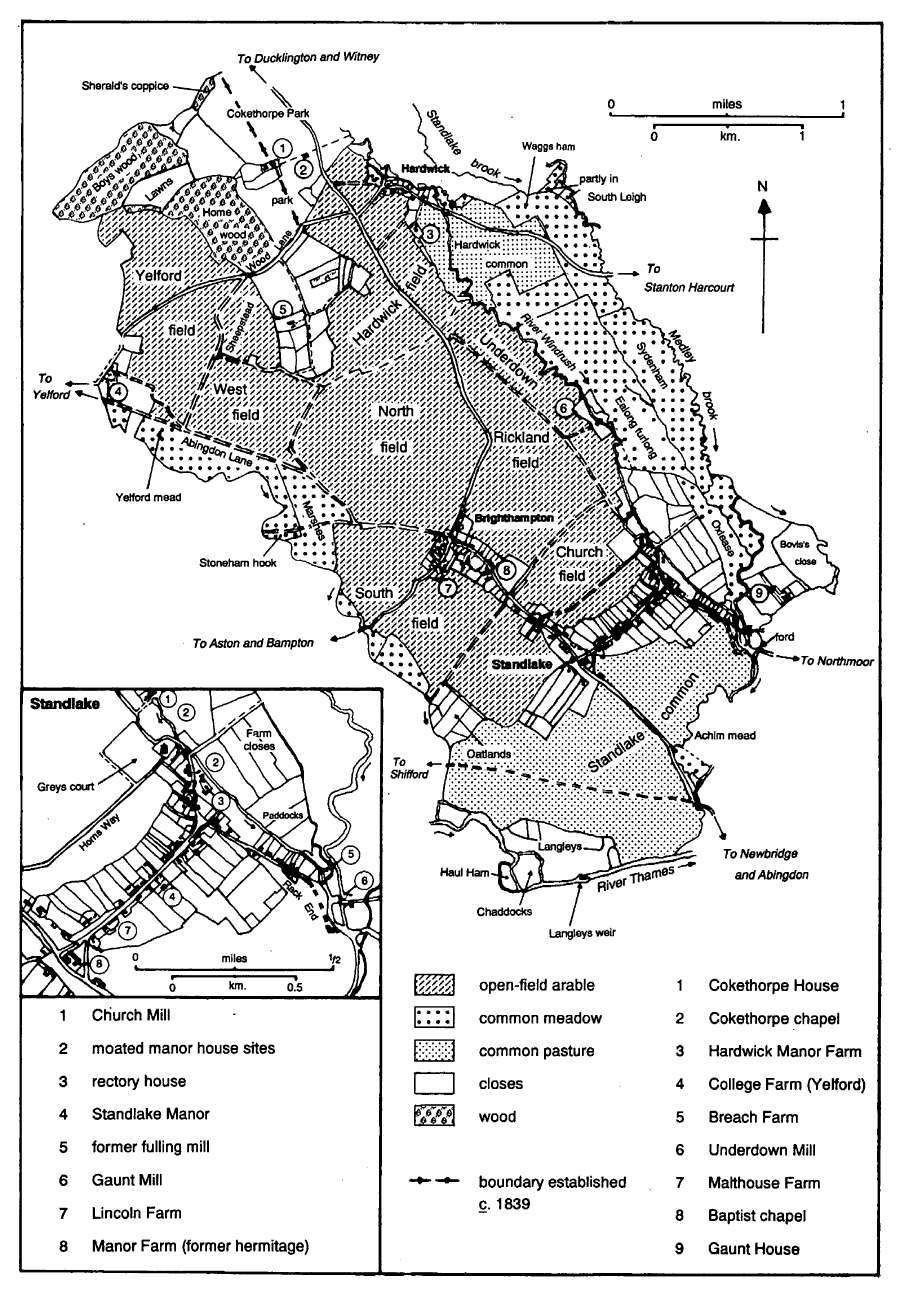 On the west there was, except within Brighthampton village, no distinct boundary until inclosure between those parts of Brighthampton in Bampton and those in Standlake, the shared fields of Brighthampton and Standlake extending undifferentiated as far as the brook marking Shifford's eastern boundary. (fn. 16) The boundary through Brighthampton village, however, corresponded with that between holdings of Hardwick and Brighthampton manor, in the village's western part, and of Standlake manor, in its eastern part, and was evidently tenurial in origin: Hardwick and Brighthampton manor had remained part of the royal estate in Bampton until probably the 12th century and was classed as ancient demesne, and in the 14th century Bampton church explicitly claimed jurisdiction over ancient demesne formerly part of the royal manor. (fn. 17) Within the fields blocks of furlongs, chiefly in the west and north-west and in a band across the middle of the parish, remained tithable to Bampton, presumably representing strips originally held by tenants of Hardwick and Brighthampton manor. (fn. 18) Underdown Mill on the river Windrush, held with Hardwick and Brighthampton manor from the Middle Ages, remained a detached part of Bampton parish. (fn. 19)
In 958 Standlake's northern boundary seems to have followed approximately the southern edge of the later Cokethorpe Park, thus excluding not only the later park but also Home and Boys woods, all of which then formed part of a large estate centred on Ducklington. (fn. 20) By the early 13th century, however, woodland covering the area of the two woods and the western part of the later park was attached to Standlake manor and belonged thereafter to Standlake parish. (fn. 21) The transfer from the Ducklington estate to Standlake may have occurred before 1086, when the Ducklington hidation seems to have been lower than in 958, though woodland was noted in neither Standlake nor Brighthampton at that date. (fn. 22) By the early 18th century the area around Cokethorpe House comprised assarted closes, of which some, chiefly west of the house, lay in Standlake, and the remainder in Ducklington; a straight parish boundary through the park was established at or before the inclosure of Ducklington in 1839. (fn. 23) Elsewhere Standlake's northern boundary followed the division between its open fields and those of Hardwick, but intermixture of holdings blurred parochial distinctions and in the 19th century some strips in Hardwick's fields remained tithable to Bampton or to Standlake. (fn. 24) At inclosure the northern and western boundaries were redrawn to follow newly created closes, though the existing boundaries through Brighthampton hamlet and Cokethorpe Park were retained. (fn. 25) In 1932 the northern and western boundaries were completely redrawn. (fn. 26)
The parish is flat and low-lying, rising gently from c. 65 m. near the rivers to c. 90 m. near Home wood, where there are some slightly steeper slopes. Its southern part, including the village sites and most of the former open fields, lies chiefly on gravels of the Thames Flood Plain, Summertown–Radley, and Wolvercote terraces, though alluvium in the west and south and along the Windrush in the east provided plentiful meadow and pasture. Standlake's northern part around Breach Farm and Cokethorpe House lies chiefly on Oxford Clay, a tongue of which extends southwards across the former open fields towards Underdown Farm. (fn. 27) Gravel pits were mentioned from the 18th century, (fn. 28) and commercial extraction in the 20th century created several large lakes near the Windrush and in the south-west, some landscaped for recreation. (fn. 29)
The parish's development may have been influenced by a network of early roads or tracks running from north-west to south-east and from north-east to south-west, reflected in the later road pattern. Several Iron-Age and RomanoBritish sites at Stanton Harcourt, Standlake, and Shifford are strung out along the alignment of Standlake High Street and of Horn's Way to the north, (fn. 30) and lost routes on similar alignments include a putative Roman track running south of Gaunt Mill, where fragmentary stone surfaces have been noted, (fn. 31) and a path running south of and parallel to the road from Brighthampton to Aston across the site of an early Anglo-Saxon burial ground. (fn. 32) North–south routes included a continuation of Abingdon Lane from Yelford to Brighthampton, and a branch road cutting across Shifford's northern edge, both of which were suppressed in 1629 because of frequent flooding but survived as green lanes until 19thcentury inclosure. (fn. 33)
The chief north–south route by the later Middle Ages was from Witney through Ducklington and Brighthampton to Newbridge in Northmoor parish, part of the Gloucestershire–London road. (fn. 34) Parts of that route, which crosses early settlement sites on Standlake Downs west of Underdown Farm, (fn. 35) may also be ancient, though no positive evidence has been found for a river crossing at Newbridge before the surviving bridge was built in the late 14th century or early 15th: the surname 'at bridge', recorded on Standlake manor in 1279, may refer only to a crossing of the Windrush or its tributaries. (fn. 36) In the 16th century and later a stone causeway raised the road between Standlake and Newbridge above the level of the floodplain; (fn. 37) bridge hermits living at the causeway's northern end were recorded in the 15th century, and one was licensed c. 1462 to collect alms for repairs. (fn. 38) The causeway was rebuilt in the early 16th century, when winter flooding sometimes made the crossing impassable, (fn. 39) and from the later 17th century both the causeway and the northern half of the bridge were repaired frequently by the county. (fn. 40) A scheme in 1766 to turnpike the road, linking it with the Kingston Bagpuize turnpike south of the Thames, was evidently abandoned. (fn. 41)
The Brighthampton–Cote road, crossing Shifford's boundary brook at Knight Bridge, was a bridlepath until c. 1629 when it became a highway. (fn. 42) The chief route eastwards from Standlake in the 18th century and presumably earlier seems to have been along Rack End to a ford just south of the later Broad Bridges, then continuing through Northmoor to cross the Thames at Bablock Hythe, and so to Oxford. (fn. 43) Several lesser crossings of the Windrush (fn. 44) perhaps included an unidentified stone bridge built by a local farmer in 1761. (fn. 45)
At inclosure c. 1853 the Northmoor road was rerouted across the newly-built Broad Bridges, other principal roads were confirmed, and some lesser ones were upgraded. A lane past the church to the Witney road became a 30-foot carriageway, later called Downs Road, and Wood Lane, from Yelford to Hardwick, was replaced by a new 30-foot road further south. Other new roads included a 30-foot carriageway, later a lane, from Standlake High Street to Shifford, replacing an earlier track across Standlake common, and a road from Broad Bridges to the Witney–Newbridge road running south of Standlake High Street. Several tracks were replaced by new occupation roads, though Horn's Way, north of Standlake High Street, was retained. (fn. 46)
In the mid 19th century the nearest railway stations were those at Witney and South Leigh, opened in 1861, and Faringdon Road station in Faringdon (then Berks.) on the G.W.R., opened in 1840. (fn. 47) Carriers to Oxford, Witney, and Abingdon were noted in 1847. (fn. 48) A post office run by the schoolmaster, presumably from the schoolhouse near the church, existed by 1847. (fn. 49) It was at the Green in the 1860s, in Bracken Cottage on High Street before 1887, and on its present site next to the Bell Inn by 1960; it was a money order and telegraph office before 1907. (fn. 50)
Palaeolithic axes have been found west of Standlake village and north-east of Brighthampton, and Neolithic implements north of Standlake village. (fn. 51) Ring ditches north of Brighthampton on Standlake Downs contained late Bronze-Age urn burials, though the ditches had been re-used and were evidently of earlier origin. (fn. 52) Extensive Iron-Age settlement nearby, much discussed in the mid 19th century, (fn. 53) respected some of the Bronze-Age features; remains included round huts and storage pits, but settlement in the area may have been shifting, and the site was not palisaded. (fn. 54) Cropmarks north and west of Standlake village may relate to Iron-Age settlement, (fn. 55) and an exceptionally fine Iron-Age sword was dredged from the Thames near Langley's weir. (fn. 56) Evidence of Romano-British settlement west, north, and north-east of Standlake village and perhaps on Standlake Downs does not necessarily indicate continuous occupation, though the sites north and north-east of Standlake were occupied apparently by the mid 1st century A.D. and still in the late 2nd. (fn. 57)
There was settlement near Brighthampton in the 5th and 6th centuries, indicated by a large pagan burial ground discovered south of Malthouse Farm with grave goods displaying mixed Roman, British, and Saxon influences. (fn. 58) The Bronze-Age burial ground on Standlake Downs was re-used for burials in the 7th century, and there may have been sunken huts nearby. (fn. 59) In 984 Brighthampton (i.e. Beorhthelm's tūn) formed an outlier within the large royal manor of Bampton, and in 1086 the only estates identifiably within the parish were recorded under Brighthampton; (fn. 60) no evidence has been found of Anglo-Saxon occupation at Standlake village, which was evidently a secondary settlement, not recorded by name until the mid 12th century. (fn. 61) That Standlake became the centre of, and gave its name to, a new parish was presumably due to its inclusion in an estate granted before 1086 to the Grey family, which in or before the 12th century built a manor house and church by the river Windrush at the northern end of the later village. That site may have been intentionally chosen for its distance from the older settlement at Brighthampton, which was on the fringes of the Greys' lands and which remained partly attached to Bampton. (fn. 62)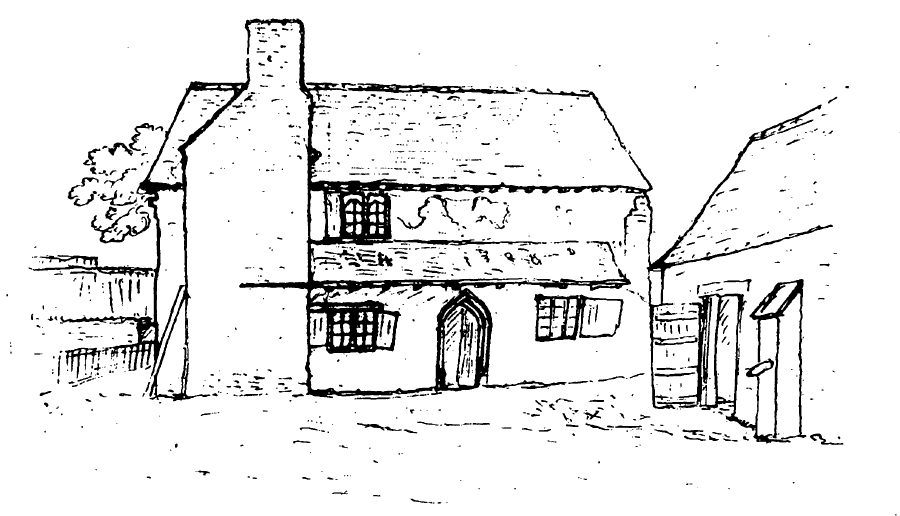 The name Standlake, meaning 'stone stream', (fn. 63) reflects the village's low-lying position among a network of tributaries of the Thames. In the 18th century the village was described as 'situate upon a damn'd standing puddle, long, deep and dirty', (fn. 64) and the main street occasionally flooded even in the 19th century. (fn. 65) The place name's first element refers presumably to the nearby Devil's Quoits stone circle, from which Stanton Harcourt was also named. (fn. 66) The name Brittenton, for that part of Brighthampton within Standlake parish, represents an alternative corruption of the original place name and was established by the early 16th century, by which time the two halves of the hamlet were becoming more sharply defined for civil as well as parochial purposes. (fn. 67) In the 19th century and presumably earlier the name denoted both the eastern part of Brighthampton hamlet and the farmsteads by Abingdon road as far south as its intersection with Standlake High Street. (fn. 68)
In 1086 a total of 37 villani and bordarii and 5 servi were recorded on two estates, some of them perhaps already living at or near Standlake. (fn. 69) Other Brighthampton inhabitants were probably included among those noted on Bampton manor. (fn. 70) The population may have risen significantly by 1279 when c. 95 free and customary tenants were noted in Standlake and Brighthampton; of those, perhaps 30 or more lived at Brighthampton. (fn. 71) Numbers fell only slightly if at all in the earlier 14th century: over 84 landholders in both villages were taxed in 1306, at least 94 in 1316, and c. 80–87 in 1327. (fn. 72) In 1377 poll tax was paid by 288 people over 14, suggesting that even if the figure represented both villages (fn. 73) the impact of the Black Death had been limited, notwithstanding occasional references to vacant holdings. (fn. 74) The population may have declined during the later 15th century, (fn. 75) and between 55 and 77 inhabitants were taxed in the earlier 16th; (fn. 76) from the mid 16th century baptisms usually outnumbered burials, (fn. 77) and in 1642 the Protestation was subscribed by 147 men from both villages, (fn. 78) indicating an adult population of c. 300. Building and subdivision of houses in the early 17th century allegedly encouraged an influx of poor. (fn. 79) Hearth tax in 1662 was paid on 39 houses in Standlake and on 16 in Brittenton; another nine houses in Brighthampton were assessed in 1665, (fn. 80) probably well below the actual number existing, and 365 adults were noted in the three townships in 1676. (fn. 81) Most 18th-century rectors estimated that there were 100–120 houses excluding the western part of Brighthampton, (fn. 82) and in 1801 Standlake, Brighthampton, and Brittenton together contained 117 houses occupied by 663 people. The population rose to 827 in 1841, when roughly a third lived in Brighthampton and Brittenton, and to 911 in 1851 and 1861, falling to 555 by 1921 partly through emigration. Between 1961 and 1981 population rose sharply from 666 to 1,257, falling to 1,247 by 1991. (fn. 83)
The early nucleus of Standlake village was presumably the church, manor house, and rectory house at its northern end, (fn. 84) near which there were several tenements, some later abandoned, in 1354. (fn. 85) Expansion south-westwards along High Street may have been associated with a market grant in 1230: (fn. 86) the Green, a triangular space at High Street's north-eastern end, was presumably laid out as a market place at that date, and High Street itself, called the market street in the 15th century, (fn. 87) was of notable width before encroachment at its north-eastern end in the 17th century or earlier. (fn. 88) Rack End, a lane leading from the Green to the river crossing near Gaunt Mill, derived its name from fullers' racks near its southern end, and was settled by the later 15th century. (fn. 89)
Brighthampton developed possibly around an intersection of north–south and east–west routes. (fn. 90) Brittenton or Brighthampton cross was mentioned in the early 17th century, (fn. 91) and in 1857 the base of an 'ancient' stone cross survived at the central cross roads. (fn. 92) There was straggling settlement along Abingdon road between Brighthampton and Standlake by the 17th century and probably much earlier. (fn. 93) Gaunt House, a substantial late-medieval house on the parish boundary east of the river Windrush, originated allegedly as a cottage tenement on Standlake manor, and until the 16th century two or more cottages with small adjacent crofts survived nearby at 'Moor end'. They owed quitrent to Standlake manor and perhaps formed a small outlying group of cottages associated with nearby fulling mills. (fn. 94) Breach Farm, in the north of the parish, existed by 1767, (fn. 95) but apart from the mills there were no other outlying houses before inclosure.
The medieval part of Standlake Manor on Standlake High Street is timber-framed, and some stone-built houses retain evidence of former timber construction, (fn. 96) among them Gaunt House, Lincoln Farm on High Street, the postmedieval Cheswell, Rose, and Blenheim (fn. 97) Cottages on Abingdon road, and Cedar Cottage on Lancot Lane. Most surviving buildings are of local limestone rubble, with thatched or stone-slated roofs. In the 14th century rough stone for one of the manor houses came from Witney and some thatching straw from South Leigh, and in the 16th century freestone was said to be available within ten miles; (fn. 98) in the 19th century limestone blocks and Welsh slate became common, and a few houses and cottages were built or refaced in brick. (fn. 99) Among early buildings, Forge Cottage in Brighthampton incorporates at its north-west end a small, twobayed open hall of the 16th century, with smoke-blackened roof timbers and a central cruck truss; an upper floor and a fireplace with a timber-framed smoke hood were inserted probably in the 17th century. A back wing, demolished c. 1990 when the house was restored and extended, had a cruck truss in one gable. (fn. 100) Lincoln Cottage at Church End, of the late 15th or early 16th century, is of similar construction and was originally thatched with reed, (fn. 101) and cruck construction was noted at Brasenose Farm in Brighthampton, demolished c. 1970, (fn. 102) and possibly at Sadlers on Standlake High Street. (fn. 103) Larger late-medieval buildings, besides Gaunt House, are Standlake Manor, Lincoln Farm, and the high-quality stone-built rectory house, all described below. The first three were the focus of sizeable freeholds by the later Middle Ages, and perhaps reflect commercial wealth derived from the cloth trade. (fn. 104) A leading inhabitant in 1406 was licensed to have an oratory in another, presumably substantial house. (fn. 105)
Few later houses are notable, though some solid farmhouses reflect the parish's status as a community of moderately prosperous yeomen, rural tradesmen, and cottagers. Manor Farm (Floreys) at Brighthampton, (fn. 106) a substantial stone-built house with mullioned windows, dripmoulds, and steep-pitched roofs, was built in the early 17th century on a two-room plan, with a rear stair turret and outshut and a symmetrical west front; it was extended southwards soon after, perhaps c. 1659, (fn. 107) and in the 19th century the outshut was continued along the entire length of the back and raised to two storeys. A rough inscription TB 1721 on the door jamb refers perhaps to Thomas Brown (d. 1764), one of a prominent yeoman family which owned the house for much of the 18th century (fn. 108) but who was non-resident in 1754. (fn. 109) Glebe Farm on Abingdon road, rebuilt in the later 18th century and early 19th apparently for another family of yeoman freeholders, incorporates a symmetrical south-facing front of three bays, and retains a fine Adam-style fireplace in the principal bedroom. Yew Tree Farm on Abingdon road has a nearly symmetrical front with central doorway and brick quoining, and in 1867 may have been entirely brick-fronted; a datestone inscribed TSA 1745 commemorates building probably by members of the Spiers family, prominent farmers and Baptists, and another inscribed RFM 1811 may refer to the building of a conservatory by Richard and Mary Francis. (fn. 110) Building work by small yeomen or cottagers is commemorated by inscriptions at 2 Lancot Lane (EBX 1673 for Edward and Christian Bennett), the Black Horse public house (WBS 1673 for William and Susannah Baston), and Bracken Cottage on High Street (IKA 1717 for John and Katherine Alder). (fn. 111) Some rebuilding followed fires: in Brighthampton c. 1621 three 'poor neighbours ... near dwelling together' lost houses totalling 8 or 9 bays and all their household possessions, and two mills were burnt during the 18th century. (fn. 112)
Between 1801 and 1871 the number of houses rose from 117 to 219, (fn. 113) partly through subdivision (fn. 114) but also through erection of new cottages. Among them were Longwood Cottage Row opposite Standlake High Street, built in stages between c. 1789 and 1847, and nos. 31–7 Rack End, built probably in the 1850s. (fn. 115) The Limes, a tall, three-storeyed house east of Manor Farm on the edge of the former common, with a fanlight and hood over a central doorway, was built evidently before 1841 when it housed a small private school, and from 1877 was occupied by a prominent farmer. (fn. 116) Inclosure prompted little new building, though the outlying Westfield Farm was erected apparently as labourers' accommodation before 1860, (fn. 117) and some dilapidated farmhouses were rebuilt, notably Malthouse Farm in Brighthampton (c. 1888) (fn. 118) and Manor Farm in Standlake (1889). (fn. 119) During the 1890s the Cavendish Land Co. of Westminster (Mdx.) planned a group of riverside holiday chalets in the former common, but the scheme was abandoned leaving only Bankside Lodge and an embanked access road dubbed Manor Avenue. (fn. 120) New institutional buildings were the Baptist chapel on Abingdon road, built in 1832, the parish school, built in 1846, and the Primitive Methodist chapel at the Green, built c. 1865. (fn. 121)
Longwood House, a large, eclectic building of brick, roughcast, timber, and concrete, was erected on Abingdon road during the 1920s, incorporating two detached cottages at the northern end of Longwood Cottage Row. Attached grounds were adapted for market gardening in the later 1920s, and both the house and cottages later formed part of the Mulberry Bush school for severely disturbed children, established c. 1948 by Stephen and Barbara Dockar-Drysdale. The school, which achieved wide recognition, acquired purpose-built accommodation to the west c. 1971, when there were 36 residential pupils, and Longwood House was demolished, leaving only the six cottages to the south. (fn. 122) Expansion north of Standlake village along Downs Road, begun c. 1929 when Witney R.D.C. built four labourers' cottages, accelerated during the 1960s, and by 1974 there were over 100 houses, bungalows, and flats. (fn. 123) Manor Crescent and Woodlands, north of Standlake High Street, were laid out in the late 1960s and early 1970s, and during the same period there was extensive infilling along the main streets, (fn. 124) mostly in untraditional materials. By 1994 the emergence of the Witney–Newbridge road as a trunk route had radically altered the character of much of the parish, though Standlake High Street, Rack End, and Church Lane remained as comparatively quiet side roads. An army hut refurbished as a village hall was erected on Standlake High Street near Manor Farm c. 1921, and was re- placed by a purpose-built community centre at Rack End in 1989. A second army hut was erected as a youth club near the rectory house in 1954, and was replaced by a new concrete-built centre on the same site in 1963. (fn. 125)
A single street lamp near the church was maintained in the early 20th century through private donations. (fn. 126) The Wessex Electric Co. supplied electricity from 1937. (fn. 127) Mains water was introduced in 1957, replacing polluted wells, and mains drainage in 1970, (fn. 128)
There were three or four small inns and alehouses on the Witney–Newbridge road by the early 17th century, patronized by travellers to and from London. (fn. 129) Of those the Chequers, in the former hermitage at the west end of Standlake High Street, was the scene of 'notorious disorders' c. 1630 and continued as an inn until c. 1776, after which the sign may have been briefly transferred to the former Red Lion in Forge Cottage at Brighthampton. (fn. 130) In the later 18th century there were usually 7–11 licensed houses, but by the early 19th century there were 3–4. (fn. 131) The Black Horse on Standlake High Street (fn. 132) and the Bell at Rack End, transferred to High Street before 1804, (fn. 133) remained open in 1994; the Golden Balls at Brighthampton, licensed probably by 1753 (fn. 134) and largely, rebuilt in the early 20th century, closed c. 1992 and was demolished in 1994.
The Standlake and Brighthampton Association for the Protection of Persons and Property was established at the Black Horse by 1785 and continued at the Bell in 1790. (fn. 135) A friendly society established at the Black Horse in 1761 was refounded c. 1795 and dissolved in 1844, when it had 60 members; a new society then founded at the Bell continued until c. 1890. (fn. 136) A friendly society based at the Chequers by 1781, with club feasts in June, continued probably until the Chequers' closure, and a friendly society was established at the Golden Balls in 1837. (fn. 137) A Lodge of Oddfellows established at the Bell in 1893 and a Court of Foresters established at the Black Horse in 1895 continued until 1951 and 1965 respectively; in the 1890s the Oddfellows held Bank holiday f≖tes, and until the 1930s both societies held annual processions from Northmoor to Brighthampton, collecting for the Radcliffe Infirmary and Oxford Eye Hospital. (fn. 138) A coal club established by the curate before 1849 continued into the early 20th century, (fn. 139) a clothing fund existed by 1877, and in 1878 the rector established a clothing club for Sunday school children. (fn. 140)
The rector encouraged musical and other entertainments in the late 19th century, and for several years there was also a brass band of mixed reputation. (fn. 141) A library was mentioned in 1877, (fn. 142) and a coffee room and lending library established by the rector in a cottage on High Street in 1882 continued, with intermissions, into the 20th century. Another lending library, financed partly from an educational charity, was established in the school in 1924 and continued until superseded by a mobile county service in 1964. (fn. 143) A cricket team, with a ground at Rack End provided by Magdalen College at inclosure, (fn. 144) existed by 1869, and in 1922 merged with Northmoor's team to form the Oxford Downs cricket club, still active in 1994. A women's institute was founded in 1933, a youth club, at first for girls only, in 1934, and a football club in 1948. (fn. 145)
Perambulations of the parish were mentioned in 1602. Then and later the gospel was read at certain points on the boundary, marked in the 18th century by crosses cut in the ground, and at Cokethorpe House a cross was chalked in the parlour. (fn. 146) Standlake Feast, celebrated apparently in the mid 18th century, was held in the 19th century in September, following immediately on Witney Feast; it was later a pleasure fair, with stalls along Standlake High Street, and continued into the 1950s. An annual flower show established in 1881 continued, with intermissions, until 1940, and by the 1920s had acquired the character of a village fete with stalls and sideshows. (fn. 147)
The medieval hermitage, occupied by bridge hermits in the 15th century, (fn. 148) stood on the site of Manor Farm. (fn. 149) Only two hermits are known, of whom the earlier was noted for sayings on sin and temptation c. 1434. (fn. 150) By 1555 the building was a copyhold cottage held of the four quarters of Standlake manor and, later, of Magdalen and Lincoln Colleges; (fn. 151) in 1659 it was a 'little old stone building', (fn. 152) and in 1873, when the site was a farmstead, (fn. 153) buildings included a large, probably 17th- or 18th-century house, presumably part of the former Chequers inn, and a smaller detached range of two storeys with a large chimney stack and a pointed doorway, perhaps part of the hermitage itself. (fn. 154) All the buildings were demolished c. 1889 when Manor Farm was rebuilt. (fn. 155) In 1677 Robert Plot reported that during parish processions on or near Holy Thursday the rector read a gospel 'at a barrel head in the cellar of the Chequer Inn', thought then to have been the site of either a hermitage or an ancient cross. (fn. 156) The practice may have reflected religious functions fulfilled from the hermitage before the Reformation, but in the mid 18th century it was associated rather with parish (and presumably township) perambulations, and by the early 19th century it had lapsed. (fn. 157)
Raids probably on one of the manor houses in 1343 and on the rectory house c. 1350 involved local people. (fn. 158) During the Civil War, Gaunt House, then owned by the royalist Samuel Fell, (fn. 159) was garrisoned successively by royalists and parliamentarians, reflecting Newbridge's strategic importance: a royalist garrison existed perhaps by June 1644, when Waller forcibly crossed the bridge with 5,000 horse and foot, (fn. 160) and certainly by May 1645, when after a two- or three-day siege the house was surrendered to Col. Thomas Rainsborough, who took over 50 prisoners. Canon balls found in the moat in the 19th century suggest a violent engagement, though contemporary accounts were contradictory and artillery was not explicitly mentioned. (fn. 161) A Parliamentary garrison placed in the house soon after supplied 200 horse for a successful sortie at Kidlington in October, and footsoldiers for the containment of Radcot in April 1646, but was removed presumably soon after the fall of Oxford in June. (fn. 162) A carved ivory ball depicting Strafford's and Laud's executions and found in an unidentified Standlake gravel pit may date from the Civil War period. (fn. 163)
There were no resident lords after the later Middle Ages, though in the 19th century the Stricklands of Cokethorpe House were active in parish affairs and achieved some popularity. (fn. 164) The antiquary and naturalist Stephen Stone (d. 1866), who made pioneering use of crop marks in his excavations in the parish, lived in Brighthampton from the 1840s, for a time in Manor Farm (Floreys). (fn. 165) Dr. Kofi Busia, prime minister of Ghana, lived in Brighthampton while in exile during the 1960s and maintained a home there in 1971. The childbirth expert Sheila Kitzinger lived in Standlake Manor from c. 1966. (fn. 166)