Pages 171-176
A History of the County of Oxford: Volume 14, Bampton Hundred (Part Two). Originally published by Victoria County History, London, 2004.
This free content was digitised by double rekeying. All rights reserved.
OUTLYING TOWNSHIPS
CRAWLEY
Introduction
The rural township of Crawley, with its single riverside hamlet and, from the 18th and 19th centuries, a couple of outlying farms, lay in Witney parish's north-west corner; in the early Middle Ages the area was largely wooded, and it remained within the purlieus of Wychwood Forest until the mid 19th century. (fn. 1) The township had its own fields by the 13th century and its own parish officers by the 16th or 17th, and in the 18th century administered its own poor relief; from the later 19th century it was counted a separate civil parish, though it remained part of Witney and later of Hailey parish for ecclesiastical purposes. (fn. 2) Its area, 1,128 a. in 1877, was increased to 1,150 a. (465 ha.) in 1954 by the transfer from Hailey of closes and houses immediately east of Crawley village; small adjustments in 1985 reduced it to 463 ha. (fn. 3)
Township Boundaries and Landscape
The township's western and northern boundaries were those of the 10th-century Witney estate, and are discussed above (and see Fig. 63). (fn. 4) The eastern boundary with Hailey, in part following early lanes or roads, was established presumably by the 13th century, when the two townships had separate fields; parts of that boundary may be pre-Conquest, though whether Crawley and Hailey belonged to separate estates before their incorporation in the Witney estate is not known. (fn. 5) The southern boundary with Curbridge, extending just south of the river Windrush to include a group of closes belonging in the later Middle Ages to Crawley Mill and to Crawley Manor farm, (fn. 6) was presumably also established early, and perhaps reflects pre-Conquest partition of riverside meadow.
The township's western part, much of it formerly wooded, lies chiefly on Forest Marble, and its eastern part, including Crawley village, on White Limestone. Its extreme southern tip, straddling the river Windrush, lies on alluvium. From the floodplain (at 85 m.) the ground rises steeply to over 100 m. on both sides of the river: the centre of Crawley village lies in a hollow, with buildings extending up the steep roads which lead into it and houses around Uphill Farm standing on relatively exposed high ground. Further north, where the ground rises slightly more gently to 155 m. in the north-west, a steep-sided valley runs south-east from Showells Farm, marking the course of Showells spring. (fn. 7) In the 19th century the limestone provided arable of fair quality, (fn. 8) though land immediately adjoining the river, which at Crawley bridge is particularly wide and fast-flowing, often flooded. (fn. 9)
Roads
Akeman Street, the Roman road from Cirencester to St Albans, cut across the township's northern part, surviving after the Roman withdrawal as a woodland track (see Fig. 63). (fn. 10) It was mentioned by name in 1300 and 1609, (fn. 11) and at the disafforestation of Wychwood Forest in 1857 was confirmed as a public way. (fn. 12) Excavation about 1940 confirmed its presence under the existing track's southern boundary hedge. (fn. 13) The intersecting Pay (formerly Pale) Lane, perhaps also of Roman origin, (fn. 14) formed the northern boundary of the Witney estate in 969 when it was called suga rode, probably denoting a marshy track or riding through woodland, though 'sparrow' or 'sow way' have also been suggested. (fn. 15) In 1594 it was the 'royal way to Leafield sarts'. (fn. 16) Intersecting both those roads at the township's north-east corner is the main Witney—Charlbury road through Whiteoak green, probably also an ancient route, which for part of its course formed the township boundary. (fn. 17) A branch road southwards past Showells Farm, through Crawley village, and across the river Windrush probably formed part of an early route through Curbridge to Bampton: (fn. 18) a predecessor of Crawley bridge existed by the later 15th century, (fn. 19) when the road south of the river was called the 'king's way', (fn. 20) and there may have been an earlier ford a little to the west near Crawley Mill. (fn. 21) The bridge, two-arched and of stone in the earlier 16th century, (fn. 22) was repaired about 1608, (fn. 23) and rebuilt with three arches in 1833; (fn. 24) the causeway to its north was repaired in 1728. (fn. 25) Langley way, running along the township's western edge to Langley in Shipton-under-Wychwood, was mentioned in 969, (fn. 26) and roads leading south-eastwards from Crawley to Witney and north-eastwards along Priest Hill Lane through Delly End are likely to be pre-Conquest or medieval, as were, presumably, routes leading westwards to Minster Lovell. (fn. 27)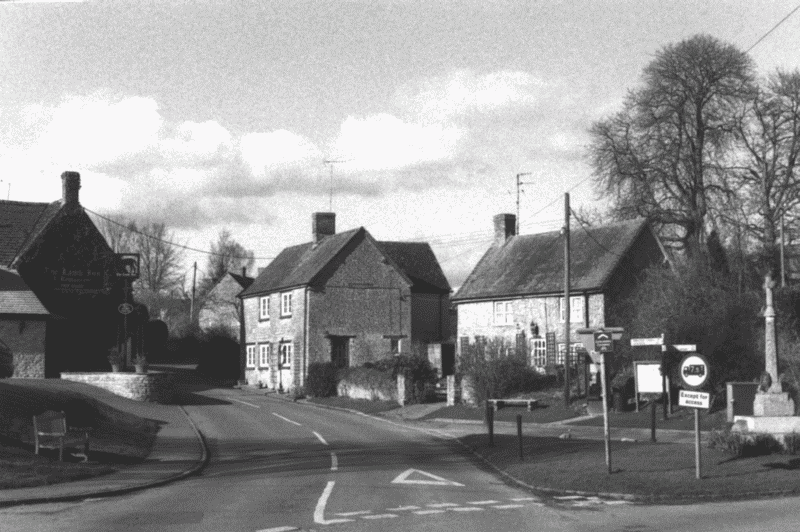 In 1800 the road from Whiteoak green through Crawley to Witney was turnpiked as a branch of the main Charlbury—Witney road, with a toll house in Crawley village. (fn. 28) It was disturnpiked in 1877, and the toll house was sold. (fn. 29) Roads from Witney and Hailey were confirmed at Hailey's inclosure in 1824, (fn. 30) and in 1853 Riding Lane along the township's western edge, presumably following in part the 10th-century Langley way, was confirmed as a 30-foot public road. (fn. 31) Pay Lane, confirmed as a public way in 1857, (fn. 32) was a bridle path in 1999.
Settlement, Population, and Domestic Buildings
Early Settlement
A cluster of probably Bronze-Age round barrows has been noted on the higher ground in the north-west, within what was later woodland. (fn. 33) Another barrow just south of the river Windrush, overlooking Crawley village on high ground west of Dry Lane, was probably a Neolithic long barrow, and marked part of the boundary of the Witney estate in 969 when it was called hawk's low or tumulus (hafoces hlewe); the area adjacent was later called Hawksley. (fn. 34) The barrow was shallow and almost entirely of stone, and when excavated in the mid 19th century had already been partly destroyed, the rest being removed before 1939. (fn. 35) It had evidently been re-used, perhaps several times: oriented burials found with undated buckles and scattered Romano-British sherds were thought in the 19th century to be late Roman, and the term hlewe may imply re-use in the Anglo-Saxon period, (fn. 36) while skeletons found 'just beneath the surface' were perhaps medieval execution burials. Three oriented burials at the centre, protected by large stones, were accompanied by a bronze buckle which appears to be post-Conquest and possibly late medieval, though if so the reason for such burials at that date remains unexplained. (fn. 37)
No other evidence of early settlement in the township has been found, and in the late Saxon period much of it was evidently woodland and wood pasture intersected by numerous tracks. By the 11th century and possibly earlier, however, there was probably arable in the south, and there may already have been embryonic settlement near the river or in other clearings: certainly by the 13th century Crawley was divided into yardlands in the usual way, and the settlement appears to have been longestablished. (fn. 38) The place name, recorded from the 13th century, means 'crow leah', the second element denoting woodland or a clearing within it. (fn. 39)
Population from the 13th Century
By the early 13th century there were around 23 households at Crawley, most of them settled on probably long-established customary holdings. (fn. 40) In contrast with Hailey the population seems to have been little increased by 13th- and 14th-century assarting or woodland clearance: only 25 households were recorded at Crawley in 1279, and 13–17 taxpayers were noted in the early 14th century, though division of two customary holdings between 1237 and 1279 suggests some increase. (fn. 41) As elsewhere on Witney manor plague mortality in the mid 14th century was heavy: a third of villein tenants in Crawley died in 1348–9, and though half the vacancies were filled by 1352 a further outbreak in 1361 seems to have led to long-term population decline. (fn. 42) Only 14 Crawley inhabitants paid poll tax in 1377, implying a maximum adult population of around 30 and perhaps 14–15 households, (fn. 43) and the population apparently remained below 13th-century levels in the 17th century, only 17 houses (excluding cottages at Whiteoak green) being mentioned in 1609, and 14 in 1662. (fn. 44) In 1642 the adult population was probably under 70, and the total population in 1676 under 150. (fn. 45)
Twenty-six houses were reported from the 1730s to the 1750s and around 20 in 1778, (fn. 46) and in 1801 there were 33 houses occupied by 38 families, a total of 157 inhabitants. Before 1861 the population reached 253 accommodated in 52 houses, but fell to 160 before 1881 when 13 houses were vacant, apparently the result of agricultural depression. (fn. 47) It recovered to 206 by 1901 but had fallen to 161 twenty years later, remaining under 200 throughout the 20th century: 190 inhabitants were noted in 1931, 160 in 1970, and 183 (comprising 64 households) in 1991. (fn. 48)
Medieval Settlement and Village Topography
Early settlement within Crawley village probably clustered, as later, around the intersection of routes just north of the river crossing. (fn. 49) A predecessor of Manor Farm, immediately west of the road to the bridge (Dry Lane), existed probably in the 13th century and certainly by the 15th, and former copyhold tenements on the site of Crawley Farm and elsewhere in the modern village were presumably also established early. (fn. 50) Uphill Farm, at the upper end of Steep Lane, was built on a small plot of assart in the mid 17th century, (fn. 51) and some cottages nearby may have been licensed encroachments in former common or woodland. (fn. 52) By the mid 18th century settlement within the village was little different from later, a few houses on Foxburrow Lane spreading just over the eastern boundary into Hailey township. (fn. 53) Probably the only outlying medieval site was the mill: (fn. 54) Showells and Breach Farms both originated as barns in the open fields apparently in the 18th century, (fn. 55) and Chasewood Farm, further north, was built in the late 19th century following clearance of remaining woodland. (fn. 56) A keeper's cottage on the western edge of Whiteoak green, adjoining Barleyhill coppice, existed probably by the early 17th century. (fn. 57)
Domestic Buildings
The earliest surviving building, of late medieval origin, is Manor Farm, described below. (fn. 58) Most other buidings are of the 17th century or later, constructed of coursed limestone rubble with stone-slated roofs. (fn. 59) Some were formerly thatched, (fn. 60) and in 1715 the mill was to be repaired using freestone from Cornbury quarry. (fn. 61) Around half the fourteen houses taxed in 1662 were assessed on only one or two hearths, though four, including Manor Farm, were much larger, with five or six. (fn. 62) Other larger houses included Uphill Farm, built in the mid 17th century by one of the Selman family for a copyhold farm of two yardlands; (fn. 63) the house is two-storeyed and of three bays, with four- and five-light mullioned windows in the front and rear elevations. In the 1770s it was described as a 'good slated farmhouse' with two barns, stables, and other outbuildings, all in good repair; (fn. 64) a new doorway and adjacent window were inserted in the 19th or 20th century, and agricultural buildings to the south, probably of the mid 18th century, were converted into houses in the late 20th.
The Farmhouse (formerly Crawley, Village, or Manor Farm), (fn. 65) north of Foxburrow Lane on a slope overlooking the village, was rebuilt for one of the other chief farms by the Howell family about 1780. (fn. 66) Its southfacing main range, of 3 bays and 2½ storeys, is rubblebuilt but was evidently intended to be rendered, and has ashlar dressings including rusticated quoins and keystones. A projecting back wing existed by 1816, (fn. 67) when the house contained two large parlours with sashed windows and marble chimney pieces, presumably separated, as later, by a central staircase; there were four bedrooms and four attics, cellars, and a large kitchen, dairy, and brewhouse, presumably at the rear. (fn. 68) The ground-floor south windows were enlarged to three lights perhaps by that date. An adjoining farmhouse to the east, absorbed into the holding during the 18th century, was converted into cottages and outbuildings. (fn. 69)
Other houses built or rebuilt during the 18th century included the later New Inn just over the Hailey boundary, which bears a datestone F/JH 1783 probably for members of the Fawdrey family; (fn. 70) a range at right angles was extended in 1977. (fn. 71) The Lamb Inn in Crawley village, apparently of 17th-century origin, (fn. 72) bears a datestone TM 1791 on a northwards extension along the street, built probably by Thomas Minday or Munday who sublet the premises to licensees. (fn. 73) Fir Tree House east of Dry Lane, a small two-storeyed house of three bays, was built or rebuilt in the early 19th century with an open pedimented stone hood over the central doorway, (fn. 74) perhaps for the fuller Richard Smith or his son John (both d. 1827). (fn. 75)
Inclosure in the mid 1790s (fn. 76) at first prompted little new building, though homesteads at the outlying Breach and Showells barns each included labourers' cottages by the 1840s, (fn. 77) and New Found Out Farm at Whiteoak green, an L-shaped, two-storeyed house of coursed stone with a symmetrical three-bay front, was built after the green's inclosure in 1853. (fn. 78) Chasewood Farm, adjoining Akeman Street in the midst of former woodland, was built as a model farmstead for the duke of Marlborough about 1873, to designs by the Oxford architect William Wilkinson (Fig. 61); (fn. 79) the house, two-storeyed with attics, is of locally dug stone and Welsh slate, with brick dressings and chimney stacks. Farm buildings to the west, constructed of the same materials, included a large square covered yard, with surrounding cattle, horse, and pig sheds, a fowl house, and a barn, most of which remained in 1999. Following an abortive sale of the Crawley estate in 1886 (fn. 80) the duke also spent considerable sums rebuilding and improving existing farmsteads: around 1888–90 new stone and tiled cottages (later a farmhouse) were built at Showells Farm, new buildings were erected at Breach Farm, and derelict cottages and outbuildings east of Crawley Farm were replaced with a new farmstead. (fn. 81) Extensive new industrial buildings were added at Crawley Mill from about the same period by the Witney blanketmanufacturers W. Smith & Co. (fn. 82) The only new institutional building was a small Anglican chapel and schoolroom near Uphill Farm, built in 1837; an outbuilding east of Crawley Farm was converted into a nonconformist chapel about 1820, but was demolished with other farm buildings about 1890. (fn. 83) The College, a cottage row on the road leading northwards from the village, was so called by 1876, but is not known to have fulfilled any educational function; possibly the name was meant ironically. (fn. 84) During the 20th century there was little new building, exceptions including a roughcast farmhouse at Showells Farm, erected after 1920, and various new mill buildings. Broken Hatch Farm on Porkers Road and Crawley Hill Farm on Foxburrow Lane, just over the ancient township boundary, were both built in the later 20th century, (fn. 85) the former in traditional Cotswold style with hoodmoulds over the windows, and the latter, a large L-shaped house of stone with hipped slated roofs, dormers, and a projecting gable, in an eclectic vernacular style. A few buildings, including the Lamb Inn, were extended, and barns east of Crawley Farm and north of Manor Farm were converted into houses. By 1942 most of the chief farms had mains water, and some but not all houses had electricity by the 1950s. (fn. 86) A war memorial cross, erected on a small green at the intersection of the chief roads into Crawley about 1920, received a new head in 1999, the original having been missing for some years. (fn. 87)
Inns, Clubs, and Festivities
The Ball, licensed possibly by the 1750s, seems to have been a forerunner of the Lamb, which was so called from the 1780s and occupied its present site in Crawley village by the early 19th century. (fn. 88) In 1770 the Ball's licensee was prosecuted for selling beer in unstamped vessels. (fn. 89) Sometimes a second house was licensed in the 1750s and 1760s, and the Swan in the 1780s, but usually there was only one public house. (fn. 90) The Lamb was acquired in the later 19th century by Hunt Edmunds Brewery of Banbury, (fn. 91) and remained open in 2003. The New Inn, opened in a farmhouse on Foxburrow Lane before 1871, was acquired in 1926 by Clinch and Co. of Witney, (fn. 92) and remained open as the Crawley Inn in 2003. No friendly societies are known, though a men's social club was mentioned in the early 20th century. (fn. 93)
In the early 18th century Crawley feast was celebrated with Witney and Hailey feasts around 10–11 September. (fn. 94) Crawley inhabitants also participated in the annual Whitsuntide hunt in Chase woods and Wychwood Forest, established probably by the late 16th century but suppressed in the 1850s. (fn. 95)
Airfield
Akeman Street airfield, straddling the Roman road in the the township's northern part, was established in 1940 as a relief landing ground for training units based at Brize Norton and, later, at Little Rissington (Glos.); it comprised a grass landing strip surrounded by an oval concrete perimeter track. Though closed in 1945 it was occasionally used later by private light aircraft and crop sprayers. (fn. 96)