Pages 176-177
A History of the County of Oxford: Volume 14, Bampton Hundred (Part Two). Originally published by Victoria County History, London, 2004.
This free content was digitised by double rekeying. All rights reserved.
MANOR AND MANOR FARM
Crawley township was part of Witney manor by 969 and so remained. (fn. 1) A freehold granted for service of keeping the bishop of Winchester's wood and providing iron for 7 ploughs nevertheless became a reputed manor during the late 13th century and the 14th, although owners never held courts or exercised manorial rights. (fn. 2) In 1237 William of Crawley held half a hide in Crawley for the service, together with a small assart at Delly End in Hailey; (fn. 3) Alan of Crawley, presumably his son, held a whole hide for 17s. 5d. and the same service in 1279, when he was called 'lord', (fn. 4) and from the early 14th century a freehold hide in Hailey was occupied with the estate for a further 8s. a year. (fn. 5) In 1308 Alan's son James sold his 'manor' of Crawley to Walter Wodelock, (fn. 6) from whom it passed about 1320 to John of Crawley, and about 1351, under an earlier settlement, to Alice Hatch (de Hecche), who that year let it to Richard Doffe. Thomas Austin, owner of lands in Curbridge and Caswell, held it in the 1360s and 1370s, and John Lovel (d. 1408), Lord Lovel, from about 1380. The service of providing iron for ploughs had by then been partially commuted at the rate of 1s. 8d. a plough. (fn. 7)
In 1386 Lovel granted the manor to Sir Richard Abberbury and others, presumably trustees, who in 1392 restored to the bishop of Winchester, in exchange for lands elsewhere, some 425 a. of arable, meadow, pasture, and wood, 6 houses and 7 yardlands, a mill, and £10 rent in Crawley, Hailey, and Witney, together with keepership of the bishop's wood, chase, and warren. (fn. 8) The bishop may by then have already recovered all or part of the reputed manor, however, since in 1387–8 he let to Simon Hayward a holding formerly belonging to John of Crawley and Thomas Austin, in return for guarding the wood. (fn. 9) The manor was not mentioned later, its land having presumably been absorbed into other holdings.
Manor Farm
A chief house for the estate, mentioned in 1351 when Richard Doffe was to maintain a chamber, grange, and chapel, (fn. 10) may have been a predecessor of Manor Farm at the village's southern end, which was said to have been formerly held by Thomas Austin, and which from the early 15th century was leased with 2 yardlands (perhaps the half hide of 1237) and 32 a. of assart. (fn. 11) A warren, with closes called Rokelands formerly attached to Crawley Mill, was held with the house by the 1430s. (fn. 12) Later lessees included Thomas Fermor or Ricards (d. 1485) of Caswell (fn. 13) and the bishop of Winchester's nephew Germayne Gardiner (executed 1543), both of whom presumably sublet it; (fn. 14) William Hobby was given a 21-year lease in 1566, (fn. 15) and was succeeded probably from the 1580s by John Hampshire of Eynsham, a royal servant whose family lived at Manor Farm in the earlier 17th century. (fn. 16) From the early 18th century both house and land were let to local farmers, (fn. 17) and were sold from Witney manor in 1886. (fn. 18)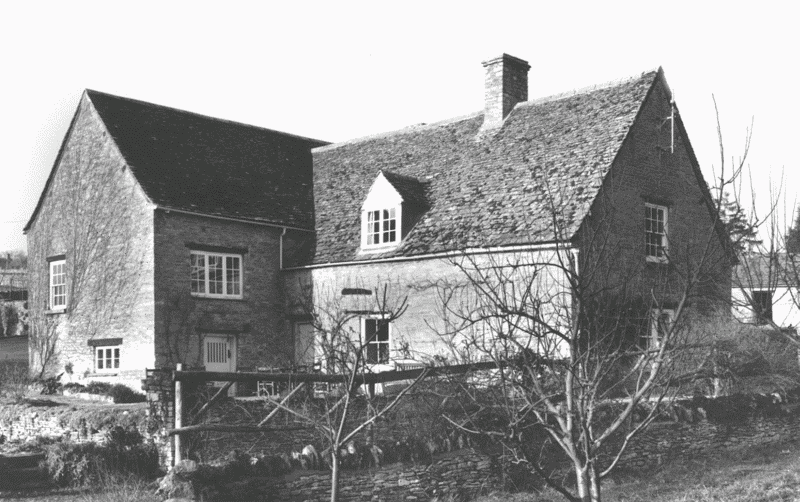 Building work was noted in 1456–7, when two carpenters worked for 32 days on the 'great chamber', a mason for two days on its stone walls, and a slater on its roof. (fn. 19) Late 15th-century lessees were to maintain thatch, perhaps on outbuildings, (fn. 20) and repairs to the hall and sheep-house roof were noted in 1479–80. (fn. 21) The existing house (Fig. 62), on a slope rising steeply from south to north, is rubble-built with stone-slated roofs, and is mainly two-storeyed; it forms a T-plan, excluding a single-storeyed outbuilding at right angles to the north-west. The three-bay east wing contained the hall, and has remains of a smoke-blackened arch-braced truss and principals resting on the top walls. The hall was later floored, all or part of it probably in the later 16th century, when an upper floor on a ring beam and chamfered joists was inserted just east of the truss, together with a chimney stack; presumably that work was for the Hobbys or Hampshires. A broad mullioned window was inserted in the east wall either then or later, and a doorway was inserted on the north; the window was later replaced, and the doorway blocked. The northern two bays of the three-bay cross wing have very thick walling along the east and north sides, a north stack, and massive joists, and may have formed the late-medieval chamber wing, though the southern bay and the wing's elm roof appear to be no earlier than the late 16th or 17th century. The roof space was made habitable in the 19th or 20th century when the house was refenestrated.