Pages 225-234
A History of the County of Oxford: Volume 14, Bampton Hundred (Part Two). Originally published by Victoria County History, London, 2004.
This free content was digitised by double rekeying. All rights reserved.
HAILEY
Introduction
The Forest township of Hailey, immediately north of Witney, included Hailey village, the scattered hamlets of Delly End and Poffley End, and, until the late 19th century, Woodgreen and part of West End, which from an early date both physically formed part of Witney. The hamlet of New Yatt straddled the township's and parish's eastern boundary with North Leigh, its larger part lying in Hailey. (fn. 1) The township had its own fields from the Middle Ages and its own officers and poor relief probably by the late 16th century, and from the mid 19th century it was usually counted a separate civil parish. (fn. 2) In 1877 it covered 2,879 acres; (fn. 3) 60 a. comprising Woodgreen, Hailey's part of West End, and adjacent closes were transferred to Witney borough in 1898, and, following further urban expansion, another 176 a. in the south-east was transferred in 1932. The loss of 22 a. to Crawley in 1954 and of 3 a. to Witney in 1968 reduced the area to 2,618 a. (1,060 ha.), further reduced to 1,034 ha. in 1985, and to 1,030 ha. (2,546 a.) in 2001. (fn. 4)
Township Boundaries and Landscape
The township's northern and eastern boundaries were those of Witney parish and of the 10th-century estate which preceded it, and are discussed above (and see Fig. 73). (fn. 5) Near New Yatt, the boundary was realigned along New Yatt Lane and along an intersecting lane leading northwards at the inclosure of Hailey common in 1853, leaving a small triangle of former common south of New Yatt Farm in North Leigh. (fn. 6) The western boundary with Crawley, established apparently by the later 13th century and possibly much earlier, (fn. 7) followed the WitneyCharlbury road and Priest Hill Lane, both probably ancient routes; further south it followed open-field furlong boundaries. (fn. 8) The southern boundary with Curbridge followed the river Windrush, which had probably formed the boundary of an estate at Curbridge in the 950s, and which by 1298 was also the southern boundary of Wychwood Forest. (fn. 9) The south-eastern boundary with Witney ran in the mid 19th century along the middle of West End and up the eastern side of the Woodstock road as far as Costells closes, leaving Woodgreen, Great and Little Costells, and the north side of West End in Hailey, but houses south of West End and east of Woodstock road in Witney. That boundary dated from the extension of Witney borough northwards in 1219–20; Hailey's earlier boundary with Witney borough, and perhaps with the pre-urban settlement which preceded it, was probably also the river Windrush. (fn. 10) Woodgreen and the northern side of West End remained in Hailey township until 1898 when, despite protests from Hailey ratepayers, they were annexed to Witney, together with a few riverside meadows. (fn. 11) In 1932 the Hailey—Witney boundary was completely redrawn to bring newly built-up areas into Witney, the new boundary following fields between Mount Pleasant and Middlefield Farm. Small areas were transferred to Crawley in 1954, to Ramsden, North Leigh, and Witney in 1985, and to Witney in 2001. (fn. 12)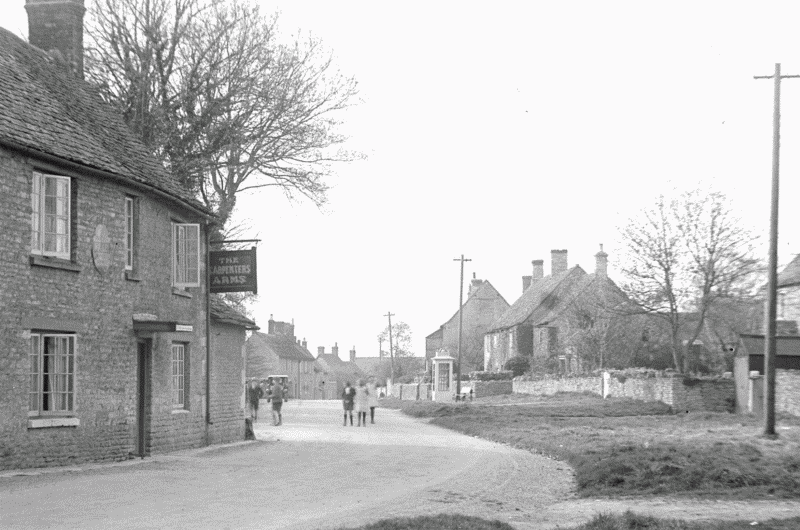 The township lies chiefly on Cornbrash, Forest Marble, and, around Delly End and Shakenoak Farm, White Limestone, with tongues of Kellaways Clay around Hailey village and further east around New Yatt and the former common. Boulder Clay overlies the Forest Marble around Gigley Farm, and alluvium predominates in the Windrush valley. In the 19th century soils were generally judged good, though drainage on the lower land was sometimes problematic. (fn. 13) The land is undulating, rising fairly steeply from around 80 m. by the river to 105 m. on Witney Road west of Burycroft Farm. Further north it rises more slowly to 115m. around Hailey village, Delly End, and New Yatt, reaching 139 m. on the northern boundary by Singe wood, and 148 m. in the extreme north-east. (fn. 14)
Roads
The township's northern part, though largely wooded until the 13th century, (fn. 15) was traversed by numerous ancient roads and tracks (see Figs. 3 and 73). The Roman Akeman Street crossed the township's north-west tip at Whiteoak green, and may have been the 'old way' forming a short stretch of the north-eastern boundary in 969, near an area of Romano-British settlement. (fn. 16) St John's Lane, a continuation of Pay Lane in Crawley, formed a longer part of the northern boundary in 969 when it was called suga rode, probably denoting a marshy track or woodland riding, and may also be of Roman origin. In the 18th century it ended at Whitings Lane, but may formerly have continued across the site of New Yatt towards Eynsham. (fn. 17) The intersecting road from Wilcote, called hunters' way in 969, probably continued south-westwards as a woodland track, passing through Delly End and on the line of Priest Hill Lane to connect with roads to Crawley and Minster Lovell, and perhaps also with the 10th-century 'wood street' running along Curbridge's western boundary. A 'green way' or 'sheep way' forming part of Hailey's north-east boundary with Wilcote in the 10th and 11th centuries connected presumably with Akeman Street.
Parts of the Witney—Charlbury road, along which much of Hailey village stands, may also be ancient: the section near Singe wood, part of the Hailey—Crawley boundary, was perhaps the 'Whitewykeway' (presumably to Whiteoak green) mentioned in the 14th century, (fn. 18) and in the 18th century the road formed part of a route from Witney to Stow-on-the-Wold (Glos.). (fn. 19) Nearer Witney, the road from Crawley through West End, called port way by the 15th century, was probably also early, forming part of a route through Newland to Eynsham and Oxford mentioned in 1212–13, while the road from Witney to Woodstock, skirting Hailey's south-eastern edge, was called port street in 1005 and Woodstock way in 1298. (fn. 20) The surviving network of roads and lanes was probably fully established by the later 15th century, when the 'royal way' from Foxburrow cross and 'the road from Witheridge (Witherodis) cross' were mentioned, together with a 'royal highway called Kenhome's way' and several other unidentified roads. (fn. 21) Roads mentioned in 1609 included New Yatt, Hatfield Pits, and Breach Lanes, Woodstock road, and Hailey 'street', (fn. 22) and a predecessor of Foxburrow Lane existed in the 18th century. (fn. 23) A footpath crossing the river Windrush at New Mill, via an 'ancient' wooden footbridge which collapsed in 1872, was probably also long-established. (fn. 24)
The Woodstock road was turnpiked in 1751, (fn. 25) and the Witney—Charlbury road through Hailey in 1800, (fn. 26) with a toll house on the north side of West End just east of the turn to Hailey. (fn. 27) Also turnpiked in 1800 was a branch route running westwards along Witney Road through Crawley to rejoin the main turnpike at Whiteoak green. (fn. 28) Some roads in the south-west were adjusted at the inclosure of Hailey's fields in 1824, notably Foxburrow Lane (which was straightened) and Priest Hill Lane (whose southern end was moved eastwards); (fn. 29) it was perhaps then that a reported funeral route across Hailey meadow and southwards to Puck Lane was suppressed. (fn. 30) Access to New Yatt, often difficult in winter, was greatly improved following the inclosure of Hailey common in 1853, (fn. 31) and a new private road was laid out from New Yatt to the Woodstock road across the former heath. (fn. 32) The Woodstock and Charlbury roads were disturnpiked in 1870 and 1877 respectively, (fn. 33) the Charlbury road remaining, with its westward branch through Crawley, the chief route through the township in the early 21st century.
Settlement and Population
Prehistoric and Iron-Age Settlement
Though a Neolithic axe-head was found at Delly End, (fn. 34) most evidence of early settlement is concentrated on the township's eastern fringe. Prehistoric flint-scatters have been found in the south-east near Witney, (fn. 35) and traces of Bronze-Age barrows and ring-ditches nearby and near Shakenoak Farm. Another barrow, south of North Leigh Lane, contained a disturbed cremation burial. (fn. 36) Part of the North Oxfordshire Grim's Ditch, an Iron-Age earthwork probably constructed in the early 1st century AD to demarcate a tribal political territory, runs through Singe wood and then west-east across the middle of the township; (fn. 37) possibly it was the Puttocks (later Parrocks) ditch mentioned from the 14th century, (fn. 38) and its course seems to have been partly preserved in the line of Spicers Lane, which until the 20th century ran from Poffley End to New Yatt Road. (fn. 39) The Ditch's presence suggests that this was perhaps a peripheral border area, and no associated settlement has been found.
Roman and Anglo-Saxon Settlement
Shakenoak Roman villa, established in the later 1st century, lay just over the boundary in Wilcote, (fn. 40) as did all or most of a small linear settlement along Akeman Street adjoining Hailey's north-eastern boundary. The latter, occupied perhaps until the 4th or 5th century, was recalled in the 11th-century field-name wicham on the Witney—Wilcote boundary. (fn. 41) Sherds of Roman pottery and tile have been found south of New Yatt, and Belgic or early Roman ware and abraided 3rd-century pottery east of New Yatt Road near Osney Hill Farm. (fn. 42)
Early Saxon settlement at and near Shakenoak villa is well attested, (fn. 43) but no evidence of early Saxon occupation has been found within Hailey township itself: much of the area apparently became managed woodland and wood pasture intersected by woodland tracks, with the township's eastern edge probably remaining open heath and scrubland. (fn. 44) All or most of the pasture clearings indicated by the names Hailey (hay leah or clearing), Delly (valley-clearing), Gigley, and Turley are probably pre-Conquest, however, and by 1086, when some of the extensive arable on Witney manor almost certainly lay in Hailey, there was probably settlement in the area of what became Hailey village, and perhaps also around Delly and Poffley. (fn. 45) That last name, from Pohhas's wielle, recalls not a clearing but a well or spring, perhaps the pond formerly near the Old Manor House. (fn. 46)
Population from the Middle Ages
By the early 13th century the township contained at least 35–40 households, most of them settled on probably long-established customary holdings. By the end of the century woodland clearance or assarting, dominated at first by outsiders, may have been increasing the density if not necessarily the geographical spread of settlement: in the 1270s thirty-two freeholders, none of them recorded earlier, held assarts with houses, (fn. 47) while several assarts or encroachments in Delly and Poffley Ends, Hailey, and West End were built on certainly by the mid 14th century. (fn. 48) At least 43 taxpayers were listed in 1306 and 47 in 1327, (fn. 49) many of them, on surname evidence, probably resident householders. (fn. 50) As elsewhere on Witney manor the effects of 14th-century plague were catastrophic, up to two thirds of Hailey's customary tenants dying in 1348–9, and more in 1361; only 74 Hailey inhabitants over the age of 14 paid poll tax in 1377, and long-term population decline led to amalgamation of holdings, (fn. 51) several of which included vacant tofts or house-plots. (fn. 52) By the mid 16th century, when 22 taxpayers were noted, (fn. 53) the population may, however, have been rising again; some 57 houses and cottages were mentioned in 1609, (fn. 54) and in 1642 the adult population was perhaps around 200. (fn. 55) Fifty householders were assessed for hearth tax in 1662, (fn. 56) and by 1676 the total population may have exceeded 400, of whom probably a third or more lived at West End or Woodgreen, effectively in Witney. (fn. 57)
A clergyman's estimate of 170 houses in 1738 was probably inflated: in 1759, including those at New Yatt, there were said to be 90 houses occupied by 100 families, and in the 1770s clergy serving Hailey chapel reported around 40–60 families and 80 houses, probably chiefly in the township's rural part. (fn. 58) By 1801 the total population, including West End and Woodgreen, was 993 accommodated in 212 houses. The population fell slightly before 1811, but rose before 1841 to 1,440 in 302 houses, of which 105 were at West End and Woodgreen and 7 at New Mill, with 190 in the township's rural part. The total population fell again to 1,265 by 1881, but, allowing for boundary changes, rose from the later 1880s: in 1891 it was 1,365, in 1901 (following the removal of West End and Woodgreen) 822, and in 1911 it was 972, a total of 234 households in the rural settlements. Following a slight fall before 1921 population rose by 1931 to 1,024, and in 1951, following further losses to Witney, it was 749, a real increase of 25 per cent over 20 years. By 1991 it was 1,332, a total of 498 households. (fn. 59)
Hailey Village
Settlement in the township, typical of a forest area, comprises several small scattered hamlets or 'ends' and a few outlying farmhouses, dispersed around the straggling linear village of Hailey. By the late 16th century the village was sometimes called Middletown, reflecting its position between Delly and Poffley Ends. (fn. 60) Presumably the 'hay leah' or clearing from which both village and township were named formed an early and important focus, and although the clearing's original extent and location are unknown the village probably developed within it along the Witney—Charlbury road. The 13th-century surname 'of Hailey' (fn. 61) referred perhaps to settlement in that area; Hunters Close Farm, on the street's north side near Breach Lane, is of probably late medieval origin, (fn. 62) and the 13th-century surname Witherode implies medieval settlement near Witheridge Cross, at the village's southern edge near Poffley End. (fn. 63) Certainly by the late 16th or early 17th century houses were apparently scattered along both sides of the modern village street from Witheridge Cross to just east of Delly End. (fn. 64) By then the village lay on the northern edge of the open fields, though in the earlier Middle Ages the arable may have extended further north, and in the 13th and 14th centuries there was assarting on both sides of the Charlbury road, just west of the modern village. (fn. 65) The names Witheridge Cross and Foxburrow (earlier Voxborowe) Cross, recorded in the 15th century, referred perhaps to stone crosses at the respective junctions with Hatfield and Foxburrow Lanes. (fn. 66)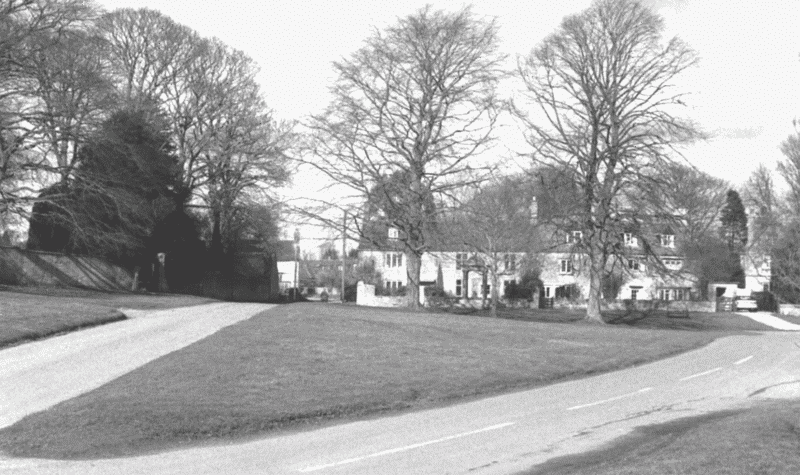 Delly End and Poffley End
Settlement at Delly and Poffley is attested by mid 13th-century surnames, (fn. 67) and 13th-century pottery has been found under the late medieval Old Manor at Poffley End, (fn. 68) though both places were probably of earlier origin. Delly End, by the 16th century clustered around a small green, (fn. 69) lies at the probable intersection of the 10th-century hunters' way and of an early route running south-westwards from St John's Lane through Crawley. (fn. 70) The road along which Poffley End straggles may also have been early, and at least one 13th-century Poffley resident seems to have been a customary tenant, (fn. 71) implying that the holding was long-established rather than the result of recent assarting. Thirteenth- and 14th-century assarting may nevertheless have enlarged the settlements: takers of assart land included several named 'of Poffley' or 'of Delly', (fn. 72) and in the 1330s an assart at Delly End contained three houses built side by side, (fn. 73) while in the 16th century several cottages stood on encroachments on Delly and Poffley greens. (fn. 74) By the early 17th century there were at least 15 houses in and around Delly End and perhaps as many at Poffley End, (fn. 75) and in 1841 Delly End contained 24 houses and Poffley End twenty-five. (fn. 76) Both remained subsidiary hamlets, taxed usually with Hailey, though in 1316 Delly End was separately listed with Witney's townships. (fn. 77) The suffix 'end' was recorded intermittently for both places from the late 15th or 16th century. (fn. 78)
New Yatt
New Yatt, a straggling group of cottages on the edge of the heath along the lane to North Leigh, was not recorded by name before the late 16th century, (fn. 79) and may represent relatively late encroachment: certainly there was no settlement there in the 11th century, when a description of Witney's boundaries mentioned only a hedgerow at that point. (fn. 80) Scattered later-medieval settlement there and elsewhere on the township's eastern edge may, however, be indicated by the 14th-century surname 'of Merryfield', a name later denoting an area of former scrubby heath extending from north of New Yatt to near Middlefield Farm. (fn. 81) Assarts at 'Muryfeldescroft' were mentioned in the 1330s and there was a toft or vacant house-plot and close at Merryfield in 1474, while an assart and house at 'Groundessuylye', mentioned in 1339–40, may have been nearby. (fn. 82) New Yatt green, a tongue of common extending westwards along New Yatt Lane, was sometimes called Merryfield green, (fn. 83) and the settlement may thus have originated as one of several small scattered encroachments around the heath, the 'new gate' from which it was named perhaps dividing the heath from private closes, or Hailey from North Leigh.
By the early 17th century there were at least ten cottages in the Hailey part of New Yatt, several of them built apparently on encroachments or assarts, (fn. 84) and in 1841 there were 19 houses occupied chiefly by agricultural labourers. (fn. 85) Until the heath's inclosure in 1849–53 all the houses stood some way back from the lane along the edge of the heath or green, whose former southern perimeter is marked by the modern Home Farm on New Yatt Road. (fn. 86)
Other Outlying Sites
Settlement at Woodgreen and West End, the latter named presumably in relation to the green, apparently also followed 13th- and 14th-century assarting, and was presumably stimulated by the development of Witney borough immediately to the south: both areas became effectively part of Witney despite remaining mostly outside its boundaries. Houses on assarts at West End were mentioned from the mid 14th century, and although intensive settlement around Woodgreen may not have developed until later, the house of a 13th-century freeholder named 'of Costouwe' perhaps stood to its north-east near Costow or Costells closes. (fn. 87) Settlement at Whiteoak green, where by 1609 there were a few cottages on both sides of the township boundary, (fn. 88) may also be medieval in origin, and the 13th- and 14th-century surnames at Fen and Losingrove imply medieval settlement south-east of Hailey village near the modern University and Downhill Farms, where the names Venny or Ven End, Lawson grove, and Down End were recorded later. (fn. 89)
Most other outlying sites seem to have been established during the 16th century or later on recently inclosed assarts, many of them as farmsteads for sizeable copyhold estates. (fn. 90) Buildings at Middlefield, Swanhall, Shakenoak, and Gigley Farms date from no earlier than the 17th century, (fn. 91) and cottages at or near Turley Farm were mentioned in 1609. (fn. 92) Predecessors of Burycroft, University, Downhill, Starveall, and Merryfield Farms, the last a little way north-west of its 19th-century successor, existed by the later 18th century. (fn. 93) An outlying barn at the Hays, in the township's north-east corner, existed probably by 1685, (fn. 94) and one on the site of Common Leys Farm by the 1760s. (fn. 95)
Domestic Buildings and Expansion of Settlement
The Middle Ages to c. 1700
The earliest buildings within the township's rural part are the Old Manor House at Poffley End and Hunters Close Farm in Middletown, both of late medieval origin. The former, (fn. 96) mostly two-storeyed with attics, is aligned along the street's east side, with a projecting back wing forming a T-plan, and is of coursed limestone rubble with stone-slated roofs, a rendered front, and some 17th-century rendering at the rear. Like other houses in the township it was copyhold of Witney manor, the name Old Manor House being a 20th-century invention. (fn. 97) At its north-east end it incorporates the hall and parlour of a late medieval house; the blocked outer doors of a screens passage remain, and the roof above the hall, in the building's central part, has smoke-blackened rafters. The room above the parlour, to its north, has an open arch-braced collar roof. The original service rooms were presumably beyond the screens on the south, where an abutting two-storeyed range was built in the 18th century. A stack was inserted probably in the 17th century, and gabled first- and attic floors were built over the former hall; they are lit by hollow-chamfered stonemullioned windows with hoodmoulds, progressing from four lights on the ground floor to two in the attic. The 17th-century back wing, originally one-storeyed with attics but raised to two storeys and attics in the 19th century, was probably contemporary. Nothing is known of the house's medieval ownership, though presumably it was occupied with a substantial holding; the early 17th-century work may have been for the local landowner and farmer Robert Yate (d. c. 1640), who owned surrounding closes but may already have been living at Swanhall Farm. (fn. 98) In the late 18th or early 19th century the house was converted into cottages, and was returned to single occupancy in 1958. (fn. 99)
Hunters Close Farm, (fn. 100) north of Hailey's main street, is an L-shaped, two-storeyed house with concrete-tiled roofs, the main range built of squared and coursed stone, and the northern cross-wing, projecting southwestwards, of limestone rubble. The main range, south-east of the main stack, was probably originally timber-framed, and the plan suggests a medieval origin, with a first period of improvement in the late 16th or early 17th century when a stair turret was added at the back. The house's parlour end, north-west of the main stack, is 17th-century. In the earlier 19th century the house was occupied by a farmer of some 60 a., but earlier occupiers are not known. (fn. 101)
Most other vernacular buildings are of the 17th century and later, built chiefly of coursed limestone rubble with stone-slated roofs. (fn. 102) Some agricultural buildings and one or two cottages were still thatched in the 19th and early 20th century. (fn. 103) In 1662 two thirds of the houses were small, taxed on only one or two hearths, with another fifth taxed on three; seven larger houses included the outlying Middlefield Farm (5 hearths) and possibly a predecessor of Swanhall Farm (6 hearths), which both had substantial estates and are described below. (fn. 104) Other outlying houses include Shakenoak Farm, a small L-shaped farmhouse of two storeys, whose parlour and service ends abut adjacent sides of the main room; the house was built on assart land in the early 17th century for a small copyhold, increased in 1834 to 130 a., (fn. 105) though throughout the 19th century the house was occupied chiefly by agricultural labourers and farm bailiffs. (fn. 106) A barn to the east was converted into a house before the 1990s. Gigley Farm, near the township's northern boundary, incorporates in its rear (west) range a three-bay 17th-century farmhouse of two storeys, and some masonry which may be still earlier. In the 1770s and 1780s the house was owned by the Batt family, Witney surgeons, who inoculated there; in the early 19th century a three-bay front range of two-and-a-half storeys was added on the east, perhaps by the Batts or their non-resident gentleman lessee Simon Sharpe. (fn. 107) That range is of dressed rubble, and has endstacks and segmental lintels with keystones over the main windows. From the 1830s or earlier it was a tenanted farmhouse, (fn. 108) and an attached farmyard with barn and cattle shelter, contemporary with the front range, survives on the south.
Seventeenth-century houses within the villages include Winnings Farmhouse at Poffley End, Grass Ground Cottage and Farm and Giernals Farm Cottage in Middletown, Windrush Farmhouse north of University Farm, and possibly Greystones at Delly End, the last with chamfered stone-mullioned and transomed windows. (fn. 109)
The 18th Century
During the 18th century several farmhouses and cottages were remodelled or rebuilt, among them Ivydene, Greenside and Manor Cottage at Delly End, the present Lamb and Flag and White Cottage in Middletown, Home Farm at New Yatt, and Greyroofs, Hill View, Swanhall Cottage, and Cornerways Cottage at Poffley End. (fn. 110) Witheridge Farm, a modest 18th-century farmhouse of three bays and two storeys south of Hailey village, incorporates reused beams and joists from a late 16th- or early 17th-century house, and possibly its chimneystack; it was refenestrated in the 19th century when occupied by labourers or farm bailiffs, (fn. 111) and a fourth, single-storeyed bay on the north was raised to full height in the 20th century.
Hailey Manor House at Delly End was built west of the green in the mid 18th century, perhaps for Simon Wisdom (d. 1777) who moved to Hailey from Wilcote House in North Leigh in the 1760s. (fn. 112) He was succeeded by his cousin Ann Sharpe (d. 1780) and her brother Simon Sharpe (d. c. 1817), who lived there until about 1814. (fn. 113) The main range, of seven wide bays and two storeys, has a plain, ashlar-faced former entrance-front facing south-eastwards, with stone margins and keystones to sash-windows, and a modillion cornice. A full-height canted bay-window at the south-west end was added before 1816, when there was also a back wing on an L-plan. (fn. 114) Dormers and plate-glass in the main range were added in the mid 19th century probably by the landed proprietor W. E. Lamb, who was presumably also responsible for replacing the back wing with a two-bay range facing south-west, and with a doubleheight kitchen in a north-west extension, the additions being linked behind the main range. (fn. 115) The house was occupied in the late 19th century by a farmer, and in the earlier 20th century by the Phipps family, for a time the township's dominant gentry; before 1948 they added a billiard room to the south-west range, moved the entrance to the north-east, converted the former central entrance into a morning room, and changed the former link-passage behind the main range into a staircase hall. (fn. 116) An early 18th-century fireplace in the north-east reception room was inserted after 1948, and a single-storey south-west wing, linked to an 18th-century former stable to its north-west, was built after 1963. (fn. 117) The name Hailey Manor House (formerly Hailey House) was adopted in the later 19th century. (fn. 118)
The 19th and 20th Centuries
There was little 19th-century expansion of built-up areas in the township's rural part, perhaps reflecting the limited impact of inclosure and, from the 1850s to 1880s, economic difficulties and falling population. (fn. 119) Several farmhouses and cottages were rebuilt, however, among them Downhill Farm about 1806, (fn. 120) Turley Farm about the same time, (fn. 121) Burycroft Farm, rebuilt by a tenant about 1842, (fn. 122) and Merryfield Farm, rebuilt on a new site before 1876. (fn. 123) A row of seven cottages fronting Crawley Road was built before 1835, (fn. 124) and cottages on Wood Lane before 1847. (fn. 125)
Inclosure of the heath at New Yatt had greater impact: a commentator in 1861 noted 'many new and comfortable cottages' and a new 'neatness and cleanliness', (fn. 126) and by 1876 several new buildings fronted the roadside. (fn. 127) Some rebuilding there nevertheless predated inclosure, a small stone-built cottage north of the road bearing a datestone WKC 1834 (for William Kearse Cowley). (fn. 128) Heath Holm Farm at New Yatt, a two-storeyed L-shaped farmhouse of rock-faced stone with slated roofs, was built east of New Yatt road on the site of an earlier cottage between 1899 and 1921. (fn. 129) Merryfield House on New Yatt road, designed by Oliver Hill in romantic Cotswold style, was built in 1927 for the Witney blanket-manufacturer Sidney Smith, and over the main doorway has a carved stone panel by the sculptor Eric Gill. (fn. 130)
New institutional buildings in the township included the vicarage house (c. 1842) and church (1868–9) in Middletown, the latter replacing an 18th-century predecessor; a National school (1848), also in Middletown; and nonconformist chapels at Poffley End (1853) and New Yatt (1864). Larger nonconformist chapels were built at Middletown in 1908 and at New Yatt in 1912. (fn. 131) A large detached police-house in traditional Cotswold style was built north-west of Middletown after 1921, just over the Crawley boundary. (fn. 132) A 'Peace Memorial' on Delly green, in the form of a small domed temple supported on four columns, was erected about 1920 by Mrs Phipps of Hailey Manor, and a war memorial cross near the church in Middletown about the same time. (fn. 133)
Land at Costalls or Costells, adjoining the Woodstock road near Woodgreen, was sold as building land in 1879, (fn. 134) but intensive new building around Woodstock road, West End, and Hailey Fields postdated their transfers to Witney in 1898 and 1932. (fn. 135) Most later development was confined to those areas, though there was also some controlled new building within the rural township: demand for building sites was commented on in 1943, by which time land adjoining Hailey's main street north-west of the school was scheduled for 13 new houses of which two had already been built, and in 1945 land adjoining the Ramsden road at Poffley End was sold with permission for building at a density of four houses an acre. (fn. 136) A small housing estate on Foxburrow Lane existed by the 1950s, and a larger one south of Hailey's main street, between the former vicarage house and Priest Hill Lane, by the early 1970s, most of the houses of standard design and roughcast. At New Yatt there was infilling on both sides of the road between the 1950s and 1970s, and a few houses were built north of Delly End on Wood Lane, and within Singe wood near Whiteoak green. (fn. 137) Plans in 1970 to build 25 houses at Hunters Close Farm were vetoed following local protests, (fn. 138) and in 1999 the reduced township retained a distinctly rural air despite its proximity to Witney. An old people's home was built near Hailey church in the late 20th century, and some agricultural buildings were converted into houses, notably at University, (fn. 139) Downhill, and Shakenoak Farms.
Services
A post office on Crawley Road in 1861 closed soon after, to be replaced before 1899 by one in Hailey village. In 1921 the post office was opposite the Lamb and Flag, and moved later to a house next to the former churchyard, closing after 1976. (fn. 140) The Witney office remained the nearest money order and telegraph office in 1939. (fn. 141)
Electricity and mains water, the former supplied by the Wessex Electric Co., were available from about 1938, though in the 1940s many farmhouses still relied on private supplies. (fn. 142)
Social Life
Inns and Public Houses
An alehouse keeper in Hailey was mentioned in 1690. (fn. 143) Up to ten inns or alehouses were licensed in the later 18th century, among which the Three Pigeons, the King of Prussia, the Three Tuns, and probably several others were at Woodgreen or West End. (fn. 144) Within the township's rural part the Roebuck at Delly End was licensed probably by 1758, and the Bird in Hand at Whiteoak Green by the 1760s. (fn. 145) The Carpenter's Arms in Middletown, so called by 1803, was apparently the same as the Axe and Saw mentioned from the 1770s, (fn. 146) and the Lamb and Flag, also in Middletown, opened apparently between 1821 and 1841. (fn. 147) The Carpenter's Arms and the Roebuck both closed in the 1960s or early 1970s, (fn. 148) but the Lamb and Flag and Bird in Hand remained in 1999, the latter having been extended into a small hotel with a complex of chalet-style buildings at the rear.
The Saddler's Arms at New Yatt, opened by a family of saddlers as a beer house before 1877, was rebuilt in the mid 20th century and also remained in 1999. (fn. 149) The Robin Hood at Hailey Fields, so called by around 1910, opened as a beer house before 1899 and continued in the 1990s. (fn. 150) The Broadaxe, the Trout, and the Green Dragon, all licensed in the later 18th century, have not been identified. (fn. 151)
Clubs and Festivities
Maypole Acre, in the open fields, was mentioned in 1824, though its name may be a corruption of Maple rather than referring to a maypole. (fn. 152) Rogation-week perambulation of the manorial boundary, starting at Burycroft gate in Hailey, was mentioned about 1600, (fn. 153) and a payment of 5s. by the churchwardens on 5 November 1778 was presumably for bell-ringing at Gunpowder-day celebrations. (fn. 154)
Hailey feast, in the early 18th century held in September with Witney feast, (fn. 155) was transferred to early August before the mid 19th century, when a Sunday church-service was followed on the Monday by cricket and dancing. (fn. 156) In the early 20th century festivities were concentrated at Delly End: there were sports and games on a field behind Hailey Manor, with separate lunches for men and women, and a fair was held on the green. During the same period there was carol-singing and dancing at Hailey Manor on Christmas Eve, hosted, like many such events, by the Phippses, and children's Ascension day festivities included a procession from Hailey Manor to the church. (fn. 157)
Benefit clubs at the Lamb and Flag, the Carpenter's Arms, the Roebuck, and the Bird in Hand existed by the late 19th or early 20th century, club-day celebrations at Whitsuntide including a dinner, processions accompanied by brass bands from neighbouring parishes, and sometimes a fair. There was a clothing club, and blankets were supplied by local landowners presumably for lending over winter. In the 1870s religious tracts were circulated through a village library run by the vicar, and in the early 1880s there was a short-lived Temperance Society. A cricket club founded by 1869 continued in the 20th century, and in the 1940s played on a pitch near Hailey Manor; (fn. 158) no early football club is known, though an 11-acre close near Singe wood was called Football ground in 1841. (fn. 159) A boys' club equipped with gamestables met in a loft over a stable adjoining the school house in the early 1900s. (fn. 160)
A village hall, adjoining public playing fields south of the housing estate in Hailey village, was built in 1963. (fn. 161)