Pages 234-236
A History of the County of Oxford: Volume 14, Bampton Hundred (Part Two). Originally published by Victoria County History, London, 2004.
This free content was digitised by double rekeying. All rights reserved.
ESTATES
Like the rest of Witney parish Hailey township formed part of Witney manor. (fn. 1) During the 16th century and early 17th several large copyhold estates were formed, chiefly from inclosed assart; a few became centred on new outlying farmhouses, and by the late 18th century were effectively freehold. (fn. 2)
University Farm Estate
An estate centred on University Farm, near Hailey village's southern end, originated in a grant by the Witney fuller and woolman William Martin or Bishop, who in 1540 gave to University College, Oxford, a freehold yardland (around 20–25 a.), two small closes (4 a.), and an adjacent assart-close of 14 a. held by copy. (fn. 3) The college, which in the 1590s briefly held another 60 a. of assart from Witney manor, (fn. 4) leased the estate to local farmers and gentry, some of whom presumably sublet it. (fn. 5) By the 1740s, when let to Thomas Godfrey of Milton-under-Wychwood, it seems to have been occupied with a copyhold of 3 yardlands, which was surrendered to the college with the other copyhold close in 1757 when Godfrey's son failed to pay off a mortgage. (fn. 6) In 1758 the college estate comprised around 88 a., including 60 a. of open-field arable and meadow, (fn. 7) and the acreage remained similar after inclosure in 1824. (fn. 8) From the mid 18th century the estate was let to tenant farmers and was sold to the tenant in 1920. (fn. 9)
No house was mentioned before 1742, when Godfrey's 3 yardlands included a house with 3 adjacent closes. (fn. 10) Presumably that was the house on the site of University Farm occupied with the holding in 1758, set back from the road and aligned west-east, with a barn or outbuilding projecting northwards from its east end. A second barn stood on a detached site some 100yd. to the south at Foxburrow cross. (fn. 11) In 1805 the house was old and decayed, and the tenant was excused from rebuilding should it collapse during his 21-year lease. (fn. 12) A cottage and two-acre close to its south was bought from Samuel Shuffrey in 1830, linking the homestead with Foxburrow barn, and the farmhouse may have been rebuilt soon after, apparently at right angles to its predecessor. (fn. 13) A stone barn fronting the road was rebuilt in 1832. (fn. 14) In 1878 the house, of stone and slate, was 'small but comfortable', with an adjacent barn and other agricultural buildings; (fn. 15) by 1937 it was tiled, and included a drawing and dining room with 3 first-floor and 2 attic-bedrooms. (fn. 16) The buildings were separated from the farmland in the late 20th century; Foxburrow barn was converted into a house in 1980, (fn. 17) and the roadside barn presumably about the same time.
Swanhall Farm Estate
A copyhold estate of some 150 a., centred on the outlying Swanhall (formerly Swanhill) Farm, was built up before 1609 by the gentleman-farmer Robert Yate (d. c. 1640), related to the Yates of Standlake; he was succeeded by his son John (d. 1658), who held additional open-field land, by John's daughter Abigail and her husband John White (d. 1701), and by their sons Sampson (d. 1708) and John (d. 1712), whose nephew John Ashworth, with his mother Mary, sold it in 1738 to Sir George Fettiplace (d. 1746). (fn. 18) During the later 18th century the estate was variously owned by the Fettiplaces and their relatives the Lacys, owners from 1763 of Eynsham manor, with which it descended to Robert Langford (d. 1785) and the Duberley family; in the 19th century it was owned by the Waines and (later) the Clinches, (fn. 19) and from 1879 by James Mason (d. 1903) of Eynsham Hall, who before the early 20th century accumulated over 500 a. in Hailey and New Yatt. (fn. 20) The Yates and Whites resided, but from the earlier 18th century both house and land were let to tenant farmers, forming in the 1790s part of a farm of over 300 a., (fn. 21) and in the earlier 20th century they were sold to the tenant. (fn. 22) The house remained a farmhouse in 1999.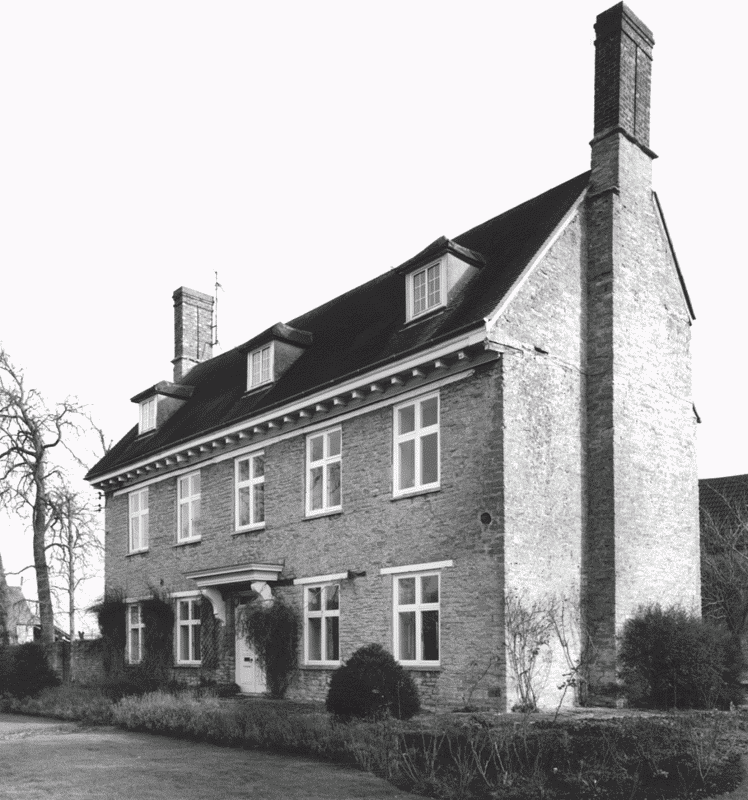 Robert Yate owned a cockloft and barn at 'Swanell' in 1639, (fn. 23) and two bays of the existing house's rear (north) wing, which retain a massive beam with lamb's tongue stops, appear to be early 17th-century. It is not certain, however, whether the house then occupied by Yate, which included a hall, parlour, kitchen, numerous outbuildings, and at least nine upper rooms, stood on that site or another, perhaps in Poffley End. (fn. 24) The present rubble-built main range (Fig. 72), (fn. 25) south-facing and forming an L with the rear wing, was built perhaps about 1670 for John and Abigail White. (fn. 26) It is single-pile, of five bays and two storeys plus attics, and on the two main floors probably originally had windows with stone cross-mullions and transoms; its slightly later appearance results from the timber modillion cornice, timber cross-casements, and gabled dormers installed before the later 19th century. (fn. 27) Two rooms on each floor flank a narrow well-staircase with thick balusters and pendants. A triangular hood over the central doorway in 1861 was replaced by a flat hood during the 20th century. (fn. 28) An 18th-century rubble-built barn of five bays, with a central threshing floor, survives to the south-east.
Middlefield Farm Estate
An estate centred on Middlefield Farm, around 135 a. in the 1790s, (fn. 29) was acquired before 1646 by John Clarke, who in 1652 transferred it to his son, John. (fn. 30) He or another John Clarke, a physician, lived at Middlefield at his death in 1707. (fn. 31) Later owners included John Harris in the 1730s, from the 1760s the Wright family, and from the early 19th century their relatives the Birds, who in 1872 sold it to their tenant Henry Calcutt. In 1885 it was acquired by the Marriotts of Witney, and was made freehold in 1899. (fn. 32) The house, (fn. 33) west of New Yatt road, incorporates two bays of an earlier 17th-century two-storeyed house with ovolo-moulded mullioned windows, extended southwards in the mid 17th century by a gabled three-storeyed bay with a large stack, associated newel stair, and entrance; the bay has windows one above the other, progressing from four-light on the ground floor to three-light in the attic. Presumably the work was carried out by John Clarke, whose initials, with the date 1656, appear on a rectangular dovecot to the south-east, (fn. 34) and in 1665 the house was taxed on 5 hearths. (fn. 35) From around 1810 it was a tenanted farmhouse, (fn. 36) and during the 19th century it was again extended southwards, the east front and north end being refenestrated apparently before 1861. (fn. 37) The house was reroofed with Stonesfield slate about 1950, (fn. 38) and was separated from its farmland and from agricultural buildings to the north in the later 20th century. A three-storey rubble-built weaving shed to the west, with the inscription JW 1781 for John Wright (d. c. 1795), (fn. 39) presumably replaced weaving shops attached to the copyhold by 1652. (fn. 40)
Home Farm, New Yatt
An estate of 120–150 a. in New Yatt, later centred on Home Farm, was owned from the late 16th century by the Wenmans of Caswell House in Curbridge, passing in 1800 to their heir Sophia Wykeham, in 1824 (by sale) to George Richards, vicar of Bampton, (fn. 41) and in the late 19th century to James Mason of Eynsham Hall. (fn. 42) Home Farm, apparently built for the estate in the early 18th century on assart land fronting the heath, is a long, three-bay, two-storeyed house of limestone rubble, with an attic lit by roof dormers, and an attached barn and granary. (fn. 43) A red-brick service- and dairy-wing are 19th-century. It remained a tenanted farmhouse until the late 19th century, when it was occupied by a farm bailiff. (fn. 44)
Burycroft Farm
A small area of inclosed demesne arable by the river Windrush, called Inland and (later) Burycroft or Berrycroft, remained a separate leasehold estate from the Middle Ages, distinct from the township's copyholds. (fn. 45) In the 15th century, reckoned at 40 a., it was let for 25s. with meadows associated with a former fulling mill, (fn. 46) and in the 16th century it was briefly held with Curbridge farm. (fn. 47) In the 1580s Thomas Box acquired it in connection with building New Mill, with which it descended until the 1730s; (fn. 48) thereafter it was separately leased and, usually, sublet to local farmers. (fn. 49) Like Curbridge farm it was excluded from the sale of Witney manor in 1862, and in 1890 the Ecclesiastical Commissioners sold it to the tenant as a discrete 49-a. farm. (fn. 50) A barn, stable, and summer house for the holding existed by 1785, and about 1842 the non-resident lessee E. H. Butler rebuilt the farmhouse. (fn. 51)