Pages 97-100
A History of the County of Oxford: Volume 14, Bampton Hundred (Part Two). Originally published by Victoria County History, London, 2004.
This free content was digitised by double rekeying. All rights reserved.
TRADE AND INDUSTRY 1900–1945
During the earlier 20th century Witney's economy remained chiefly dependent on the blanket industry and to a lesser extent on glove manufacture, and seems generally to have thrived despite a slight fall in population, with relatively limited unemployment even during the depression of the 1930s. (fn. 1) A Witney chamber of trade and commerce, founded by local shopkeepers and store managers in 1920, acquired 22 members, though a traders' exhibition proposed for 1934 was abandoned through lack of interest. (fn. 2) A few significant new businesses opened in the 1920s and 1930s, but, apart from piecemeal modernization in the blanket industry, there were few structural changes before the Second World War, when one or two manufacturing firms moved to Witney partly to escape the London Blitz. By the mid 1940s the town was 'primarily industrial', with a significant part of its female labour, particularly in the blanket factories and laundries, drawn from surrounding villages. By contrast a substantial proportion of the male population worked elsewhere, principally in the maintenance unit at Brize Norton airfield or in the Oxford car factories, and there was already a perceived need for new industry within the town. (fn. 3)
The Blanket Industry 1900–1945
Throughout the earlier 20th century blanketmanufacture continued to employ large numbers: in 1900 there were around 250 looms and 800 workers, half of them employed by Charles Early & Co., and by 1922 there were over 1,000 workers and 400 looms. (fn. 4) Despite recession the industry still employed over a thousand in 1937, when most of the 400 weavers were women, many of them from outside the town. (fn. 5) By then Witney produced some 700,000 pairs of blankets a year, between a fifth and a quarter of national output; (fn. 6) capacity remained broadly similar after the Second World War when the main firms operated 475 looms with 322 weavers, (fn. 7) and presumably large numbers were employed in other processes.
During the early 20th century steam- and waterpower was supplemented by gas engines and (at Mount Mills) by an oil engine, and from 1934 Witney Mill was powered by electricity supplied from a turbo-alternator and the national grid. (fn. 8) Rotary milling machines replaced fulling stocks for shrinking and felting blankets, and, more significantly, coloured blankets were introduced, requiring considerable expansion of dyeing plants. (fn. 9) Charles Early & Co., William Smith & Co., and Marriott & Sons remained the chief manufacturers, accounting for 90 per cent of the town's production in 1949; (fn. 10) in the mid 1920s Smith's merged with the large Manchester wholesalers J. & N. Philips to form a combined firm, (fn. 11) and in 1924, following the failure of a blanket-making enterprise by the glove-makers Pritchett and Webley, Marriott & Sons acquired Worsham Mill in Asthall, developing it as a willeying, spinning, and (later) warehousing unit. (fn. 12) All three firms became private limited companies by 1910, though they remained essentially family firms until after the Second World War. (fn. 13) A fourth company, James Walker and Sons Ltd of Mirfield (Yorks.), opened a factory at the Crofts in 1933, and in the late 1940s had 50 looms, 10 per cent of Witney's total; (fn. 14) the initiative allowed the company to exploit the Witney trade-name, which, since a court case of 1908–9, could be used only for products manufactured in Witney rather than for a generic type of blanket, a dispute which illustrated the widespread esteem in which Witney blankets were held. (fn. 15) The Witney Blanket Company continued as a mail-order supplier of blankets, bedding, clothes, and footwear, moving in 1921 to a new factory at the Leys where, by the 1930s, it also manufactured specialist mattresses, quilts, and feather beds, and ran a successful blanket-cleaning service. (fn. 16)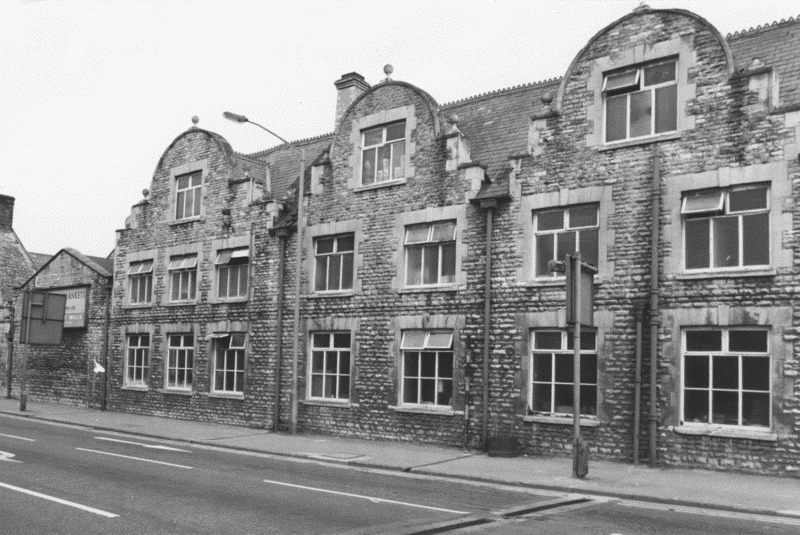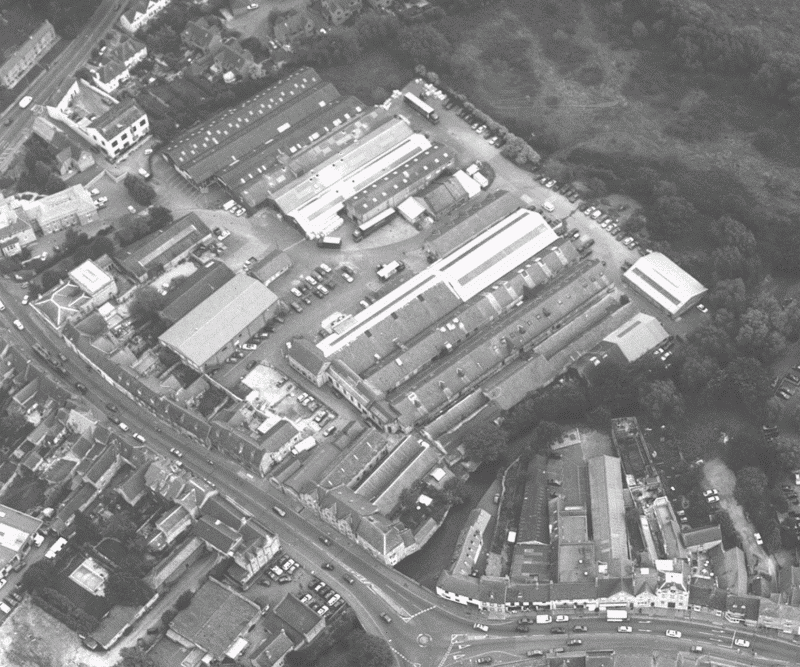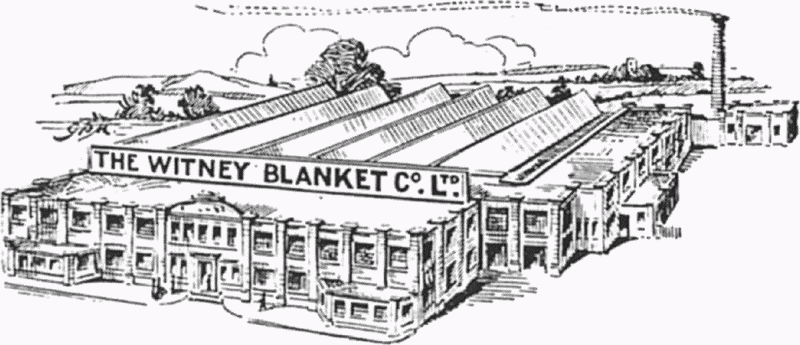 The industry's main product continued to be white or coloured blankets, dispatched by rail and sold worldwide. In the 1930s South Africa was a notable market, though most blankets were sold to British firms. (fn. 17) Rugs, mops, and horse-collar cloths were still made. (fn. 18) Increasing trade before 1914 was boosted during the First World War by large government orders, which pushed all three manufacturers to full capacity and which were shared on a cooperative basis, taking precedence over civilian orders. (fn. 19) War bonuses were introduced by Early's and presumably other firms, together with special rates for women undertaking men's jobs, who received half the standard man's wage. (fn. 20) Continued buoyancy in the early 1920s, reflected in new building by Early's at Witney Mills, was followed by marked recession during the depression of the early 1930s; between 1929 and 1932 Early's sales fell by 36 per cent, forcing introduction of a three-day working week. (fn. 21) In the later 1930s there was nevertheless a partial recovery, (fn. 22) with unemployment in Witney reportedly 'lower than in any other town of comparable size in the country'. (fn. 23) From 1939 the industry was again on a war-footing, with Early's and Marriott's producing mostly seamen's blankets: in 1944 some 85 per cent of 718,000 blankets produced were to government contract. Smith and Philips' Bridge Street factory was requisitioned in 1941 and temporarily converted to other uses, some looms and workers being transferred to Early's and Marriott's, while Walker and Sons closed its Witney factory to concentrate on production in Yorkshire. (fn. 24)
During the interwar years the longstanding paternalism of Witney's manufacturers towards their employees (fn. 25) was directed to industrial relations and improved social provision, with weekly foremen's meetings at Early's attended by at least one director. Wages were negotiated between unions at the West of England District Joint Industrial Council, where conditions at Witney Mills were generally accepted to be good; Early's often acted independently, however, agreeing in 1931 to 'treat each case on its merits'. (fn. 26) A profit-sharing scheme introduced by Early's in 1920, before such arrangements became common, continued until 1965, (fn. 27) and in the 1920s and 1930s a company Provident Fund made individually-determined payments to employees in cases of accident or illness. (fn. 28) The Witney Mills Housing Society, established by James Harold and Edward Cole Early in 1925, aimed to meet the housing needs of employees. Relations generally remained good with a genuine sense of community, despite strikes at New Mill in 1919, and at Smith and Philips' Bridge Street and Crawley mills in 1936. (fn. 29)
Other Trades and Industries 1900–45
Except for a universal decline in domestic service, until the late 1930s the overall pattern of employment within the town remained much as in the late 19th century, with a large range of retailers, and the continuation of important firms such as the builders Bartlett Brothers, the ironmongers and builders Leigh and Sons, Young's engineering, Marriott's coal business, and the Eagle Brewery. (fn. 30) Pritchett and Co.'s glove factory at Newland, rebuilt following a disastrous fire in 1926, continued until the late 1930s, when the premises were sold to Compton and Webb, a London firm of cap and uniform manufacturers; thereafter glove-making was continued by F. W. Looker, a former Pritchett's manager, whose firm on High Street employed out-workers in the town and surrounding villages in the 1940s. (fn. 31) Other new firms, some also drawing on outside labour, (fn. 32) included the Witney Steam Laundry on Corn Street, opened about 1907, the nearby Swan Laundry, opened in the former Colliers' blanket premises in 1929, and a Buckinghamshire sausage manufacturer (G. Brazil) established at Gloucester Place in 1934, moving in 1947 to a larger factory at Corn Street. (fn. 33) A mail-order company, selling bedding and blankets but known later for furniture manufacture, was established by Thomas Wesley Barrell in 1934. (fn. 34)
The introduction of new engineering firms, significant for Witney's later industrial development, arose directly from the Second World War, Crawford Collets Ltd and the West London Optical and Tool Company both moving to Witney in 1940–1 to escape the London Blitz. The former, established with an imported workforce at the disused union workhouse just west of the town, made industrial collets for machine tools; it continued its expansion after the war, and by 1963, when new machine shops were opened on the site, exported to over 200 countries. The West London Tool Company, based at No. 58 High Street and continuing in the 1960s, made spectacle lenses, small optical tools, and, later, measuring instruments and viewing panels. (fn. 35) The De Havilland aircraft company, hampered by wartime restrictions at its chief manufacturing base at Hatfield (Herts.), opened a factory in 1939 at Witney aerodrome, which had been established west of the town during the First World War and later used as a flying training school. The factory became a repair unit for military aircraft the following year, and from 1941–2 overhauled Hurricanes and Spitfires, turning out nearly 1,500 fully repaired aircraft by 1945; at its peak there were 1,200 workers, many of them transferred from the De Havilland factory at Hatfield. The Witney factory remained an important local employer until its closure in 1949, with a workforce of over a thousand. (fn. 36) The town's other chief employers in 1948, besides the still-dominant blanket industry, were a machine-tools factory (presumably Crawford's), Compton and Webb's military clothing factory, and Looker's glove factory. (fn. 37)