Pages 110-113
A History of the County of Somerset: Volume 6, Andersfield, Cannington, and North Petherton Hundreds (Bridgwater and Neighbouring Parishes). Originally published by Victoria County History, London, 1992.
This free content was digitised by double rekeying. All rights reserved.
SPAXTON
The ancient parish of Spaxton comprises scattered hamlets and farmsteads on the eastern side of the Quantocks. The main part of the parish included settlements at Spaxton, Four Forks, Merridge, with Lower Merridge and Courtway, Pightley, Radlet, and Tuxwell, and entirely surrounded a detached part of Charlinch called Bush. A detached area to the north, the former manor of Stockland Lovel and later known as North Street, included Coultings and Farm. There was also a smaller area to the south-east, surrounded by Enmore parish, which was the 11th-century holding of Quantock, later Quantock Durborough. (fn. 1) The highly irregular boundaries and their relationship with other parishes in the immediate vicinity suggest that Spaxton parish may be the residue of a larger unit, possibly with a minster at its centre, (fn. 2) which included Charlinch and perhaps Postridge and part of Nether Stowey.
The main part of the parish measured up to 4 km. from west to east and nearly 6 km. from north to south. North Street was 3 km. from west to east and 1.5 km. from north to south, and Quantock Durborough 1 km. by 0.5 km. In 1839 the total area was reckoned as 3,387 a. (fn. 3) In 1878 North Street (11 houses, 51 persons) was transferred to Fiddington, and Quantock Durborough (no population) to Enmore. Two years later detached parts of Nether Stowey at Radlet (4 houses, 18 persons) were added to Spaxton and in 1882 the detached part of Charlinch at Bush (2 houses, 6 persons) was also added. In 1885 Spaxton acquired Postridge (11 houses, 53 persons) from Aisholt and small areas from Goathurst (1 house, 4 persons) and Nether Stowey. In 1891 the parish measured 3,646 a. (fn. 4) In 1933 the civil parish of Aisholt (875 a.) and Currypool and Rowden from Charlinch (740 a.) were added to Spaxton, making a total of 5,261 a. (fn. 5) The civil parish of Charlinch was taken into Spaxton in 1981, but the extreme south-west part of Spaxton ancient parish was transferred to Broomfield, making a total of 5,876 a. (2,378 ha.). (fn. 6)
West and south-west of Spaxton village and Pightley the land rises up a spur formed between two streams flowing from the Quantocks, one through Holwell Combe where it marks the boundary with Enmore, the other called Peartwater. Hawkridge Hill (fn. 7) rises in 2.5 km. over slates and grits to more than 213 m. and then falls abruptly into a valley at Lower Merridge, where a stream divides the parish from Bishop's Lydeard and Aisholt. In the south, where the parish reaches the Quantock ridge, the land rises to over 244 m. near the Travellers Rest inn, further south-west to above 228 m. on Gib Hill, and then up the scarp to the boundary ridge which gave Merridge its name on the 305-m. contour just below the summit of Cothelstone Hill. North of Peartwater is a smaller spur shared with Over Stowey parish, a shallow valley of gravels and marls occupied by Radlet common and wood, (fn. 8) and then a small ridge of slates and grits. The north-western and eastern part of the parish, below the 91-m. contour, lies largely on marl and valley gravels with a band of sandstone running along the Peartwater through Spaxton village. The North Street area is on marl, Quantock Durborough on slates and grits. (fn. 9) Pockets of limestone were worked at Merridge in the 18th and 19th centuries, (fn. 10) and licences to mine near Spaxton were granted in 1714. (fn. 11) Black Pit, north of Four Forks, may be the result of marl digging. (fn. 12) A mine at Merridge is said to have produced iron, copper, malachite, and possibly silver in the 19th century, (fn. 13) and sulphur ore was extracted at Merridge. (fn. 14)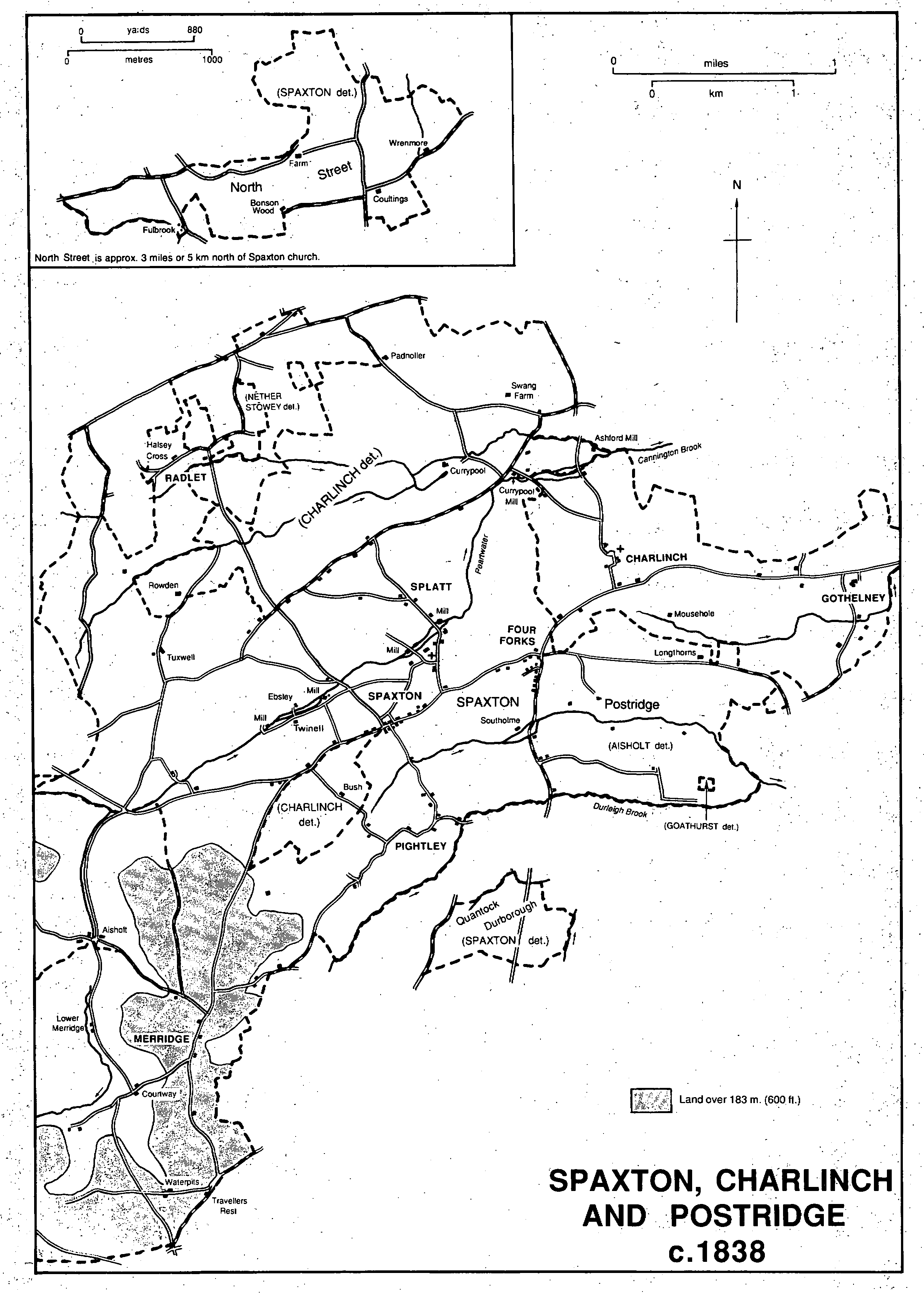 Flints have been found on the Quantock ridge and bronze torcs and palstaves are said to have been discovered within the parish. (fn. 15) Evidence of Iron Age occupation was found at Peartwater near Court Farm. By the later 11th century there were at least seven settlements, of which the most populous was Spaxton, followed by Pightley and Tuxwell. (fn. 16) By the 13th century farmsteads or hamlets had been established, possibly by woodland clearance at Ebsley, (fn. 17) and at Durland or Durnland (fn. 18) and Pleabury, (fn. 19) called Claybury Castle in 1838, (fn. 20) the last on marginal land near the 122-m. contour. By the later Middle Ages at least four farmsteads were named: Coultings, Wrenmore, Southam, (fn. 21) now Holmes Farm, and Clarkes Farm. (fn. 22) Halsey and Twinell farms and the hamlet of Splatt were recorded in the 17th century. (fn. 23)
Until the 19th century there was no significant nucleated settlement. Spaxton village comprised the church, manor house, rectory, church house, two mills, and some cottages beside the Peartwater, all on a loop running from the Old Way, (fn. 24) a road from Cannington which led directly to the Quantock ridgeway. The road from Bridgwater and Durleigh to the Quantocks ran slightly south of the village. There a roadside settlement grew up, known from the 15th century to the 18th as Fursegate, (fn. 25) and later as High Street. In the 20th century it formed an almost continuous built-up street for a mile from the 19th-century crossroads settlement of Four Forks. (fn. 26) This last hamlet expanded rapidly in the 1840s when the community known as the Agapemone was established there. (fn. 27) Lower Merridge and Courtway hamlets were roadside settlements on the Taunton to Nether Stowey road, and there was similar development in the 17th century at Keenthorne, Halsey Cross, (fn. 28) and Cuckolds Row. (fn. 29)
The scattered settlements produced the complex network of roads in the parish. Three parallel routes from Bridgwater and Cannington crossed the parish to the Quantock ridge. The most northerly was the only one to be turnpiked, in 1759. (fn. 30)
There was woodland on all the 11th-century estates in the parish (fn. 31) with the exception of Pightley. That name suggests pre-Conquest clearance, and field names indicate that clearance continued. (fn. 32) In 1380 a tenant on Spaxton manor had to dig up tree roots. (fn. 33) Felling was carried out in the later 15th century to the east of Spaxton park and at Stockland Lovel, where timber was sold with faggots and underwood. (fn. 34) Coppices at Merridge were cut for charcoal burning in the 1650s (fn. 35) and there were over 40 a. of wood there in 1709. (fn. 36) Shortly before 1833 acorns were sown on 145 a. for coppice, and 40 a. of oak coppice were sold with the earl of Egmont's Spaxton estate, together with small plantations on many of the tenant farms. (fn. 37) In 1838 there were 90 a. of woodland, mainly plantations and coppices, the largest plantations being on Hawkridge Hill and encroaching on Merridge common. (fn. 38) Between then and 1887 there was more planting on the lower ground but some woodland at Merridge was cleared. (fn. 39) By 1905 only 80 a. of woodland were recorded (fn. 40) and some was later cut down both at Hawkridge and Merridge. (fn. 41)
A park including woodland belonging to Spaxton manor, probably north of Spaxton village between Peartwater and the Old Way boundary, had been established by the mid 13th century. (fn. 42) It had been let by 1440 and was partly ploughed by 1475. (fn. 43) By the 17th century the 74-a. park had been entirely converted to agricultural use. (fn. 44) John de Columbers was granted free warren at Stockland Lovel in 1304 (fn. 45) and a park there produced an income of 54s. 4d. in 1484-5. (fn. 46) No further trace of it has survived. There was a park at Tuxwell in 1540 (fn. 47) and a field at Merridge was known as the Park in 1838. (fn. 48)
A gore on the area known as Spaxton Down and small crofts elsewhere may have been remnants of open-field arable. (fn. 49) There was common pasture at Radlet and on Merridge Hill. Radlet common remained open until the late 19th century, but by 1919 belonged solely to Radlet farm. (fn. 50) Merridge common measured 161 a. in 1720. (fn. 51) By 1838 half remained while a further 50 a. were shared between a few proprietors, who let pasture rights. (fn. 52) Land at Merridge remained common in 1987.
A water works and pumping station were established near Ashford mill, on the northern boundary of the parish, in 1879 to provide water for Bridgwater. The small Ashford reservoir was opened in 1934. (fn. 53)
A friendly society, probably started in 1807, had been dissolved by 1834 for fear of government intervention, but another had been formed by 1845 and existed in 1857. (fn. 54) A tradesmen's friendly society was recorded in 1897, together with a working men's club and parish reading room. (fn. 55)
There were two licensed tipplers in the parish in 1607. (fn. 56) A cottage on the waste mentioned in 1651 may have become the Bell at Keenthorne by 1680, (fn. 57) and licences were granted to a man at Radlet in 1674 and to one in Merridge in 1690. (fn. 58) The Bell had probably been licensed by 1726 (fn. 59) and remained in business until 1798. There were two, and occasionally three, licensees in the 18th century. One ran the Crown, also known as the Three Crowns or the Fursegate inn, in High Street, established by 1750 and the sole inn in the early 19th century. (fn. 60) It was still open in 1919 but had closed by 1926, (fn. 61) and was a private house in 1987. The King William IV inn had opened by 1851 (fn. 62) but by 1866 was called the Victoria Arms. (fn. 63) In 1987 it was known as the Victoria or the Victoria at Spaxton. The Lamb at Four Forks had been opened by 1856 (fn. 64) and was in business in 1987. There was also a beerhouse at Four Forks in the earlier 1860s and another at Courtway in 1861. (fn. 65) The Travellers Rest on the ridge route above Merridge had been opened by 1837, having been recently converted from cottages. (fn. 66) It remained open in 1987. The Bell at Courtway, opened by 1841, was closed c. 1962. (fn. 67)
Among the houses not attached to substantial estates in the parish are some dating from the 16th century or earlier including Peacock Cottage at Pightley, Jack O'Knights at Lawyer's Hill, Hawkridge, and Tuckers in Splatt Lane, north of the church. Clarkes Farm, east of Pightley, has a late-medieval open hall of two bays with a jettied upper room at the dais end, and a wing added in the 16th century. Several 'Arts and Crafts' style houses were built at Four Forks in the early 20th century by Joseph Morris (d. 1913) and his daughter Violet (d. 1958), both members of the Agapemone. (fn. 68)
There were 392 communicants in the parish in 1623. (fn. 69) The population increased steadily from 662 in 1801 to a peak of 1,080 in 1851, partly through the growth of Four Forks and the Agapemone. There was a gradual decline in the later 19th century to 797 in 1901 and a further fall to 666 in 1931. The incorporation of Aisholt civil parish with 60 people and of Currypool from Charlinch with 63 in 1933, and later 20thcentury housing led to an increase in population to 920 in 1971, but only 831 people were normally resident in 1981. (fn. 70)
Ten Spaxton people were implicated in the revolt of 1497 (fn. 71) and one man in the Monmouth rebellion in 1685. (fn. 72)