Pages 137-145
A History of the County of Somerset: Volume 6, Andersfield, Cannington, and North Petherton Hundreds (Bridgwater and Neighbouring Parishes). Originally published by Victoria County History, London, 1992.
This free content was digitised by double rekeying. All rights reserved.
MANORS.
In 1066 Beorhtsige (Brixi) held STOKE, which William de Falaise held in 1086. (fn. 1) Emme, daughter and heir of William de Falaise, married William (I) de Curci. William (I) died c. 1114, and their son William (II) was dead by 1120. That William's son was William (III) de Curci who held the honor in 1166, and STOGURSEY manor descended with the honor and castle until c. 1680. (fn. 2) In 1686 Robert Siderfin bought the manor together with that of Wick FitzPayn. (fn. 3) Siderfin sold the lordship to Edward Habberfield in 1704. (fn. 4) By 1744 the manors were owned by Thomas Darch (d. 1752), whose widow Mary sold them to John Perceval, earl of Egmont, in 1758. (fn. 5) The lordship descended to successive earls, but it was not recorded after 1833. (fn. 6)
A manor called WICK, later WICK FITZPAYN after its lords in the earlier 14th century, was held in 1228 by Hugh de Neville with Stogursey, (fn. 7) with which it descended and was sold to Robert Siderfin in 1686; like Stogursey, its lordship is not recorded after 1833. (fn. 8) Estates which had been held of Stogursey honor in the Middle Ages were by the early 17th century said to be held of the manor of Wick FitzPayn. (fn. 9)
In 1066 Edric had an estate called Widiete. William held it of Roger de Courcelles in 1086, (fn. 10) but by 1301 it had become part of the demesne holding of Stogursey castle (fn. 11) and came to be known as WYNDEATS manor from 1514. (fn. 12)
Wyndeats manor passed in 1681 to John Day of Knighton, Stogursey, (fn. 13) who in 1714 settled it on the children of his daughter Elizabeth Holbech. (fn. 14) One of them, Day Holbech, left the estate by will of 1761 to John Coffin of Somerton, but the lordship was not recorded after 1741. (fn. 15) John's daughters Mary and Catherine held the estate in 1771. Catherine's heir was her son Brian Coombe (d. 1818) and Mary's her niece Jane Purlewent. In 1820 Jane and four heirs of Brian Coombe sold the property in trust for Frances Spurway, one of their number. (fn. 16) In 1846 Frances sold to the trustees of the late Sir John Palmer-Acland, and thereafter Wyndeats descended with Fairfield manor. (fn. 17)
Dawlea Farm was the capital messuage of the estate in the later 18th century (fn. 18) and probably dates from that period; a house stood on the site in 1614. (fn. 19)
An estate descended from the Trivet family to Robert Pokeswell (d. 1429), whose son John held courts for CHALCOTT manor in the 1440s. (fn. 20) The Chalcott manor held by Walter Steyning at his death in 1537 (fn. 21) may have been the same estate. Edmund Wyndham bought lands at Chalcott in the later 17th century. (fn. 22)
The Pokeswells had a capital messuage in 1448, (fn. 23) as did Edmund Wyndham in 1689. (fn. 24) Chalcott Farm is a 17th-century house substantially rebuilt and enlarged in 1802. (fn. 25)
William Trivet held a fee at COCK as part of Stogursey honor in 1301, (fn. 26) in right of his wife Sarah, possibly daughter of Robert of Eston. (fn. 27) William was still in possession in 1312 (fn. 28) but died shortly afterwards. His grandson and heir, Thomas Trivet, died in 1316 and was succeeded by his own posthumous son (Sir) John, (fn. 29) who was still alive in 1371. (fn. 30) Sir Thomas, son of Sir John, died in 1388 (fn. 31) having settled his estate on himself and his second wife Elizabeth and their children. Their two daughters died without issue, probably before 1422, when Elizabeth gave Cock to her husband's kinsman John Trivet. (fn. 32) He was Elizabeth's heir when she died in 1433. (fn. 33) The estate is said to have passed with the marriage of a Trivet heir to John Compton in 1446-7. (fn. 34) John Compton, possibly John's son, with his wife Elizabeth sold what was called Cock manor in 1505 to William Nethway, (fn. 35) a Taunton merchant who in 1510 conveyed it to trustees to maintain a chantry and chapel at Taunton priory. (fn. 36) In 1548 the Crown sold the manor to Edward Bury, probably in trust for Robert Whetstone, a London haberdasher. (fn. 37) The Nethway family tried to regain possession against Whetstone, (fn. 38) who died in 1557 leaving Cock to his younger son Francis, a minor. (fn. 39) Margaret Matthews and Jane Haskins, granddaughters of William Nethway, revived their claim in 1563. (fn. 40) In 1579 Stephen Kay and his wife Margaret, possibly Margaret Matthews, conveyed half the manor to Edmund Wyndham, who bought the other half in 1586 from Francis Whetstone. (fn. 41)
Whetstone seems to have retained land called Cock Grounds, probably the former demesne holding, which was conveyed to Sir John Popham and Thomas Palmer in 1595. (fn. 42) Palmer's share in 1605 was described as half the manor, (fn. 43) and was known after more land had been added as COCK AND GOREPIT manor. It thereafter descended with Fairfield. (fn. 44) The Wyndham holding descended with Kentsford in St. Decumans until 1703, when it was sold to Richard Musgrave (d. 1727). (fn. 45) It probably then descended like Stamfordlands in North Petherton until 1795 when it was sold to John Acland. (fn. 46) There is no further reference to lordship.
A grange at Cock was recorded in 1316, (fn. 47) and a capital messuage in 1557 which came to be called Cock Farm and later Upper Cock Farm. (fn. 48) It is a double-pile house of the 18th century.
In the later 10th century King Edgar granted two hides at DURBOROUGH to Ealdred or Aelfhelm which passed to Glastonbury abbey. (fn. 49) The abbey claimed lordship until the 14th century, (fn. 50) and one of the two later divisions of the manor, Durborough Dodington, was said in 1554 to be held in chief but later to be held of the hundred of Whitley, formerly Glastonbury abbey's. (fn. 51) The other division, Durborough Verney, became linked with Fairfield, and was said in 1508 to be held of the earl of Northumberland, lord of Stogursey. (fn. 52) A mesne lordship held by the Forz family was treated in 1303 and 1428 as the chief lordship; (fn. 53) Simon Furneaux, one of the Forz heirs, held it in 1320-1 (fn. 54) and Sir Baldwin Malet in 1363. (fn. 55)
Oswald held Durborough of the abbey in 1066 and Roger de Courcelles in 1086. (fn. 56) Baldwin de Vere may have been the tenant in 1234, (fn. 57) but by 1256 Thomas Trivet was lord probably in right of his wife Eleanor, daughter of Joan Braunche, the granddaughter and heir of Wandril de Courcelles. (fn. 58) Thomas was still alive in 1280. (fn. 59) Another Thomas Trivet held the estate in 1328 and 1338, (fn. 60) and was said to have left as coheirs his daughter Maud wife of Ralph Verney, (fn. 61) Eleanor Pokeswell, probably his granddaughter by another daughter, (fn. 62) and the three daughters of Cecily (d. 1361), probably a third daughter. (fn. 63)
Maud Verney's third share, known as DURBOROUGH VERNEY (fn. 64) and later as DURBOROUGH manor, (fn. 65) descended with Fairfield in the Verney and Palmer families. (fn. 66) Eleanor Pokeswell's share descended with her share of Woolmersdon in North Petherton until the death of Thomas Pokeswell in 1537, (fn. 67) when it was divided between his two daughters, Elizabeth, wife of Richard Howe, and Eleanor, wife of John Roynon. (fn. 68) George Smythe of Woolmersdon bought the Roynon share in 1584 and had by 1590 acquired the other, possibly from Elizabeth Howe's daughter Dorothy, wife of John Killigrew. (fn. 69) The shares then descended with Smythe's share of Woolmersdon, but before 1639 Nicholas Smythe sold the land to Jane, wife of Sir Francis Hele. Hele in that year sold to Sir Francis Dodington and it became part of Durborough Dodington manor. (fn. 70)
Cecily's three daughters, Cecily or Christine Crewkerne, Alice Orchard, and Maud Dodington, each had one ninth share of Durborough, which also descended with Woolmersdon. (fn. 71) Cecily or Christine Crewkerne held a share in 1366 (fn. 72) which seems to have been sold to another of the coparceners by 1431. (fn. 73) Alice Orchard's share was sold to Nicholas Halswell in 1564, and passed from his grandson Nicholas Halswell to Margaret Dodington in 1622. (fn. 74) Margaret sold it to her son (Sir) Francis in 1625. (fn. 75) Maud Dodington's share probably descended with Dodington manor (fn. 76) and was known as DURBOROUGH DODINGTON by 1514 (fn. 77) and later as Durborough or Durborough alias Woolmersdon manor. (fn. 78) The Dodington lands, only partly in Stogursey parish, (fn. 79) descended from the Dodington family to Richard Grenville, duke of Buckingham and Chandos (d. 1839), and were sold by him to the trustees of the late Sir John Acland in 1837. (fn. 80)
A capital messuage was recorded on the Pokeswell manor in 1446 when it was let. (fn. 81) Durborough Farm, which belonged to Durborough Verney manor, (fn. 82) is probably medieval in origin but was extensively altered in the early 17th century to form a three-roomed crosspassage house whose hall has a framed and panelled ceiling. (fn. 83)
In 1166 Goslan held a fifth of a fee of William de Curci, (fn. 84) and his son Martin of Fairfield held FAIRFIELD of Maud de Chandos, lady of Nether Stowey. (fn. 85) By the later 13th century the estate comprised land in Stogursey, Lilstock, and Stringston. (fn. 86) In 1301 part was held of Stogursey manor (fn. 87) and in 1507 it was said to be held of the earl of Northumberland. (fn. 88) Later in the century and in 1605 it was said to be held of Nether Stowey manor. (fn. 89)
Martin of Fairfield was followed, probably between 1212 and 1216, by William Russell, and William by his son Ralph (d. 1287). (fn. 90) Ralph's daughter and heir Margaret married first William Verney (d. by 1280) and secondly William de la Pyle. (fn. 91) Her son William Verney died in 1333 leaving a son Ralph (d. 1350), who was succeeded by his sons William (d. 1351) and John (d. 1392). John's son, also John, was probably a minor, for his mother Avice held the manor court. (fn. 92) John (d. 1448) was succeeded by his son John (d. 1462) and his grandson William Verney (d. 1489). (fn. 93) William was followed in direct line by John (d. 1507), (fn. 94) Robert (d. 1547), (fn. 95) John (d. 1551), (fn. 96) and Hugh Verney (d. 1556). Hugh's heir was his infant daughter Elizabeth, later wife of William Palmer. (fn. 97)
Elizabeth's son Thomas Palmer succeeded as a minor on his mother's death in 1592 (fn. 98) and when he died in 1605 his son William was also under age. (fn. 99) William died in 1652 (fn. 100) and was followed by his brother Peregrine (d. 1684) (fn. 101) and by Peregrine's son Nathaniel (d. 1718). Nathaniel's son Thomas, an antiquary who wrote a history of parts of the county, (fn. 102) died without issue in 1734 and his wife Elizabeth, who had held the estate jointly with him, in 1738. (fn. 103) Thomas's brother Peregrine succeeded but died without issue in 1762, leaving the estate to his kinsman Arthur Acland in tail male. (fn. 104) Arthur died in 1771 and his son John (cr. Bt. 1818 and from then known as Palmer-Acland) in 1831. (fn. 105) Sir John's son Sir Peregrine Fuller-PalmerAcland was succeeded in 1871 by his only daughter Isabel (d. 1903), wife of Sir Alexander Fuller-Acland-Hood, Bt. Her son Alexander (cr. Baron St. Audries, 1911) died in 1917 and was succeeded by his elder son Alexander Peregrine, Baron St. Audries, (fn. 106) who died unmarried in 1971. His heir was his niece Elizabeth AclandHood, later the wife of Sir Michael Gass, K.C.M.G. (d. 1983). Lady Gass owned Fairfield and a considerable estate in the parish in 1985.
William Verney (d. 1489) is said to have had licence c. 1473 to encircle his house at Fairfield with a wall and seven round towers. (fn. 107) The plan of that house is probably incorporated within the present building. Part of the richly decorated, late 15th-century beams of two first-floor rooms survive in the south-west wing, and there is a blocked arch of similar date in the wall between the former screens passage and the dining room. Three of the towers remained in the earlier 18th century on the boundary of a walled court east of the house. (fn. 108)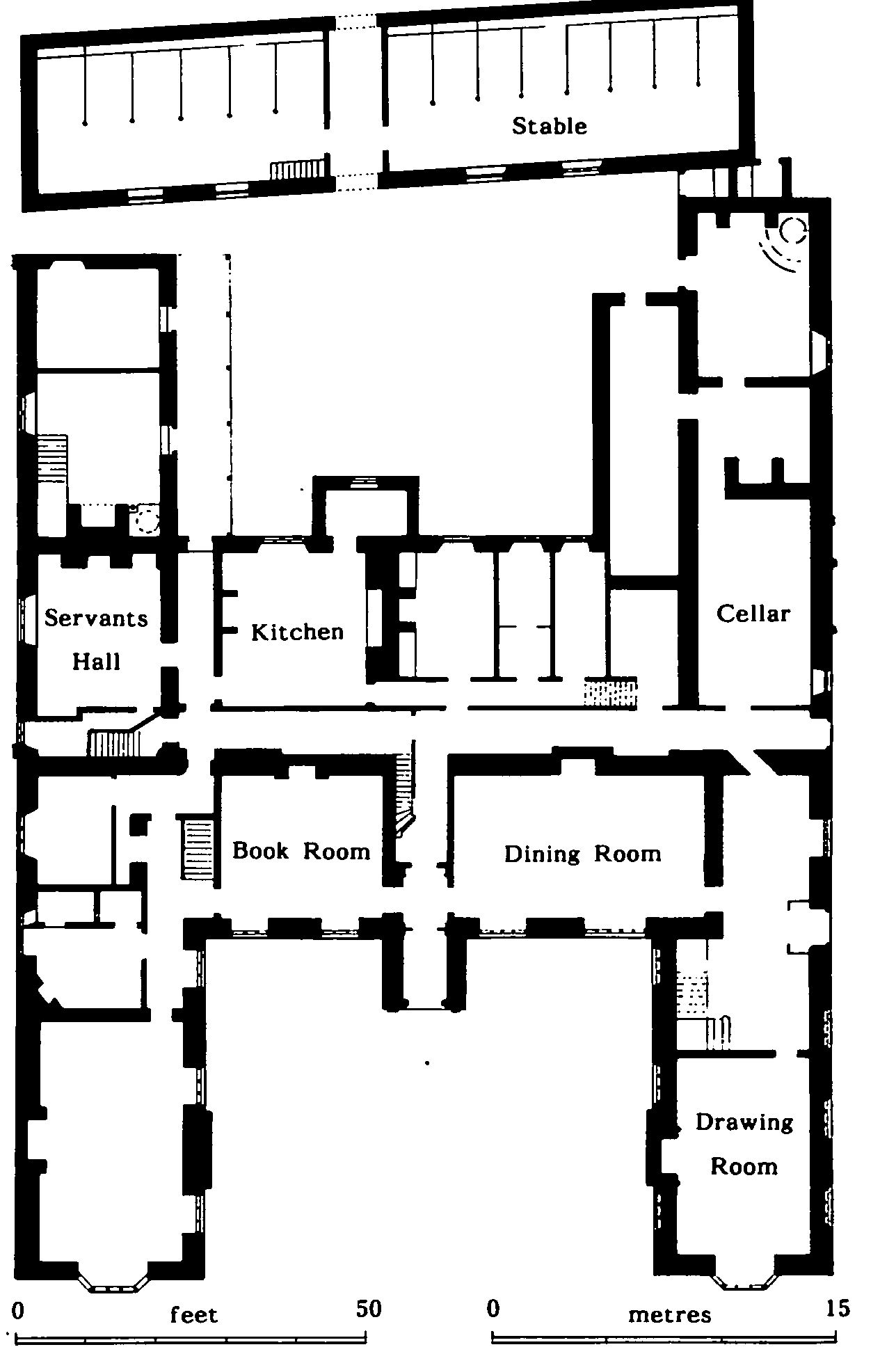 Elizabeth Verney (d. 1592) may have begun remodelling the house to give it, though not completely symmetrical, the conventional form of an E. The porch is dated 1589, and above it was a tower of three further storeys. A hall block lay to the north-east. The medieval house may have continued beyond the south-west wing and probably contained service rooms. (fn. 109) The lower back court had service rooms on the south-west and north-east, and the stables on the north-west side may have been contemporary with the remodelling, but are more likely to have been a 17th-century addition. The work on the house was said to have been unfinished in 1633. (fn. 110) Nathaniel Palmer (d. 1718) or his son Thomas (d. 1734) altered the interior, adding new staircases in each main wing. The quality of that to the south-west, at the service end of the house, suggests that the rooms were being converted for family use.
About 1780 (fn. 111) and again c. 1815 (fn. 112) Sir John Acland made extensive alterations, in the second phase to the designs of Richard Carver. The rooms to the south-west were demolished and a new kitchen range was built behind the hall. Roofs were reconstructed, dormers were removed, and the porch tower was reduced in height by one storey. Many rooms were redecorated and coloured marble fireplace surrounds were introduced. A new entrance front was probably created on the north-east side of the house during the same period.
A 17th-century barn and a granary of the earlier 18th century survive behind the house. In the early 18th century a short canal was dug, parallel to the entrance front but separated from the house by the Stringston road. Sir John Acland extended his park southwards to the new line of the Stringston road between 1806 and 1822, some 350 metres from the house. Lodges, remodelled or rebuilt in the later 1830s, were placed at the eastern and southern entrances, and sheltering belts of trees were planted. (fn. 113)
A chapel at Fairfield was served by a priest paid by William Verney in 1333. (fn. 114) The last chaplain was mentioned in 1562. The building was described as 'fair' in the later 16th century but even its site was not known by the 1730s. (fn. 115)
FARRINGDON was held of Stogursey honor in 1301, (fn. 116) and it was later said to be held of Wick FitzPayn manor or Stogursey castle until 1615. (fn. 117) It may have been held by William of Eston in 1226. (fn. 118) William of Greenham and Raymond Trivet, possibly coheirs, shared the fee in 1301. (fn. 119) Raymond Trivet was named as lord with Walter Bluet in 1346 (fn. 120) but Thomas Trivet had succeeded by 1354 (fn. 121) and in 1379 Sir Thomas Trivet, perhaps the same man, conveyed his property to John Fittleton, possibly in trust for sale, since the Bluets had sole interest there by 1428. (fn. 122)
The share of William of Greenham passed on his death before 1341 (fn. 123) to Walter Bluet, then a minor and son of Sir Walter Bluet and Christian of Greenham. (fn. 124) Walter may still have been under age when Simon Furneaux was described as lord in 1344, (fn. 125) but he was evidently of age in 1346 (fn. 126) and was later knighted. He was dead by 1397 when his heir was his son John Bluet. (fn. 127) John was still alive in 1428 but dead by 1431 when the manor was held by his widow Agnes, then wife of John Bevyle. (fn. 128) Agnes's son John Bluet succeeded on her death in 1442 and the manor then descended with North Petherton manor until the death of John Bluet in 1634. (fn. 129)
By that date Farringdon had been settled on John Bluet's daughters Anne, Mary, and Elizabeth, but at the time of his death two more daughters, Dorothy and Susan, had been born, and Elizabeth had died. (fn. 130) The estate was therefore shared so that Anne and Mary each had one third share as under the settlement and one quarter share of Elizabeth's third, while Dorothy and Susan each had one quarter share of Elizabeth's third. Mary's share, described as half the manor, by 1674 had passed to John Selleck, archdeacon of Bath (d. 1690), (fn. 131) and from him it descended to his son Nathaniel (d. c. 1691) and to Nathaniel's son John (d. 1732). (fn. 132) In 1779 the heirs of John's two daughters, Susan and Elizabeth, sold to William Poole of Shurton, and in 1792 William's devisees sold to (Sir) John Acland, already owner of the other share. Farringdon thereafter descended with Fairfield. (fn. 133)
Anne Bluet and her sister Dorothy conveyed their estate to George Pollard in 1677. George died in 1685 when his heir was his grandson Henry Sweeting of Kilve. (fn. 134) Henry (d. c. 1732) was followed in turn by his sons Henry (d. 1739) and Thomas (d. 1758), and by Thomas's son Henry (d. 1785). Henry's son Henry sold his half share to John Acland in 1788. (fn. 135)
The manor house, known as Farringdon Hill and recorded in 1653, was probably on the site of the present house, which dates from the 19th century. A chapel was let with the manor house in 1653 (fn. 136) and the field name Chappelhayes was recorded in 1840. (fn. 137)
In 1066 IDSON was held by Alwine, and in 1086 by Ansketil of Roger de Courcelles. (fn. 138) The Trivets' estate was held as a fee of Stogursey honor in 1301, (fn. 139) but later divisions gave rise to claims to overlordship by the owners of Spaxton and Otterhampton manors. (fn. 140)
In the mid 13th century Beatrice of Eston, possibly a descendant of Ansketil (fn. 141) and widow of Robert of Eston, gave the capital messuage and land to her daughter Sarah. (fn. 142) Sarah married Robert Fichet of Spaxton (d. 1271-2), (fn. 143) and she or a daughter of the same name had by 1301 married William Trivet (d. 1314-15). (fn. 144) In 1307 William Trivet's son William released his rights in the estate to the tenant, Gilbert of Beere, (fn. 145) and Gilbert was succeeded in the direct male line by Robert (fl. 1334-5), Thomas, and John (fl. 1401- 12). (fn. 146) The subsequent descent of the holding has not been traced.
William of Beere gave land at Idson to Stogursey priory in 1170 and his son Peter granted a holding to William, son of Hugh of Idson, a former tenant, in the early 13th century. (fn. 147) Peter was still alive in 1242-3 (fn. 148) and had been succeeded by his son William by 1281. (fn. 149) The Idson family retained their interest (fn. 150) until William Idson conveyed his lands there to John Verney in 1387 (fn. 151) and the estate was thereafter considered a manor. (fn. 152) It descended with Fairfield until 1417 when Ralph Verney vested it in trustees (fn. 153) who in 1428 gave it to the executors of Nicholas Bubwith, bishop of Bath and Wells. They in turn gave the estate to the chapter of Wells in 1430. (fn. 154) Idson remained in the possession of the dean and chapter until 1866 when it was vested in the Ecclesiastical Commissioners. (fn. 155) In 1870 the commissioners sold Idson to George Burges, the lessee, who in the same year conveyed it to Sir Alexander Acland-Hood, (fn. 156) and it again formed part of the Fairfield estate.
Beatrice of Eston had a capital messuage at Idson in the mid 13th century. (fn. 157)
In 1295-6 the heirs of Walter de Burges as mesne lords held KNIGHTON as ½ knight's fee of Stogursey honor. (fn. 158) The overlordship was recorded until 1638. (fn. 159)
The heirs of John de Tornie held part of Knighton in 1295-6 (fn. 160) and John Brun by 1301; (fn. 161) it was that part which Robert Oldmixon (d. 1555) held, possibly in succession to his father William (d. 1544) and grandfather John Oldmixon (d. 1511). Robert's son John succeeded his father as a minor (fn. 162) and sold to Sir George Rogers in 1576. (fn. 163) Sir George (d. 1582) (fn. 164) was followed by his son Edward (d. 1627), and Edward by his son Sir Francis (d. 1638). During the ownership of Sir Francis the estate came to be known as Knighton manor. (fn. 165)
Francis Rogers's son Hugh died without male issue in 1653 and the manor passed to his uncle Henry, descending like Chadmead in North Petherton (fn. 166) until 1720 when the trustees for the sale of Sir Copplestone Warwick Bampfylde's estate sold Knighton to John Eyre. In 1752 John's son John sold Knighton to Jeremiah Dewdney. John and William Hawkins bought Dewdney's Knighton farm in 1753 and two other farms in Knighton in 1764 and 1768. In 1787 the enlarged estate was sold to James Knight of Cannington who in 1823 settled it on his son Charles. (fn. 167) In 1840 Charles sold it to William Hawkins who put it up for sale in 1876. (fn. 168) Knighton farm was bought by Sir Alexander Acland-Hood. (fn. 169) Knighton Farm house is of medieval origin and has smoke-blackened trusses; it was extensively altered in the 17th century. (fn. 170)
Another estate at Knighton belonged to William Cordwent in the later 13th century (fn. 171) and in 1307, and to Robert Cordwent in 1372. (fn. 172) John Cordwent held an estate in Knighton in 1410 and 1430 (fn. 173) and was probably succeeded by his son John (d. c. 1468) (fn. 174) and the latter's son John (d. c. 1507). (fn. 175) John's son John (d. 1544) was succeeded by his grandson John, son of his deceased son John, (fn. 176) who sold Knighton and other estates in Stogursey to John Dodington in 1571. (fn. 177) The estate was absorbed into Stogursey Dodington manor and was later known as Poole's. (fn. 178)
The land and tithes given between 1100 and 1107 by William de Falaise and Geva his wife with Stogursey church to Lonlay abbey (Orne) (fn. 179) formed the main endowment of the priory at Stogursey which had been established as a cell of Lonlay by c. 1120. (fn. 180) During the 12th century were added gifts of land at Monkton, Steyning, and Tet Hill (fn. 181) and by the late 14th century the priory held c. 155 a. mainly at Monkton and Sowden. (fn. 182) The estates were evidently in Crown hands in 1438 and were handed over to Eton College in or before 1440. (fn. 183) Thereafter the estate was known variously as STOGURSEY or STOGURSEY PRIORY, from 1562 STOGURSEY RECTORY alias MONKTON HOME manor, and from the later 17th century more usually as Monkton Home manor. (fn. 184) From 1713 the Merchant Venturers of Bristol as trustees of Colston's hospital held the manor at farm. In 1921 Eton College and the Merchant Venturers acted together and sold the manor, the college buying back some of the land including Priory farm. (fn. 185) No later reference to lordship has been found.
The priory's endowment also included tithes described as the tithe of rents of Stogursey lordship and of Rodway in Cannington, (fn. 186) and were worth 35s. 4d. in 1301. (fn. 187) Tithe rents were still claimed c. 1540 with a payment in lieu of pasture on Wick moor. (fn. 188) By 1599, however, the rectors were receiving corn tithe and a modus from all meadows. (fn. 189) In 1840 the Merchant Venturers, as lessees of the rectory, received a rent charge of £800. (fn. 190)
The priory buildings evidently lay on the south side of the church. In 1314 the prior had a hall, chamber, storeroom, kitchen, brewhouse, bake house, and a barn. (fn. 191) In 1383 a chamber with a latrine and fireplace and a solar adjoining the west side of the hall were recorded, (fn. 192) and there was a gatehouse in 1431. (fn. 193) In 1455 the prior's house comprised a great hall, kitchen, chambers, and stable under a single roof. (fn. 194) By 1599 it was called Priory House. (fn. 195) In 1607 the tenants agreed to insert an upper floor in the hall and glaze the windows. (fn. 196) In 1775 the house, said to be too large for the occupier of Priory farm, (fn. 197) consisted of a hall with two parlours to the south and a large room west of the hall converted into a dairy and passage, with a kitchen to the south. A bakery, brewhouse, and granary were ruinous and it was suggested that they be removed. (fn. 198) The house was demolished c. 1810 and a new farmhouse was built on a different site. (fn. 199)
In 1432-3 John, son of John FitzJames, though under age held a freehold at Moorhouse, of Wick FitzPayn manor and in 1466-7 another John FitzJames paid fine in lieu of homage on entry. (fn. 200) A John FitzJames who held Moorhouse in 1485- 6 (fn. 201) was perhaps the John (d. 1510) whose son Sir John FitzJames (d. c. 1542) had what was described in 1540 as MOORHOUSE manor. (fn. 202) Nicholas FitzJames, cousin and heir of Sir John, died in 1550 holding land in Stogursey, Cannington, Wembdon, Spaxton, and Stockland Bristol which passed to his son James. (fn. 203) James sold the estate, no longer described as a manor, to John Wylly in 1552 (fn. 204) and by 1614 it was held by Humphrey Willis, one of the two free tenants at Moorhouse holding between them only 66 a. of land by knight service of Wick FitzPayn manor. (fn. 205) The Moorhouse estate appears to have been dismembered. (fn. 206)
Thomas Trivet (d. 1316) held 1 knight's fee at NEWNHAM of the honor of Stogursey, (fn. 207) of whose lords it was held until 1614 or later. (fn. 208) Thomas's father William may have held the fee; Thomas's posthumous son John (fn. 209) was followed by his son Sir Thomas Trivet who sold Newnham with other estates in 1379 to John Fittleton. (fn. 210) By 1399 John had left a son William a minor. (fn. 211) In 1431 Agnes Bevyle, who held the Bluet family's Farringdon manor, was returned as lady of Newnham, (fn. 212) but in 1452 Sir Alexander Hody (d. 1461) settled Newnham on himself and his wife Margaret. (fn. 213) Margaret, later wife of Sir Reynold Stourton, died in 1489 (fn. 214) and Newnham passed to her first husband's nephew Sir William Hody, Chief Baron of the Exchequer (d. 1524), (fn. 215) and in turn to Sir William's younger son William (d. 1535) and that William's son Richard (d. 1535). Richard's son William, under age in 1536, (fn. 216) was succeeded in 1577 by his son Henry (fn. 217) who was succeeded in 1615 by his brother Richard. Richard was dead by 1621 when John Hody mortgaged the manor. Newnham had passed to Gilbert Hody by 1638. (fn. 218) Gilbert, probably Gilbert's son, was in possession in 1650 (fn. 219) but appears to have dismembered the manor (fn. 220) and there is no later reference to lordship. The capital messuage was let in 1540 (fn. 221) but was not recorded thereafter.
SHORTMANSFORD was held of William de Mohun in 1086 (fn. 222) and continued to be held of the honor of Dunster until 1520. (fn. 223) A mesne lordship was granted to Cleeve abbey before 1285 (fn. 224) but is not otherwise recorded. Beorhtric was tenant in both 1066 and 1086. (fn. 225) In 1256 it was held by Thomas Trivet (fn. 226) and descended with Durborough. After the death of Thomas Trivet (fl. c. 1330) (fn. 227) it seems to have been totally absorbed into that manor and the name was no longer used for the estate. It survived as a field name in Holford parish in the early 16th century. (fn. 228)
William de Mohun held in 1086 an estate called Stochelande which Algar had held T.R.E. (fn. 229) By 1219 it was known as Schirreveton, (fn. 230) later contracted to SHURTON, the name deriving from the office of sheriff which William de Mohun had held. (fn. 231) The estate was held of Dunster honor until 1777 or later. (fn. 232)
Robert of Glaston, son of William of Glaston, gave dower in Shurton to his wife Azilia. Her grandson and heir, Robert de Newburgh, son of Roger de Newburgh, secured his right to the lordship after a prolonged dispute. (fn. 233) He was dead by 1247 and his son Henry subinfeudated the land and later surrendered the mesne lordship in 1271. (fn. 234)
From 1271 Shurton was held of Dunster honor by Agnes Bausan, widow of Sir Stephen Bausan and wife of Sir Anketil de Martival. (fn. 235) It passed to Joan Bausan, daughter of Sir Stephen's brother and heir Sir Richard, and in 1279 she and her son Richard Huish held the fee. (fn. 236) Joan, who in 1283 or earlier had subinfeudated half the fee to Hawise Ralegh, was dead by 1285, and Richard held half the fee in demesne and half as mesne lord. (fn. 237) Richard (d. 1297) was followed in turn by his son Richard (d. c. 1331), Richard's son also Richard (d. 1361), and that Richard's son William, each being a minor at his father's death. (fn. 238) William died without issue, and in 1379 his share was granted to his widow Ricarda and her second husband Sir Thomas Fichet. (fn. 239) Sir Thomas died in 1386 and Ricarda in 1390, leaving an infant son Thomas (d. 1395). Half of Shurton then passed to their daughter Isabel, wife of Robert Hill. The estate descended with Hill's manor of Spaxton through Isabel's son John (d. 1434) to her grandson John Hill (d. 1455). (fn. 240) That John's daughter Genevieve (d. 1480) evidently inherited one third of his estate, for her husband Sir William Say held the third by curtesy of England until his death in 1529. (fn. 241) John's widow Margaret held two thirds of the estate at her death in 1497 when her heirs were her husband's nieces, Joan wife of Sir Richard Pudsey and Isabel wife of Edward Waldegrave. (fn. 242) Isabel's share was held by her husband Edward Waldegrave for life but their son John Waldegrave (d. 1543), who predeceased his father in 1543, had acquired a third of Joan's share. (fn. 243) John's son Edward probably bought the rest of Joan's share from her heirs. The estate descended in the Waldegrave family like Spaxton until 1726 when James Waldegrave, then Baron Waldegrave, sold it to Joseph Ruscombe. (fn. 244) It was thereafter dismembered and there is no later trace of lordship.
The half subinfeudated to Hawise Ralegh, herself possibly related to the Huish family, appears to have passed by 1296 to her daughter Maud, wife of Matthew Furneaux (d. 1316). (fn. 245) Maud died probably in 1340 when her daughter Maud, wife of Roger le Warde, held half Shurton manor with remainder to her brother (Sir) Simon Furneaux (d. 1358). (fn. 246) Roger was still alive in 1358 (fn. 247) and was succeeded in or before 1371 by Elizabeth, daughter and heir of Simon and wife of John Blount. (fn. 248) From Elizabeth the half share descended with Stringston manor (fn. 249) until the death of John Strode in 1581 when it was probably retained by his widow Margaret (d. 1607), formerly wife of Thomas Luttrell. (fn. 250) John Strode's son Robert had succeeded by 1608 (fn. 251) and died in 1616 leaving it to Sir Richard Strode of Newnham (Devon), who had married Robert's daughter Catherine, by then deceased. Sir Richard sold it in 1626 to William Strode of Barrington. (fn. 252) William still held it in 1656 (fn. 253) but there is no later reference to ownership.
There was a court house at Shurton in the early 13th century. (fn. 254) The capital messuage, recorded in 1435, then belonged entirely to John Hill's share of the estate. (fn. 255) In 1717 it was called Shurton Farm (fn. 256) and by 1789 had been renamed Shurton Court. (fn. 257) The northern part of the house contains a roof of arch-braced collars of the 16th century. A west wing was added to the house in the 17th century and in the late 18th a new south front of five bays and three storeys replaced the original south end to form a large, double-pile house. The south front has a central pedimented door beneath a Venetian window and Ionic pilasters at each end. The house had been divided into two dwellings by 1985.
The estate called STEART manor in 1584 seems to have evolved from a virgate which Walter le Lyf held of Stogursey honor in 1301. (fn. 258) The estate, held of the lords of Stogursey in 1614, (fn. 259) descended in the Tilley family with their estate in Moorland in North Petherton until the death of George Tilley in 1590. (fn. 260) George's daughter Elizabeth, wife of Edward Parham, sold half the manor to Edmund Bowyer in 1602, (fn. 261) and her sister Anne, wife of William Walton, sold her share to Edward Rogers in 1604. In 1623 the whole manor was held by Edward Rogers who had purchased Steart warren from Edmund Bowyer in 1604, (fn. 262) and it descended with Cannington manor until 1653. The land continued to descend with Cannington but the lordship passed from Hugh Rogers (d. 1653) to his daughter Helena and from her to her son Alexander Popham (d. 1705). It was sold in 1720 to John Eyre, whose son John sold it to Jeremiah Dewdney in 1752. The lordship was not recorded again. (fn. 263)
A manor house was referred to in 1584. (fn. 264) Known as Warren House in the 18th century, (fn. 265) it was used as a watch house by customs officers possibly between 1686 and 1796 (fn. 266) and as Steart House was licensed as an inn in the later 18th century. (fn. 267) It was demolished between 1829 and 1840. (fn. 268)
A second manor of STEART was held of the lords of Stogursey by Walter Michell (d. 1487) (fn. 269) in succession to William Michell, owner in 1474. (fn. 270) It descended with Chilton manor in Durleigh to Bartholomew Michell (d. 1616) (fn. 271) but has not been traced later.
The manor of STOGURSEY DODINGTON, recorded in 1523, (fn. 272) appears to have been formed out of the scattered holdings of the Dodington family in Stogursey including a number of burgages, (fn. 273) and from 1571 a large estate at Knighton, which was a freehold of Wick FitzPayn manor. (fn. 274) It was held with Durborough Dodington manor (fn. 275) and tenants owed suit to either court in the early 17th century. (fn. 276) Lordship was last recorded in 1801. (fn. 277)
Walter Durburgh (d. probably by 1313), his son John (d. 1352), John's son Sir Hugh (d. c. 1388), and Sir Hugh's son James held land in Stogursey and elsewhere (fn. 278) which thereafter passed with Williton Hadley in St. Decumans to the Hadley family. (fn. 279) The land, called STOGURSEY HADLEY, was not said to be a manor but had its own court; (fn. 280) the part in Stogursey was held of the lords of Stogursey by knight service in 1524 (fn. 281) and 1614. (fn. 282) The estate was much reduced in size after the early 16th century, (fn. 283) and by the 19th had been absorbed into Williton manor. (fn. 284) In 1857 it was sold to the trustees of the will of Sir John Acland Bt. (fn. 285) There is no record of a capital messuage.
In 1066 Ulf held WOOLSTONE. In 1086 Robert held it of Roger de Courcelles, (fn. 286) with whose lands it formed part of the barony of Compton Dundon until 1490 or later. (fn. 287) By 1276 Woolstone was in the possession of Egelina, widow of Philip de Columbers, (fn. 288) and the manor descended with Nether Stowey manor until the attainder of the duke of Somerset in 1552. (fn. 289) In 1554 Woolstone was let to Edmund Timewell, yeoman of the guard, and was said to have been in the tenure of Thomas Dannet. (fn. 290) Thomas had apparently purchased the estate by 1570 and in 1588 he sold it to Humphrey Wyndham of Wiveliscombe. (fn. 291) Humphrey died in 1622 leaving his lands to his daughter Elizabeth, wife of John Colles. (fn. 292) Elizabeth died in 1634 leaving several daughters including Margaret, wife of (Sir) Gerard Napier. (fn. 293) Margaret died in 1660, evidently in possession of the whole estate, and her husband in 1673. Their son Sir Nathaniel Napier, Bt. (d. 1709) (fn. 294) left his estates in trust for his grandson William, (fn. 295) who died unmarried in 1753. He was succeeded in turn by his brother Gerard (d. 1759) and his nephew, also Gerard (d. 1765). (fn. 296) The last left his estates to Edward Phelips of Montacute, his mother's halfbrother. (fn. 297) Edward (d. 1797) was succeeded by his son William (fn. 298) (d. 1806). In 1808 William Helyar, Edward Phelips's trustee, sold Woolstone to John Acland of Fairfield, but there is no later reference to the lordship. (fn. 299) Woolstone farm was sold to the tenant in 1920 (fn. 300) and c. 1971 it was bought by the Hill family and added to Farm estate, Fiddington. (fn. 301) The capital messuage mentioned in 1735 (fn. 302) was described as small. (fn. 303) The present house, which has some evidence of a 17th-century structure, is largely of the late 19th and the early 20th century.