Pages 178-181
A History of the County of Somerset: Volume 6, Andersfield, Cannington, and North Petherton Hundreds (Bridgwater and Neighbouring Parishes). Originally published by Victoria County History, London, 1992.
This free content was digitised by double rekeying. All rights reserved.
NORTH PETHERTON HUNDRED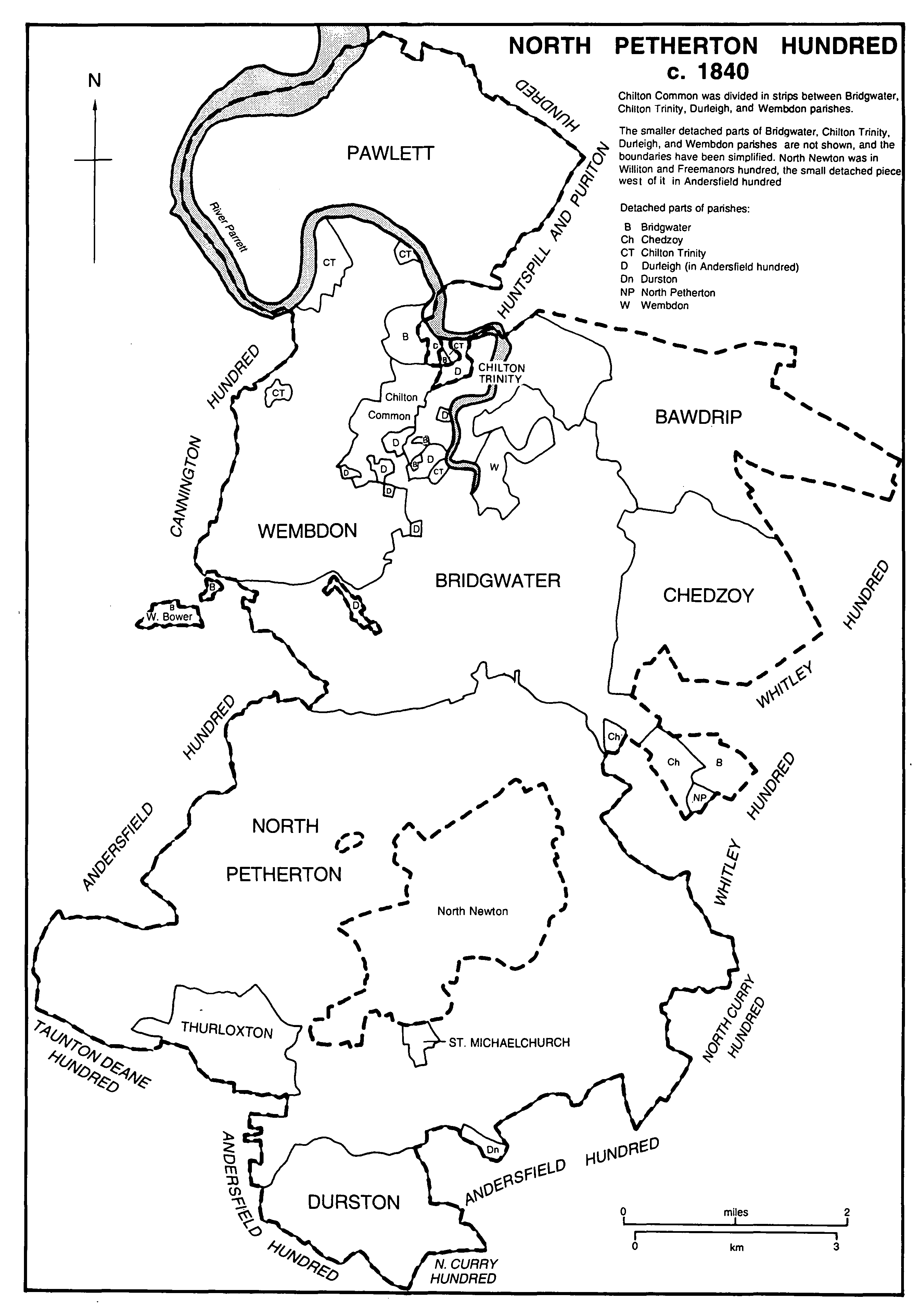 A large royal estate at North Petherton constituted in 1084 a hundred assessed at 38 hides, 3 virgates, and ½ ferling. (fn. 1) Most of the estate was granted away by the Crown, including the manor of North Petherton, to which the hundred jurisdiction was later attached. Manor and hundred were granted at fee farm by Henry I to John of Erleigh (d. c. 1162). (fn. 2) Henry I (fn. 3) also granted Crandon in Bawdrip at farm, and Adsborough (Tetteberg) in Creech St. Michael, Chedzoy, the former grazing farm (vaccaria) of the royal estate, (fn. 4) Pawlett, and Pignes in Bridgwater in fee. An estate at North Newton, part of the barony of Odburville, came into the hands of the hereditary foresters of Petherton forest or park. (fn. 5) By the later 13th century the whole ancient estate was out of the Crown's possession with the exception of Petherton park and residual claims to forest jurisdiction on North moor (fn. 6) and until 1298 elsewhere. (fn. 7)
North Petherton hundred, which grew out of the former royal estate, was held by the family of John of Erleigh like the manor of North Petherton (fn. 8) until 1371 when another John of Erleigh was licensed to alienate the hundred and manor to John and Margery Cole. (fn. 9) The hundred continued to be held with the manor and was entailed on John Henry Slade in 1832, (fn. 10) but no claims to ownership thereafter have been found.
Adsborough, Chedzoy, Crandon, and Pignes were regarded as part of North Petherton hundred by 1212. (fn. 11) By 1284-5 the hundred comprised Bawdrip and its hamlet of Crandon, Chedzoy, Chilton and its hamlet of Pignes, Clayhill in Cannington, Durston, Pawlett and its hamlets of East and West Stretcholt, North Petherton and five hamlets (Huntworth, West Newton, Shearston, Tuckerton, and Woolmersdon), Thurloxton, Wembdon and its hamlets of Perry, Sandford, and Sydenham, and two hamlets of Bridgwater (Dunwear and Horsey). (fn. 12) West Bower in Durleigh, Bradney, Crook, Ford, and Wood in Bawdrip, Kidsbury in Wembdon, and Durston were separately named within the hundred in 1303. (fn. 13) Lyng, regarded in 1275 as a free manor, (fn. 14) and Walpole in Pawlett were included by 1316. So, in the same year, was Bridgwater borough, (fn. 15) which in 1275 had been described as a separate hundred. (fn. 16)
Durston and Wembdon and the hamlets of Clayhill, Crandon, and Sydenham were omitted from the subsidy return of 1327; Cogload in Durston was recorded as part of the free manor of Halse. (fn. 17) Durston was included again in 1334. (fn. 18) A holding described as 'Slape and Dunwear' appeared in 1346. (fn. 19) One further settlement, 'Yawesye', was added to the hundred by 1432, (fn. 20) and by 1498-9 the tithing of Haygrove in Bridgwater. (fn. 21)
Settlement changes had produced some reorganization of tithings by 1569 when the hundred comprised Bawdrip with Bradney, Bridgwater borough with the castle ditch, Chedzoy, Chilton Trinity with Pignes, Dunwear with (East) Bower, Durston, Hamp, Horsey, Huntworth, West Newton, Pawlett with Stretcholt, North Petherton borough with Denizen (later Free Denizen), (fn. 22) Shearston, Thurloxton, Tuckerton, Wembdon with Perry and Sandford, Woolmersdon, and an additional tithing of Buckland Fee, (fn. 23) representing the former North Petherton lands of the religious house of Buckland. (fn. 24) Further modifications were made at least for fiscal purposes in the 17th century: in 1640 Bawdrip included Crandon but not Bradney, and Durston included Cogload; (fn. 25) in 1649 Durston and Cogload were joined by St. Michaelchurch, and North Petherton included Moorland Limit while the southern part of Denizen was linked with Town Limit. (fn. 26) In both years Haygrove tithing appeared independently of Bridgwater.
Chilton Trinity, Perry, Pignes, Sandford, and Stretcholt were separately represented at the hundred in 1652 but Bower, Bridgwater borough, Buckland Fee, North Petherton borough and Denizen, and Wembdon were omitted, (fn. 27) but the tithings of North Petherton with North Newton and of St. Michaelchurch were included in 1742. (fn. 28) Parishes and tithings as constituted within the hundred from the mid 18th century for the collection of land tax reflect the expansion of Bridgwater and growing settlements in North Petherton: Bawdrip, Bridgwater (tithings of Borough, West Bower, Dunwear and East Bower, Hamp, Haygrove, and Horsey), Chedzoy, Durston, Pawlett, North Petherton (tithings of Bankland, Buckland Fee, Huntworth, Moorland, West Newton, North Petherton (or Town Denizen), Shearston, Tuckerton, and Woolmersdon), St. Michaelchurch, Thurloxton, and Wembdon (tithings of Pignes, Perry, and Sandford). (fn. 29) In 1841 it was recognized that Chilton Trinity, which had been linked with West Bower in the 1760s, (fn. 30) also extended into Andersfield and Whitley hundreds, (fn. 31) the former in respect of Huntstile.
By the later 13th century a distinction was drawn between the intrinsecus or within hundred, also occasionally called the manor, (fn. 32) and the forinsecus or foreign hundred, at least at the monthly hundred courts. The former embraced the demesne holdings of the Erleighs and their successors in North Petherton and was in practice a manorial court. (fn. 33) The latter, its courts held monthly in the later 14th century on the same days as the within courts, evidently had separate records (fn. 34) but its profits were received, like those of the within courts, by the bailiff of the manor and hundred. (fn. 35) The distinction of business in the two courts was consistently preserved in the surviving records with three exceptions: in 1382 the tithing of Stretcholt was summoned to answer for the concealment of an oak tree regarded as wreck of the sea; (fn. 36) in 1397 a man was fined for the theft of peacocks' feathers at Pawlett; (fn. 37) and in 1401 Horsey tithing was in mercy for not producing a knife involved in an assault. (fn. 38)
In the mid 15th century, and perhaps from the beginning, the law hundreds and sheriffs' tourns embraced the hundred as a single unit, but by the mid 17th century the hundred was divided for fiscal purposes: in 1650 the western division comprised the former within hundred tithings of North Petherton manor, together with Buckland Fee, Durston, Hamp, and Thurloxton. (fn. 39) Bankland and Moorland were named as additional tithings of the western division by 1766 when the eastern division comprised Chilton, Dunwear with Bower, Horsey, Sandford, Stretcholt, and Wembdon. (fn. 40)
Henry of Erleigh (d. 1272) remitted to the prior and convent of Taunton all fines and amercements levied on them or their men of Thurloxton in his hundred court, (fn. 41) and Philip of Erleigh (d. c. 1275) claimed strays in his hundred and manor of North Petherton. (fn. 42) Strays were taken in the foreign hundred in 1310-11. (fn. 43) Thomas Beaupyne and his heirs were in 1398 given wide jurisdiction in the hundred including the return of royal writs, the return of all Exchequer summonses and precepts not affecting royal business, and the collection of taxes. (fn. 44)
Henry de Gaunt c. 1243 withdrew suit to the hundred court in respect of Pawlett tithing, but the tithing rendered 32d. as a fine at the sheriff's tourn twice a year. (fn. 45) At the Michaelmas law hundred in 1431 the tithings of Chilton Trinity, Dunwear, Horsey, Huntworth, West Newton, Perry, Pignes, Sandford, Shearston, Stretcholt, Thurloxton, Tuckerton, and Woolmersdon each appeared by a tithingman and a varying number of other tenants or posts; Hamp was represented by its tithingman alone and Wembdon and Yearsey by free tenants. Most tithings produced either small cash payments or hens as centum or tithing penny; the tithingman of Bawdrip did not come. (fn. 46) The same tithings with Chedzoy, Durston, and Pawlett, but without Wembdon and Yearsey, still contributed tithing silver in 1652. (fn. 47) Bawdrip, Chedzoy, and Durston were unrepresented at the annual leet and view of frankpledge which by 1766 constituted the sole meeting of the hundred court, and no-one attended for Pignes and Wembdon. The tithingman of Durston, it was stated in 1776, needed separate notification of justices' meetings because he never attended the hundred leet. (fn. 48)
The sheriffs' tourns and the hundred leet courts for North Petherton were held with those of the hundreds of Andersfield and Cannington at Lypestone Hill, but by 1652 they were said to be 'much discontinued'. (fn. 49) Meetings were usually held on Mondays in late October in the later 18th century with occasional adjournments to early November. The court met in 1775 at the New Inn, North Petherton. (fn. 50)
The foreign hundred and the within hundred shared a steward and a bailiff in the Middle Ages, (fn. 51) and the two offices continued into the later 18th century. (fn. 52) There were two constables by 1626 (fn. 53) each attached by the 1760s to the division of the hundred and occasionally then called high constables. (fn. 54) Two closes, called Ward Leazes, near Petherton park, were in the later 18th century used by the bailiff to keep strays. (fn. 55) The lord of the hundred was charged with the repair of two pounds in the former foreign hundred, one at Stretcholt and the other in the tithing of Dunwear and Bower. (fn. 56)