Pages 113-124
A History of the County of Somerset: Volume 8, the Poldens and the Levels. Originally published by Victoria County History, London, 2004.
This free content was digitised by double rekeying. All rights reserved.
TOPOGRAPHY
MIDDLEZOY
The parish, formed in 1515, derives its name from its position on Sowy, the island in King's Sedgemoor between the rivers Cary and Parrett. (fn. 1) Its main settlement is the village of Middlezoy, with the hamlets of Thorngrove to the west, Moorland, beside the Parrett and extending into Westonzoyland, to the south-west, and Greylake in the north-east. It measures roughly 2.5 km. from north to south and 3 km. from east to west but is highly irregular in shape principally because of intercommoning with Westonzoyland and Othery during the Middle Ages and because of allotments when the moors were inclosed in the late 18th century. (fn. 2) In 1757 the parish was said to measure 2,117 a., (fn. 3) in 1841, after inclosure of the moors, 2,520 a. (fn. 4) Alterations were made to the boundary with Othery in 1883, with Bridgwater about the same time, and with Westonzoyland in 1886. (fn. 5) Further alterations in the 1980s reduced the area to 843 ha. (2,083 a.) in 1991. (fn. 6)
Middlezoy village and Thorngrove share an area of marl of the Mercia Mudstone group which rises above the 24-m. (75-ft.) contour on Rowland's, formerly Rawlins, (fn. 7) Hill, known in the 13th century as la Cnolle, (fn. 8) the highest point on Sowy island. The marl forms a prominent ridge west of Middlezoy village which was known as Langedon in the Middle Ages (fn. 9) and Langdon Hill in 1600 (fn. 10) and continues just above the 7.5-m. (25-ft.) contour to the site of Thorngrove park (fn. 11) and further west as a detached area beside the Parrett at Moorland. North, east, and south of the marl are the sand and gravel Burtle beds where the former arable fields lay. Below 5 m. (16 ft.) to the west, in Weston Level, Langmead, and Bennets, areas of former common meadow, is peat, to the south-west in Earlake or Willake moor, (fn. 12) alluvium. Peat also lies to the north and north-east in King's Sedgemoor, including Smallmoor. (fn. 13)
COMMUNICATIONS
Beer Wall, linking High Ham with Sowy across North moor, is generally considered to have been built in the late 13th century, (fn. 14) but the king's highway to Westonzoyland skirting the north end of Middlezoy churchyard c. 1220 (fn. 15) suggests an established and probably long-distance route south-east along Fordway (fn. 16) to Othery and thence to High Ham. That was the general route adopted by the Langport, Somerton, and Castle Cary turnpike trust in 1792 and laid out in 1826. (fn. 17) Greylake Fosse, perhaps later than Beer Wall (fn. 18) and providing a more direct land link with Glastonbury, presumably always divided at the western end of the causeway at the hamlet of Greylake, the southern branch going to Middlezoy, the other direct to Westonzoyland. That southern route had become by 1675 (fn. 19) part of the route from Glastonbury to Taunton and Exeter which from Middlezoy village ran south of Langdon Hill to Thorngrove and thence via Borough drove across Earlake moor to the embankment beside the Parrett and along the embankment to Burrowbridge. After the inclosure of King's Sedgemoor in 1800 a more direct route cut through Greylake hamlet and led straight to Othery. (fn. 20) The Glastonbury - Taunton road was turnpiked by the Wells trust in 1779 but the section from Piper's inn in Ashcott was transferred to the Taunton trust in 1799. (fn. 21) A toll house known as Blindman's Gate was built on the Othery boundary and was sold in 1875. (fn. 22) Greylake bridge was built before 1801 to carry the Fosse over the drain. The bridge was partly rebuilt as a flat bridge in 1906. (fn. 23) Routes within the parish included New Way, recorded in 1308 and the route south of Langdon Hill from Middlezoy village to Thorngrove; (fn. 24) Holway, later Holloway road, leading from the church to Langdon Hill; (fn. 25) and the direct routes from Thorngrove to Westonzoyland via Place drove and to Moorland on the Parrett via Shride's wall, possibly the Moorwall recorded in the mid 14th century. (fn. 26)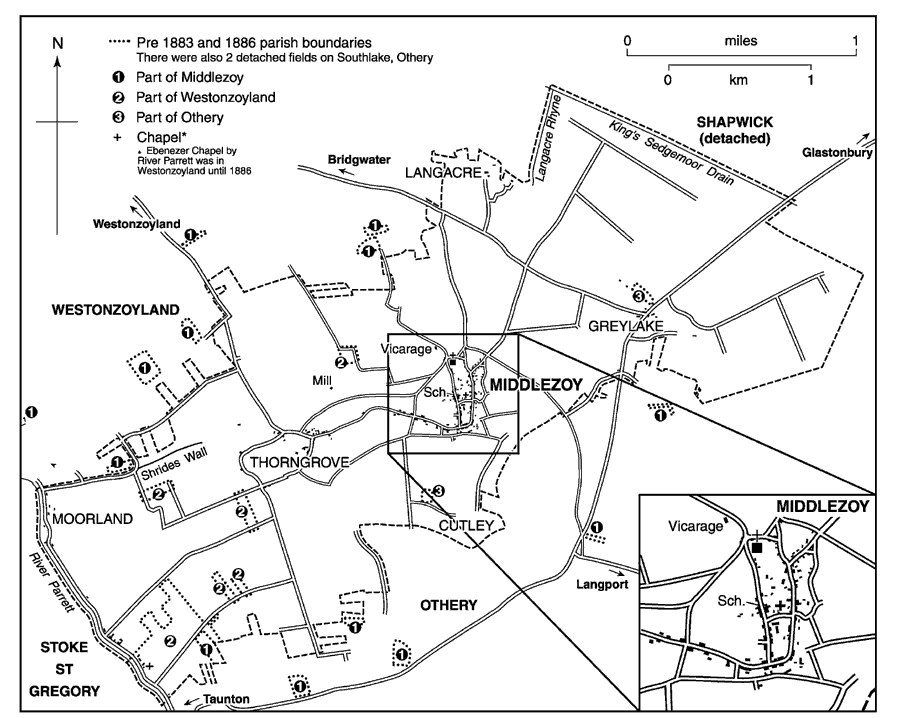 POPULATION
Fifty people were fined for involvement in 1497. (fn. 27) There were said to be 52 houses in the parish in 1723 (fn. 28) and 97 in the 1780s. (fn. 29) The population continued to rise steadily in each decade after 1801 from 494 to a peak of 737 in 1851. (fn. 30) Four people emigrated to America in the first quarter of 1841 (fn. 31) and a local family went to Australia in 1853. (fn. 32) The population fell to 681 in 1871 and to 565 in 1881, increased to 593 in 1901, fell to 510 in 1931, and thereafter rose to 616 residents in 1991. (fn. 33)
SETTLEMENT AND BUILDINGS
Greylake, on the extreme eastern edge of Sowy 'island', seems to have been occupied between the Mesolithic and the Bronze age: the evidence includes a trackway running eastwards and several burials. Some Iron-Age artefacts were recovered further east. Flints have been found on the edge of the marsh south-east of Thorngrove. (fn. 34) Romano-British pottery was discovered within Middlezoy village. (fn. 35)
The name Middlezoy implies a Saxon settlement. (fn. 36) It stood at the centre of its former arable fields, the largest of which separated Middlezoy and westonzoyland villages. (fn. 37) The two parallel streets of the village run downhill from the church. At the southern end is a late medieval or early 16th-century cruck-framed house, Perhams, which has a 3-bay hall and 2-bay chamber end; it was altered in the 17th century. (fn. 38) Nearby there is at least one other cruck-framed late medieval house, no. 36 Main Road, and several farmhouses dating from the 16th to 18th centuries. (fn. 39) By the 1780s the village had extended south-west along a lane to Thorngrove. (fn. 40) By the 1820s it had also spread cast towards the Bridgwater road, an area known as Townsend. (fn. 41)
MIDDLEZOY
Several houses along the road south-east of the church pre-date the 1780s when the village had 57 houses mainly two-storeyed of rough stone and thatch. (fn. 42) Early houses such as Perhams and the 17th-century Shepherds Farm had been built with cob. (fn. 43) Three next to the Post Office, including Perhams, still have thatch. Two 18thcentury farmhouses lay on the road west from the village in 1957. Several farmhouses, including no. 37 Main Road, were built, extended, or encased in the late 18th or the early 19th century. During the 19th century small, two-storeyed cottages in rows, detached villas, and farmsteads, such as the late 19th-century Northwood House, were built throughout the village centre; of lias earlier in the century and later of brick or of stone with brick fronts. The larger houses are late classical in style, for example Middlezoy House, L-plan in 1787, (fn. 44) rebuilt in the mid 19th century, and extended west slightly later. In the second half of the 20th century a large number of detached houses were built on small individual plots. A small estate of bungalows and houses was begun in 1968. (fn. 45)
Greylake, incorporating a word for a river, (fn. 46) has a continuous history as a settlement from the 13th century. (fn. 47) There were two farms there from that time until the late 19th century (fn. 48) and between five and nine households from the 17th to the 19th centuries. (fn. 49) Greylake House, now Greylake Farmhouse, (fn. 50) is a mid 18th-century brick-fronted stone house of two storeys and three bays with a tiled roof and sash windows. A small satellite settlement had developed south of Greylake at Smallmoor by 1851 when it had four houses but only two survived in 1871. (fn. 51) Langacre, on the edge of the marsh north of the village, was recorded with one cottage in 1609. (fn. 52) There were six houses in the 1780s. (fn. 53) It grew to eight in 1851, but had begun to shrink by 1871, (fn. 54) and was abandoned in the early 20th century. (fn. 55)
Thorngrove, named after a former wood, (fn. 56) has been settled since the 13th century (fn. 57) and comprised at least 12 tenements in 1516. (fn. 58) There were 19 houses in 1841 but thereafter the number declined. (fn. 59) Thorngrove is 18th-century, of brick with freestone quoins under a slate roof, and has a two-storeyed, five-bayed front with a parapet, bow windows, and porch. The sash windows have stepped voussoirs and ornamental shutters. Cutley, an isolated house near the boundary with Othery, was built after 1787 as a one-room cob cottage to which another cottage was added. (fn. 60)
The hamlet of Moorland is part of a scatter of farms along the north-east bank of the Parrett which was first named in 1516. There were 12 houses in Middlezoy manor there but the settlement may represent expansion of the 13th-century Kingswear as one Moorland tenant held land called Kingswear. (fn. 61) Two new cottages had been built by 1600 (fn. 62) and there were c. 15 houses there in the 18th and 19th centuries. (fn. 63) Moorland House, built of red brick and pantile, is 18th-century, of two storeys and three bays with a one-bay wing.
SOCIAL LIFE
In 1315 seventeen ale sellers were in breach of the assize of ale and fourteen in 1364. (fn. 64) An alehouse was recorded in 1607 and between 1620 and 1630 there was a licensed victualler. (fn. 65) There were three victuallers in 1674 and in 1686 three guest beds and stabling for six horses. (fn. 66) Only one licensed house was in business in the early 18th century (fn. 67) but the Windmill inn at Greylake farm was recorded in 1761, (fn. 68) probably the house near Blindman's Gate which John Bampfylde wanted to turn into an inn in the 1740s. The windmill inn was not recorded again and probably ceased to trade when the road was diverted south-east. (fn. 69) There were two public houses in the village in 1851, known as the George and the Somerset Arms by 1871. (fn. 70) The Somerset Arms was kept in 17th-century premises, probably a former farmhouse, but was rebuilt in 1926 as a smaller building and closed after 1947. (fn. 71) The George remains open. It is a two-storeyed, three-bayed, 18th-century house with an elliptical archway.
A revel was held on 3 July in the 1780s. (fn. 72) There was a seven-year friendly society in 1879. (fn. 73)
MANOR AND OTHER ESTATES
MIDDLEZOY MANOR
Middlezoy formed part of Glastonbury abbey's Sowy manor until the Dissolution. (fn. 74) It was farmed directly by the Crown (fn. 75) until 1547 when what was called Middlezoy manor, with Westonzoyland and Othery manors, was granted in fee to Edward Seymour, duke of Somerset. (fn. 76) It returned to Crown possession on the duke's attainder in 1552 and was leased for 31 years to Bernardine Granado, who sublet to Thomas Moore, a Taunton merchant. (fn. 77) It is probable that Granado died c. 1568 when the manor was granted in fee to Robert Dudley, earl of Leicester, who in 1570 sold it with Westonzoyland manor to (Sir) Edward Dyer. (fn. 78) Dyer died heavily in debt in 1607, and in 1613 Middlezoy and Othery manors were sold by Sir Edward's nephew Edward Dyer and the latter's father-in-law Bostock Fuller jointly to Thomas Warre and Edward Tynte. (fn. 79)
Thomas Warre agreed with Tynte to exchange his half share in Othery for Tynte's half share of Middlezoy, but the agreement was not then carried out and Warre's death in 1617 was followed by a legal challenge from Tynte. Agreement was reached between him and Richard Warre, Thomas Warre's brother and guardian of his son and heir, also Thomas. (fn. 80) Richard claimed ownership of the former Tynte share, and the younger Thomas came into possession of his father's share in 1638. (fn. 81) Thomas, with his son also Thomas, sold his share to Robert Burridge in 1664. (fn. 82) Robert (d. c. 1675) was followed by his son John, who sold to George Burton of Stogumber in 1731. Burton was dead by 1736, leaving an only child Sarah, wife of Alexander Glasse (d.c. 1736). In 1745 she left her estate to her brother-in-law John Glasse for sale, and in 1746 it was bought by William Moore. He held 280 a. in 1757. (fn. 83)
William died in 1768, and it passed from his widow in 1792 to William's nephews Hill and William Dawe. Under a partition of the estate in 1803 the land passed to Hill who died in 1820 leaving a son, also Hill, who was succeeded in 1851 by his nephew the Revd. Hill Dawe. (fn. 84) The estate had been acquired by Richard Meade King by the following year and he sometimes claimed to be lord of Middlezoy. (fn. 85) Richard (d. 1887) was succeeded by his son Lt. Col. W. O. Meade King (d. 1913). Sir William Meade King, son of the last, sold his estate between 1914 and 1919. (fn. 86)
Richard Warre (d. by 1649) was followed in succession by his grandson John (d. 1669), (fn. 87) by John's son Sir Francis (d. 1718), and by Francis's daughter Margaret (d. 1758), wife of John Bampfylde. (fn. 88) Copplestone Warre Bampfylde, son of Margaret and John, was considered to be the chief of the four lords of the manor in the 1780s, perhaps because he owned about half the parish. (fn. 89) Bampfylde (d. 1791) left his estate to his nephew John Tyndale, who added the name Warre. (fn. 90) He divided and sold the estate in 1815 (fn. 91) and part was bought by Richard Meade King. (fn. 92)
OTHER ESTATES
In 1189 William son of Wulgar held a freehold estate of 2 virgates of Glastonbury abbey for 13s. 4d. (fn. 93) The same estate may have been held by the Lady Sara in the mid 13th century. (fn. 94) Probably the same was held in 1308 by Adam le Eyre, (fn. 95) by his widow Margaret in 1327, (fn. 96) and by his son William (fl. 1333). (fn. 97) William appears to have been succeeded by his daughter John (fl. 1382), wife of John Brent, and Joan gave the rents of her tenants to her daughter Elizabeth, wife of Hugh Strode. (fn. 98) The land passed to John Brent, son of Joan, (fn. 99) and it descended like the Brent estate in Cossington (fn. 100) to John Trethek who, in 1440, granted it to Richard Strode, son of Elizabeth and Hugh. (fn. 101) It had passed to Richard's son William (d. 1499) by 1454 when it was described as a manor. (fn. 102)
In 1516 (fn. 103) William's widow Alice was holding both that estate and another former freehold which may be
MIDDLEZOY
traced back to a half virgate held in 1236 by Eve of Middlezoy (fn. 104) and probably later by Robert of Middlezoy. (fn. 105) In 1263 Thomas son of Robert of Middlezoy acquired from Joan, sister of Robert and wife of Hugh le Rous, four messuages and a virgate in Middlezoy and Westonzoyland to hold of them and Joan's heirs in return for two messuages and 18 a. and a release of his inheritance in Sowy from his grandmother Eve of Sowy. (fn. 106) Hugh and Joan later entered Eve's holding freely in return for a release of inclosures in the moors to the abbot of Glastonbury. Joan's estate probably passed to her daughter Sibyl, wife of Nicholas of Sowy. (fn. 107) In 1280 Constance, widow of Thomas, claimed dower against Nicholas, son of Godfrey of Sowy, who held the half virgate. (fn. 108) In 1308 Godfrey, son of Nicholas of Sowy, held a messuage and two virgates from Glastonbury abbey by knight service and 6s. rent. (fn. 109) He acquired further land from Ralph of Langstock mill and his wife Joan of Greinton before 1309 when he released it to Sir Nicholas of Langland, probably in trust, and sold him his corn and animals. Nicholas gave the land, together with half the virgate which Hugh le Rous and his wife had given to Thomas of Middlezoy, to John of Yeovil, who appears to have acted as the abbey's trustee in acquiring land in Middlezoy. (fn. 110) In 1310 Godfrey granted a messuage and 96 a. in Middlezoy and Westonzoyland to John of Yeovil, who obtained licences to alienate the estate to Glastonbury abbey but leased it back to Godfrey and his second wife Maud for their lives. (fn. 111) Godfrey was dead by 1325 leaving a son William, and in 1330 and 1338 Godfrey's daughter Joan and widow Maud released their rights. (fn. 112) Sowy family property may have formed part of the reversions of eight houses and over 12 a. acquired by the abbey c. 1349. (fn. 113)
In 1339 William of Sowy, as son and heir of Godfrey, did homage to the abbot for an estate of one and a half virgate. (fn. 114) William's son John may have made a further gift to the abbey. (fn. 115) John of Sowy's house formed part of Middlezoy manor in 1516 (fn. 116) and the estate was then held by the Strode family. (fn. 117)
The Strode estates descended like Stringston manor in the family, (fn. 118) who paid the ancient rent to Middlezoy manor until 1600 or later, (fn. 119) although Sir Robert Strode (d. 1616) claimed to hold his manor in free socage. (fn. 120) It appears to have passed to Sir Richard Strode, former husband of Robert's deceased daughter Catherine, who with his father Sir William sold it to Robert Burridge in 1661 and it descended with the main manor. (fn. 121)
John Brent had a house in 1400. (fn. 122) A 'mansion' house was recorded in 1582 (fn. 123) and may be the 'ancient mansion' known as Middlezoy Farm in the 1780s half a mile from the church. (fn. 124) It was not recorded again.
Adam of Middlezoy granted a house between the churchyard and the highway with one virgate for 3s. rent payable to Glastonbury abbey to William Dacus, who held it in 1189. (fn. 125) William sold it to Henry Carter, probably c. 1227 when Henry secured quitclaims to the land from Edulf son of Richard and from Rikilda, daughter of Ralph le Noble and granddaughter of Richard Croyde who had held it formerly. (fn. 126) Henry or a namesake continued to hold the virgate until 1264 when Elias Belde, tenant of William de Bolevill and his wife Eve claimed it, apparently unsuccessfully. (fn. 127) Henry was dead by 1268 leaving a son William but having granted his estate to Hugh le Rous. (fn. 128) Adam son of Richard sued for the estate but Hugh bought a quitclaim from him. (fn. 129)
Hugh was dead by 1268 having apparently divided his Middlezoy estates between Sibyl, probably his daughter, on her marriage to Nicholas son of Godfrey of Sowy, (fn. 130) and the abbey, which probably absorbed it into the main manor. Hugh's son and heir John le Rous released his claim in favour of the abbey and Hugh's widow Joan released her dower c. 1272 when she granted land at Thorngrove to the abbey. (fn. 131) In 1273 that estate was given to the abbey almoner and in 1331 a rent charge on it to the chamberlain. (fn. 132) The almoner's estate was absorbed into his Shapwick rectory later known as the manor of Shapwick and Moorlinch. (fn. 133)
William Clifton (d. 1564) held an estate described as Middlezoy manor. He was succeeded by his son John (d. 1593) and grandson Gervase, Lord Clifton (d. 1618), but subsequent descent is uncertain. (fn. 134) In 1705 a manor of Middlezoy was held by Florence Andrew, widow, and Solomon Andrew. (fn. 135) Solomon was succeeded by his daughter Sarah, wife of Ambrose Rhodes the younger, who settled it in 1731 on himself, Sarah, and their son Ambrose Andrew Rhodes (d. 1800). The last left the manor to his friend General John Barclay of the Marines. (fn. 136) Barclay (d. 1823) left it to his children John (d. 1835), Honoria (d. 1838), and Eliza (d. 1833). The estate was sold in 1840. (fn. 137) There was no further reference to lordship.
The fee-farm rent for Middlezoy manor was granted to Lady Denise Hext before 1633 and used by her to endow an almshouse in Somerton. (fn. 138) However, it was later said that part of the rent had been held by Elizabeth, daughter of William Basset, in 1655 and passed through several hands before being sold to John Bampfylde in 1735. (fn. 139) A sale of land in 1919 required purchasers to redeem the rent on each lot. (fn. 140)
ECONOMIC HISTORY
AGRICULTURE
Sowy manor was centred on Westonzoyland. (fn. 141) In 1189 one Middlezoy tenant held two virgates and another one for rent to Sowy manor only. There were 18 halfvirgaters, who owed ploughing, harrowing, reaping, and carrying, and a week's work in the summer, 27-a. tenants and 13 5-a. tenants who owed fewer works. There were also 2 ferlingers and 4 tenants holding fewer than 5 a. who owed no work although the tenant of a meadow owed salt. Two cranes were due from tenants at Greylake. (fn. 142) By c. 1240 there were 15 half-virgaters in Middlezoy, with another half virgate in hand, 8 ferlingers, 12 5-a. tenants, and 7 holding 2½ a. or less. There were 3 cottars each holding 5 a. and a tenement at Greylake which paid a crane. Most had parcels of meadow nearby, including Bennet and Langmead, which they rented separately. (fn. 143) In 1268 197 a. in Langmead and Bennet owed hay or corn tithes to the vicar which implies that some meadow was ploughed. (fn. 144) In 1302 there was c. 100 a. at Greylake which had been inclosed for meadow and pasture. (fn. 145) Holdings appear to have been divided by 1308 when there were only 5 halfvirgaters but 29 ferdellers, also known as ferlingers, one of whom held over 40 a., and 25 5-a. tenants, most of whom held additional land, including two who had over 30 a. There were 23 other tenants with up to 12 a. of land and many parcels of overland. Works for the halfvirgaters were onerous and included 20½a. of ploughing and carrying 42 cartloads of hay each, but many tenants owed no works. (fn. 146) In 1370 tenants were presented for tying draught animals on Middlezoy field, in 1373 for letting pigs into the field, (fn. 147) and in 1387 for not coming to ricking and other work and for mowing badly. (fn. 148)
In 1516 on Glastonbury's estate at Middlezoy there were 5 half-virgate and 33 ferling holdings including several at Moorland and Thorngrove. Although listed as 5-a. holders, 44 other tenants held varying amounts of land and some had more than one holding, but more than half had 5 a. or less and at least 26 tenants were neifs. (fn. 149) By 1600 there were 102 holdings, of which 66 were at Middlezoy, 17 at Moorland, 14 at Thorngrove, and 5 at Greylake. Thirty-nine holdings had over 20 a., including two over 50 a., one of which was an amalgamation of three tenements. There were proportionately more larger holdings in the hamlets, and five new landless cottages had been built recently at Middlezoy and two at Moorland. The names of 11 neifs were recorded. The tenants' duties were the maintenance of Lake and Burrough or Burrow walls and Greylake Fosse. Two tenants owed church scot hens. (fn. 150) On the Strode manor in 1582 there were 16 tenements of which two were outside the parish in Stawell, one was overland arable, and of the rest only four had more than 20 a. Meadow was still held in several and all tenants had unlimited common pasture in Sedgemoor and West moor. There was a new cottage on one holding. (fn. 151)
In 1565 the farmer of the main manor, Thomas Moore, was accused of pulling down houses, cutting timber trees, and taking over £2,750 in fines and heriots. One tenant had been required to give 20 bu. of malt as part of his fine. (fn. 152) In 1627 tithe was due on bees, saffron, onion, garlic, apples, pears, and all fruit from gardens and orchards. (fn. 153) A farmer c. 1630 had three yokes for oxen and a bay mare. (fn. 154)
In 1638 up to 1,000 a. was moor, much of it used as meadow, including Earlake, shared between Middlezoy and Othery and Bennets Long Drove lying between Middlezoy and Westonzoyland. Despite plans for draining and inclosing Sedgemoor during the early 17th century it is possible that drainage had deteriorated compared with the late 13th century when Bennet was valuable meadow. (fn. 155) Part of Sedgemoor was known as Middlezoy plain in 1672 and was used to pasture sheep. (fn. 156)
MIDDLEZOY
Geese were also kept on Sedgemoor; a farmer at Greylake kept 100 geese for their feathers before 1676 and c. 200 were driven away to Nythe in Greinton in 1681. (fn. 157) By 1691 56 a. of arable had been turned into meadow or pasture. (fn. 158) In 1701 tithes of hay and fruit from both orchards and hedgerows were still paid in kind. At least 16 a. of meadow was due to be ploughed. (fn. 159) In the 1720s tithes were paid on crops of oats, wheat, beans, peas, barley, and pears. In 1731 payments were made for pasturing 1,900 Dorset sheep. (fn. 160)
In 1723 no holdings over 50 a. were recorded on the manor and only 21 over 20 a. but some tenants held two or three. There were said to be 52 houses and cottages, all with unlimited rights of common in Sedgemoor. (fn. 161) Some exchanges of land took place between landowners in the mid 18th century (fn. 162) but most arable lay in Middlezoy field (fn. 163) known as the East field by 1757, although mainly north or north-east of the village, and covering 500 a. There were smaller open fields at Langdon to the west and Southam in the south, giving a total of 660 a. of arable shared between the various estates. Of a total of 185 holdings only 37 were over 20 a., no farms were over 50 a., and only a few people held more than one. Many of the larger holdings were at Thorngrove. There was 12 a. of encroachment on Sedgemoor including seven cottages, presumably the hamlet at Langacre. (fn. 164) Piecemeal inclosures were made later in the 18th century but not of the best land; general inclosure was considered desirable because the arable was under constant tillage. Despite being badly farmed in the 1780s the land produced fine wheat, beans, barley, and clover but no turnips were grown. (fn. 165) Some houses including several at Moorland were in bad condition or had fallen down and at least one tenant was allowed to take down a house when amalgamating holdings. One woman at Moorland was said to make a remarkable quantity of cider. (fn. 166) In 1792 a withy bed was recorded and a withy boiler served as a boundary marker. (fn. 167)
In 1795, under an Act of 1791, 99 allotments in Sedgemoor were awarded to Middlezoy in lieu of common rights but four of the houses for which claims were made were down and three others had been converted to barns. (fn. 168) The remaining open land in the parish, 551 a. of common pasture and c. 500 a. of arable, were inclosed in 1800-1 under an Act of 1798. Allotments were made to c. 70 tenants, some of whom had several holdings. A tithe composition was made at the same time affecting 181 holdings, but many of those were cottages and many tenants leased several holdings. Apart from land in hand, the largest single holding was only 58 a. (fn. 169) By 1804 the tenements on the Dawe estate were rack rented, one tenant holding nearly 120 a., over half arable. Two houses had been converted to barns. (fn. 170)
In 1801 wheat was produced on 234 a., barley on 145 a., and beans, peas, potatoes, oats, and rape on the rest of a total of 579 a. (fn. 171) A poulterer and a dairyman were recorded in 1851 and 1871. (fn. 172) Despite inclosure most holdings remained very small during the 19th century. Of 37 listed in 1851 only 13 were over 50 a., but those included a 530-a. farm at Thorngrove, an amalgamation of holdings of a father and son. Only 56 labourers were employed, on 16 farms, which may account for the fact that large numbers of paupers were recorded, one of whom took in a further five as lodgers. (fn. 173) There had been almost no change in size of holdings by 1871 when only 14 out of 71 holdings had more than 50 a., but 23 farms offered employment to 71 labourers. (fn. 174)
In 1891 a number of people were described as hay cutters and trussers (fn. 175) and by 1905 2,009 a. was grassland; arable covered 530 a. (fn. 176) Farms remained small in the early 20th century, having scattered fields and keeping dairy cows and pigs. (fn. 177) The wheat fields between Middlezoy and Othery were said in 1932 to produce crops of wheat, barley, beans, and roots. (fn. 178) In 1939 there was only one recorded farm with over 150 a. (fn. 179) but agriculture provided the only local employment. (fn. 180)
WOODLAND
Thorngrove wood was used for pannage and pasture in the 13th century but great oaks survived there. (fn. 181) It was later converted into a small park, possibly by the early 14th century. (fn. 182) By 1516 it was in closes. (fn. 183)
MILLS
There was a windmill on Langdon in 1305 which was farmed in 1308. (fn. 184) A second mill was built before 1330, (fn. 185) and Abbot Monington, 1342-75, was said to have built a new windmill. (fn. 186) There was still a windmill on Langdon in 1516. A horsemill and the site of an ancient but unspecified mill were by then let to a tenant. (fn. 187) In 1535 two millers were presented for overcharging (fn. 188) and two windmills were recorded in 1600, one near Thorngrove and the other, described as newly erected, nearby. (fn. 189) Three millers, all women, were accused of taking excess toll in 1622. (fn. 190) Two separate mills appear to have existed in 1787 (fn. 191) but only the mill near Thorngrove was recorded on the manor (fn. 192) and it was the only one in use in 1800. (fn. 193) It is said to have worked until c. 1885 and was a stone tower mill which had 19th-century iron gear. (fn. 194)
TRADE AND INDUSTRY
A claypit was recorded in the 13th century. (fn. 195) A tiler or hellier was pardoned in 1401 (fn. 196) and a quarry was recorded in 1516, (fn. 197) but by c. 1540 there were said to be no quarries. (fn. 198) Sand was dug at Smallmoor near Greylake in the early 20th century and on over 3 a. south of the village at Cutley. (fn. 199)
There was a boatman at Moorland in 1516 (fn. 200) and a weaver was recorded in 1619. (fn. 201) A basketmaker and a saddler were named in 1841 and three basketmakers at Thorngrove in 1851. Only one shopkeeper was recorded in 1841 but there were two grocers in 1851 (fn. 202) and four by 1861 together with a draper and general shopkeeper. (fn. 203) In 1883 there were only two grocers and another shopkeeper. (fn. 204) In 1947 there were three general shops, a post office, a butcher, an undertaker, a radio repairer, and a garage but in 1979 only a shop and post office remained in business. (fn. 205)
LOCAL GOVERNMENT
Middlezoy had its own halimote jury by the mid 13th century (fn. 206) and was a separate tithing. (fn. 207) The vill was responsible, separately or with its neighbours, for maintaining the moor walls. (fn. 208) In 1366 the vill had its own hayward and horsekeeper and there was another horsekeeper for Moorland. (fn. 209) Few records survive for postmedieval courts for Middlezoy although courts were kept until 1828 or later. (fn. 210) In 1565 tenants complained that the farmer of the manor held four courts a year instead of the accustomed two. (fn. 211) A court book for 1582 survives for the Strode manor (fn. 212) and suit of court was demanded of a tenant on that estate in 1734. (fn. 213)
The butts lay north of the church and a field northwest of the village was known as Bullstake in 1787. (fn. 214) The pound was recorded in 1757. (fn. 215)
Middlezoy had two chapel wardens by the mid 14th century. (fn. 216) Churchwardens paid for birdscaring and maintaining drainage from the late 17th century or earlier. They also gave alms to travellers, c. 120 in 1677 and 54 seamen in 1685. (fn. 217) They maintained the stocks in 1815. (fn. 218) By 1840 one warden was appointed by the vicar the other by the vestry. (fn. 219) There are no surviving records for the overseers of the poor until 1800 but four overseers were appointed in 1798. (fn. 220) Poor relief in kind included potatoes and cabbages in the early 19th century. The overseers were also responsible for paying the bills for drainage and road works (fn. 221) but by the 1820s the highway surveyors levied their own rate. (fn. 222) The vestry, meeting by 1750, was responsible for appointing constables and a doctor to attend the poor, and supervising the maintenance of the moor walls and highways. (fn. 223) The vestry clerk was paid by the overseers in the 1830s. (fn. 224)
The poorhouse recorded in 1776 was formerly the church house. The parish took a lease of it in 1796. It was maintained in 1839 and 1849 but was given up in 1858. (fn. 225)
Middlezoy formed part of the Bridgwater poor-law union from 1836 and from 1894 was part of Bridgwater rural district. That was absorbed into Sedgemoor district in 1974. (fn. 226)
There was a resident police constable in 1861 and 1881. (fn. 227)
DRAINAGE
In the Middle Ages the vill was responsible for a wall called La Verye or Moorwall, possibly the later Shride's wall. Two men, four in 1352, were keepers or super visors. In 1348 two men were presented for illegally cutting wood to repair the wall. (fn. 228) The upkeep of Greylake Fosse with its drainage ditches and bridges was the responsibility of the local manors in the 14th century and of adjoining parishes in the 17th. It was often submerged, possibly because it caused flooding by penning water on its east side, and it was regularly in need of repair. (fn. 229) In 1370 Middlezoy was ordered to provide two supervisors of Greylake Way, one of whom was amerced in 1373 following flooding. (fn. 230) It also shared with Othery and Westonzoyland the upkeep of Burrow and Lake walls. In the 16th century responsibility passed to the parish. (fn. 231) The road along the Parrett bank was maintained by the inhabitants there, who in 1656 claimed that owing to the cost they were exempt from other highway work. (fn. 232)
Serious problems with drainage and health, including higher than usual numbers of burials in 1869, 1871, and 1873, led to a report on sanitation in 1874. At least 64 houses as well as cattle bartons and piggeries drained into two open ditches, one of them beside a row of cottages. (fn. 233)
CHURCH
ORIGINS, PATRONAGE AND ENDOWMENT
Middlezoy was a chapelry of Sowy parish (fn. 234) with its own churchyard and chaplain in the mid 13th century. (fn. 235) In 1515 Sowy was divided (fn. 236) and Middlezoy thereafter was a separate parish with its own parish church and vicar. The living remained a sole vicarage, although sometimes held in plurality with Othery, (fn. 237) until 1952 when it was united with Othery. Since 1980 it has been joined with Moorlinch and its chapel at Stawell. (fn. 238)
Parish chaplains were appointed by the rectors, and after 1268 by the vicars, of Sowy. (fn. 239) After the division in 1515 the right of patronage lay with the lords of the manor until 1614. (fn. 240) In 1566 the bishop of Bath and Wells appointed by lapse (fn. 241) and from 1614 successive bishops were patrons until 1852 when patronage was transferred to the bishop of Worcester. Since 1980 the bishop of Worcester has the right to present at the second turn in three. (fn. 242)
The vicarage was worth £12 net in 1535. (fn. 243) In 1655 the minister received an augmentation of £20, (fn. 244) which was the reputed value of the living c. 1673. (fn. 245) In 1707 the value was £22 net, mainly from land, (fn. 246) but in 1815 was £120. (fn. 247) By the early 1830s the average gross income was said to be £185. (fn. 248) In 1858 the vicarage was augmented with £150 from Queen Anne's Bounty. (fn. 249)
Vicarial tithes were assessed at £8 13s. 4d. in 1535. (fn. 250) In 1627 the vicar took grain tithe from two areas which had been the sites of a house and gardens. (fn. 251) The tithes were valued at £2 2s. 8d. in 1707, possibly because there was a composition for small tithes, and Easter offerings were worth £6. (fn. 252) In the 1780s tithes were paid mainly by composition, and most were commuted when the arable was inclosed in 1801. (fn. 253) The charge was fixed by successive orders of Quarter Sessions and tithes were a source of dispute throughout the early 19th century. (fn. 254) The uninclosed meadows and pastures continued to pay tithe by moduses until 1854 when vicarial tithes on 826 a. were commuted for £3 12s. 1d. (fn. 255)
The chaplain's house and croft were assigned to Sowy vicarage in 1268. (fn. 256) In 1515 there was over 28 a. of glebe in Middlezoy which appears to have been transferred to the new vicarage and was worth £4 in 1535. (fn. 257) The glebe measured c. 23 a. in 1606 with two tenements with cottages and over 8 a. One tenement may have been added to the vicarage house by 1627. (fn. 258) Some exchanges of glebe land were made in 1857. (fn. 259)
In 1627 the vicarage house comprised entry, hall, parlour, kitchen, bakehouse, and four upper chambers, and farm buildings included a barn, pig and poultry houses, stable, stall, and hayhouse. (fn. 260) By 1815 there was no glebe house (fn. 261) and in 1858-9 a two-storey house with seven bedrooms was built to the design of Charles Knowles on glebe land north-west of the church. (fn. 262) The house was sold in 1980 and the vicar lives at Othery. (fn. 263)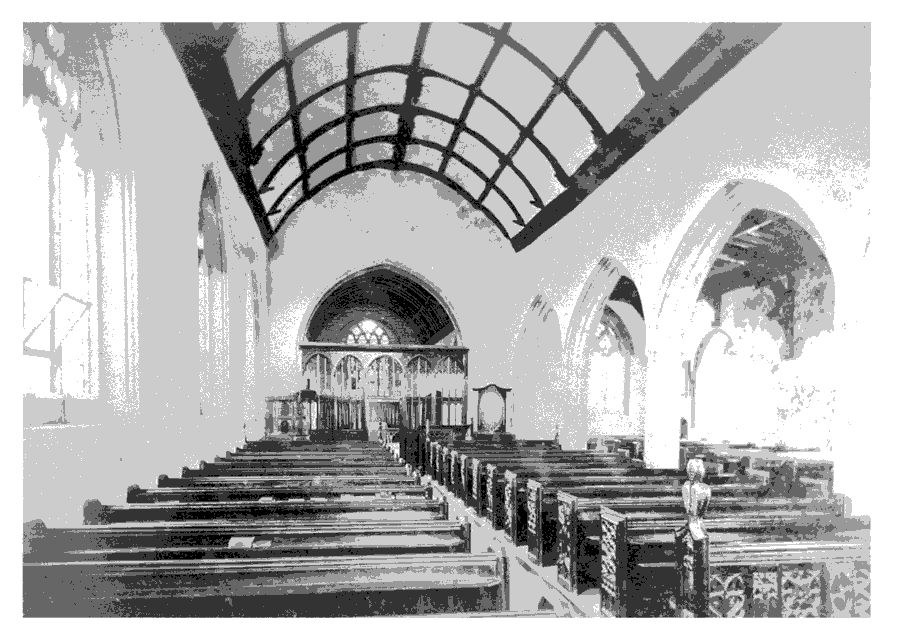 CHURCH LIFE
Walter Rawlins, instituted in 1540, was deprived for marriage in 1554. (fn. 264) He had been restored by 1563 and was resident, although he was of moderate learning and was not licensed to preach. (fn. 265) Paul Rawlins, vicar 1590- 1614, was probably a relative. (fn. 266) In 1747 the vicar, John Richards, was a schoolmaster in Wells (fn. 267) and several successors were pluralists and non-resident, leaving the parish to curates. (fn. 268)
There were 10 communicants c. 1780 (fn. 269) and in 1815 one Sunday service, alternately morning and afternoon, which had been reduced to alternate Sundays by 1827 when the curate also served Othery. (fn. 270) By 1840 the resident curate held two Sunday services and communion was celebrated four times a year. (fn. 271) The vicar was resident in 1873 and held monthly communions. (fn. 272) An organ was installed in 1903. (fn. 273) Two Sunday services continued to be held in the early 20th century and there were 71 Easter communicants in 1913. (fn. 274)
In 1548 there was a fraternity of Jesus with its own silver chalice and ornaments. (fn. 275) In 1557 the church ale was not held according to custom. (fn. 276) In 1585 pigs were sold in the church porch and in 1600 a man played the bagpipes there. (fn. 277) There was a church house in 1600. (fn. 278)
In 1741 it was decayed and the parish took a lease, undertaking to build a substantial new house, probably for the use of the poor. (fn. 279)
CHURCH FABRIC
Middlezoy chapel was dedicated to St. Lawrence in the early 13th century (fn. 280) and to St. Mary in the 1540s. (fn. 281) By 1754 (fn. 282) the present dedication to Holy Cross had been adopted. Built of coursed lias rubble, it has a chancel and a nave with south aisle and south porch, a north chapel or vestry, and west tower. The nave and chancel were built in the early 13th century. In the 14th century the chancel and east end of the aisle were given Decorated windows (fn. 283) and piscinae. In the 15th century the aisle arcade and the west end of the aisle were rebuilt, and the nave and aisles were reroofed. The north wall was rebuilt and the north chapel was added. A rood screen spanned nave and aisle west of the north chapel: its remains stand within the chancel arch. The chancel arch and tower, of the Quantock type, were built by the end of the 15th century or in the early 16th: the panelled arch of the tower matches that of the chancel and there is an unfinished fan vault. An early 16th-century stained glass image in the south aisle, said to be St. Dorothy, is probably an assembly of fragments. (fn. 284) The font and some bench ends, with poppyheads of the 1860s, are late medieval. (fn. 285)
The church was said to be in decay in 1568 and its walls in 1586. (fn. 286) It remained unrepaired in 1590 and 1600. (fn. 287) In the 1670s, 1703, and 1737 large areas of roof were tiled. (fn. 288) New furnishings were provided in the 17th century: the pulpit is dated 1606, the font has an early 17th-century cover, the tower screen and communion rails are of 1679, and the communion table was repaired in 1695. In 1672 the church plate comprised a silver communion cup, a pewter flagon, and a dish. (fn. 289) On the nave floor is a brass memorial to a Frenchman killed at the battle of Sedgemoor in 1685. A singing loft of 1708 was 'beautified' in 1716 and repaired in 1831. The pulpit was reduced in size and moved forward in 1812. (fn. 290) In 1825 the chancel was whitewashed inside and out and the window surrounds and the pillars were ochred. (fn. 291)
In 1839 the church was in a poor state and, although the chancel was repaired c. 1839 and slated in 1842, (fn. 292) it was still in a 'disgraceful state' in 1848 when extensive repairs were needed and the removal of the singing gallery ordered. (fn. 293) It is not clear whether the repairs were done but the singing gallery was removed in 1848 and the church was stuccoed in 1849. (fn. 294) In 1864 Charles Knowles drew up plans for refurnishing and repair, some of which, including work on the tower and the removal of the rood screen to the chancel arch, were carried out in 1864-6. (fn. 295) Major repairs were carried out in 1908. (fn. 296) In 1954 a 16th-century vestment chest was converted to an altar for the south aisle. (fn. 297)
There is a cup and cover dated 1573 by 'I.P.'. (fn. 298) There are six bells including one of 1608 probably by George Purdue, one of 1767 by Thomas Bayley of Bridgwater, one of 1798 by Edward or George Davis, cast from two bells and recast in 1907, and three of 1869 by Llewellins and James. (fn. 299) A civil register of baptisms only was recovered from Othery in 1952. Marriages were recorded from 1668 and burials from 1697. (fn. 300)
NONCONFORMITY
Presbyterians are said to have seized a Baptist minister when he was preaching in the parish church in 1646 and in 1672 a house was licensed for Presbyterian use. (fn. 301) By 1669 two houses were in use by Quakers and one, that of Thomas Powell, was used until he moved to Greinton in the 1670s. (fn. 302) Quakers still lived in the parish in the 1680s (fn. 303) and a house for an unspecified denomination was licensed in 1689. (fn. 304)
Anabaptists were using a house from 1752 and Independents were meeting at Moorland in 1761. (fn. 305) A building was licensed for worship by Independents in 1840, (fn. 306) and a chapel was built in 1845 but was not recorded again. There was a resident Congregationalist evangelist between 1881 and 1896. (fn. 307)
John Wesley preached in the parish several times between 1744 and 1766, and Methodists were meeting there by 1807. (fn. 308) In 1838 eight members were admitted on trial, (fn. 309) and the society averaged 6 members during the mid 19th century. (fn. 310) A Wesleyan Methodist chapel, said to have been built in 1847, was registered in 1861 (fn. 311) and there was a resident preacher in 1891. (fn. 312) A new chapel was built, further west, in 1898 with seats for 154 and remained open in 2000. (fn. 313) It was built of orange-red and yellow brick and is a simple rectangular building with bargeboards. The old building was retained until 1910 or later and was a private house in 2000. (fn. 314)
An undenominational mission hall for 200 was built by W. Rawlinson of Taunton before 1896 and was used for temperance and other meetings. (fn. 315) It was licensed temporarily for Anglican worship in 1908 (fn. 316) and remained in use as a hall during the early 20th century. (fn. 317)
EDUCATION
In 1634 the parish clerk taught reading and the catechism, (fn. 318) and in 1662 a man was licensed to teach reading, writing, arithmetic, and grammar. (fn. 319) In 1682 a man was licensed to teach an English school and in 1704 another man was licensed to teach in Middlezoy or Othery. (fn. 320)
In 1819 there were two schools, one for c. 60 children, (fn. 321) which may have been the Sunday school started by Thomas Bailey, probably in the late 18th century. Bailey gave a house and land which provided books and £3 a year for the schoolmaster. About 1825 the master lived in the house which also accommodated 70-80 children, although only 54 attended on Sundays. The master's wife, who taught 34 children during the week, died c. 1825 and the school seems to have failed. (fn. 322) The vestry agreed to support a school, presumably a Sunday school, in 1827 provided that farmers paid for their children over the age of 10. (fn. 323) In 1833 the Sunday school, with 50 pupils, was supported by subscription and three day schools, two founded in 1830-1, taught a total of 76 children at their parents' expense. (fn. 324) By 1847 one school was affiliated to the National Society and was held daily and on Sundays with a total of 131 children in premises later said to have been built in 1843. (fn. 325) The school stood in the middle of the village and between 1841 and 1871 was kept by the Pearce family who also took boarders. (fn. 326) The school received a small endowment in 1866, probably for the Sunday school and a revival of Mr. Bailey's gift. (fn. 327) The land, 4 a. in Sedgemoor, was still part of the National school estate c. 1952, although the school and house were leased to the local authority. (fn. 328)
A school board was formed in 1874 (fn. 329) and leased the National school premises. (fn. 330) Average attendance was 70 in 1883 although the building could accommodate 110. (fn. 331) In 1903 there were 128 children on the books, but attendance was poor. There were two classrooms and a teacher's house. An evening school was held. (fn. 332) Numbers fluctuated, falling to 47 in 1955 when only children aged between 5 and 11 attended, and there were 56 children on the books in 1998. (fn. 333) The school building is later 19th century, of orange-red brick, with a low schoolroom attached to a two-storey teacher's house. There are early and later 20th-century additions.
There was a schoolmistress at Moorland in 1841. (fn. 334) In 1866 there was a private day school in the parish and the Pearces ran a boarding school until 1883 or later. (fn. 335)
CHARITIES FOR THE POOR
John or Thomas Avoke left £2 to the poor of the parish before 1590, but it was either distributed after 1594 or lost. (fn. 336) In 1626 Richard Warre gave £2 and goods worth £1 12s. as a stock for the poor. It appears to have been lost in or before 1642. (fn. 337) Thomas Bailey (d. 1792) gave a £1 rent charge on land in the parish to provide bread, and his son, also Thomas, paid the money at Christmas. (fn. 338) Under a Scheme of 1881 the income from annuities, £83 in 1993, was for the general benefit of the poor. (fn. 339) By will dated 1865 Thomas Peratt gave money for clothing the poor. In 1882 the charity had over £500 in consols and cash, and in the 1990s there was an income of £81. (fn. 340) George Lovibond by will dated 1887 gave over £90, the income from which was used to give bread to the poor at Christmas. The charity had ceased before 2000 when it was deregistered. (fn. 341) Frank Keirl by will of 1950, confirmed in a Scheme of 1955, gave money to provide 'comforts' for pensioners and other needy people in the parish. In 1993 the income was £13. (fn. 342)