Pages 20-27
A History of the County of Stafford: Volume 17, Offlow Hundred (Part). Originally published by Victoria County History, London, 1976.
This free content was digitised by double rekeying. All rights reserved.
OTHER ESTATES.
Charlemont Hall stood on the west side of the present Charlemont Crescent. It was preceded by a house called Crump Hall, (fn. 1) probably the one at Crumpall Green which by 1732 belonged to Jesson Lowe, an ironmonger and a younger son of John Lowe of Lyndon. (fn. 2) Crump Hall was burnt down c. 1755. (fn. 3) Soon afterwards Jesson Lowe built himself a new house which he referred to in his will of 1758 as 'Charley Mount'; the surrounding area had already become known as Charlemont by 1723. When Lowe died in 1758 his property also included a farm at Mount Ephraim to the north-west and another to the south-east near Bird End. The estate was then divided: the house passed to Lowe's sister Sarah on condition that she continued to live there, and the farms went to his brother Alexander. (fn. 4) In 1772, after Alexander's death, the farms also passed to Sarah. (fn. 5) She died in 1774, leaving the Charlemont estate to her elder sister Elizabeth. (fn. 6) Elizabeth was living at Charlemont in 1793, the year of her death; it then passed to her cousin John Hallam, dean of Bristol. (fn. 7) In 1806 he granted his West Bromwich property to his son Henry, the historian, but retained Charlemont Hall until his death in 1812. (fn. 8) In 1813 Henry sold the house to Thomas Jesson, who was living there in 1818. (fn. 9) In 1825 Jesson, who was then living at Westerham (Kent), sold Charlemont Hall with 41 a. to his brother-in-law Samuel James Dawes of the Leveretts, Handsworth. (fn. 10) In 1829 and between at least 1833 and 1841 it was let. (fn. 11) Dawes's son Henry was living at Charlemont by 1845, and father and son were both living there in 1851. (fn. 12)
After his purchase of the estate in 1825 S. J. Dawes bought more land in the area, 18 a. in 1830 and a further 12 a. in 1833. In 1851 he bought the remainder of Henry Hallam's property in the area, the 35-acre Stanton farm. (fn. 13) Dawes died in 1853 at his residence, Woodville in Handsworth, leaving his property in trust for his sons and their families. (fn. 14) His trustees sold Charlemont Hall in 1854 to J. N. Bagnall, who lived there until 1863 and then moved to Shenstone. (fn. 15) From 1871 the hall was let; the last occupants were Thomas Jones, town clerk of Wednesbury 1897-1921, and his widow. (fn. 16) The house was demolished in 1948, (fn. 17) and the site has since been covered by a housing estate. Almost 90 a. of land in the area continued to be held in trust for the Dawes family until 1916. The property consisted of two farms, Charlemont farm and Stanton farm; both were bought in 1916 by two farmers, Frank and Harry Allen. (fn. 18)
Charlemont Hall was described c. 1800 as 'a lofty neat-looking house of brick, faced with stone, with iron palisades etc. in front'. An east wing was added in 1855. (fn. 19) At the inclosure of 1804 the two roads to the south and west were straightened to run further from the house; the southern half of the road running east of the house was taken into the grounds and planted. (fn. 20)
Dagger Hall at the junction of Dagger and Salter's Lanes occurs in 1667, when it was owned by William Turton of the Oak House. (fn. 21) In 1725 it was owned by his grandson, John Turton, also of the Oak House, (fn. 22) but by 1845 it was part of Lord Dartmouth's estate. (fn. 23) In the 19th century it was occupied as a farm by members of the Hall family. It was demolished between July 1894 and February 1895. (fn. 24)
The estate at Greets Green later known as Dunkirk was the home of the Rider family by the 16th century. Riders occur at West Bromwich in the 1380s. (fn. 25) Robert Rider held land in the Greets Green area in the 1520s (fn. 26) and may have had a house there. (fn. 27) He or another Robert died in 1561 or 1562 leaving his property in West Bromwich to a son, also Robert. The younger Robert left the estate to his son Simon in 1579, expressing the hope that 'he will keep it in the name wherein it hath remained many hundred years as by old and ancient deeds it doth and may appear'. (fn. 28)
In 1580 Simon, having succeeded to his father's property, came to West Bromwich from Oldbury; (fn. 29) he worked a mill on the estate and lived in a house near by. (fn. 30) He died apparently in 1640 (fn. 31) and was succeeded by his grandson Robert (d. 1646). (fn. 32) Robert's son and heir Nicholas (fn. 33) got into financial difficulties: he was mortgaging land from the 1680s and was heavily in debt at his death in 1703. (fn. 34) The estate then consisted of a brick house, gardens, a windmill, a water-mill on the Tame, and arable, pasture, and meadow, all worth some £130 a year. (fn. 35) Nicholas's will directed that the estate should be sold to pay his debts and to provide portions for his children. In 1708 his creditors filed a bill in Chancery asking that his debts should be paid; his widow filed a cross bill to establish her dower. (fn. 36) The estate was in Chancery for over a century, but the house, like the mill, was occupied by Joseph Gutteridge between at least 1732 and 1760. James Gutteridge was killed at the mill in 1817, and Daniel Gutteridge, a farmer and miller, was apparently living there in 1818. The name Dunkirk was in use by 1748, and the mill became known as Gutteridge's Mill. (fn. 37)
In 1812 the estate was auctioned under a Chancery decree and most of it was bought jointly by Alexander Stansbie, Edward Blount of Bellamour in Colton, and Thomas Whitgreave of Moseley in Bushbury. In 1816 Stansbie went bankrupt, and his share of the property was sold to the Price family. In 1829 the estate was divided between Edward Blount, Thomas Whitgreave's son George, and the Prices. (fn. 38) The house was included in the Whitgreave share, and George owned it in 1845. (fn. 39) By 1881 it was owned by Reuben Farley (d. 1899). (fn. 40) By 1895 it consisted of two tenements, severally occupied by a dairyman and a smith and inn-keeper. (fn. 41) In 1900 Farley's executors sold it to Charles Darby, who built a brewery near by in 1902. The house passed to Darby's Brewery Ltd. and in 1970 was run as the Dunkirk inn by Mitchells & Butlers. (fn. 42)
In 1632 the house included a parlour surmounted by 'high chambers', a closet or study adjoining the parlour, and a 'long buttery' near by. (fn. 43) In the late 17th century (fn. 44) it was replaced by the present twostorey brick building with attic gables. The groundfloor has been greatly altered, both inside and out, but appears to have contained one room on each side of a central entrance hall and at the rear a stair with turned oak balusters. The surviving original windows have ovolo-moulded stone surrounds.
The estate in the north of the parish which became known as Friar Park belonged to Halesowen abbey in the Middle Ages. By 1223 the abbey had about 25 a. and a mill in West Bromwich, the gift of a lord of the manor. (fn. 45) By 1291 the abbey's West Bromwich property consisted of a carucate of land, meadow, rights of common pasture, the mill, and 2s. assized rent. (fn. 46) By 1500 it comprised pasture in Bromwich park and a tilehouse, both leased out. (fn. 47) At some unknown date an abbot of Halesowen gave part of the estate for the maintenance of Tame Bridge. (fn. 48)
Halesowen abbey was suppressed in 1538, and its estates, including the West Bromwich property, were granted to Sir John Dudley, later earl of Warwick and duke of Northumberland. After his attainder and forfeiture in 1553 the West Bromwich property remained with the Crown until granted in 1562 to his son Ambrose, earl of Warwick. (fn. 49) Warwick died without issue in 1590 and the estate again reverted to the Crown; by then it was known as Friar Park. (fn. 50) The property (c. 400 a.) was acquired by Sir William Whorwood, who held it at his death in 1614. (fn. 51) Thereafter Friar Park formed part of the Sandwell estate. (fn. 52) Friar Park House, in existence between at least 1634 and the mid 19th century, (fn. 53) may earlier have been the home of the Middlemores, who were living at Friar Park between at least 1602 and 1627. (fn. 54)
In 1845 Lord Dartmouth owned 385 a. at Friar Park; 330 a. were tithe-free and evidently represented the estate formerly owned by Halesowen abbey. (fn. 55) Parts of the estate were acquired by Sir Horace St. Paul in the mid 19th century (fn. 56) and by West Bromwich corporation about 1880. (fn. 57) It was the scene of small-scale mining and of brickmaking in the later 19th century, (fn. 58) and in the 20th century it has been almost completely built over. (fn. 59)
Hill House at the north end of Dagger Lane dates from the earlier 16th century, but the details of its history before the 19th century are obscure. It may have been held by the Grove family in the 17th century; if so, it would have passed by marriage from them to the Magenis family, who would have held it until about the mid 18th century. (fn. 60) By 1845 it was part of Lord Dartmouth's estate. (fn. 61) In the late 1820s it was occupied by Mary Jesse, the widow of William Jesse, minister of All Saints' (d. 1814); Elizabeth Jesse, presumably their daughter, was living there in the mid 1830s. (fn. 62) It then became the home of James Eaton, who died there in 1857. (fn. 63) The adjoining farm was occupied by Joseph Chambers in the mid 1830s and by Charles Cotterill in the mid 19th century. (fn. 64) Hill House was eventually bought by West Bromwich corporation. (fn. 65) Part of it was still tenanted in 1971.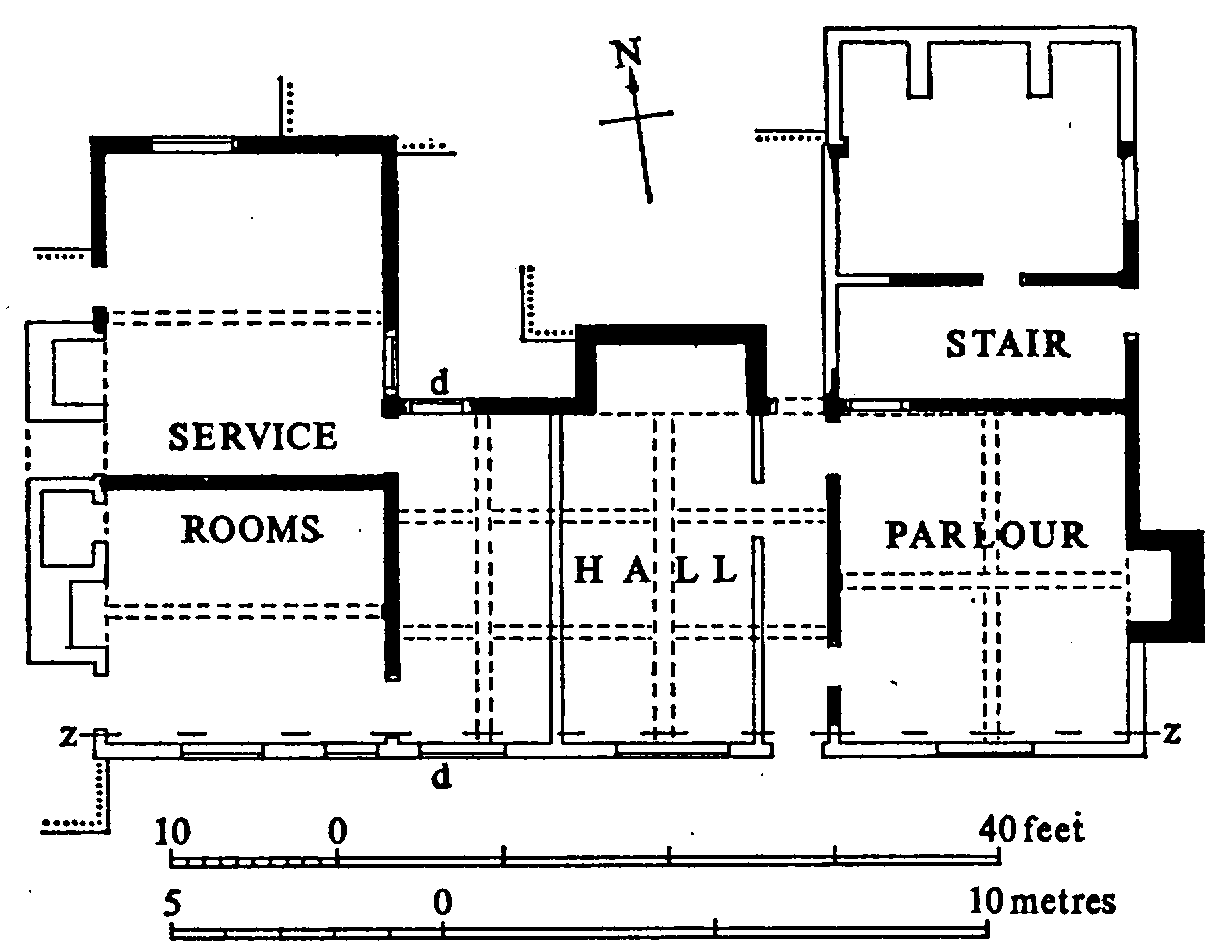 Hill House is a timber-framed building of the earlier 16th century with brick additions of the 17th to 19th centuries. The original house had a central hall range flanked by cross-wings, that on the west containing the kitchen and service rooms, that on the east the parlour and principal staircase. The north front was jettied at the level of the first floor, and there were gables to the wings. The hall chimney-stack is probably original, and that to the parlour is an early addition. An early-17th-century carved overmantel and some panelling remain inside. At some time in the later 17th century the north front was built up in brick and the original timber wall was removed. The house was later subdivided, and brick additions were made which included an extension at the rear of the parlour range to form a kitchen (perhaps in the 18th century), a pantry behind the hall chimney, and a 19thcentury range of one storey on the west.
In 1699 John Lowe, an ironmonger, was living in a house known in the early 19th century as Line House, which he had bought from Josiah Simcox: it stood in Stoney Lane south of the present Lewisham Street. (fn. 66) He died in 1702 and was succeeded by his son John (d. 1740), who lived at Line House. (fn. 67) His son and heir Samuel (fn. 68) had let the house by 1748 to a Mr. Howell, (fn. 69) probably the William Howell who was keeping a boys' boarding school there by the 1760s. (fn. 70) Samuel was apparently living at the house in 1767; it was then described as having seven rooms on the first-floor, six on the second, and five on the third, with a large garden and land for cattle. (fn. 71) By 1793 the owner was Elizabeth Lowe of Charlemont, Samuel's sister; (fn. 72) the property had presumably passed to her on Samuel's death in 1783. (fn. 73) She died in 1793, and it passed with Charlemont to her cousin John Hallam. (fn. 74) He let it in 1803 and in 1806 conveyed the ownership to his son Henry, (fn. 75) who demolished it c. 1820 but still owned 20 a. in Lyndon in 1845. (fn. 76)
The 19th-century Lodge estate lay to the west of High Street with its main entrance opposite Christ Church. It centred on a warrener's lodge which existed by the early 1770s (fn. 77) and is probably identifiable with the warrener's lodge on the Heath mentioned in the 1650s. (fn. 78) In 1759 and 1792 the lord of the manor granted leases of the warren with a house. (fn. 79) William Izon the ironfounder became the tenant of the estate in 1815. In 1824 he bought what was described as Lodge Farm with some 55 a. and lived there until his death in 1867. The estate was then sold, and the house was demolished in 1868. The District Hospital was built on part of the land in 1869-71 and the town hall and other public buildings on another part in 1874-5. Houses were built over the rest. (fn. 80)
Lyttleton Hall Farm on the east side of Bromford Lane is probably the successor of a house in West Bromwich which was held by the Littleton family in 1609. (fn. 81) Littleton's Hall occurs in 1723, held of the lord of the manor by John Richards and his son John; it was held by Samuel Richards in the late 1750s. (fn. 82) In 1764 what was described as Littleton's Hall Farm was owned by Susannah Abney, who in 1770 inherited the near-by Mill estate. (fn. 83) The house was apparently rebuilt about that time, being described in 1779 as newly built. It was then up for sale with some 163 a. of land, (fn. 84) but it was still owned in 1796 by the testamentary trustees of Susannah's husband, Roger Holmes. (fn. 85) By then it had become the home of John Izon the ironfounder, tenant of Greet mill from 1782. (fn. 86) About 1800 the property was apparently sold to Thomas Blakemore (d. 1808); it was held by the trustees of Mrs. Blakemore in 1837 and by Richard Blakemore and others in 1845. (fn. 87) Meanwhile John Izon's son William advertised the house for letting in 1816 with some 57 a., and it passed to the Dawes family, owners of the near-by Bromford Ironworks; they mined coal on the estate to supply the works. (fn. 88) John Dawes the elder (d. 1841) was living at Lyttleton Hall from at least 1834, (fn. 89) and in the later 1840s it was the home of John Broughall, the manager of Lyttleton Hall Colliery. (fn. 90) The house was used as an isolation hospital during the smallpox epidemic of the earlier 1880s, but in 1885 it returned to private occupation. (fn. 91) Early in the 20th century it was occupied by a Mr. Hennessy, who mortgaged it to Edward Caddick, a local lawyer, and absconded. Caddick foreclosed and became the owner. He leased the house in 1911 to Joseph Whitehouse, who in 1925 bought it with 361 a. and ran a dairy farm there until c. 1950. He continued to live at what was by then called Lyttleton Hall Farm until his death in 1970; it then passed to his daughter Edna Ridyard. (fn. 92) The house is a square three-storey brick building of the later 18th century.
The Mill estate centring on Greet mill in the south-west of the parish can be traced from 1320. Greet mill itself occurs by the 1290s. (fn. 93) The estate that was associated with it by the mid 16th century occurs in 1320 when it was settled on Roger Hillary (knighted 1337) and his wife Katherine by Robert Hillary, rector of Sutton Coldfield (Warws.). (fn. 94) When Sir Roger died in 1356 it was said to comprise 3 messuages, 39 a., and 10s. rent. (fn. 95) It then descended with the manor of Shelfield in Walsall until 1583. (fn. 96) In 1556 it consisted of 2 cottages, 24 a., and a water-mill. (fn. 97)
In 1583 John Skeffington sold the estate to William Turton and Thomas Cowper alias Piddocke with remainder to Turton's heirs; it was then said to comprise 52 a. and two water-mills. (fn. 98) Turton bought out Cowper's interest in the property in 1592; (fn. 99) he probably had a house near the mills, (fn. 100) but the house called the Mill is first mentioned by name in 1656. (fn. 101) On his death in 1628 Turton was succeeded by his grandson William. (fn. 102) William died in 1656, (fn. 103) and in 1666 his son William was chargeable for tax on nine hearths at the Mill. (fn. 104) He was succeeded in 1681 by his brother Richard Turton of Oldbury (Worcs.), who was living at the Mill in 1682. (fn. 105) Richard died in 1685 and left his property to his sister Eleanor, who was living there in 1687. (fn. 106) Eleanor died unmarried in 1701; she left the Mill estate, including some 12 a. in Oldbury, to her niece, Phoebe Freeth. (fn. 107) In 1703 Phoebe married her cousin Josiah Turton, (fn. 108) who was living at the Mill by 1708. (fn. 109)
Josiah died in 1735 leaving two unmarried daughters, Phoebe and Mary. (fn. 110) A few months after her father's death Mary married Robert Abney, (fn. 111) who was living at the Mill by 1736. (fn. 112) Mary survived her husband, and on her death in 1770 (fn. 113) the whole of the property apparently passed to their daughter Susannah: in 1772 it was settled on Roger Holmes, town clerk of Walsall, on his marriage to Susannah. (fn. 114) Holmes died in 1778, (fn. 115) and the estate passed to his widow under the terms of the marriage settlement of 1772. She died in 1800 and was succeeded by two daughters, Ann (d. 1826) and Susannah (d. 1838). (fn. 116) On the younger Susannah's death her property was claimed by her cousin's son, Edward Holmes, a labourer in Plymouth dockyard. Doubt was cast on his legitimacy, however, and numerous other claims were made to the property. In 1848, after proceedings in Chancery, the estate was vested by agreement in trustees for the benefit of Edward Holmes and the other claimants. (fn. 117) In 1782 it had been let to John Izon and Thomas Whitehurst who built an iron-foundry there; in 1845 the tenant was John Izon's son William. (fn. 118)
By 1899 part of the Mill estate had been sold to the Hamblet Blue Brick Co. Ltd. (fn. 119) The other part, occupied by Izons & Co. Ltd., was owned by the Holmes trustees. By 1903, however, that part had been sold to Messrs. Marsh of Bromford Colliery, Oldbury. By 1904 it had apparently passed to J. H. Chesshire, head of Izons & Co. Ltd. The firm has owned it since at least 1909.
The house in Oak Road known as the Oak House by 1725 (fn. 120) was occupied in 1634 by Thomas Turton, third son of the William Turton who had bought the Mill in the late 16th century. In 1634 Thomas conveyed it to his elder brother John. In 1636 John conveyed it to his second son John; it was to be held by the younger John for life and then by his son William in fee. (fn. 121) By 1654 William was living at what was then called the Oak. (fn. 122) William's father died in 1673 and William himself in 1682. (fn. 123) He was succeeded by his son John and he by his son, another John, in 1705. When John died in 1768 the property passed to William Whyley, his natural son by Ann Whyley of Charlemont. (fn. 124) William died in 1800 with a son William, a minor, as his heir. The younger William died in 1806, and the estate passed to his mother, Jane Whyley, who then leased it out and moved into a newly built house near by. (fn. 125) She died in 1837, and by 1845 the property had passed to John Edwards Piercy, probably her nephew. (fn. 126) Part of the estate was sold c. 1850 to Joseph Hamblet. (fn. 127) After Piercy's death in 1853 the rest, including the Oak House, descended to his daughter Grace (d. 1880), and then to J. H. W. Piercy, who sold it in lots in 1894. The house and 22 a. were bought by Reuben Farley, then mayor, who in 1895 gave the house and 1 a. adjoining to the corporation for use as a museum. The building was then restored by Wood & Kendrick and opened as a museum in 1898; gardens and a bowling green were also laid out. To mark the fiftieth anniversary of the gift the corporation decided to convert the Oak House into a period house with antique furnishings; the formal reopening took place in 1951. (fn. 128)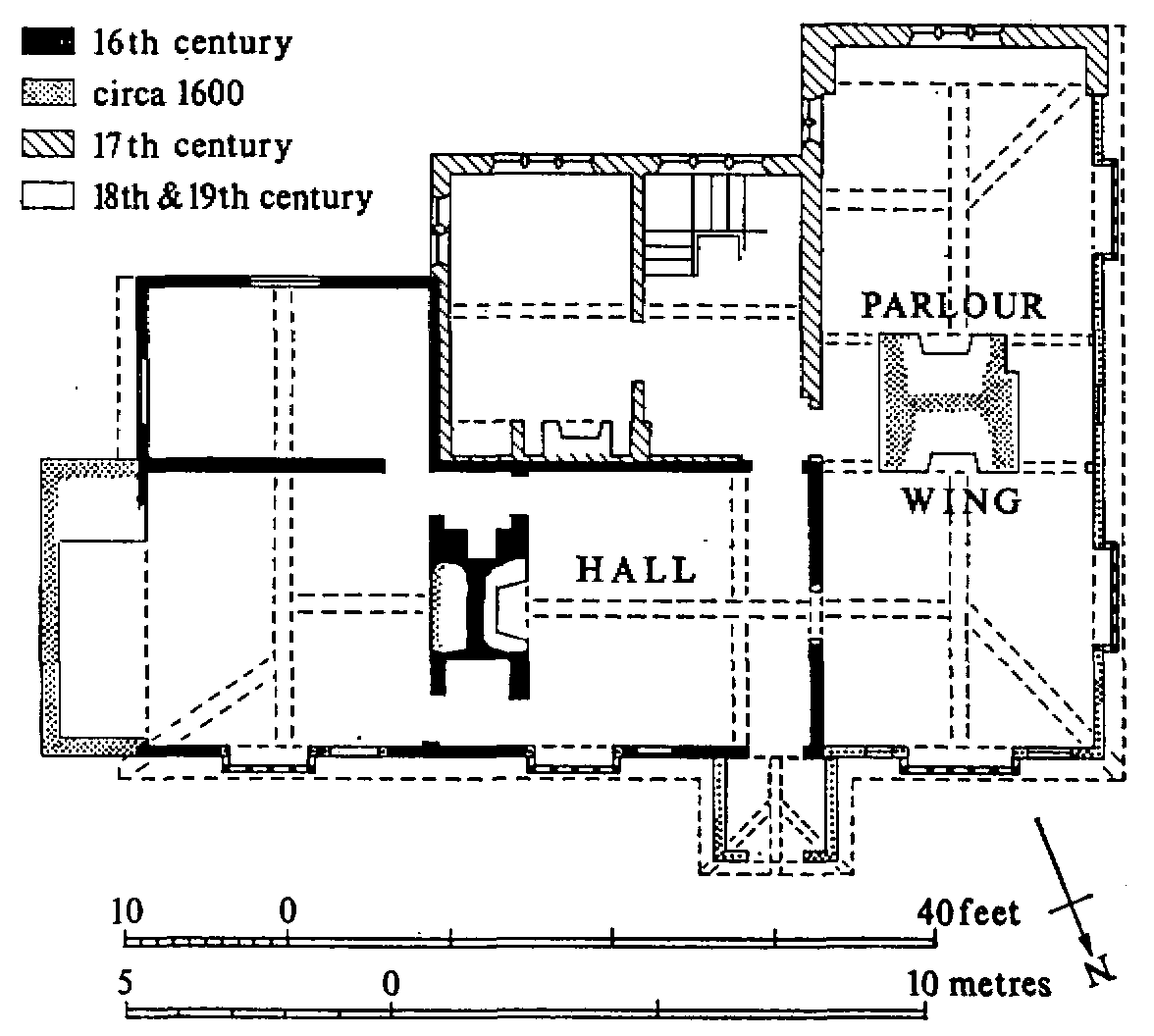 The house is a timber-framed building of the later 16th century with 17th-century brick additions. (fn. 129) The earliest part is the hall and the kitchen. The present kitchen seems originally to have been the parlour; the kitchen and service rooms would then have been to the right of the entrance on the site of a later range containing two parlours, which was built c. 1600. Presumably the old parlour was then turned into the kitchen and the brick chimney stack on the east gable built. The new parlours, although of similar construction to the older rooms, were on a more generous scale. Above them were principal bedrooms, in one of which part of a wall painting survives. A few years later a two-storeyed porch was built in front of the entrance and a belvedere or viewing tower was erected above the roof of the hall. Before the mid 17th century the southern end of the new parlour range was rebuilt in brick; at the same time the space between the two side ranges was filled in with a new block, also of brick, containing a room on each floor and a staircase with elaborately fretted balusters. The repairs and additions may have been made between 1634 and 1636 when the house seems nearly to have doubled in value. (fn. 130) William Turton was taxable on eleven hearths at the Oak in 1666. (fn. 131) There were minor alterations in the 18th and early 19th centuries, notably the insertion of several new fireplaces. Extensive restoration took place in the late 19th and the 20th centuries: many of the windows were renewed, some new ones were made, and much new panelling was added to that of the 17th century which had remained in the house.
The house is thought to have taken its name from an oak which stood on the green in front of it and was burnt down c. 1800. The estate was once full of oaks. The last John Turton advised William Whyley to fell them, and in 1768 many were used to make lock-gates for the Birmingham Canal, which was then being built through West Bromwich. Very few oaks remained in 1836. (fn. 132)
The house known as Oakwood stood on the east side of Old Meeting Street. It was built by Thomas Jesson (d. 1703) of Sutton Coldfield (Warws.), who had bought the site, known as Oakley's Croft, in 1679. (fn. 133) He was succeeded by his nephew Thomas (d. 1766), an ironmonger, (fn. 134) and he by his son Joseph (d. 1816); both lived at Oakwood. (fn. 135) Joseph's heir was his son Thomas (d. 1837), who was succeeded by his son, another Thomas. (fn. 136) Thomas owned a 43-acre estate in West Bromwich in 1845, mostly around Oakwood. The house, however, was then occupied by William Bagnall, and Jesson was living at Greswold Cottage on the corner of Bilhay Lane and Old Meeting Street. (fn. 137) Jesson died at Oakwood in 1873, and for a few months afterwards his son, the Revd. Thomas Jesson, lived there. (fn. 138) In 1912 he presented the house to the borough. The corporation demolished it in 1955, and the grounds have been laid out as a park. (fn. 139)
The central part of the house was of brick and had a symmetrical two-storey front of four bays with a heavy wooden cornice. There were dormer windows and shaped brick gables. The house was extended on either side in the 18th century. (fn. 140)
Another branch of the Jesson family had a house on Finchpath Hill called the Over House. It may be identifiable with the house at Finchpath which was conveyed in 1439 by John Hexton of Upper Arley (formerly Staffs., now Worcs.) to Thomas Swetcocke and his wife Sybil. (fn. 141) In 1446 Thomas conveyed land at Finchpath, including a croft called Black Lake, to Henry Jesson. (fn. 142) John Jesson of West Bromwich, who apparently held the house at Finchpath by 1597, (fn. 143) settled a house in West Bromwich and other property on his nephew John Jesson in 1610, retaining a life-interest. (fn. 144) He died in 1615 and the younger John in 1625. By 1635 Thomas Jesson, son of the younger John, held the property, which in 1670 included two houses in West Bromwich in which he and his son Thomas lived. The elder Thomas was still alive in 1680. By 1693 or 1694, however, the younger Thomas held both houses, described as the Over House and the Lower House; he then settled the Lower House on his son John, retaining a life-interest in the Over House. By 1697 the estate, including both houses and a glass-house at Finchpath, had passed to John. He was succeeded between 1728 and 1732 by his son John, a Wednesbury baker, whose son, another John, held the property in 1756. In a settlement of that year the houses were called the Over House and the Lower Farm. John died between 1773 and 1775. In 1795 the Over House, described as on Finchpath Hill, and the Lower Farm passed under the 1756 settlement to Richard, the younger and survivor of John's two sons. The later history of the property is not known.
When Guy de Offini granted West Bromwich church to Worcester priory c. 1140-5 he included half a virgate and certain assarts in the grant, (fn. 145) but it is not known that the property subsequently formed part of the rectory. About 1230 the rectory passed to Sandwell priory which retained it until the dissolution in 1525. In 1526 the Crown granted Sandwell's property to Cardinal Wolsey, who in turn granted it to Cardinal College. (fn. 146) By then the tithes of corn and lambs with 'all quick mortuaries' were being farmed, (fn. 147) and after the property had passed back to the Crown in 1530 it continued to lease out the rectory. (fn. 148) In 1608 the Crown granted it to three men, presumably speculators, (fn. 149) who conveyed it in 1609 or 1610 to Sir William Whorwood of Sandwell. (fn. 150) The rectory then descended with Sandwell. It included both great and small tithes, which continued to be leased out. (fn. 151) They were commuted for £701 8s. 6d. in 1845. (fn. 152)
Sir Thomas Aston was licensed in 1404 to grant rent from a house and land at Finchpath to his chantry founded in 1390 in Walsall church, which still held it at the suppression. (fn. 153) In 1411 Thomas Thykness, Richard Snedde, John Westethorp, and Thomas Walton sought licence to give 24 a. of land, 2 a. of meadow, and rent in West Bromwich to a chantry in Walsall, apparently Sir Roger Hillary's second chantry, which held land in West Bromwich at the suppression. (fn. 154) A chantry founded at Walsall by the mayor and burgesses or St. John's guild held land in West Bromwich by 1527. (fn. 155) By 1535 too the college of vicars choral at Lichfield cathedral had lands in the parish given for the obits of William Heyworth, bishop of Coventry and Lichfield (d. 1447), John Ridell, prebendary of Ufton Decani and Pipa Minor in the 1450s, Thomas Reynold, a former Lichfield canon, and one Prior Richard. (fn. 156) This may have been the property which was said in 1564 to have belonged to the New College at Lichfield. (fn. 157) The chantry in Lichfield cathedral founded by Canon John de Kynardessey in the earlier 14th century owned a house in West Bromwich at the suppression, (fn. 158) and a chantry of St. Mary's guild in Wednesbury church also held land and rents there. (fn. 159)