Pages 140-147
A History of the County of Stafford: Volume 9, Burton-Upon-Trent. Originally published by Victoria County History, London, 2003.
This free content was digitised by double rekeying. All rights reserved.
EDUCATION TO 1870
A reference to a 'warden of the boys' (custos puerorum) in Burton in 1390 suggests that there may have been an almonry school in the abbey; almonry foundations were common in greater monasteries in the 14th century, with the boys assisting in the celebration of private masses. (fn. 1) A schoolmaster mentioned in 1453 may have taught at such a school, which, if it existed, presumably continued until the dissolution of Burton college in 1545. (fn. 2) A grammar school for the town, however, was founded by the abbot of Burton in the early 16th century; it survived the dissolution of the abbey and remained the principal educational establishment in the town until the 20th century.
A charity school for up to 30 boys was founded under the will of Richard Allsopp (d. 1728), and there was probably further provision at least to educate boys in reading and writing English; possibly the usher or under-master at the grammar school took some pupils for elementary education, as was certainly the case in the early 19th century. (fn. 3) Basic education was also provided in Sunday schools, first established in Burton in 1787, and in 1793 there were also seven private and dame schools. (fn. 4) In 1818 it was considered that there were 'sufficient means of education' for poor children whose employment six days a week at the cotton mills, it was claimed, meant that Sunday instruction was all they could receive. (fn. 5) Nevertheless, from the late 1820s there was a growth of educational provision. A National school (for Anglicans) was opened in Horninglow Street in 1827, and by 1833 there were, besides the grammar school, 20 daily schools with places for 264 boys and 339 girls. (fn. 6) Further National schools were opened in the 1840s: a second one in Burton (1843), Branston (1844), Stapenhill (by 1846), Horninglow (1846), and Winshill (1846). Other denominations also started schools in Burton: a British and Foreign school was opened in 1843, and a Roman Catholic one in 1852. By 1871 there were at least 1,325 school places in Burton. (fn. 7)
THE SCHOOL BOARD
Concerns were raised at the numbers attending private and dame schools, which were often held to be of a poor standard. It was estimated in 1870 that there were about 450 pupils at such schools, with as many as 165 apparently attending dame schools near Fleet Street, a working-class area, in 1873. (fn. 1a) The perceived failings of the existing schools, along with a need for around 2,300 more places in the Burton area, led to popular pressure for the formation of a school board under the 1870 Education Act. Despite the opposition of leading Anglicans, the government ordered the creation of a board for a united school district comprising Burtonupon-Trent, Burton Extra, Branston, Horninglow, Stapenhill, Stretton, and Winshill, and the board was formed in 1873. (fn. 2a) Giles and Brookhouse of Derby were appointed architects to the board, and by 1880 there were 15 board schools with a total of 5,084 places. (fn. 3a) By 1887, when Reginald Churchill of Burton became the board's architect, there were 9,010 pupils attending the board's schools. (fn. 4a) As the numbers attending board schools increased, so attendance at voluntary schools declined, a trend which continued after 1891 when all board schools (except higher-grade schools) were made free under the Elementary Education Act, 1891. (fn. 5a) The board was wound up in 1903, under the Education Act, 1902, and responsibility for education within the newly formed county borough was transferred to the borough's education committee and for that outside the borough boundary to Staffordshire county council. (fn. 6a)
EDUCATION IN THE COUNTY BOROUGH
The 20th century saw little increase in the number of school places in Burton, as the population of the borough remained relatively stable. (fn. 7a) Nonetheless, there were three significant re-organizations of educational provision. First, a scheme for secondary education was implemented in the 1920s and 1930s. Central schools, for advanced instruction, were established in Guild Street and Broadway Street in the early 1920s under the Education Acts of 1918 and 1921. (fn. 8) After the Hadow Report of 1924 recommended to the government the creation of secondary schools, all-age schools were phased out from 1929 and a number of senior schools were created; by 1944 there were no all-age schools in Burton save for one Roman Catholic school. (fn. 9)
The second phase of change was ushered in by the 1944 Education Act, in particular a thirty-year programme of building new schools and renovating existing school premises. (fn. 10) Nineteen schools and colleges were opened in new premises between 1946 and 1973, almost all of them outside the town centre, while several schools in the town centre were closed as the population moved away to the suburbs. A shortage of suitable sites within the county borough meant that the education committee opened new schools outside its boundary in Branston and Stretton. (fn. 11)
Although Burton county borough was one of the country's smallest local education authorities, it prided itself on its achievements, claiming in 1960 to be 'more progressive' than other education authorities. In 1946 it opened the first school specializing in drama alone to be established and maintained by a local education authority, and in 1947 it provided the first remedial education service in England for pupils who had fallen behind in reading and arithmetic. In the 1950s and 1960s the county borough consistently spent more per pupil and had a better pupil-teacher ratio than Staffordshire county council. There were, it has been claimed, only two shortcomings in the county borough's educational provision: local inspection and the absence of special schools for those with rare disabilities. (fn. 12)
EDUCATION UNDER THE COUNTY COUNCIL
The third major re-organization was a scheme for comprehensive education instituted in 1975 by Staffordshire county council, which had assumed control of education in the town on the abolition of the county borough in 1974. Selective and secondary modern schools were re-organized into four non-selective schools, three of them on split sites. (fn. 13) The consolidation of Paget secondary school on one site at Branston in 1984 meant the closure of its premises in Clarence Street, the last secondary school in the town centre, although Burton technical college continued to provide post-16 education from its premises in Abbey Street. (fn. 14)
SCHOOLS
Grammar School
A grammar school was endowed in the early 16th century by Abbot William Bene, and was functioning by 1531; its history to 1979 is treated in an earlier volume of the History. (fn. 1b) The school occupied a site on the north side of the parish church from at least 1549 until 1877, when it was moved from Friars Walk to new premises in Bond Street. It was moved again in 1957 to Winshill, and in 1975 it was merged with the girls' high school and Ada Chadwick secondary modern school (both also in Winshill) to become Abbot Beyne mixed comprehensive school, occupying the buildings of all three constituent schools. Abbot Beyne school continued in 2000. (fn. 2b)
Allsopp's Schools
Allsopp's charity school was founded by Richard Allsopp (d. 1728), a Burton mercer, who bequeathed £10 a year for the instruction of 30 poor boys from Burton. (fn. 3b) Between 1785 and 1793 the number of boys fluctuated between 18 and 25; in 1785 and 1787 there was also one girl at the school. (fn. 4b) The original site is unknown, but by 1834 the school was in New Street; by 1851, however, there was evidently no longer a separate school building and the boys were instructed at Christ Church National school. (fn. 5b) Under a Scheme of 1873 the foundation was united with Burton grammar school, for which Allsopp's boys' school became the lower or preparatory department. It was given new premises on the east side of Waterloo Street, designed by Evans and Jolly of Nottingham and capable of accommodating 150 boys between the ages of 7 and 15. (fn. 6b) That school was closed under a Scheme of 1884, which amalgamated it with the grammar school. (fn. 7b)
Allsopp's girls' school, for girls aged between 7 and 17, was opened under the 1873 Scheme in new premises on the west side of Princess Street, backing on to those of the boys' school. (fn. 8a) Under the Scheme of 1884 it became the girls' high school and expanded into the former boys' school premises. (fn. 9a) It moved to a new site in Winshill in 1928 and the Waterloo Street building was subsequently taken over by the School of Art. (fn. 10a)
By will proved in 1736 Francis Astle ordered that after his wife's death land worth £5 a year should be purchased in order to clothe four poor boys each year at Allsopp's school. She died probably in 1755 and an estate at Hatton (Derb.) was bought in 1761; (fn. 11a) by 1766 six boys were being clothed every year. (fn. 12a) The charity was incorporated into the grammar school foundation under the Scheme of 1873. (fn. 13a)
Sunday Schools
Under the patronage of the earl and countess of Uxbridge Sunday schools were established in Burton in 1787. In 1793 there were over 450 boys and girls at 11 Sunday school classes, presumably the 5 for boys and 6 for girls in existence in 1807. By then there was a secretary to the Sunday schools, and the schools were also supported by the money collected at an annual sermon. (fn. 14a) Numbers of pupils rose rapidly in the early 19th century: there were 890 pupils at the Sunday schools attached to the two Anglican churches and to the General Baptist, Independent, Particular Baptist, Primitive Methodist, and Wesleyan Methodist chapels in 1833, and 1,149 Sunday school pupils were returned in the religious census of 1851. (fn. 15)
Pre-Board Schools
Holy Trinity Schools A school for the poor had been mooted in 1815 but plans were delayed until after the opening of Holy Trinity church in 1824. (fn. 16) A National school for boys and girls, connected with the new church, was opened in 1827 at the corner of Horninglow Street and what became Brook Street. (fn. 17) It grew from 120 pupils in 1829 to 60 boys and 100 girls in 1834, and by 1847 had 116 boys and 62 girls on weekdays, with a further 79 boys and 83 girls on Sundays. (fn. 18)
A separate infants' school was opened on the east side of Anderstaff Lane in 1847, and by 1851 it had about 100 pupils. (fn. 19) Education at the school was made free in 1891 after the Elementary Education Act of that year. Increasing debt led to the closure of the school in 1900, (fn. 20) and in 1902 the premises became a parish room for Holy Trinity church. (fn. 21)
The 1827 school building on Horninglow Street was replaced in 1862 by one for boys, girls, and infants on the west side of Hawkins Lane. It was designed by G. E. Street in a Gothic style and was built of red brick with stone dressings, blue brick bands, and a decorative slate roof; a schoolhouse was built next door in a similar style. The old school premises became a club room. (fn. 1c) The new school could accommodate 477 pupils, and in 1884 the average attendance was 390. (fn. 2c) The school became both free and mixed in 1891. (fn. 3c) It had ceased to be an all-age school by 1932, when it had an average attendance of 185 juniors and infants. (fn. 4c) The infants' department was closed in 1957, a year after the school had taken aided status. (fn. 5c) The school took controlled status in 1981, when it amalgamated with Anderstaff infants' school (a former board school) and moved to the latter's premises in Wetmore Road, where it remained in 2000 as Holy Trinity Church of England (Controlled) primary school. The Hawkins Lane premises became an auction room in 1997. (fn. 6c)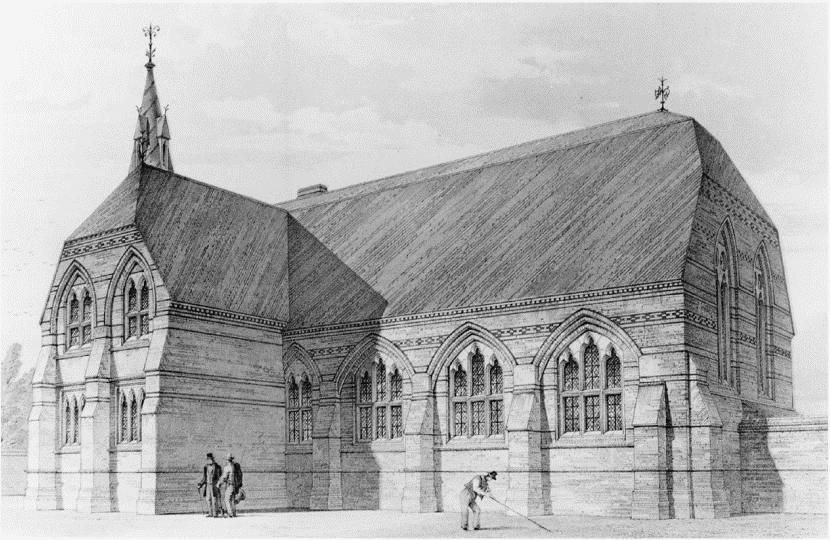 Christ Church School A National school for 120 boys, 120 girls, and 100 infants was opened in 1844 on the north side of Church Street, just south of Christ Church. (fn. 7c) The school was designed in a Tudor style by Joseph Mitchell of Sheffield, the architect for the church. (fn. 8b) The good effects of the school on the district were praised in 1856, when it was claimed that, thanks to the instruction of the boys, there was 'less swearing, less immoral conversation, less indecent scrawling on the walls, and an improved and more religious tone altogether'. In that year it was noted that children of 'every sect' were sent to the school, but in 1870 the majority of the pupils apparently came from nonconformist families. (fn. 9b) A new block, designed by G. E. Street, was added to the west in 1858. (fn. 10b)
Unable to afford the cost of improvements to the buildings, the managers transferred the school to the county borough in 1930, (fn. 11b) and c. 1938 the senior children departed and the school was reorganized as a junior mixed and infants' school. (fn. 12b) The infants' classes were moved in 1976 to a new building in Dale Street, at the rear of the 1858 block, which in 1980 became a youth and community centre. In 1984 the school became Christ Church county infants' school on the removal of the juniors. (fn. 13b)
British School With the backing of both dissenters and 'liberal' Anglicans a school for 275 children on the British and Foreign system was built on the east side of Guildables Lane (later Guild Street) in 1843. In 1849 there were 150 boys and 90 girls. (fn. 14b) In 1874 the school was transferred to the newly formed school board and became Guild Street school. (fn. 15a)
Roman Catholic School An application in 1839 from the Roman Catholic priest serving Burton to the marquess of Anglesey for land on which to build a school was rejected, but there was a Catholic Sunday Plan of school by 1851, in a cottage also used as a chapel. (fn. 1d) A school-chapel on the east side of Guild Street was opened in 1852, and in 1872 it was for boys and girls and was known as St. Modwen's Roman Catholic school; it was enlarged in 1881 and had an average attendance of 125 children in 1884. (fn. 2d) A new school on the north side of the church with accommodation for 145 boys and girls and 55 infants was opened in 1910; the old premises became a parish hall. The upper department of the school moved to an annexe in Victoria Road in 1959. It ceased to be an all-age school in 1964, when the senior pupils moved to a Roman Catholic secondary school in Stapenhill. The older juniors at Victoria Road and the remainder of the pupils at Guild Street were transferred to a new school in Horninglow in 1969, and in 1974 the Guild Street premises became a parish centre. (fn. 3d)
Union Workhouse School There was a school at the Horninglow Street workhouse in 1851, when it had one male and one female teacher. Boys from the workhouse, known as 'union boys', were transferred to board schools in 1879, but girls were still taught at the workhouse until 1884, when a new workhouse was built in Horninglow. (fn. 4d)
Board, Council, and County Schools
Guild Street School In 1874 the British school was transferred to the newly formed school board and in 1876 it was rebuilt by the board's architects, Giles and Brookhouse of Derby, as Guild Street school for boys, girls, and infants, with accommodation for 744 pupils. (fn. 5d) After the opening of the school board's offices on the same site in 1877, the school became the board's showpiece: in 1880 the boys' department was reconstituted as a higher-grade school with the curriculum extended to include French, book-keeping, and advanced mathematics, (fn. 6d) while c. 1884 an upper storey was added to the girls' and infants' block for use as a cookery school. (fn. 7d) The boys' and girls' departments were converted in 1920 into a central school for pupils aged 11 and over, with accommodation for 314 boys and 303 girls. (fn. 8c) The infants' school was closed in 1936, and the central school in 1941, after its premises had been requisitioned. (fn. 9c) Between 1964 and 1984 the premises were used by the school of drama. (fn. 10c)
Bond Street School A board school for 225 girls and infants at the southern end of Bond Street was opened in 1875. (fn. 11c) It also admitted boys by 1880, but by 1908 had reverted to girls and infants and by 1932 was for infants only. (fn. 12c) The school was closed in 1957, but its premises continued to be used for a number of years by Uxbridge junior school, and later as an annexe of Burton technical college. (fn. 13c)
Victoria Road Schools A large board school for 300 boys, 300 girls, and 200 infants was opened at the corner of Victoria Road and York Street in 1875; designed in the Gothic style by the board's architects, Giles and Brookhouse of Derby, it was the 'first important new school' to be opened by the board. The infants' department was quickly extended, and the whole school was further enlarged in 1890. (fn. 14c) In 1929 the girls' department closed (with the senior girls transferring to Goodman Street school in Horninglow) and the boys' department was reorganized as a senior school, which became Victoria Road boys' secondary modern school in 1944. The secondary school closed in 1958 with the departure of the boys to a new school in Horninglow, and the premises reverted to a junior mixed school. (fn. 15b) The infants' school, which had continued throughout these changes, was amalgamated with the junior school in 1983 as Victoria county primary school, and in 1999 the name changed again to Victoria community school. (fn. 16a)
Wetmore Road (Anderstaff) School A board school was opened in 1876 on the west side of Anderstaff Lane (Wetmore Road from 1878), with accommodation for 214 girls and infants; boys were admitted from 1879. (fn. 17a) It became a junior mixed and infants' school in 1929 on the departure of the senior pupils, and in 1957, on the departure of the juniors, it became Anderstaff infants' school. (fn. 1e) The premises were taken over in 1981 by Holy Trinity Church of England school. (fn. 2e)
Uxbridge Street School A board school for 402 girls and infants was opened on the west side of Uxbridge Street in 1876, and a boys' department was added in 1878. (fn. 3e) The school ceased to be all age and became a junior mixed and infants' school c. 1932. (fn. 4e) By 1983 the juniors had moved to the Broadway school site. (fn. 5e) Both junior and infants' schools were closed in 1984 on the opening of Anglesey primary school, and the Uxbridge Street premises later became a mosque. (fn. 6e)
Wellington Street School A board school for 200 infants was opened in 1876 on the east side of Wellington Street at its southern end, and a girls' department was added in 1878. (fn. 7e) In 1907 the school was converted into a pupil teacher centre and cookery school; the former closed in 1914, but the latter continued in 1938. (fn. 8d)
Grange Street School A board school for 300 boys and 244 infants at the corner of Grange Street and Casey Lane was opened in 1878; by 1884 it also catered for 250 girls. (fn. 9d) In 1929 it was reorganized as a school for junior boys, junior girls, and infants. (fn. 10d) In 1974 the infants moved to new premises, designed by the borough architect, between Shobnall Close and Casey Lane, opposite the old school; the school changed its name to Grange community school in 1999. (fn. 11d) By 1983 the junior school had been closed and the premises were used as a teachers' centre and later also as a youth and community centre. (fn. 12d)
Broadway School A board school for boys, girls, and infants, opened in temporary premises in West Street in 1887, was moved in 1888 to a permanent site between South Broadway Street and Branston Road. (fn. 13d) An additional infants' block was added in 1892. (fn. 14d) The mixed boys' and girls' department had been converted by 1924 into a central school for senior pupils, which was closed in 1941; the premises then became the intermediate and junior technical schools. (fn. 15c) The infants' school was closed in 1984 on the opening of Anglesey primary school. (fn. 16b)
Clarence Street (Anglesey Secondary Modern, Paget Secondary) School Clarence Street school for senior boys and girls, designed by Home and Knight of London on the north-west side of Clarence Street, was opened in 1938. (fn. 17b) It became Anglesey secondary modern school in 1946. (fn. 18a) On the implementation in 1975 of comprehensive secondary education in Burton, the site was used as the lower department of the Paget secondary school in Branston and remained so until 1984 when the lower school pupils were also transferred to Branston. Anglesey primary school was then created in the Clarence Street premises. (fn. 19a)
Technical and Commercial (Technical High) School On the closure of the council's central schools (Guild Street and Broadway Street) in 1941, a selective intermediate school and a selective junior technical and commercial school were opened. Pupils were to attend the former at the age of 11 before progressing to the latter at 13. Both schools occupied the Broadway Street premises, with the junior technical school also occupying the technical institute in Union Street. (fn. 20a) The two schools were merged in 1946 as the technical high school, using only the Broadway Street site. (fn. 21a) The school was closed in 1965 on the opening of Dovecliff grammar school in Stretton. (fn. 22)
Anglesey Primary School In 1984, on the closure of Uxbridge primary and Broadway infants' schools and the junior department of Christ Church primary school, a primary school was opened in the premises of the former Anglesey secondary school in Clarence Street. (fn. 23) The school was still open in 2000.
Special School A plan in 1946 to erect an open-air school for children with physical disabilities and behavioural problems was unfulfilled. (fn. 1f) Crown school for children with special needs existed on the west side of Anglesey Road by 1974, but was moved to Stretton in 1976. (fn. 2f)
Private Schools
There must have been private schools in Burton from the mid 16th century in order to feed pupils to the grammar school, but the earliest ones recorded are those run by the seven schoolmistresses and schoolmasters recorded in 1793, which included at least one girls' boarding school and at least one boys' academy. Thereafter, there were usually at least eight private schools recorded in the town until the 1860s. (fn. 3f) Most were probably short lived, but a few proved more durable: John Yates Bedford's classical, mathematical, and commercial academy in High Street existed from c. 1810 until his death in 1843; (fn. 4f) Lettice Bradbury's ladies' seminary persisted from at least 1815 until 1841 or later; (fn. 5f) and William Dunwell's commercial and mathematical academy flourished from the early 1840s until the late 1880s. (fn. 6f) The opening of board schools in the 1870s led to a decline in the number of private schools, but there were still five in 1899 (fn. 7f) and until the 1930s there were usually one or two such establishments in the town. (fn. 8e)
FURTHER AND ADULT EDUCATION
Mechanics' Institute
In 1867 the Church of England Young Men's Association was transformed into a mechanics' institute with premises in Guild Street. By 1868 it had a reading room and a library of 4,000 books, (fn. 9e) and by 1871 it had been moved to Station Street. (fn. 10e) In 1876 the institute and the town's literary society were amalgamated as the Burton institute, which was again moved in 1879 to new premises in Union Street, a surprisingly tall, narrow, brick and terracotta building of four bays in a coarse North Italian Gothic style, designed by Reginald Churchill of Burton. The institute occupied the ground floor with a library of nearly 8,000 volumes and a reading room; the second floor was occupied by the School of Art and part of the third floor by the School of Science. (fn. 11e) The institute grew from 650 members in 1888 to 966 in 1896, when it was dissolved and its premises acquired by Burton corporation for use as a free library; the building was demolished c. 1977. (fn. 12e)
School of Science, later Technical Institute and Burton College
A school of science, established by 1872 and with premises in Guild Street by 1876, moved to the third floor of the new Burton institute in Union Street in 1879. (fn. 13e) In 1900 it had 33 day and 72 evening pupils. Begun as a subscription venture, by 1903 it was run by Burton corporation. (fn. 14e) By 1931 it was also known as the technical institute. (fn. 15d) On the closure of the central schools in 1941, the institute co-operated with the newly formed junior technical school in the provision of technical education, becoming Burton technical college in 1948. (fn. 16c) In 1955 it moved into new premises in Abbey Street in the south-east corner of the former monastic precinct. Designed by Richard Sheppard and Partners of London (later Richard Sheppard, Robson and Partners) as an eight-storey building, only two storeys were initially built, with a further three added in 1969. (fn. 17c) The college has also had annexes in a variety of other buildings including the former Ada Chadwick school in Winshill and the former Forest of Needwood high school in Rolleston. (fn. 18b) Renamed Burton College in 1998, it had approximately 2,400 full-time and 7,400 part-time students in 2000. (fn. 19b)
School of Art
A school of art, established by 1874 and with premises in Horninglow Street by 1876, occupied the second floor of the Burton institute in Union Street from 1879. (fn. 1g) In 1900 it had 16 day pupils and 79 evening pupils. (fn. 2g) The school, which moved in 1934 to part of the former girls' high school in Waterloo Street, was closed in 1984 and its courses were taken over by Burton technical college; the Waterloo Street premises became Burton Enterprise Centre in 1986. (fn. 3g)
School of Speech and Drama
A drama centre, opened by Burton corporation in the premises of the former Guild Street school in 1946, became the school of drama and speech training later that year; 198 children and 299 adults were enrolled in 1947. (fn. 4g) Known as the school of speech and drama by 1953, (fn. 5g) it was the only institution in the United Kingdom maintained by a local education authority specializing in drama alone. It offered full-time courses for those seeking a career in the theatre or as teachers of speech and drama, as well as training for amateur theatre groups and providing a venue for the public staging of their work. Financial cut-backs in the 1950s ended the full-time courses, but the school continued to run part-time courses and host amateur theatrical productions until its closure in 1984, when the teaching of drama was transferred to Burton technical college. (fn. 6g)
Evening and Extramural Classes
Burton school board began evening classes in the winter of 1877-8, adding 'recreative' ones in 1890. (fn. 7g) University extension lectures were held by the winter of 1895-6, and a local branch of the Workers' Educational Association was formed in 1911. (fn. 8f) The Oxford Delegacy for Extramural Studies employed a resident tutor in Burton from 1944. The tutor from 1945 to 1951 was R. B. Cant, later M.P. for Stoke-on-Trent Central (1966-83); his successor, D. G. Stuart, was transferred in 1962 to Keele University, which continued to organize day and evening courses in 2000. (fn. 9f)
EDUCATIONAL CHARITIES
Under a Scheme of 1875 the Town Branch of the Consolidated Charities of Burton-upon-Trent was empowered to give certain sums to support public elementary schools as well as the payment of exhibitions for school and university fees. (fn. 10f) Reorganized under Schemes of 1981-2, the Consolidated Charity continued to support education in 1998. (fn. 11f)