Pages 147-156
A History of the County of Stafford: Volume 9, Burton-Upon-Trent. Originally published by Victoria County History, London, 2003.
This free content was digitised by double rekeying. All rights reserved.
SPORT
Blood Sports The town crier announced a bull baiting in 1792. Baiting apparently last took place in New Street in the earlier 19th century. (fn. 12)
Fighting cocks were apparently bred in Burton in the late 18th century by William Sketchley, the author of The Cocker, a manual on game cocks, (fn. 13) and mains of cocks were held during race week in the 1820s. (fn. 14) The fights probably took place in a cockpit behind the Vine inn in Horninglow Street. (fn. 15)
Horse Racing Horses were raced over Outwood common in Horninglow township in 1718 on two days in September and October. (fn. 16) A two-day meeting was held on 21-22 October 1728, probably on the same course. (fn. 17) In 1732, however, a meeting on 19-20 October was held on Burton meadow. (fn. 18) In 1811 a twoday meeting on 17-18 September was again held on Burton meadow. (fn. 19) At the request of local tradesmen the marquess of Anglesey provided a plate from 1819, when the races were held over two days in August. (fn. 20) A grandstand had been erected by 1822: it stood in 1837 on the east side of the course beside the river Trent. (fn. 1) A one-day August meeting, still held in 1840, was discontinued in 1841, having sunk into 'a meeting of idle and disreputable character'. (fn. 2) The grandstand was dismantled in 1842 and materials from it incorporated in the newly-built Congregational chapel in High Street. (fn. 3)
Bowling There were three bowling alleys in the town in 1574, all of them probably associated with inns. (fn. 4) A bowling green mentioned in 1729 may have been that which in the late 18th century adjoined an inn at the south-east corner of the market place. (fn. 5) It probably remained in use until the earlier 1830s, when a house was built on the site. (fn. 6) In 1835 there was a green a short distance west of the White Hart in High Street, and another at the Vine on the north side of Horninglow Street. (fn. 7) The White Hart green still existed in 1879, but a malthouse had been built on the site by 1882. (fn. 8) By 1854 there was a green on the south side of Borough Road next to the Bowling Green inn (later the Station hotel), but the site had become a cattle market by 1879. (fn. 9) The earliest bowling club was apparently that formed for the Bass brewery employees in 1901, with a green at the south end of Burton meadow. (fn. 10) It was one of several clubs associated with brewing and other companies. The only remaining public green in 2000 was that at Shobnall Fields sports ground, opened in Horninglow in 1960. (fn. 11)
In 1854 there was a skittle alley on the south side of Branston Road. (fn. 12a)
Cricket Burton Cricket Club was formed in 1827, apparently under the influence of Abraham (or Abram) Bass, (fn. 13a) known as 'the father of Midland cricket' and a member of the Northern Counties team which played against the M.C.C. at Burton in 1841. (fn. 14a) The Nottinghamshire bowler R. C. Tinley was engaged as a professional in 1854, and the club was one of those against whom an Australian Aboriginal side played on its English tour in 1868. (fn. 15a) It is not certain where matches were first played, but by 1857 the ground, with a pavilion, was on the west side of Burton meadow, still its site in 2000. (fn. 16a) By 1856 there was another club, the Burton Anglesey Club, which probably played on the Hay, as it certainly did by the late 1860s. (fn. 17a) By the early 1880s there were two other cricket grounds on the south-west side of Burton meadow, (fn. 18a) one of them for workers at the Bass brewery. After the brewery's Meadow Park sports and social club on the east side of Wetmore Road was closed in 1998, its sports ground on Burton meadow, by then used for cricket, football, bowls, and tennis, was vested in a syndicate called the Washlands Sports Club. (fn. 19a)
Football The non-professional Burton Football Club was formed in 1870 and played both Rugby and Association football until 1876, when it adopted Rugby Union rules only. It first played on the cricket ground on Burton meadow, but moved to Peel Croft at Bond End in 1888. Forced to vacate that site in 1890, the club used various grounds until it returned to Peel Croft in 1910. The present clubhouse there was completed in 1956 and was later extended. (fn. 20a)
An association for several church- and work-based football clubs in the town was formed in 1871. (fn. 21) In the 1880s Burton Wanderers Club, formed in 1871 and playing at Little Burton, was the first local club to employ a professional player, and it was followed by Burton Swifts, so called by 1883 and playing at Outwoods recreation ground on the west side of the canal in Horninglow. From at least 1897 the Swifts played at Peel Croft in Bond End, and that ground was retained when the Swifts and the Wanderers amalgamated in 1901 to become Burton United, dissolved in 1910. (fn. 22)
A club associated with All Saints' church was formed in 1900 and played on a ground on the north side of Victoria Crescent. Renamed Burton Town in 1924, it was dissolved in 1940. (fn. 23)
Burton Albion was formed in 1950 and at first played on a ground in Wellington Street. In 1957 it moved to Eton park, in Horninglow, where it remained in 2000 as the town's only semi-professional association football club. (fn. 1b)
Skating An ice skating rink was opened at the south end of Burton meadow in 1876. (fn. 2b) It was closed, probably in the 1890s, and replaced by one in Curzon Street, which itself became a cinema in 1913. (fn. 3b)
Rowing Burton Leander Rowing Club was established in 1847, with a clubhouse near the corn mill in Winshill. (fn. 4b) There was another club, Burton Anglesey, by 1848, when a competitive regatta was first held. (fn. 5b) No further regattas seem to have taken place until 1866, following the founding of Burton Rowing Club and of Trent Rowing Club with boathouses on the Stapenhill side of the river near Burton bridge. By that date the Leander and Anglesey clubs had apparently been merged as the New Leander, the name later simplified to Leander once more. (fn. 6b) Burton Rowing Club was disbanded in or shortly before 1920 and its boathouse taken over by the Leander club. (fn. 7b) Leander and Trent Rowing clubs still had boathouses by Burton bridge in 2000, when the annual regatta was a two-day event held in July. (fn. 8b)
Sailing Burton Sailing Club was formed in 1902, with a clubhouse on the Stapenhill side of the river. The club evidently folded, but a new one was established in 1935 and still exists as Burton Sailing Club. (fn. 9b)
Swimming In 1870 there was a public shed on Ox hay for the use of swimmers in the river Trent, and Burton Swimming Club had its own sheds to the south on Shipley meadow. The swimming was for men and boys only. (fn. 10a) Three swimming pools were included in the public baths opened in 1873 at the north end of the Hay, probably first- and second-class pools for men and one for women. (fn. 11a) A ladies' section of the swimming club was formed in 1906. (fn. 12b) The first-class pool was extended in 1931. (fn. 13b) The pools were replaced by one in the nearby Meadowside Leisure Centre, opened in 1980 and enlarged to include squash courts in 1985 and a sports hall in 1987. (fn. 14b)
Angling Burton Mutual Angling Association was established in 1884, the original members fishing the river Dove downstream from Tutbury because the Trent was then polluted. (fn. 15b) The main brewery angling clubs were Bass (established in the late 1950s) and Belvedere Park (established for workers at Ind Coope in 1949). (fn. 16b) Members had to fish in pools in the Burton area before fish returned to the Burton stretch of the Trent in the 1970s. The Trent fishing rights were owned in 2000 by the borough council (mostly on the east side) and certain breweries (west side). (fn. 17b)
Flying In 1910 Burton corporation promoted an aviation competition on Burton meadow. All the competing pilots were French, and there was an estimated attendance of nearly 30,000 on one day. A second competition was held there in 1913. (fn. 18b) A virtuoso display by Gustav Hamel took place at the Outwoods recreation ground in Horninglow in 1914. (fn. 19b)
OPEN SPACES
Recreation Grounds After the inclosure of the town's common lands in 1812, the only convenient place where tradesmen and artisans could play games was the Hay. When a policeman tried to prevent them in 1841, they petitioned the marquess of Anglesey, who allowed its use for 'practising all manly and innocent sports and pastimes'. (fn. 20b) In 1853 the marquess was asked to lease or give the land to the town commissioners as a permanent pleasure ground, but he was reluctant to lose potentially valuable building land and his agent suggested instead the use of Burton meadow: (fn. 21a) a cricket ground was duly laid out there by the later 1850s. (fn. 22a)
In 1884 the corporation opened 25 a. comprising St. Modwen's Orchard on Andresey, Ox hay, and part of Fleet green as a recreation ground. (fn. 23a) Access was from the north-east corner of St. Modwen's churchyard by a metal bridge, made by the Burton engineering firm of Thornewill & Warham and paid for with the aid of a grant from the feoffees of the Burton town lands. (fn. 24a) Together with meadow land called Regatta Fields south of Fleet green, the area was known in 1999 as the Trent Washlands.
A recreation ground off the west side of Anglesey Road was opened probably in 1908. (fn. 1c)
Memorial Gardens A garden of remembrance for those who fell in the First World War was laid out in the north-east corner of the former monastic precinct. A memorial unveiled there in 1922 and sculpted by H. C. Fehr comprises a stone pedestal with the bronze figures of Victory flanked by St. George and Peace. (fn. 2c)
A Second World War garden of remembrance was laid out in 1952 in the churchyard north of St. Modwen's church. (fn. 3c)
ENTERTAINMENT
Music While living at Burton in the late 1570s Thomas, Lord Paget, maintained a private choir, which almost certainly included the composer William Byrd (d. 1623). At New Year 1580 the Paget household was entertained by travelling singers. (fn. 4c) Lord Paget also employed a piper in 1582 to entertain field workers at Winshill; he was probably Thomas Gilbert, a piper living there in 1586. (fn. 5c) In 1618 William Simons (otherwise Cripple), partly supported himself in Burton by playing the bagpipes. (fn. 6c)
A music festival was held in August 1789, in the parish church in the morning and in the town hall in the market place in the evening. (fn. 7c) The guest organist was Thomas Greatorex (d. 1831), a London-based conductor and teacher; his father, Anthony Greatorex (d. 1814), had been the organist at St. Modwen's church since 1771, when an organ made by John Snetzler was installed. (fn. 8c) Thomas, who built a house beside the Trent, in Newton Solney (Derb.), succeeded his father as organist at St. Modwen's; he resigned the post in 1828. (fn. 9c) His son, also Thomas, was appointed the first organist at Holy Trinity church in 1824. (fn. 10b)
A music society took part in a concert of sacred music performed in the parish church by Sunday school children on Christmas day 1789. It possibly promoted the annual concerts that were taking place in Burton by 1799, and was presumably the precursor of the Burton Musical Society which in 1837 gave a concert conducted by the younger Thomas Greatorex. (fn. 11b) A choral society was projected in 1844. (fn. 12c)
Burton and District Operatic Society, refounded under that name in 1952, originated in a society formed in 1886. Since the 1960s it has performed at De Ferrers high school (Dove campus) in Horninglow, and has rehearsal rooms in the former Methodist church in Ferry Street, in Stapenhill. (fn. 13c)
Concerts took place in the new town hall by the late 18th century. (fn. 14c) The usual venue from 1867 was St. George's Hall, reopened in 1902 as the New Theatre and Opera House. From 1881 the public hall in St. Paul's Institute was also used. (fn. 15c)
An organ installed in the public hall of St. Paul's Institute was inaugurated in 1881 and continued to be used for concerts after the building became part of the town hall in 1894. (fn. 16c) Under the Burton-upon-Trent Corporation Act, 1901, the council was allowed to promote organ recitals and it employed a part-time organist. (fn. 17c) The present Wurlitzer organ of 1925 was installed in 1973. (fn. 18c)
Dance An annual assembly was inaugurated soon after the new town hall was opened in 1772: the fourth assembly was held there in January 1776. (fn. 19c) Monthly subscription balls were held over the winter of 1776-77. (fn. 20c) There were balls during the race meetings in the early 19th century, (fn. 21b) and an annual winter ball was held in the town hall in the mid 1850s. (fn. 22b)
Dance classes were being given in Burton by teachers from Derby in 1804, and several local dance schools have been established since the later 19th century. (fn. 23b)
Theatre The Paget household was entertained by companies of players when in residence at Burton in 1579-80. (fn. 24b) A company led by Samuel Stanton performed in Burton in the early 1790s and one led by John Nunns later in the decade. (fn. 1d) Performances may have taken place at a theatre mentioned in 1797 behind the Blue Posts inn on the west side of High Street. (fn. 2d) The theatre, still there in 1835, was probably used during race week in the early 19th century. (fn. 3d) Popular entertainments were later held in a music hall in Station Street, mentioned in 1867 after its reopening, and in 1861 Burton Amateur Dramatic Society gave a performance in a store room in Cross Street. (fn. 4d) The society was refounded in 1867, probably on the opening of St. George's Hall, where it performed in 1871. (fn. 5d) Amateur theatricals continued there after the hall was reopened as the New Theatre in 1902. (fn. 6d)
When a municipal School of Speech and Drama was set up in 1946, a hall in the education offices in Guild Street was fitted out as a theatre. Plays were performed by students (the Little Theatre Players) as well as by visiting companies. After the school was closed in 1984, the players continued as a society (the Little Theatre Company), moving in 1991 to the Brewhouse Arts Centre, where they remained in 2000. (fn. 7d)
Circuses Wardhough's travelling theatre performed during the October fair week in 1854, using a site next to the former gas works in Station Street. It returned for a four-week engagement in 1855, when it followed a week-long stay on the same site by Wombwell's menagerie. (fn. 8d) A circus owner named John Swallow was staying in Abbey Street in 1871, together with his troop of equestrians. (fn. 9d) Later circuses included Batty's Great London Circus, which over-wintered in Burton in 1878, occupying a specially built wooden structure at the corner of Horninglow Street and Derby Road. (fn. 10c)
Cinema 'Animated pictures' were probably first shown in Burton in 1898 in the town hall. (fn. 11c) Films were later shown in premises in Station Street, apparently converted in 1900, and from 1907 or 1908 in Anglesey Hall in Friars Walk. (fn. 12d) The Electric Theatre on the east side of High Street was opened in 1910 as the town's first purpose-built cinema. It was closed in 1956. Also from 1910 films were occasionally shown in the New Theatre and Opera House, which became a cinema in 1930. Other early cinemas were a converted skating rink in Curzon Street near the railway station (1913-65) and premises in Derby Road (1920-c. 1970); both became bingo halls in 2000.
In 2001 a multiplex cinema was opened in the former Bass brewery's Middle Yard, with its entrance off Guild Street.
Festivals and Arts Centre A competitive music and drama festival, first held in 1969, was a four-day event by 1977. (fn. 13d)
A general town festival first held in July 1995 was moved in 1996 to September. It focuses on Burton's association with brewing, and the climax is a barrelrolling competition, first held as part of the town's Civic Week in 1933 and then intermittently. It was last revived in 1996, and attracted international teams in 2000. Every two years the Bass Museum of Brewing stages a heavy horse parade as part of the festival. (fn. 14d)
The Brewhouse Arts Centre occupying part of Bass's New Brewery site between Station Street and Duke Street was opened in 1991. (fn. 15d)
SOCIAL VENUES
Public Halls Concerts and assemblies were held in the new town hall in the late 18th century. (fn. 16d) It was replaced as a venue in 1867 by St. George's Hall in George Street, built by speculators for use as a concert and lecture hall and as a corn exchange. (fn. 17d) Redesigned in 1902, the hall was renamed the New Theatre and Opera House. Films were shown from 1910, and in 1930 the building was reopened as a cinema with access from Guild Street. (fn. 18d)
In 1878 Michael Thomas Bass approved plans drawn up by Reginald Churchill of Burton for St. Paul's Institute at the corner of Rangemore Street and St. Paul's Street East. Intended to provide for 'the scholastic, recreative, and intellectual requirements' of the town, (fn. 19d) the institute was officially opened in January 1882, although the main hall had been finished a year earlier when the first organ recital took place. (fn. 20d)
The building comprises a public hall with kitchens and offices, and is entered from Rangemore Street under an arched portico. Rooms on either side of a narthex at the west end of the hall were for use by Sunday school children from St. Paul's church, as were rooms on an upper floor on either side of a large gallery; at other times, they were used as cloak rooms. A large stage at the east end of the hall includes an organ.
Built in a Decorated style in red brick with stone dressings, the hall has open cast-iron roof trusses with traceried spandrels and polychrome brick decoration. Particular attention was paid to ventilation, which was provided by channels in the brickwork with openings through the window sills. The original full-length mullioned windows were converted into arches formed by rectangular piers with heavy capitals when north and south aisles were added, probably in the 1890s and certainly by c. 1910. (fn. 1e) In 1888 the benefactor's son, Lord Burton, paid for the addition of a supper room with minstrels' gallery, known as the Annexe, at the end of a corridor leading from the north-east end of the hall, and also designed by Churchill. (fn. 2e)
While the hall was under construction, Bass became more ambitious and enlarged the scheme to include premises for the town's Liberal Club. The eastern extension, whose most distinctive feature is a clock tower in Flemish style, is entered from St. Paul's Square through a porch which led to a reception room, decorated with Gothic arches and used originally as a refreshment bar. To the left was a billiard room. A decorated cast-iron staircase with twisted balustrades provided access to the club's reading room (over the billiard room) and library. A house for the club secretary was built in the north-east corner of the complex, and a bowling green was laid out on the east side. (fn. 3e)
When Lord Burton gave the building to Burton corporation as municipal offices in 1892, he provided new premises elsewhere for the institute and the Liberal Club, (fn. 4e) but stipulated that the hall should remain a public venue. (fn. 5e) In the 1950s a yard on the south side of the Annexe was converted into a room for general meetings.
Community Centres Uxbridge Youth and Community Centre was opened in 1980 by Staffordshire county council in the former Christ Church school building in Uxbridge Street. (fn. 6e)
A community centre comprising a large hall and smaller meeting room was opened by East Staffordshire district council at the west end of Queen Street in 1990. It was one of several urban 'village halls' for the Burton area, all designed by William Royal & Associates of Burton. (fn. 7e)
SOCIAL AND COMMUNITY GROUPS
Friendly Societies Four friendly societies in Burton were registered in 1794 under the provisions of the 1793 Friendly Societies Act, and a female society was registered in 1799. (fn. 8e) In 1803 those five societies had a combined membership of 885. (fn. 9e)
Burton was also the meeting place of the Rolleston Friendly Institution, established in 1828 or 1829 with the encouragement of Sir Oswald Mosley of Rolleston. (fn. 10d) It covered neighbouring districts in Staffordshire and Derbyshire, and had a membership of 1,597 in 1854. It was dissolved in 1877. (fn. 11d)
The first club associated with a national friendly society was the Marquis of Anglesey Lodge of Oddfellows (Manchester Unity), established in 1830 and meeting by 1835 in High Street. (fn. 12e) There were three other early lodges of Oddfellows (Manchester Unity): the Earl of Uxbridge (1840), the Virgillian (1845), and the Mansion of Peace (1845). The Britannia Lodge of Oddfellows (Grand United Order) was formed in 1849, and the first Court of Foresters in Burton was established in 1856. Ten lodges of Oddfellows, five courts of Foresters, and one lodge of Druids had a combined membership of 2,245 in 1876. (fn. 13e) In 1983 the district association of Oddfellows bought the former All Saints' church hall in All Saints Road as a meeting place. Renamed Unity Hall, it was vested in a new lodge called Trent Lodge, which was formed in the late 1980s from the six surviving lodges of Oddfellows (Manchester Unity) in Burton, including the Marquis of Anglesey, together with others in surrounding villages. (fn. 14e)
Employees at the Thornewill & Wareham ironworks in New Street had their own benefit club by 1852, and the Philanthropic Society of Journeymen Coopers of Burton was established in 1853. (fn. 15e) Freemasons A lodge of freemasons was consecrated at the King's Head inn in the market place in 1810; it survived until 1866. (fn. 1f) The present Abbey Lodge was consecrated in 1854 and first met in High Street, moving in 1874 to a masonic hall built off the east side of Union Street. (fn. 2f) After the hall was sold in 1938, the lodge moved to Ashfield House, a masonic hall in Ashby Road, in Winshill, but from 1940 it met in part of Burton town hall. It moved back to Ashfield House in 1976, still its meeting place in 2000. Two daughter lodges, St. Modwen's (consecrated in 1926) and Andresey (consecrated in 1947), also moved from the town hall to Ashfield House in 1976. (fn. 3f)
Volunteers A troop of volunteer cavalry for whom a subscription was raised in Burton in 1794 and another troop formed in 1809 were probably short-lived. (fn. 4f) The Burton troop of yeomanry cavalry was formed in 1819 as part of a county regiment (from 1838 the Queen's Own Royal Regiment of Staffordshire Yeomanry) and was renamed the Anglesey troop in 1839. (fn. 5f) In 1893 it was merged with the Uttoxeter troop to become C squadron, which survived with its headquarters at Bladon House, in Winshill, until the Yeomanry was disbanded in 1967. (fn. 6f)
A rifle club, newly-established in 1852, probably formed the nucleus of the Rifle Volunteer Corps set up in 1859. The marquess of Anglesey provided a shooting range at the north end of Burton meadow. (fn. 7f) When the volunteers were assigned to line regiments in 1883, Burton became the headquarters of a battalion of the Prince of Wales's (North Staffordshire) Regiment, later a Territorial Army unit. (fn. 8f)
In 1871 the rifle corps had an armoury in the former museum in High Street. (fn. 9f) By 1892 there was a drill hall, which in 1900 occupied a former skating rink at the south end of Burton meadow. (fn. 10e) A building behind the magistrates' court in Horninglow Street was used as a drill hall by 1919, and it was still used by the T.A. in 2000. (fn. 11e)
Social Clubs There were club rooms at both the Bear and the Talbot inns in Horninglow Street in 1835. (fn. 12f)
A Church of England Young Men's Association was formed in Burton in 1846, with a library and reading room in premises in the market place. (fn. 13f) In 1851 it petitioned the marquess of Anglesey for a larger building and by 1852 met in Guild Street, where purpose-built premises were erected by subscription in 1858. In 1856 membership was opened to all Protestants. (fn. 14f) The association became a mechanics' institute in 1867. (fn. 15f)
A Burton branch of the Young Men's Christian Association was formed in 1887, meeting in Union Street from 1888. (fn. 16e) In 1901 it moved to premises on the east side of High Street, and a brick hall (known later as Anglesey Hall) was built, primarily as a gymnasium, to the rear in Friars Walk. (fn. 17e) After the branch was dissolved in 1969, the High Street premises were demolished but Anglesey Hall remained standing in 2000. The branch was re-established in 1985, and moved in 1987 into premises in Borough Road, where it operated in 2000 as a Christian Community Development Agency providing welfare advice and promoting social events. Plans in 1886 to form a Young Women's Club and Christian Association may have been unsuccessful. (fn. 18e)
Pleasant Sunday Afternoon classes were held from 1888 in the Union Street premises of the Young Men's Christian Association. Because of large attendances the classes were moved in 1895 to the town hall, where they were continued until the Second World War. (fn. 19e) There were also several church-based classes in the 1890s, including a Pleasant Wednesday Afternoon for women held at George Street Methodist church. (fn. 20e)
A club for technical and clerical staff employed by Bass, Ratcliff, and Gretton was opened in 1867 in a house on the west side of High Street, in rooms previously occupied by a museum. The club was closed in 1966. (fn. 21c)
St. Paul's Institute, opened at the corner of Range more Street and St. Paul's Street East in 1882, was partly intended for social use by working men. (fn. 1g) When the building was given to Burton corporation for municipal purposes by Lord Burton in 1892, he built a replacement institute at the south-west corner of St. Paul's Square. Opened in 1894 and designed by Reginald Churchill in a Decorated style in red brick with stone dressings, the new building included recreational rooms open to working men of all denominations, although it was administered by the vicar of St. Paul's and also contained Sunday school classrooms. The building was demolished in 1979. (fn. 2g)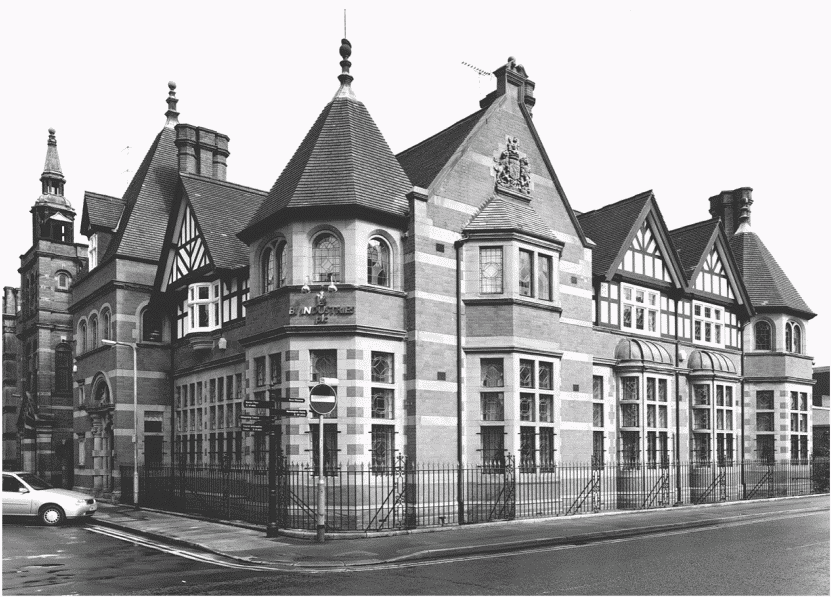 A gentlemen's club called the Burton Club was formed in 1884, first meeting in premises on the west side of High Street opposite the market square. In 1910 it moved into the Abbey (the present Abbey inn) in the former monastic precinct, where it still met in 2000 in an upper part of the building. (fn. 3g)
The former Liberal Club in George Street re-opened as a non-political social club in the later 1940s and survived until 1987. (fn. 4g) The present working men's club in part of Shaftesbury House at the corner of Orchard Street and New Street was established in or shortly before 1921. (fn. 5g)
Political Clubs A Conservative Association was formed in 1873, and in 1881 a club was opened on the west side of High Street, opposite the post office. The building was designed internally by Evans and Jolly of Nottingham. (fn. 6g) The club was evidently replaced by the Burton Constitutional Club, formed in 1911 in the building vacated by the post office in 1905 and still in existence as a Conservative club in 2000. (fn. 7g) The association moved to the former St. Paul's vicarage house in St. Paul's Square in 1954, where it remained in 2000. (fn. 8g)
A Liberal Association was formed in 1875 and in 1882 was provided by Michael Thomas Bass with club rooms in an extension to St. Paul's Institute. (fn. 9g) In 1894, a new clubhouse at the corner of George Street and Guild Street was provided by Bass (by then Lord Burton), even though by that date he had left the Liberal party. Designed in a French Renaissance style by the London architects Durward, Brown, and Gordon, the building is mostly of red brick with stone dressings, except for three timber-framed gables, one with an oriel window (George Street side). The interior retains much of its elaborate 16th-century style plaster work. The entrance, which originally led into a spacious vestibule, was later rearranged and the present wooden staircase inserted, possibly to replace a cast-iron staircase similar to the spiral cast-iron staircase that still leads to the upper floors. The club was closed in 1944, but the building was reopened as the George Street Social Club, which survived until 1987. (fn. 10f) The building was used as offices in 2000.
In the mid 1950s the Burton branch of the Labour Party bought a house at the corner of Shobnall Street and St. Paul's Street West. Part of it was used as a constituency office, and the rest converted into flats for rent. The office remained there until 1988, when it was moved to premises in George Street; it returned to Shobnall Street in 2000. (fn. 1h)
Temperance Movement A shoemaker named John Simnett ran a coffee house at his workshop in New Street in 1851, and by 1860 he had opened a temperance hotel in Union Street. (fn. 2h) It was still open in 1904, when there was another temperance hotel in Station Street; the former had been closed by 1908 and the latter by 1912. (fn. 3h) A temperance cocoa house was opened in High Street in 1878. (fn. 4h)
One of the earliest Bands of Hope in Burton was probably that established at Christ Church in 1852. (fn. 5h) A temperance society was formed in 1884, with a hall in Union Street. (fn. 6h)
CULTURAL LIFE
Historical, Literary, and Civic Societies A Natural History Society was established in 1841, and the marquess of Anglesey agreed to be the patron, having been reassured that the society's aim was not speculative but merely 'to afford an hour's relaxation from the ordinary and monotonous routine of occupation incident to a provincial town'. (fn. 7h) The main object was evidently to establish a museum, opened in High Street in 1842. (fn. 8h) The society probably lapsed after the museum was closed in the 1860s, but it was revived in 1876 as the present Burton-upon-Trent Natural History and Archaeological Society. The society organizes lectures and excursions, and between 1899 and 1933 it published transactions. It also built up a collection of artefacts which formed the nucleus of the borough museum opened in 1915. (fn. 9h)
A literary society was formed in 1844 and ran a reading room and subscription library in part of a museum in High Street. (fn. 10g) After the closure of the museum in the 1860s the reading room probably remained in use, and it was still in High Street in 1871. (fn. 11f) The society survived until the late 1870s, when it was amalgamated with the newly formed Burton mechanics' institute. (fn. 12g)
A Literary and Free Discussion Club was established in 1853. It was possibly the precursor of the Political Debating Society which held its first meeting in St. George's Hall in 1869. (fn. 13g)
Burton-upon-Trent Civic Society was established in 1962. (fn. 14g)
Museums A museum was opened on the west side of High Street in 1842, under the auspices of Sir Oswald Mosley, Bt., of Rolleston Hall, the president of the recently formed Natural History Society. The nucleus was a collection of natural history specimens formerly belonging to a Mrs. Abney of Stapenhill. (fn. 15g) The museum was at first supported by subscriptions, but the collection was later maintained personally by Mosley together with Robert Thornewill of the Abbey. (fn. 16f) After Thornewill's death in 1858 Mosley continued the High Street premises until he moved the collection to Rolleston Hall some time before 1867. (fn. 17f)
In 1915 Burton corporation opened a municipal museum and art gallery in a building designed by Henry Beck of Burton on the site of the former police station at the corner of Station Street and Guild Street. (fn. 18f) The nucleus of the museum was the collection of artefacts belonging to the Burton-uponTrent Natural History and Archaeological Society. It was augmented in 1921 by an extensive private collection of zoological specimens amassed by the society's president, Philip Mason (d. 1903), at Trent House, his home in Bridge Street. (fn. 19f) In 1923 the corporation was given the natural history collection at Rolleston Hall, and in 1928 it opened an extension at the Guild Street museum to house them. (fn. 20f) After the museum and art gallery was closed in the late 1970s, some items were transferred to the Bass Museum and others to the museum and art gallery at Derby. (fn. 21d)
The Bass Museum of Brewing at the corner of
Horninglow Street and Guild Street was opened in 1977, at first occupying only a disused joiners' workshop. It subsequently expanded to cover the entire site of the brewery's engineering department. (fn. 1i)
Libraries A subscription library was established in 1815, (fn. 2i) and by 1818 there were two circulating libraries, both managed by High Street printers and booksellers. (fn. 3i) The subscription library, which was probably that based at the literary society premises in High Street in 1844, still existed in 1851. Another subscription library was established in 1838, but it seems not to have survived. (fn. 4i)
In 1895 a subscription library used part of the Burton institute premises in Union Street. When that building became the municipal library in 1897, the subscription library retained its reading room there until 1942, when the library was dissolved. (fn. 5i)
Burton corporation adopted the 1892 Public Libraries Act in 1895, and in 1897 it opened a free library on the ground floor of the Burton institute building in Union Street. (fn. 6i) Open access to books was introduced in 1920. (fn. 7i) The building was demolished after the present library was opened in 1977, on the site of a Bass malthouse set back off the east side of High Street. (fn. 8i)
Newspapers William Wesley, a High Street printer, published a newspaper called the Monthly Advertiser in March 1842, but it lasted for only two issues. (fn. 9i) The weekly Burton-upon-Trent Times and Weekly Advertiser was started in 1855 by another High Street printer, John Whitehurst, and the Burton Weekly News was started in 1856 by Robert Bellamy, a printer in Bridge Street. (fn. 10h) In 1860 a third printer, John Tresise, started another weekly, the Burton Chronicle. The Burton Times was renamed the Burton Express in 1874 and the Burton Standard in 1880. In 1887 the Standard was absorbed by the Burton Weekly News, which continued as the Burton News and Standard until 1890. The Chronicle was then the only weekly paper, but there was also a daily, the Burton and Derby Gazette, started in 1880 by Joseph Tresise and renamed the Burton Evening Gazette by 1884. (fn. 11g) The Gazette was a Liberal paper, and to counter it a Unionist daily, the Burton Mail, was started in 1898. (fn. 12h) A second weekly, the Burton Guardian, was started in 1894 and a third, the Burton Observer, in 1898. The Guardian ceased in 1914, but the Observer, having absorbed the Chronicle in 1957, continued until 1979. After the closure of the Evening Gazette in 1931, the Mail was the town's only daily paper and it remained so in 2000.