Pages 271-277
A History of the County of York East Riding: Volume 6, the Borough and Liberties of Beverley. Originally published by Victoria County History, London, 1989.
This free content was digitised by double rekeying. All rights reserved.
OUTLYING TOWNSHIPS
Beyond the boundaries of the borough but within the liberties lay the townships of Molescroft, Storkhill and Sandholme, Thearne, Tickton and Hull Bridge, and Woodmansey and Beverley Parks. Those townships were also in St. John's parish, Beverley, as was Eske, though that was not part of the liberties. Most of the townships are treated separately below. Some aspects of the history of Thearne and Woodmansey are, however, difficult to separate and those places are therefore treated together. For convenience Beverley Parks is described separately from Woodmansey.
BEVERLEY PARKS
The district known in modern times as Beverley Parks lay south of the borough and extended from Thearne and Woodmansey on the east to the boundary of the liberties of Beverley on the south and west. It took its name from the archbishop's medieval deer park, which, together with adjoining woods, probably occupied the whole of it. Beverley Parks was largely agricultural and sparsely populated until the late 19th century, but the subsequent growth of industry, public service facilities, and housing has created a suburban area in the north-west corner of the Parks along the Beverley-Hessle road. The Parks, covering 2,630 a. (1,064.4 ha.) in 1852, (fn. 1) was part of the township of Woodmansey and Beverley Parks, which became a civil parish. It was combined with Thearne civil parish in 1935 as the civil parish of Woodmansey. (fn. 2) Although it was thus part of a larger township and civil parish the Parks is for convenience treated separately in this section.
Much of the eastern half of Beverley Parks lies at less than 7 m. above sea level but in the south-west the ground rises gently to 15 m. and in the north-west more steeply to nearly 50 m. above sea level. In the south a large area consists of sand and gravel, and a little alluvium reaches into the Parks from the riverside grounds further east. Much of the rest of the Parks is covered with boulder clay, which in the north-west corner barely conceals the underlying chalk. (fn. 3) The Parks is drained by many small streams and dikes, most of which were collected by drains which became the responsibility of the newly formed Beverley and Skidby Drainage Board in 1785; some 150 a. in the Parks were assessed to drainage rates by the board. (fn. 4) At least one drain in the Parks, discharging into Mill Dam drain and Beverley beck, remained the responsibility of the Court of Sewers for the East Parts of the East Riding. (fn. 5)
The chief means of access to the middle of the Parks is a road leading southwards from the site of the archbishop's manor house at Hall Garth towards Old Hall, where he may have had a lodge, (fn. 6) before continuing eastwards to Thearne. It was known as Long Lane by the 1680s. (fn. 7) The main road from Beverley to Hessle, crossing the higher ground in the north-west corner of the Parks, was known as Queensgate by 1411. (fn. 8) In the mid 20th century it was sometimes called Barracks Road, and from 1959 it was called Victoria Road. (fn. 9) Two minor roads lead eastwards from Queensgate: Butt Lane, recorded from 1622, (fn. 10) forms the borough boundary and Shepherd Lane, so called from 1775, (fn. 11) provides a link with Long Lane. To the east, part of the boundary of the Parks is formed by the BeverleyHull road. The railway line from Hull to Bridlington, opened in 1846, (fn. 12) crosses the middle of the Parks.
Few buildings are known to have stood in or around the deer park in the Middle Ages, although the archbishop had a hunting lodge there, as well as his manor house and water mills close to the town. (fn. 13) A house next to the manor house site was later used as the meeting place of Beverley Water Towns manorial court, (fn. 14) and also as the Hall Garth inn or Admiral Duncan from the 1850s until 1896; (fn. 15) it was later demolished. During the occupancy of the Wartons from 1573, if not earlier, scattered houses were built for the tenants of land in the Parks and by 1775 there were some 20 houses there. (fn. 16) In the north-west corner of the Parks several cottages were built with the whiting works that were opened in the earlier 19th century, (fn. 17) and Chalk Villa, a stuccoed house with two-storeyed bow windows, was erected in Stone Pit close between 1835 and 1839 by William Brown, an army commissary. (fn. 18) In 1878 Victoria barracks were built beside Queensgate for the East Yorkshire Regiment. (fn. 19) Twelve cottages at the nearby whiting works included a row of nine, called Victoria Cottages, built in a military style in 1883. (fn. 20)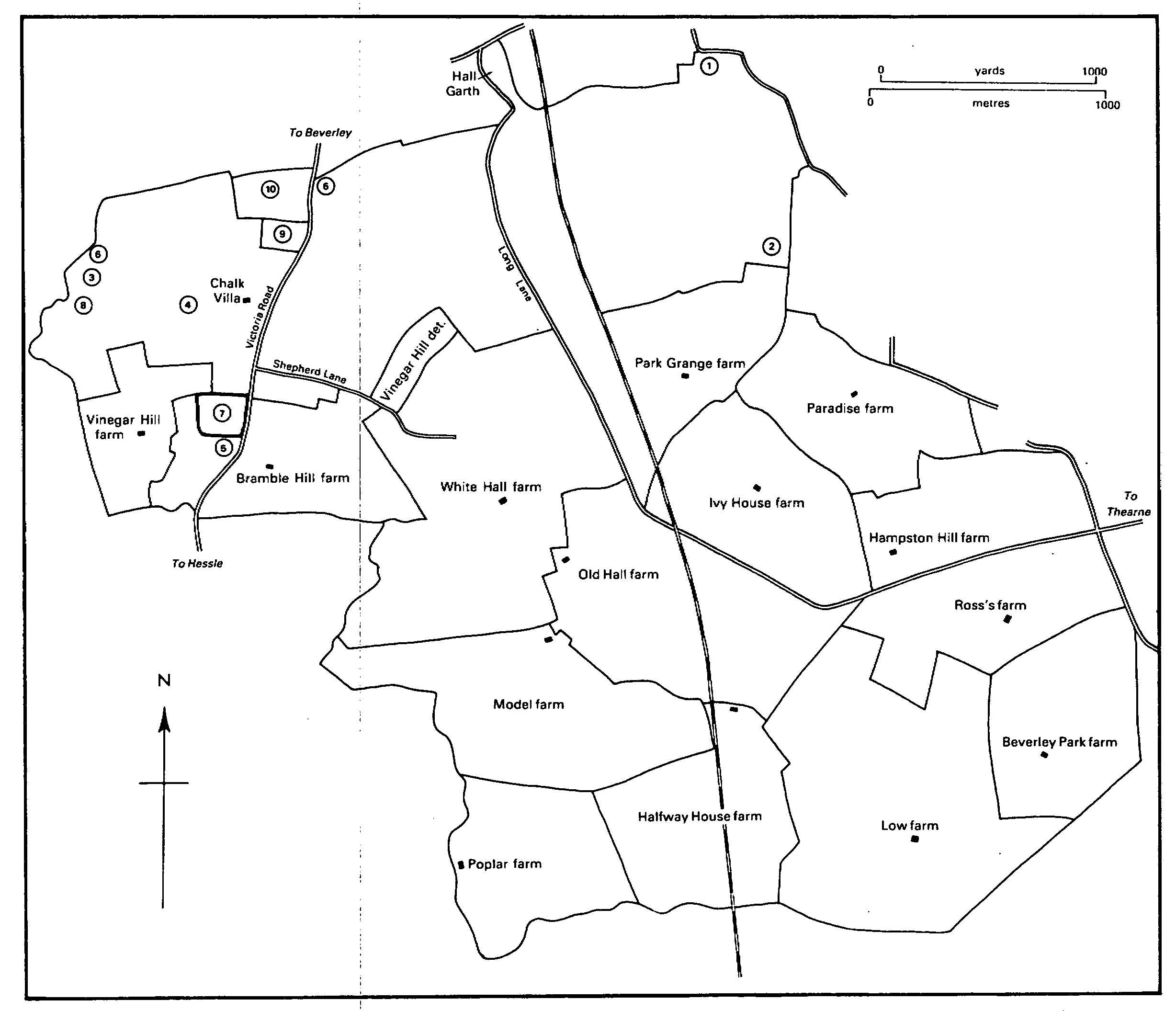 Many more houses were built around Queensgate in the 20th century. On the west side of the main road building began south of the barracks in 1925 (fn. 21) and north of it in 1938. (fn. 22) Off the main road, in and around Normandy Avenue, a housing estate began to be built in 1964 on the site of an army camp used during the Second World War. (fn. 23) On the east side of the road the building of another large estate began in 1983. New buildings and playing fields for Beverley Grammar School, a cemetery, an isolation hospital, and waterworks have also contributed to the suburban character of that part of the Parks. (fn. 24) Elsewhere, close to the borough boundary, 24 houses were built in Long Lane in 1934. (fn. 25)
The population of Beverley Parks was c. 250 in 1851-61 but was not otherwise recorded separately from that of Woodmansey. (fn. 26)
ESTATES.
As an appurtenance of the manor of Beverley the archbishop's park passed to the Crown in 1542 and was included in the subsequent Crown grants of the manor, before being sold to Sir Michael Warton in 1628. The keepership and palership of the park and the keepership of the warrens and outwoods of the manor had been granted to Sir Michael Stanhope in 1544; (fn. 27) the herbage and pannage of the park had also been let to him in 1548. (fn. 28) After Stanhope's attainder in 1552 similar grants were made to Sir Thomas Wharton in 1553. (fn. 29) The Whartons and the Wartons were separate families. The reversion of Wharton's lease of the herbage and pannage was included in the Crown's grant of the manor to Dudley in 1561, and thus was returned to the Crown in 1566. The park was included in a lease of the manor which Michael Warton, Sir Michael's father, held from 1573 and Sir Michael still had in 1622. (fn. 30)
The Warton family presumably lived at first in the archbishop's hunting lodge in the park which the Crown had refurbished in 1548, partly using stone from the archbishop's manor house. (fn. 31) Michael Warton was described as of Beverley Park at his death in 1590, (fn. 32) as was his son in 1600, (fn. 33) and a later Michael Warton had a modest two-hearthed house there in 1672. (fn. 34) A house containing a dozen rooms was built soon after and was called the new lodge in 1688, when the old one was also mentioned. (fn. 35) The twostoreyed house had a symmetrical front of seven bays. (fn. 36) Most of the house was later demolished but the farmhouse known as Old Hall, which is mostly of the 18th and 19th centuries, incorporates a single-storeyed wing of the Wartons' house, and the high garden walls and two rusticated brick gate-piers also survive. (fn. 37)
The district known from the 17th century as Beverley Parks descended with the manor of Beverley Water Towns in the Wartons and at the partition of 1775 passed to the share of C. A. Pelham; it then comprised 2,509 a. (fn. 38) The division and sale of the Pelhams' estate in the early 19th century created numerous estates, large and small, in the Parks. Many of the sales took place in 1805 and the next few years. (fn. 39)
One of the largest estates built up during the 19th century was that of the Dentons of Beverley. Peter Denton, tanner, in 1805 bought a house and 96 a., later called Hampston Hill farm, and c. 1820 devised it to his brother Stephen. (fn. 40) In 1834 Stephen acquired the former Warton family's house and 174 a., later called Old Hall farm; (fn. 41) it had been bought in 1805 by William Beverley and passed successively to the Revd. Thomas Eglin, Ann Eglin, and James Walker before Denton bought it. (fn. 42) Denton bought several small parcels in the 1830s (fn. 43) and in 1840 added a house and 56 a., later known as Vinegar Hill farm. (fn. 44) The latter farm had been bought in 1806 by George Knowsley (d. 1809) and was sold in 1810 to John Lockwood (d. 1827). (fn. 45) Stephen Denton died in 1840 leaving the estate for the use of his nephew Thomas Denton (d. 1888) and then in equal shares to Thomas's six children, of whom Charlotte, Flora, and Sarah Denton acquired all the shares in 1889-90. (fn. 46) The estate comprised c. 470 a. in Beverley Parks in 1911. (fn. 47) Flora Denton died in 1901 and Sarah in 1914. (fn. 48) Charlotte Denton sold Old Hall farm in 1916 to Thomas Weatherill and he in 1919 to the East Riding county council for smallholdings; it belonged to Humberside county council in 1987. (fn. 49) Charlotte sold Hampston Hill farm in 1919, and after her death in 1926 Vinegar Hill farm was sold the next year; (fn. 50) much of Vinegar Hill was bought by the county council in 1940 and became part of the grounds of the nearby Broadgate Hospital, in Walkington. (fn. 51) Trustees of the former Denton estate still had 51 a. in Beverley Parks in 1935. (fn. 52)
The largest estate in Beverley Parks in the 19th and 20th centuries was that of the Baintons, which included Beverley Parks, Low, Ross's, and Halfway House farms. In 1822 Thomas Bainton of Arram Hall, in Atwick, bought a house and 145 a., later known successively as New Hall and Beverley Parks farm. It had been bought in 1805 by William Broadley (fn. 53) (d. c. 1822), who devised it to his nephew Thomas Smith; it was Smith who sold it to Bainton. (fn. 54) In 1826 Bainton added a house and 164 a., later called Low farm. It had been bought in 1806 by George Knowsley (fn. 55) (d. 1809) and was sold in 1810 to Thomas Swann and in 1812 to William Nassau. It was the latter's devisees who sold it to Bainton. (fn. 56) At Thomas Bainton's death in 1842 the estate passed to his son William Bainton, who already lived at New Hall in 1840. (fn. 57) In 1844 William bought a house and 161 a., later called Ross's farm. It had been bought, with Low farm, by Knowsley in 1806 but was sold by Nassau in 1813 to William Wilson. At his death c. 1831 Wilson devised it to his nephew Richard Wilson, and it was he who sold it to Bainton. (fn. 58) In 1871 Bainton bought the 115-a. Halfway House farm. It had been bought in 1805 by William Wilson (fn. 59) and devised by him to his nephew John Jewison. The latter sold it in 1832 to the Revd. William R. Gilby and he in 1837 to Richard Foster; it was Foster's trustees who sold it to Bainton. (fn. 60) William Bainton conveyed part of the estate, including Halfway House, to his son James B. Bainton in the 1890s and devised the rest to him in 1901. (fn. 61) After J. B. Bainton's death in 1918 the estate was sold to Clement C. Wreathall in 1919. (fn. 62) He sold Halfway House in 1921, Ross's farm in 1942, and Beverley Parks farm, comprising 111 a., to the market gardeners Cornelis, Hendrik, and Marinus Los, also in 1942. (fn. 63) After his death in 1944, Wreathall's representatives sold Low farm in 1953. (fn. 64) Cornelis Los died in 1962 and Hendrik and Marinus sold Beverley Parks, with 68 a., to Geoffrey, Molly, Tom, and William. Rodmell in 1968; (fn. 65) the land and farmhouse were sold separately in the 1980s. (fn. 66) The farmhouse bought by Thomas Bainton in 1822 was replaced by a large new house during the next few years. (fn. 67) It was known as High House by the mid 20th century. It was then derelict but was restored in the 1980s. (fn. 68)
Another house, later called White Hall, was sold with 340 a. in 1805 to Joseph Dickinson, (fn. 69) who already occupied it and had lived at Beverley Parks since c. 1780. (fn. 70) He died in 1823 (fn. 71) and his executor sold the house and 250 a. to Richard Watt in 1842. (fn. 72) The estate presumably descended like Bishop Burton to E. R. B. Hall Watt (d. 1908), (fn. 73) whose executors sold it in 1918 to William Barrett (d. 1936). Barrett's representatives vested it in 1957 in J. F. Barrett, who in 1966 gave it to his son T. C. Barrett (fn. 74) (d. 1983). The farm was bought in 1983 by Beverley Butchers Ltd., the owner in 1987. (fn. 75) It was presumably Joseph Dickinson, a leading East Riding inclosure commissioner, (fn. 76) who altered and enlarged the old farmhouse.
The remainder of Dickinson's estate had been sold by him in 1812 to John Lockwood, (fn. 77) after whose death in 1827 it was divided and sold in several lots. (fn. 78) Much of it, however, was later reunited as a single farm. Thus in 1920 George Woodmansey bought the 50-a. Bramble Hill farm and in 1925 the 41-a. Shepherd Lane farm, most of which he added to Bramble Hill. (fn. 79) In 1963 he gave it to Charles H. Woodmansey, who still owned it in 1987. (fn. 80)
William W. Ringrose bought two farms, later called Model and Poplar farms, in the mid 19th century. The former, then of 124 a., had been bought by Robert Galland in 1805. (fn. 81) By 1817 it belonged to his son the Revd. Thomas Galland (d. 1843), and in 1849 it was sold, along with another 33 a., by Thomas S. Galland and others to Ringrose. (fn. 82) Poplar farm, of 98 a., was bought by William Wilson in 1805. (fn. 83) At his death c. 1831 he devised it to his nephew George Jewison, who sold it in 1841 to John Gibson and he in 1848 to George Stephenson. It was sold to Ringrose in 1853. (fn. 84) At his death in 1873 he left the estate to his brothers John and Thomas; the latter took the name Thomas Voase in 1859. (fn. 85) John conveyed his interest to Thomas in 1874 (fn. 86) and at the latter's death in 1884 the estate passed to William R. Ringrose, who took the name Ringrose-Voase the next year. (fn. 87) By 1893 the two farms had passed to Reginald T. Ringrose. (fn. 88) He sold Model farm in 1920 (fn. 89) and after his death in 1939 his trustees conveyed Poplar farm to John R. Ringrose-Voase (d. 1956). (fn. 90) In 1959 Poplar farm was vested in Christopher J. RingroseVoase, who sold it to R. O. Freear in 1984. (fn. 91)
Henry Broadley bought a house and 103 a., later called Paradise farm, in 1819 (fn. 92) and it descended like Elloughton manor in the Broadley and Harrison-Broadley families until 1921, when J. B. Harrison-Broadley sold it to George R. Walker. (fn. 93) In 1932 Walker sold it to Charles and Henry Wiles, it was assigned to the latter alone in 1940, and after his death in 1941 it belonged to his widow Emily (d. 1960). The farm was vested in Emily's executors in 1963 and most of it was sold in 1972 to Elizabeth A. Banks. (fn. 94) In 1976 G. H. Evison (Farmers) bought the farm. (fn. 95)
William Hall bought a house and 103 a., later called White House farm and afterwards Park Grange farm, in 1805. (fn. 96) He died c. 1820 and left it in moieties to Green Simpson and Mary Simpson; the latter, who was Hall's niece, later married Thomas Keddy. (fn. 97) The Keddys conveyed their share to Green Simpson in 1849 and after his death in 1875 the farm was sold to William Phillipson. (fn. 98) About 1880 Phillipson devised it to his nephew Joseph Anningson (d. 1886), who left it to his son William (d. 1899). (fn. 99) It then passed to William's brothers Stamper (d. 1919) and Herbert Anningson, and in 1920 the latter sold it to Thomas Campey (d. 1941). (fn. 100) It was sold, as White House farm and comprising 97 a., to Sydney Voase in 1942 and, as Park Grange farm, by Voase to Ian Ashworth in 1968. (fn. 101) Mr. Ashworth still owned it in 1987. (fn. 102)
George Knowsley bought a house and 118 a., later called Ivy House farm, in 1806. (fn. 103) After his death in 1809 it was sold to Thomas Swann in 1810, to William Nassau in 1812, and to Robert M. Craven in 1814. (fn. 104) Craven died c. 1849 leaving his estate to his daughter Mary. (fn. 105) By 1875 Ivy House farm belonged to a Miss Hetty. (fn. 106) In 1908 it was sold by George B. Peirson to Alfred C. Hargrove, who conveyed it in 1921 to Robert Wood. (fn. 107) In 1924 Wood sold it to Rose H. Bloom (d. 1933). It was vested in James Bloom and others in 1934 and sold to Peter D. Pearson in 1956. (fn. 108) Pearson sold it in 1966 to Kenneth Davison and Hugh L. Haley, and they in 1972 sold the land to George W. Odey and the house to P. D. Pearson. (fn. 109) Odey died in 1985 and was succeeded by his son Mr. G. R. Odey, who sold the land in 1987. (fn. 110)
Beverley corporation bought 28 a. in the Parks in 1809. In 1974 the land passed to Beverley district council, which still owned it in 1987. (fn. 111) The Beverley charitable trustees acquired 41 a. by exchange in 1833; it was later called Shepherd Lane farm. They sold it in 1925. (fn. 112)
Beverley Grammar School trustees bought 7 a. in the Parks in 1921 to enlarge the school grounds, and the East Riding county council bought 6 a. in 1937 for a further enlargement. (fn. 113)
After the suppression of St. John's college, to which they had belonged, (fn. 114) the tithes of Beverley park passed to the Crown. Those belonging to St. Michael's prebend were evidently let to Sir Michael Stanhope along with the herbage and pannage of the park. They were let again in 1576 and then granted in fee in 1582 to Edmund Downing and Peter Ashton, (fn. 115) who sold them the same year to Michael Warton (d. 1590). (fn. 116) Tithes other than those of St. Michael's prebend presumably also passed to the Wartons; some of them had been granted to John Farnham in 1579. (fn. 117) In 1650 the tithes were worth £140 a year to Michael's son Sir Michael Warton. (fn. 118) When the Pelhams, as the Wartons' successors at Beverley Parks, began to break up the estate the lots were at first sold without tithes. By 1806, however, their entitlement to tithes had been confirmed (fn. 119) and tithes were included in the later sales of land; for the lots that had been sold in 1805, additional conveyances of the tithes were made. (fn. 120) The tithes were later merged. (fn. 121)
ECONOMIC HISTORY.
Although some land south of Beverley may in the early Middle Ages have been cultivated by the townsmen (fn. 122) all of it evidently belonged to the archbishop by the 14th century and was held in severalty, either in his deer park or in woods adjoining it. (fn. 123)
The archbishop's park had presumably existed for some time before the agreement made by the townspeople and Sewall de Bovill in the 1250s. Following their surrender of right of common there the townsmen were often guilty of poaching and trespass in the park, both before and after the confirmation of the agreement in 1282. (fn. 124) Outside the park they were still allowed to hunt in the archbishop's lands with their dogs. The agistment of the park was evidently reserved for the archbishop's deer and other game in the winter, but in 1309 it was said that the townspeople's animals fed there during the summer, (fn. 125) no doubt upon payment. The agistment and pannage of the park were indeed worth over £13 to the archbishop in 1340 and over £28 in 1388; at the latter date 400 beasts were fed in summer and 200 in autumn, but none was admitted from 30 September to 1 May. The archbishop's own cattle were kept there, too: 135 steers had in 1388 lately been driven to his castle at Cawood. Underwood from the park provided the archbishop with further income. (fn. 126) Two parkers and several other officers were employed by the archbishop in the 14th century. (fn. 127)
The park evidently reached as far as Queensgate on the west, for in the 1530s the pale was said to extend from St. Thomas's chapel to Mile cross. (fn. 128) Within it were many arable, meadow, and pasture closes. In 1340 the archbishop's demesne land included 155 a. of arable and in 1388 still over 140 a. There were c. 190 a. of meadow land, together with a small croft, in 1340 and rents were received from half a dozen pasture closes in 1388. Outside the park the woodland, sometimes called the outwoods, (fn. 129) included Woodmansey Hagg in the east and West Hagg, which was later usually known as Langley Hagg, between Queensgate and Westwood. Underwood there was valued in 1340 and 1388, when about 200 of the 'great old oaks', either in the park or in the outwoods, were said to have recently been lopped and sold. (fn. 130)
After the archbishop's estate passed to the Crown the park was found in 1554-5 to be 6 miles in circumference and to contain over 2,200 a., including 800 a. of former arable land then used as pasture. Apparently in addition there was a lawn 2 miles round which had been newly paled. There were still 650 deer in the park and another 300 had escaped into the nearby woods. (fn. 131) Many pasture closes, including several that had been mentioned in the 14th century, were still farmed out, but in 1551 those called Great Laund and Pease land, together with part of Woodmansey Hagg, were kept in hand to provide additional sustenance for the animals in the park; the hagg was then described as a pasture and had evidently been cleared of trees. (fn. 132) The timber in Langley Hagg had also been felled, for in 1559 it contained only young oaks 1-6 years old, and by the end of the century it had been divided in closes. (fn. 133) The keepers of the park were mentioned in 1563-4 (fn. 134) but the park was evidently not long maintained, for in 1574 the grounds were described as lately disparked. (fn. 135)
In the 17th century the Wartons made a new park, comprising more than 90 a. from the old park, six closes added in 1674, and 117 a. in neighbouring Bentley, in Rowley. (fn. 136)
Although the archbishop no doubt had a hunting lodge in the park in the Middle Ages no specific reference to it has been found. It was, however, refurbished and enlarged by the Crown in 1548. An account of the expenses incurred that year 'in making certain building at the little lodge in Beverley park', and endorsed 'reparations done upon the lodge', suggests that it was not a complete rebuilding. As well as much timber, stone from the archbishop's manor house was also used. (fn. 137) Its site may have been a little north-west of the modern Old Hall, where Stone House close was later recorded. (fn. 138)
The location of some of the grounds recorded in the Middle Ages and the 16th and 17th centuries is suggested by later evidence. The park proper may have been west and south-west of the lodge, where many fields called 'park' were included in Bramble Hill and White Hall farms in the 19th century. (fn. 139) Great Lawn and other fields called Lawn later formed part of Old Hall farm, (fn. 140) together with Pease land. (fn. 141) Clay croft was probably near the water mills, (fn. 142) and Sheepcote leys (fn. 143) and Braithwell flat (fn. 144) were both east of Queensgate. Gill ing and Hay croft, two of the closes named in 1551, were later part of White House farm, (fn. 145) and fields called Callom or Callon, presumably part of Callaund, also named that year, were in Low and Halfway House farms. (fn. 146) Woodmansey Hagg may have lain between the Laund and the Beverley-Hull road, where fields called Wid wood were part of Ross's farm. (fn. 147) Langley Hagg was found in 1559 to contain 200 a. (fn. 148) and it thus occupied most of the ground west of Queensgate, apart from the arable land called Langley which adjoined the borough. Other pastures named in 1551 were the Low Country and the High Country, the former then let to tenants of Woodmansey and the latter to tenants of Skidby manor. The Low Country probably occupied the low-lying ground in the south-eastern corner of the modern Beverley Parks, and the High Country the rising ground in the south-western corner, where it adjoined the outgang called Carr Lane by which the inhabitants of Skidby had access to their meadows further east. (fn. 149)
In the 17th century the Wartons let much of Beverley Parks to tenants, but they also produced their own corn and hay and kept many animals, especially cattle for fattening. Some of the fatstock was sent to Smithfield. (fn. 150) By 1775 Beverley Parks was divided among nearly 100 tenants, 15 of whom held farms of 50-200 a. each. The land use of those farms was not specified, but of 117 closes comprising the smaller tenancies all but 7 were used as meadow or pasture. (fn. 151) In the 19th and 20th centuries there have usually been a dozen farmers in Beverley Parks, together with up to 3 cowkeepers and dairymen and as many as 6 market gardeners. (fn. 152) Some of the glasshouses belonging to market gardeners of Thearne and Woodmansey lay in the Parks. (fn. 153) In Woodmansey and Beverley Parks together there was nearly as much permanent grassland as arable land in 1905, (fn. 154) and there was still much pasture in the Parks in the 1930s (fn. 155) and later.
Three mills at Beverley recorded in 1086 (fn. 156) were probably near the site of the modern water corn mill in Beverley Parks. Two water mills were mentioned in the 14th century, (fn. 157) one of them presumably the Maliface mill recorded in 1386-7 and 1444, (fn. 158) and three in 1542-3, when they were called Maliface, New, and Clay croft mills. (fn. 159) In 1622 High and Middle mills stood on Mill Dam drain; (fn. 160) a third mill, Low Mill mentioned in 1625, (fn. 161) stood further down the drain, within the borough. High Mill was recorded again in 1665, (fn. 162) all three in 1684, when High and Middle mills were also called wheat and rye mills respectively, (fn. 163) and High and Low mills in 1749, when the building (presumably the rebuilding) of the latter was mentioned. (fn. 164) A water mill apparently on the site of High Mill was the only one in use in the 19th century. (fn. 165) In 1822 it was offered for sale together with a windmill, (fn. 166) which still stood nearby in 1853. Both mills went out of use, and the windmill was demolished, later in the century; (fn. 167) the water mill has also been demolished.
From the late 18th century industrial activity in the Parks has reflected the proximity of Beverley. By 1775 there was a bleaching yard near the Beverley-Hull road which was dealing with sailcloth in 1852. (fn. 168) It evidently did not long survive. A small brickworks beside Queensgate was opened in 1820 and another near Westwood was probably opened in 1839 along with Robert Walker's whiting works. By 1852 there was a second brickworks beside Queensgate. Walker's brick and whiting works were sold in 1856 (fn. 169) but none of the brickworks was mentioned again.
In the 19th century several whiting works were established near Queensgate to exploit the local chalk. The Victoria works, close to Westwood, was begun by Robert Walker, a Beverley watchmaker, who built a windmill to grind the chalk, together with sheds and three cottages, in 1839. (fn. 170) Later called a 'Paris white' manufacturer, Walker died in 1856 and his executors sold the works that year to Josiah Crathorne, the Grovehill miller. (fn. 171) Crathorne's daughter Sarah married W. H. Fisher and they sold the works in 1895 to Charles Judge, (fn. 172) who already owned the nearby Queensgate works. The latter works was probably established soon after 1826, when the site was bought by the Beverley merchants Pennock Tigar and Richard Champney; in 1846 Champney sold his share of the windmill, several cottages, and other buildings to Tigar (d. c. 1851). (fn. 173) Tigar's widow conveyed the works in 1852 to Arthur Pease and in 1891 Francis R. Pease sold it to Judge. (fn. 174) The works had been operated since 1866 or earlier by the Queensgate Whiting Co. and in the 1890s Judge was its manager. (fn. 175) In 1900 Judge sold both works to the company, which later bought nearly 50 a. of adjoining land. (fn. 176) The works were sold in 1972 to Brambling Lime (Salisbury) Ltd. (fn. 177) and in 1987 belonged to Calcium Carbonates Ltd. as a member of the English China Clay Group. A third whiting works, beside the main road, was begun by William Chance and James Ingoldby, apparently in 1875. (fn. 178) With three cottages it was sold to Storry, Witty & Co. Ltd. of Hull in 1895, when it was known as the Queensgate Road works. (fn. 179) An adjoining 18 a. was added later. (fn. 180) Storry, Witty moved the rest of its business to Beverley Parks after the Hull works were bombed during the Second World War. (fn. 181) The works was closed in two stages in 1969 and 1970; (fn. 182) it passed to the Riviera Caravan Co. Ltd. in 1972 (fn. 183) and was used by several firms in 1987. All the whiting works including large quarries. A fourth quarry, south of the Queensgate works, existed in Stone Pit close by 1805. (fn. 184) It was bought in 1892 by George Davis, a Hull paint, oil, and colour merchant, and was sold in 1923 by J. W. Davis & Son (Hull) Ltd., but Davis apparently did not manufacture whiting there. (fn. 185)
After the Second World War an industrial site near Victoria barracks was used by several firms, including a haulage contractor and a motor body builder. (fn. 186) Peat was dug near Bleach House Farm from 1968 until a touring and fishing site called Lakeminster Park was opened there in 1982. (fn. 187) Fellmongering was carried on at a factory in Shepherd Lane from c. 1955. (fn. 188)
LOCAL GOVERNMENT.
Officers appointed for Beverley Parks at the Beverley Water Towns court usually also served Woodmansey. Occasionally, however, an officer was appointed for the Parks alone, for example an overseer of the poor in 1652 and a surveyor of highways in 1678 and 1827-8. (fn. 189)
CHURCH.
The park, part of St. John's parish, Beverley, may have been served in the Middle Ages by the prebendary of St. Michael in the collegiate church, who enjoyed some of the tithes there. In 1309 it was found that the provost and certain other prebendaries also took tithes in the park, and in 1535 the prebendary of St. Peter had some of them. (fn. 190) After the suppression Beverley Parks was served along with Woodmansey.