Pages 278-281
A History of the County of York East Riding: Volume 6, the Borough and Liberties of Beverley. Originally published by Victoria County History, London, 1989.
This free content was digitised by double rekeying. All rights reserved.
ESKE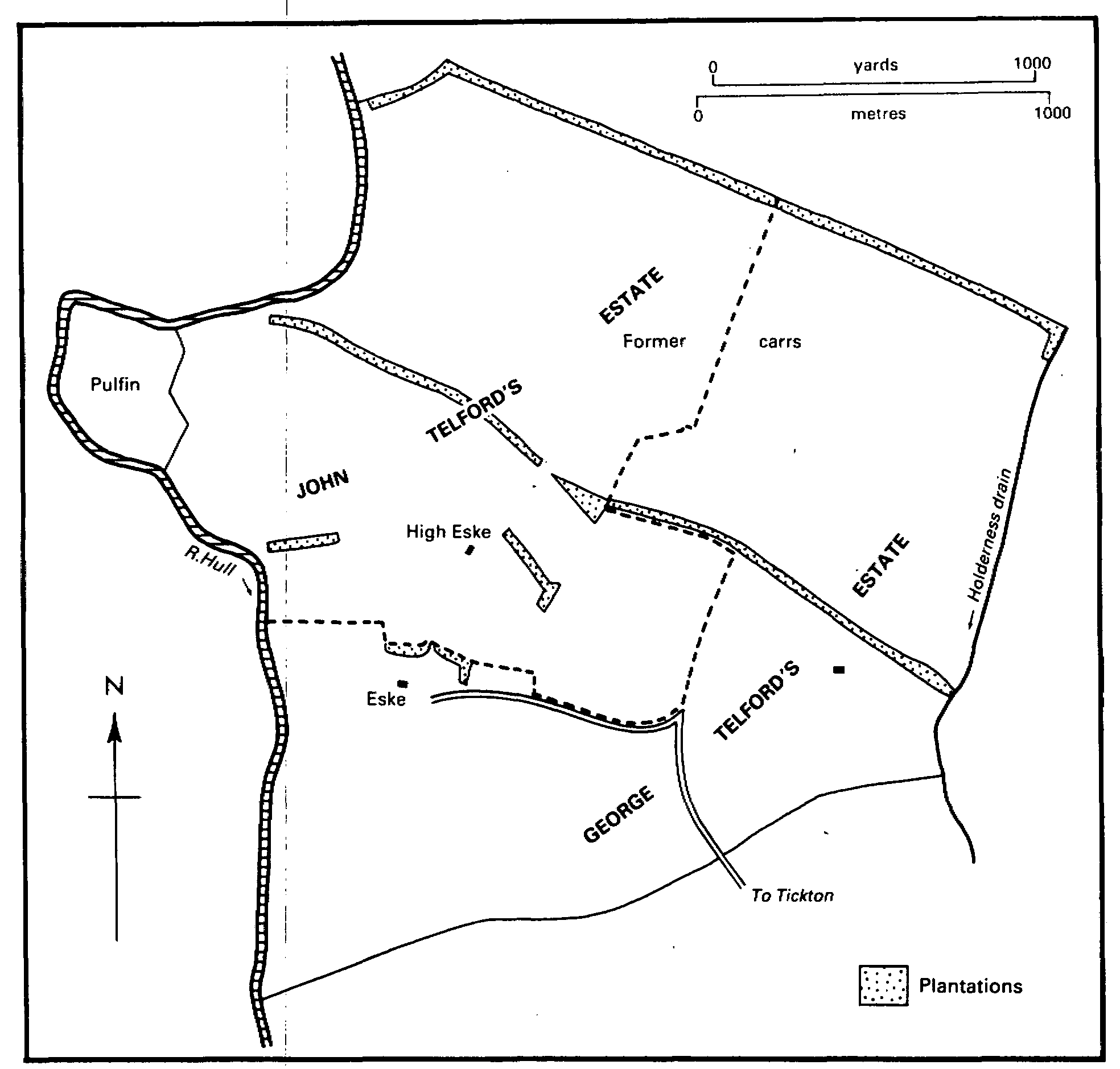 The township of Eske, lying about 4 km. northeast of Beverley on the east bank of the river Hull, was in Holderness wapentake, outside the liberties of Beverley but in the parish of St. John. Eske village has long been depopulated. The name, meaning 'place growing with ash trees', is Scandinavian. (fn. 1) The township was said in 1852 to contain 1,098 a. but later, excluding the river, 1,088 a. (440. 3 ha.); it was a civil parish until 1935, when it was combined with Storkhill and Sandholme, Tickton and Hull Bridge, and Weel civil parishes as Tickton civil parish. (fn. 2)
Much of the township is flat and low lying, and covered with alluvium, but a ridge of boulder clay runs across the middle of it, in places exceeding 7 m. above sea level and reaching nearly 12 m. near High Eske farmhouse. (fn. 3) The carrs which occupied the lower ground were often flooded and adequate drainage was achieved only in the 19th century. (fn. 4) Direct drainage into the river Hull was often impeded by the high water level in the river, and natural drainage was southwards. In the Middle Ages some water from Eske was probably discharged into the river by way of Eschedike, between Weel and Wawne. From the late 16th century it was taken still further south, reaching the river by Forthdike, between Wawne and Sutton on Hull. In Eske itself New dike, apparently along the eastern township boundary, was named in 1278 (fn. 5) and another along the northern boundary was recorded in 1367. The names Oxmerdike, also recorded in 1367, and Leven mere, mentioned in 1459, (fn. 6) suggest the existence of permanent pools in the carrs, and there was still permanent water there in the late 18th century. Under an Act of 1764 all the carrs and other low grounds in the Hull valley on the east side of the river were removed from the jurisdiction of the Court of Sewers for the East Parts of the East Riding and a new Holderness Drainage Board was formed. (fn. 7) By the consequent award made in 1775 as many as 689 a. in Eske were rated to the drainage. (fn. 8) The first scheme of improvement to be carried out involved the making of a new outlet into the river even further south, at Stoneferry. Effective drainage was achieved, however, only when a new main drain, with an outfall into the river Humber, was cut under an Act of 1832. (fn. 9) In Eske it incorporated the old eastern boundary drain, which was straightened with the result that at one point the township boundary no longer followed the drain. (fn. 10) By the award made in 1838 under the 1832 Act the low grounds in Eske rated to the drainage amounted to 693 a. (fn. 11) The efficiency of the drainage was increased in the late 19th and early 20th century by the use of pumps near the outfall of the main drain. The work of the Holderness Drainage Board was taken over in 1941 by the River Hull Catchment Board, (fn. 12) the responsibility of which had passed to the Yorkshire Water Authority by 1987.
The river Hull forms the entire western boundary of the township. Its course always included a prominent bend around the end of the boulder clay ridge, but the bend was greatly accentuated by the diversion of the river further to the west, (fn. 13) probably c. 1800 when the Driffield Navigation Commissioners were making many improvements to the river. (fn. 14) Within the bend lies marshy ground of c. 30 a. called Pulfin, (fn. 15) presumably the Polefen mentioned in 1334. (fn. 16) In 1980 Pulfin was given to the Yorkshire Naturalists' Trust as a nature reserve. (fn. 17) Near by, boulder clay has been dug to provide material for raising the flood banks alongside the river, and one large resultant 'borrow pit' is permanently flooded; the large-scale removal of clay was still taking place in the 1980s.
There is no through road in Eske and a culde-sac from Tickton gives access to the few scattered houses. The medieval village stood near the surviving Eske or Eske Manor farmhouse, where prominent earthworks remained in 1987; the site has been scheduled and recommended for preservation. (fn. 18) By the 19th century there were only two farmhouses, known as Eske and High Eske, and one other house, (fn. 19) but two or three more houses were built later.
A dozen tofts were recorded at Eske in the 13th century (fn. 20) and there were 63 poll-tax payers in 1377. (fn. 21) Seven men were mustered in 1539. (fn. 22) By 1671 there were only five households, each with one hearth, besides the manor house. (fn. 23) The population was 32 in 1801 and after fluctuating between 17 and 56 during the rest of the century it stood at 45 in 1901; (fn. 24) there were 52 inhabitants in 1931. (fn. 25)
MANOR AND OTHER ESTATES.
In 1086 the archbishop had 2 carucates at Eske as a berewick of his manor of Beverley and they were held by St. John's college. (fn. 26) About 1240 William of York, provost of the college, granted ESKE manor to his brother Nicholas of York. (fn. 27) The estate was later divided among undertenants. By the mid 13th century part of Eske was in the possession of Peter of Meaux, who then granted 6 bovates, together with several villeins and their tofts and services, to Patrick de Caldebek. (fn. 28) Patrick quitclaimed those 6 bovates to William, son of Nicholas of York, in 1268 (fn. 29) and at his death in 1282 William was said to hold them of another William of York, rector of Patrington. (fn. 30) In 1286 William's son, also William, assigned 4 bovates in Eske to his mother Cecily and her second husband, Amand de Surdeval, in exchange for land elsewhere. (fn. 31) The last-named William of York later took the surname Hebden, from his manor in the West Riding, (fn. 32) and as William of Hebden he had a grant of free warren at Eske in 1316. (fn. 33) Eske descended in the Hebdens until the 15th century, when it passed to Sir Thomas Dymoke by his marriage to Elizabeth, daughter and heir of Sir Nicholas Hebden. (fn. 34)
Sir Thomas Dymoke died in 1422, and in 1442 his widow and others conveyed Eske manor to trustees, (fn. 35) who demised half of it to Elizabeth for life, with reversion to her son Nicholas, and the rest to Nicholas; it was said to be held of Peter of Meaux. Elizabeth died in 1453. (fn. 36) By 1500 the manor had passed to Edmund Thwaites (d. 1501), who left it to his grandson Henry, later Sir Henry, Thwaites (d. 1520). (fn. 37) Sir Henry's daughter Frances and her husband John Gresham were dealing in land in Eske in 1538 and 1546, (fn. 38) but the manor later passed to Thomas Grimston (d. 1572), who left it to his son Thomas. (fn. 39) In the 16th century the manor was said to be held of the lords of Holderness, in 1501 Edward, duke of Buckingham, and in 1572 Sir John Constable. (fn. 40)
Thomas Grimston and his son Marmaduke sold Eske manor in 1580 to Anthony Jackson (fn. 41) (d. 1607), and Anthony left it to his son Richard (fn. 42) (d. 1610), who was succeeded by his son, another Anthony. (fn. 43) In 1625 Anthony sold the manor to Thomas Lewins or Leuyns, (fn. 44) who at his death in 1628 left it to his son Lewis. (fn. 45) At Lewis's death in 1671 Eske passed to his son William. (fn. 46)
William Lewins (d. 1685) (fn. 47) was succeeded by his daughters Eleanor, wife of Charles Salkeld, Frances, wife of Daniel Devoy, and Mary, wife of Edward G. Boldero. In 1710 the Bolderos and Devoys sold ⅔ of the manor to Mark Kirkby, a Hull merchant. The Salkelds sold their ⅓ the same year to Richard Bellasise, who in 1711 sold it to Kirkby. The whole manor then contained 1,081 a. (fn. 48) By will proved in 1718 Kirkby left Eske to his son Richard (d. c. 1720), with remainder to Richard's brothers Christopher (d. c. 1735) and Mark. (fn. 49) The younger Mark Kirkby died in 1748 and on the partition of his estates in 1750 Eske fell to the share of his niece Sarah Horsfield. (fn. 50) Sarah's son Mann had Eske by 1782 and he sold it to the brothers George and John Telford, nurserymen of York, in 1787. (fn. 51)
George Telford died in 1834 and his half of the manor was assigned the next year to his son Henry, who had 551 a. there in 1847. About 1859 it passed to Henry's nephew Charles Telford. (fn. 52) The share was known as Eske or Eske Manor farm. (fn. 53) John Telford died in 1830 and his half of the manor was later held by trustees under his will and that of his son John (d. c. 1835), whose devisees were his daughter Anne, his daughter Emily's husband Richard Wollaston, and his cousin Henry Telford. (fn. 54) The Wollaston family was often named as the owner of that half of Eske, (fn. 55) which was known as High Eske farm. (fn. 56) In 1873 the trustees conveyed it, with 516 a., to Charles Telford, (fn. 57) thus reuniting the halves.
Charles Telford (d. 1894) devised Eske in trust for Helen West as life tenant; shortly before Telford's death she had married Frederick W. Slingsby (d. by 1916). (fn. 58) After her death in 1952 the estate was sold the next year to Roberts & Cooper (Hull) Ltd. and in 1961 to George L. Cullington, who later that year gave his wife a joint share. (fn. 59) George Cullington died in 1983 and Mrs. N. E. Cullington still owned it in 1987. (fn. 60)
A chief house was included in Peter of Meaux's grant in the mid 13th century and William of York had one, perhaps the same, later in the century. (fn. 61) William Lewins had a house with 9 hearths in 1672. (fn. 62) It may have been rebuilt soon after, for c. 1680 Lewins was said to be building a house at Eske. (fn. 63) The house, which is of brick and has a three-roomed plan with a two-storeyed porch in front of a lobby entrance, survives as Eske Manor. (fn. 64) In an upper room the wall boarding has been painted to look like panelling and a chimney-piece incorporates the arms of William, son of Lewis Lewins and Eleanor Wytham. (fn. 65)
Amand de Surdeval, who by 1286 had married Cecily of York, (fn. 66) was named as one of the lords of Eske in 1316. (fn. 67) The Surdevals acquired other land soon after, (fn. 68) and when Peter de Surdeval's estate was divided in 1346 between Richard of Aldefield and his wife Alice, probably Peter's widow, and Peter's son Robert it included a chief house, an ovenham or intake, 2½ bovates, 13½ tofts, and c. 20 a. of land. (fn. 69) Neither of those holdings has been traced further. In 1316 John of Staveley was also named as a lord of Eske (fn. 70) and William of Staveley had land there in 1334, (fn. 71) but no more is known of the family. The Vavasour family evidently had land in the township by c. 1260, when Thomas le Vavasour was described as of Eske, (fn. 72) and in 1297 Adam le Vavasour was a taxpayer there. (fn. 73) Adam's son and heir Henry le Vavasour was named as an undertenant of the archbishop's fee in 1346, along with Richard of Hebden, Robert Surdeval, and Richard of Ask (perhaps for Eske). (fn. 74) The descent of the Vavasour holding has not been traced. Richard of Ask and his wife had a grant of an estate in Eske, described as ⅕ of the manor, from William of Newsham and John of Ask in 1350. (fn. 75) Later in the 14th century two of the holdings passed to the Newton and Topcliffe families. In 1371 Robert of Goxhill conveyed an estate in Eske to Stephen of Newton, (fn. 76) and in 1391 an estate described as ¼ of the manors of Eske and Weel was conveyed by Sir John of Leek and his wife Isabel to Walter of Topcliffe. (fn. 77)
It seems likely that all of those holdings were bought in the 15th and 16th centuries by the Grimston family, whose acquisitions (fn. 78) included land from John Topcliffe in 1458, from Richard Newton by 1459, and from Richard Topcliffe in 1565. (fn. 79) They later descended with the manor.
After the suppression of St. John's college, to which they had belonged, (fn. 80) the tithes of Eske were let by the Crown (fn. 81) and then granted in fee to Anthony Crewe and William Starkey in 1604. (fn. 82) By 1610 they belonged to Richard Jackson and descended with the manor. They were later merged.
ECONOMIC HISTORY.
On the arable land at Eske in 1086 six villeins and a bordar had two ploughteams. (fn. 83) Although open-field bovates were mentioned at least until the 15th century (fn. 84) there is no evidence for the layout of the fields or for their inclosure. In 1278 the fields were found to contain 16 bovates, each of 17 a., and the bovates had appurtenant rights in the common meadows and pastures. To each bovate belonged 9 a. of meadow, together with a share of the pasture called North carr equivalent to 30 a. and 3 perches. For each bovate the stint in the pasture was 3 oxen, a horse, 8 cows with calves, 2 mares with foals, 32 sheep with lambs, 8 ducks, and 4 geese and a gander until 25 April. (fn. 85) The common meadows probably included New carr, Oxfrith, and Polefen, all of which were mentioned in 1334. (fn. 86) The common pasture also provided turf, (fn. 87) and the river and meres fish. Godfrey the fisherman was named in the mid 13th century, and in 1459 Walter Grimston had the fishing of Oxmerdike and Leven mere. (fn. 88) The reclamation of land from the carrs is suggested by the ovenham or intake which belonged to the Surdevals in 1347. (fn. 89)
It may have been in the 16th or 17th century that the commonable lands were inclosed and the village depopulated. Ridge-and-furrow surviving near the village site indicates the position of some of the open-field land; presumably it was all on the better-drained boulder clay ridge. After inclosure grassland was probably predominant, and the low grounds were presumably not cultivated until drainage was improved in the 19th century. (fn. 90) In 1710 the manor comprised 203 a. of meadow, 318 a. of pasture, 516 a. of marsh or carr, and only 44 a. of arable. (fn. 91) The township was divided into three farms in 1787 but later only two. (fn. 92) By 1833 two narrow shelter belts had been planted across the township, one on the northern boundary and the other south of the former carrs, and a large plantation was later made north-east of High Eske farmhouse. (fn. 93) There were 20 a. of woodland in 1910 (fn. 94) and 46 a. in 1961. (fn. 95) A gamekeeper was employed in the later 19th and earlier 20th century. (fn. 96)
A mill at Eske was mentioned in the 14th century. (fn. 97)
LOCAL GOVERNMENT.
Eske joined Beverley poor-law union in 1836 (fn. 98) and remained in Beverley rural district (fn. 99) until 1974, when, along with the rest of Tickton civil parish, it became part of the Beverley district of Humberside.
CHURCH.
The township, part of St. John's parish, Beverley, may have been served in the Middle Ages by the prebendary of St. Mary in the collegiate church, who enjoyed the tithes there. (fn. 100) There may have been a medieval chapel at Eske, for in 1309 a chaplain celebrating in the 'church' there was mentioned. (fn. 101) Baptisms, marriages, and burials usually took place in the minster, (fn. 102) but from the 19th century some burials were at Tickton. (fn. 103)