Pages 276-283
A History of the County of York North Riding: Volume 2. Originally published by Victoria County History, London, 1923.
This free content was digitised by double rekeying. All rights reserved.
ORMESBY
Ormesbi, Ormesbie (xi cent.); Ormsby (xiii cent.); Ormysby (xiv cent.); Ormesbye, Ormysbye, Ormsbye (xvi cent.).
In 1831 the parish of Ormesby included the chapelry of Eston and the townships of Normanby, Morton and Upsall; of the 8,963 acres covered by the ancient parish 3,491 acres are arable land, 3,234 acres permanent grass and 237 acres woods and plantations. (fn. 1) The ecclesiastical parish of Ormesby now consists of the townships of Ormesby, Morton and Upsall, while the civil parish is composed of the townships of Ormesby, North Ormesby and part of Cargo Fleet. A portion of Ormesby and the remainder of Cargo Fleet are now included in Middlesbrough. (fn. 2) Eston is now a separate ecclesiastical parish and includes Normanby and Grangetown. The land slopes upwards towards the moors of Eston and Upsall in the south-east, the greatest height being 700 ft above ordnance datum at Mount Pleasant, a rising ground in the middle of Upsall Moor. The soil is clay, with a subsoil of Upper and Lower Lias, and the chief crops are wheat, barley, oats, beans and clover.
The principal industry of the parish is ironstone mining, the Eston mines being the first to be opened in Cleveland between 1850 and 1860. In connexion with this industry are many blast furnaces, iron-foundries and steam saw-mills at Branch End, South Bank and Cargo Fleet on the banks of the Tees, which forms part of the northern boundary of the parish; while the development of North Ormesby, an ecclesiastical parish formed out of the old parish of Ormesby in 1871, is also largely due to the same causes. There are railway stations at Ormesby and Eston on the Middlesbrough and Guisborough branch of the North Eastern railway, and at Cargo Fleet and Grangetown on the Darlington and Saltburn branch. Public elementary schools were built at Eston in 1873, at Grangetown in 1884, and at Cargo Fleet in 1909. In North Ormesby a boys' school was built in 1884, and a girls' school here, built in 1875, was enlarged in 1891. There is an infants' school at Eston, built in 1909, and Roman Catholic schools were erected in Grangetown in 1884 and in North Ormesby in 1885.
Ormesby Hall stands at the west end of Ormesby in a park of 100 acres, and consists of two blocks placed corner to corner, south-east and northwest. The older part, which is of uncertain date, much modernized, is a square two-story building with a courtyard in the middle, and now contains the offices and servants' rooms. The newer part, or house proper, which stands to the north-west, is a plain 18th-century building of three stories with pediments to the north and south fronts and high-pitched hipped roofs. It was built by Dorothy wife of James Pennyman and daughter of Archbishop Wake about the middle of the 18th century. (fn. 3) The house has since been somewhat modernized. (fn. 4)
Cargo Fleet was formerly known as Caldicotes (Caldecotis, xii cent.; Kaldecothis, xiv cent.; Caldecoates, xvii cent.); a water-mill here was granted to Guisborough by Arnald de Percy at the foundation of the priory. (fn. 5) This mill is frequently mentioned, (fn. 6) and, together with a windmill in Ormesby, was afterwards given to William son of Walter de Percy in exchange for lands in Ormesby. (fn. 7)
North Ormesby is symmetrically built round a square market-place, to the north-east of which is the church of Holy Trinity, erected in 1869. There is a Roman Catholic school chapel dedicated to St. Alphonsus, built in 1885, and there are also Baptist and Wesleyan chapels, built in 1884, and a Primitive Methodist chapel. A hospital, said to have been the first 'cottage hospital' in England, now contains more than 100 beds (fn. 8); it stands southwest of the market square, by the side of the Ormesby Road, which leads past the cemeteries on the east and the vicarage on the west to Ormesby.
Ormesby is a small village lying to the east of Ormesby Hall. The church, dedicated to St. Cuthbert, stands amidst trees to the west of the village, in a position of much beauty. The entrance to the churchyard is through a lych-gate erected in 1883 by Elizabeth Caroline Brown. Hambleton Hill, to the south, is probably the Hameldon of which various early mentions occur. (fn. 9)
The village of Normanby is about a mile northeast of Ormesby, Normanby House lying to the north-west, while Normanby Hall is situated among park lands further south. The common fields were inclosed in 1790, and to the south-east are moorlands and plantations. North of the village is Normanby Grange Nursery, probably the site of the grange which belonged to the monastery of Rievaulx. (fn. 10)
The modern parish of Eston includes California on the north-east, South Eston on the south-west, and Old Eston on the north-west. It owes its importance and size to the ironstone mines. Christ Church, built in 1884, lies to the west of the town, while the old chapel of St. Helen, now used as a mortuary chapel, is further west. The Wesleyan Methodists, Primitive Methodists, and Bible Christians have chapels, and that of the Congregationalists was built in 1858. The hospital was built in 1884.
Grangetown, north of Eston, has sprung up since 1881, and has extensive steel and iron-works. A Roman Catholic church dedicated to Our Lady of Perpetual Succour was built in 1885, and there are also Congregational, Wesleyan and Primitive Methodist chapels. North-east of the market-place is a Literary Institute, built in 1889. Public baths were opened in 1897. North-east of Grangetown and due north of Eston village is Eston Grange, which belonged to Fountains Abbey. (fn. 11) South of Eston is Eston Moor, hill ground on which are several tumuli; this moor juts out to the northeast in a spur known as Eston Nab, where there are traces of an encampment. (fn. 12)
The township of Upsall is due south of Eston and west of Ormesby. Upsall Hall lies to the west, and there are moorlands and plantations to the east, where are mines and quarries. Upsall Mill Farm, to the south-east of the moor, seems to indicate the site of a mill given to Guisborough by Robert de Tunstall early in the 13th century. (fn. 13)
Morton forms the southern portion of the parish and consists of three farms. Morton Grange, the history of which remains obscure, but which probably belonged to Guisborough, as lands here were early granted to that house, (fn. 14) is in the south-east and Morton Carr in the south-west. Here are brick and tile-works, due south of Normanby village.
Many of the old place-names in this parish are known. (fn. 15) Ketelpittes, Culteracre, Barlielandes, Peselandes, Sandpittes, Austerculteraker, Priurhyl, Langeleinlandes, Wuerestebotham, Scortesandes, Hueflat, Langthorndic, Gosemire, Bradderburniorth, Midellesteboem and many others occur among the lands of Guisborough Priory (fn. 16); while Birtrestub, Blalandes and Fornflat are found among those of Whitby Abbey. (fn. 17)
Manors
Before the Conquest 12 carucates in ORMESBY were held by four thegns, (fn. 18) and Orme is mentioned as a tenant in 1086. (fn. 19) Ormesby formed part of the fee granted to Robert de Brus, (fn. 20) the overlordship following the descent of the manor of Yarm (q.v.). Arnald de Percy, lord of Kildale, was holding Ormesby early in the 12th century. (fn. 21) This manor followed the descent of Kildale (q.v.) until William de Percy granted a tenement here to his younger son William and his issue in 1268, (fn. 22) and in 1280 followed this with a feoffment of the manor to William and his heirs (fn. 23) for a rent and foreign service. The elder son Arnald thus held a mesne lordship. (fn. 24) William died seised in 1295 (fn. 25) and was succeeded by his son Alexander, (fn. 26) at whose death his son John followed. (fn. 27) John Percy died without male issue, (fn. 28) and his daughter and heir Juliana married Robert Conyers, (fn. 29) whose descendants held the manor for many generations. Robert Conyers was succeeded in Ormesby by his son another Robert, (fn. 30) lord of the manor in 1427–8, (fn. 31) at whose death his son John succeeded. (fn. 32) John died in 1438 (fn. 33); his son and heir Robert (fn. 34) died shortly afterwards, (fn. 35) leaving a daughter and heir Anne, who married Sir James Strangways (fn. 36) and died seised in March 1517–18, (fn. 37) when her son James succeeded to the manor. (fn. 38) This James Strangways 'of Ormesby' died seised in March 1526–7 (fn. 39); his son and heir James in 1529 obtained a grant of exemption from serving on juries, (fn. 40) and was in possession in 1539 (fn. 41) and 1545. (fn. 42) He died in January 1547–8 and was succeeded by his son Sir Richard, (fn. 43) who died seised in or about 1558, his heir being his son James. (fn. 44) James made a conveyance of the manor in 1592, (fn. 45) and in 1596 he, with his nephew Strangways Bradshaw (fn. 46) (son of his sister Elizabeth, who married James Bradshaw of Gisburn), conveyed it to Ralph Rokeby, (fn. 47) who four years later conveyed it to James Pennyman. (fn. 48) James Pennyman in 1601 had a grant of various lands in Ormesby which had belonged to the monasteries of Guisborough, Whitby and Byland, (fn. 49) and in 1602 he bought three messuages here from Christopher Bulmer. (fn. 50) With James Pennyman the younger he made a conveyance of the manor to William Tothill in 1606. (fn. 51) This William Tothill, 'one of the six clerks in Chancery,' (fn. 52) may be identified as William Pennyman, an illegitimate son of James, (fn. 53) the conveyance being probably a settlement of one moiety of the manor for life on William, who died seised thereof in 1628. (fn. 54) James Pennyman, head of the legitimate line, died in possession of the other moiety in 1624 and was succeeded by his son James, (fn. 55) who made conveyances of the manor in 1636 (fn. 56) and 1650. (fn. 57) On his death in 1655 (fn. 58) he was succeeded by his son James, who had been knighted in 1642. (fn. 59) Both father and son were ardent Royalists, (fn. 60) and during the Commonwealth they were heavily fined, (fn. 61) with the result that James Pennyman conveyed a moiety of the manor to Gervase Elwes. (fn. 62) James was created a baronet in February 1663–4 (fn. 63); he died in 1679, (fn. 64) and was succeeded by his son Sir Thomas, (fn. 65) Lord Privy Seal to William III, (fn. 66) who died in 1708. (fn. 67) His son Sir James was lord of the manor in 1717–18 (fn. 68) and died in 1745 (fn. 69); his son and successor Sir William, (fn. 70) who was lord of the manor in 1762, (fn. 71) died unmarried in 1768, (fn. 72) when his brother Warton succeeded him. (fn. 73) Sir Warton died without surviving male issue, (fn. 74) his heir being his nephew James, son of his brother Ralph. (fn. 75) Sir James died in 1808, (fn. 76) when the baronetcy and estates passed to his son Sir William Henry, (fn. 77) the last baronet, who died without issue in 1852. (fn. 78) His cousin James White Worsley (fn. 79) assumed the name of Pennyman and inherited the estate, which he held until his death in 1870. (fn. 80) His son James Stovin Pennyman (fn. 81) died in 1896, (fn. 82) and was succeeded by his son James Worsley Pennyman, the present owner.
That part of the manor sold to Gervase Elwes during the Commonwealth (fn. 83) descended to his grandson Sir Harvey Elwes, bart. (fn. 84); he sold it in 1720 (fn. 85) to Ralph Robinson, from whose nephew it is said to have been repurchased by Sir James Pennyman in 1770. (fn. 86) It was afterwards sold to John Brown, the owner in 1806, (fn. 87) whose descendant Miss Brown of Ormesby House held lands here in 1905, but has since died.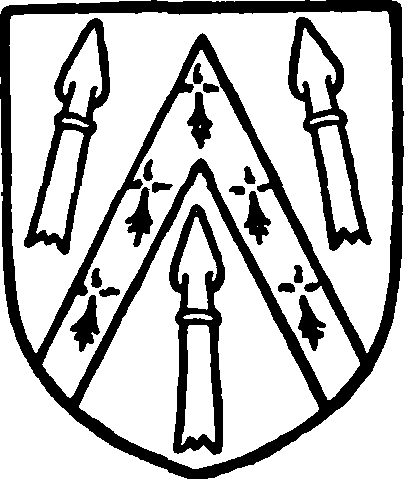 Land in Ormesby seems to have remained in the hands of the Bradshaws after the conveyance of 1596. (fn. 88) In 1610, and again in 1628–9, Strangways Bradshaw was holding lands here, (fn. 89) and in 1663–4 Constable Bradshaw was living here. (fn. 90)
A windmill was appurtenant to the manor in the 16th and 17th centuries. (fn. 91) Free warren in his demesne lands here was granted to William de Percy in 1253. (fn. 92) View of frankpledge was appurtenant to the manor in 1596, (fn. 93) and in 1601 James Pennyman received a grant of courts leet, view of frankpledge and all other privileges which had belonged to the Priors of Guisborough in this place. (fn. 94)
A second manor in Ormesby belonged to Guisborough Priory and was known as ORMESBY GRANGE. In 1300 the priory held 3½ carucates here by grant of the Percys and their tenants; they also held the carucate which was endowment of the parish church, and on this was situated their dwelling-house. (fn. 95) After the Dissolution this manor was leased to various persons, (fn. 96) and in 1601 it was granted in fee to James Pennyman. (fn. 97) Henceforth it followed the descent of the principal manor of Ormesby.
Whitby Abbey also had grants of land in Ormesby. (fn. 98)
Before the Conquest Waltef held a 'manor' at ESTON (Astune, Astun, xi cent.; Estona, xii cent.) which in 1086 was among the lands of the Count of Mortain. (fn. 99) It afterwards formed part of the Canterbury fee. (fn. 100)
In 1086 the tenant was Richard (de Surdeval). (fn. 101) Early in the 12th century Robert de Meynell, (fn. 102) lord of Whorlton, was apparently lord of this manor, which followed the descent of Whorlton (q.v.) until the death of John Lord Conyers in 1556–7, (fn. 103) being eventually divided among his three surviving daughters and co-heirs, (fn. 104) Anne wife of Anthony Kempe, Elizabeth wife of Thomas Darcy, and Katharine wife of John Atherton. (fn. 105) The share of Katharine, here as at Marske (q.v.), came in 1644 into the hands of Conyers Darcy (fn. 106) Lord Conyers, son and heir of Thomas and Elizabeth Darcy. He died in 1654 (fn. 107) and was succeeded by his son Conyers, (fn. 108) whose daughter married Sir Henry Stapylton of Myton, (fn. 109) apparently bringing the estate into her husband's family, as her son Sir Bryan Stapylton (fn. 110) in 1680 held two-thirds of the manor, (fn. 111) which henceforth followed the descent of Myton-on-Swale, (fn. 112) the present lord of the manor being Mr. Miles John Stapylton.
The third which descended to Anne Kempe followed the descent of her share of Skelton (fn. 113) (q.v.), and was still in the hands of George Trotter in 1631. (fn. 114) It must afterwards have been bought by Sir John Hewley, who died in 1697, (fn. 115) or by his widow Dame Sarah Hewley, and probably formed part of the estate she in 1704–5 conveyed to trustees for charity. (fn. 116) Dame Hewley's trustees still hold lands here.
A court baron was held at Eston in 1406–11, (fn. 117) and is mentioned in 1789 (fn. 118); court leet occurs in 1637 (fn. 119) and 1789. (fn. 120) Free warren was granted to Nicholas de Meynell in 1269, (fn. 121) and confirmed in 1280 (fn. 122) and 1337. (fn. 123) View of frankpledge occurs in 1632, (fn. 124) 1637 (fn. 125) and 1638, (fn. 126) and tolls, coal-mines and quarries were appurtenant to Katharine Atherton's moiety of the manor in 1632. (fn. 127) A windmill is mentioned in 1368. (fn. 128)
Lands in Eston were granted to Guisborough Priory by the Meynells and their tenants. (fn. 129) The abbeys of Byland and Fountains (fn. 130) also held lands here.
In 1086 3 carucates in MORTON (Mortun, xi cent.; Mowrton, xvi cent.) were among the king's lands, Magbanet and Aluret being tenants. (fn. 131) They afterwards were part of the Brus fee, (fn. 132) the overlordship apparently following the descent of the manor of Skelton (q.v.).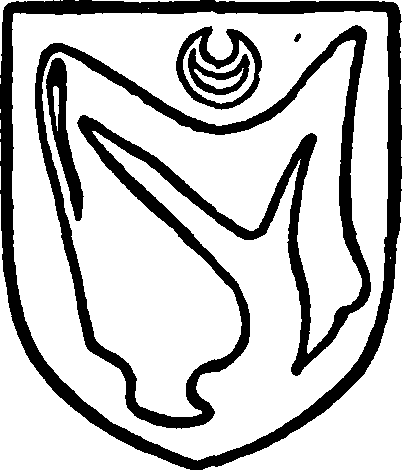 A mesne lordship here seems to have been held by Henry de Percy in 1314, (fn. 133) and probably descended to the Conyers with their other lands. (fn. 134) The earliest tenant appears to have borne the territorial name. Walter de Morton, who lived in the first half of the 13th century, (fn. 135) was succeeded by his son William, (fn. 136) probably that William who was holding 4 carucates here in January 1302–3. (fn. 137) In 1310 the manor was settled on William de Morton and his wife Isabel, with remainder to Denise daughter of William and her heirs. (fn. 138) A quarter of a knight's fee here was still held by William de Morton in 1314, and this must be identical with the 4 carucates held by the heirs of William Sturmy in 1428. (fn. 139) In 1490 the manor was held by John Conyers of Hornby (fn. 140); from this time it followed the descent of Hornby (q.v.), coming to the three surviving daughters of John Lord Conyers, (fn. 141) Anne Kempe, Elizabeth Darcy and Katharine Atherton. Anne Kempe's third, here as at Hornby, after various alienations, (fn. 142) was conveyed to John Jackson and Harsculph Cleasby in 1572–3. (fn. 143) It may have been this part of the manor which in 1624 was held by Edmund Underwood, (fn. 144) who with Isabel his wife in 1637 conveyed it to Francis Tindall. (fn. 145) It seems afterwards to have come to John Bathurst, who in the spring of 1686–7 conveyed it to Anne Savile. (fn. 146) Its later history has not been traced.
In 1586–7 John and Katharine Atherton conveyed her third to James Pennyman, (fn. 147) who with Strangways Bradshaw in 1602 conveyed it to John Hart and George Bolles and his wife Joan (fn. 148) daughter of John Hart. (fn. 149) Sir John Bolles, bart., great-grandson of George Bolles, (fn. 150) held the manor in 1670. (fn. 151) Its subsequent history remains obscure. Elizabeth Darcy's share was conveyed in 1582–3 by Thomas Darcy and Colubra his wife to James Pennyman. (fn. 152)
One-third of the manor was in 1747 conveyed by John Warcopp, clerk, and Hannah his wife to Edward Montague. (fn. 153) Matthew, later Lord Rokeby, nephew by marriage to Edward Montague, (fn. 154) held part of Morton in 1806. (fn. 155) Lord Rokeby died in 1831 and was succeeded by his son Edward, (fn. 156) who owned Morton and died unmarried in 1847. (fn. 157) His brother and heir Henry was in possession of lands here in 1859. (fn. 158) This land appears to have been afterwards acquired by Sir J. W. Pease, bart. (fn. 159) In 1806 a further share of this place was in the possession of Richard Garbutt (fn. 160) and was still held by his family in 1859. (fn. 161) William Osborn Garbutt was farming Morton Grange in 1890, (fn. 162) but this land also seems to have been acquired by Sir J. W. Pease, bart.
The third portion of Morton was in 1846 part of the estates of the Jackson family, (fn. 163) and Mr. C. L. A. Ward-Jackson is now lord of this part of the manor of Morton.
In the reign of Edward the Confessor Uctred held a 'manor' and 7 carucates in NORMANBY (fn. 164) (Normanebi, Normannebi, xi cent.; Northmanbi, xii cent.) which were afterwards granted to the Count of Mortain. Half a carucate, formerly held by Lesing, was in 1086 held by Robert Malet, (fn. 165) while William de Percy had half a carucate as soke of Marske. (fn. 166) Normanby afterwards passed into the Brus fee, (fn. 167) the overlordship following the descent of Yarm (fn. 168) (q.v.). Here as elsewhere a mesne lordship was held by the Percys of Kildale. (fn. 169)
Robert de Normanby held lands here in 1208. (fn. 170) Henry son of Robert de Normanby occurs in 1268, (fn. 171) and in 1279 Richard de Normanby held 2 carucates of Peter de Brus. (fn. 172) In 1285 and in 1302 Adam de Normanby or Leventhorpe held 6 carucates here. (fn. 173) In 1331 John de Leventhorpe, probably a son of Adam, conveyed to William de Worsall (fn. 174) tenements and half the mill which were afterwards held by John de Worsall and in 1427 were in the hands of Thomas Fulthorpe. (fn. 175) Thomas Fulthorpe in 1449 conveyed the manor to John Pegham and his heirs. (fn. 176) The next reference to the manor occurs in 1528, when Sir Richard Yorke, kt., of Beverley died seised, (fn. 177) his next heir being his granddaughter Rosamund daughter of his son Edward. (fn. 178) In 1554 the manor was conveyed by Thomas Yorke, grandson of Sir Richard through his son Thomas, (fn. 179) to Henry Addison, (fn. 180) who had been living in Normanby as early as 1541–2. (fn. 181) Henry was succeeded at his death in January 1562–3 by his son Thomas, an infant, (fn. 182) who was in possession in 1597. (fn. 183) His son, Thomas Addison of Richmond, in 1641 conveyed lands in Normanby to James Pennyman of Ormesby and Joan his second wife, (fn. 184) who were succeeded here by their son William Pennyman. (fn. 185) William was succeeded by his son, another William, (fn. 186) who was probably the 'heir of William Pennyman' mentioned in 1663. (fn. 187) This William died in 1690 without male issue, but left two daughters and co-heirs, Elizabeth wife of the Rev. William Consett, (fn. 188) and Joan wife of Captain Matthew Consett. (fn. 189) On a division of the estate (fn. 190) the eastern part came to William Consett, who built Normanby House. (fn. 191) He died in 1762 (fn. 192) and was succeeded by his son William, (fn. 193) who died in 1800. His son and successor John died without issue, when his half of the manor came through his sister Mary to her husband Jacob Dryden of Wilton Castle. (fn. 194) Their son Consett Dryden owned Normanby House in 1846 (fn. 195) and 1867, after which it seems to have come to the hands of Mr. Ward-Jackson, who is the present lord of the manor.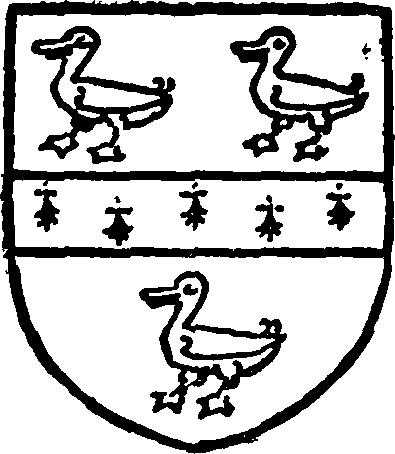 The other or western half descended on the death of Captain Matthew Consett, in 1748, (fn. 196) to his son Matthew. (fn. 197) The Consetts in 1764 sold this half to Ralph Jackson, (fn. 198) who died in 1789 and was succeeded by his son William Ward-Jackson. (fn. 199) At William's death in 1842 his heir was his son William, (fn. 200) lord of the manor until his death in 1874. (fn. 201) His eldest son William died in the same year, (fn. 202) when the manor passed to his second son Charles Lionel Atkins Ward-Jackson, the present lord of the manor.
A mill in Normanby was held by the Worsalls in 1324 (fn. 203) and 1331. (fn. 204)
Land was also held here by the family of Morley. In 1439 Nicholas Morley of Normanby obtained pardon for non-appearance in a case of debt. (fn. 205) John Morley of Normanby, Agnes his wife, and Nicholas Morley made a settlement of land in Upsall in 1456, but no mention is made of their possessions in this place. (fn. 206) In 1547 Christopher Morley conveyed lands and a windmill to Robert Morley, (fn. 207) probably his son. (fn. 208) Christopher died seised of nine messuages here in 1548, (fn. 209) his heir being his granddaughter Marjorie, daughter of his son Christopher (fn. 210); she may be the Margaret Dawson who with her husband Anthony conveyed lands here in 1580 to Cuthbert Morley, (fn. 211) son of Robert and grandson of Christopher Morley, senior. (fn. 212) Cuthbert in 1586–93 held lands here assessed at 40s. (fn. 213) He had a son James (fn. 214) who acquired the manor of Hawnby (q.v.), which this estate then followed in descent, (fn. 215) the last reference occurring in 1684. (fn. 216)
In 1086 UPSALL (Upesale, Upishale, xi cent.) was soke of Ormesby (fn. 217); it was still held of the lord of Ormesby in 1636. (fn. 218) Among the king's lands was a carucate here held by Norman in 1086 (fn. 219); it afterwards passed into the Brus fee.
The tenancy of Upsall descended like Ormesby (fn. 220) (q.v.) from the Percys to the Strangways. James Strangways made a conveyance of the manor to Ralph Rokeby in 1592 (fn. 221) and was succeeded by his nephew Strangways Bradshaw, who married Elizabeth daughter of James Pennyman of Ormesby (fn. 222) and died seised of the capital messuage in March 1631. He was succeeded by his son James. (fn. 223) In 1662 Constable Bradshaw held rent from the manor, (fn. 224) and he in 1667 made a conveyance of land here. (fn. 225) His daughter Anne married William Pierson, lord of the manor of Stokesley (fn. 226) (q.v.), which Upsall followed in descent until 1799, when the trustees of James Bradshaw Pierson sold the greater part of his estate to William Ward-Jackson of Normanby Hall. (fn. 227) Mr. Charles Ward-Jackson, grandson of the purchaser, is the present lord of the manor.
A mill in Upsall belonged to John Morley of Normanby in 1455. (fn. 228) Two water-mills were appurtenant to the manor in 1592 (fn. 229) and during the 17th and 18th centuries. (fn. 230) Courts leet and baron are mentioned in 1746 (fn. 231) and also in 1790. (fn. 232) View of frankpledge is mentioned in 1746 (fn. 233) and free warren in 1790. (fn. 234)
Churches
The church of ST. CUTHBERT was almost entirely rebuilt in 1875, and the structure has therefore little or no antiquarian interest. A number of old stones, however, and other fragments of the ancient building are incorporated with the walls or are preserved inside the church. Three of these are of pre-Conquest date, one a small fragment with flat strap ornament, outside the east wall of the organ chamber, and another with plait and cheveron pattern in the south wall of the nave, perhaps portions of grave slabs. The ocher is part of a hog-back with tegulated ornament. (fn. 235)
The old church is described by Graves, about 1808, as consisting of chancel, nave and strong square tower, the chancel and tower being more modern than the nave, with a circular chancel arch and a south doorway with zigzag moulding partly built up. (fn. 236) From this it would appear that the nave was substantially of 12th-century date, and among the fragments now preserved in the church are a Norman impost stone and capital carved with spiral pattern, and the bowl of a large circular font, without ornament, but apparently belonging to the same period. In 1650 the chancel was stated to be in 'great decay,' (fn. 237) and in 1810 the church was repewed and partly rebuilt. (fn. 238) In the later rebuilding in 1875 a large portion of the chancel walls was retained, but the masonry is not apparently of very ancient date and may belong to a comparatively modern period. The church, which is faced entirely with ashlar, consists of chancel 24 ft. 6 in. by 14 ft. 6 in. with south organ chamber, nave 48 ft. 9 in. by 19 ft. 8 in. with north aisle 9 ft. 6 in. wide, north porch, south-west vestry and west tower 9 ft. 6 in. square, surmounted by a spire, all these measurements being internal. The tower and spire were only completed in 1907, the cost being defrayed from a bequest by Elizabeth Caroline Brown. The north porch is in memory of John Hymers, D.D., who died in 1887. All the fittings are modern. There are mural monuments to James Pennyman (d. 1743) and Sir William Henry Pennyman, bart. (d. 1852). (fn. 239)
Amongst the fragments already mentioned, now preserved at the east end of the aisle, are a stoup, a female effigy and the feet of a male figure resting on a lion. Built into the south wall of the vestry outside are two mediaeval grave slabs, one with a floreated cross and sword and the other with a cross head within a circle. In the south wall of the nave and the east wall of the organ chamber are built eight other grave slabs, or fragments of such, with crosses and the customary symbols, one a chalice.
There is a ring of eight bells.
The plate consists of a cup of 1675, made by John Thompson of York, inscribed '1676 Ormesby ex dono Jacobi Pennyman Milt. & Bartt.,' and with the arms of Pennyman; a cup of the same date and make inscribed '1676 Ormesbiy Wm Raisbeck Ren Burgess Church wardens'; a cup of 1754, made by Thos. Cooke and Richard Gurney of London, inscribed 'The gift of Mrs Dorothy Pennyman for the use of the church of Ormesby in Cleaveland Yorkshire 1754'; and a paten of the same date and make with similar inscription. (fn. 240)
The registers begin in 1599.
The old chapel of ST. HELEN at Eston stands a short distance to the north-west of the village, and consists of chancel, nave and west tower, with a small vestry on the north side of the chancel. It is built of stone, but the walls are almost entirely covered with ivy, and the roofs are slated. Graves, writing about 1808, describes what appears to have been a 12th-century south doorway, then partly walled up, but this has disappeared, and no part of the building is of any great antiquity. The chancel was at that time 'separated by a circular arch,' and both the tower and chancel appeared to be of 'more modern construction than the body of the chapel.' (fn. 241) The building seems to have been very drastically restored shortly after, the nave, perhaps, being almost entirely rebuilt, and its general appearance is now that of an early 19th-century Gothic structure, the windows all being modern with wooden frames and bars. A square-headed east window of three trefoiled lights was inserted about 1900, when the building was repaired. The tower is of two stages with embattled parapet and angle pinnacles and has a doorway on the south side. It may be of 16thcentury date or even later, but has been repaired with the rest of the church. The belfry windows are square-headed and of two plain lights, and on the east side is the weathering of a former high-pitched roof. The walls are all plastered internally and there is a west gallery. There are no ancient monuments. (fn. 242) On the south side of the churchyard is the base of a cross.
Since the erection of Christ Church in the village in 1883–4 the old building has been used as a Church of England cemetery chapel and is kept in repair by the Burial Board. The cemetery has grown up and constantly increased round the old churchyard, but the building still remains the parish church, and the vicar has the right to take service at any time which does not interfere with funerals. (fn. 243)
CHRIST CHURCH is a brick building with stone dressings consisting of chancel, clearstoried nave, north and south aisles, and unfinished south-west tower forming a porch.
The plate consists of a cup of 1570 of the usual type, with interlacing band of leafwork round the bowl and the maker's mark of two C's back to back, a modern chalice and paten, and a pewter flagon and plate. The two latter pieces are now at the district church of Grangetown. Both are inscribed 'Eston Chapel, May 1840,' and the flagon bears in addition the names 'Joseph Garbutt, Daniel Sheppard, Church Wardens.' (fn. 244)
The registers begin in 1592. (fn. 245)
Advowson
There was a church with a priest at Ormesby in 1086 (fn. 246); the church was granted to Guisborough by Arnald de Percy at the foundation of that house, (fn. 247) the gift being confirmed by Robert de Brus, (fn. 248) by succeeding generations of Percys, (fn. 249) and by Henry II. (fn. 250) It was appropriated to the priory and a vicarage was ordained. (fn. 251) At the Dissolution it came to the Crown, and the rectory and advowson were in 1545 granted to the Archbishop of York, (fn. 252) in whose hands they have since remained. (fn. 253)
The chapel of Eston, first mentioned in 1539, (fn. 254) was dependent on Ormesby; the advowson of the perpetual curacy followed the same descent. (fn. 255) The living is now styled a vicarage.
Charities
The poor receive an annuity of £10, less land tax, issuing out of land at Stokesley near Pennyman's Bridge, also £2 a year paid by Lord Harewood out of an estate at Thornaby, known as Bew's rent-charge, and an ancient payment of £1 a year out of land at Morton. Gifts are made to twelve recipients, chiefly in money, but some receive fuel and clothing.
In 1878 Henry William Ferdinand Bolckow, by will proved 27 July, left £200 for the benefit of the Cottage Hospital at North Ormesby, founded in 1859. The legacy was invested in £199 15s. consols with the official trustees.
In 1905 Miss Elizabeth Caroline Brown, by will proved at London 4 April, bequeathed (inter alia) £2,000 to be applied in adding or endowing a wing to the same institution.
Miss Elizabeth Caroline Brown, by her will, also bequeathed to the vicar and churchwardens of Ormesby a sum of £3,000 for adding a tower to the existing parish church. The money being more than was required for a tower application was made to the Charity Commissioners, who, by their scheme dated 27 July 1906, authorized the trustees to apply the capital funds of the charity in the payment of the costs incidental to the removal and reburial of the human remains interred in that part of the churchyard intended to be appropriated for the erection of a tower, to the erection of such tower, to the removal of the font to a position under the tower, &c., and directed the setting aside of a repair fund by remitting £500 for investment by the official trustees, who hold a sum of £451 North Eastern railway 4 per cent. stock in respect thereof, producing £18 0s. 8d. yearly. The scheme further made provision for a peal of bells in the said tower.
The said testatrix was buried in the churchyard and a monument was erected to her memory in accordance with her testamentary directions. Under the trusts of a deed of 1 February 1907 a sum of £100 consols was transferred by the residuary legatees to the official trustees, the dividends to be applied in keeping the churchyard in good repair, order and condition.