Pages 115-117
Survey of London: Volume 21, the Parish of St Pancras Part 3: Tottenham Court Road and Neighbourhood. Originally published by London County Council, London, 1949.
This free content was digitised by double rekeying and sponsored by English Heritage. All rights reserved.
LXXV—EUSTON SQUARE
The houses on the north side of Euston Square are designed in two blocks of 15 and 13 houses respectively (28 in all) separated by the road leading to the station which bears the name of Euston Grove. The leases are dated 1811. The East block was built by Thomas Jennings of Upper Marchmont Street and the west by John Knight of Kenton Street, St. Pancras. (fn. n1) The entrances to the end houses of each block towards the centre are at the side and are approached from vestibules in Euston Grove. Those at the opposite ends also have porches. The design has considerable distinction and cleverly contrived variety. All the buildings are in stucco but the ground floor has grooved joints, with segmental arches to doors and windows, two windows to the right of the door for eight houses of the western block, changing to the left for the remaining seven. In the eastern block the alternation is more frequent but the lack of symmetry is no blemish. The three houses at each end and in the centre of each group have Ionic pilasters traversing the first and second floors with a continuous cornice and frieze over. The pilasters are arranged in two pairs and two singles, the latter containing each group. All the first-floor french windows have roofed balconies of exceptionally beautiful design, and these are varied by linking the two windows to each of the houses that have pilasters and separating the windows in the intervening houses, at the same time lengthening their balconies in compensation. The second-floor windows follow suit, with a three-light window between the pilasters and two seaprated lights elsewhere. The third floor forms an attic with pilasters and an arched parapet over a three-light window in each house that has pilasters below, and plain single rectangular lights over the others. The same general scheme is followed in the eastern block but here the balconies are continuous across each pair of houses that lack pilasters.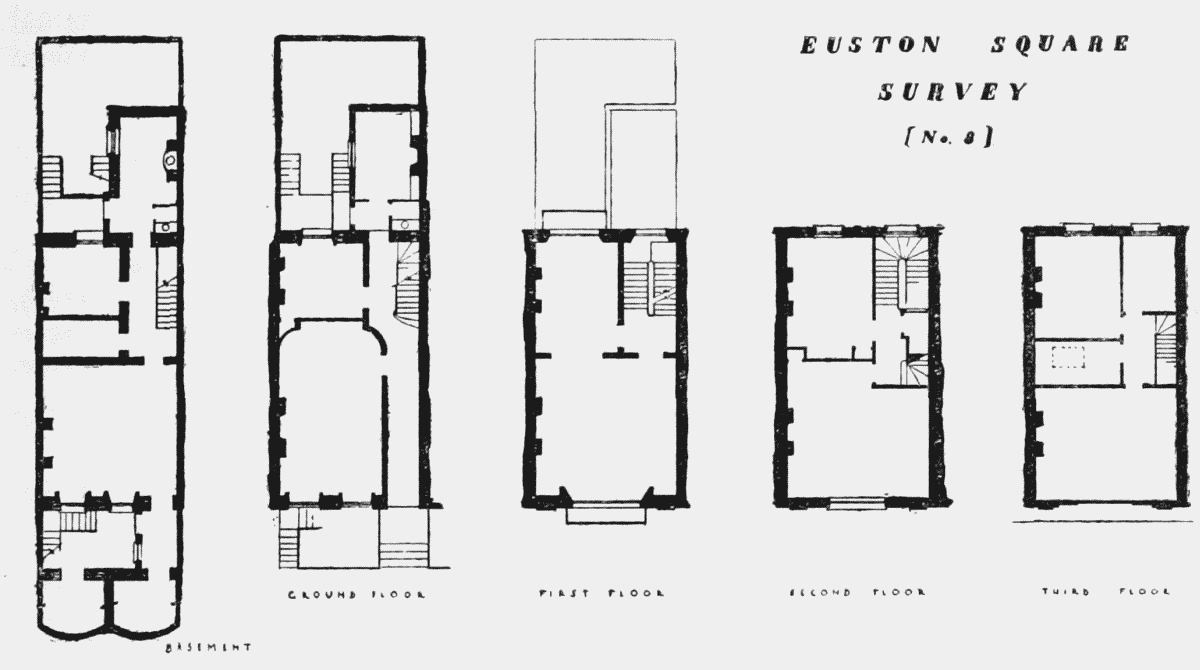 A reference to the measured drawings (Plates 65 and 67) will show the variety and skill employed in the whole design and especially in the porches, doors and ironwork.
The Square originally included the section south of the Euston Road, re-named Endsleigh Gardens in 1879 and re-numbered. The original numbers started at the east end of the north side and proceeded anti-clockwise along the west, south and east sides.
Inhabitants
North Side—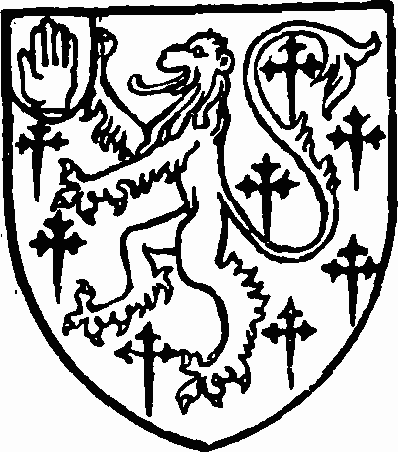 West Side—
South Side—
East Side—