Pages 92-94
Survey of London: Volume 45, Knightsbridge. Originally published by London County Council, London, 2000.
This free content was digitised by double rekeying and sponsored by English Heritage. All rights reserved.
Post-War Redevelopment
Between 1955 and 1960 office-building greatly altered the appearance of the Knightsbridge Green area (fig. 27). The opportunity was taken to carry out some road-widening at this time, both in Knightsbridge and Brompton Road, but no important changes were made to the rather congested road pattern, and the overall effect of the redevelopment fell far short of complete transformation. In the late 1950s, however, plans for Knightsbridge Green were put forward which, had they been implemented, would have turned the road intersection at Scotch Corner into a roundabout comparable to those at Marble Arch and Hyde Park Corner, overlooked by some of the biggest tower-blocks in central London. The Knightsbridge Green development, it was confidently asserted in the early 1960s, reached back 'over the town planning chaos of recent years to recapture London's diverse and vital character'. (fn. 1) The utopian vision lingered until 1965, when it faded away in the light of changed economic conditions.
The scheme, which effectively originated with the London County Council (LCC), began to take shape during the planning of Land Securities' Bowater House a few years earlier (see page 59). (fn. 2) It was intimated then that the new entrance to Hyde Park under Bowater House at Edinburgh Gate (replacing that at Albert Gate) would be the first stage in a long-term plan to improve traffic circulation, the intended centrepiece being the roundabout at Scotch Corner. Subsequently the LCC Town Planning Committee liaised closely with the owner of almost all the ground likely to be affected by such a scheme, Capital and Counties Property Ltd, to produce a development plan satisfactory from road-traffic, commercial, and 'civic' angles.
Early plans drawn up by Capital and Counties' architects Guy Morgan & Partners featured blocks of 116ft and 126ft, but the Committee felt that there was a strong case for a much higher building on civic grounds. The LCC, under its Architect Hubert Bennett and Senior Planning Officer Leslie W. Lane, accordingly produced a modified scheme. This proposed a colossal slab-block on a podium (320ft high in all) between Sloane Street and Brompton Road, facing Bowater House across the roundabout, where a smaller slab-block was to be sited. By 1962 the great roundabout, which was to take in the entire Park Mansions site, had been freed from buildings altogether, taking on the form of a sunken 'piazza'. Instead of the large slabblock there were to be three tower-blocks containing flats, offices, and a hotel, mounted over a shopping precinct connected by escalators to the Underground and more shops at basement level. The scale of the cluster of towers – the tallest more than 400ft high – was such as to have dwarfed Bowater House. At the new Knightsbridge Barracks, then in the planning stage, Sir Basil Spence's intended pointblock was designed to form a visually appealing group with this civilian trio.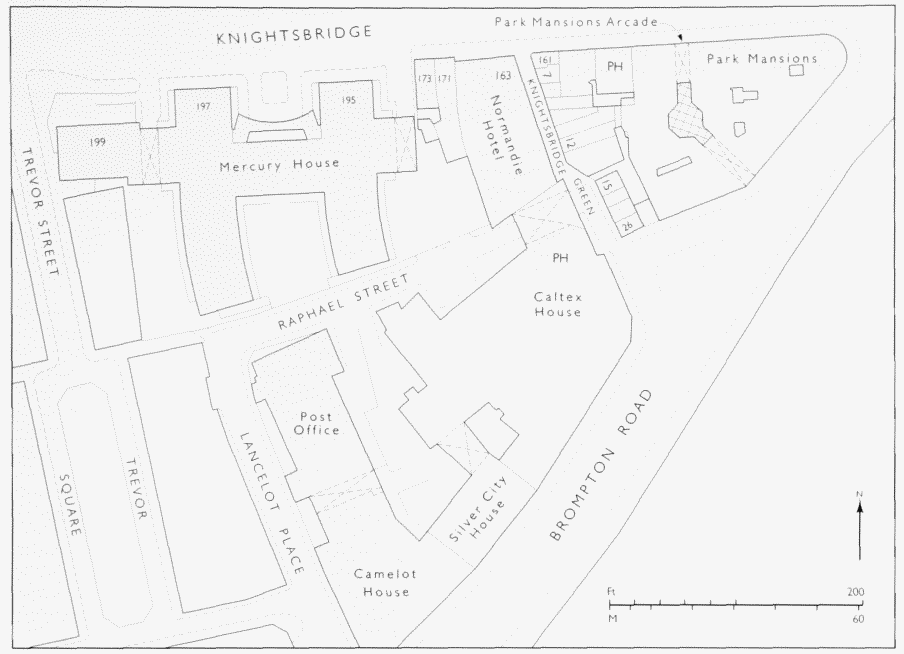 In July 1965, however, Capital and Counties announced that their project was unlikely to be carried out, citing a number of reasons including the increased cost of building, technical difficulties to do with the relocation of Basil Street fire-station as part of the development, and the problem posed by protected residential tenancies under the forthcoming 1965 Rent Act. Without the associated property development, it was out of the question for the LCC to finance the road improvements and the entire project fell by the wayside.
No special architectural or 'townscape' interest attaches to any of the post-war blocks already erected hereabouts when the Knightsbridge Green scheme was formulated. Caltex House (No. 1 Knightsbridge Green and Nos 44–58 Brompton Road), was designed by Stone, Toms & Partners for Edger Investments Limited (a subsidiary of the Alliance Assurance Company), and built in 1955–7 by Sir Robert McAlpine & Sons Limited. (fn. 3) Occupying the site of Tattersalls' auction yard and adjoining properties, the building incorporates Tattersall's Tavern, a new public house replacing the Pakenham Tavern, the demolition of which allowed the eastern end of Raphael Street to be straightened. (fn. 4) As a further nod to the history of the site, Caltex House is adorned with a sculpture representing horses, Triga, by Franta Belsky, made of reinforced concrete coated with plastic metal. (fn. 5)
Adjoining Caltex House to the west is Silver City House (Nos 58A–64 Brompton Road), designed by Frank Scarlett for Beaufort Estates and constructed c. 1956–8 by Harry Neal Limited. (fn. 6) Like Caltex House, this presents a low range of shops to Brompton Road, with taller offices behind. Also facing Brompton Road, and largely outside the old parish boundary of St Margaret's, Camelot House (Nos 66–76 Brompton Road) was designed by Gunton & Gunton and built in 1960 for the City of London Real Property Company Limited; it was originally called Lionel House. The development includes a Post Office and depot in Lancelot Place. (fn. 7)
To the north of Raphael Street, Mercury House (Nos 195–199 Knightsbridge) was built in 1956–9 to designs by Guy Morgan & Partners. It comprises three linked office buildings with views north over Hyde Park (Plate 18d). The inspiration for the development is said to have come from Sir Aynsley Bridgland, chairman both of Haleybridge Investment Trust Limited, the owners, and of the old Knightsbridge firm Humphreys Ltd, who built it. (fn. 8) In front of the buildings stands The Seer, a bronze figuregroup of 1957 by Gilbert Ledward (Plate 18c).
Prudential Assurance, the owner of Caltex House, bought Mercury House in 1986 and subsequently obtained the adjoining properties between Knightsbridge Green and Lancelot Place, with the exceptions of Silver City House, the Normandie Hotel and the sites of Nos 171–3 Knightsbridge. (fn. 9) A scheme for the complete redevelopment of this enormous site was proposed but ultimately did not go ahead, and Mercury House has since been sold off separately. At the time of writing (2000), refurbishment rather than wholesale replacement of all this property seems in prospect. (fn. c1)