Pages 107-118
A History of the County of Buckingham: Volume 4. Originally published by Victoria County History, London, 1927.
This free content was digitised by double rekeying. All rights reserved.
WADDESDON with WESTCOTT and WOODHAM
Votesdone (xi cent.); Woddesdon (xiv cent.).
Waddesdon is a large parish covering, with Westcott (1,411 acres) and Woodham (838 acres), an area of 7,252 acres, including 5,890 acres of permanent grass, 470 acres of arable land, and 364 acres of woods and plantations. (fn. 1) The slope of the land varies from 231 ft. above the ordnance datum in the south-west of the parish to 476 ft. near Waddesdon Hill Farm. The hills in the west and centre of the parish average from 300 ft. to 400 ft. The soil is clay, the subsoil varies. A small silk factory, founded at Waddesdon in 1843 as a branch establishment from Aylesbury, (fn. 2) provided work for a certain number of the inhabitants for nearly fifty years. In 1862 pillow-lace making was carried on by many of the women, and about forty were still employed in hand loom-weaving. (fn. 3) The Metropolitan and Great Central Joint railway passes through the north-east of this parish, and has a station called Waddesdon Manor. A branch line from Quainton Road to Brill has two stations, Waddesdon Road and Westcott. The large village of Waddesdon, now one of the model villages of the county, is situated in the northwest of the parish, on the Akeman Street, which here forms the main road from Aylesbury to Bicester. The church, approached through a lych-gate and by an avenue, stands in a large churchyard on rising ground to the north-west of the village with the modern rectory to the north-east of it. The chief mansion-house in Waddesdon formerly stood to the south of the church, on Philosophy Farm, the original endowment of the Sedleian Professorship of Natural Philosophy at Oxford University (see p. 110). Near the farmhouse in 1862 was a square piece of ground of about three-quarters of an acre in extent, surrounded by a deep moat, and in that year an old stone building supported by pillars with 13th century capitals, which formerly stood in the farmyard and had long been used as a stable, was taken down. (fn. 4) The village hall, on the south side of the High Street, was built in 1897 by the late Baron Ferdinand de Rothschild, who in 1883 had provided a club and reading-room for working-men. The Goodwin almshouses, which were erected in the 17th century by Arthur Goodwin, were rebuilt in 1894 by Baron Rothschild. He also rebuilt the Five Arrows Hotel at the western end of the village. One of the two elementary schools in the village belongs to the Church of England, and was built by Miss Alice de Rothschild in 1910, when the old school premises were adapted into the Waddesdon Institute for the use of tradesmen and farmers in the district. The Primitive Methodists, Wesleyans and Baptists have each their chapel. The Baptists have also a chapel and cemetery on Waddesdon Hill given by Francis Cox of Cranwell, who was buried there in 1803. (fn. 5)
Waddesdon Manor, the seat and property of Miss Alice de Rothschild, stands in grounds extending over 800 acres on Lodge Hill, half a mile south-west of the village. The house, overlooking the Vale of Aylesbury, was built by the late Baron Ferdinand de Rothschild, who housed here his art treasures, which since 1900 have been exhibited at the British Museum in the Waddesdon Bequest Room. (fn. 6) To the south-west of Waddesdon Manor is Windmill Hill Farm, (fn. 7) near which is an ancient windmill.
Eythrope (Herope, Ethorp, xiii cent.; Edrope, xiv cent.), in the south-east of the parish, which is now part of the Waddesdon Manor estate, was formerly distinct from it. Eythrope House, once a favourite country seat of the Dormers and Stanhopes, stood in a well-wooded valley close to the north bank of the Thame, which was there expanded into a lake for decorative purposes. (fn. 8) It was enlarged in the middle of the 16th century by Sir William Dormer (who built an armoury, and apparently a large picture gallery), (fn. 9) and in 1610 by his widow Dame Dorothy. (fn. 10) In 1616 Robert Lord Dormer obtained a licence to impark and to stock with game, (fn. 11) and a later owner, Sir William Stanhope, who died in 1772, (fn. 12) added to the house and erected fanciful buildings in the grounds and plantations. (fn. 13) The Earl of Chesterfield was living at Eythrope in 1786, (fn. 14) but the house was afterwards dismantled, (fn. 15) and finally taken down in the early 19th century. (fn. 16) The original wall, inclosing 5 acres of private grounds, was intact in 1862. (fn. 17) Some twenty years later Miss Alice de Rothschild had a pavilion erected by the lake.
Beachendon (Bichedone, xi cent.; Bichindon, xiv cent.), formerly a manorial estate, is now represented by a single 17th-century farmhouse, about threequarters of a mile south-west from Eythrope. A rockery in the grounds of the house is formed of carved stones, which are said to have come from Eythrope chapel.
Cranwell (Crendewelle, xiii, xiv cent.; Cranewell, xvi cent.), the name of two estates, formerly manorial, similarly survives in Cranwell Farm, to the north of Eythrope Park.
There are two farms at Blackgrove, in the northeast corner of the parish, representing two former manorial estates.
The hamlet of Westcott is 1¾ miles west of Waddesdon, and contains several 17th-century brick and timber thatched cottages. The church of St. Mary stands in the west of the hamlet, with the school to the north-east. The woodland called Gipsy Bottom lies in the south of the hamlet, and Windmill Hill Plantation in the south-east.
There are two moated sites in Westcott, one in a field called the Bury, with traces of a fish-pond, the other in Whitchurch Close West, with a large circular fish-pond; also traces of a third moat in Farm Close. (fn. 18)
The hamlet of Woodham lies to the north-west of Westcott. It was originally part of the forest of Bernwood, and is still well wooded. There are an inn and some cottages at Ham Green, which extends into the neighbouring parish of Wotton Underwood. To the south of this hamlet is Colwick or Collett, now the name of a farm only, but formerly a small manorial estate.
The inclosure of Westcott with certain lands in Waddesdon was authorized in 1765, (fn. 19) and the award was made in 1766. (fn. 20) Waddesdon was inclosed in 1774. (fn. 21)
Manors
Brictric, one of Queen Edith's men, held WADDESDON MANOR before the Conquest. (fn. 22) In 1086 it was assessed at 27 hides, and held by Miles Crispin. (fn. 23) During the next century this land was divided into the manors of Waddesdon and Eythrope. The overlordship of Waddesdon Manor descended with the honour of Wallingford, (fn. 24) afterwards with that of Ewelme, (fn. 25) the last reference in this connexion occurring in 1665. (fn. 26)
Henry II granted Waddesdon Manor to Henry of Oxford, (fn. 27) and after the latter's death before 1167, (fn. 28) to Reynold Courtenay, (fn. 29) who is said to have come over to England in his train in 1151. (fn. 30) He married between 1173 (fn. 31) and 1178 (fn. 32) Hawise, elder co-heir of the Earl of Devon, and appears to have settled Waddesdon Manor in dower on his wife's half-sister Maud on her marriage to a near relative of his in France. (fn. 33) After the death of her husband she came to England about 1214, (fn. 34) and died about 1224, (fn. 35) when Waddesdon Manor reverted to Robert Courtenay, elder son and heir of Reynold and Hawise. (fn. 36) He was buried at Ford Abbey in 1242, (fn. 37) when Waddesdon Manor was assigned to his widow Mary in dower. (fn. 38) She appears to have survived his son and heir John, (fn. 39) who died in 1273. (fn. 40) This manor reverted to the latter's son and heir Hugh, (fn. 41) who died seised in 1292. (fn. 42) In 1293 it was granted in dower to his widow Eleanor, (fn. 43) who afterwards married Stephen de Haccumbe. (fn. 44) Hugh son of Hugh Courtenay (fn. 45) was holding in 1316, (fn. 46) and was created Earl of Devon in 1335. On his death in 1340 he was succeeded by his son Hugh. (fn. 47) He settled Waddesdon Manor on Maud daughter of Thomas Holand Earl of Kent and her issue by his grandson Hugh, and the latter held it in right of his wife at his death in 1374. (fn. 48) His grandfather arranged with the widow Maud to hold this manor of her during her life, (fn. 49) and on his death in 1377 (fn. 50) dower in it was assigned to his widow Margaret, (fn. 51) who died in 1392. (fn. 52) The successor to the earldom of Devon, Edward son of the last earl's third son Edward, (fn. 53) was holding Waddesdon Manor in 1378, (fn. 54) and in 1380 granted it during Maud's life (she being then the wife of the Count of St. Paul) to her brother John Holand and other feoffees. (fn. 55) Edward Earl of Devon died seised of this manor in 1419, (fn. 56) and it descended with the other estates of his earldom (fn. 57) to his great-grandson Thomas Earl of Devon, who in 1461 was beheaded as a Lancastrian after the battle of Towton. (fn. 58) Edward IV granted a licence to his brother and heir Henry Courtenay to enter into some of the estates of his heritage, including Waddesdon Manor, without proof of age, (fn. 59) but on his brother's attainder later in the year they were forfeited to the Crown. (fn. 60) In 1462 this manor was granted for life to George Nevill Bishop of Exeter, afterwards Archbishop of York, (fn. 61) and in 1465 he obtained the fee simple. (fn. 62) He helped to place Henry VI again on the throne in 1470, and surrendered him to Edward IV on the latter's entrance into London in 1471. (fn. 63) A hollow reconciliation was effected after a short imprisonment; but in 1472 the archbishop was arrested and his lands confiscated. (fn. 64) In 1474 Waddesdon Manor was granted to Henry Earl of Essex and his wife Isabel, aunt of Edward IV, and the heirs of their bodies. (fn. 65) He died seised in 1483 (fn. 66) and she in 1485, during the minority of their grandson and heir Henry. (fn. 67) Later in this year, on the accession of Henry VII, Sir Edward grandson of Sir Hugh Courtenay, a younger brother of Edward Earl of Devon, (fn. 68) was granted the title and estates of the former earls. (fn. 69) In 1490 Waddesdon Manor, however, was granted to Sir Hugh Conway and his wife Elizabeth, (fn. 70) sister of Thomas Earl of Devon, who had been attainted in 1461. (fn. 71) He retained it (fn. 72) until his death in 1518, when it reverted to Katherine Countess of Devon with remainder to her issue by William, late Earl of Devon, (fn. 73) in accordance with an agreement between the king and her husband in 1511 and a royal grant in 1512, after his death. (fn. 74) Waddesdon Manor was delivered to the countess in 1518, (fn. 75) and passed on her death in 1527 to her son Henry Earl of Devon, (fn. 76) afterwards Marquess of Exeter, but on his attainder in 1539 escheated to the Crown. (fn. 77) It was granted in 1540 to John Goodwin, (fn. 78) and afterwards descended with Upper Winchendon (q.v.) (fn. 79) to John seventh Duke of Marlborough. He sold his Buckinghamshire estates in 1874 to Baron Ferdinand de Rothschild, (fn. 80) who built Waddesdon Manor and died there in 1898. (fn. 81) He was succeeded by his sister Miss Alice de Rothschild, (fn. 82) the present owner.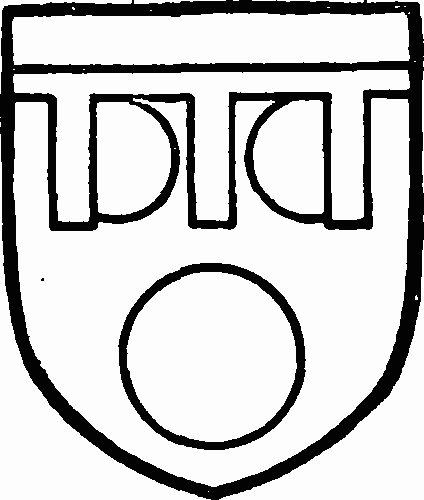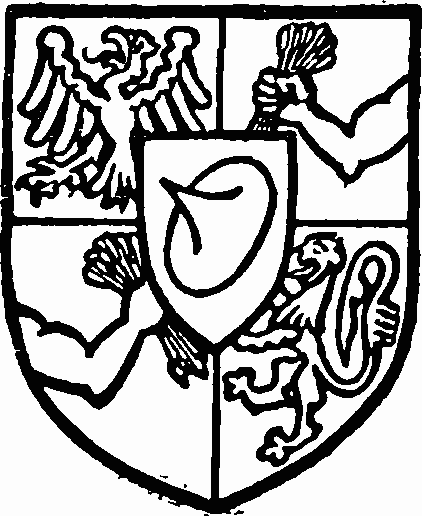 References to a mill on the manor occur from the 11th to the 15th century. (fn. 83)
The chief mansion-house at Waddesdon with its appurtenances, which in 1477 had included a park, (fn. 84) was leased by the Crown in 1539 for twenty-one years to Edward Lamborne. (fn. 85) He died in the same year (fn. 86) and his successor John Lamborne conveyed the lease to Thomas Palmer and John Dormer, who obtained the fee simple, which they sold in 1547 to Ralph Palmer, then lessee. (fn. 87) His son, William Palmer, (fn. 88) in 1577 settled it on his wife Joyce, who survived him at his death in 1595. (fn. 89) It continued for some time in the tenure of Joyce or her son Peter Palmer, (fn. 90) and in 1622 was sold by George Croke and Gregory Hirst, probably trustees, to Sir John Sedley, bart., of Aylesford, Kent. (fn. 91) As executor of his father, Sir William Sedley, bart., who left £2,000 for this purpose, he transferred it in trust to the chancellor, masters and scholars of Oxford University towards the endowment of a lectureship in natural philosophy. (fn. 92) In 1774 they were authorized to inclose 4 yard lands and 4 acres in Waddesdon. (fn. 93) This property, covering 339 acres in 1873, (fn. 94) and long known as Philosophy Farm, yields about £200 yearly at the present time towards the stipend of the Sedleian Professor of Natural Philosophy. (fn. 95)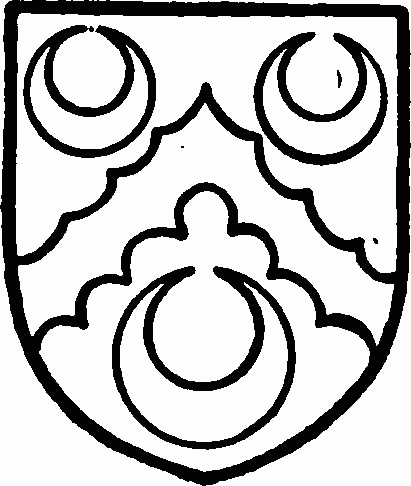 A dovecote was included in the transfers of 1547 and 1622.
The remainder of the Domesday estate in Waddesdon was held as three fees of the honour of Wallingford, certainly from the later 12th century. (fn. 96) This was originally held as one estate known as EYTHROPE MANOR, a name which during the 14th century began to be limited to a part held by service of one and a half fees, (fn. 97) the remainder splitting up into the sub-manors of Cranwell, Blackgrove and Ham.
Eythrope Manor corresponds to the three fees held by William Darches in 1196 (fn. 98) and in the early 13th century. (fn. 99) He was living in 1218 (fn. 100) and had been succeeded in Eythrope before 1235 by Jordan Darches, (fn. 101) probably his son. Richard Darches, who was holding in 1284, (fn. 102) died about 1308 (fn. 103) and was followed by his son Simon. (fn. 104) He died in 1316, when the custody of his son Richard was granted to John de la Haye. (fn. 105) Richard Darches attained his majority in 1333 (fn. 106) and was holding in 1346, (fn. 107) but Simon Darches had succeeded before 1378. (fn. 108) He died between 1382 (fn. 109) and 1396 (fn. 110) and was followed by another Simon Darches, (fn. 111) who was living in 1425. (fn. 112)
Eythrope Manor descended through the marriage of Joan, daughter and heir of Richard, presumably grandson of the last-mentioned Richard Darches, with Sir John Dynham to their son John, Lord Dynham, who died in 1501 (see Dynham's Manor, Oving). (fn. 113) By agreement with his heirs in 1499 (fn. 114) he had enfeoffed John Newport and others in trust of Eythrope Manor for the use after his own death of Thomas Lowe or Lawe, apparently an illegitimate son, and his heirs in tail male. (fn. 115) He was usually known as Sir Thomas Dynham, (fn. 116) and in 1502 granted John's widow, Elizabeth, dower in this manor. (fn. 117) His wife, who had a life interest in the manor, (fn. 118) afterwards married Sir William Fitz William, who about 1529 leased it to John, (fn. 119) son and heir of Sir Thomas Dynham. (fn. 120) Being involved in money difficulties he sold the reversion in fee of the manor in 1532 to Richard Sparre (fn. 121) with the right of pre-emption for his heirs. (fn. 122) In 1533 he and Richard Sparre conveyed the manor to Sir Thomas More and others on behalf of Giles Heron, (fn. 123) who immediately transferred it to Sir Francis Bryan and other trustees to the use of Robert Dormer. (fn. 124) On the death of John Dynham in 1535, (fn. 125) Robert entered the manor (fn. 126) by virtue of a lease granted to him by Sir William Fitz William, who had died in 1534. (fn. 127) Giles Heron, to whom John Dynham had left his lands for three years, (fn. 128) unsuccessfully disputed the validity of this lease. (fn. 129) Dame Jane Fitz William died about 1542, (fn. 130) and in the following year George, brother of John Dynham, brought a suit against Robert then Sir Robert Dormer, (fn. 131) which was continued by George, son of George Dynham, against Sir William, son of Sir Robert Dormer. (fn. 132) A settlement securing possession to Sir William Dormer was finally effected in 1560. (fn. 133) On his death in 1575 Eythrope was held as dower by his widow Dorothy, daughter of Anthony Catesby. (fn. 134) She survived her second husband, Sir William Pelham, (fn. 135) and dying in 1613, was buried at Wing. (fn. 136) Eythrope reverted to Robert Lord Dormer, (fn. 137) who had made a settlement respecting it in 1580. (fn. 138) It descended with Wing (fn. 139) to George, sixth Earl of Chesterfield, (fn. 140) who owned it in the mid-19th century. Eythrope was acquired about the same time as Waddesdon Manor (q.v.) by Baron Ferdinand de Rothschild and is now the property of Miss Alice de Rothschild.
A dovecote and fishery were appurtenant to the capital messuage of Eythrope in the early 14th century, (fn. 141) and some rents were still payable in kind in 1458. (fn. 142) Free warren was granted to Robert Lord Dormer in 1616 with his liberty of park. (fn. 143)
A water-mill in Eythrope was held by Wallingford Priory before 1291 (fn. 144) and at the Dissolution, (fn. 145) when it was included in the grant of the possessions of this priory in 1528 to Cardinal Wolsey (fn. 146) for his proposed college at Oxford. (fn. 147) The lord of Eythrope Manor was tenant of two-thirds of this mill in the early 14th century, (fn. 148) and the whole was held as parcel of this manor by Robert Earl of Carnarvon in the middle of the 17th century. (fn. 149)
That part of Eythrope afterwards called CRANWELL MANOR had acquired its distinctive name by the early 13th century. (fn. 150) It descended with Eythrope Manor (fn. 151) (q.v.), preserving its identity as a manor into the 19th century (fn. 152) and its name in Cranwell Farm.
An estate in Cranwell, called in the early 16th century CRANWELL MANOR, remained in a branch of the Darches of Eythrope, descendants possibly of the Alan Darches who held 4 virgates of land in Eythrope and Cranwell before 1289 (fn. 153) (by grant of Richard Darches for life) until his death in 1325, (fn. 154) or more probably of Robert Darches of Cranwell, (fn. 155) son of the Richard Darches (fn. 156) who was holding Eythrope (q.v.) in 1346. Ralph Arches was seised before 1495, (fn. 157) and in 1512 he settled the manor to certain uses. (fn. 158) He was succeeded before 1517 by his son William, (fn. 159) who sold the manor to Sir Edward Grenville. (fn. 160) About 1529 a suit was brought against the trustees of the settlement of 1512 by John Welch and his wife Margaret, sister and heir of William Arches. (fn. 161) Cranwell Manor came later into the possession of Sir Richard Anderson, who died seised of it in 1632. (fn. 162) His son Henry (fn. 163) was created a baronet in 1643. (fn. 164) Sir Richard Anderson, his son, the second baronet, (fn. 165) settled the manor in 1680 (fn. 166) and died in 1699. (fn. 167) His second wife Mary afterwards married Brownlow Sherard, (fn. 168) and in 1703 they conveyed this manor to Simon Harcourt, (fn. 169) husband of Sir Richard's daughter Elizabeth. (fn. 170) It descended with Pendley in Tring and Wigginton, Hertfordshire, to their grandson Richard Bard Harcourt, (fn. 171) who is named as owner in the early 19th century. (fn. 172) It has not been found possible to trace the later descent of this property.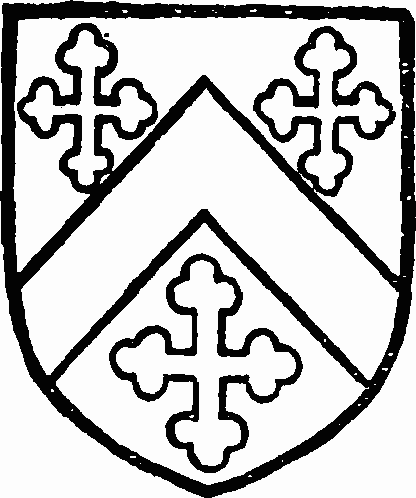 The distinction between Eythrope proper and Blackgrove is traceable from about the middle of the 13th century, (fn. 173) and the principal estate thereof, called later BLACKGROVE MANOR, descended with Eythrope Manor (q.v.) to Philip fourth Earl of Chesterfield, who owned it in 1717. (fn. 174) This property was afterwards sold, and passing through various hands, came into the possession of Charles Shaw Lefevre, who owned it as a farm in the early 19th century. (fn. 175)
A hide of land in Blackgrove was held as a fifth of a fee of Jordan Darches by Geoffrey Neyrnut at his death (fn. 176) between 1263 and 1272. (fn. 177) This estate, called in the later 15th century BLACKGROVE or BLAGROVE MANOR (fn. 178) (probably augmented in the middle 16th century by a small property formerly appertaining to Wallingford Priory (fn. 179) ), descended in the Neyrnut family with Pitstone Neyrnuts Manor and afterwards with Fleet Marston Manor (q.v.) to Charles twelfth Viscount Dillon. He in 1802 sold it to Robert Lord Carrington, (fn. 180) and it has since descended with Moulsoe Manor (q.v.) to the Marquess of Lincolnshire, the present owner.
A mill in Blackgrove was released by Biddlesden Abbey in the time of Henry III to Gilbert de Finemere, son of William son of Gregory. (fn. 181)
A district called Ham extended into the parishes of Waddesdon and Wotton Underwood. The part in Waddesdon was situated in Eythrope and called the manor of Ham or Woodham, (fn. 182) and that in Wotton Underwood was called Ham, Fieldham, or Ham cum Wotton. The manor of HAM or WOODHAM was held by the service of a pair of gilt spurs and suit of court of the manor of Eythrope (q.v.). (fn. 183)
Ham was held by the Cantlows and passed, like Ellesborough (fn. 184) (q.v.), through Millicent, heiress of that family, to the Zouches. William la Zouche of Haryngworth seems to have given a life interest in the manor to Thomas, one of his younger sons, with remainder to William la Zouche of Totnes, another son. (fn. 185) William la Zouche of Haryngworth, the father, died in 1352, and was succeeded in the barony of Zouche of Haryngworth by his grandson William, son of Eudo, who had predeceased his father. (fn. 186) This William eventually became possessed of Ham and died seised of it in 1382. (fn. 187) His son William died seised of it in 1396, (fn. 188) and was succeeded by his son William la Zouche, who conveyed it for life to Robert Isham in 1412. (fn. 189) After the death of Robert Isham in 1424 (fn. 190) it reverted to William fifth Lord Zouche and was held by his widow Elizabeth in 1468. (fn. 191) It was afterwards held by John seventh Lord Zouche till his attainder after the battle of Bosworth Field in 1485. A reversal of the attainder was obtained by John la Zouche in 1495, and in 1497 he conveyed this manor to trustees, (fn. 192) who sold it to Sir Henry Colet. His son John Colet, Dean of St. Paul's, succeeded in 1505, (fn. 193) and granted it in trust to the Mercers' Company as part of the endowment of St. Paul's School. (fn. 194) The Mercers' Company still own the manor, which has been held under leases renewed from time to time by the Grenville family. (fn. 195)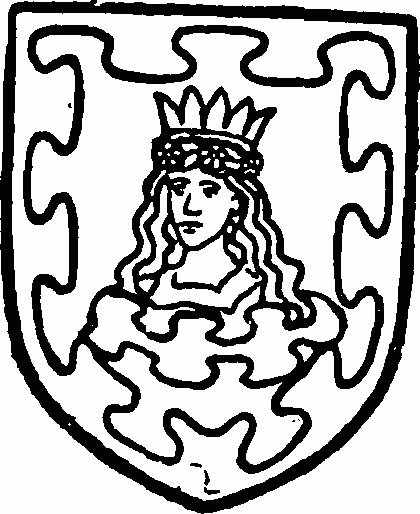 Two small holdings were assessed in 1086 under Beachendon as distinct from Waddesdon, one at 2 hides held by Miles Crispin, (fn. 196) the other at a virgate held by the Bishop of Bayeux. (fn. 197) Both holdings with some land in North Marston, (fn. 198) probably the virgate of the bishop's holding there which did not go to St. Albans Abbey (see North Marston), formed by the later 12th century a fee of the honour of Wallingford. (fn. 199)
The tenants in Beachendon in 1086 were two Englishmen, the former holders, one of whom had been Brictric's, the other Azor's, man. (fn. 200) One of the Carbonels was evidently holding about 1166, (fn. 201) possibly Richard Carbonel, in whose family Beachendon descended with Carbonels Manor, Addington (fn. 202) (q.v.), to John Carbonel, who was holding in 1284. (fn. 203) John de Lyndhurst, holder in the early 14th century, (fn. 204) quitclaimed his right in BEACHENDON MANOR in 1306 to Peter Carbonel, at the same time enrolling a charter by which Robert de Lyndhurst had surrendered his right in it to Aymer de Valence, (fn. 205) afterwards Earl of Pembroke, (fn. 206) who held it at his death in 1324. (fn. 207) In 1326 Beachendon Manor was assigned to David de Strabolgi, Earl of Athole, and his wife Joan, (fn. 208) niece and co-heir of Aymer de Valence. (fn. 209) In 1332 their son and heir David (fn. 210) succeeded to the manor (fn. 211) and leased it for three years to John de Pulteney, (fn. 212) who in 1335, on account of the rebellion and forfeiture of the Earl of Athole, (fn. 213) obtained protection for his goods at Beachendon. (fn. 214) The manor was granted in this year first to Queen Philippa, (fn. 215) but afterwards to Sir Walter Mauny, (fn. 216) to whom John de Pulteney released it. (fn. 217) A further grant was made in 1336 of the custody during the minority of the Earl of Athole's heir, (fn. 218) and dower in the manor was assinged in 1337 to the widow Katherine. (fn. 219) In 1339, however, Sir Walter Mauny conveyed Beachendon Manor to Sir John de Moleyns, (fn. 220) to whom it was confirmed in tail by the Crown after an inspection of the previous charters. (fn. 221) It descended with his manor in Stoke Poges, (fn. 222) expect that Thomas Chaucer held it at his death in 1434 (fn. 223) apparently on lease or in trust for Anne Lady Moleyns, (fn. 224) to George Hastings, first Earl of Huntingdon. In 1538, with the assent of his son Sir Francis Hastings, the earl sold Beachendon and Ilmer Manors to Robert Dormer. (fn. 225) Beachendon has since followed the descent of Eythrope (fn. 226) (q.v.), and Miss Alice de Rothschild is the present owner.
In 1339 Sir John de Moleyns obtained a grant of view of frankpledge and free warren in Beachendon Manor (fn. 227) with all the other manorial liberties which he had already secured in his Ludgershall manor (q.v.). Fish ponds and a dovecote were appurtenant to the capital messuage in 1327. (fn. 228) A water-mill is mentioned in 1198 (fn. 229) and 1324. (fn. 230)
A hide of land in Beachendon afterwards known as COLLETT, and in the 17th century as COLWICK GRANGE, had been subinfeudated before the middle of the 13th century. (fn. 231) It was held of Beachendon Manor by the service of a quarter of a fee, (fn. 232) and after the Dissolution of the Crown in chief. (fn. 233) Under an early grant from William and Maud Carbonel of lands at Shoteley by Colwick, (fn. 234) the manor passed to Woburn Abbey in Bedfordshire and was held by that house in the 13th century. (fn. 235) Colwick Manor remained with this abbey (fn. 236) until the Dissolution, at which time Laurence Faircliff was lessee. (fn. 237) In 1538 this estate was included in a grant in exchange to Charles, Duke of Suffolk. (fn. 238) By 1539 it was vested in Elizabeth Pigott of Doddershall Manor in Quainton (q.v.), who gave it to her son Robert Pigott and his heirs. (fn. 239) He died in 1578, (fn. 240) when Colwick (with the exception of a close owned by Thomas Pigott of Doddershall) passed to his son Francis, (fn. 241) who in 1608 settled Colwick Grange, the principal messuage, on the marriage of his son Alban with Martha Wolley. (fn. 242) Colwick Grange was afterwards acquired by Thomas Cripps, who died seised of it about 1627. (fn. 243) His daughter and heir Elizabeth, (fn. 244) with her husband John Wilkinson, obtained livery in 1634. (fn. 245) John died in 1664, (fn. 246) and his son John (fn. 247) left Colwick Grange in 1684 to his wife Elizabeth for life, with remainder to his brother Henry and his heirs. (fn. 248) In 1694 Henry Wilkinson was dead and his son and heir Robert sold his remainder, on the death of Elizabeth, then wife of John Grubb, to Joseph Garthwait. (fn. 249) Colwick was afterwards acquired by John Deacle, (fn. 250) who died in 1723, and his successor William Deacle (see Tetchwick in Ludgershall) owned it as Colwick Manor in 1739. (fn. 251) A later co-heir of the Deacle family carried it in marriage to Mr. Griffith, who owned it early in the 19th century. (fn. 252) Before 1828 the manor had been acquired by Joseph Hulston, (fn. 253) but does not reappear.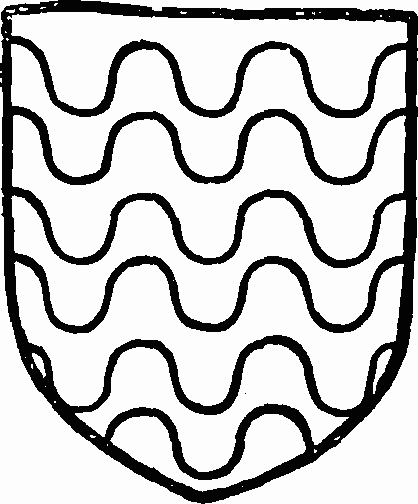 No later reference has been found to the Colwick mills mentioned in 1337, (fn. 254) but fish-ponds were appurtenant to the Grange in 1627. (fn. 255) There was a dovecote on the manor in 1587. (fn. 256)
BINWELL LANE FARM corresponds to that part of Colwick Manor which extended into Doddershall or the second of the two messuages mentioned in 1587 (fn. 257) and 1608. (fn. 258) Lipscomb says that this farm was sold by Alban Pigott about 1640 to Sir Thomas Reade, kt. (fn. 259) He died in 1650, (fn. 260) and his grandson and heir Compton Reade of Barton, Berkshire, and afterwards of Shipton Court, Oxfordshire was created a baronet in 1661. (fn. 261) In 1766 Binwell Lane Farm was owned by his descendant Sir John Reade, the fifth baronet. (fn. 262) He sold it in 1788 to Samuel Athawes, (fn. 263) from whom it passed in 1822 (fn. 264) by bequest to the Rev. John Athawes, (fn. 265) who became rector of Loughton in 1833. (fn. 266) His son the Rev. John Thomas Athawes succeeded his father as rector in 1883. (fn. 267)
A RECTORY MANOR was attached to each of the three portions of Waddesdon rectory (see advowson). Each had a residence and a plot of land of about 2½ acres called Priest's Acre. (fn. 268) In addition BENTHAMS MANOR, appertaining to the first portion, had about 26 acres of land, two closes adjoining the residence and ten houses; RASING (fn. 269) or MOTONS MANOR, appertaining to the second portion, had five houses; AT THE GREEN (fn. 270) or GREEN END MANOR, belonging to the third portion, comprised about 20 acres of land (chargeable with straw and hay to litter the church), £12 yearly from Pitchcott rectory (fn. 271) and five houses. (fn. 272) The three manors were leased by royal licence in 1571 for twenty-one years at a yearly rent of £15 each to Richard Senhouse. (fn. 273) Since there is now only one rector of Waddesdon, he is lord of the three manors. The Court Rolls in his possession date from 1595. (fn. 274)
The hamlet of WARMSTONE, in Waddesdon, was held in the 13th and 14th centuries as one-fifth of a fee of the honour of Wallingford. (fn. 275)
A mesne lordship there was held by the lords of Waddesdon Manor (q.v.) from the later 13th century to 1409, (fn. 276) when Edward Courtenay Earl of Devon with his wife Maud surrendered his rights as mesne lord. (fn. 277) Yearly rents of 25s. 4d. and 2 lb. of pepper were payable in 1501 (fn. 278) to the lord of Eythrope.
Robert de Rival was holding Warmstone in 1235, (fn. 279) and John le Brut and his tenants (apparently including six sub-tenants of the Courtenays) (fn. 280) early in the 14th century. (fn. 281) John le Brut had been succeeded by Henry le Brut before 1346. (fn. 282) In 1409 Thomas Kerdington, tenant of the greater part of Warmstone, obtained the reversion of the remainder on the death of William Cowper with a release of mesne rights from Edward Courtenay Earl of Devon and his wife Maud. (fn. 283) In 1415 John and Thomasine Burbache settled the manor, (fn. 284) and in 1429 they conveyed it to William Puxstede, sen. (fn. 285) It passed later to Walter Brightwell, and descended with Brightwell's fee in Chearsley (q.v.) to Nicholas Brightwell. In 1502 he and his wife Emma conveyed it to Edward Saunders. (fn. 286) Eventually it came to the Goodwins, being apparently included with Waddesdon Manor in the grant of 1540. A settlement between Sir Edward Saunders and John Goodwin and his son John respecting lands in Waddesdon was made in 1557, (fn. 287) and may refer to Warmstone, which in any case has since descended as a part of the Waddesdon Manor estate (q.v.).
The hamlet of Westcott was originally part of the Courtenay Waddesdon Manor (q.v.). Reynolds Courtenay evidently settled certain lands in Waddesdon and Westcott, afterwards known as WESTCOTT MANOR, on his daughter Egeline and her husband Gilbert Basset, (fn. 288) who granted them late in the 12th century to Bicester Priory, Oxfordshire. (fn. 289) This manor was retained by this house until the Dissolution. (fn. 290) In 1540 it was granted to John Goodwin, (fn. 291) and has since descended with Waddesdon Manor (q.v.) (fn. 292) to Miss Alice de Rothschild.
A small estates described in 1230 as 11 librates of land in Waddesdon (fn. 293) appears later as WESTCOTT MANOR. Previously held of the honour of Wallingford, (fn. 294) by the accession of Henry IV it became attached to the Duchy of Lancaster, (fn. 295) and was so held in 1544. (fn. 296)
This estate was granted in 1230 in marriage with his daughter Hawise, by Robert Courtenay to John Nevill. (fn. 297) In 1246 the custody of the latter's lands and heirs was given to John Courtenay. (fn. 298) Hawise Nevill did not long survive her second husband John de Gatesden, (fn. 299) who died in 1269. (fn. 300) In 1357 when Margaret de la Warde was holding Westcott Manor for life of the heritage of Robert de Teye, a conveyance was made of Robert's reversionary rights to John Nevill of Essex (fn. 301) for life, with remainder to William Bohun Earl of Northampton and his heirs. (fn. 302) In 1380 land in Westcott was included in the estates of the latter's son (fn. 303) Humphrey Bohun last Earl of Hereford and Essex. (fn. 304) His son-in-law Henry of Lancaster (fn. 305) about 1396 granted Westcott Manor for life to Thomas Duke of Gloucester, (fn. 306) who died in the following year. (fn. 307) Livery was granted in 1398 to Henry of Lancaster, (fn. 308) who in 1403, after his accession as Henry IV, leased Westcott Manor for twelve years to John Burbache. (fn. 309) It was part of the dower of Katherine widow of Henry V, (fn. 310) and in 1475 was granted to Elizabeth wife of Edward IV. (fn. 311) This manor in 1519 was leased for seven years to John Lamborne, (fn. 312) and in 1544 was granted to John Goodwin, (fn. 313) owner of the other manor of Westcott, into which it was absorbed.
A small property in Westcott was held by service of one-fifth of a fee by Richard le Mount in 1292, (fn. 314) and it appears to have been held by members of his family (fn. 315) until it escheated to Hugh Courtenay Earl of Devon, who held it at his death in 1422. (fn. 316) It corresponds to the land in Westcott and Waddesdon held by Richard Nash long before his death in 1499, when he was succeeded by his son Thomas. (fn. 317) It is possibly the property purchased from Sir Francis Goodwin and Thomas Googe by William Deane shortly before his death in 1615 when his son and heir William was a minor, (fn. 318) and may be the spurious Westcott Manor conveyed in 1725 by John and Elizabeth Street and others to John Ashwell, jun. (fn. 319)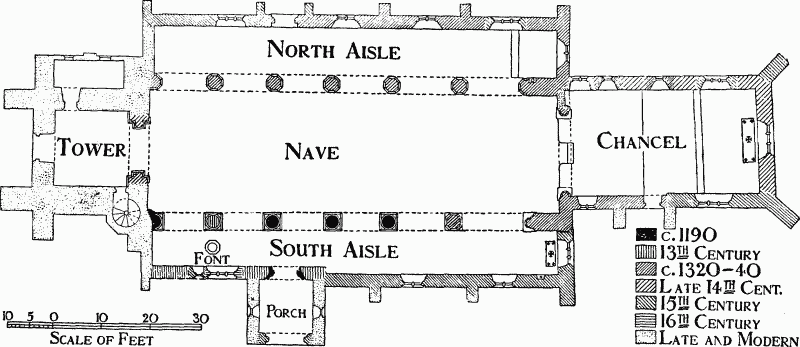 Churches
The church of ST. MICHAEL consists of a chancel 37 ft. by 21 ft., nave 81 ft. 6 in. by 23 ft., north aisle 9 ft. 6 in. wide, south aisle 9 ft. wide at the east and 7 ft. wide at the west, south porch, and west tower 15 ft. square. These measurements are all internal.
The three middle columns of the south arcade of the nave, and the west respond, which are of the late 12th century, are the earliest details in the building. The nave and the south aisle were lengthened some 12 ft. westwards in the 13th century, and early in the 14th century the nave was further lengthened eastward by about 20 ft., entailing the entire rebuilding of the chancel on a new site to the east. A little later, about 1340, the north arcade was formed and the north aisle added to the nave, and towards the end of the century the chancel was widened on the north and a west tower was erected. The chancel was again altered in the latter part of the 15th century, the eastern half of the south wall being rebuilt; at the same time the clearstory was added to the nave, the three eastern bays of the south wall of the south aisle were taken down and widened, and part of the north wall of the north aisle, to the west of the north doorway, appears to have been renewed, probably on account of some structural failure. The south porch, since rebuilt, is also an addition of the same period. The church has been much restored, the first restoration being completed in 1877; the tower, with the western walls of the aisles, was entirely rebuilt in 1891–2, and the exterior was extensively repaired in 1902. With the exception of the walls of the tower and the new walls of the aisles, all the building is rough-casted; the roofs are lead-covered.
The east window of the chancel belongs to the reconstruction of the late 14th century. It is of three cinquefoiled lights, acutely pointed, with cusped intersecting tracery in a pointed head; the rear arch is four-centred, a peculiar feature. The north-east window, a square-headed insertion of the late 15th century, is of three cinquefoiled lights; to the west of it are two 14th-century trefoiled lights, and at the extreme west end of the wall is a pointed two-light window with a plain spandrel in the head, which has probably been reconstructed in the 17th century. The rood stairs were entered from the chancel by a pointed doorway in the north respond of the chancel arch, which has been since blocked. The south-east window is like the corresponding window in the north wall. A break in the south wall about 18 ft. from the east end marks the extent of the 15th century rebuilding; immediately to the west of the break is a small priest's doorway contemporary with the earliest rebuilding of the chancel, and to the west of the doorway is a pointed window of two cinquefoiled lights with tracery of the same period. The chancel arch, which is chamfered towards the chancel and elaborately moulded towards the nave, is also of the 14th century; the responds are halfoctagonal and have moulded capitals and bases. Within the arch is a modern chancel screen.
The nave arcades are each of six bays, the two eastern bays on either side being wider than the western bays. The 14th-century north arcade has pointed arches of three orders and octagonal columns and responds with moulded capitals and bases. The two eastern arches of the south arcade date from the 14th century and are pointed, having two orders, the outer chamfered and the inner moulded. The east respond is like those of the chancel arch, and the eastern column, from which both arches spring, is octagonal and has a moulded capital and base. The late 12th-century columns of the next three bays are circular and have scalloped capitals, broken out on the nave face to form the capitals of small attached shafts supported by corbels about 1 ft. below the necking. Upon these capitals originally stood small shafts with scalloped capitals and moulded bases, which must have supported the wall-posts of a former timber roof. Two of these shafts remain in position, but the easternmost has disappeared. The three arches of this portion of the arcade are pointed and of two moulded orders, and have labels on the nave face moulded with a hollow containing dog-tooth and pellet enrichment, the labels on the aisle face being plain rolls. These arches appear to have been rebuilt in the 14th century. The 13th-century westernmost arch is of two chamfered orders, and springs from a circular column with a moulded capital and a restored base; on the nave face of the arch is a plain label similar in section to the adjoining labels. The west respond is that of the original 12th-century arcade re-used. It is semicircular and like the contemporary columns of the three middle bays, except that the wall-post shaft is continued to the ground. Over each arcade are six late 15th-century squareheaded clearstory windows, each of two cinquefoiled lights.
In the east wall of the north aisle is a pointed window with modern two-light tracery in an original 14th-century opening. In the easternmost bay of the north wall is a square-headed, late 15th-century window of three cinquefoiled lights. The windows in the next two bays are like the east window, having modern tracery of the same type in original 14th-century openings. In the fourth bay is a pointed doorway of the same date. The window in the westernmost bay is of the same date and design as the easternmost window, but has been considerably restored. There is a 14th-century piscina with a trefoiled head and round basin in the north face of the east respond of the nave arcade for the use of the north aisle altar.
The two eastern windows in the south wall of the widened eastern portion of the south aisle are of late 15th-century date, each having two cinquefoiled lights under a depressed head, while that in the east wall is of three similar lights under a straight-sided, pointed head. To the west of the break in the wall which marks the junction of the later building with the work of the 13th century is a reset late 12th-century doorway with a pointed head, enriched with the cheveron, and jambs of two orders, the outer order being shafted. In the bay to the west of the doorway is a square-headed three-light window of 16th century date, and immediately adjoining its western jamb, but lower in the wall, is a 15th-century cinquefoiled light with a square external head. In the usual position is a piscina for the south aisle altar with a depressed head and circular bowl. Over the doorway externally is a square-headed recess of 14th century date. The modern south porch has a pointed and moulded outer arch, partly reset 15th-century work, and square-headed single-light windows.
The rebuilt tower is of three stages, with a stairturret at the south-east angle and a vestry on its north side. All the details are modern except the late 14th-century arch to the ground stage, which is pointed and continuously moulded, and the bellchamber windows, which have original square heads of the 15th century. On the south side is a clock. The roofs are all modern, but some old timbers have been made use of in the porch roof.
The octagonal font is of c. 1400; the sides have quatrefoil panels with shields. At the west end of the south aisle is placed an oak chest with a high-backed seat upon it having a carved canopy with an entablature, and arms at the sides with carved standards. It has been much restored, but is probably French work of the early 16th century. At the east end of the south aisle is a sepulchral slab of the late 13th century with a sunk quatrefoil containing the bust of a priest. In the floor of the chancel are four 16th-century glazed tiles with a pattern in relief.
On the north side of the chancel is a large effigy of a main in armour of the style of the first half of the 14th century with a sword and misericord. Hung on his left arm is a broken heater-shaped shield. The feet rest on a lion. On the slab has been cut by some later hand the date 1330. (fn. 320) At the south-east of the nave is the fine brass of Sir Roger Dynham, who died in 1490. This, with the coffin containing his remains, was brought from Eythrop, where it was discovered, in 1887, and the remains were re-interred on the east side of the south proch. The brass contains the figure of the knight, who wears plate armour covered by a tabard charged with his arms, a fesse indented. The head rests on a tilting helm with mantling, hat of estate, and part of a crest, and the feet on a stag. Inclosing the figure is a triple canopy, and at the corners were originally four shields, two of which have been lost; the shields which remain are Dynham, and Dynham impaling a cross with five roundels thereon. Framing the whole is a brass marginal inscripition with the symbols of the Evangelists. On the south side of the chancel is the brass of Richard Huntyndon, a former rector, who died in 1543; he is represented in mass vestments, holding the chalice and Host. In the same part of the church is a brass with a shrouded figure and rhyming inscription, commemorating Hugh Bristowe, who died in 1548. A third brass in the chancel is to Robert Pigott and his wife Mary. The inscription is undated, but Robert Pigott died in 1587 and his wife probably predeceased him. Robert Pigott is represented in plate armour, and his wife in a gown with puffed sleeves. Originally there appear to the have been brasses of his children, but only part of the brass of his sons and the indent of the figures of his daughters now remain. There were also two shields, one of which, charged with the arms of Pigott of Colwick in Waddesdon, impaling Yate of Lyford, still remains. Round the whole is a marginal inscription. Under the eastern arch of the north arcade of the nave is a brass to Mary the wife of Cuthbert Raynolds, who died in 1602, with a quartered shield of Raynolds.
On the north wall of the chancel is a tablet commemorating Guy Carleton, who died in 1608, and at the east end of the south wall are tablets to Christian Wake, daughter of Sir William Wigson of Wolston, Warwickshire, who died in 1609, and to Henry Wilkinson, a former rector, 1647. A second monument on the north wall commemorates John Ellis, a former rector, who died in 1681, and his wife Susan, who died in 1700. Externally, on the south buttress of the chancel, are set tablets to Henry Batterson, who died in 1682, his wife Anne, 1689, and their sons Henry and Michael, 1680 and 1696, and to 'E. B. uxor W.B.' of Warmstone in Waddesdon, who died in 1699. There are also 18th-century slabs to the Green family.
There is a ring of six cast steel bells by Naylor, Vickers & Co., of Sheffield, 1861–2, and a clock bell bearing the date 1806.
The plate consists of a chalice and paten of 1715, a standing paten of the same date, a flagon of 1709 and a modern chalice.
The registers begin in 1538.
The church of ST. MARY, Westcott, was erected in 1867 by Richard, last Duke of Buckingham and Chandos, from designs by G.E. Street. It consists of chancel, nave, north and south aisles, and bellturret. It is a chapel of ease to Waddesdon Church.
Advowson
By the early 13th century Waddesdon Rectory was a prebend (fn. 321) in Lincoln Cathedral held in three portions, each portion being estimated at £10 yearly in 1291 (fn. 322) and at £15 net in 1535. (fn. 323) The advowson of each portion descended with Waddesdon Manor (fn. 324) (q.v.) until 1874, when it was retained by John Duke of Marlborough, and has since descended with the title to the present owner, Charles, the ninth duke. In 1876 the three portions, subject to the next voidance of the first and second portions, were consolidated into one rectory. (fn. 325)
In 1765 an annual payment of £105 was secured to the rectors of Waddesdon from the Duke of Marlborough's estate in lieu of all tithes from Westcott and ancient inclosures. (fn. 326) In 1774 an allotment was awarded to each in lieu of small tithes in Waddesdon and 7 acres in Lost Meadow which they had held from time immemorial in redemption of tithes there. (fn. 327)
There was formerly a chapel at Eythrope Manor. By the will of Roger, brother of John, Lord Dynham, who died in 1490, Eythrope Chapel, then being built, was to be 'consecrated anew' as a chantry chaple, to which his body was to be removed from its temporary resting-place in Waddesdon Church. (fn. 328) In 1491 Lord Dynham made arrangements with Fortheringhay College for a yearly payment of £6 13s. 4d. to the chantry priest. (fn. 329) This was continued until the suppression of the chantries in 1548, (fn. 330) when the chaple was reported as of no great use except for the household of Sir Robert Dormer, who supplied the ornaments for the chapel and a lodging for the priest. (fn. 331) Lysons states on the authority of Browne Willis that Sir William Stanhope had Eythrope Chapel fitted up for divine service in 1728, but that in 1738 he caused it to be taken down and used the stones for a bridge over the Thame near his house. (fn. 332)
In the latter part of the 14th century there was a chapel of the Holy Trinity at Westcott for the maintenance of which an indulgence was granted by Bishop Buckingham. (fn. 333)
In 1549 4s. 4d. from land in Westcott, in the occupation of John Gurney with land there, for which he paid half a pound of pepper yearly; land in the occupation of John Edwards, and land in Waddesdon, formerly parcel of the possessions of the fraternity of Aylesbury; also half an acre one rood in Prior's furlong in the north field of Waddesdon, formerly given for the maintenance of a lamp in Waddesdon Church, were granted to Henry Tanner and Thomas Boches. (fn. 334)
Charities
Arthur Goodwin by a codicil to his will proved in 1644, (fn. 335) reciting his intention of erecting six almashouses, requested Lord Wharton, so soon as the distractions of the times would permit, to complete the same; and the testator charged the manor of Waddesdon with an annuity of £30, to be divided equally among the inmates. Each of the six inmates receives £2 10s. half yearly.
Charity of Matthew Nash:—See under parish of Quainton. The payments due to Waddesdon and Westcott were redeemed in 1887 by the transfer to the official trustees of £23 13s. 4d. consols, now producing 11s. 8d. yearly, which is expended in the distribution on Good Friday of twenty loaves to twenty widows.
In 1724 Lewis Fetto by his will directed £140 to be laid out in land, the rents to be applied as to 40s. yearly for putting four poor children to school, and the residue for putting out apprentices. The property consists of about 12 acres in Westcott, let partly in allotments, producing in the whole about £24 a year. The annual sum of 40s. is applied in prizes to children attending the elementary schools under the title of 'Fetto's Educational Foundation,' and the residue in premiums for apprenticing, usually of £15.
The official trustees also hold a sum of £167 consols, arising from the sale in 1883 of land purchased with a legacy of £30 by will of one John Beck for apprenticing. The dividends of £4 3s. 4d. yearly are applied with Fetto's charity.
William Turner by his will proved in the P.C.C. in 1784 bequeathed his residuary personal estate for the benefit of the poor. The bequest is now represented by £3,265 11s. 6d. consols, with the official trustees. The annual dividends, amounting to £81 12s. 8d., are distributed half-yearly in gifts of money, the clerk receiving £2 a year for managing the charity.
The schools, known as the British Schools, comprised in deed, 17 October 1846, consist of 1 rood of ground with the school erected thereon, and a piece of land containing 30½ perches, formerly the site of the school, but now a plantation.
Nonconformist Charities:—The Particular Baptist Chapel was founded by Francis Cox by indentures of lease and release dated respectively 7 and 8 September 1792. Francis Cox by his will proved in the P.C.C., 16 July 1803, bequeathed £1,000 for the support of the minister and £100 for the benefit of poor members. The legacies, less duty, are now represented by a sum of £1,034, which is secured on mortgage of a farm at Owlswick in Monks Risborough at 4 per cent., producing £41 6s. 8d. yearly, which is applied proportionately for the benefit of the minister and for the poor.
In 1825 Henry Cox by deed conveyed to trustees two messuages in Waddesdon and a building adjoining. The trust property was sold in 1889 for £300, which has been placed on mortgage of houses in Watford (Herts.) at 4½ per cent. The annual income of £13 10s. is applied towards the expenses of the chapel, repairs, &c.