Pages 131-137
A History of the County of Gloucester: Volume 8. Originally published by Victoria County History, London, 1968.
This free content was digitised by double rekeying. All rights reserved.
MANORS AND OTHER ESTATES.
The manor of TEWKESBURY, held before the Conquest by the great thegn Brictric, son of Algar, was granted to the Conqueror's queen, Maud, and from her death in 1083 was in the hands of the Crown (fn. 1) until granted by William II to Robert FitzHamon. FitzHamon's daughter and eventual heir Mabel married Henry I's illegitimate son Robert, who was created Earl of Gloucester. Robert and his son William, who succeeded him in 1147, (fn. 2) each granted charters of privileges to the burgesses of Tewkesbury. (fn. 3)
After Earl William's death in 1183 the manor, as part of the honor of Gloucester, was in the hands of the Crown. (fn. 4) Of William's three daughters, Isabel (or Avice) married John, later King of England, who received the honor of Gloucester; Mabel married William de Montfort, Count of Evreux, to whom John gave the county of Gloucester after he had divorced Isabel; and Amice married Richard de Clare, Earl of Hertford (d. 1217). Isabel later married Geoffrey de Mandeville, Earl of Essex, and Hubert de Burgh, Earl of Kent, but on the failure of the issue both of her and her sister Mabel the honor of Gloucester passed, apparently in 1217, to Amice's son, Gilbert de Clare, Earl of Gloucester and Hertford (d. 1230). (fn. 5) Geoffrey de Mandeville had seisin of Tewkesbury manor in 1214, (fn. 6) and in 1233 the king held the manor because of the minority of Gilbert de Clare's heir, Richard. (fn. 7) Richard held the manor and borough of Tewkesbury at his death in 1262. (fn. 8) His son and heir Gilbert, the 'Red Earl', surrendered Tewkesbury, with his other lands, to the king in 1290, (fn. 9) and held it jointly with his wife, Joan of Acre, at his death in 1295. (fn. 10) Joan died seised of the manor in 1307, (fn. 11) and her son Gilbert de Clare at Bannockburn in 1314. (fn. 12)
Gilbert's wife Maud had livery of the manor and borough the same year, (fn. 13) and though she died in 1315 she was recorded as lady of Tewkesbury in 1316. (fn. 14) Tewkesbury was in the Crown's hands in 1322, (fn. 15) and from 1325 was held briefly by Hugh le Despenser the younger (fn. 16) in right of his wife Eleanor, one of the three sisters and coheirs of the last Gilbert de Clare. (fn. 17) In 1328 Eleanor had livery of the manor, but the next year she and her second husband, William la Zouche, Lord Zouche of Ashby, granted it with other estates to the Crown as surety for the payment of £50,000 as a fine for Eleanor's taking jewels and money from the Tower of London. (fn. 18) The manor and borough were granted to Queen Isabel for life, (fn. 19) but the grant, described as an unjust deprivation by Roger Mortimer, was annulled in 1330, (fn. 20) and Eleanor and William were allowed to enjoy their goods and chattels in Tewkesbury. (fn. 21) In 1331 the manor was restored to them with their other estates on payment of £10,000. (fn. 22)
Eleanor la Zouche died in 1337, and her son by her first marriage, Hugh le Despenser, (fn. 23) Lord le Despenser, succeeded her. Hugh died in 1349, leaving as his heir Edward le Despenser, son of his brother Edward, but his wife Elizabeth held Tewkesbury manor in dower (fn. 24) and died, having married Guy de Bryan, Lord Bryan, in 1359. (fn. 25) Edward died in 1375 holding Tewkesbury manor and borough, (fn. 26) which were held in dower by his wife, another Elizabeth, (fn. 27) until her death in 1409. Thomas, the son of Edward and Elizabeth, was beheaded in 1400, and Thomas's son, Richard, died in 1414 leaving as his heir his sister Isabel, (fn. 28) who married first Richard Beauchamp, Earl of Worcester, and secondly Richard Beauchamp, Earl of Warwick, and made a settlement of Tewkesbury manor before her death in 1439. (fn. 29) The manor was among the possessions of her grand-daughter Anne, Countess of Warwick, who died in 1449, (fn. 30) and it passed to Isabel's daughter, Anne, wife of Richard Neville, Earl of Warwick. On Warwick's death in 1471 (fn. 31) Tewkesbury was allotted to George, Duke of Clarence, who had married Isabel, one of Warwick's daughters. (fn. 32) Clarence's son and heir Edward, Earl of Warwick, was named as lord of Tewkesbury in 1482 and 1483. (fn. 33) On Henry VII's accession the manor with other possessions was restored to Edward's grandmother, the dowager countess Anne, who made it over to the Crown. (fn. 34) Anne regained some rights in Tewkesbury in 1489, (fn. 35) but from her death c. 1490 the Crown held Tewkesbury manor (fn. 36) until it was included in the grant of 1547 to Thomas Seymour, Lord Seymour of Sudeley. (fn. 37) In 1550 Edward Seymour, Duke of Somerset, was named as lord, (fn. 38) and after his fall the manor remained in the Crown until granted to Tewkesbury borough corporation in 1610. (fn. 39) When the corporation in 1837 sold much of its property, the manorial rights, comprising the right to hold courts and fishing rights in the Avon, (fn. 40) were bought by Nathaniel Hartland. (fn. 41) Henry James Selfe Selfe was named as lord from 1838 to 1852, (fn. 42) John Martin, M.P., in 1870, and Lewis Browne in 1910. (fn. 43) In 1918 the executors of M. L. Browne offered for sale the manorial rights, including an exclusive fishery in the Avon and Mill Avon, (fn. 44) and in 1935 those rights were said to belong to the borough council. (fn. 45)
The chief house of the manor, where Edward Despenser and his wife lived in the late 14th century, (fn. 46) lay in the park south of the town and became the centre of a separate estate called TEWKESBURY PARK or TEWKESBURY LODGE. The Crown granted the park and lands to Tewkesbury Abbey in 1504. (fn. 47) After the Dissolution the Crown leased the park to Henry Jerningham, (fn. 48) who in 1554 bought the reversion in fee from Sir Ralph Sadler, (fn. 49) to whom the Crown had granted the reversion in 1550. (fn. 50) Richard Harford bought the estate from the Jerningham family, (fn. 51) and John Harford died seised of it in 1559, having entailed it on his son Anthony. John's wife Martha had a life interest, (fn. 52) and retained it in 1587. (fn. 53) Another Richard Harford, to whom Anthony Harford had released his rights in Tewkesbury Park in 1568, (fn. 54) sold Tewkesbury Park to Sir John Popham, Chief Justice of the Queen's Bench. (fn. 55) Sir John died in 1607 and his son Sir Francis (fn. 56) was occupying Tewkesbury Park in 1616. (fn. 57) In 1581 the park was occupied by a member of the Nanfan family, (fn. 58) and John Nanfan had a lease of the park in 1646; (fn. 59) in 1612, however, one Edward Matthews was described at his death as of the Lodge, (fn. 60) which appears to have been then, as later, the name given to the house in the park. Sir Francis Popham's son John died before his father, (fn. 61) and may have been the father of Alexander Popham, who was dealing with the family property in 1679. (fn. 62) Alexander Popham, who lived at Bourtonon-the-Hill, owned Tewkesbury Park in the early 18th century; his son Edward (fn. 63) was described as of Tewkesbury Lodge in 1713 (fn. 64) and at his death in 1753. (fn. 65)
Edward Popham's daughter Mary, one of his coheirs, married Sir William Strachan, and on her death in 1770 Tewkesbury Park passed to another representative of the Popham family, Mary Brilliana, wife of John Wall. (fn. 66) John Wall, who lived at the Lodge in 1807 (fn. 67) and enjoyed the respect of George IV, (fn. 68) was succeeded by Robert Martin Popham Wall. (fn. 69) In 1817 Joseph Shapland, who was connected with the Walls by marriage, bought Tewkesbury Park, and on his death in 1837 devised it to his four-year-old daughter Fanny. (fn. 70) She married James Primatt Sargeaunt, and their son, James Shapland Sargeaunt, was succeeded in 1933 by his daughter Violet, who with her husband, Lt.-Col. H. M. B. Salmon, lived at Tewkesbury Park in 1964. (fn. 71)
The house stands at the summit of a small hill in the park, on a site where Romano-British Glevum ware has been found. (fn. 72) None of the fabric of the 'fair manor place of timber and stone' recorded in the 16th century (fn. 73) was visible in 1964, but the site showed possible indications of the layout of a large medieval house, and below ground level in many places were the remains of footings of walls. (fn. 74) The house as it stood in 1964 was largely built in the late 18th century, presumably by John and Mary Brilliana Wall, a long building of rendered brick, with two projecting semicircular bays. Joseph Shapland, a collector of pictures, added two galleries and started a third at the east end, (fn. 75) but most of his additions had been removed by 1964.
The name GUBSHILL occurs as a personal name in the mid-13th century, (fn. 76) and in 1298 John Conquest died holding a house and one plough-land at Gubshill within Tewkesbury manor; his heir was his son John. (fn. 77) The 4 yardlands held in 1307 by William of Gubshill, as a free tenant of Tewkesbury manor, appear to have been the same estate. (fn. 78) For two centuries thereafter no record has been found of the Gubshill estate; then it appears as a manor held by the Cotton family. Stephen Cotton had held burgages and other houses in the town in the 15th century; (fn. 79) John Cotton of Gubshill, gentleman, was said in 1507, rather questionably, to have no lands, tenements, goods, or chattels. (fn. 80) George Cotton, one of the bailiffs of Tewkesbury in 1509, (fn. 81) lived at Gubshill in 1518, and was succeeded in 1518 or 1519 by a son Richard. (fn. 82) In 1553 Richard Cotton had a house and land at Gubshill, (fn. 83) in which he was soon afterwards succeeded by his son John, who held the reversionary freehold of copyhold estates in Southwick and Tredington, whose house at Gubshill was described as a chief messuage, (fn. 84) and whose estate was called Gubshill manor in 1592. (fn. 85) John's son Richard Cotton died in 1607 holding Gubshill manor as of Tewkesbury manor, and Richard's wife Mary, who held the manor jointly with her husband (fn. 86) and later married Sir Thomas White of Farnham (Surr.), survived both Richard's brothers and successive heirs, William (d. 1612) (fn. 87) and Ralph (d. 1627). (fn. 88) In 1642 Appolina Hall, widow, whose title has not been traced, sold the manor to John Denham, (fn. 89) who incurred a debt for delinquency as a result of which the manor was sold to Rous Tokeley, (fn. 90) and later to William Cox, a London merchant. (fn. 91) Denham, by then Sir John, regained the manor at the Restoration. Perhaps through a daughter of Sir John, (fn. 92) Gubshill manor passed in 1707 to William Ransford (d. 1752). Ransford's son and heir Edward (d. 1785) was succeeded by his son Edward (d. 1813), whose heir, another Edward (d. 1842), a Bristol hatter, sold the manor in 1835 to Anne Naish. (fn. 93) The estate was then apparently split up, and by 1900 the manorhouse was divided into several tenements. (fn. 94) It is a timber-framed building of two stories and attics, oversailing at first floor level, with a later brick filling. Part of the house may derive from the 16th century or even earlier, but substantially the house is of the 17th century; it was occupied by lessees from 1601 to 1652, (fn. 95) and once bore an inscription 'F.I. 1665'. In the 18th or 19th century new windows were put in and the outside was rendered. (fn. 96) By 1910 it was owned and occupied by George Hone, (fn. 97) and by 1931 it was a hotel, (fn. 98) as in 1964. The building had been restored as a black-and-white house, with the inscription '1438, restored 1707'.
Another estate at Gubshill, which was 1½ yardland held by Richard Wigger of Tewkesbury manor in 1307, (fn. 99) passed from Lawrence Wigger to his son Robert Wigger of Hardwicke in 1426, (fn. 100) and was held by Wigger's heirs in 1483; (fn. 101) it has not been traced thereafter. A close and meadow called Widgears were recorded in the 16th century. (fn. 102)
William of Southwick in 1178 paid a rent of 20s., (fn. 103) and in 1195 John of Southwick was paying the same rent for 56 a. in Tewkesbury. (fn. 104) Jordan the parker, who in 1214 held land there belonging to his office, (fn. 105) may have been the Jordan of Southwick recorded in 1181, (fn. 106) who in 1221 was party to a suit with the Earl of Gloucester about 56 a. in Tewkesbury. (fn. 107) William of Southwick was concerned with property in Tewkesbury in 1236 and 1241, (fn. 108) but the family has not been traced later. In 1548 a messuage in Tewkesbury was said to be held of Robert Aston as of his manor of SOUTHWICK, (fn. 109) but Aston appears to have had only a small estate in Southwick. (fn. 110) Until the Dissolution Tewkesbury Abbey had two houses — Deerhurst Place, otherwise called Southwick Farm, and the lord's messuage — and c. 140 a. in Southwick, excluding copyholds, freehold rents, and Tewkesbury Park, (fn. 111) and in 1551 land was held of the king's manor of SOUTHWICK. (fn. 112) The Southwick estate that had belonged to the abbey was granted by the Crown to William Read in 1553. The tenant then was Thomas Wakeman, (fn. 113) who may have bought the property from Read, for Read did not own it at his death in 1558. (fn. 114) William Wakeman died in 1561 holding land and houses in Southwick; his wife Anne, on whom possession was settled, afterwards married Thomas Lupton, (fn. 115) author of an ambitious charitable scheme which included Tewkesbury school. (fn. 116) In 1577 Thomas and Anne Lupton claimed that Thomas Wakeman, Anne's eldest son, had fraudulently used a conveyance of 1568, intended to settle Deerhurst Place or Southwick Farm on Anne, to gain possession, while Thomas Wakeman claimed that the estate had been assigned to him because he had paid Lupton's debts. (fn. 117) In 1585, 1588, and 1591 Thomas Wakeman was involved in suits with John Woodward or Smith, to whom in 1578 he had mortgaged the estate, which he claimed to hold by inheritance. (fn. 118) In 1595 John Woodward settled the estate on his son Thomas, with a life interest for himself and his wife Eleanor; in 1597 Thomas Woodward settled the estate on himself and his wife, also Eleanor, but died the same year, in his father's lifetime, leaving as his heir an infant daughter Elizabeth. (fn. 119)
No record of the ownership of Southwick Farm has been found over the next 90 years. In 1687 it was in the hands of John Cooke as executor of Henry Cooke, and John Cooke was dealing with the estate in 1734. (fn. 120) In 1781 it belonged to a Mr. Cooke, (fn. 121) but it appears to have been Southwick Farm that belonged not long afterwards to John Dipper of Tirley, and in 1830 to Edward Barnes, the second husband of Dipper's wife Diana, who later put it up for sale. (fn. 122) About 1860 and in 1897 Southwick Farm belonged to Samuel Healing; (fn. 123) by 1910 it was occupied by Edward Poulton Warner, (fn. 124) whose son Edward Rowland Warner was the owner in 1964. (fn. 125) The house, which had 5 hearths in 1662 and 1672, (fn. 126) comprised in 1675 a parlour with a chamber, kitchen, and buttery, each with a chamber over it, an outkitchen, dayhouse, cheese-chamber, and bakehouse. (fn. 127) It was rebuilt in the late 18th century as a square three-story building of brick, to which later additions were made.
In the earlier Middle Ages THE MYTHE was simply a part of Tewkesbury manor, but by 1425 it was administered as a separate estate in the group centred on Tewkesbury. (fn. 128) In 1553 what was described as the manor and lordship of MYTHE AND MYTHE HOOK, late part of Warwick's and Spencer's lands, which had been leased to Tewkesbury Abbey in 1523 (fn. 129) and to Richard Venables in 1542, (fn. 130) was granted by the Crown to Daniel and Alexander Peart. (fn. 131) Daniel Peart died seised of the estate in 1566; his son and heir Edward (fn. 132) was described as lord of the Mythe in 1608. (fn. 133) In 1611 the estate passed from Edward Peart to Sir William Craven, Lord Mayor of London. Craven's son William, created Baron Craven and Earl of Craven, forfeited the Mythe, with his other estates, during the Civil Wars, (fn. 134) but afterwards regained it, and it descended with the barony. (fn. 135) Part had been alienated by 1769 when the Craven estate in the Mythe was under 100 a. (fn. 136) The remainder was sold under the Craven Estate Act of 1809, (fn. 137) and the Cravens' manor was owned in 1818 and 1842 by John Hampton Hampton; (fn. 138) it has not been traced later.
At his death in 1230 Gilbert de Clare devised his wood of the Mythe to Tewkesbury Abbey, which received seisin from the king in 1232 and a grant of the wood from Richard de Clare in 1243. (fn. 139) At the Dissolution the abbey had a considerable estate in addition to the wood itself. (fn. 140) In 1547 the Crown granted all the abbey's property in the Mythe to Sir William Herbert, (fn. 141) who conveyed it in 1548 to Francis Savage and George Wall, who in turn conveyed it in the same year to Thomas Warne of Snowshill. (fn. 142) Warne, who is said to have been lord of Mythe manor in 1580, whose grandson J. Warne is said to have inherited that title, (fn. 143) and from whom in 1596 a John Warne claimed a title to land in the Mythe, (fn. 144) appears to have sold the property in various parcels, most of it before 1580. Mythe wood was held by Rowland Baugh, lord of Snowshill manor, at his death in 1612, (fn. 145) but the later ownership has not been found. In 1576 Warne had sold another part of the property, including the right to hold courts, to William Wakeman, who died in 1587 leaving a life-interest to his wife Anne, (fn. 146) afterwards wife of George Connard. (fn. 147) William was a greatnephew of John Wakeman, the last Abbot of Tewkesbury, and of Richard Wakeman (fn. 148) who held a lease of most of the property granted to Sir William Herbert in 1547. (fn. 149) His son Edward, who married Elizabeth, daughter of Edward Peart, (fn. 150) another of the major landowners in the Mythe, (fn. 151) died in 1634 seised of what was called the manor of Mythe and Mythe Hook, leaving as his heir a son John. (fn. 152) In 1662 John's widow Elizabeth, (fn. 153) and in 1672 a Mr. Wakeman, was living in the largest house in the Mythe. (fn. 154) Edward Wakeman was dealing with the manor of Mythe in 1723, (fn. 155) and in 1781 Walter Wakeman was one of the two chief residents of the Mythe. (fn. 156) The estate is said to have passed thereafter to members of the Martin family, (fn. 157) but a record of it has not been found. The house, which had 10 hearths in 1662, (fn. 158) may have been on the site of the one called Uplands in the 20th century, which was an early 19th-century house built on to a small 18th-century house lying behind it. A house in the Mythe built by Henry Wakeman (d. 1812) was occupied in 1836 by Joseph Longmore. (fn. 159)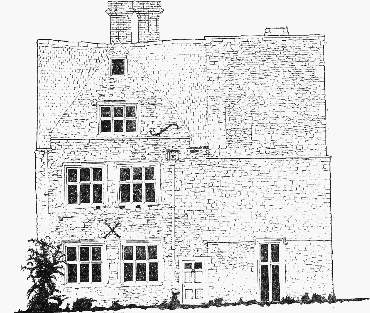 Another part of the abbey's estate in the Mythe belonged briefly to Richard Wakeman, apparently the son of the Richard Wakeman mentioned above: (fn. 160) he had livery of seisin of an estate there in 1579, (fn. 161) and in 1586 he sold the chief messuage in the Mythe, together with the chapel standing beside it and other property there, to Rowland Badger of Pull House, Bushley. In 1725 the estate belonged to Thomas Merryman the elder and the younger, and in 1737 the younger Merryman sold it to John Carloss of Tewkesbury who in turn sold to Francis Geers of Tewkesbury, doctor in physic, who lived in the chief house and died in 1770. In the same year his brother James sold the estate to Thomas Sparry, whose son of the same name devised it to trustees. In 1824 the trustees sold the estate to Baynham Jones of Cheltenham, who sold it in 1832 to Lindsey Winterbotham of Tewkesbury, who sold it in 1834 to Francis Laing. (fn. 162) Laing lived at the Mythe until 1863 (fn. 163) or later, and was succeeded by his daughter Louisa, wife of George Ruddle. After Mrs. Ruddle's death at over 100 (fn. 164) the estate passed to Mrs. Algernon Strickland, the owner in 1939. (fn. 165)
The chief messuage standing beside the chapel, sold by Richard Wakeman in 1586 and mentioned in similar terms in 1540, (fn. 166) is to be identified with the unusual building known as King John's Castle, which is therefore to be associated with the abbey rather than the honor of Gloucester. Of the speculations and traditions about the building's origin the least easily dismissed is that it was a lodging of the abbots of Tewkesbury, (fn. 167) though the building was leased to Richard Wakeman in 1534 (fn. 168) and in 1535 the cellarer, the infirmarer, the master of the Lady Chapel, and the kitchener, but not the abbot, drew rents from the Mythe. (fn. 169) The building has been altered several times since the 18th century, (fn. 170) and it is difficult to discern its earlier form. It is of coursed rubble, and comprises two distinct parts. One is a square tower with massive walls, rising to three stories and stepped back at each floor-level; the windows are staggered, and there are blocked arched doorways at ground- and second-floor levels. The tower has been slightly lowered since the early 19th century, when its walls were sheer and not stepped back. (fn. 171) Close up against the west face of the tower, the other part was built in the 16th or 17th century, a four-gabled house — the east gable running into the tower — having windows with mullions, transoms, and dripmoulds. It is possible that what survives was once part of a larger building. In the early 19th century a new house was built near-by, (fn. 172) called Mythe Tute House and later Mythe Court, which in 1964 belonged to the Revd. H. C. B. Roden; it became the chief house of the estate whose ownership is described above, and King John's Castle passed into separate ownership, (fn. 173) belonging in 1964 to Mr. Gerald Graham.
Yet another estate in the Mythe may have derived from Thomas Warne's. Charles Bridges, whose great-grandfather's brother, (fn. 174) Richard Bridges, was living in the parish in 1571, (fn. 175) had the second largest house in the Mythe in 1662 (fn. 176) and died in 1669. (fn. 177) Charles's son John died childless in 1731, leaving part of his estate to Elizabeth Venables, who married first Richard Buckle (d. 1758) of Chaceley (Worcs.) and secondly Charles Dowdeswell, formerly of Forthampton Court. (fn. 178) The Buckles' property was bought by William Dillon and by 1825 belonged to Charles Porter. (fn. 179) Porter's arms surmount the front door of the house called the Mythe — once the Mythe House — which is a square two-story building of ashlar in 'Strawberry Hill' Gothic, with a brick extension at the back bearing rain-water heads dated 1812. Porter was followed in or after 1863 (fn. 180) by the Marquis de Lys; (fn. 181) in 1935 the house belonged to Musgrave Morris (fn. 182) and in 1964 to Mr. E. T. A. White. Another part of the estate that had belonged to John Bridges is said to have passed to Richard Jackson, (fn. 183) who shortly before 1756 built the large house (fn. 184) at the top of the Mythe hill called the Lawn in 1781 (fn. 185) and Mythe House by 1847. (fn. 186) Between 1781 and 1803 Martin Lucas bought the estate, (fn. 187) by 1825 it had passed to Thomas Taylor, (fn. 188) and by 1842 to Joseph Longmore. (fn. 189) The house belonged to the Revd. Charles William Grove in the late 19th century, to Arthur Remington Robert in 1910, and to Alfred Healing in 1935. (fn. 190) After the Second World War, during which huts were built in the grounds, the house became derelict, and it was demolished c. 1955. (fn. 191)
In the town itself Tewkesbury Abbey acquired some houses near the church in the early 12th century, (fn. 192) and over the next four centuries the abbey's estate in the town increased until by the 16th century it was worth more in yearly rents, and was probably more extensive, than the town estate that had belonged to the honor of Gloucester. (fn. 193) The abbey had also acquired tithes throughout the parish. (fn. 194) After the Dissolution the abbey's large estate, which may have been included in what was called the manor of TEWKESBURY BARTON, (fn. 195) was split up; the tithes were thereafter held mostly in small parcels, (fn. 196) often by the owners of the land from which they arose, (fn. 197) and groups of houses in the town were sold. (fn. 198) The site of the abbey, with various houses, other buildings, lands, and rights, was sold in 1544 to Thomas Stroud, Walter Earl, and James Paget; in the same year they got a licence to sell the property to William Read, who was already the lessee of most of it. (fn. 199) Read was succeeded in 1558 by his son Giles, (fn. 200) who was in turn succeeded by his son John in 1611. (fn. 201) In 1612 John Read sold the property to Baptist Hicks, later Viscount Campden, who settled it on his daughter Mary; (fn. 202) in 1632 her estate in Tewkesbury, and extending into Tredington and Walton Cardiff, comprised 496 a. (fn. 203) Mary married in turn Sir Charles Morrison, Sir John Cowper, and Sir Edward Alford, and she afterwards settled her Tewkesbury property on her grandson Sir Henry Capell, later Lord Capell of Tewkesbury, third son of Arthur Capell, Lord Capell, by his wife Elizabeth, the daughter of Sir Charles Morrison. Henry, who died without issue in 1692, devised the property after his wife's death to his nephew, Algernon Capell, Earl of Essex (d. 1710); Henry's wife Dorothy died in 1721, and the manor passed in turn to successive Earls of Essex, William Capell (d. 1743), William Anne Capell (d. 1799), and George Capell (d. 1839). The estate was enlarged in 1747, 1762, and 1764, (fn. 204) but in 1824 and 1825 the Earl of Essex sold it, the largest part going to J. A. Hartland. (fn. 205) In 1847 John Terrett sold the abbey site and precincts, known as the Abbey House estate, to John Martin, (fn. 206) whose trustees sold the estate, comprising 35 a., in 1883, to Hemming Robeson, then Vicar of Tewkesbury, and Thomas Collins, the local builder. The main house, to be used as a vicarage, and the land immediately adjoining the abbey church were settled on charity trustees, and the rest of the estate sold. (fn. 207) The buildings of the abbey are described elsewhere. (fn. 208)
Severn Ham, presumably represented by the 176 a. of mowing meadow in 1296 (fn. 209) and the 85 a. in 1327, (fn. 210) amounted to 94 a. and was included in the honor of Gloucester's manor of Tewkesbury when the Crown granted the manor in 1547 to Thomas Seymour. (fn. 211) In 1610 the freehold was granted to Tewkesbury Borough Corporation, which conveyed it, excepting the aftermath between 31 July and 2 February which belonged to the commoners, to William Ferrers for 20,000 years in 1615. In 1635 Ferrers's title was acquired by William Alye, who sold it to Richard Dowdeswell of Pull Court, Bushley, in 1640, and Dowdeswell also acquired a leasehold of the meadow granted in 1605. (fn. 212) In 1811 Thomas Dowdeswell owned 106 a. of the ham, the Earl of Essex owned 41 a., and 23 other owners had amounts of 11 a. or less, totalling over 40 a. (fn. 213) The Dowdeswells enlarged their acreage of the ham, and in 1933 the Revd. George Berens-Dowdeswell of Pull Court sold his estate in the ham, which comprised all but a few small portions of it, to the borough corporation. (fn. 214) For many years up to 1964 the mowing of the ham had been sold by auction, the proceeds being divided proportionately among the owners; the aftermath was also sold by auction, and the proceeds were distributed among the commoners, who were taken to be the householders of the three main streets of the town. (fn. 215)