Pages 273-276
A History of the County of Lancaster: Volume 7. Originally published by Victoria County History, London, 1912.
This free content was digitised by double rekeying. All rights reserved.
OUT RAWCLIFFE
Rodeclif, Dom. Bk.; Routecliue, 1206; Routheclif, 1212.
Middelrotheclyue, 1273; Mideste Routheclif, 1309.
Outroutheclif, 1328.
The surface is undulating, much of it very low, but rising both in the south-east and in the west to 50 ft. above sea level. In the former more elevated patch is Rawcliffe Hall, the village lying a mile to the west. Liscoe is in the extreme south-west and Ashton in the north. The Wyre forms the southern boundary. The area measures 4,593 ½ acres, (fn. 1) and there was a population of 705 in 1901.
The principal roads run from east to west, one near the river from St. Michael's to Hambleton, and another further north from Garstang to the same place. Cartford Bridge in the south-east gives a passage over the Wyre, and from it a road goes north to Pilling.
The township has a parish council.
The soil is clay and moss, with clay subsoil; wheat, oats and potatoes are grown
Manors
The portions of the township once known as MIDDLE and OUT RAWCLIFFE seem originally to have been separate manors, and in 1066 the two Rawcliffes, each assessed as two plough-lands, were part of the Preston lordship of Earl Tostig. (fn. 2) A century later they were part of the fee of the Botelers of Weeton, (fn. 3) and Hervey father of Hervey Walter gave to Orm son of Magnus, with his daughter Alice, four plough-lands in Rawcliffe, Thistleton and Greenhalgh, tenable by knight's service. (fn. 4) The Rawcliffe here intended seems to be Mid Rawcliffe, which was in 1249 held by Sir John de Thorn hill of Theobald Walter by the twelfth part of a knight's fee, (fn. 5) Out Rawcliffe at the same time being held by tenants at will for the most part. (fn. 6) In 1346 it was recorded that the Earl of Ormonde held four plough-lands in Out Rawcliffe, (fn. 7) and his mesne lordship, as in the case of Weeton, passed to the Earls of Derby.
Theobald Walter in 1266–7 granted to his 'cousin' Sir Richard le Boteler all the land of Out Rawcliffe together with an oxgang in Staynall, for which he was to render the farm the men of the place had been accustomed to pay. (fn. 8) At the same time he ordered these men to render their services to the said Richard, (fn. 9) whom they were to consider as their lord. The rents seem to have amounted to £7 a year, for this was the sum remitted or commuted to a pair of gloves or 1d. by Theobald Walter, butler of Ireland, when William le Boteler, the son and heir of Richard, married Joan de Syfrewast. (fn. 10) Richard had also acquired Mid Rawcliffe from Richard de Thornhill (fn. 11) and John Debaud, (fn. 12) and thus held the whole, though by different tenures. From this time until 1716 his family retained possession, and there are practically no records of any other tenants. The manors seem to have been regarded as one, called indifferently either Middle or Out Rawcliffe; but sometimes these were named separately. The Botelers also held manors and lands in Hoole, Whittle-le-Woods, Freckleton, Goosnargh and other places.
Sir Richard le Boteler, brother of Sir William le Boteler ofWarrington, (fn. 13) was living in 1273, (fn. 14) but must have died not long afterwards, leaving a widow Alice. (fn. 15) His eldest son William did not long survive him, being dead in 1287; his widow Joan had by that time married Thomas de Singleton. (fn. 16) The son Nicholas was a minor at his father's death, (fn. 17) and by his wife Mabel left a son William, a minor in 1 305. (fn. 18) This son also appears to have died young. By his wife Isabel he left a son Nicholas, who served as knight of the shire in 1344, (fn. 19) and occurs from 1328 (fn. 20) until about 1364. He was succeeded by his son Sir John Boteler, (fn. 21) who rendered public service as sheriff of the county (fn. 22) and in other ways. (fn. 23)
Sir John died 27 September 1404, leaving as heir his son Nicholas, about twenty years of age, and married in 1401 to Margery daughter of Sir Richard Kirkby. (fn. 24) Nicholas Boteler, who was knight of the shire in 1419, and 1426, (fn. 25) was about 1452 succeeded (fn. 26) by a son John, (fn. 27) who died in September 1488 a very old man, his heir being a great-grandson James, twenty years of age. The manor of Out Rawcliffe, with messuages, lands, &c, there and in Stalmine, Staynall Thistleton, Kirkham and Freckleton, was held of the Earl of Derby by knight's service and the rent of 8s. (fn. 28) James Boteler, who married Elizabeth daughter of Sir Thomas Molyneux of Sefton, (fn. 29) died in 1504, leaving two sons John and Nicholas, (fn. 30) of whom the former proved his age in 1 512. (fn. 31) This John Boteler recorded a pedigree in 1533, (fn. 32) and died in 1534, leaving by his wife Anne Shireburne four daughters as co-heirs, viz. Elizabeth, who married James Standish of Duxbury; Isabel, who married Thomas Radcliffe of Winmarleigh, and left a daughter Anne, afterwards wife of Sir Gilbert Gerard; Eleanor, who married Henry Rishton of Rishton; and Grace, who married Hugh Anderton of Euxton. (fn. 33) The manor of Rawcliffe, however, went with other estates to the heir male, the abovenamed Micholas, brother of John. He died about 1555, leaving a son Richard, (fn. 34) who was succeeded by his brother Henry, (fn. 35) with whom the pedigree recorded in 1664 begins.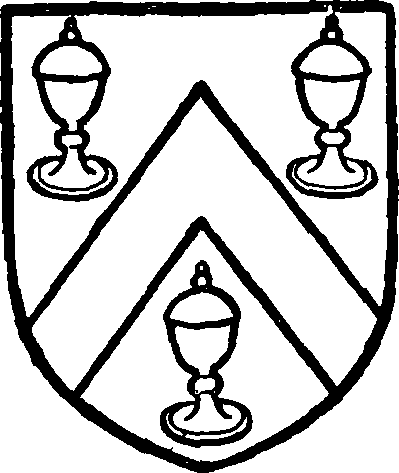 This family, like most of those in the district, adhered to Roman Catholicism at the Reformation, but appear to have attended the reformed services occasionally in order to avoid fines and sequestrations. (fn. 36) Henry Butler, grandson of the above-named Henry, (fn. 37) lived through the Civil War period, and lost his son in the king's service; but, though his estates appear to have been sequestered by the Parliament, it was for 'delinquency' only. (fn. 38) Another Henry, great-grandson of the foregoing, succeeded to the estates later, (fn. 39) and had a son Richard, (fn. 40) who joined the Jacobites in 1715, and was tried and condemned for high treason. He died in prison. (fn. 41) His estates were declared forfeit, (fn. 42) and the manor of Rawcliffe was in 1729 acquired by Thomas Roe, an attorney, whose daughter carried it in marriage to John France of Little Eccleston, and it descended in this family for a time. (fn. 43) Mr. Robert John France Aiston is said to be the present lord of the manor. Courts have been held in recent times. (fn. 44)
RAWCLIFFE HALL stands in a pleasant situation a little over a quarter of a mile to the north of the right bank of the Wyre, facing south, and is a twostory building of 17th-century date very much modernized and added to in recent years. It has, however, at one time been of considerable interest and yet retains some of its ancient features, though the disposition of the original plan is no longer easy to trace. The principal elevations face the south and west where the walls are covered with rough-cast and the windows modern. All the roofs are covered with blue slates. The greater part of the building appears to be of late 17th-century brickwork, but this only shows at the back where no rough-cast has been applied. The north side of the principal or south wing, however, retains its original timber construction facing a small courtyard about 24 ft. by 21 ft., possibly a late 17th-century development of the original plan, the east and west walls having apparently been built up against the timber framing of the main wing. This timber work remains a very picturesque feature and may indeed be of Elizabethan date, or at any rate part of the 'new buildings of the Hall of Rawcliffe' which are mentioned shortly before 1619. (fn. 45) The timber framing extends the whole height ot the building, but the lower part is filled in with 2¼ in. brickwork, including, however, a good door with traceried panels. The upper part has a long range of mullioned and transomed wood windows glazed with diamond quarries, and a plaster cove below the eaves, the framing under the windows being composed of two rows of square panels with quatrefoil and other fillings. The timber is without paint, and the work being generally very little 'restored' makes a very charming picture. The courtyard, however, has been encroached upon on the west side, and has been altered on the north, from which side it was entered. At the north end of the west wing is a large room going up the full height of the building, now used as a billiard-room, but said to have been originally the chapel. The west front, though modernized, retains substantially its 17th-century lines, being well broken up with chimneys, one of which is incorporated in an embattled two-story bay window. The south front is uninteresting, although John France, who died in 1774, left instructions in his will that this side of the house should never be altered. 'It is questionable, however, whether the wish was observed, as the modernization seems to be later in date. (fn. 46) There is a central porch going up both stories, but the roof runs the length of the front with overhanging eaves and a gable east and west. The entrance hall has the remains of an open fireplace, and there is a small oak staircase with dog gate. There are 18th-century additions on the north-east side and in other parts (fn. 47) and on one of the outbuildings to the north-west is a stone inscribed 'Tho. Roe, Ano. Dni. 1734.' On the lawn on the west side is a lead statue of a girl in haymaker's costume commemorating one of the farm servants who lost her life under peculiar circumstances.
Apart from the Butler family there is little to relate of the township, (fn. 48) but several 'Papists' registered estates in 1717. (fn. 49)
For the Church of England St. John's was built in 1838; the vicar of St. Michael's presents to the vicarage. (fn. 50)
The Wesleyan Methodists built a chapel in 1844, but services were discontinued in 1873, the congregation having dwindled away. (fn. 51)