Pages 171-177
A History of the County of Somerset: Volume 5. Originally published by Victoria County History, London, 1985.
This free content was digitised by double rekeying. All rights reserved.
SAMPFORD BRETT
The parish of Sampford Brett, (fn. 1) which probably takes its main name from a ford where the Doniford stream flows between outcrops of Upper Sandstone, (fn. 2) lies immediately south-east of Williton but may have been part of an estate centred on Stogumber. (fn. 3) East of the stream, on undulating Keuper marls, lies Torweston, sheltering under Castle Hill (81 m.). Sampford Brett village, at the heart of a second manor, lies 1 km. south-west, on the west bank of the Doniford stream, its southern boundary interlocking with Stogumber. Aller Farm lies 1.5 km. south-west of Sampford village on a tongue of land running up the Leighland Slate outliers of the Brendons, reaching 158 m. above Woodford in Nettlecombe. (fn. 4) The boundary between Aller and Stogumber is marked by a stream which probably watered the alders which gave the settlement its name. The parish also included a detached area 3 km. south-east of Sampford village, called Cagley or Kagley in the 14th century (fn. 5) and later Wayshill. (fn. 6) In 1883 Cagley was transferred to Stogumber, which had entirely surrounded it. In 1885 Lower Weacombe, including 31 people in 5 houses, was transferred from Stogumber to Sampford Brett civil parish. (fn. 7) In 1971 the parish measured 466 ha. (1,151 a.). (fn. 8)
Sampford village lies in a shallow valley formed by the Sampford stream flowing from Aller Farm. It comprises a single wide street with the church at its eastern end, the street having been widened by 1891 (fn. 9) apparently to provide an improved view of the church from the estate cottages built by the Acland-Hoods among the surviving cottages of the 17th century or earlier. (fn. 10) There was a short lane running south from the church to serve the mill. From the 1930s onwards houses were built beside the main road north of the village as part of the development of Tower Hill in Williton, and other houses were built later on the northern boundary at Catwell.
There may have been some open-field arable south of Sampford Brett village, (fn. 11) but the glebe in the north-west was in closes by 1606. (fn. 12) Common meadow in Molland mead and Sampford moor in the extreme north of the parish survived until the early 19th century, (fn. 13) and by 1841 only two landshares remained. (fn. 14)
By the end of the 18th century the ford which gave its name to the village, perhaps forming a crossing from Woolston in Bicknoller near a field called the Green in Sampford, (fn. 15) had lost its significance in the local road pattern. (fn. 16) The main road through the parish, crossing the village street towards its western end, was part of a north-south route between Williton and Stogumber. The route was itself cut, north of the village, by the road from Tower Hill in Williton to Bicknoller. (fn. 17) In 1807 that road became part of the new turnpike route from Williton to Taunton. (fn. 18) The West Somerset Railway, opened in 1862, was cut through the parish from the foot of Castle Hill across Sampford moor. (fn. 19)
There was a licensed victualler in the parish in 1736. (fn. 20)
Twelve people were assessed for tax in 1327, and Sampford Brett was probably the chief settlement; only one taxpayer was recorded for Torweston. (fn. 21) At least 66 adult males lived in the parish in 1641, (fn. 22) and 108 people were listed in the subsidy returns of 1667. (fn. 23) In 1801 the population was 180; it reached a peak of 280 in 1861, but fell to 158 in 1901. (fn. 24) Since 1931 the built-up area of Williton has extended into the parish at Tower Hill and Catwell. In 1951 the population was 221, by 1961 it was 255, and in 1971 there were 291 people in the parish. (fn. 25)
MANORS AND OTHER ESTATES.
In 1066 SAMPFORD was held by Alnod and in 1086 by Hugh d'Avranches, earl of Chester, with William as his undertenant. (fn. 26) In the early 13th century it may, along with Torweston, have been reckoned part of the honor of Dunster, (fn. 27) but in 1284–5 it remained part of the barony of Chester, of which it was held in mesne lordship by the heirs of Roger of Kingston. (fn. 28) Roger had c. 1225 held the mesne lordship, (fn. 29) which has not otherwise been traced. By 1377 both Sampford and Torweston, which had long been held by the same undertenants, were part of the honor of Dunster, (fn. 30) in which they were described as a single manor in the late 15th century. Sampford was recorded under the same overlordship in 1777. (fn. 31) The Brett family, which gave the parish its distinguishing name, may have had the undertenancy of Sampford by 1197, when Simon Brett was holding 2 knights' fees, evidently of the honor of Dunster. (fn. 32) John Brett died before 1225 holding Sampford and leaving a minor as heir, (fn. 33) and later in the 13th century the Bretts held both Sampford and Torweston, (fn. 34) which thereafter descended together.
TORWESTON, held in 1066 by Lefsin, was in 1086 held by William de Mohun with Hugh as undertenant. (fn. 35) The overlordship remained as part of the Mohuns' honor of Dunster until 1777 or later. (fn. 36) Of that honor Simon Brito or Brett in 1166 held ½ knight's fee, apparently Torweston. It was presumably his son Simon Brett who held 2 knights' fees, possibly representing both Torweston and Sampford, in 1197; in the early 12th century he held them of the honor of Dunster. (fn. 37) By 1280 Sir William Brett held both Sampford and Torweston, and he was still alive in 1294. (fn. 38) His heir was his son Adam, but in 1303 his widow Emme held Sampford and a younger son, Lawrence, was in temporary possession of Torweston. (fn. 39) In 1306 Adam Brett received the grant of a market and fair in his manor of Sampford and of free warren in his demesnes of Torweston. (fn. 40) He was succeeded before 1327 by John Brett, (fn. 41) presumably his son, who held Torweston in 1331. (fn. 42) William Brett, John's brother, held both manors by 1337, but part of Torweston was still held in dower by Adam Brett's widow, Alice, and her second husband Edmund of Sampford. (fn. 43) William and Alice continued in possession until 1359, when they sold the two manors and the dower lands to Hugh Courtenay, earl of Devon, and his wife Margaret. (fn. 44)
The earl died in 1377 and his widow in 1391, and the manors passed to their fourth son, Sir Philip Courtenay (d. 1406). Sir Philip's heir was his eldest son Richard, (fn. 45) bishop of Norwich 1413–15. The bishop died in 1415 leaving as his heir his nephew Philip (later Sir Philip) Courtenay of Powderham (Devon), then a minor. (fn. 46) Philip's second son, Sir Philip Courtenay of Molland (Devon), succeeded in 1463. (fn. 47) Sir Philip died in 1489, and his son and heir John in 1509. (fn. 48) John's son, Philip, a minor, came of age in 1516, and survived until 1547, when his heir was his son Robert. (fn. 49) Robert died in 1583 and was followed by his son Philip (d. 1611) and by Philip's second son Charles (d. 1612). (fn. 50) Charles's son and heir, John, was an infant who came of age c. 1629. (fn. 51) He died in 1660 and was followed in direct male line by John (d. 1684), John (d. 1724), and John Courtenay (d. 1732). (fn. 52)
Margaret, widow of the last John Courtenay, held the estate until her death in 1743, and it passed to John's sister Elizabeth, wife of John Chichester of Arlington (Devon). Elizabeth died in 1763 leaving the manors to her granddaughter Anna Maria Paston, wife of George Throckmorton (d. 1767) of Coughton (Warws.). (fn. 53) Anna died in 1791, and was followed by her second son George, who assumed the additional surname and arms of Courtenay before succeeding his elder brother as the 6th baronet in 1819. (fn. 54) Sir George died in 1826 and was succeeded at Sampford and Torweston by his nephew Robert George Throckmorton, of Buckland (Berks.), who himself succeeded to the baronetcy in 1840. (fn. 55) In 1846 Sir Robert sold the estate to Sir Peregrine Acland, Bt. (fn. 56) It was settled on Sir Peregrine's daughter, Isabel, on her marriage in 1849 to Sir Alexander Hood, Bt. (fn. 57) The land was sold by Sir Alexander's grandson, Lord St. Audries, between 1924 and 1931 to William Wyndham and Sir Walter Trevelyan, but the lordship of the manors was not included in the sale. (fn. 58)
In 1316 Adam Brett had licence to crenellate his dwelling at Torweston. (fn. 59) This may have given rise to the field names Back Castle and Castle Coppice which lay on the south and west slopes of Castle Hill in the 19th century, but quarrying may account for stones said to have been found in the wood on the hilltop. (fn. 60) Torweston Barton was the name given in the mid 18th century to the farmhouse which stood in the garden of the present Torweston Farm. (fn. 61) The latter is a large, late 19th-century house, with a twostoreyed cider house, office, coach house, and stables beyond. To the north, on lower ground, is an extensive group of contemporary farm buildings ranged around two open yards. (fn. 62) The central range contains a mill driven by water supplied by two small ponds.
The manor of ALLER was held, like Sampford, of Hugh d'Avranches, earl of Chester, in 1086, but there is no further trace of overlordship. Ednod held the estate in 1066 and William in 1086. (fn. 63) In Richard I's reign it was held by William St. Stephen, probably in right of his wife Sibyl de Aure or Aller. (fn. 64) William was succeeded by his son Robert. (fn. 65) William son of William St. Stephen sold Aller to Godfrey of Sowy, whose son Richard sold it to Sir Maurice le Botiller (fl. 1262–80). (fn. 66) The estate probably descended through Ellis Butler to Sir John Ralegh (d. 1372) who married Ellis's daughter Maud. (fn. 67) By 1372 the estate was held by Robert Brice and his wife and was known as ALLER BUTLER. (fn. 68) They were still alive in 1389. (fn. 69) It is possible that the Brice family continued to hold the estate, and that it was divided in 1507 between Elizabeth, wife of John Frank, and Margaret, wife of Humphrey Trevelyan, as heirs of Thomas Brice. (fn. 70)
One half passed to John Frank's daughter Elizabeth and then to her son John Sydenham of Dulverton, who in 1558 bought the other half from John Trevelyan, son of Humphrey and Margaret. (fn. 71) John Sydenham sold Aller to John Trevelyan of Nettlecombe in 1568, (fn. 72) and the estate was settled in the same year on his son, also John Trevelyan. (fn. 73)
Except for a brief period between 1574 and 1581, when it was held by the Slocombes of Bristol by purchase, (fn. 74) Aller descended in the Trevelyan family until 1804 when it was conveyed to the earl of Egremont as part of an exchange of property. (fn. 75) During the early 17th century Aller was occupied by four unmarried Wyndham brothers. (fn. 76)
There was a chapel and possibly a house at Aller before 1197. (fn. 77) In 1507, when John Frank and his wife and Humphrey Trevelyan and his wife divided Aller between them, the house comprised a hall, kitchen, buttery, parlour, bakehouse, larder, and dairy, each with chambers over. There were also old and new barns, a shippen, and stables. (fn. 78) The present house incorporates one smoke-blackened cruck blade probably of the 16th century but the building, which has a short main range with a cross wing at the west end, now appears to be mainly of the 17th century, the main range having been heightened and the whole roof renewed early in the 18th century. The roof was recased and slated and much of the interior of the house refitted in the early 19th century, and additions were made later in the century. Behind the house a detached building appears to have been reconstructed in the later 19th century from a two-storeyed domestic building of the 16th or 17th century which had the kitchen at its west end. The farm buildings, which are mainly of the 19th and 20th centuries, include a long range which has a shouldered doorway of the 16th century and was at some time extended westwards. It formerly had a cruck roof of nine bays. Its east end was converted into a mill in the 19th century but the wheel, all the internal floors, and the upper part of the crucks have been removed. (fn. 79)
In Richard I's reign William St. Stephen confirmed his ancestors' gift to Stogursey Priory of the tithe of the demesne at Aller. In 1239 the tithes were given to the rector of Sampford Brett in return for an annual payment. (fn. 80) The payment continued to be made to Eton College, successors to Stogursey, (fn. 81) and the college also owned some land called Monkland which had been granted by Sibyl de Aure in Richard I's reign. (fn. 82) In 1806 the Merchant Venturers of Bristol, tenants of the college, assigned the lease to Lord Egremont's trustees, who then bought the reversion. (fn. 83)
ECONOMIC HISTORY.
In 1086 the estates later forming the parish of Sampford Brett together measured 4 hides; there was land for 10 ploughs of which 2½ hides and 4 ploughs were in demesne. There were 25½ a. of meadow, 47 a. of pasture, and 102 a. of woodland. The stock comprised 17 beasts, 6 swine, and 188 sheep. Two serfs worked on the demesne and there were 7 bordars and 14 villeins. (fn. 84)
In 1585 3s. 11d. was received in assized rents from the free tenants of the manor of Sampford Brett and £30 5s. 4d. from the customary and copyhold tenants. (fn. 85) In the early 17th century at least two farmers had possessions and stock worth c. £300, both with mixed farms, although corn was the most valuable crop. (fn. 86)
In the early 19th century Aller and Torweston were the largest farms. In 1804 Aller farm with c. 200 a. was valued at over £5,300 and the timber at c. £400. (fn. 87) Torweston, a farm of 357 a., was held from 1832 on a 14-year lease at £520 a year, with an additional charge of £50 an acre for breaking meadow and pasture or mowing new meadows. The lessee was required to convert a barn into a dairy and a dairyman's house, with cow-pens and pigsties. (fn. 88) The parish was said c. 1833 to produce good corn, vegetables, and cider. (fn. 89) In 1846, when Sir Peregrine Acland bought Torweston and most of the parish, the main crops were wheat, barley, and vetches. (fn. 90) In 1869 the lessee of Torweston paid his workers 10s. a week together with turnips and straw. (fn. 91) In 1906 the chief crops were wheat, barley, mangolds, potatoes, and turnips. (fn. 92) By 1976 most of the parish was under grass, with farms specializing in dairying and stock rearing. (fn. 93)
The field names Rack close and Rack meadow (fn. 94) indicate the presence of cloth making. John Hudforde (d. 1579), a Sampford weaver, had lands in St. Decumans parish, kept two servants, and owned among other goods a pair of virginals. (fn. 95) Clothiers and weavers are found in the 17th century, (fn. 96) and in 1704 Torweston mill was taken over for fulling by a Dunster mercer. (fn. 97) Gloving was also practised by the 17th century, and in 1687 the miller's possessions included leather, bark, and tools in his tanhouse. (fn. 98)
In 1306 Adam Brett was granted a weekly market at Sampford on Mondays with a yearly fair there for three days at the feast of St. George (23 April), but there is no evidence that either was ever held. (fn. 99)
In 1086 there were mills at Sampford and Torweston. (fn. 100) Sampford mill was mentioned in 1586; (fn. 101) in the 1660s it was held by John Strange, and during the 18th century was often known as Strange's mill. (fn. 102) The mill continued in production in 1923 but by 1931 had become Sampford Mill farm. (fn. 103) The mill building, leat, and iron undershot wheel survived in 1979.
Torweston mill was mentioned in 1674. About 1704 it was burnt down but was rebuilt as a grist mill with a fuller's stock adjoining. (fn. 104) It was part of Torweston farm and was leased with the farm in the 18th and 19th centuries. (fn. 105) Its site lies under the track of the railway, opened in 1862.
A third grist mill, Providence mills, had been established by 1831 and probably by 1826. It stood on the eastern edge of the village on the Doniford stream. Milling seems to have ceased after 1864. (fn. 106) The mill was a private house in 1979.
There was a leather mill at Catwell in 1818. (fn. 107)
LOCAL GOVERNMENT.
In the 14th century there were separate tithings of Sampford Brett, which included Sampford and Culvercliffe in St. Decumans, and Torweston, which may have included the Aller estate. (fn. 108) The two tithings continued into the 17th century. (fn. 109) No manorial records have been found. The tenant of Sampford mill was required to serve the office of tithingman in his turn in 1785. (fn. 110) Manor courts were held at Torweston in 1766. (fn. 111) A house called Court House, in Sampford village, was described as newly built in 1796. (fn. 112) It was called Court Place in 1979.
By 1641 the parish had two churchwardens and two overseers, (fn. 113) and by 1681 two highway surveyors. (fn. 114) All were elected from tenants in rotation at parish meetings until the mid 18th century, when the minister began appointing one churchwarden. (fn. 115) In 1840 one man was said to be sole warden and overseer. (fn. 116)
The overseers gave money in weekly relief and for provisions and clothing; extraordinary payments included thatching a cottage and bounties for information against sellers of illegal cider. (fn. 117) The former church house was occupied by the overseers by 1699, (fn. 118) probably for use as a poorhouse. The same building probably continued to house the poor until the 19th century. (fn. 119) In 1840 it comprised four dwellings, and was then sold to the earl of Egremont. (fn. 120) The parish became part of the Williton poor-law union in 1836, and was in the Williton rural district from 1894 and the West Somerset district from 1974. (fn. 121)
CHURCH.
The church was mentioned in 1239 (fn. 122) and the benefice was a sole rectory until 1978, when it became part of a united benefice with Bicknoller and Crowcombe. (fn. 123) The living was in the gift of the lords of Sampford manor, but the bishop collated by lapse in 1317, (fn. 124) the Crown presented during a minority in the 1420s, (fn. 125) and John Chichester and his wife, again during a minority, in 1510; (fn. 126) an attempt by George Luttrell to present as chief lord in 1619 was unsuccessful. (fn. 127) In 1628 the advowson seems to have been bought by Martin Webber, apparently for one turn; he presented a relative. (fn. 128) In 1765 Humphrey Tanner, rector 1740–80, held a lease of the advowson for three lives. (fn. 129) In 1780 it was inherited by Nicholas Tanner, who presented his brother Thomas. (fn. 130) On Thomas's death the advowson reverted to the lord of the manor, and Henry Tripp of Orchard Wyndham acquired it. He presented his nephew Charles. (fn. 131) During the early 20th century the advowson was owned by Owen Howard Owen, grandson of Charles Tripp. It had passed by 1953 to J. O. Howard Tripp, and in 1961 to the bishop of Bath and Wells. (fn. 132) The bishop is joint patron of the united benefice. (fn. 133)
In 1535 the rectory was worth £7 19s. 7d. net, (fn. 134) and c. £80 c. 1668. (fn. 135) By 1831 the average net income was £358 a year, increasing to £400 in 1851. (fn. 136) From 1239 the rector paid 7s. a year to Stogursey Priory for the tithes of Aller. (fn. 137) In 1534 the rector's oblations and tithes were valued at £7 5s. 6d. (fn. 138) Between 1830 and 1835 tithes averaged c. £265 a year. In 1841 they were commuted for a rent charge of £310. (fn. 139) In 1606 the glebe measured 33½ a., together with shares in common meadows. (fn. 140) In 1841 there were nearly 38 a. (fn. 141) Most of the glebe was sold in 1919–20. (fn. 142)
The former rectory house, known since 1978 as the Old Rectory, was until partial demolition of the south and west wings in 1903 (fn. 143) built around a courtyard. On the east side was the original medieval building, with its kitchen at the south end, a central hall which survives with an arch-braced roof of four bays, and a parlour to the north. The parlour end was extended westward in the mid 16th century, the ground floor room having a ceiling divided by moulded and carved beams, and further extensions were made at various times to enclose a courtyard on the west side of the hall. There was some remodelling in the 18th century, (fn. 144) and the house was extensively refitted in the early 19th century when the functions of the rooms north and south of the hall were reversed. An inventory of c. 1839 indicates a substantial house with marble chimney pieces in the principal rooms and a servants' hall. (fn. 145) The house was sold in 1978. (fn. 146)
In 1315 the rector was deprived of his benefice and the church was put in the care of a chaplain. (fn. 147) There was some opposition to the reintroduction of the mass in Mary's reign. (fn. 148) William Webber, presented in 1628, apparently retained the living during the Interregnum and died in 1659. During the 18th century three celebrations of the communion were normally held each year, and in 1776 there were said to be 12 communicants. (fn. 149) In 1815 services with sermons were held alternately morning and afternoon, but by 1827 there were two services each Sunday. (fn. 150) An evening sermon had been added during the summer months by 1843, and by 1851 there were three services throughout the year. Congregations on Census Sunday 1851 were 'about average', with 144 in the morning, 90 in the afternoon, and 169 in the evening, together with 45, 40, and 20 Sunday-school pupils. (fn. 151) From 1740 to 1830 three members of the Tanner family were rectors successively, and four members of the Tripp family held the living for a total of sixty years between 1830 and 1917. (fn. 152)
A church house was mentioned in 1585, (fn. 153) and the name continued in use until 1820, (fn. 154) but from 1699 or earlier it probably had been occupied as a poorhouse. (fn. 155) There were endowed lights in the church before 1547. (fn. 156)
The church of ST. GEORGE was probably so dedicated by 1306 when Adam Brett was granted a fair at the feast of St. George. (fn. 157) It comprises chancel with south vestry, nave with north transeptal chapel, south organ chamber, and tower, and west porch. At its restoration the church was described as being of 'a very early character, Anglo-Norman' with lancet windows in the south wall of the chancel. (fn. 158) The north transept dates from c. 1300, and the tower is probably of the 15th century. Between 1835 and 1843 the chancel, vestry, and west end of the nave were completely rebuilt and the west porch and organ chamber added. The interior was replastered throughout and the rear arches in the chancel were given moulded plaster hoods. The old roofs were replaced in both nave and chancel. The base of the font may be a medieval bowl inverted. The bench ends incorporate early 16th-century carved panels and some early 17th-century work, probably set in their present position during the 19th century when much other carved work, some of it old and some in antique style, was introduced. Amongst the fittings a 17th-century communion table is used as a side table. There is a late 13th-century effigy in the vestry. It formerly lay in the north chapel, (fn. 159) and possibly commemorates Sir William Brett (fl. 1280–94).
The plate includes cup and cover by 'I.P.' dated 1573. (fn. 160) The registers date from 1629 and are largely complete. (fn. 161) There are five bells. (fn. 162)
There was a chapel of ease at Aller before 1197. (fn. 163)
NONCONFORMITY.
Two recusant families, the Martins and the Escotts, were presented between 1636 and 1665. (fn. 164)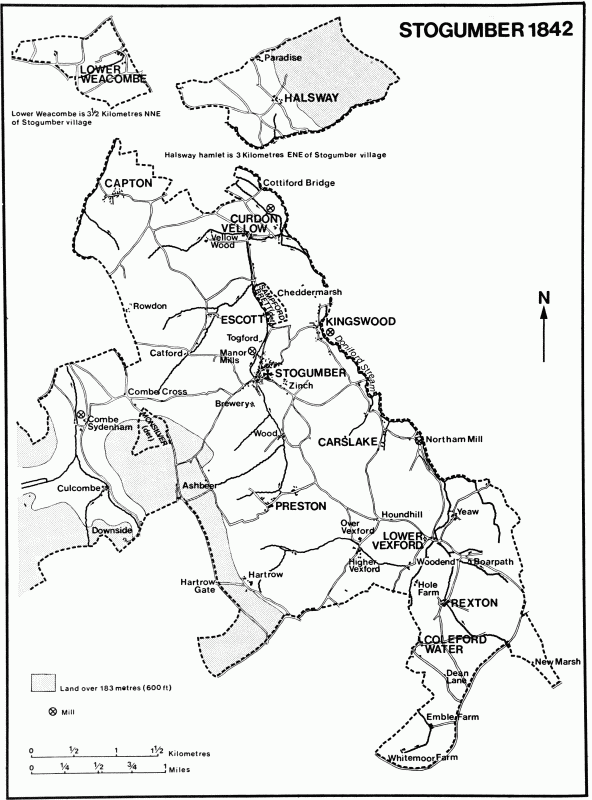 Before 1827 a Wesleyan Methodist 'Sunday place' had been established, but it was given up in that year. (fn. 165) Services were suggested again in 1835 and established on Sundays in 1841, but were given up in 1844 because the farmers supported the chapel at Williton. (fn. 166)
EDUCATION.
There was a reading school in 1818, supported by subscription, with 15 pupils. (fn. 167) In 1835 a day school was attended by 15 children supported by their parents, (fn. 168) but it seems to have gone by 1847, when there were only Sunday schools. (fn. 169) St. George's National school was built in 1867 by Sir Alexander Acland-Hood for 100 children, (fn. 170) and in 1872 the vestry approved a voluntary rate for its support. (fn. 171) In 1903 there were 64 children on the books and the school was also used for evening classes, Sunday school, and confirmation classes. (fn. 172) In 1924 the owner, Lord St. Audries, gave notice to quit, but money was raised to buy the buildings. (fn. 173) By 1933 there were only 8 children and the school had closed by April 1934. (fn. 174) In 1979 it was a private house, still bearing Sir Alexander's arms.
CHARITIES FOR THE POOR.
Lettice Webber (d. 1669), probably widow of the rector, William Webber, gave £10 to the poor of the parish. The interest was distributed each year by 1672. (fn. 175) In 1786 there were two other charity distributions from a sum of £6 given by William Cogan, rector 1660–89, and a further gift of £24 from an unknown donor. (fn. 176) By 1826 a total of £40, known as the Poor's money, was in the hands of a man who paid interest which was laid out in canvas for the deserving poor at an annual meeting. (fn. 177) In 1871 Joanna Gatchell left £180 for a coal distribution each Christmas to the poor of the parish. (fn. 178) The Poor's money was lost after 1894 and distributions of the coal charity were no longer made in 1979. (fn. 179)