Pages 219-223
A History of the County of Stafford: Volume 7, Leek and the Moorlands. Originally published by Victoria County History, London, 1996.
This free content was digitised by double rekeying. All rights reserved.
RUSHTON JAMES
Rushton James was formerly a township in Leek parish and later a civil parish 1,390 a. (563 ha.) in area. (fn. 1) It is pasture, with scattered settlement along the Leek-Congleton road, which runs across the north part of the township, and at Newtown on the former waste in the south-west part. The township was coterminous with the manor of Rushton James, the boundary of which in the early 14th century followed Cress brook on the north, Rad brook on the east, Hay brook on the south, and a ridge called Long Edge on the west. The boundary was also then marked by three sites whose names incorporate the Old English word hlaw, meaning a hill or barrow: Holclowe on the north, Wolfelowe on the northwest, and Gledelowe on the west. (fn. 2) In 1934 the civil parish was amalgamated with Rushton Spencer to form Rushton civil parish, 3,250 a. (1,315 ha.) in area. (fn. 3) This article deals with the former township.
In the west part of the township the land lies at 1,050 ft. (320 m.) on Long Edge. To the east it slopes down gradually to 575 ft. (175 m.) at Ryecroft Gate, where the Leek-Macclesfield road crosses Rad brook. Dingle brook flows through the centre of the township. It was dammed in 1799 to form Rudyard Lake, whose north end lies in the township. (fn. 4) The underlying rock is sandstone of the Millstone Grit series. It is overlain by Boulder Clay, and the soil is fine loam. (fn. 5)
Twenty-eight people in Rushton James were assessed for hearth tax in 1666. (fn. 6) In 1751 there were 153 people aged over 16 in the township. (fn. 7) The population in 1801 was 264, rising to 354 by 1821 and falling to 273 by 1861. It was 281 in 1871, 267 in 1881, 242 in 1891, 229 in 1901, 237 in 1911, and 231 in 1921. It was 234 in 1931, the last time that Rushton James's population was separately recorded. (fn. 8)
The name Rushton originally described a settlement at Rushton Marsh in what became Rushton Spencer after the division of Rushton manor by the 13th century. (fn. 9) The suffix James, recorded in the early 14th century, (fn. 10) was presumably taken from the name of the lord of the manor, James de Audley (d. 1272). Rushton James manor house probably stood on the site of Rushton Hall Farm in the centre of the township, where the Leek-Congleton road was crossed by a road between Rushton Spencer and Horton. (fn. 11) The present farmhouse is of the 17th century, and Fold Farm and New Hall Farm to the east are of the 18th century. Other farmhouses stand along the Leek-Congleton road, which in the Middle Ages was part of the Earl's Way. (fn. 12) They include Earlsway House on the west side of the township on a site occupied by 1350, (fn. 13) and Wolf Lowe Farm further west is of the 18th century.
Wolf Dale on the east side of the township is mainly of the 18th century but probably occupies a medieval site: a house was recorded in Wolf dale in the early 1320s. (fn. 14) A farmhouse at Ryecroft Gate north of Wolf Dale is partly of the 17th century.
There was encroachment on the common waste in the south-west part of the township before its inclosure in 1773. (fn. 15) A farmhouse called Pyat's Barn is presumably named after the Pyatt or Pyott family recorded in the late 16th century. (fn. 16) Ashmore House to the south-west stands on the site of a house called Ashmoor Hay in 1688, (fn. 17) and there was a farmhouse at the Hays in 1756 and one at Lower Oxhay in 1768. (fn. 18) The waste was settled most densely at Newtown, so called by 1701. In 1783 there were several cottages, mainly on the south side of a road running between Leek and Congleton via Horton. (fn. 19) Salter's Ford Farm there possibly stands on a packhorse way. (fn. 20)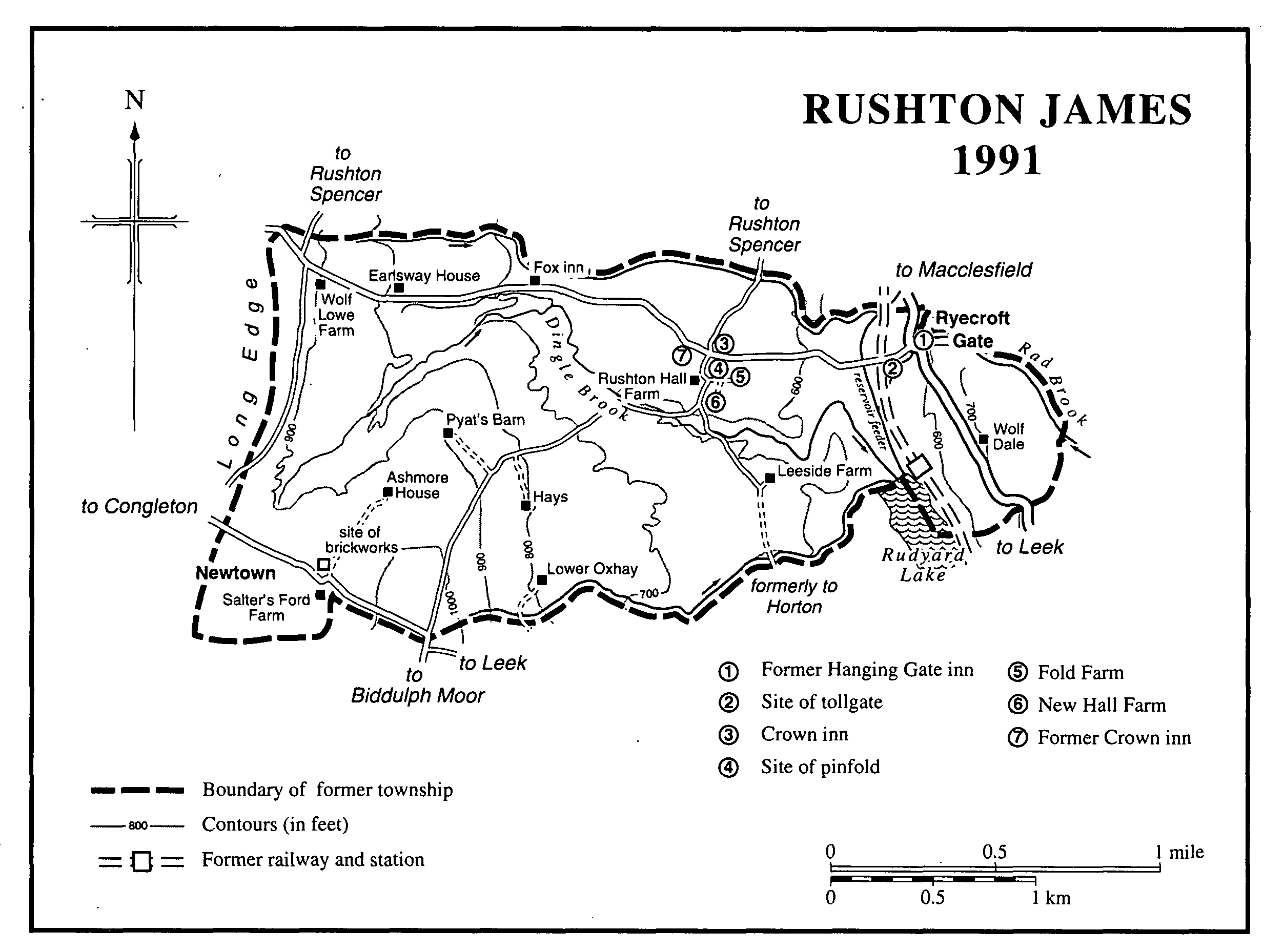 The Crown inn at the road junction north of Rushton Hall Farm existed by 1805. It replaced an earlier inn, also called the Crown, which stood to the south-west. (fn. 21) The Fox inn, further west along the Congleton road, was recorded as the Fox and Paw in 1749 and as the Fox in 1783. (fn. 22) There was an inn by 1841 at Ryecroft Gate. Known as the Hanging Gate by 1851, it was closed in 1972. (fn. 23)
In the early 14th century a cross called 'le cunstablecross' stood beside the Leek- Congleton road at the west end of Rushton James, presumably where it was crossed by a road which runs along Long Edge. (fn. 24) The cross had gone by 1611. (fn. 25) The Congleton road was turnpiked in 1762; (fn. 26) a tollgate was set up at the Crown inn in 1805. (fn. 27) The road originally left the Leek-Macclesfield road in Rushton Spencer ¼ mile east of Ryecroft Gate. After the Macclesfield road was realigned in 1808, (fn. 28) the Congleton road left it at Ryecroft Gate itself, and a tollgate had been set up there by 1820. (fn. 29) The road was disturnpiked in 1876. (fn. 30) South of Rushton Hall Farm the road to Horton past Leeside Farm was stopped up on the Horton side of the boundary when the Cliffe Park estate there was created in the early 19th century. (fn. 31)
The North Staffordshire Railway Co.'s Churnet Valley line between Leek and Macclesfield, opened in 1849, ran through the east side of the township. A station was opened at the north end of Rudyard Lake in 1905, chiefly to give access to the company's newly laid-out golf course at Cliffe Park in Horton. At first called Rudyard Lake station, the name was changed to Cliffe Park c. 1925. It was closed for passengers in 1960 and for freight in 1961. (fn. 32)
Rushton association for the prosecution of felons, in existence in 1813, possibly served both Rushton James and Rushton Spencer. (fn. 33)
MANOR.
Before the Conquest RUSHTON, which covered the later manors of Rushton James and Rushton Spencer, was held by Wulfgeat, possibly the landholder of that name with extensive interests in Cheshire. The king held it in 1086. (fn. 34) The overlordship passed to the earls of Chester, possibly in the late 11th century, and then to the Crown with the earldom of Chester in 1237. (fn. 35)
Ranulph, earl of Chester (1129-53), gave Rushton to Norman de Verdun of Alton, and in the early 13th century Nicholas de Verdun held Rushton with Longsdon and Ipstones of the earl of Chester. (fn. 36) In 1242-3 Nicholas's daughter and heir Rose (d. 1248), widow of Theobald Butler, held Rushton with Longsdon and half of Ipstones by service of providing a knight for the garrison of Chester castle for 40 days. (fn. 37)
By the early 13th century the northern part of Rushton became a separate manor, known later as Rushton Spencer. (fn. 38) The Verduns' overlordship was thereafter confined to the southern part, known later as RUSHTON JAMES, presumably after the Verdun's tenant there, James de Audley (d. 1272). (fn. 39) In 1273 Rushton James was held with other manors of John de Verdun as ½ knight's fee, and in 1283 on its own of Theobald, Lord Verdun, as 1/20 fee. (fn. 40) The overlord in 1308 was said to be Edmund, Baron Stafford; he was overlord of Horton, which was held by the same undertenant as Rushton James. (fn. 41) There are no further references to the overlordship.
The Audleys' intermediate lordship descended with their manor of Horton, and the lords of Horton still exacted suit of court from Rushton James in the late 18th century. (fn. 42)
In 1308 Richard of Rushton held what was called the hamlet of Rushton of the Audleys for a rent of 10s. (fn. 43) Richard is presumably identifiable as Richard 'le loverd', who in the early 14th century, as lord of Rushton, granted Rushton James to his nephew Henry of Bradshaw, in Longsdon. (fn. 44) Henry's heir was his son William, alive in 1372. (fn. 45) The later descent is unknown until 1490, when William Bradshaw sold lands and rents in Rushton James to William Rode of Congleton, in Astbury (Ches.). Rode apparently believed that the sale included the manor, which was still held by Bradshaw in 1512 when Rode petitioned for it. (fn. 46) Rode died c. 1517 (fn. 47) and was succeeded at Rushton James by his son William. William's son, another William, had succeeded by 1588 when he settled his lands on his son Ralph. (fn. 48) Ralph was alive in 1611, having settled the manor on his son William in 1609. (fn. 49) William was succeeded in 1673 by his son James, who was succeeded in 1689 or 1690 by his son Christopher. (fn. 50)
Christopher Rode, who lived at Eaton, in Astbury (Ches.), died in 1731, (fn. 51) his four sons having predeceased him. (fn. 52) Under his will his estates were settled in trust for his daughters, Isabella, wife of a Mr. Herryman, and Jane, a spinster. From 1739, however, manor courts were held in the name of Anna Maria Rode, the infant daughter of Christopher's eldest son, also Christopher. (fn. 53) Her claim to the estate was dismissed by Chancery in 1740, although manor courts continued in her name until 1748. That year, both Isabella and Jane having died without sons, Chancery decreed that the lord was Thomas Rode, son of William Rode, brother of Christopher Rode (d. 1731). In 1752 Thomas sold his Staffordshire and Cheshire estates to George Lee, a London goldsmith. (fn. 54)
Lee died in 1773, (fn. 55) leaving his estates to his sister's son-in-law Richard Ayton, who added Lee to his surname. In 1800 Richard and his son George agreed to sell their estates to Edmund Antrobus, a London banker. (fn. 56) Edmund appears to have been acting on behalf of his brother Philip Antrobus of Congleton, lord of Rushton James in 1805. (fn. 57) Philip died probably in 1816 (fn. 58) and was succeeded by his brother Edmund, created a baronet in 1815. Sir Edmund had bought the neighbouring manor of Horton in 1804, and Rushton James descended with Horton. (fn. 59) Manorial rights were presumably extinguished when the lord sold all his freehold land in the township between 1917 and 1926. (fn. 60)
The medieval manor house probably stood on the site of Rushton Hall Farm. The lord's house was assessed for tax on six hearths in 1666 and was known as Rushton Hall by 1730. (fn. 61) The present farmhouse is of the late 17th century and has 19th-century alterations.
ECONOMIC HISTORY.
Agriculture.
In 1086 Rushton, including what was later Rushton Spencer, had land for two ploughteams. (fn. 62) Selions recorded in Rushton James in 1617 presumably indicate open-field agriculture. (fn. 63) In 1643 the lord of the manor compensated those with rights on the common waste after he had inclosed part of it, and further inclosures were made by freeholders and cottagers. Some 134 a. had been inclosed in that way by 1753, when an abortive attempt was made to inclose what remained. (fn. 64) Inclosure eventually took place in 1773 under an Act of 1772. The waste then covered 544 a., principally in the south-west part of the township, with a smaller area east of Wolf Dale. (fn. 65) Before 1773 the lord of the manor owned 311 a. in Rushton James, about a third of the freehold land; after inclosure he held 614 a. The farms in 1783 were nearly all between 67 a. and 49 a., and there were several smallholdings under 21 a., notably at Newtown. The 153-a. Rushton Hall farm was the only large farm. (fn. 66)
From the 1740s two or three officials called burleymen or haywards were appointed by the manor court, probably annually; they were recorded until 1769. Each was paid 10s. a year in 1769, and more 'if that does not satisfy'. (fn. 67) Nearly every farm tenanted from Philip Antrobus in 1805 had a cowhouse, in all providing accommodation for over 120 cows. (fn. 68) The farming in 1988 was dairy and sheep. (fn. 69)
Mill.
There may have been a mill near Rushton Hall Farm in the mid 18th century. A man was presented at the manor court in 1746 for pounding up water in that area, (fn. 70) and a farmhouse there was known as Rushton Mill in 1851. (fn. 71)
Industry.
In 1692 the lord of the manor, Christopher Rode, licensed Thomas Endon to dig for limestone on the waste in Rushton James for a term of 23 years. During the first two years Endon was to be allowed to take 40 tons of stone a year to test its quality; if he continued to dig thereafter, he was to pay 4d. a ton and give Rode 30 tons a year free. (fn. 72) A penalty laid by the manor court in 1714 on all people who dug for limestone in the manor may have been intended to protect Endon's rights. (fn. 73) A similar licence was granted in 1776 by the lord, Richard Ayton Lee, to John Hancock and Richard Wincomb, both coalmasters. After a six-month period of investigation they were to be allowed to dig and burn limestone for a year without payment, thereafter paying 1s. a ton for 10 years. A minimum output of 1,000 tons a year was stipulated. (fn. 74)
Bricks were probably made in Rushton James in 1755 and 1756 when 12,500 were sold to various buyers. (fn. 75) A brick and tile maker was recorded in 1861, and a brick and pipe maker lived at Newtown in 1881. (fn. 76) In 1917 there was a brickyard at Newtown in a field on the north side of the Congleton road. (fn. 77)
LOCAL GOVERNMENT.
Rushton James was subject to the Audleys' court at Horton, sending a frankpledge to the twice-yearly view by 1351. (fn. 78) It was still part of Horton manor in 1781. (fn. 79) In the earlier 1670s the lord of Rushton James, William Rode, stated that he held no courts of his own. (fn. 80) By 1689, however, his son James held small courts, which were still held in 1772. (fn. 81)
In 1574 the Horton manor court presented that the stocks at Rushton James were out of repair. A new pair was made in 1699; they were out of repair in 1732. (fn. 82) A pinfold was recorded in 1578. (fn. 83) In the later 1870s one stood east of Rushton Hall Farm. (fn. 84)
The township was part of the Leekfrith quarter of Leek parish, and in the 1660s its poor were relieved by the quarter's overseer. The township had its own overseer from 1713. (fn. 85) There was a poorhouse in 1837. That year the township became part of Leek poor-law union. (fn. 86)
CHURCH.
From the 18th century and presumably earlier people from Rushton James attended St. Lawrence's church in Rushton Spencer. (fn. 87)
NONCONFORMITY.
There was a Wesleyan Methodist society in Rushton James in 1833. It still existed in 1875. (fn. 88)
EDUCATION.
A day school for 12 boys and girls was recorded in Rushton James in the earlier 1830s. (fn. 89) It may have been a dame school.
CHARITY FOR THE POOR.
In 1725 Elizabeth Hulme, in fulfilment of the wishes of her father, Thomas Higginbotham of Rushton James, settled land at Woodhouse Green in Rushton Spencer on trustees, to produce an income of £13 10s. Most was to go to charities in Cheshire, but £4 was to be distributed in clothing to six poor people in Rushton James on 16 October (Thomas's burial day). (fn. 90) By 1788 Rushton James's share had increased to £6, apparently paid by Charles Armett, the owner of Elizabeth Hulme's estate in Rushton James. (fn. 91) By the earlier 1820s the charity was again financed by the charge on the Woodhouse Green land, and the money was spent on gowns and cloaks. (fn. 92) In 1972 the income was being allowed to accumulate. (fn. 93)